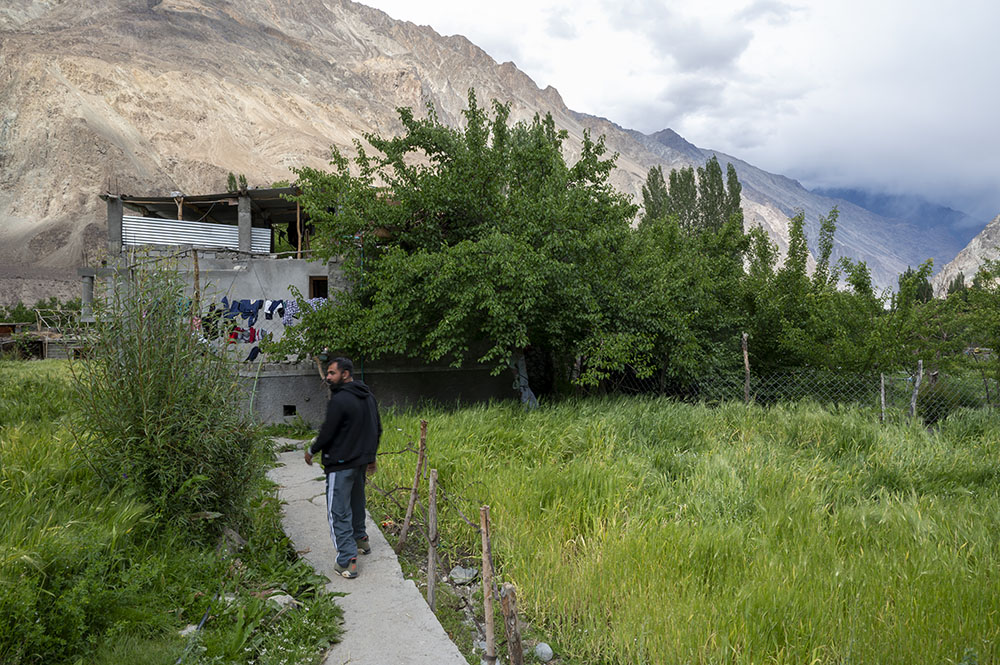 While planning your Leh to Turtuk Itinerary, there are a few things that you will have to keep in mind. This will be related to the time you need to properly explore the village and the nearby region, accommodation choices, and what exactly you see there.
Another important question you should be asking is whether or not it is really worth the effort. I have been to Turtuk 3 times and while it is a place that I will definitely recommend visiting, a lot will also depend on how well you are able to fit it into your overall itinerary.
Hopefully, the post below will help answer all these questions. It is a brief narration of my third visit to Turtuk and covers several necessary aspects of this offbeat destination. To read the previous parts of the travelogue, you can follow the links below.
Journey So Far:
It was the 30th day of the trip when we traveled from Hunder to Thang and then to Turtuk. Below is a video of our journey that you can also consider checking out.
About Turtuk
Turtuk is one of the 4 Balti Villages under Indian administration, the other three being Tyakshi, Chalunkha, and Thang. All of these 4 villages were claimed by Pakistan after the end of British rule in 1947.
For the next 24 years, it remained to be a part of Pakistan-occupied Kashmir. But during the war of 1971, this region was recaptured by the Indian Army and annexed into India.
Due to its close proximity to the border, the valley remained closed to visitors for the next 39 years. Things however slowly started to change.
Ladakh saw a major boost in tourism and the locals of Turtuk, weary of their long isolation, filed a petition for the remote but scenic valley to be opened up for tourists. And that is how the story of tourism in Turtuk began.
In 2010, tourists visiting Ladakh were allowed to travel to Turtuk and sometimes even Thang. In 2013, even foreigners were allowed entry to the village. By 2022, the road was opened for tourists all the way to Thang, right next to the line of control.
People and Culture
Baltistan in old times used to be a separate kingdom ruled by the Yagbo dynasty several centuries ago. The majority of the people living here now are Balti Muslims with a small Buddhist population.
While most of Ladakh practices Buddhism as the main religion, Turtuk is a predominantly Muslim area. It is a village where you will see an entirely different culture and lifestyle in the way people look, behave, and dress.
Some of the locals are descendants from Central Asia which adds an even further mix of culture to the place. You will find people here of Tibetan, Balti, and Kashmiri descent making the culture here a blend of many.
The primary languages spoken here are Ladakhi, Urdu, and Balti. Balti language is a fusion of Persian and old Tibetan. The entire village is surrounded by Apricot trees and is in complete contrast with the barren wasteland that Ladakh is.
What to See
Now let us talk about what exactly you see in Turtuk. If you were hoping for a long list of tourist attractions or something that will leave you awestruck, you will be wrong.
Turtuk is just a small village of Ladakh and that is pretty much it. There is not much to see here and if it wasn't for the fact that it sits close to the border, no one would have bothered coming this way.
Even in terms of the natural beauty, there is nothing here that you would not have already seen. People talk about coming here to experience the culture of the Balti people but trust me when I say this, that culture is long gone.
What you see now are just ordinary villagers, like in any other village. People going on with their lives, trying to make ends meet. Narrow streets, houses almost touching each other, a few fields, dirt paths – and that is all Turtuk is.
There is a small waterfall nearby but that would require you to walk on a steep path for about 3 hours. Other than that, there is a Balti Heritage Museum, a monastery, and a Border viewpoint that can be considered of tourist interest.
So I am then discouraging you from going to Turtuk and advising you to skip it? No, I am not. If you have a day to spare then yes, by all means, do travel on this route. Even the drive itself will make it worth your while.
All that I am trying to say is that if you were short on time and struggling to fit Turtuk into your itinerary, then don't. Even if you missed it, you wouldn't have missed out a lot on your Ladakh trip.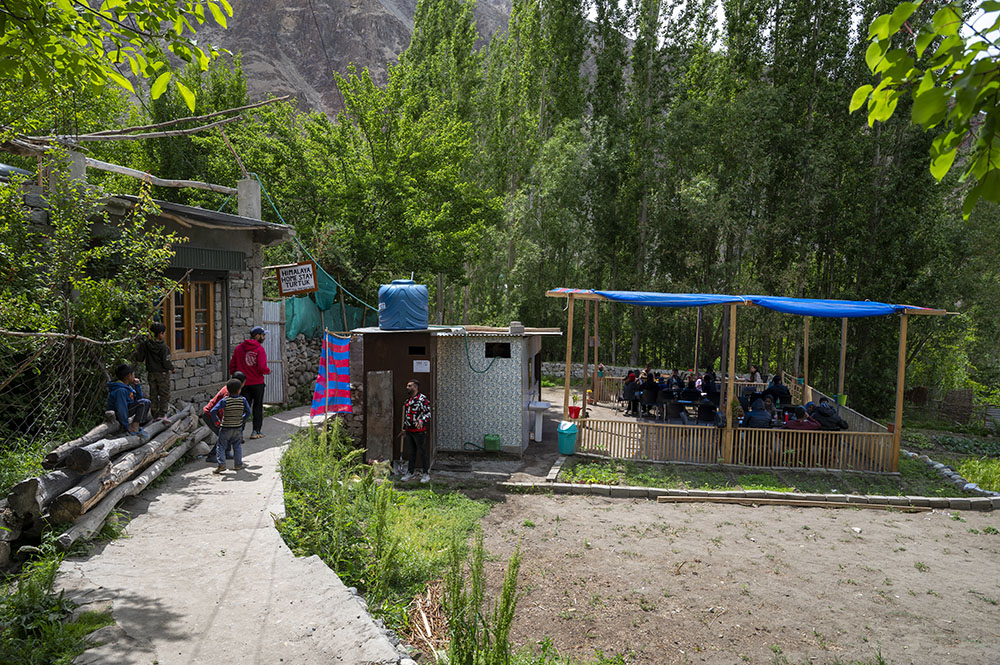 Leh to Turtuk Itinerary
Now after all is said and done, let me explain how you can plan your Leh to Turtuk itinerary. I am not only talking about visiting Turtuk but rather, how you can travel from Leh to Nubra and other places in Ladakh while covering Turtuk on the way.
How much time you can give entirely depends on how much time you have in hand. But for adding Turtuk to your Ladakh itinerary, at least one day will have to be dedicated. If you are able to, I would highly recommend adding another day of stay in the village itself.
Leh to Diskit – Day 1
Take an early start from Leh so that you have enough time for sightseeing en route.
Drive on the road towards Khardung La.
After an uphill drive of 35 kilometers, you will reach the Khardung Pass top. Stop for a while, and enjoy the vistas from one of the highest motorable passes in the world. Have a cup of tea in the Army-run canteen.
After a break, drive downhill into Nubra Valley and cross the village of Khardung on the way.
After 55 kilometers, you will reach the village of Khalsar. Take a break and grab something to eat at any of the Dhabas here.
At Khalsar, the road bifurcates. The one on your right goes to Panamik and ends at Warshi Village with the Nubra River on its left.
The one on your right goes towards Diskit village and ends at Turtuk with Shyok River on its right. Turn on this road.
Drive another 23 kilometers to arrive at Diskit village.
See the Diskit Monastery
See Maitreya Buddha, an impressive 32-meter statue of Buddha that was built in 1996 and sits facing Pakistan. It is located close to Diskit Monastery.
See Lachung Temple, a beautiful temple located near Diskit Monastery.
Overnight at Diskit
Diskit to Turtuk – Day 2
On the second day, drive for about 90 kilometers to reach Turtuk.
Before entering Turtuk though, continue driving for another 11 kilometers and first go to the village of Thang.
Thang is located right next to the LOC and is open to tourists. Standing there, you can get a glimpse of the Pakistani side of the village.
After spending some time in Thang, drive back to Turtuk and spend the night there.
Turtuk to Diskit – Day 3
If you were up for some trekking, you can go to the waterfall early in the morning and return by 9 or 10 am.
Drive back on the same route to Diskit and take a break at Hunder.
See Hunder Sand Dunes located between Hunder and Diskit villages. Presenting an amazing site of white sands, it is also among the top camping sites in Ladakh.
See Bactrian Camels and enjoy a Camel Safari. Also known as the two-humped camel, it is a very rare animal with a population estimate of only two million all over the world. These are found in Hunder and a camel safari in the dunes is one of the most popular tourist activities in Ladakh.
Return to your hotel in Diskit and stay overnight. Or you can also go to the other side of Nubra Valley and stay in Sumur or Panamik instead.
And that is how you include Turtuk in our overall Ladakh itinerary. If you were short on time, you can skip staying for the night in the village. Just start early from Diskit, go to Thang, come back to Turtuk, spend some time there, and drive back to Hunder or Diskit. This is exactly what we did.
We started from Hunder at around 9 am and first drove straight to Thang Village. We spent about an hour in Thang and then started driving on our way back to Turtuk. I have talked about this in detail in the previous part of the travelogue.
This was my third visit to Turtuk. During my previous trip, I stayed there for a couple of nights. So this time, the plan was to just pay a short visit, shoot some videos for my YouTube channel and reach Hunder by evening.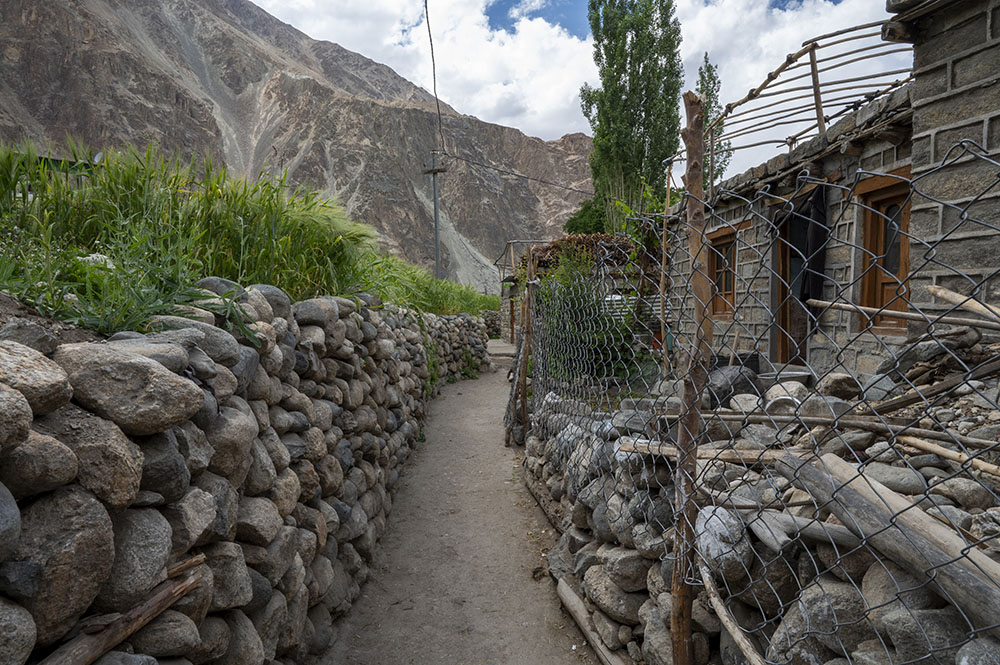 Turtuk Village
Turtuk is basically divided into three different parts – Chutang, Farol, and Yul. Of these three, Farol and Yul are known as the upper village whereas Chutang is called the lower village area.
Chutang roughly translates to "river plain" and that is where it is located, right next to Shyok River, on both sides of the main road that you will take to reach here.
This is where the local school, shops, restaurants, mosque, new polo ground, and health center are located. During peak winter months, a lot of people move down here from the mountains to survive the cold weather.
The other two parts, Farol and Yul are located slightly higher than Chutang and you will need to walk to get there. Yul is the area where most of the farming happens. It is lush green all around and is the oldest part of the village. The literal translation of the name is "Village".
Farol is where most of the guest houses in Turtuk are located. There are a lot of buckwheat fields here and you can also view the K2 peak on a clear day. The name literally means "the other side (of the river)".
Chutang
So when you reach Turtuk by road, you will first arrive in the Chutang part of the village. There is not really anything to see here and it just works as the access point for the other two parts of the village, Farol and Yul.
When you drive across Chutang, you will finally reach a small junction where the road straight goes to Thang and the one going left takes you to Farol.
We turned left, drove for about 2 kilometers, and arrived at this spot. This is where you will need to park your vehicle and walk to Farol or Yul.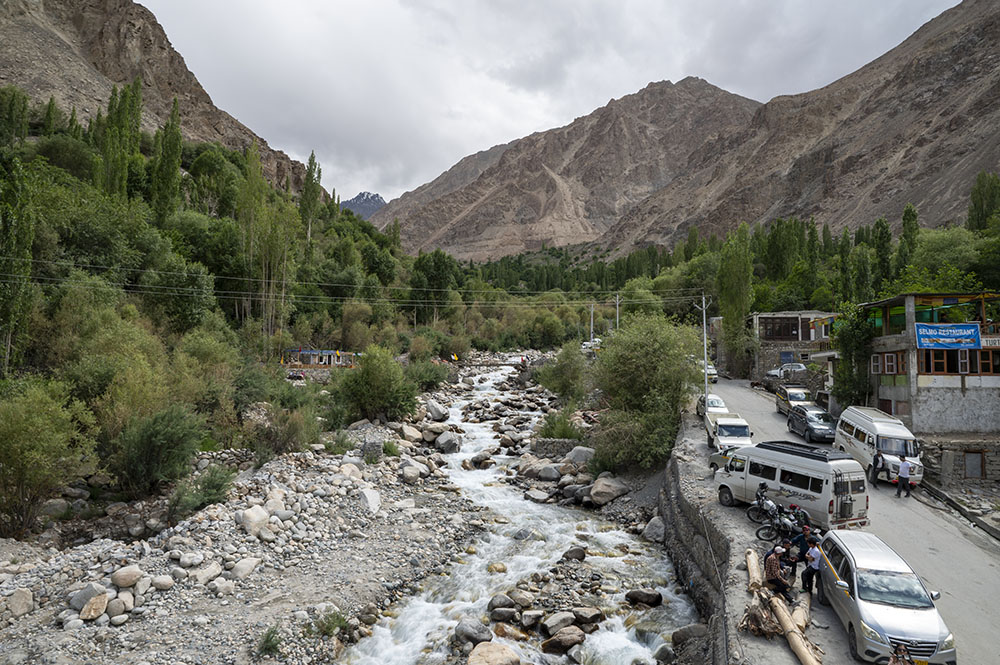 Yul
The majority of the tourism is centered around Farol and no one really goes toward Yul. The reason behind that is that Yul is basically a farming area. The houses of the people are all located mostly in Farol and the fields are there in Yul.
If you do want to visit Yul though, then do not cross the wooden bridge. That part is on the right side of the road. Just ask any of the locals and they will point you in the right direction.
Farol
We had no intention of going to Yul. So we crossed this bridge, turned left, and started walking up to Farol. After the bridge, it is barely a walk of about 200 meters to the village.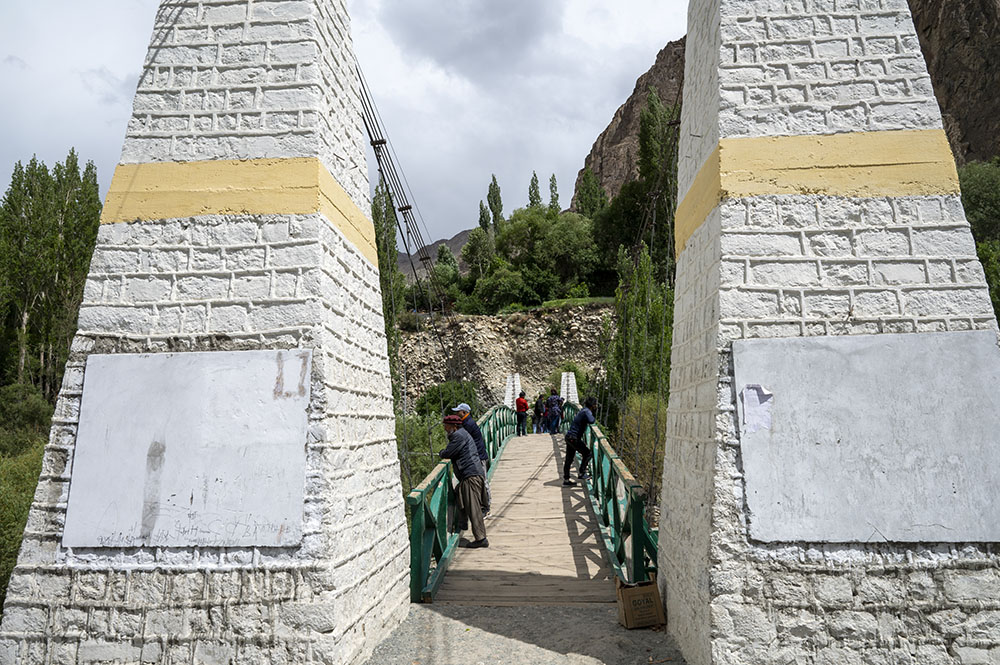 As I mentioned previously, there is not really a lot to see in Turtuk other than the village itself. So we spent the next hour walking through its narrow streets, clicking pictures, and shooting videos.
We reached the Balti Heritage Museum and decided to pay a visit. It is a heritage house converted into a museum. There are 4 small rooms built in the old style with low roofs and small windows.
Inside the house, you will find on display a mix of centuries-old royal gifts, dresses, dishes, and furs. It is located in the upper part of the village and any of the locals can point you in the right direction. There is an entry fee of Rs. 50 to enter the house.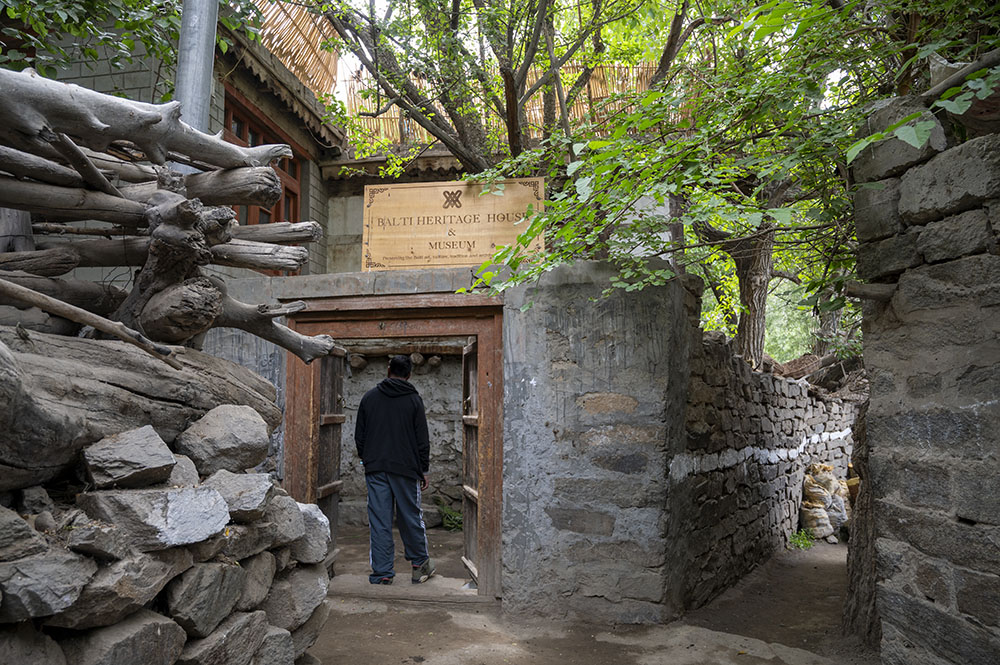 After the museum, we considered trekking to the waterfall for a while but then gave up the idea. It was already 3 pm by then and I knew that if we were to go to the waterfall, then we would have to spend the night in Turtuk itself.
We wandered around the village for a while more and then decided to start our return journey to Hunder. Mentioned below are a few more details about the village.
Bank / ATM / Petrol Pump
There are no Banks, or ATMs in Turtuk. The nearest one is in Leh City. There is no petrol pump here either. The nearest gas station is in Khalsar in Nubra Valley.
Medical Assistance
The nearest major hospital is in Leh City. There is no medical assistance available in Turtuk for something serious but for some minor ailments, you can get some help in Diskit.
There is also a health center in Chutang and a small hospital in Bogdang. It would be better to bring some basic medicines along like for fever, upset stomach, painkillers, etc. There is a lot of Army presence in the area so in case of an emergency, you can also approach them for help.
What to Buy
Turtuk is known for its Apricots and that is something that you must buy before returning. Apart from the fruit, you can buy woodwork handicrafts. Walking canes are available to buy at several places.
Apricot seeds, oil, jam, juice, and several varieties of organic dried apricot are some of the other products you can buy here. Apart from the Apricots, Turtuk is also the largest walnut-producing village in Ladakh.
The place is also known for its traditional woolen shawl. Apart from these items, you can buy some stone carvings of animals in the tea shop near the Mosque.
Most of the shopping in Ladakh would have to happen in Leh City only. For more details on this topic, please read Shopping in Ladakh – What to Buy in Ladakh.
What to Eat
Listed below are some of the dishes that you should try in Turtuk. Most of the food is grown in the fertile valley itself. Some of the local products range from cabbages to seabuckthorn, but of particular note are apricots and buckwheat.
Brakoo & Muskat: These are dumplings made from Buckwheat and served with a sauce of ground walnuts, almonds, and spices.
Zan with Tsamig– This is a cake made of buckwheat and served with a mixture of greens and yogurt.
Kissir with Grangtur: These are pancakes made of buckwheat.
Apricot Pancakes
Buckwheat pancake with dry fruit or Apricot chutney
The best place to eat would be at your homestay and guest house only. If you were staying with a family, you can talk to them and learn about their dishes and maybe bring a recipe to try back home.
There is a tea shop near the mosque where you should try a cup of tea early in the morning after morning prayers. Balti heritage house, Friends Cafe, and Balti Kitchen are some of the other places where you can grab a bite.
Turtuk to Hunder Sand Dunes
Our drive back to Hunder was eventless. We started on our way back from Turtuk at around 4 pm and reached Hunder by 7 pm. There was still plenty of light in the sky so we first decided to go to Hunder sand dunes before returning to Hotel.
The sand dunes, as expected, were filled with a lot of tourists enjoying the pleasant evening. Camel rides and archery were two of the most prominent tourist activities there. I also tried my hand at archery for Rs. 100 for 5 arrows. A camel ride of about 15 minutes was also offered by a few locals for Rs. 350 but we decided to skip that.
Pretty soon it was dark all around. Surprisingly, there was light in the sky well until 8 pm, enough for us to walk around. The pictures above were both clicked between 7.30 pm and 8 pm. Can you believe how bright it still was so late in the evening?
We came back to our hotel after it was dark. That was the end of this day but not of our trip to Nubra Valley. We stayed there for another 3 days and the destination we covered next was the Siachen Base Camp. Please click on the link above to continue reading the next part of the travelogue.
Leh to Turtuk Itinerary – Conclusion
I hope the travelogue, pictures, and information above on Leh to Turtuk Itinerary were of help. If you have any questions, you can contact me on Instagram and I will happily answer. You can also consider subscribing to my YouTube channel and asking a question there.
This error message is only visible to WordPress admins
Error: No feed found.
Please go to the Instagram Feed settings page to create a feed.