Yarab Tso is a small lake located in the Nubra Valley of Ladakh, at a distance of about 135 kilometers from Leh. It is a small body of water that is considered sacred by both Buddhists and Muslims who live in the region.
Due to its small size, Yarab Tso is still largely unknown and doesn't get as many visitors. It is not exactly connected by a motorable road and one has to walk a short distance to get here. Due to this, even people who know about the lake end up skipping it entirely.
Nonetheless, it is a beautiful lake sitting in a very peaceful environment. The location and the overall setting of Yarab Tso definitely make it one of the prime attractions of Nubra Valley.
We visited this lake during my recent two-month-long trip to Ladakh. The post below is a brief narration of our journey and also provides several necessary details about planning a trip to Yarab Tso. To read the previous parts of the travelogue, please follow the links below.
Journey So Far:
Below is a video of the lake that I shot during our visit that you can consider checking out. In Nubra Valley, if you were staying in villages like Sumur or Panamik, a round trip to Yarab Tso will not take any more than an hour and a half at most.
About Yarab Tso Lake
When we talk about the high-altitude lakes in Ladakh, the two names that immediately come to mind are Pangong Tso and Tso Moriri. That is where the majority of the tourists go and over a period of time, these two lakes have become the very symbol of Leh Ladakh.
I am not saying that these lakes aren't worth visiting. They are definitely beautiful but there are so many other lakes that may be smaller in size but are equal when it comes to Natural Beauty. Yarab Tso is an example of the same.
This small lake sits in a depression on the top of a hillock. The surprising part about it is that it is almost in the middle of a rock-like mountain. While I was there, I could not figure out its source of water and in all probability, it is underground water.
It is a freshwater lake and is also a source of water for the locals. It has a religious significance as well. While I cannot verify this claim, it is said that even Dalai Lama visited Yarab Tso a few years ago.
Due to its holy status, washing and bathing are not allowed in the lake. I counted at least 6 boards around the lake advising visitors to not wash, swim, or bathe in its water and to maintain its sanctity.
Where is Yarab Tso Lake
Yarab Tso is located in the Nubra Valley of Ladakh, at a distance of about 17 kilometers from Sumur and 6 kilometers from Panamik. From Leh, the total distance is about 135 kilometers.
Nubra Valley is divided into two parts. One road, on the left of Shyok River, runs through the villages of Diskit, Hunder, and Turtuk, and ends near the LOC in Thang Village.
The second road runs on the right side of the Shyok River, through Sumur, Panamik, Sasoma, and Warshi, and ends at Siachen Base Camp. Yarab Tso is located on this side of the valley, between Panamik and Sumur.
How to reach Yarab Tso
To reach Yarab Tso, you will first have to get to Nubra Valley. The easiest way to do so is via Khardung La Pass. Depending on how you were traveling, you can either get here by your own vehicle, or you can also rent a taxi in Leh.
Public transport to Nubra Valley is also available in the form of a daily bus and shared taxis. For more details on this topic, you can take a look at How to reach Nubra Valley from Leh.
Once you are in Nubra Valley, in order to get to Yarab Tso, you will first have to reach Sumur. From there, stay on the same road and continue driving toward Panamik Village.
Exactly 17 kilometers from Sumur and 6 kilometers before Panamik, you will notice a small dirt road to your left. Take a look at the picture below. The small mountain that you see on the left is where the lake is.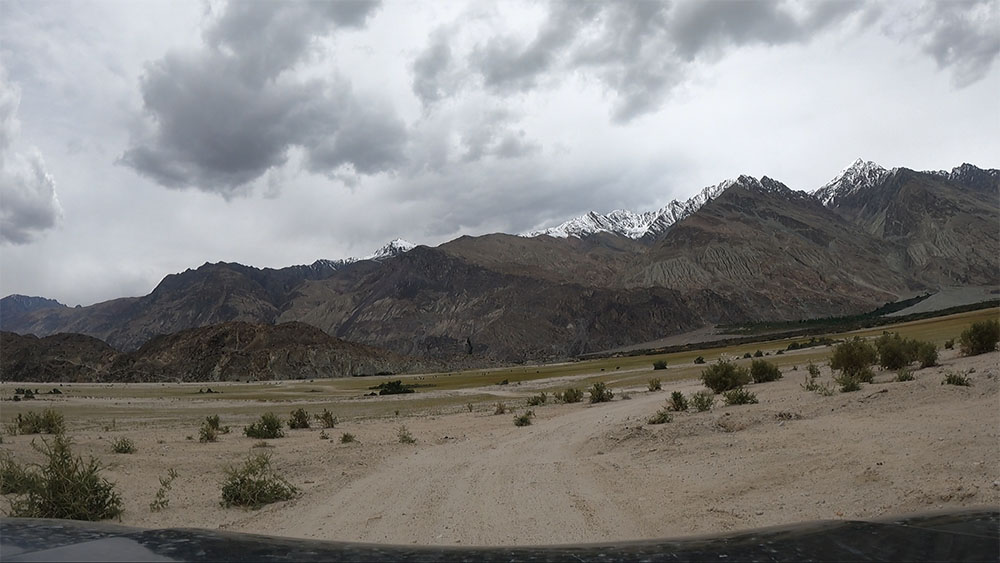 Turn left on this dirt road but do not go all the way near the rock though. It is surrounded by a sandy area and you will risk sinking your tires in it. If that happens, considering that it is a remote area with no nearby help, you will be in some trouble.
Instead, drive for about 300 meters and leave your car anywhere at a spot where you see some grass. After that, walk through the sand and get closer to the mountain.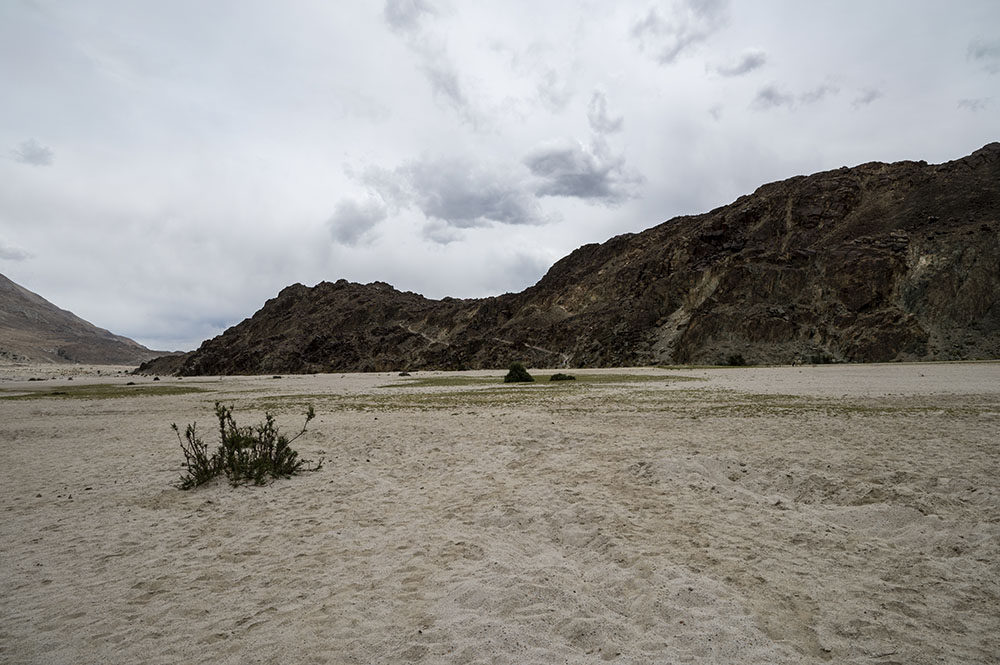 The small trek to the lake is very visible even from a distance. Start walking on the path, get on the top of the hillock and you will get your first sight of the lake.
What to See
Yarab Tso in itself is a tourist attraction of Nubra Valley. What you should be noticing here is the peaceful environment that this lake is located in. Surrounded by a small desert-like area and dunes all around, it almost feels like in the middle of nowhere.
There won't be many tourists around. In all probability, it would just be you trekking to the lake which makes this place perfect for anyone wanting to spend some time away from the crowd.
Then there is the lake itself. It is a very small body of water and you can walk around it in less than 30 minutes. But that does not make it any less beautiful and you will surely enjoy the time that you spend here.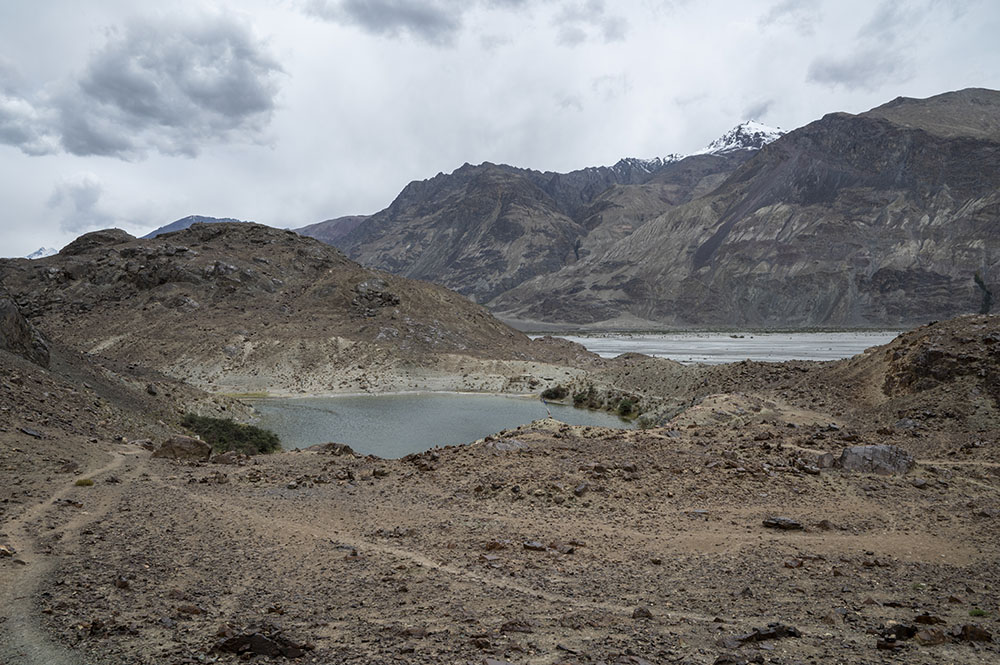 A few other places that you can visit near the lake are Sumur Sand Dunes, Panamik Hot Water Spring, Murgi Waterfall, Ensa Gompa, and Siachen Base Camp. For a complete list, please take a look at Places to Visit in Nubra Valley & Things to Do.
Mobile Network
Airtel and Jio both have good connectivity with 4G data at Yarab Tso. BSNL will remain connected as well but their service is not that great. No other network works in this region. For more details, please take a look at Mobile Network in Ladakh & Data Connectivity.
Accommodation
There is no accommodation available near Yarab Tso. The nearest hotel is either in Sumur or Panamik. There are no campsites here either but it definitely offers a good spot for self-camping.
While we were there, we noticed a couple of other tourists who pitched their tents near the Dunes the night before. While you can do that as well, please ensure that you do not camp right next to the lake or you will get in trouble with the locals.
I would not advise camping here for the night though. It is a freshwater lake which means there is a risk of running into wildlife.
The dogs of Ladakh are a menace in themselves and there have been incidents where these dogs even killed people. That will also be a huge risk if you were camping in the dunes near the lake.
Public Transport
There is public transport available in Nubra Valley but its frequency is way too less to depend on it. There is mostly just one daily bus between Diskit and Panamik that you will have to rely on.
Shared cabs are also available but even their frequency is not that great. If you were traveling by public transport, your best bet would be to hitchhike. Find someone in Sumur or Panamik who can drop you at the spot where the trek to Yarab Tso starts.
For your way back as well, just wait by the road for a shared cab to pass by or for some other tourist to offer you a ride.
Day 32 – Yarab Tso
Now coming back to the travelogue, it was the 32nd day of our road trip to Ladakh and our 5th day in Nubra Valley. The original plan for this day was to drive to Saser La Pass which is located near Sasoma.
This pass however is not open for tourists and Indian Army will stop you at the check post if you tried going this way. We still thought to take our chances but like other tourists, we were also not granted permission for Saser La.
Now the big question was what to do on this day. Half of the day was spent checking if we will be allowed to go to Saser La. When that did not happen, the question was about what to do with the rest of the day.
We decided to cover 4 destinations. Yarab Tso Lake, Panamik Hot-Water Spring, Murgi Waterfall, and Ensa Gompa and in the same order. With that though, at around 12 noon, we started from Sumur and started driving on our way to Yarab Tso.
The condition of the road on this stretch is excellent. There are a few bad stretches in between but for the most part, it is a smooth and flat road with beautiful views all around.
Yarab Tso Lake Trek
After about 17 kilometers and a drive of 30 minutes, we reached the spot where the trek to Yarab Tso starts. From here, we turned left on the dirt road.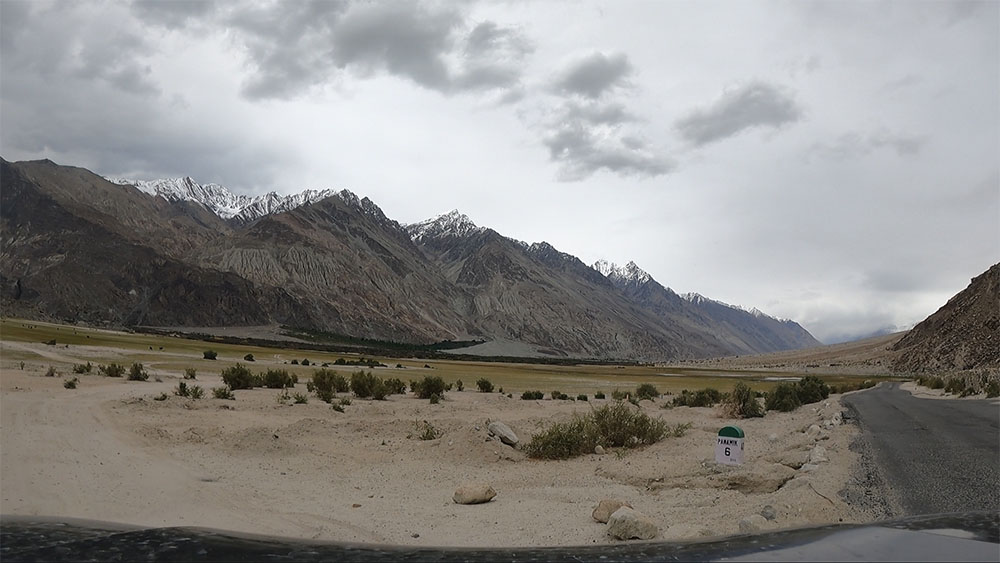 We drove for about 300 meters and reached a spot where there were a couple of bikes parked. I could see that the area further ahead was all dunes and there was a risk of the tires sinking into the sand. So we parked the car on the grass, next to the bikes, and stepped out.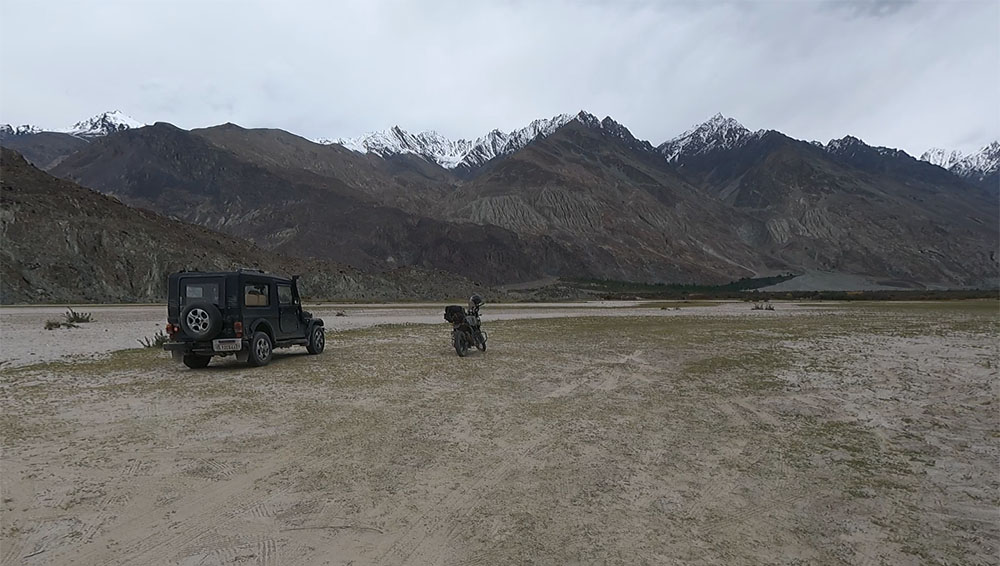 Even from a distance, on the face of the rock, we could see the trek that leads to Yarab Tso.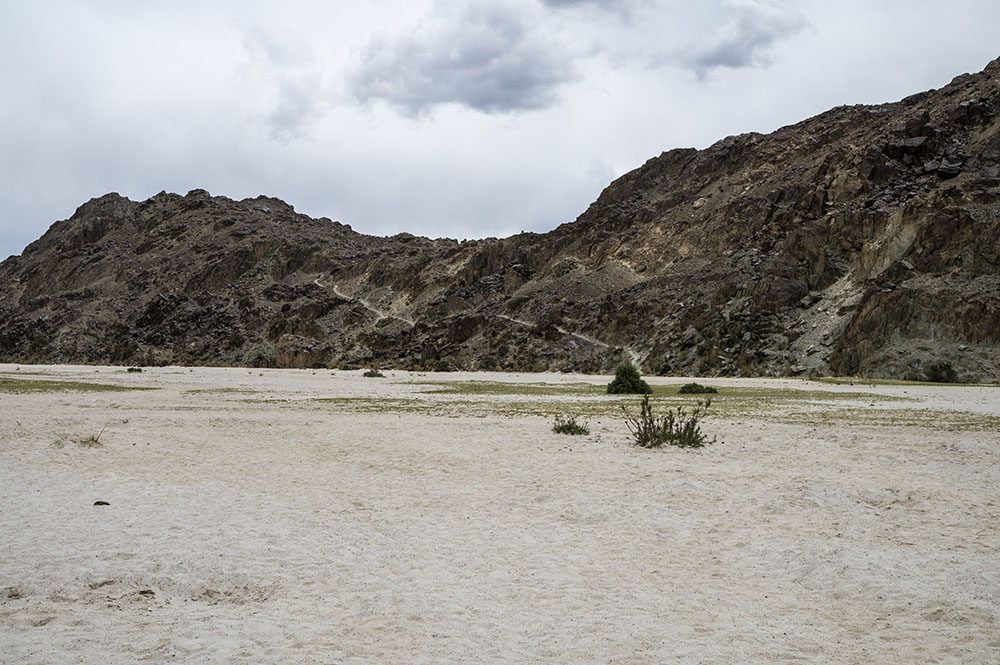 We crossed the sand and started walking up the path. It is a little steep at a few places but for the most part of it, it is a very easy trek.
I was expecting it to be a trek of at least 3-4 kilometers but I was wrong. After walking up the mountain for about 1.5 kilometers, we got our first view of the lake.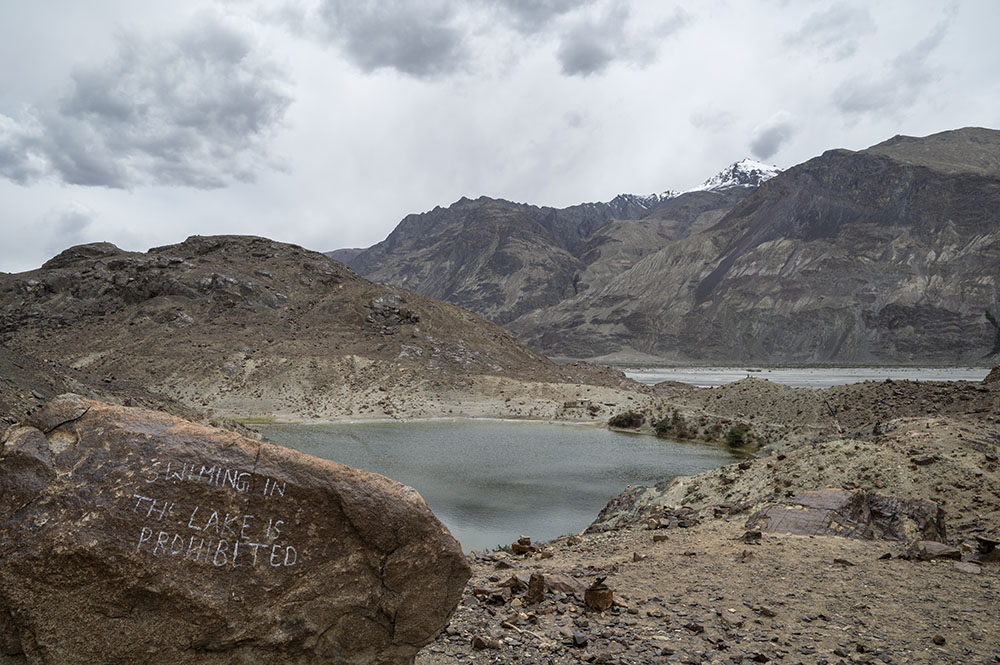 There were several treks leading down to the lake and we chose randomly. The walk down was also a little steep at a few places and considering that I had two cameras in my hands, I had to walk down very carefully.
Yarab Tso Lake
Soon we were standing on the banks of the lake. There was also a small house next to the lake but it was locked. There were no other tourists around except for me, my friend, and a couple of other guys. They were the ones whose bikes were parked at the same spot where I left my car.
We spent about 30-45 minutes near the lake. There wasn't much to do other than walk around, click pictures, and shoot videos which we did.

After we have had our fill of the natural beauty of the lake, we once again walked back on the same path, got to the other side of the hillock, and reached the parking spot.
The next destination for the day now was the Panamik hot-water spring. After the trek, we were covered in dust anyway and the idea of bathing in a natural hot-water spring sounded welcoming.
Panamik was only 6 kilometers from Yarab Tso and we reached there in no time. Did we take a bath there and was it good enough? Yes to both questions. Please click on the link above to continue reading the next part of the travelogue.
Yarab Tso Lake Nubra Valley – Conclusion
I hope the travelogue, pictures, and information above on visiting Yarab Tso Lake in Nubra Valley were of help. If you have any questions, you can contact me on Instagram and I will happily answer. You can also consider subscribing to my YouTube channel and asking a question there.
This error message is only visible to WordPress admins
Error: No feed found.
Please go to the Instagram Feed settings page to create a feed.