Tsemo Castle, also known as Tsemo Fort, is a historical place located near Leh City. It is at a distance of 5 kilometers from Leh Market, on top of a hill, and offers a panoramic view of the city and the surrounding valley.
There must have been a castle or a fort here in ancient times due to which it is named so. But what now stands is a monastery known as Tsemo Monastery or Tsemo Gompa. It was founded by King Tashi Namgyal between 1555 and 1575.
Tsemo Castle is among the best spots to capture the sunset in Leh City. The view that you get from the top is unmatched by any other location in Leh. If you are into photography, this is one place that you must include in your itinerary.
We visited Tsemo Castle during my recent two-month-long road trip to Leh Ladakh. To read the previous parts of this travelogue, you can follow the links below.
Journey So Far:
In case you were wondering what happened on Day 24 in the list above, we did not actually go anywhere. We were carrying our office laptops along and were also working while traveling.
So on Day 24, we just stayed in our hotel and worked through the busy office schedule. On Day 25, we went to Spituk Monastery and Tsemo Castle on Day 26. Below is a short video of our visit. You can take a look at it and decide whether you should include Tsemo Castle in your itinerary or not.
About Tsemo Castle
Tsemo Castle is located at the highest point in Leh. It is built on the same mountain that Leh Palace is on. There is even a short trek leading from Leh Palace all the way to the Tsemo monastery.
While I cannot confirm or verify this, there must have been a small fort here in ancient times. Due to its location, it offers a wide view of the entire valley, making it a perfect spot for a watch tower.
There is not much that remains of that fort or castle though. Now it is just a small monastery and even that feels badly in need of restoration.
Namgyal Tsemo Monastery / Tsemo Gompa
The monastery here was founded by King Tashi Namgyal, due to which, it is also known as Namgyal Tsemo Monastery. It has a three-story high gold statue of Maitreya Buddha and ancient manuscripts and frescoes.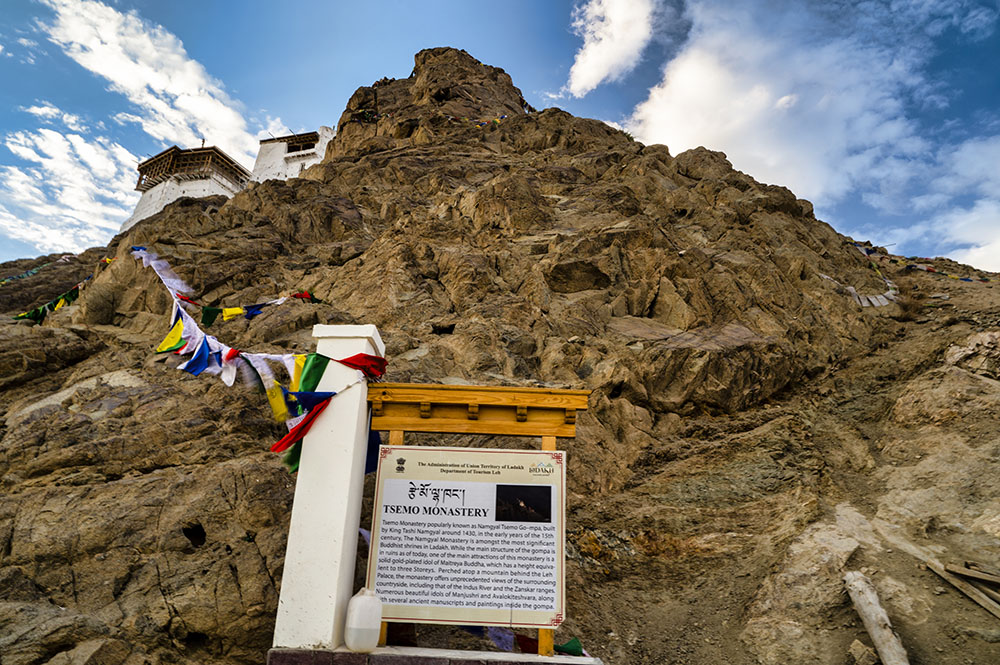 How to reach Tsemo Fort
Reaching Tsemo Castle is fairly easy. It is marked on Google Maps and you can just follow the directions to get there. It is on the same road that goes to Leh Palace so you can cover both places during the same visit.
From Leh Market, you will first reach Leh Palace. Spend some time at the palace, drive back about a kilometer, and then turn left on the road to reach Tsemo Castle.
There is also a short trek that you can follow to reach Tsemo Gompa on foot. It is however a steep climb and will take some time to complete. Take a look at the picture below.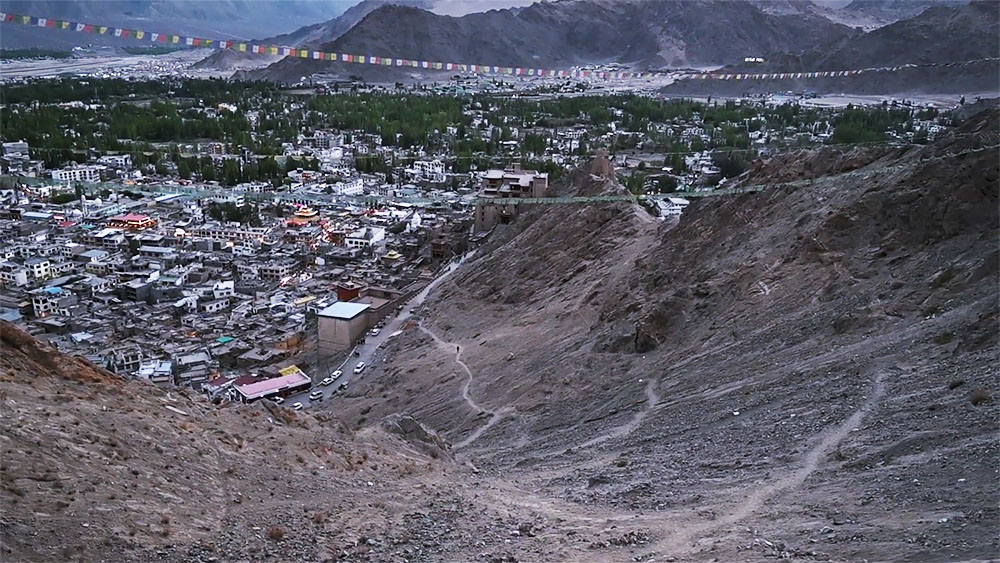 If you are up for some trekking, you can leave your car parked at Leh Palace and cover Tsemo Castle on foot. If not, then you can bring your vehicle all the way to the top.
There is no public transport available though. You will either have to travel in your own vehicle or rent a taxi or bike in Leh. Hitchhiking is also an option but you may have to wait for that for a while before someone offers you a ride.
Leh to Tsemo Monastery
It was Day 26 of our road trip to Ladakh when we decided to go to Tsemo Castle to see the sunset. We had already been to Leh Palace before so the idea was to go straight to Tsemo Monastery.
We turned on Google Maps, followed the directions, and about 15 minutes from our hotel, we were standing at the top of the hill, enjoying a stunning view.
The view was definitely great and worth a visit. But what I liked most about the place was that it was not at all crowded, unlike Shanti Stupa where there are a lot of people in the evening.
This gave us enough room to capture pictures and sunset timelapse videos. I think we spent about 3 hours there and did not drive back down until it was dark.
Tsemo Maitreya Temple
While we were there, we also thought to visit the monastery but unfortunately, it was closed at that time. I really wanted to see the three-story high gold statue of Maitreya Buddha. But since the doors were locked, we could not get inside to see the temple and had to return disappointed.
Tsemo Gompa Timing
You can go to Tsemo Castle anytime and stay for as long as you want. The monastery however is open from 8 am to 6 pm only. But even this depends on whether the Lama was there or not.
We were at the castle at around 5 pm but the monastery doors were locked. So it is highly possible that you may be able to cover the viewpoint but not the monastery.
Best Time to Visit Tsemo Castle
The best time to visit Tsemo Castle in my opinion is late in the evening. If you want to visit the monastery, then you can try it sometime during the day. Otherwise, you should be here after 6 pm to see the sunset.
You can also come here early in the morning to see the sunrise which we did in one of the later days in the trip. But to be honest, it was not that good. For sunrise, I will recommend going to Spituk Gompa but for sunset, Tsemo Castle is the best spot.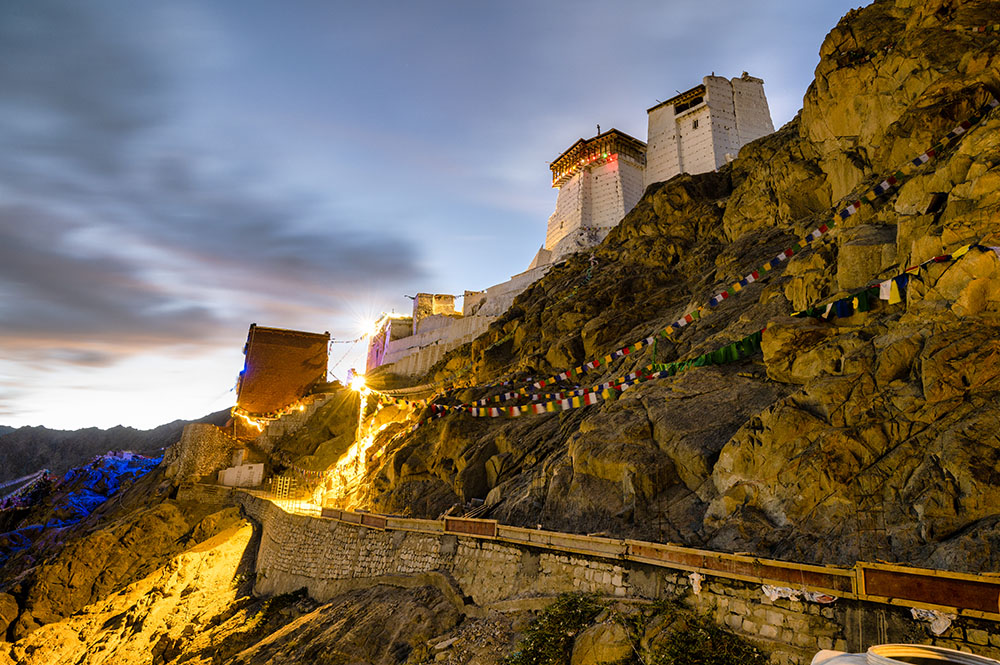 Entry Fee
There is no entry fee for either the viewpoint or Tsemo Monastery. I did not even notice a ticket counter there. We did not pay any money either for the monastery or car parking. It could be introduced in the later years but there is no entry charge at the time of writing this article.
Mobile Connectivity at Tsemo Castle
BSNL, Jio, and Airtel have coverage at Tsemo Castle as long as you have a postpaid phone. Prepaid phones do not work here or anywhere else in Ladakh for that matter.
Permit to Visit Tsemo Castle
You do not need to obtain a permit for visiting the Tsemo castle or the monastery. You can just reach there and spend some time enjoying the view and peaceful environment.
In fact, Inner Line Permit is in fact not required to visit anywhere in Leh City. It is only needed when you travel from Leh to other areas of Ladakh like Nubra or Pangong.
That is mostly all that you need to know about visiting the Tsemo. We spent about 3 hours at the viewpoint since I wanted to capture a day-to-night timelapse video. It is a part of the video that I posted in the video above. After coming back from Tsemo, we spent some time in the market, returned to our hotel, had dinner, and called it a day.
On Day 27, we ended up visiting the Phyang Village and it turned out to be a surprise. The village and the monastery were among the most beautiful locations of Ladakh that I will highly recommend visiting. Please click on the link above to continue reading the next part of the travelogue.
Conclusion
I hope the travelogue, pictures, and information above on Tsemo Castle & Monastery were of help. If you have any questions, you can contact me on Instagram and I will be happy to answer. You can also consider subscribing to my YouTube channel and asking a question there.
This error message is only visible to WordPress admins
Error: No feed found.
Please go to the Instagram Feed settings page to create a feed.