Stok Palace was built in 1820 as the summer home of the Royal family of Ladakh. For years, the royal family resided here but what now stands is a boutique and heritage hotel open to guests.
The palace is located at a distance of around 15 kilometers from Leh. It sits in a beautiful location, overlooking the valley and providing a panoramic view of the Himalayan peaks around.
Stok Palace is still considered a tourist attraction in Ladakh. But since it is also a heritage hotel now, not many people venture in this direction. Whatever little tourism this area attracts is either people wanting to stay in the hotel or tourists visiting the nearby Stok Monastery.
We visited Stok Palace once during my recent two-month-long road trip to Leh Ladakh. The post below provides a brief narration of our visit and several other necessary details about the palace. To read the previous parts of this travelogue, you can follow the links below.
Journey So Far:
Below is a short video of our visit to Stok Palace. You can take a look at it and it can help you decide whether you should include it in your itinerary or not.
About Stok Palace
Stok Palace was initially built as the summer home of the Ladakhi Royal family. Their main and permanent residence at that time was still the Leh Palace but they would occasionally spend time in Stok Palace as well.
But then came the conquest of Ladakh by the Dogra forces of Jammu under the command of General Zorawar Singh in the mid-19th century. After the invasion, Dogra forces took complete control of Ladakh and forced the royal family to move to Stok Palace.
Since then, Stok Palace has remained to be the permanent residence of the royal family.  In the year 1980, it was opened to the public and then converted into a heritage hotel.
How to reach Stok Palace
Stok is connected to Leh town by a motorable road that remains in good condition. You can either travel in your own vehicle or in a taxi from Leh. You can also consider renting a bike in Leh for local sightseeing.
Public transport in this region is scarce. The frequency is not that great and it will be difficult to find either a bus or a shared cab coming in this direction.
Nearby Attractions
Some other nearby places that you can include with your trip are the monasteries of Thiksey, Stakna, Hemis, Shey, Matho, and Druk White Lotus School (Rancho School). Yes, I am talking about the same school from the movie 3 Idiots.
For any other information on visiting Ladakh including itinerary planning, places to visit, and safety tips, you can also take a look at How to Plan a Trip to Leh Ladakh – A Complete Travel Guide.
Best time to Visit Stok Palace
The best time to visit the palace will be the same as the best time to visit Ladakh. The ideal time will be anywhere between May to September.
In these months, the weather is favorable, roads are all open and accommodation is easily available. If you were traveling in the winter months, you will have to board a flight to Leh and then reach Stok from there. For more detail on this topic, please take a look at When is the Best Time to Visit Leh Ladakh.
Mobile Connectivity
BSNL, Jio, and Airtel have coverage at Stok Palace as long as you have a postpaid phone. Prepaid phones do not work here or anywhere else in Ladakh. Please take a look at Mobile Network in Ladakh and Data Connectivity for further information on this topic.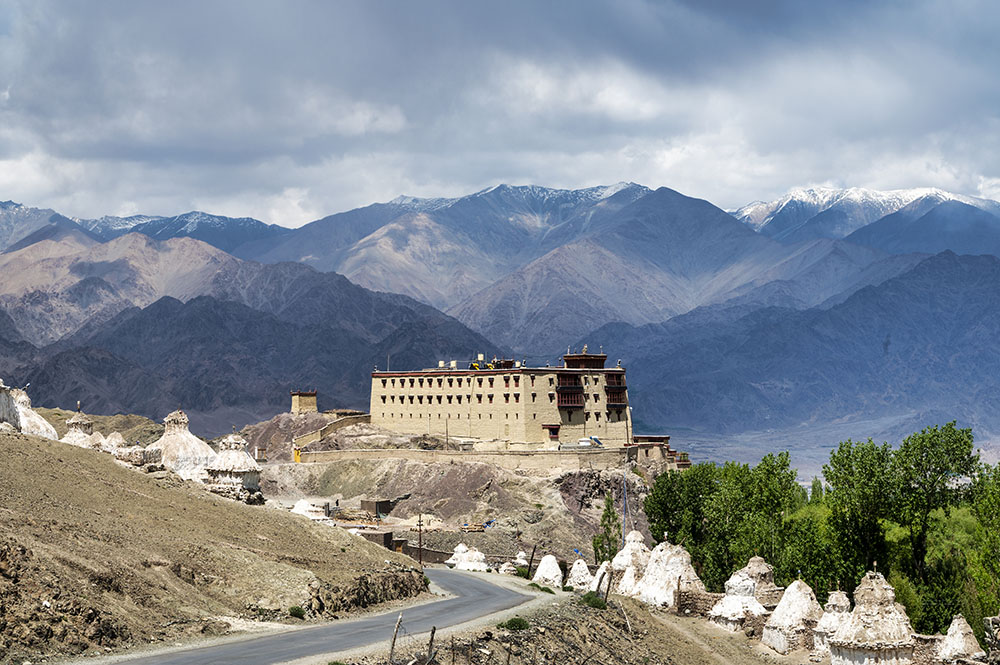 Day 23: Leh to Stok Palace
It was the 23rd day of our trip and we decided to dedicate this day to seeing the monasteries near Leh. We started from Leh and first went to the monasteries of Hemis, Stakna, and Matho. I have covered the details of these monasteries in the previous parts of the travelogue.
After spending some time at Matho Monastery, we decided to visit Stok Palace which was located at a distance of 18 kilometers from there.
Since the condition of the road was excellent, it took us only about 20 to 25 minutes to reach Stok with a couple of photography breaks in between.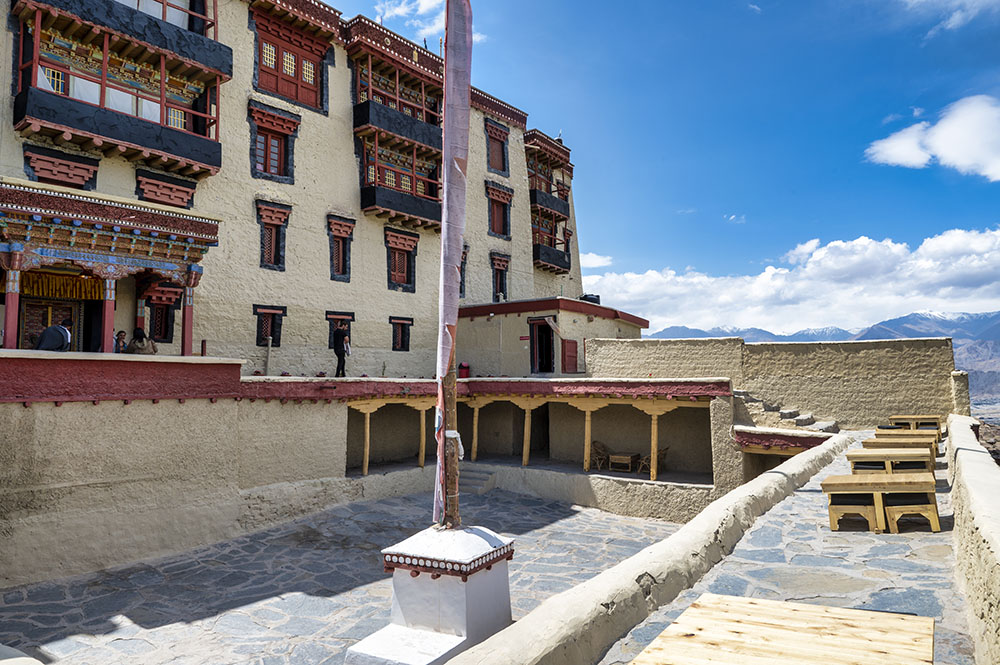 I was aware of the history related to Stok Palace but what I did not know at that time was that it is also a heritage hotel. I thought it would be another palace like Leh and Shey, a historical palace.
Stok Palace Heritage Hotel
We arrived at Stok Palace, parked our car, and entered the Stok Palace compound. I was expecting to come across a ticket counter but there was none.
Walking through the complex, we reached a viewpoint-like area. There was a small restaurant and some chairs overlooking the valley in front of the palace.
I talked to a guy in the restaurant and this is when I realized that we were not just in a palace but rather a heritage hotel.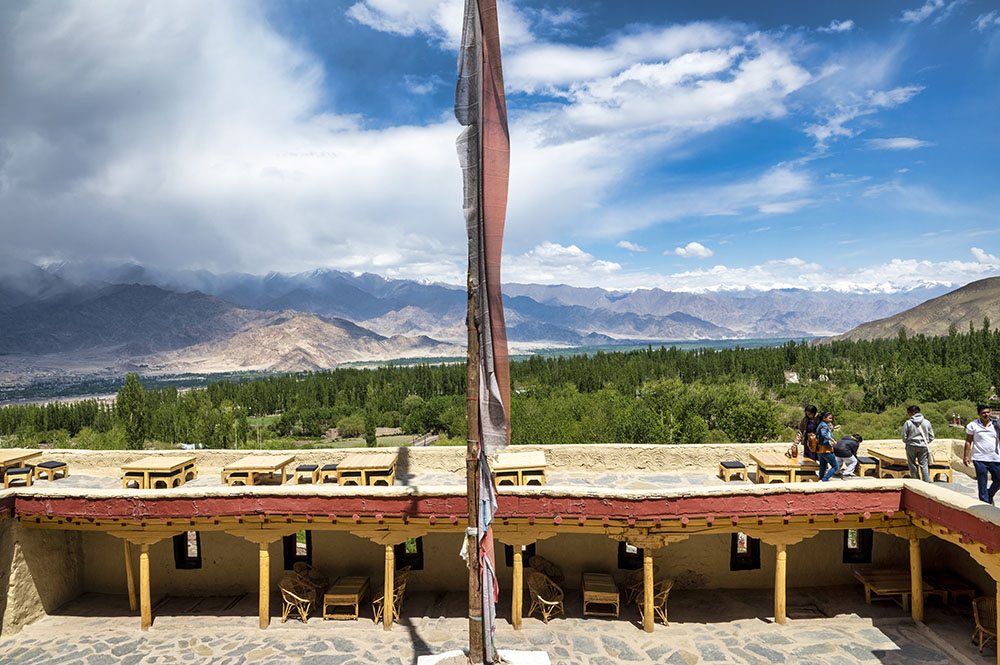 There was nothing to see there, to be honest. We just stood there for a while thinking what to do next. We entered the palace but we were just walking around in a hotel actually. There were stairs, corridors, and rooms, just like any other hotel.
The rooms were either occupied or locked so I did not get to enter one. I did not even want to actually because I knew it would just be like any other hotel room.
Disappointed, we came back down to the restaurant again, had some tea, and decided to be on our way back to Leh. Overall, the experience at Stok was very disappointing.
Hotel Rates
Stok Palace is a heritage hotel and the rates here are on the expensive side. I asked around and was told that there are three categories – Rs. 17000, Rs. 27000, and Rs. 37000.
This no way was fitting into my budget. Even if it did, in my opinion, Stok Palace is not worth all that money just for a one-night stay. The pictures below can help you understand why.
Is Stok Palace Worth It?
In all honesty, no it is not. It is not a tourist destination anymore. It is just a hotel and there is nothing to see here. When I say nothing, I mean nothing at all.
So my advice would be to save your time and breath and spend it on visiting some other destination in Ladakh. Go to Stok Palace only if you want to stay here.
After Stok, we came back to Leh and did not go anywhere in the evening. Day 24 was also spent resting at the hotel and then we went to Spituk Gompa on Day 25. Please click on the link above to continue reading the next part of the travelogue.
Conclusion
I hope the travelogue, pictures, and information above on the Matho Monastery were of help. If you have any questions, you can contact me on Instagram and I will be happy to answer. You can also consider subscribing to my YouTube channel and asking a question there.
This error message is only visible to WordPress admins
Error: No feed found.
Please go to the Instagram Feed settings page to create a feed.