Murgi Waterfall is a waterfall located in the village of Murgi, in the Nubra Valley of Ladakh. It is one of the least known waterfalls of Ladakh that does not receive a lot of visitors but is a beautiful place to visit. If properly developed and promoted, this small village and its waterfall will surely help to attract even more tourists to Nubra Valley.
Ensa Gompa (Ensa Monastery) is a monastery located on the top of a mountain in Nubra Valley, across the Siachen River, on the way to Murgi Waterfall. This 400-year-old Gompa is famous for Buddhist murals and was once an important learning center for nearby villages. From the top, it offers an amazing view of the valley around and the villages in it.
We visited both of these places during my recent two-month-long road trip to Ladakh. The post below is a brief narration of our visit and also provides several necessary details on these offbeat destinations. To read the previous parts of the travelogue, please follow the links below.
Journey So Far:
Are both of these places worth visiting? What is the best way to reach there? Is accommodation available nearby? What is the best way to plan your itinerary? Read on to get answers to all these questions. You can also take a look at the video below that I shot during our visit.
Day 32 – Local Sightseeing in Nubra Valley
It was the 32nd day of our trip and our 5th day in Nubra Valley. On previous days, we went to Turtuk Village, Thang Village, and Siachen Base Camp and explored the Diskit and Hunder Side of Nubra Valley. Now on the 5th and our last day in the valley, we decided to explore some lesser-known and offbeat destinations.
I had four names in mind – Yarab Tso Lake, Panamik Hot Water Spring, Ensa Gompa, and Murgi Waterfall. The first destination we visited was Yarab Lake. It is a small lake that is not exactly on the tourist map but is a beauty in itself.
After we visited the lake, we then continued our journey and drove to the Panamik Village. It is located at a short distance of only 6 kilometers from Yarab and we reached there in less than 15 minutes.
There is a hot-water spring in Panamik Village and the idea was to take a dip in its waters. We spent about an hour there. We took a bath and then got something to eat at a small restaurant located near the hot-water spring.
Feeling refreshed after the bath and with our bellies full, we then continued our journey to visit the remaining two destinations – Murgi Waterfall and Ensa Gompa.
Where is Murgi Waterfall?
Murgi Waterfall is located at a distance of about 10 kilometers from Panamik, across the Siachen River. From Leh, the distance is about 150 kilometers. If you were staying in Diskit or Hunder in Nubra Valley, the distance would be around 70-75 kilometers.
Where is Ensa Gompa?
Like Murgi Waterfall, Ensa Gompa is also located about 10 kilometers from Panamik and 150 kilometers from Leh. Both these places are located on the same road. From Panamik, you will first reach Ensa Gompa and then Murgi Village where the waterfall is located.
How to Reach Murgi Waterfall & Ensa Gompa?
In order to reach Murgi Waterfall and Ensa Gompa, you will first have to get to Nubra Valley. The easiest way to do so is via Khardung La Pass. Depending on how you were traveling, you can either get here by your own vehicle, or you can also rent a taxi in Leh.
Public transport to Nubra Valley is also available in the form of a daily bus and shared taxis. For more details on this topic, you can take a look at How to reach Nubra Valley from Leh.
Nubra Valley is basically divided into two parts. The first road runs through the villages of Diskit, Hunder, and Turtuk and ends near the LOC in Thang Village.
The second road runs on the other side of the river, through the villages of Sumur, Panamik, and Warshi. This road ends at the OP Baba Shrine, near Siachen Base Camp. Murgi Waterfall and Ensa Gompa are located on this side of the valley.
Murgi Waterfall
To visit both these destinations, you will first have to reach Panamik Village. From there, you will have to take an internal road to Murgi and Ensa. This is the only road that connects these remote areas with the rest of Ladakh.
We were traveling back and forth between Panamik and Sumur for the last four days. Every time we crossed Panamik, we noticed this small waterfall on the other side of the river. I didn't know which waterfall it was and it made me wonder if we should head in that direction.
Finally, we asked around in Panamik and were told that this waterfall was located in Murgi Village and was known as Murgi Waterfall. As you can imagine, the name really sounded funny and both me and Lavish had a good laugh about it.
So on Day 5 in Nubra Valley, we decided to include this offbeat waterfall in our sightseeing plans. After taking a dip in the hot spring at Panamaik, we drove through the village and started on our way to Murgi Waterfall.
Also Read: How to Plan a Trip to Nubra Valley
Panamik to Murgi Village
The village and the waterfall are marked in Google Maps and you could just follow the directions. Otherwise, just ask the locals and they would point you to the road that leads to Murgi.
This road bifurcates from the main Siachen Road right in the middle of Panamik Village, on the left. We turned on this road, crossed Panamik, and reached its other end.
Shortly after Panamik, there is a bridge that we crossed, that brought us to the other side of the river.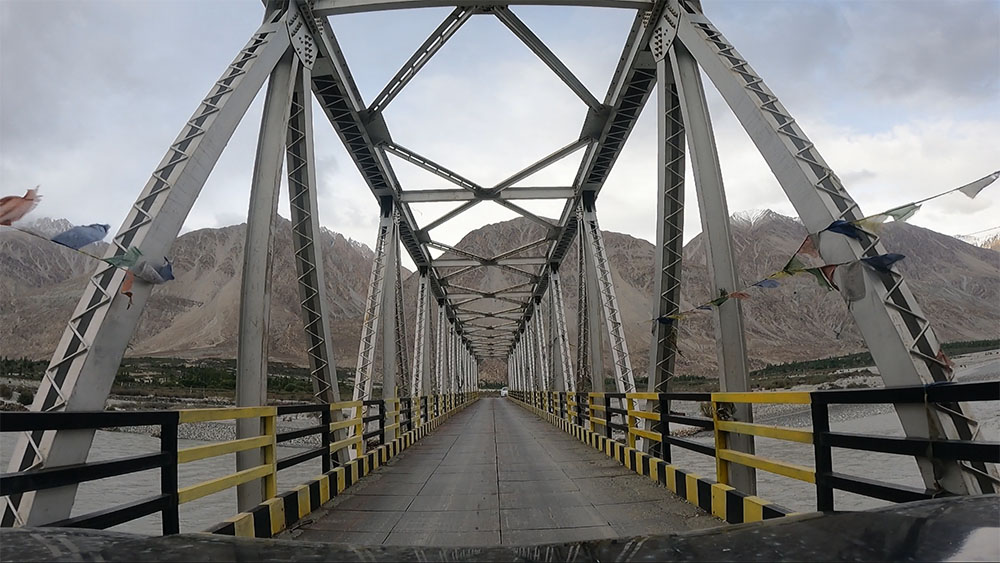 We turned left once again and this is where the tar on the road vanished. From here on, we were driving on a dirt road that was in very bad condition.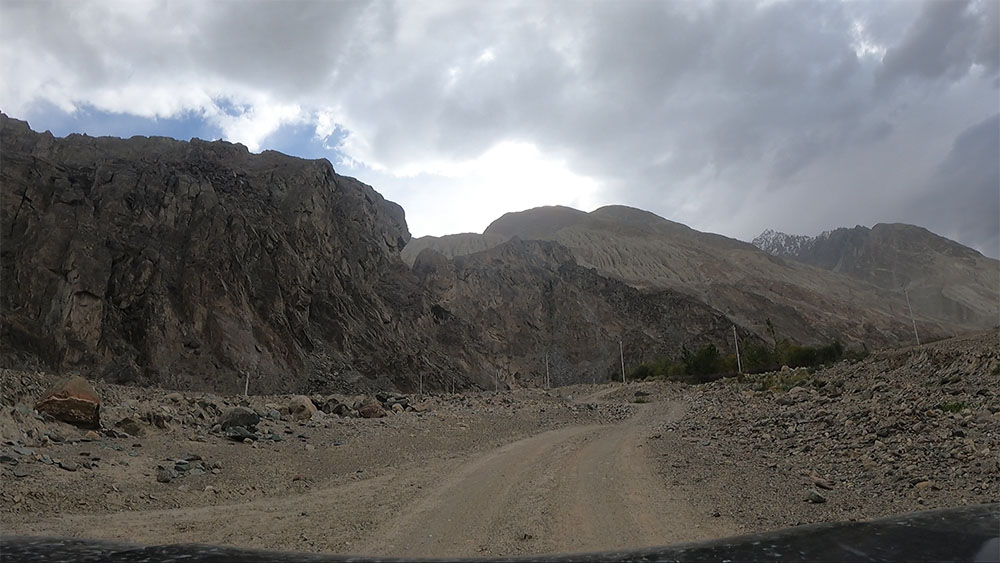 The journey was mostly eventless. On the way, we noticed the road to Ensa Gompa. It deviates from the Panamik-Murgi road and is a steep uphill drive to the monastery that sits at the top of a hillock.
We decided to first go to the waterfall and visit the Gompa on our way back. After a drive for another few kilometers, we finally reached the village.
The surprising part was that the road within the village was a smooth tarred one whereas the one leading to the village from Panamik was a badly broken dirt road that felt like offroading.
Nonetheless, we were in the village now and started to look for the road that goes to the waterfall. We could see the waterfall on our right but what we could not see was the road that went that way.
Also Read: Places to Visit in Nubra Valley & Things to Do
Murgi Waterfall
Murgi is a small village and you could drive from one end to another in less than 5 minutes. That is what happened to us. Searching for the road to the waterfall, we ended up reaching its other end.
Surprised, we turned around and drove through the village once more. Then we did it all over again but there was absolutely no road to the waterfall.
Annoyed and baffled, we asked a local girl and she pointed us in the direction of a dirt path. That was it. That was the road to the waterfall.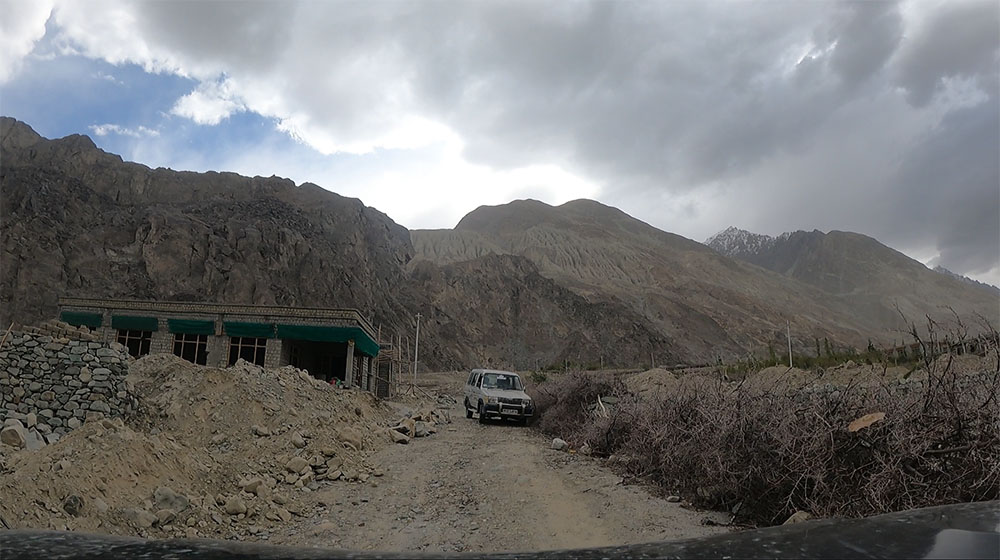 So the deal is that you have to drive on this road as far as you can and then walk to get closer to the waterfall. There is no road that can take you all the way. You will have to go on foot.
We drove to the point where the dirt road ended, got out, and started walking.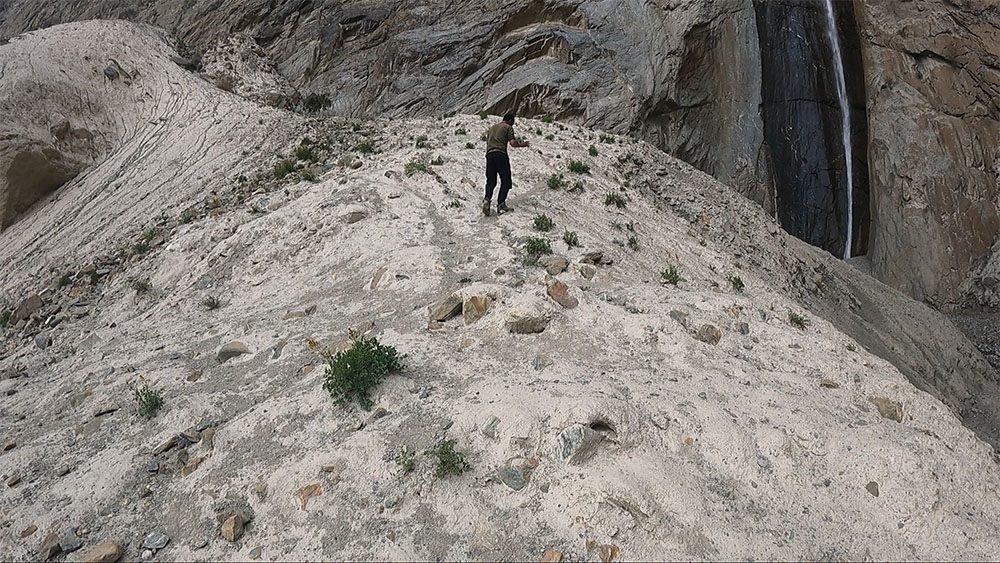 After a short walk, we reached the waterfall.
Was there anything special about it? The honest answer is no. The waterfall is not that large but it is definitely tall. What made the trip worth the time and effort was that we were in a spot that is still untouched by tourism.
This waterfall and the village itself receive no tourists at all. So if you are someone who likes going offbeat and avoiding the crowd, this is where you should come.
It is not really just the waterfall but rather its entire setting and location that is worth visiting. It really is an amazingly peaceful place. There was absolutely no one around other than me and my friend.
Also Read: How to Plan a Trip to Pangong Lake
Murgi Waterfall to Ensa Gompa
We spent about 45 minutes at the waterfall taking pictures and shooting videos. The sun was starting to set and the overall view of the village, waterfall, and the mountains around was very pleasing to the eye.
Finally, at around 4.30 pm, we walked back to the car, drove the main road, and continued our journey to Ensa Gompa. We crossed the village once again and reached the spot where the road to the monastery bifurcates.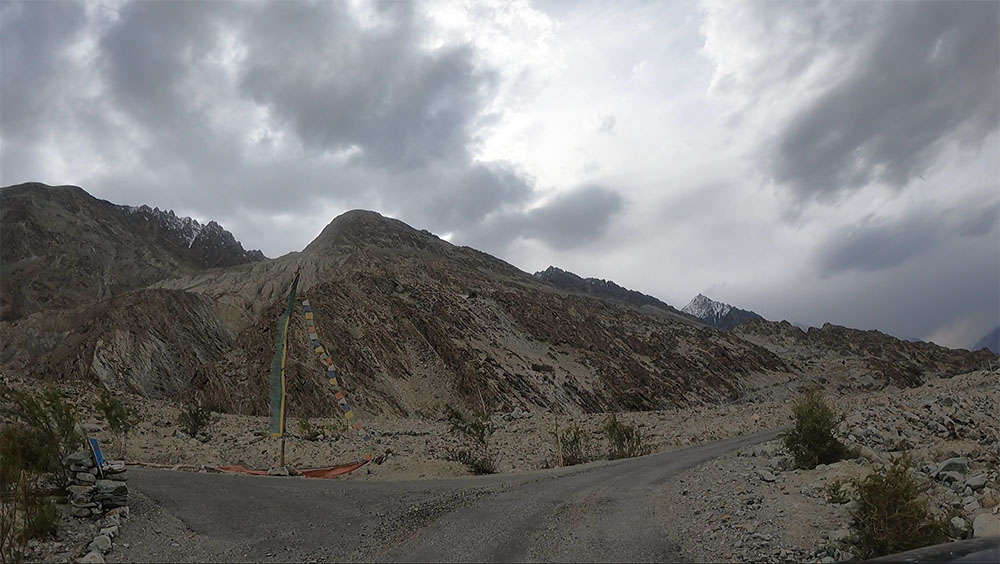 I was not really ready for what comes next. The road to the Gompa was so steep and narrow that the drive which was fun until now suddenly became adventurous.
The car remained in either the first or the second gear. There were a lot of twists and turns on the way and at a very short distance from one another.
After an adventurous and fun drive of about 10 minutes, we were standing in the parking lot of the monastery.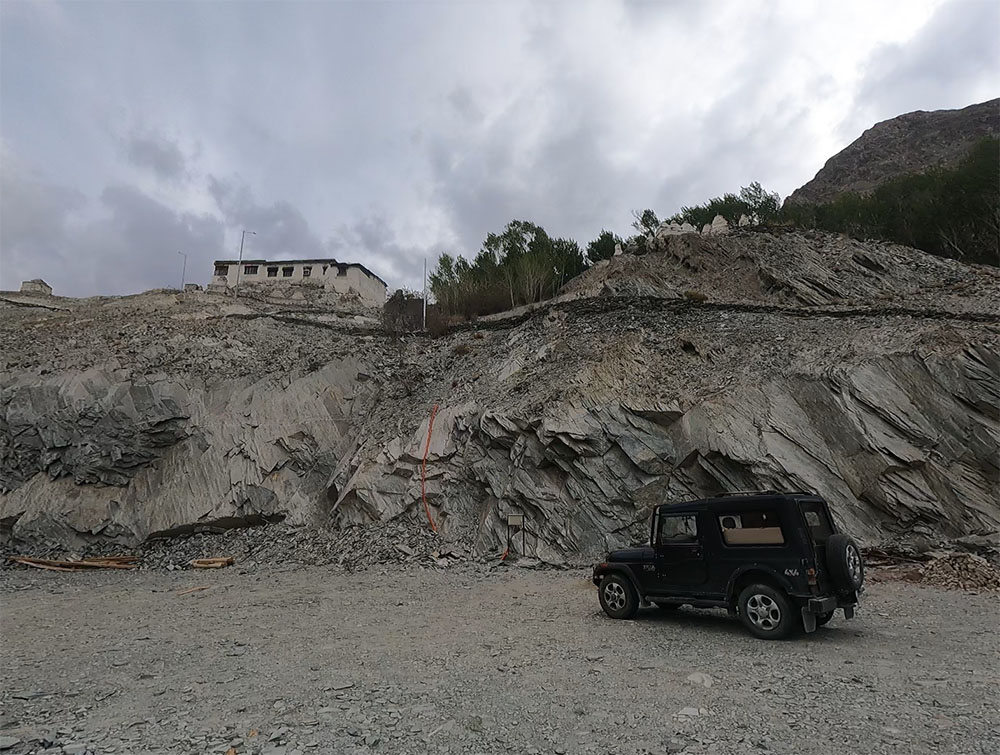 Ensa Gompa
Ensa Gompa sits high above the west bank road at the end of a looping 3-kilometer-long access road. The monastery itself is small and home to only one monk.
From the parking lot, a lovely kora path takes you past dozens of white chortens and a hermitage retreat. From the monastery, you get some really fabulous valley views.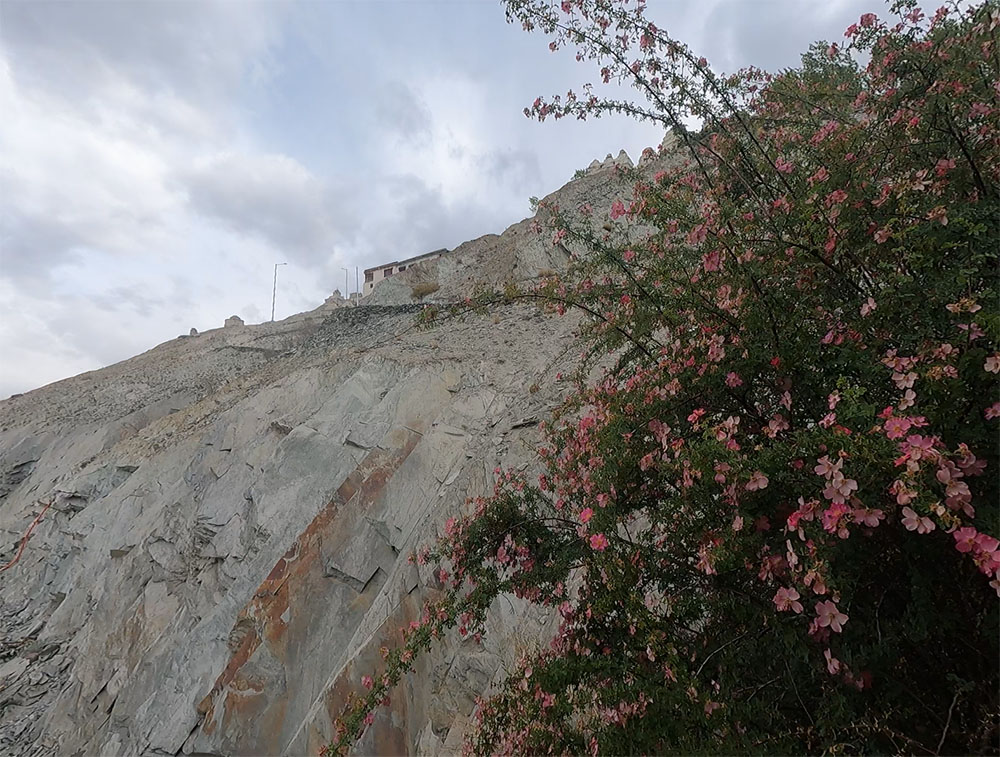 We walked up the path but the luck did not favor us this time. The monastery was locked and the monk was nowhere to be seen. We walked around and called out but no one answered.
The sun was setting really fast and we still had to drive another 35 kilometers back to Sumur, where we were staying. So after waiting for about 15 minutes, we got back down to our car and started on our way back.
Public Transport
There is no public transport available on this route. You may get a bus or a shared cab to Panamik but from there, you will have to rent a private taxi to bring you to Murgi Waterfall and Ensa Gompa;
Accommodation
There is no accommodation available here. If you want to stay overnight, you can talk to the villagers in Murgi and see if any of them would allow you to stay as a paying guest.
The monastery also does not offer a night-stay for tourists. The nearest where you can find a place to stay is either the Panamik Village or Sumur Village, where we were also staying.
Mobile Network
Airtel and Jio both have good connectivity with 4G data in Panamik and the nearby villages, including Murgi. BSNL will remain connected as well but their service is not that great. No other network works in this region. For more details, please take a look at Mobile Network in Ladakh & Data Connectivity.
What to See
The natural beauty of the place and the peaceful environment are what you should come here for. The waterfall, as I mentioned, is not that grand. But the overall setting of the village makes it charming enough for a trip.
Ensa Gompa is a very old monastery that feels badly in need of some renovation. I did not go inside but from what I heard, only its prayer hall now remains intact. There are some ancient murals inside that make it worth a visit.
If you had time, from Ensa Gompa, you can also continue further south to Kuri Gompa and Charasa Gompa, or north to Yerma Gompa.
A few other places that you can visit on this side of Nubra Valley are Sumur Sand Dunes, Panamik Hot Water Spring, and Siachen Base Camp.
Journey Ahead: Nubra Valley to Pangong Lake via Agham Shyok Road
From Ensa Gompa, after a drive of about 45 minutes, reached back our campsite in Sumur. The rest of the evening was spent relaxing. We had our dinner by 8 pm and called it an early night.
The next day, we were to travel from Nubra Valley to Pangong via the Shyok road. Please click on the link above to continue reading the next part of the travelogue.
Murgi Waterfall & Ensa Gompa – Conclusion
I hope the travelogue, pictures, and information above on visiting Murgi Waterfall and Ensa Gompa were of help. If you have any questions, you can contact me on Instagram and I will happily answer. You can also consider subscribing to my YouTube channel and asking a question there.
This error message is only visible to WordPress admins
Error: No feed found.
Please go to the Instagram Feed settings page to create a feed.