Like many other old parts of other cities, Leh old town preserves an image of what this historical city used to look like once upon a time. This was the heart of the entire Ladakh district. With the increase in tourism in the last few years, the small town of Leh has expanded but the old Leh town continues to remain the same.
Narrow streets, houses at an arm's length from each other, decades-old shops, markets, some historical places, religious shrines – this is what the old part of Leh town is all about. What you see here is not every tourists's cup of tea but for people like me, it has a charm of its own.
I was recently on a two-month-long road trip to Ladakh. This was not my first time in Leh. I had been there before but Leh old town was still something that I had never been to.
This time though, I wanted to correct my mistake and ensure that I walk through the old streets of original Leh. On one of the days of the trip, I did that and the post below is a brief narration of my experience there. To read the previous parts of the travelogue, you can follow the links below.
Journey So Far:
Did I like visiting old Leh town? Yes, I did and I will highly recommend that you also take some time out to be there. What should you see or do there? Read on to find out.
About Leh Town
To being with, I will share an old picture of Leh town that I found on the web. This was painted by Dr. Henderson who visited Ladakh in 1834.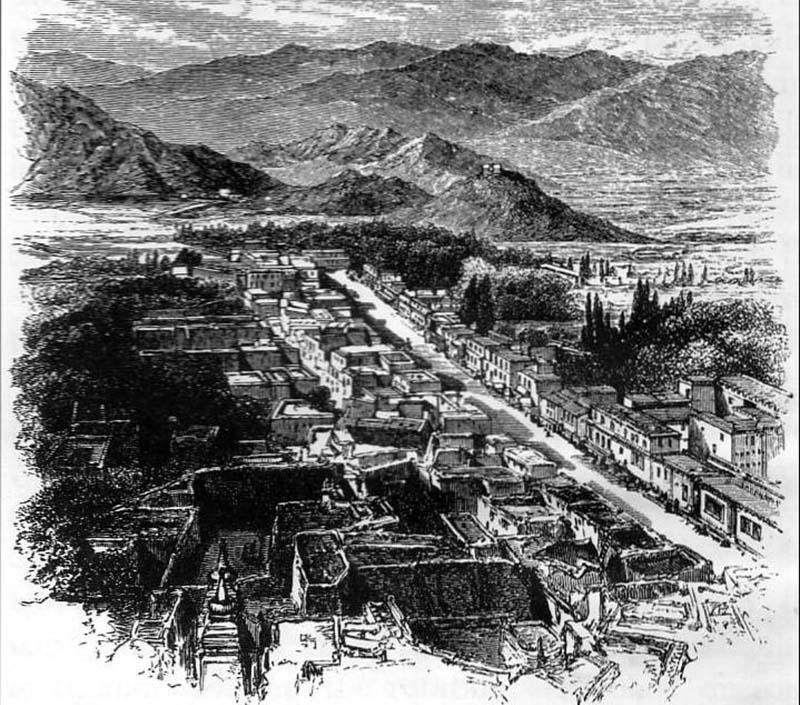 And this second picture I clicked back during my first trip to Ladakh in 2005.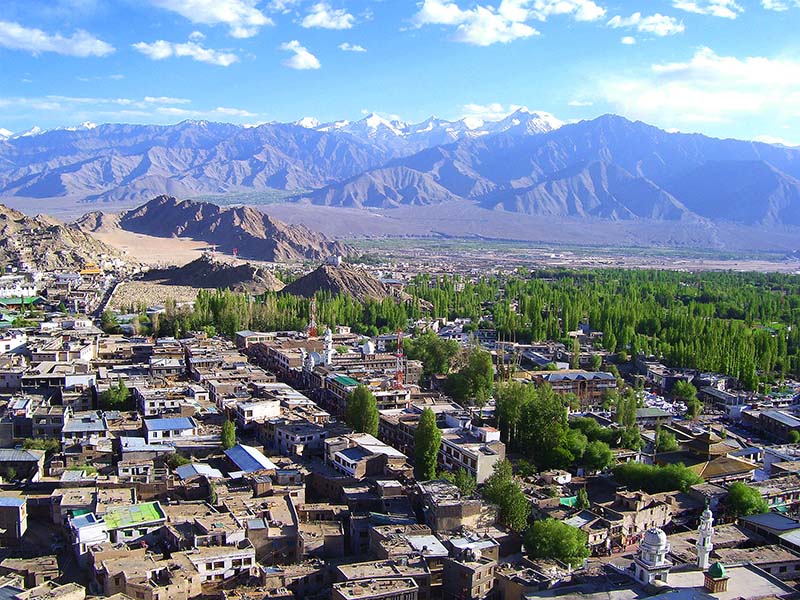 It would seem that both Dr. Henderson and I happened to be standing at the same spot while taking these pictures. Comparing the two, not much seems to have changed in terms of the landscape. But a lot has changed otherwise with the passing of time.
Ladakh is no longer the destination that you can only dream of. Over the last few years, it has come up as one of the most visited destinations in the country. The number of tourists increases each year and a lot of commercialization takes place.
It is no longer the craze for adventure enthusiasts, motorcyclists, or travel junkies. It is now rather a family spot as well because Ladakh has a bit for everyone. No matter what your passion is, no matter what you seek, you can rest assured that you will get it in Ladakh.
Places to Visit in Leh Town
The small city of Leh becomes the base for all tourism in Ladakh. When you plan a trip here, it is Leh you got to reach first and then travel any further.  It often gets considered as a place that you just go to in order to get the permits.
People think there is nothing worth spending time in the city itself and the places to see are Nubra, Pangong, or Moriri. This however is not correct at all.
There are several places in Leh City itself that are worth a visit. When you travel to Ladakh, you must spend some time, at least a couple of days, in Leh town otherwise your trip will be incomplete.
Leh Palace, Shey Palace, Shanti Stupa, and several monasteries are just a few to name. Take a look at Tourist Attractions and must-visit places in Leh City.
But when we talk about the old Leh town, what exactly do you see there? Even I knew of just two names, Gurudwara Datun Sahib and Old Jamia Masjid. That is all that was on my mind when we decided to pay a visit to the old part of this historical city.
Day 28 – Leh Old Town
It was the 28th day of our trip and a Friday. Like all of the previous days of the trip, even this day started late. By the time we got up and got ready to leave, the clock read 2 pm.
This was because we were also working while traveling. That is how I was able to manage a 2-month long trip to Ladakh. We had our office laptops with us. Every night we used to work until 3 am and used to go to sleep only at around 4 am.
The next day, we would get up by 11 am or 12 noon, pick one place to visit that day, spend the next 3 hours sightseeing, return to the hotel by 4 pm, and log in to our office laptops by 5 pm.
That is how we were executing the trip so far and this day was no different. At 2 pm that day, we stepped out of the hotel and started on our way to Leh old town.
Gurudwara Datun Sahib
The first destination I had in mind was Gurudwara Datun Sahib. Contrary to the common belief, there is actually no Gurudwara at the site, but rather the remains of a large Meswak tree. It is said that Guru Nanak visited this site around 1516 and that is why it is known as Datun Sahib.
The Datun Sahib is located behind the Jamia Masjid in the main bazaar at Leh, on a lane that mainly houses bread makers. It contains a Nishan Sahib and a tree wrapped in orange cloth. There are two main Singh Sabha Gurudwaras located within one kilometer of the site.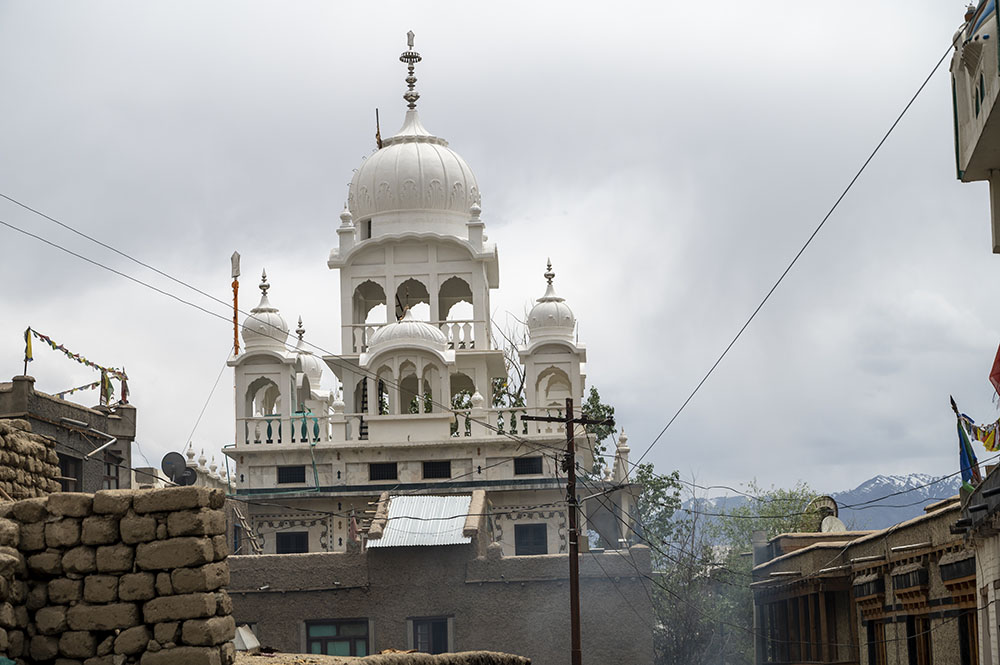 A yellow board in front of the tree refers to the visit of Guru Nanak in 1516.  It is said that Leh was devoid of greenery at the time, but Nanak blessed the city with greenery by planting a Meswak tree.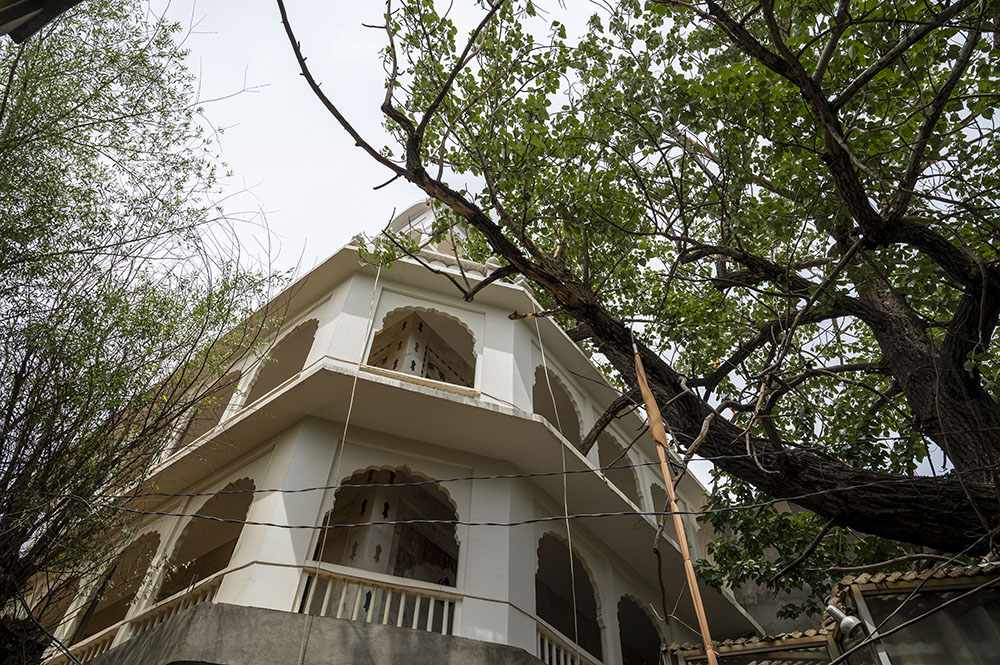 We parked our car near the main Leh market and had to walk the rest of the distance to Datun Sahib. The streets were narrow and it was impossible to even ride a bike there, let alone bring a Thar.  The door to the Gurudwara was locked though and we had to pay respect from the outside.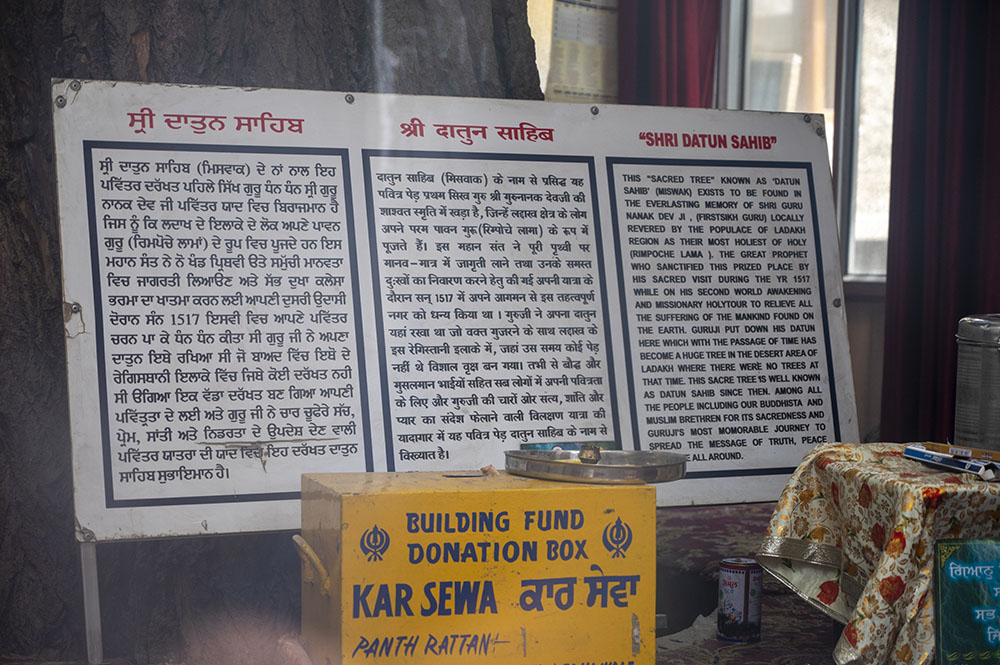 Jama Masjid
Right next to the Gurudwara is the old Jama masjid of Leh. This is a historical mosque that was built in 1666-67 and has been rebuilt several times since then.
The mosque was a symbol of agreement between the then king of Ladakh Deldan Namgyal and Mughal Emperor Aurangzeb wherein Mughals were to provide protection to the Ladakhi King in return for a small fee.
It is considered to be the biggest mosque in Ladakh and is also noted for Shahi Hamdan Memorial, built to honor Mir Syed Ali Hamdani, a Muslim Sufi Saint.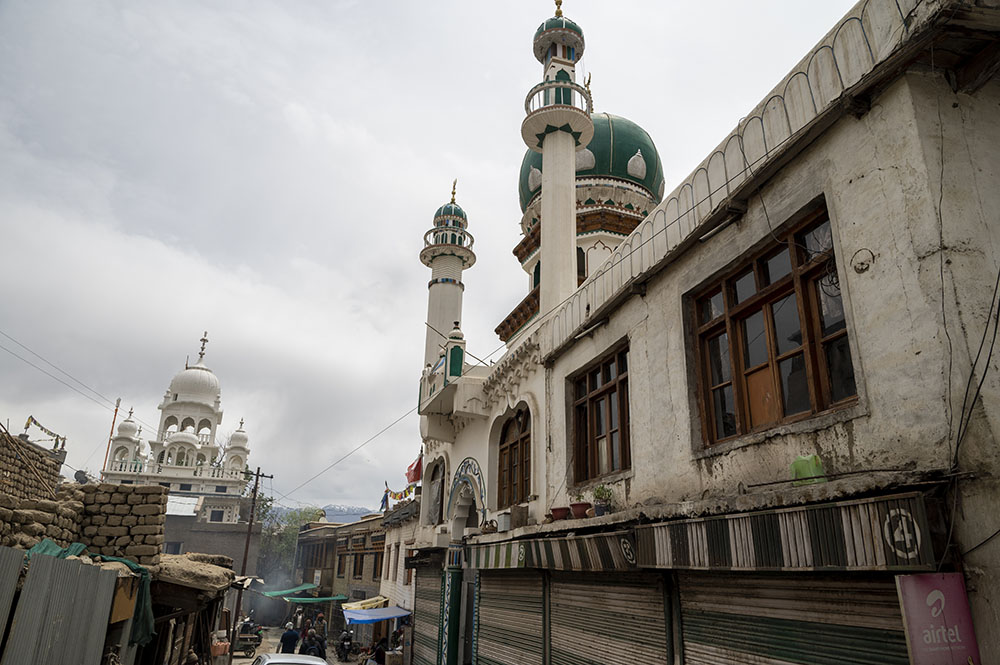 This lane, which Jama Masjid and Datun Sahib are on, mainly houses bread makers. There were a lot of small bakeries and we could not help but taste some local delicacies. The ones that I loved the most were chicken and mutton samosas.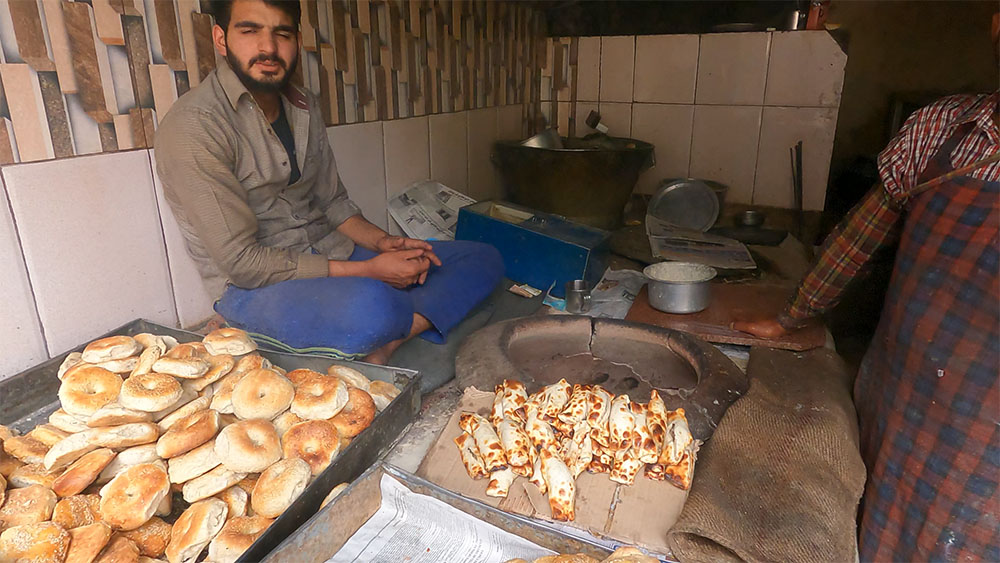 After visiting Datun Sahib and Jamia Masjid, while we were enjoying the samosas, I noticed a board that read Central Asian Museum of Leh. This was a place that was entirely new to me.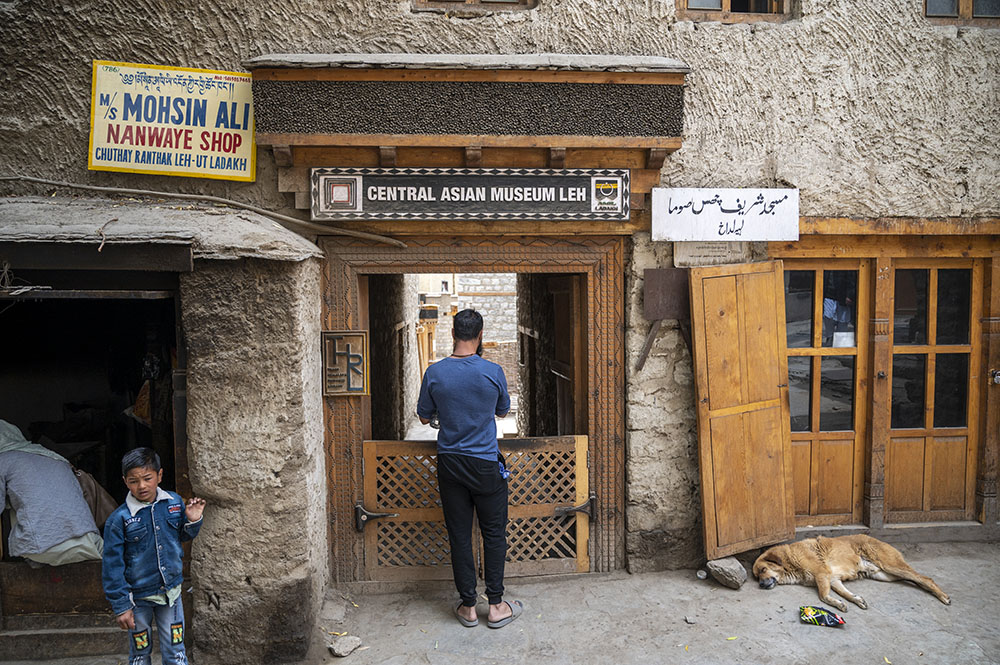 I knew of Datun Sahib and Jamia Masjid (and other tourist attractions in Leh) but had never heard of the museum. Nonetheless, we were quite intrigued by what this museum could be all about so we decided to enter and take a look.
Central Asian Museum
Central Asian Museum is a modern construction based on a historic Lhasa mansion and built on the site of an old caravan camp. It takes a look at Leh's role in the Silk Road trade, with rooms focused on Ladakh, Chinese Turkestan, and Tibet.
There was an entry fee of Rs. 25 per person that we paid and entered the building. The museum is located in a tapered four-story stone tower inside a large complex that also has a small park-type area and a couple of small restaurants.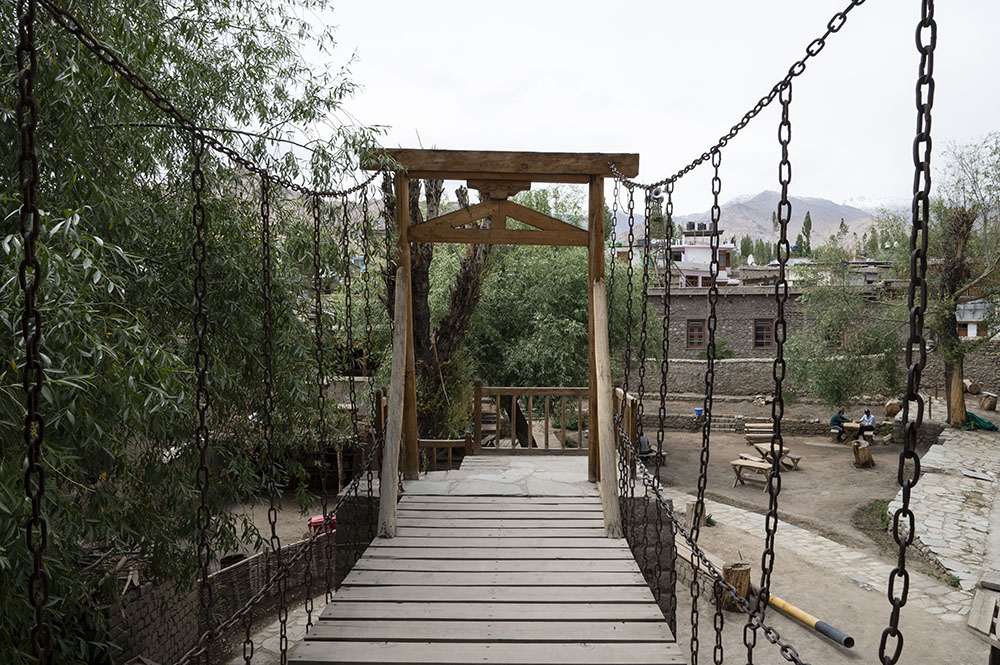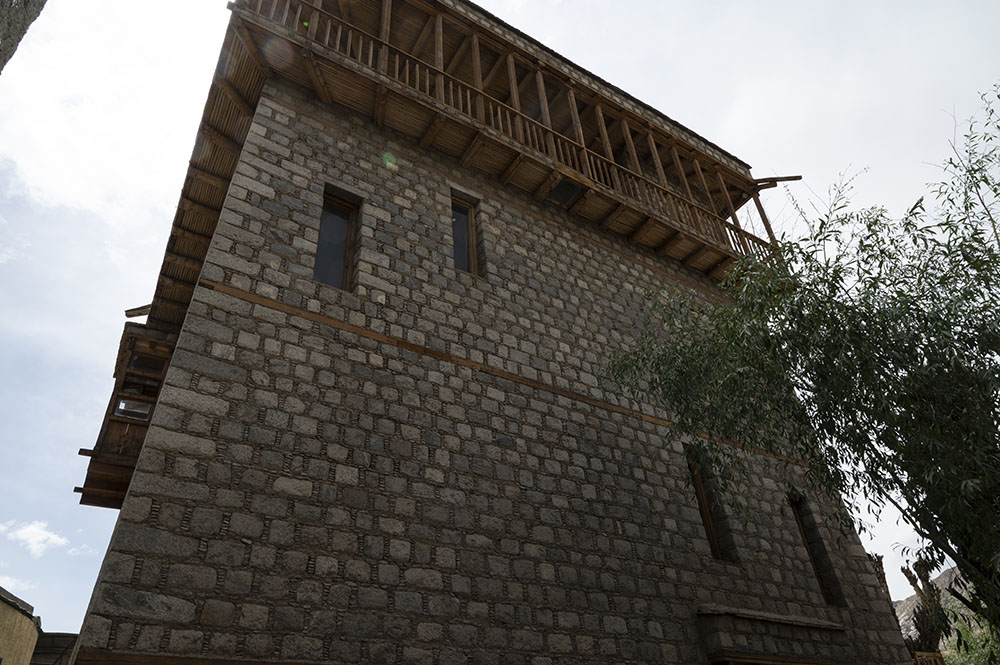 There were a lot of things inside the museum that were of interest to me. I am a little history geek myself and the ancient items I was looking at were no less than a thrill to me.
Some of the items that we saw in there included the following.
Antiquities
Manuscripts
Cultural artifacts from Central Asia
Old handwritten copies of the Quran
Ancient handwritten chronology of the prophet
Rock art
Day-to-day instruments such as weighing machines from ancient Ladakh
Currency gathered from across the Central Asian states
Ancient Ladakhi kitchen
Old caravan water heater
Ground-floor ceiling inspired by early Ladakhi and Baltistani-style architecture
Diamond ceilings similar to those in traditional Ladakhi temples
Below are a few pictures.
These were just a few things but there were a lot of items in there that are worth seeing. From the roof of the top floor, you get an amazing view of the entire Leh town. I like this particular view – Datun Sahib, Jamia Masjid, and Leh Palace all in one frame.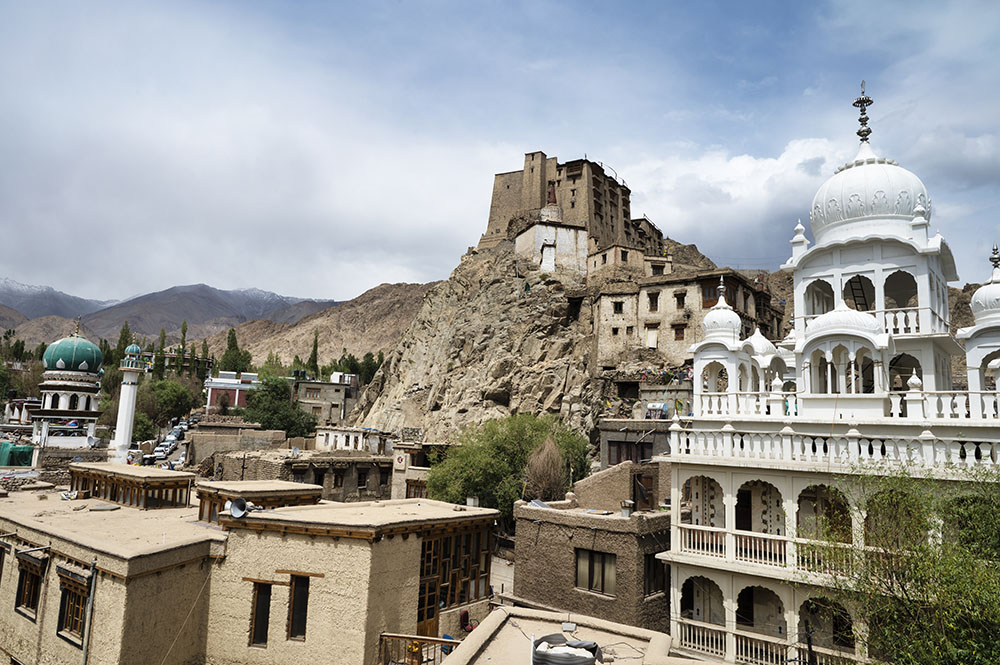 Leh Main Market
We spent about 3 hours in Leh old town and then walked back to the main market area. There was no intention of shopping but rather just to walk around which we did.
Noticed this guy in the market.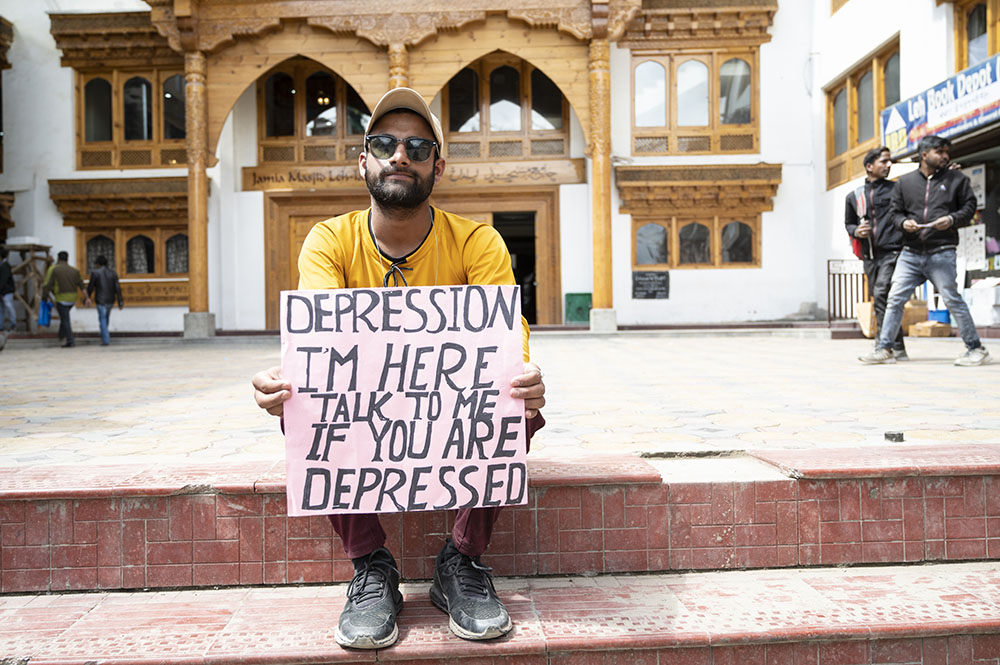 We stayed in the market until 7 pm that day and returned to our hotel after it started to get dark. It was now time to switch on our office laptops and get back to work.
The plan for the next day, Saturday, was to go to Nubra Valley. We intended to spend our weekend in Nubra Valley and come back to Leh on Monday. But our stay there got extended to 5 days and we ended up covering pretty much all of Nubra Valley.
Our stay for the first day was booked in Hunder but after that, we ended up staying in Sumur as well at a very pretty campsite. Please click on the link above to continue reading the next part of the travelogue.
Leh Old Town – Conclusion
I hope the travelogue, pictures, and information above on Leh old town were of help. If you have any questions, you can contact me on Instagram and I will be happy to answer. You can also consider subscribing to my YouTube channel and asking a question there.
This error message is only visible to WordPress admins
Error: No feed found.
Please go to the Instagram Feed settings page to create a feed.