Siachen Base Camp is an Indian Army base camp located in the Nubra Valley of Ladakh. It is one of the 2 bases from where the military operations at Siachen Glacier are controlled, the other base being near THOISE. Tourism is now allowed in the region, even though civilians are not permitted to go all the way inside the Army base.
The drive from Leh to Siachen Base Camp is about 200 kilometers long and will take you anywhere between 8 to 10 hours to complete. The road runs across the high-altitude pass of Khardung La and the scenic Nubra Valley.
I was recently on a two-month-long road trip to Ladakh. We spent 5 days in Nubra Valley and one of these days was used to visit the Siachen Base Camp and OP Baba Shrine. The post below is a brief narration of our visit and contains several necessary details that can be of help in planning a trip to this region.
Journey So Far:
To read the previous parts of the travelogue, you can click on the links above. Also, posted below is a video of our journey that you can also take a look at. Or you can read on to get more details on how to plan a trip to Siachen Base Camp.
What is Siachen
First of all, let me begin with some information on what exactly Siachen is. The Siachen Glacier is a glacier located in the eastern Karakoram range in the Himalayas, just northeast of the point NJ9842 where the Line of Control between India and Pakistan ends.
"Sia" in the Balti language refers to the rose family plant widely dispersed in the region. "Chen" refers to any object found in abundance. Thus the name Siachen refers to a land with an abundance of roses.
At 76 km long, it is the longest glacier in the Karakoram and the second longest in the world's non-polar areas. The entire Siachen Glacier, with all major passes, is currently under the administration of India since 1984.
More importantly, however, at an altitude of 5,753 meters (18,875 ft), it is now the world's highest battleground. It is an active battle zone where Indian and Pakistani forces remain engaged in conflict all 12 months.
It however is not really the matter of the constant battle out here. More soldiers have died at Siachen from the harsh weather conditions in the region than from combat.
So that is Siachen for you. It is not an adventurous place, not a tourist spot, or an area where tourists are allowed. It is not a place where you go just for a challenge or to explore. Siachen is where you run a great risk of dying if you were not careful, prepared, escorted, and trained for it.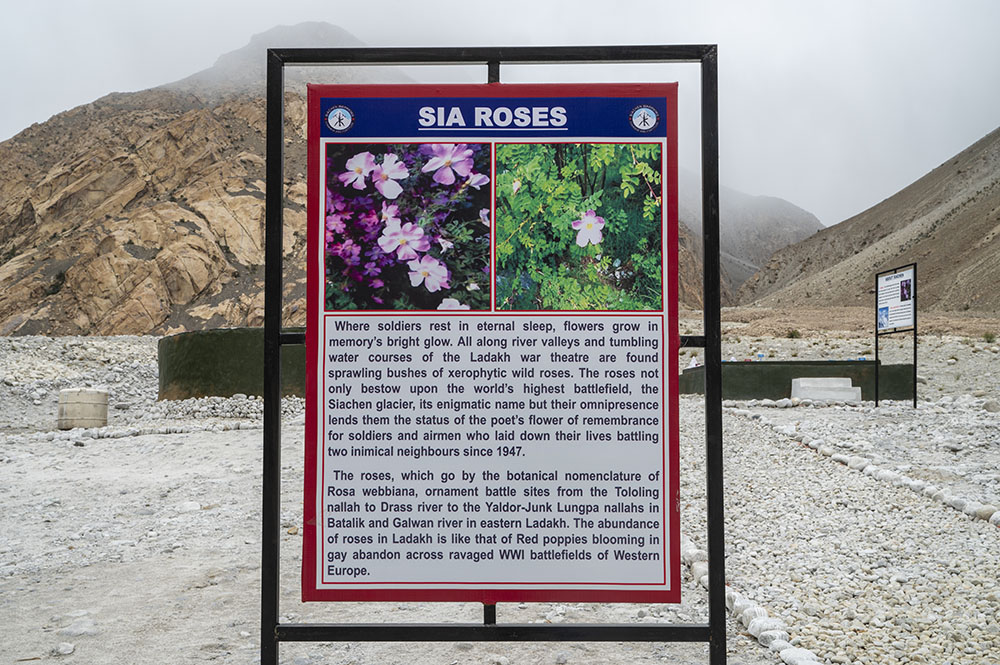 What is Siachen Base Camp
Siachen Base Camp is the base camp, or in layman's terms, the army base from where Indian Indian Army mans the Glacier operations. This is where the road ends and treks to various army posts at Siachen Glacier begin.
The base runs a Siachen Battle School for pre-induction training, orientation, and acclimatization for fresh troops before they are deployed at various Army posts at Siachen Glacier. The base has helipads, a memorial for martyrs, a medical unit, etc and it is connected by a motorable road.
Also read: How to Plan a Trip to Leh Ladakh
Where is Siachen Base Camp
Siachen Base Camp is located in the Nubra Valley of the Ladakh region. From the town of Leh, you will cross Khardung La to enter the valley and drive through Panamik and Warshi villages to reach the base camp.
It lies at a distance of about 200 kilometers from Leh, 120 kilometers from Diskit, 65 kilometers from Sumur, and about 45 kilometers from Panamik.
Siachen Base Camp Permit
There is no special permit needed to visit the base camp. Your Inner Line Permit procured for visiting Nubra Valley will stand valid for a trip to the base camp as well.
One thing to note here is that you still cannot visit the actual Army Base Camp. Tourists are allowed only to the OP Baba Shrine which is located about 2 to 3 kilometers from the Base Camp. You cannot go any further than that. Read on to find out more.
How to Reach Siachen Base Camp
Let us now talk about how to go to Siachen Base Camp and the route that you will need to follow. It is ideally a 2 days trip from Leh City. You will first have to reach any of the towns in Nubra Valley from Leh and stay there for the night.
On Day 2, you will make a day trip to Siachen Base camp and return back to Nubra Valley. On 3rd day you can either return to Leh or continue to Pangong Lake via Agham Shyok Road.
Below are the routes that you can follow to reach Siachen Base Camp from Leh City. The first one is a direct and the fastest way to get there. The second one is more of an indirect route that you can follow if it helps plan your itinerary better.
Siachen Base Camp Route via Nubra Valley
Traveling via Nubra Valley, below is the route that you will follow. The journey can take you anywhere between 8 to 12 hours depending on your speed and traffic at Khardung La.
Leh – Khardung La – Khalsar – Sumur – Panamik – Warshi – OP Baba Shrine – Siachen Base Camp
From Leh, you will first drive up to the Khardung La Pass. Even though this is a journey of only about 35 kilometers, it can still take 2-3 hours if there was heavy traffic on this road.
From Khardung La, you will then drive down to the village of Khalsar and continue to Sumur. After Sumur, you will travel through the villages of Panamik and Warshi and arrive at the OP Baba Shrine near Siachen Base Camp. This is as far as you will go.
Can this be done in a single day from Leh? Maybe if you did not encounter any traffic on the way but it is not recommended. Even if you rushed, it will still take you about 10 hours minimum to reach the base camp.
You will then need another 2-3 hours to reach back either Warshi, Panamaik, or Sumur for the night. So even if rushed and with no traffic, it will still be a journey of 12 hours minimum. If there was traffic at Khardung La, there is no way you can do it in a single day.
Thus, it is advised that you give this at least 2 days so that you also have ample time for sightseeing on the way. This is also not a route that you should be rushing on for your own safety.
Via Pangong Lake
Now let us take a look at how this journey can be planned if you decided to go first to Pangong Lake and then circle to Nubra Valley from there. The route then would be as mentioned below.
Leh – Chang La – Durbuk – Pangong Lake – Durbuk – Shyok – Agham – Sumur – Warshi – OP Baba Shrine – Siachen Base Camp
This is not really a route recommended if you had Siachen Base Camp on your mind. It is more of an overall itinerary planning where you want to cover Pangong Lake first and circle to Nubra Valley before coming to Leh.
From Leh, you first go to Pangong Lake on Day 1 via Chang La and Durbuk. On Day 2, you will then drive back to Durbuk and take the Aghaym Shyok road from there to arrive at Sumur in Nubra Valley.
From Sumur, you will then continue driving to Siachen Base Camp, spend some time there, and return to either Panamik or Sumur for the night.
The journey on Day 2 will be again at least 11 to 12 hours long so an early start from Pangong Lake is highly recommended. If you were able to return in time, I will suggest coming back to Panamaik for the night. If you got late, you can look for a homestay in Warshi itself.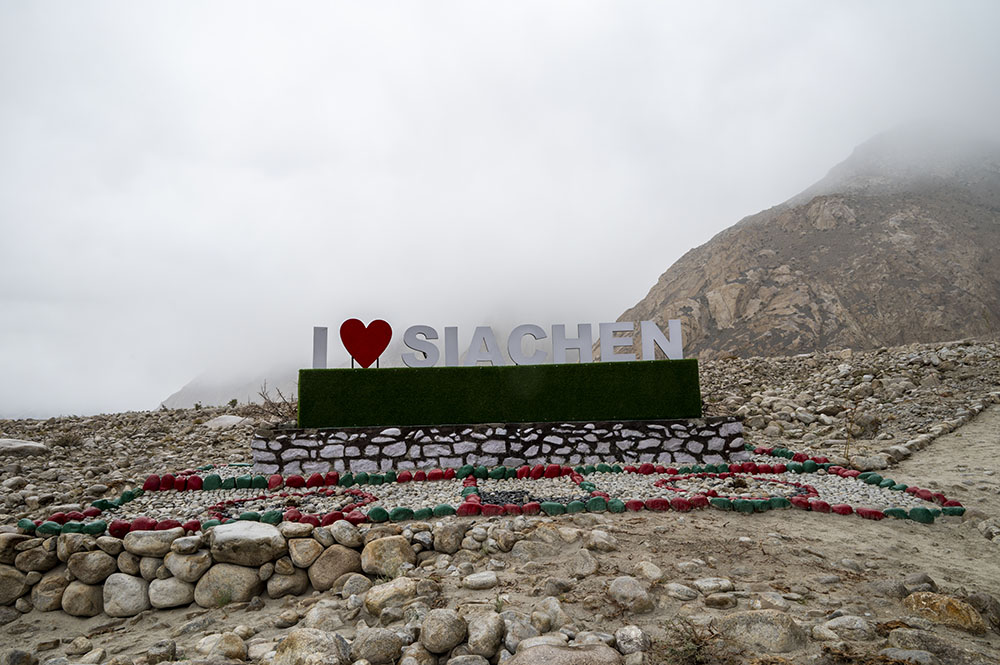 OP Baba Shrine
Let me also tell you a little bit about what exactly OP Baba Shrine is. As the name suggests, it is a shrine dedicated to an Indian soldier, Om Prakash, who was posted at Siachen Glacier in the late 1980s.
During a routine patrol, he was killed in a confrontation with the enemy troops. He never returned and his body was never found as well.
After that, several soldiers claimed that Om Prakash visited them in their dreams and forewarned them about impending dangers on the Glacier. Due to this, soldiers started referring to him as OP Baba, and this shrine was built in his respect.
Now what stands is a small temple that Army has named 'Sarv Dharma Sthal'. It is both a shrine dedicated to Om Prakash as well as a common worship place for soldiers from all religions.
When you approach Siachen Base Camp, you will first arrive at OP Baba Shrine. After the Shrine, there is a small bridge and the Base Camp is located about 2-3 kilometers after the Bridge.
As a tourist, you are not allowed to go beyond the Shrine. You cannot cross the bridge and see the base camp or the military operations there. You are not also allowed to point a camera in the direction of the Base Camp.
Your visit, photography, and videography are limited to the shrine and the area around it. You can walk to the bridge but cannot click a picture of it or the area on the other side of the bridge.
Do you get the see the actual Siachen Glacier? Well, you actually get a glimpse of it in the distance from the shrine. But since you cannot point your camera in that direction, you will not be able to click a picture of it.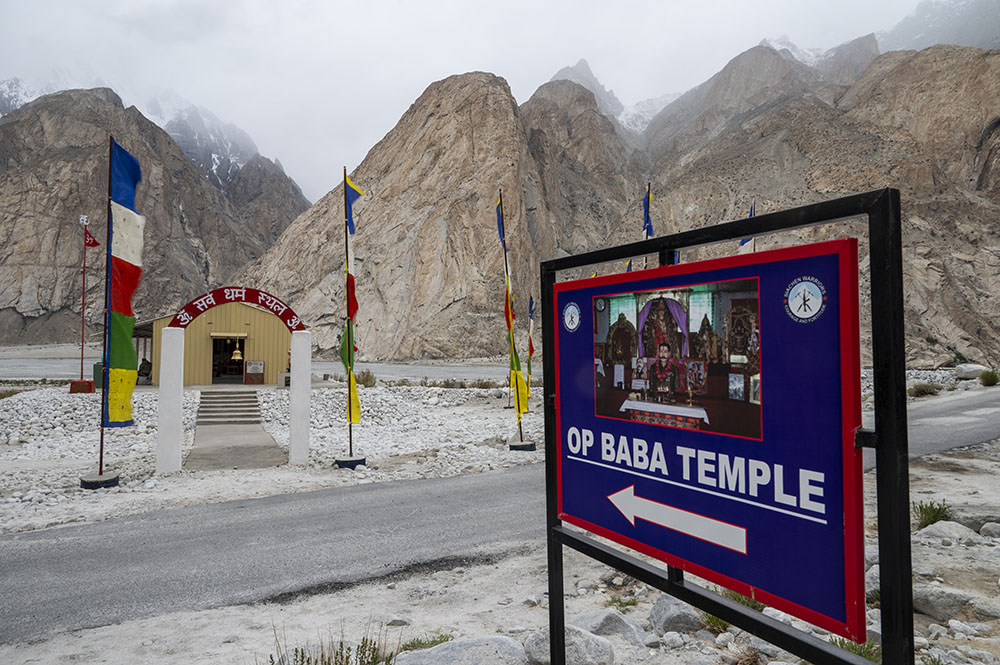 Where to Stay
There is no accommodation available anywhere near the base camp. Even if you were carrying your own camping gear, you will also not be allowed to camp anywhere between Warshi and OP Baba Shrine.
The nearest place where you can find a place to stay for the night in the form of homestays is Warshi Village. Other than that, you can also look for a homestay in Sasoma Village.
If you want to stay in a proper hotel or a guest house, you will have to return to either Panamik, Sumur, Diskit, or Hunder. Even in Panamik, there are more homestays than guest houses.
Also read: How to Handle Acute Mountain Sickness in Ladakh
How to Plan a Trip to Siachen Base Camp
Let me also talk in brief about how you can plan a trip to Siachen Base Camp. I will suggest a few different itineraries depending on the time you have in hand.
If you have a total of 4 days in hand for Nubra Valley, you can plan your trip like below. Traveling this way, you will be able to properly explore Nubra Valley on both sides.
Leh to Diskit / Hunder – Day 1
Diskit to Turtuk & Thang to Diskit – Day 2
Diskit to Siachen Base Camp to Panamik – Day 3
Panamik to Pangong Lake – Day 4
If you were short on time and really wanted to go to the Base Camp, you can skip visiting Turtuk and Thang Village and travel in the following manner.
Leh to Diskit / Hunder – Day 1
Diskit to Siachen Base Camp to Diskit / Panamik – Day 2
Panamik to Pangong Lake – Day 3
Best Time to Visit Siachen Base Camp
The best time to visit Siachen Base Camp is between the months of May and September. This is also the best time to visit Ladakh by road because, in these months, all the roads and passes are open and accessible.
You can also visit the Base Camp in other months as well but it will heavily depend on whether the road was open and safe to travel on. Indian Army keeps the road to Siachen Base Camp open for all 12 months but as a civilian, you may not be allowed to travel during the winter season for safety reasons.
But it all depends on the weather really. You will surely be able to get there in April and October but may not be able to reach Ladakh by road. In these months, if the Manali Leh and Srinagar Leh roads were closed, you may have to catch a flight to Leh.
Between November to March, you will surely have to fly to Leh first, and then depending on the weather conditions, you may or may not be allowed to go to the Base Camp.
Siachen Base Camp Temperature
The temperature at Siachen Glacier goes down to minus 86 °C during winters with icy 300 kmph blizzards. The average temperature is between minus 25 °C during the day and minus 55 °C during the night.
At the Base camp though, the temperature during the day in the summer season remains between 0 to 10 degrees Celsius. During the night, it drops several degrees below 0.
During the winter season, even at the Base Camp, the temperature can drop close to minus 25 °C even during the day. This entire area gets buried several feet under the snow. This is why I previously said in the article that you may not get allowed to come this way.
Can Foreigners visit Siachen Glacier or Base Camp?
Not at all. If you are not an Indian citizen, you will not be allowed to go any further than Warshi village. That is the last point in Nubra Valley that a foreign national can visit. Even for Siachen Base Camp, being an Indian citizen is the first qualifying condition.
That mostly covers all the basic information that you need to know about visiting the Siachen Base Camp and OP Baba Shrine. Now let me come back to the travelogue and narrate our visit to the base camp.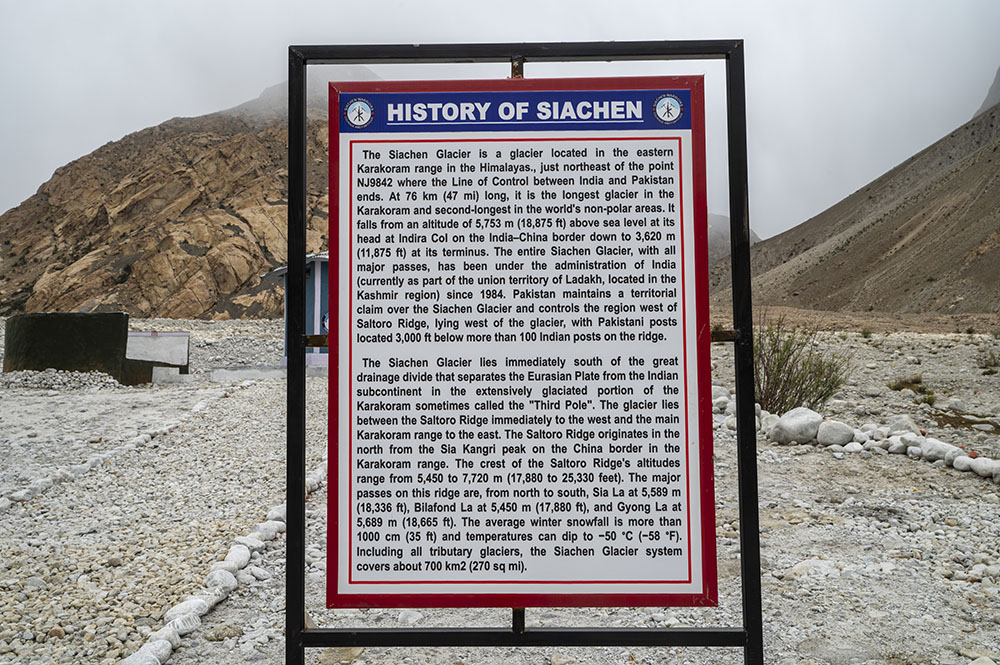 How to visit Siachen Glacier
Let me also talk a little about visiting Siachen Glacier. That is an entirely different ball game than visiting Siachen Base Camp. For the Base camp, you can just drive all the way but for the glacier, you will have to trek 60 kilometers across the harsh terrain, through moraines, glaciers, and deep crevasses.
Not only do you need to be physically fit for this, but you also need to have ample trekking and mountaineering experience. You also will need to have a medical checkup done and a doctor to declare you fit for the task.
Even the soldiers who get posted at Siachen Glacier spend several days at the base camp first before they go up to the glacier. Not far from the base camp is the Siachen Battle School where the soldiers train for several weeks before they are inducted at the glacier. So you can imagine the difficulty of the task.
Also read: A Comprehensive List of All Tourist Attractions in Ladakh
Siachen Glacier Permit
Almost impossible to get is what describes it the best. First of all, Siachen Glacier is not really a place where you can just get a permit and start trekking toward it.
The only way to get here is to be a part of a trekking expedition and go with the entire group. These trekking expeditions get organized by the Indian army.
Siachen Trekking Expedition
How to be a part of such a trekking expedition? Well first of all the number of expeditions is severely limited, just 1 per year. That is correct, it is an annual thing. And then the number of people in the expedition is limited on top of it.
A large number of people apply for these expeditions and I am really talking about people with plenty of trekking experience and high-level contacts. Only the lucky ones get picked for the trek in the end.
The Army takes around 40 people, including its experts, two journalists, defense scientists, school cadets, and civilian volunteers for this expedition.
Of the civilian volunteers, a medical checkup gets done at Leh and only people who pass this test are allowed to go to Siachen Base Camp. Then at the camp, these people get trained for about a week before they go to the glacier.
Organizations associated with defense forces, media persons, Rashtriya Indian Military College, and Rashtriya Military School cadets participate in the trek every year. So for civilians and people like you and me, getting a permit for Siachen Glacier is almost impossible.
Day 32 – Nubra Valley to Siachen Base Camp
We were in Nubra Valley for the last 3 days. On Saturday, which was the 29th day of our trip, we traveled from Leh to Hunder and stayed there for the night. The next day, on Sunday, we traveled to Turtuk and also visited the Thang Village near the LOC.
On Day 31, we traveled to the other side of Nubra Valley, from Hunder to Sumur. We stayed for the night in Hotel Rimo in Sumur but did not like the hotel at all. We paid Rs. 4500 there for the night which was nothing less than a waste of money.
Now it was Tuesday and the 32nd day of the trip. The plan was to first check out of Hotel Rimo because there was no way that I was going to spend my next 2 days there at such a steep price. We found a much better place to stay in Sumur, Tashi Huts and Cottages.
These huts are located right next to the Sumur Sand dunes. Even though the price that we paid there was the same as we paid in Hotel Rimo but for all that money, we were staying with a much better view and in a much better-maintained hut.
See the picture below and you will understand why I was eager on staying here rather than in a hotel.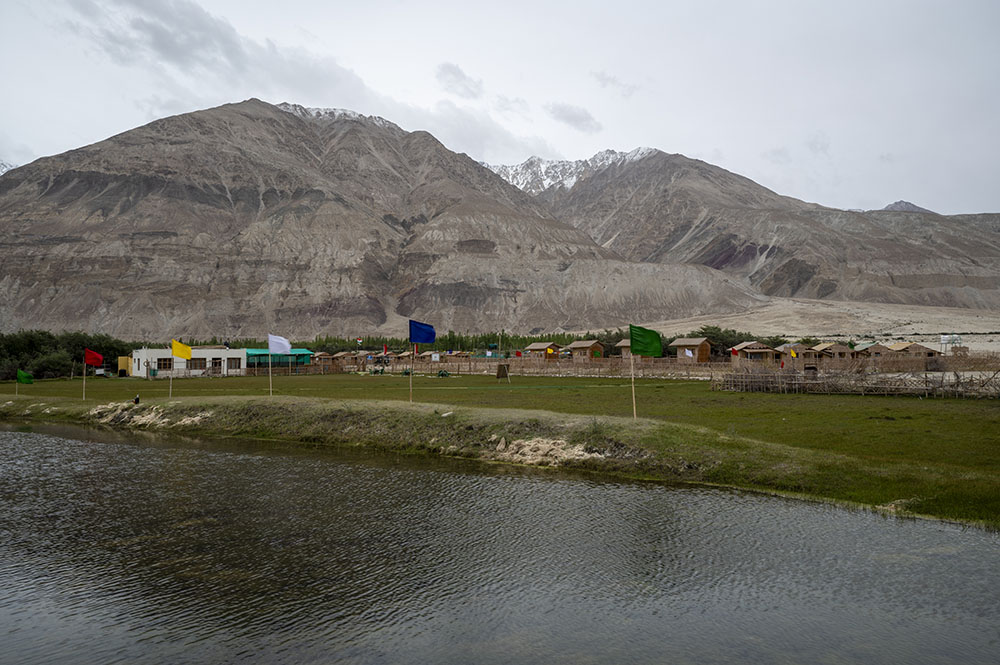 Tashi Huts & Cottages
The distance between Sumur and Siachen Base Camp is only about 65 kilometers. So I knew that even with ample breaks, we should easily get there in 3 hours at most. So a return journey will not take us any more than 7 hours and it was going to be a very relaxed day trip.
We checked out of Hotel Rimo at around 8 am and first went to Tashi Huts & Cottages. These huts are located right next to Sumur Sand Dunes and are owned by a gentleman named Tashi.
What makes these huts special and worth staying in is the awesome view that you get from here. Located right next to the Shyok River and with mighty mountains all around, this spot is among the best views that you can get in Ladakh.
Nonetheless, we reached the huts, paid Mr. Tashi for our stay of 2 days, left our luggage in one of the huts, and started on our way to Siachen Base Camp.
Panamik – Sasoma – Warshi
We drove for about 20 kilometers from Sumur and shortly arrived in Panamik village. Here we took our first break at a small restaurant to get some tea.
I noticed these ladies all dressed up and standing by the road. It turned out that they were all waiting for a Guru Ji who was scheduled to visit Panamik Village today.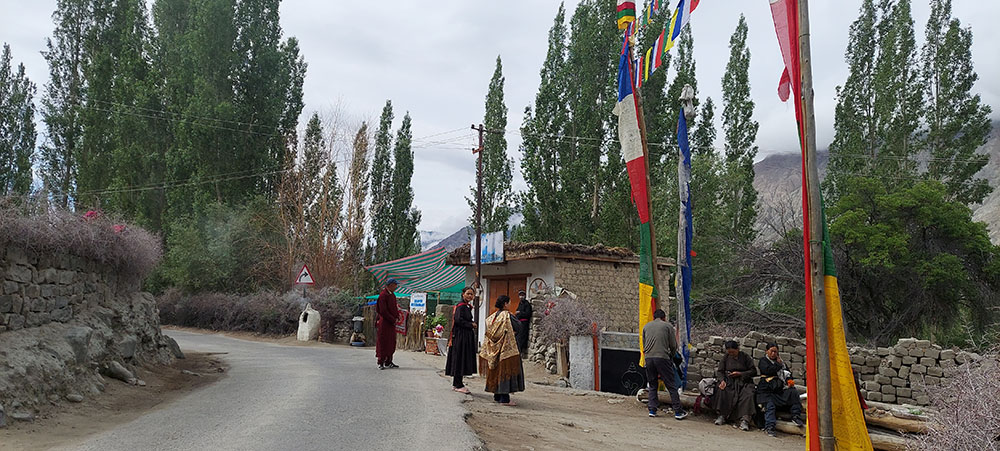 In fact, it was the same Guru Ji who was in Diskit the day before and the entire village of Panamik had gone to Diskit Gompa to attend prayers.
I really wanted to see how it was going to be after the Guru Ji arrived. So we also decided to wait. After almost 30 minutes, there was still no sign of Guru Ji. Since we were also a little short on time, we decided to move on and continue our journey.
There is not really a lot to write about this part of the journey. The condition of the road was smooth with a few bad patches in between. The views however were amazing and it was a journey that we truly enjoyed.
After driving for about 2 hours and a lot of breaks in between, we reached the Warshi Village. There was a police check post right outside the village. We were asked to stop there and enter our names in a register.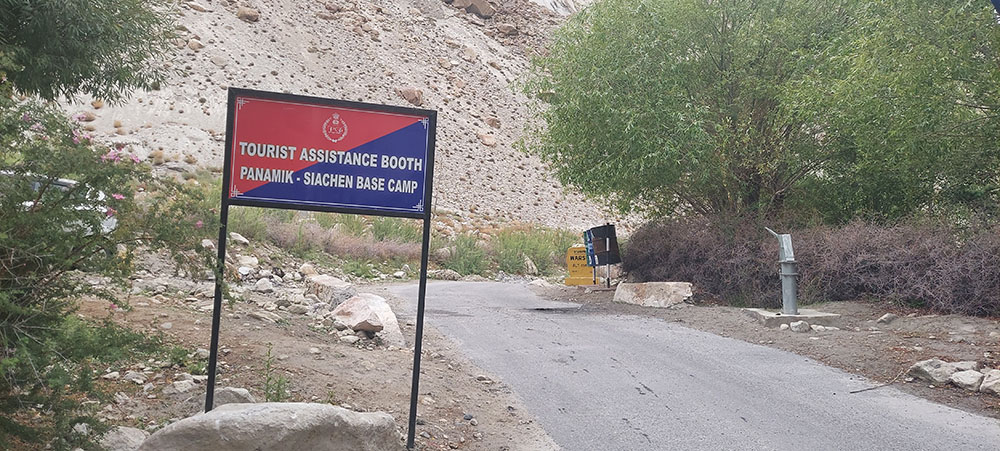 Since we were the only tourists there at that moment, it hardly took 2 minutes to do the formality and soon we were on our way to the base camp.
OP Baba Shrine
There was one thing of interest that I noticed on this route. After Warshi Village, as we started to get closer to the base camp, the topography of the region slowly started to change.
The mountains here looked a lot different than elsewhere in Ladakh. They appeared more like huge rocks than mountains, to be honest. It was like someone just lifted a huge rock and put it upside down, all in one piece.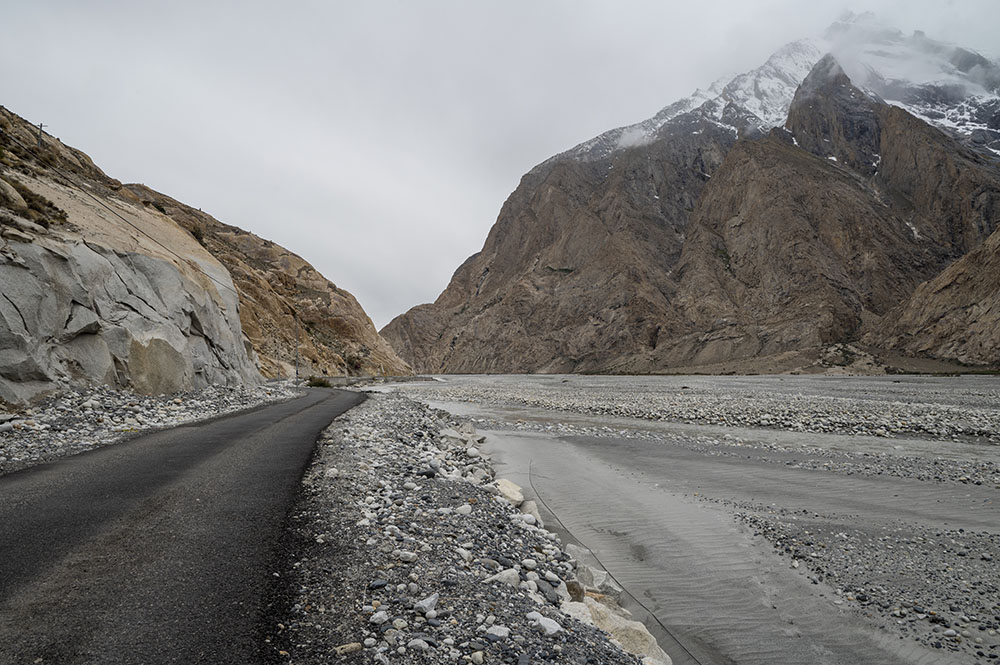 Finally, after a journey of 3 hours, we were standing at the gates of OP Baba Shrine.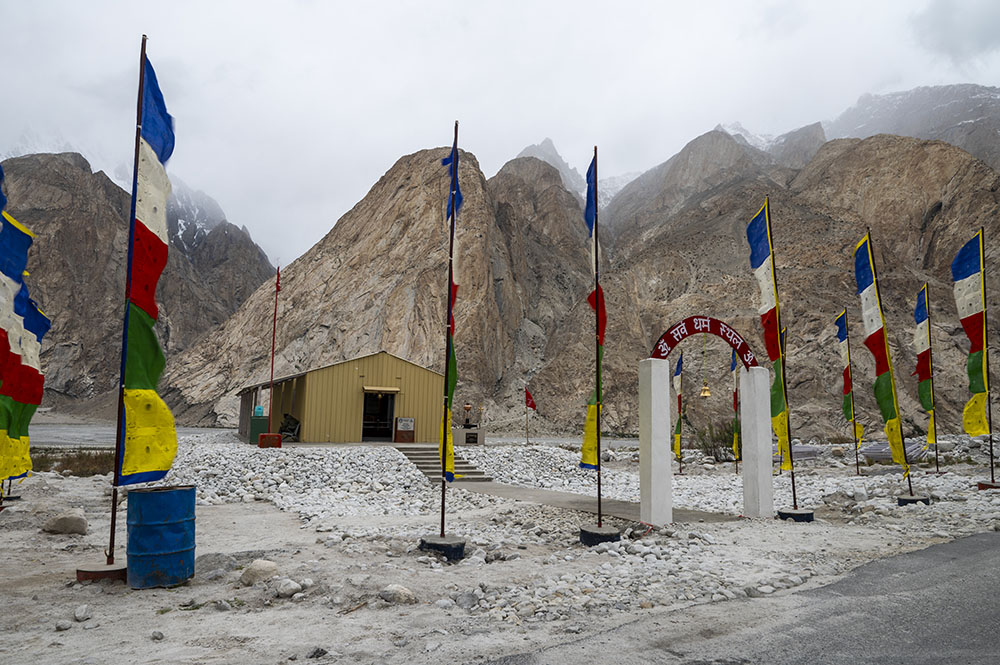 Tourists were not allowed to go beyond this point. There were a few army men posted there who stopped up and gave a small brief about the place.
We walked around, visited the shrine, went as far as the small bridge over a glacial river, and really enjoyed our time there. In fact, it was one of the best days of my 2 months long trip to Ladakh.
Siachen Base Camp
We nearly spent an hour there. The Base Camp was still off-limits for tourists but there were a couple of places that were worth visiting.
One was a small museum-like building that gave insight into Siachen Glacier, the war, army posts up there, and an overview of the entire region.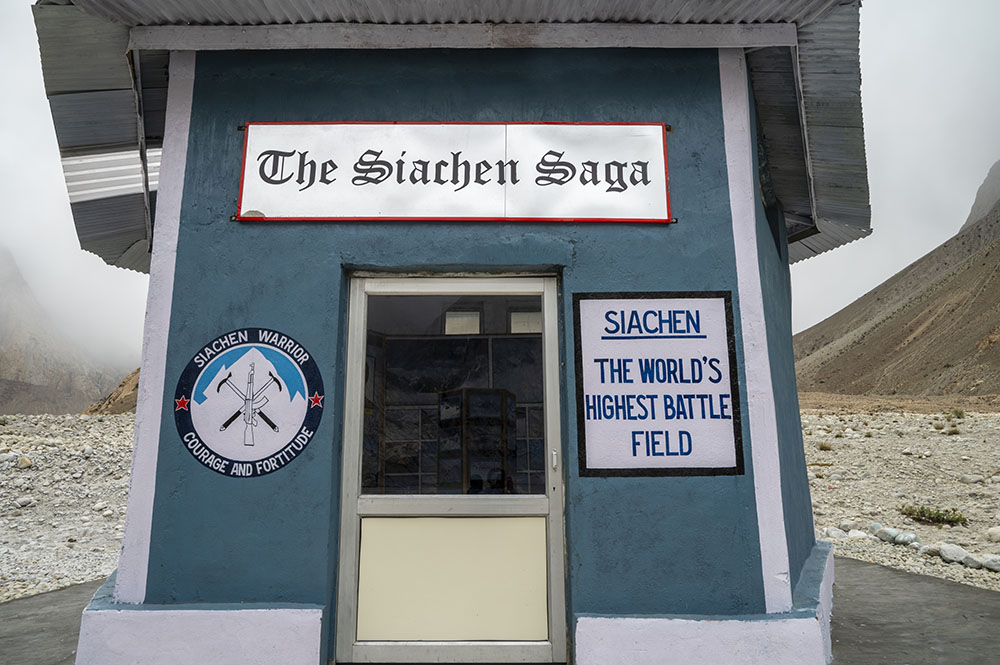 The second place was an army-run cafeteria that served amazing food. We initially just wanted to have some tea but instead, ended up also having a lot of samosas and Chhole Bhature. The food there was simply amazing and I will highly recommend eating at this cafeteria to anyone visiting the base camp.
The third place we stopped at was a small stall where Indian Army sells some small souvenirs. There were mugs, Hats, T-Shirts, and a few other items that you can buy.
We bought a couple of T-Shirts and a hat. There was a Beer Mug there that I absolutely fell in love with. I really wanted to buy that even though I don't drink but then decided not to.
Mobile Network at Siachen Base Camp
One thing that surprised me was that our Jio phone not only remained connected but we were actually getting 4G data. Airtel and Vodafone were long gone but Jio remained connected the entire time we were there.
On this entire route though, Airtel works well in and around Panamik. Vodafone and Idea may come and go but their service is not that great. Jio however was providing 4G data pretty much everywhere between Nubra Valley and Siachen Base Camp.
BSNL works as well in this entire region but their service is not that great. The call quality is a little bad and the data speed is way too slow. So the best network for Nubra Valley and the base camp in my opinion is Jio.
After an hour, we started driving on our way back to Panamik and Sumur. The journey was mostly eventless and filled with a lot of breaks in between. Since we knew we had plenty of time, we actually drove even slower on the way back.
We reached Sumur by 4 pm. The rest of the evening was spent walking around on the sand dunes and sitting at the cafeteria. Dinner was served at the campsite at 8 pm and by 9, we decided to call it a day.
We stayed in Nubra Valley for another day and explored some local attractions. We visited the holy Yarab Tso Lake and took a dip in the hot water springs of Panamik. Please click on the link above to continue reading the next part of the travelogue.
Siachen Base Camp – Conclusion
I hope the travelogue, pictures, and information above on visiting Siachen Base Camp were of help. If you have any questions, you can contact me on Instagram and I will happily answer. You can also consider subscribing to my YouTube channel and asking a question there.
This error message is only visible to WordPress admins
Error: No feed found.
Please go to the Instagram Feed settings page to create a feed.