It may not get called the best time, but in my opinion, the majority of tourism in Ladakh happens in the month of July. Without any doubt, this is the month when tourist activities here are at their best; and the entire land is vibrant with colorful visitors from all over the world. People continue to visit in August and September as well; or in earlier months of May or June; but the kind of enthusiasm you see in July is hard to find in any other month. I have been to Ladakh several times in 7 different months of the year but of all, July by far is my favorite month to be there. If you too have been thinking about visiting Ladakh in July; then below in this article, you will find a few tips on how you can plan your journey for the best.
Also read: How to Plan a Trip to Leh Ladakh – A Complete Travel Guide
Your final travel will, of course, depend on factors like how you are traveling; and how many days you have in hand; but the information below can at least get you started on drafting your itinerary. I will include a few tips on what you can expect while traveling to Ladakh in July; followed by a suggested itinerary in the end. If after reading the article you have any other questions, then you may ask those in the comments at the bottom of this page.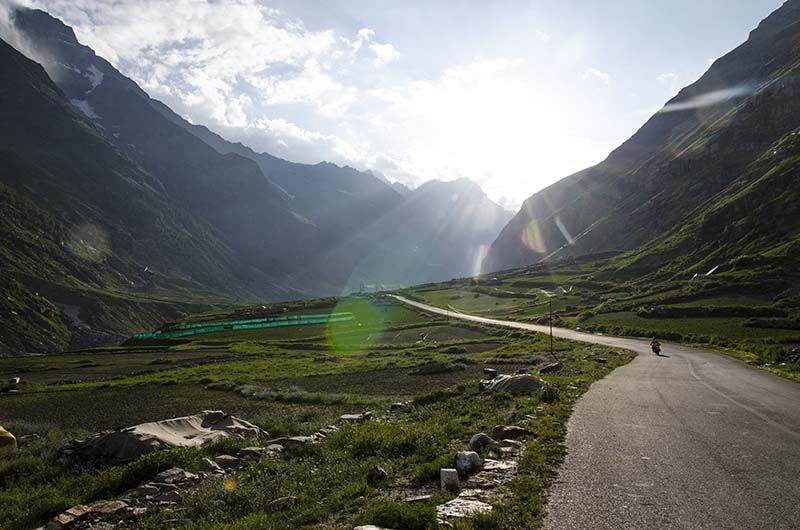 Is it safe to travel to Leh Ladakh in July?
Yes it is safe to plan a trip to Ladakh in the month of June but there are a few tings that you would have to keep in mind which I will discuss in the article below.
How to Plan a Trip to Ladakh in July
Until some time ago, a trip to Ladakh by mostly done by motorcycle enthusiasts only. That is actually how the term "Biker's paradise" was coined. Much now has however changed. Other modes of transport too now get used in an equal manner. While the majority of the people still travel by their own vehicle, a lot of others reach Ladakh either by air; or by public transport; or in a rented vehicle. If you too were planning to board a flight for Leh city, then acute mountain sickness, also known as AMS, will become your first concern. You will definitely be suffering from it on your first day of arrival and possibly even on Day 2.
Acute Mountain Sickness in Ladakh
Slow gain in altitude and plenty of rest is the best prevention against altitude sickness which does not really happen in case of a flight. You are at your home and then at the airport in plains; and then in about one hour, you bring your body to an astounding height of 3,500 meters at Leh city. This gain in altitude is sudden and faster than your body can cope with.
So once you arrive in Leh city and until your body gets accustomed to the new height that you have brought it to; you will be suffering from altitude sickness. In several ways, it would feel like the same way as you did when you were running a high fever. There is really little that you can do about it and will just have to rest and allow time. Your Day 1 would have to be spent completely at the hotel; and you cannot really afford to be running around and exhausting yourself. For more details on what AMS is, its symptoms; and prevention, please read How to Deal With Acute Mountain Sickness in Ladakh.
Ladakh Bike Trip in July
If you were coming to Ladakh by rented motorcycle or car; then your biggest concern will be that vehicles rented outside Ladakh are not allowed for sightseeing here. And yes, this also applies to Leh city. For example, if you rented a bike from Manali or Srinagar, you can only use it to arrive in Leh City. Once you check into a hotel, you will then have to leave it parked at the hotel and rent another bike in Leh for local sightseeing; and for visiting areas like Nubra Valley, Pangong Tso and Tso Moriri. This is a serious concern and please do not take this lightly. Locals put up barriers on these routes and if they catch you, you will be sent back on your way to Leh city. There also have been incidents of non-local rented vehicles being attacked, vandalized and forcibly taken.
For more details on this issue, please read Non-Local Rented Vehicles Banned in Ladakh
If you were riding your own motorcycle, please continue reading further on the topic.
If you are coming by public transport, then you do not have to worry about any of this. Your biggest concern will then be the availability of buses and to match it to your itinerary. If a bus on a certain day is however not available, then you still have the option of boarding a shared taxi from Leh bus stand. These run on a daily basis and the fare is almost equal to that of the bus. For more details on the bus schedule, please read Public Transport Services in Leh Ladakh
Ladakh Inner Line Permit
No matter how you arrived in Ladakh though, everyone is required to obtain Inner Line Permit in order to visit areas of Ladakh. This permit is a mandate and without it, you will not be allowed to travel any further than Leh city. There are Army check posts in between the routes where you will have to submit photocopies of your permit. It can either be obtained in person from DM Office Leh; or applied for online. For more details; please read How to Obtain Inner Line Permit for Ladakh.
Mobile Network in Ladakh
 When it comes to mobile and data connectivity in Ladakh, it is pretty much limited to Leh city only. BSNL here has the widest coverage; but it is only Leh where you will get a stable connection with good voice clarity. All other networks will be dead the moment you leave Leh; but you will get intermittent BSNL connection in Nubra and Pangong as well. Voice clarity will be extremely bad but you will at least be able to send text messages if needed. Airtel and Jio are the next best thing after BSNL in Ladakh. For more information on this topic, please read Mobile Services in Leh and Other areas of Ladakh.
Is Ladakh Open in July?
The answer to this question is a definite yes. Ladakh is completely open in the month of July including both the Manali – Leh and Srinagar – Leh highway. All internal roads leading to areas like Nubra Valley, Pangong Tso and Tso Moriri are accessible as well. Since it is the peak tourist season, all hotels, guest houses and tourism related activities too are operational. You can arrive in Ladakh in July and will have no problem finding a place to stay; or a place to eat at; or other service like motorcycle rentals, taxis or public transport.
Ladakh in July Monsoon
Yes, July is the time when Monsoon arrives in Himalayas. The valleys around Manali, Lahaul and Kashmir start to experience rainfall at this time which can vary from being moderate to so intense that it can even trigger landslides. Most of the chances of rain however are on your way to Ladakh, on Manali to Leh and Srinagar to Leh highway. Ladakh is in a rain shadow area so it is supposed to either not rain here at all, or rain very less. There could be occasional rainfall at top of the passes which can even block the road for a few hours or even a day, but Army restores connectivity just as soon as they are able to. If possible, I will recommend that you plan your trip in first half of July because as the month progresses, the intensity of monsoon season too will increase.
With that being said, please note that Global warming is changing things fast and now it has starting to rain in Ladakh as well quite a bit in last few years. So if you are visiting in July, it would be better to prepare for rain. Waterproof everything and bring clothes that can dry faster, like polyester.
Also Read: How to Travel to Ladakh by Public Transport
Ladakh Water Crossing
Let me put it like this. It has been a while since summer arrived. Roads have all opened and sun has been shining bright. Snow has all started to melt and is feeding its water to the numerous water streams, also called "nallahs". Now since it is July, Monsoon too has joined the party and is contributing in form of all the rain. Get the idea? Yes, you will have to be prepared for a lot of all those water crossings you have heard about. Some of these will be easy but some deep enough to swallow an entire bus.
Jokes apart but yes, a trip to Ladakh in July means that you will have to cross several of these water streams on the way; and must be prepared accordingly. These small rivulets will be present on not only on Srinagar – Leh and Manali – Leh highways; but also on the internal roads in Ladakh. If you were on a motorcycle trip, then you need to keep this in mind while you pack your bags and decide which shoes to bring. Rubber Sandals that can cover your entire feet can be a good replacement to make sure that you do not end up wetting your shoes at every water crossing. When at a crossing, take off your shoes, put on the rubber sandals, cross it and put your shoes back on. This way you do not get your shoes wet and keep your feet covered while crossing a stream.
If you were traveling by car, then make sure you are bringing the one with good ground clearance. Crossing these water streams and slush areas would be tough if your car did not have good GC.
Motorcycle Trip to Ladakh in July
If you are traveling on a motorcycle, it would be wise to carry clothes and all your belongings in water proof bags and even then, wrap those bags in plastic sheets or tarpaulin before you rope them on motorcycle. Always carry extra plastic bags and tarpaulin just in case the one you are using gets torn. Keep your electronics, wallet and important documents wrapped in a plastic sheet all the time. Carry a good quality rain suit because you definitely do not want to continue riding in such cold temperature while you are soaking wet.
Changing clothes every time you get wet is also practically not possible. Your shoes too must be water proof. Pack clothes that are light in weight and will dry fast enough. If you can, do carry an umbrella as well. Before you start on your trip, get your motorcycle serviced and the entire wiring checked to ensure there is no wear and tear that may cause short circuit in rain.
Check your tires before you start on the trip. If the tires are old and worn out, replace them. Ride in a lower gear very slowly through the slush. Ride through the tracks made by four wheelers and trucks as the slush is less there.
Carry rubber sandals like Crocs to get you across water crossings as I mentioned above.
Traveling to Ladakh in July by Car
If you are traveling in a car, avoid putting any luggage on the roof as far as you can but if you must, then put stuff that is not at risk of getting ruined by the rain. For example your camping gear if you are carrying any or Jerry cans for fuel if you haven't filled those up already. If you are roping any bags up there, then ensure that everything is tightly wrapped in plastic and there is a thick tarpaulin covering the roof. Take out all electronic items, papers, wallets etc before you mount the bags on the roof.
Protect your Camera
One electronic device that gets used the most on trips like this and is at risk of getting ruined is your camera. Buy a rain-sleeve for your camera if you can. If not, then ensure that you keep it protected from not only rain but also moisture. Do not carry your regular DSLR bag; rather buy a waterproof bag for your camera and accessories.
Driving Tips for going to Ladakh in July
One thing that you need to be prepared for is driving through slush and water crossings in July. There are several areas on both the highways where rain plays havoc creating a lot of slush, like Rohtang on Manali Leh highway and Zoji La on Srinagar Leh highway. Heavy rains can wash away parts of narrow road leaving vehicles struggling through slushy bends. Taking your car across such stretches can be a challenge and you need to be extra careful while doing so.
While crossing a nallah in a car, please stop for a minute, step out, inspect the crossing and then take your car across very carefully. If you are still unsure then wait for a little while for another car to arrive and follow its lead. Stay in the first gear, do not half clutch and cross over in a single go while maintaining the momentum. If there is slush around, then ask your fellow travelers to step out of the car so that they can help push the vehicle if you get stuck.
Accelerate slowly to ensure that your car doesn't skid. You really need to go easy on the gas to avoid your wheel spinning. Avoid any sudden movements on the steering, accelerator or brakes as this may send your car spinning. If you are highly doubtful of your driving skills and are not feeling too comfortable with the idea of driving on such roads, then I suggest you hire a driver who is a local from Manali.
Keep Buffer Days in your Itinerary
Next concern is of landslides caused by rain and to tackle that, you must keep a couple of days in buffer. There is a high possibility that certain part of the highway may close down for a few hours or even a couple of days because of landslide in which case you will have no choice but to go to the nearest town and wait it out. You also need to be careful while driving through areas that you see effected by rain or have a lot of dirt or mud around because it is not always a major landslide but smaller ones too. Some stones may just slide down from the top damaging your vehicle and injuring you. Good part however is that BRO has put up warnings in areas where this may happen. If you see a board that reads "shooting stones", stay alert.
Accommodation in Ladakh in July
So far I have always advised people to not book their accommodation anywhere in advance. This would just have meant paying more money which actually it does even now. The situation now however is that tourism in Ladakh is at an all time high. The number of people visiting here goes up by each passing year which is limiting the accommodation choices in tourist season.
Also read: List of Hotels and Guest Houses in Ladakh
In June 2018, it got so crowded and overbooked that tourists had to return from Pangong lake; because there was just no place available anywhere to stay. People went there in the morning; made it a day trip and came back to Leh city on the same day. Even in other parts of Ladakh including Leh, a similar kind of situation took place; where people found it hard to find a hotel per liking. What I am trying to say is that now if you are going to Ladakh in July, August or September; it would be wise to just book your stay in advance.
Private Taxi in Ladakh
It is quite in the similar lines to accommodation. So many people are flying to Ladakh with families that taxi drivers there are all completely booked for season. That is correct. It is now hard to get a private taxi in Ladakh. There was a time when these taxi drivers were fighting among themselves for customers; but the situation is just the other way around now. So yes, if you are visiting Ladakh this July; and have plans to rent a private taxi, it would be better to book one in advance.
You may contact Nasir in Leh @ 9906229203. He runs his own taxi there and is a reliable contact. Give my reference and if he is available then book him. If not, he can at least direct you to some other reliable driver.
Bike Rentals in Ladakh
When it comes to renting a motorcycle however; I would still not recommend booking one in advance; unless you have a reliable contact there. I would still suggest that you first reach Leh,; take a test ride of the motorcycle; decide among a few; and then make a final decision on which one to rent.
Srinagar to Leh in July
Srinagar Leh highway usually gets declared open sometime in April any by July, the road is completely stable. You will still find BRO working at several sections of the road but by July, it is mostly smooth all the way. The worst patch of the road will be at around Zojilla. Apart from this, there will be a few other bad patches but nothing too troublesome. There will be a few water crossings as well on the way; and your chance of encountering rain will be highest between Srinagar and Drass.
For more details on how to travel from Srinagar to Leh, please read Srinagar Leh Highway Guide
In short, Srinagar Leh highway in July will remain open and accessible. The only risk however will be of rain. When you are traveling through Kashmir valley, you are in a rain prone area pretty much all the way until Drass. So traveling from Srinagar to Leh by road in July means that you  will have to keep a close eye on the weather and if there is any news of landslides or any kind of weather related problem, please postpone your trip until things calm down.
Manali to Leh in July
In terms of difficulty, Manali Leh highway in July is a clear winner with all its bad roads; 5 passes and numerous water streams. If you are traveling from Manali to Leh by road in July; then you will find the entire stretch open; but there is no guarantee on how the road conditions will be. This road gets declared open sometime in June and usually is in its best shape by September only. There was a cloudburst on Manali Leh Highway in July 2017; due to which thousands of tourists remained stranded on the road for over 24 hours. So yes, there is a chance that you will have to face rain; which increases even more if you were traveling in later half of the month. So please be prepared for any such situation.
In 2019, people were stranded at Baralacha La in freezing cold on the road for over 18 hours with nowhere to go and nothing to eat. Hence, it would be better to bring along something to munch on like chips, Buiscuits or chocolates. If you were traveling by Car then it should not be a problem at all. But even if you were by motorcycle, please make some space to pack some snacks to handle a situation like this.
For more details on how to travel from Manali to Leh, please read Manali to Leh Highway Guide
Clothes to Wear in Leh Ladakh in July
As you can probably already guess from what you read above, you will definitely have to carry a rain gear; or at least a water proof jacket that you can put on if it started to rain. Apart from this, just bring your regular cottons, a few light woolens and a heavy windproof jacket and you will be OK. Do not forget to pack your gloves and if possible, buy a waterproof pair. When packing your jacket, make sure you have one that can also protect your face and neck.
For more details on clothes to pack, please read Clothes for Ladakh Trip – What to Pack?
Road Conditions in Ladakh in July
I have explained the road conditions from Manali and Srinagar above. Apart from this, internal roads in Ladakh in July will mostly be a mix of good, bad and ugly. The roads to Nubra and Pangong are mostly good except for a few bad patches at Khardung La and Chang La top. Road to Tso Moriri will be both good and bad depending on which route you take. Changthang Valley ( Hanle, Chushul) is a mix of super smooth, smooth, bad and ugly stretches. Slush and water streams will mostly be limited to top of the passes on internal roads.
Places to visit in Leh Ladakh in July
Every major and minor tourist attraction in Ladakh can be visited in the month of July. Major tourist places like Leh city, Nubra Valley, Pangong Lake and Tso Moriri are definitely all open; and should be on everyone's list to visit. Apart from this, other places like Hanle and Sham Valley etc too are open for tourism provided that you have proper permits to visit here. Let me give a breakdown by different tourist places in Ladakh.
Nubra Valley in July
Nubra Valley remains accessible throughout the month of July. You will easily be able to reach Nubra from Leh directly via Khardung La; or from Pangong by Shyok road. All internal areas in Nubra Valley including Diskit, Hunder, Turtuk, and Panamik will also be open in July. Since this is the peak tourist season, all tourism-related business including hotels, guest houses and guides will be open for business. Depending on your budget, you will have no problem finding a place to stay as well. Whether or not to book in advance is entirely your decision but even if you arrived without any prior bookings, you should still be able to find a hotel for the night.
Diskit has the largest number of hotels and guest houses and Turtuk as of now has the lowest. So in case you were not able to find accommodation in Turtuk in July, you will have to return to either Diskit or Hunder and look for a place there.
In recent times, there were a few instances when rainfall caused landslides near Khardung La blocking the road between Leh and Nubra Valley. This, however, is only a temporary closure and authorities clear and open the road just as soon as they are able to, which is usually on the same day.
Pangong Lake in July
Pangong Tso remains open and accessible in the month of July. A trip to the lake is ideally a 2 days journey. You travel from Leh to Pangong on Day 1, stay there for the night and return to the city on Day 2.
There are numerous campsites on the banks of Pangong where you can find accommodation. If you want to stay within cemented walls, then you can look to stay as a paying guest at Spangmik or at any of the guest houses in Man or Merak. You can also visit from Leh to Pangong Lake in one day but that will just mean that you spent most of your time on the road. Nonetheless, it can still be done. You just need to ensure that you take an early start from Leh, possibly by 6 AM so that you have some time to spend at Pangong before you return.
Also Read: Leh City Travel Guide
Tso Moriri in July
After Nubra Valley and Pangong Tso, Tso Moriri is definitely the third most visited place of Ladakh. This freshwater lake may be smaller in size than Pangong but is no lesser in beauty. Like Nubra and Pangong, Tso Moriri too remains open in July. You can visit here either via Chumathang route from Leh; or take the Chushul route to reach Moriri directly from Pangong Tso without having to go back to Leh. Both the roads will remain open in July and which one to take will entirely depend on you.
Zanskar Valley in July
Zanskar Valley will be accessible in July. The most common way of including it in your trip plan would be to reach Ladakh from Manali and then return to Srinagar while covering Zanskar on the way. The entire route from Kargil to Padum is open in July and you will also be able to find public transport on it. If you do want to take a diversion from Kargil to Zanskar, please ensure that you at least have 2 spare days for it in your itinerary. One day to reach Padum and then next day to return. If you have time, then stay for a day in Zanskar and explore other places while making Padum as your base.
Other tourist Places
Shyok Road in July – Open
Hanle in July – Open
Chushul Route – Open
Sham Valley – Open
Tso Kar – Open
Batalik Route – Open
Snow in Leh Ladakh in July
Snow in Ladakh is mostly all gone by July. You will definitely find some at top of the passes like Rohtang, Baralacha La, Khardung La but it will mostly be limited to just there. You will definitely not witness a live snowfall unless you were running good on luck and caught one at top of the passes en route. Someone asked me if they could see a snowfall in Leh in July and the answer to that is a definite no. There will not be snowfall in Leh in the month of July and nowhere else in Ladakh for that matter.
Ladakh in July end
July end is really not the best of the times to be visiting Ladakh and Monsoon again is the reason. All the global warming has changed things a lot and even though Ladakh is a rain shadow area, even here the cloudburst of 2010 killed so many people. If you can, then either plan for early July or push your trip to September. If you cannot, then at least be prepared for monsoon.
Also read: How to Travel to Ladakh with Children or Infants?
Public transport in Ladakh in July
There was a time not too long ago when public transport in Ladakh was scarce. Bus service was not that frequent and finding shared cabs was a challenge. That however is not the case anymore. Authorities have taken steps to ensure better connectivity; and now even a local bus service in Leh city is operational. Public transport will be all available in Ladakh in July; and even if you could not find a bus, you can always catch a shared cab from Leh bus stand every morning. These cabs run in every direction so no matter what your destination is, you will easily be able to make it there and back.
Camping in Ladakh in July
If you also wanted to experience some fun camping during your trip, then you may do so. Pangong Tso and Tso Moriri are the best places to go camping but there are campsites available in other places like Nubra Valley, and Manali Leh highway as well. If you had your own gear, then you can pitch your tent but do not do so in the middle of anywhere. Also, please beware of the dogs in Ladakh. They are dangerous and there have been incidents of the dogs here killing and eating people.
Festival in Ladakh in June
Yuru Kabgyat, Hemis Tsechu, Sachukul Gustor, Ladakh Polo Festival, Stongday Gustor, Karsha Gustor, Phyang Tsesdup, Karzok Gustor, Dakthok Tseschu, and Sani Nasjal are some of the festivals celebrated in the month of July in Ladakh. Of all these, Ladakh Polo Festival is probably the one that you can easily attend as it is held in Leh City only. For more inforamtion, please read Festivals of Ladakh: A Colorful Celebration of Life
Ladakh Weather in July
Weather in Ladakh in July is mostly pleasant. Days will be moderately warm but nights will still get cold. Day temperature will be above 25 degrees Celsius and will drop to 10 to 15 degrees Celsius at nights. This can drop even further down at places like Pangong Lake. Monsoon arrives in later part of July and if it rained too heavily, it can cause flash-floods as well.
Leh Ladakh road trip in July
Yes a road trip is still a better way to travel to Ladakh. Minimum or recommended time for a road trip will be at least 12 days if you truly want to enjoy the journey. You can reach Leh city via Srinagar, spend a day in Leh to obtain passes and local sightseeing; go to Nubra valley; reach Pangong via Shyok road; come back to Leh and then exit via Manali. You can also cover Tso Moriri either via Chushul or Chumathang. I have suggested an itinerary for the trip below.
Honeymoon in Leh Ladakh in July
Yes, if you are thinking to plan your honeymoon in Ladakh in July, you may do so. All the hotels will be open at this time and you can book as per your budget and preference. There are some luxury and deluxe hotels as well here that will suit a honeymooning couple. Whether you want to buy a package or plan it yourself will entirely be your call.  My advice would be that you rent a cab for the trip but manage all of it on your own. Your cab driver can be your guide as well and will happily show you around.
Also Read: Is Ladakh Safe to Travel?
Minimum Time for Ladakh Trip
There are a lot of factors that will decide the final answer to this question like your budget, mode of travel and preference, etc. But to give a straight answer, 7 days minimum if you were flying into Leh directly; 10 to 11 days for a road trip and 14 days for a trip by public transport.
Keeping the above timings in mind, I will now suggest a few examples of itineraries that you can refer to for your trip to Ladakh. I am keeping the plan as comprehensive as possible but if you were short on time, you can remove any of the places and skip days. If you wanted help on how to do this, you may ask in the comments section towards the bottom of this page.
Suggested Itinerary
So if you had a total of 14 days, below is how you can travel. For the sake of this article, I will assume that you are traveling from Delhi. If your starting point was different, then only the journey for first and last day will change; rest of the details will still apply.
Delhi to Jammu – Day 1
Jammu to Srinagar – Day 2
Srinagar to Kargil – Day 3
Kargil to Leh – Day 4
Leh – Day 5
Leh to Diskit – Day 6
Diskit to Turtuk to Panamik – Day 7
Panamik to Pangong via Shyok – Day 8
Pangong to Hanle – Day 9
Hanle to Karzok – Day 10
Karzok to Pang – Day 11
Pang to Jispa – Day 12
Jispa to Manali – Day 13
Manali to Delhi – Day 14
For more itineraries for a different number of days, please take a look at the Itinerary Section for Leh Ladakh.
Let me also share a few alternate versions of this journey. I will suggest three different itineraries. First if you started from Srinagar (which I did above), second if you started from Manali and third if you flew into Leh directly.
Itinerary for Ladakh Air Trip
If you caught a flight directly to Ladakh, your journey can be as mentioned below.
Arrive in Ladakh. Take rest and arrange permits – Day 1
Ladakh to Lamayuru to Ladakh (Sham Valley Tour) – Day 2
Leh to Diskit – Day 3
Diskit to Pangong via Shyok – Day 4
Pangong to Leh – Day 5
Leh to Tso Moriri via Changthang – Day 6
Tso Moriri to Leh via Tso Kar – Day 7
Buffer Day – Day 8
Fly Out – Day 9
Manali to Leh by Road in July
If you started from Delhi and reach Ladakh via Manali, your plan can be like the one below.
Delhi to Manali – Day 1
Manali to Jispa / Sarchu – Day 2
Jispa / Sarchu to Leh – Day 3
Leh – Day 4
Leh to Diskit – Day 5
Diskit to Pangong via Shyok – Day 6
Pangong to Hanle – Day 7
Hanle to Tso Moriri – Day 8
Tso Moriri to Leh via Tso Kar – Day 9
Leh to Kargil – Day 10
Kargil to Srinagar – Day 11
Srinagar to Jammu – Day 12
Jammu to Delhi – Day 13
Important FAQs about visiting Leh Ladakh in July
Last but not least, let me answer some of the most commonly asked questions by people planning a trip to Ladakh in the month of July.
1. Is there snow in Ladakh in July?
Yes, you will find some snow at top of the passes like Khardung La and Chang La. While approaching Ladakh by road, you will also see plenty of snow at passes like Baralacha La and Zoji La. However, if your question is whether it snows in Ladakh in July then the answer would be a no. Even if you were extremely lucky, the snowfall would be very little and limited to the top of the passes only.
2. What to see in Ladakh in July?
All tourist areas remain open in Ladakh in July. Leh City, Pangong Tso, Nubra Valley, and Tso Moriri will be the top places to visit.
3. What to do in Ladakh in July?
Sightseeing, photography, trekking, camping, star gazing, shopping, staying at monasteries and motorcycling will be some of the top things to do in Ladakh in July.
4. Is Manali Leh highway open in July?
Yes, the road from Manali to Leh will be open in July unless it was blocked by landslides caused by rain.
5. Is there a bus from Manali to Leh in July?
Yes, you can board a bus from either Manali or Delhi for Ladakh. These buses are operated by HRTC and HPTDC.
6. Is there a bus from Srinagar to Leh in July?
Yes the JKSRTC Bus remains operational from Srinagar to Leh in July.
Can we visit Ladakh in July
Yes, of course. You can definitely plan your trip to visit Ladakh in July. Just keep the above points in mind and have a safe journey. If you have any further questions, please feel free to ask in the comments section below; or at our Community Forum; and I will be glad to answer.