Below is a Sham Valley Map showing the route from Leh to Sham Valley, with all the major towns or villages, tourist attractions, and distance in between. The road runs between Leh and Kargil with the Sham Valley to its right. There are some villages in the valley that are accessible by road, as shown on the map.
Other remote villages of the valley can however be accessed only on foot. This is what is commonly known as the Sham Valley trek route. It is one of the most popular and easily accessible trek routes in Ladakh that mostly remains open all year long.
Please click on the map to view it in full size or download and save it to your hard drive.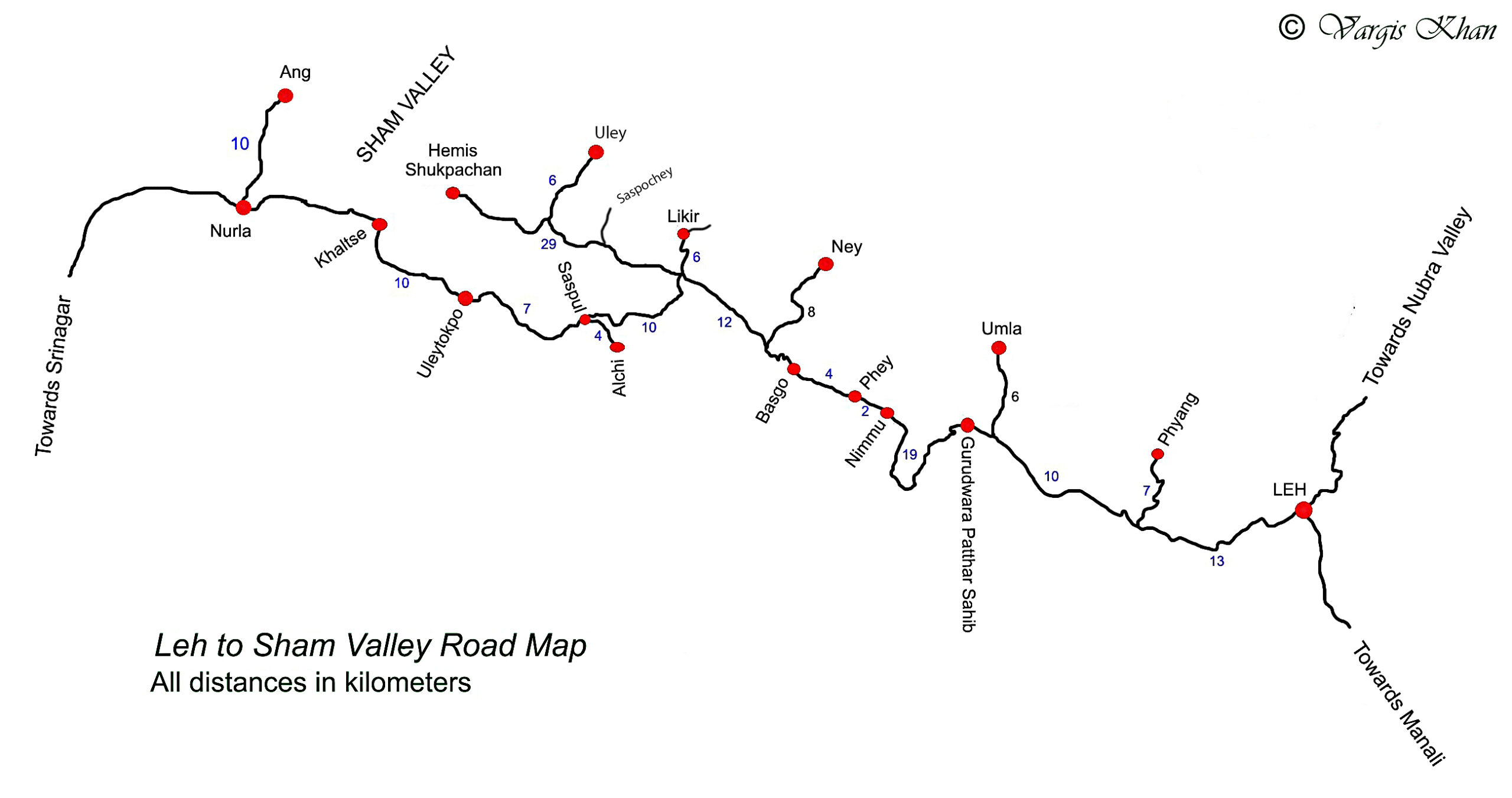 Sham Valley Map
In order to reach Sham Valley, you need to start from Leh on the Srinagar Leh highway. There are some major tourist attractions like Magnetic Hill, Gurudwara Patthar Sahib, and Indus & Zanskar river confluence that you can cover on the way.
About 10 kilometers before Saspul, you leave the main highway. From here, you will take the road towards Hemis Shukpachan, and enter the beautiful Sham valley. Contrary to common belief, it is actually after you leave the highway here that you enter Sham Valley.
Sham Valley Trek Map
Another way to enter the valley is from Nurla, taking the small road towards Ang. If you however are in a mood to track, you can start from Likir and walk through the valley. On the way, you will experience the local Ladakh culture in its village. You will also cross 5 high-altitude passes on the way. It is a relatively easy trek considered perfect for beginners.
Conclusion
If you are planning a trip to Ladakh, a day's journey to Sham valley is highly recommended. Distance to Sham valley is about 200 kilometers from both Leh and Kargil and a return journey can easily be done in a day.
If you are returning to Srinagar, then you can add a day to your return journey. You can stay at the village of Hemis Shukpachan and then continue towards Kargil the day after. For more details, please take a look at How to Plan a Trip to Sham Valley, both by road and trek.
I hope the above-posted Sham Valley map was of help. If you have any further questions, please feel free to ask in the comments section below or at our Community Forum, and I will be happy to answer.