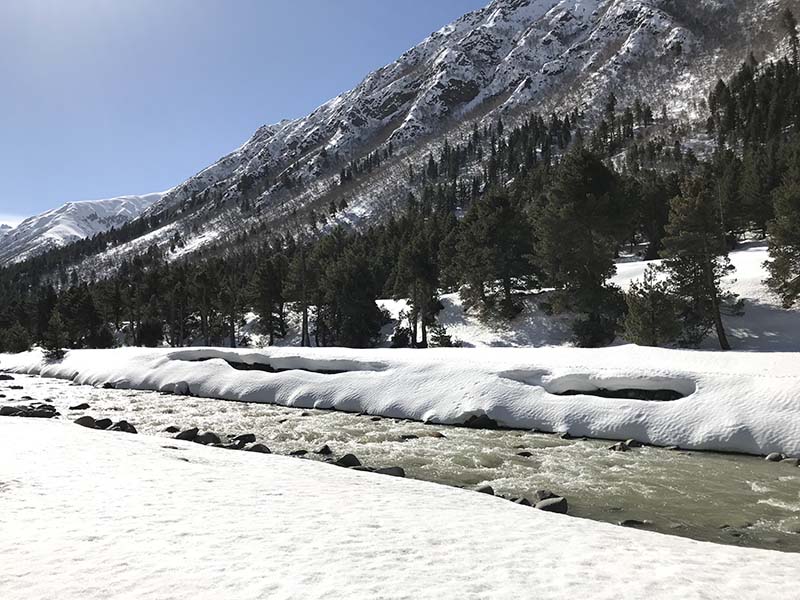 In this article, I will provide an example of a Kinnaur Winter itinerary that you can follow for visiting Kinnaur valley in winters. Your final travel plan will of course depend on several factors like how you were traveling, time in hand, the city that you were coming from but the details below should at least give you an idea on how you can plan your trip.
For the sake of this article, I will assume that you were starting from Delhi. If you were however coming from a different place, then only the travel for the first and last day will be different. The rest of the details will still apply.
Also Read: How to Plan a Trip to Kinnaur Valley
Can you visit Kinnaur Valley in Winters?
First things first. Is a trip to Kinnaur even possible in the winter season? The answer to this question is a definite yes with an exception of a few places.
The Shimla Kaza highway that passes through the valley remains open for all 12 months, at least until Nako. The only sections of the road that may remain closed are the 11 km stretch from Jeori to Sarahan and the road between Khab to Nako Village. This too will only happen if it snowed too much in the months of January and February. Otherwise, even these two villages will be open to tourists in winter.
The 40 kilometers stretch between Karcham to Chitkul will surely be closed from late December to early March. The road until Sangla may remain open but Chitkul will definitely be off-limits. In fact, authorities do not even make an attempt to clear this road before March.
The road between Powari to Reckong Peo and Kalpa will also be open. If there was a lot of snow on the route, you may not be able to drive on your own but can always rent a taxi from Reckong Peo to drop you at Kalpa.
Also Read: Kinnaur in Winter – How to Plan your Journey?
Kinnaur Winter Itinerary
With the above being said, let us take a look at the travel plan you can follow for this exciting trip. The bus service to Kinnaur from Shimla remains available throughout the year. So the plan I am suggesting below can be followed irrespective of whether you were traveling by your own vehicle or public transport.
As a matter of fact, it will actually be even better if you went by Bus. That way, you will not have to worry about driving yourself in icy cold weather. The only catch is that in the months of January and February, there may not be a bus available for a few days if it snowed too much anywhere on the route.
Apart from the buses, you can also use shared taxis which are available in plenty and get used mostly by locals. Chitkul will anyways remain off the limits from December till March so there will be no public transport going that way.
Now considering the above, your itinerary will depend on which part of winter were you traveling in. Your travel plan for the months of November and December will be different than the one January, February and March. I will provide an example of both the itineraries.
Also Read: How to Make a Trip to Kinnaur Valley in under 10K?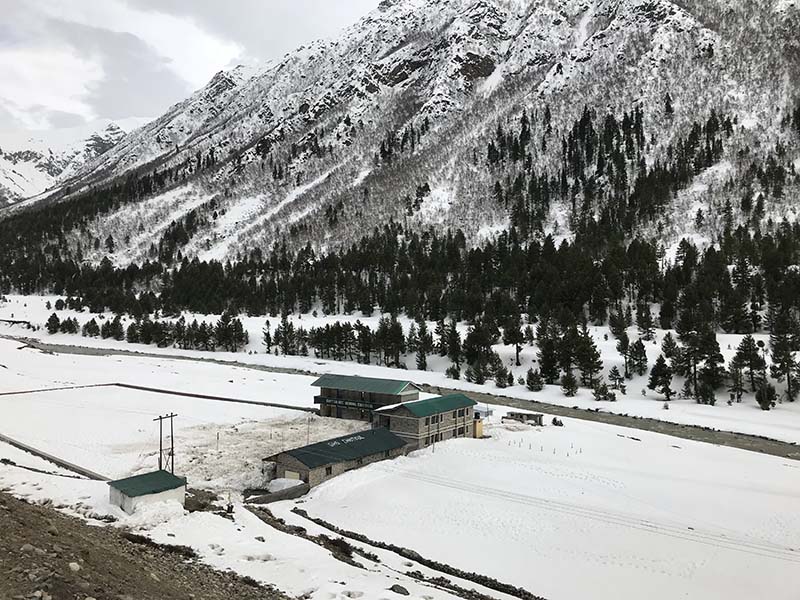 Kinnaur in Early Winter
If you were traveling in the months of late October, November, or the first half of December, then the itinerary can be as mentioned below.
Delhi to Shimla / Narkanda – Day 1
Shimla / Narkanda to Kalpa – Day 2
Kalpa to Nako – Day 3
Nako to Chitkul – Day 4
Chitkul to Sarahan – Day 5
Sarahan to Chail – Day 6
Chail to Delhi – Day 7
A minimum of 6 to 7 days is what I will recommend for a Kinnaur trip in winter. This way you will be able to explore and see all there is to see without spending entire days in travel.
If you can add a couple of more days then it will be cherry on the top. You can extend your stay at any of the places and enjoy the visit some of the local areas. A detailed description of this Kinnaur winter itinerary is as mentioned below.
Delhi to Nako – Day 1 to 3
Your destination for Day 1 can either be Shimla or Narkanda. I personally prefer staying at Narkanda more than a crowded Shimla. There are several hotels that you can check-in for the night at Narkanda. The total distance covered will be about 400 kilometers in 9 to 10 hours and road conditions are mostly OK.
From Narkanda, you will then travel to Kalpa on Day 2 while crossing the small towns of Rampur, Jeori, and Reckong Peo on the way. This is a journey of about 6 to 7 hours and the road will be about average.
Finding a place to stay in Kalpa too should not be a problem. If you want, you can also actually visit Hatu Peak at Narkanda in the morning before coming to Kalpa.
Your destination for Day 3 will be the small town of Nako in the upper reaches of Kinnaur. Road conditions on this day will be a mix of good and bad. The bad part will mostly be between Reckong Peo and Pooh. The entire journey will not take you more than 4 to 5 hours at most; depending on your speed and breaks. You will stay in Nako on Day 3.
Also Read: Schedule of Bus Service in Kinnaur Valley
Nako to Sarahan – Day 4 & 5
Nako is the farthest you will be going and from here, will start on your way back. Chitkul is where you will be reaching on Day 4. From Nako, start journeying back on the same road that you took to get there.
Once you reach Karchham, cross the dam over to the other side and take the road towards Sangla Valley. This 40 kilometers stretch is a mix of good, bad, and average and runs for 40 kilometers before ending at Chitkul.
You will also be crossing the small town of Sangla which is also a good place to stay in case you did not want to go all the way to Chitkul.
The next day, you will again travel back 40 kilometers till Karchham and then take the road towards Shimla. Once you reach Jeori, you will again leave the highway and turn left on the 15 kilometers long stretch that you will see you arriving at the small but beautiful village of Sarahan. The road is narrow and the climb is steep but the vistas around definitely make the journey worth it.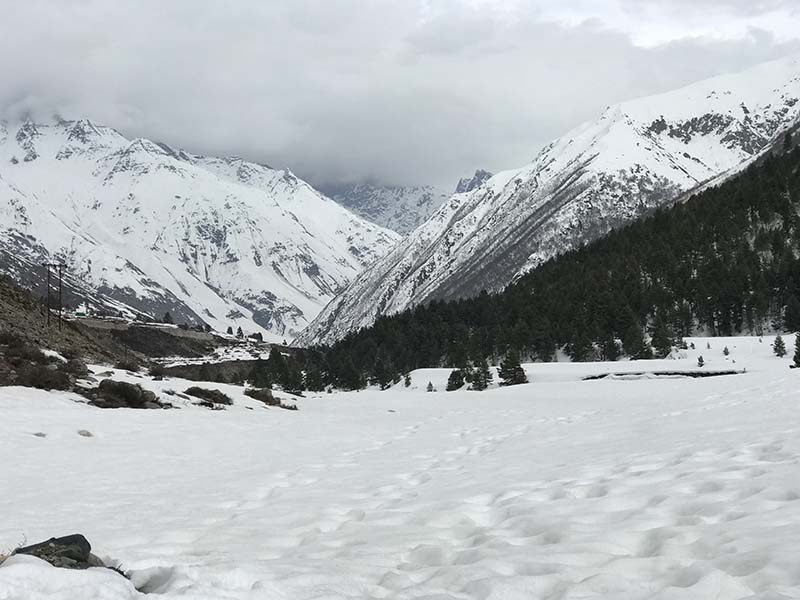 Sarahan to Delhi – Day 6 & 7
Now after Sarahan, you have two choices. You can either travel back to Shimla and spend an evening here. Or you can drive a little further till Chail and break your journey there.
Of the two, I will personally recommend going to Chail as opposed to Shimla. But staying at Shimla too has its own benefits. You can end your journey with a walk on the mall road and some shopping. Or you can go all the way to Chail and enjoy the sunset from Kali ka Tibba.
On Day 7, you will then travel back from Chail to Delhi via NH1.
Also Read: How much a Trip to Kinnaur Valley Costs?
Safety Tips
Please inquire about the weather conditions before including Chitkul in your itinerary. The village can get heavy snowfall as early as October itself. There have been instances when the tourists go stranded in Chitkul and had to be airlifted.
If you were driving on your own, be very careful of the black ice. It would be best to not start early in the morning and wait until the sun came up.
The risk of black ice will be more on the roads towards Sarahan, Sangla, Chitkul, Kalpa, and Nako.
If you were short on time, you can remove Nako from the itinerary and return from Kalpa to Chitkul.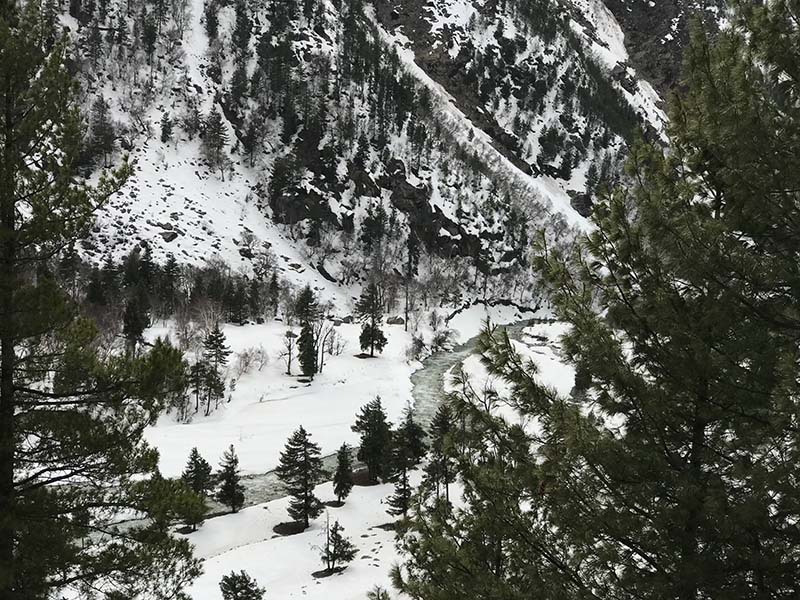 Kinnaur Winter Itinerary in January, February, and March
Now the itinerary above is for early winter. But things will have to be changed after cold settles in and it starts to snow heavily. The amount of snow on the road continues to increase in the month of January, February, and March forcing road closures at several places.
Your trip to Kinnaur in this case then will be more towards staying at a couple of places and explore while enjoying the weather. Your chances of catching a live snowfall too at this time will be greatest.
If you were planning to go in either of these months, then the itinerary I recommend will be as below.
Delhi to Shimla / Narkanda – Day 1
Shimla / Narkanda to Kalpa – Day 2
Kalpa – Day 3
Kalpa to Sangla / Sarahan – Day 4
Sarahan – Day 5
Sarahan to Chail – Day 6
Chail to Delhi – Day 7
Also Read: When is the Best time to Visit Kinnaur?
Details
The biggest change in this itinerary is that you will be giving up Chitkul and Nako entirely. Instead, you will spend some time relaxing in Kalpa and Sarahan instead. Your journey on Day 1 and 2 till Kalpa will be the same that I explained above. As a matter of fact, you may also not be able to reach Kalpa if the snow was too much. You may have to leave your vehicles in Reckong Peo and walk the last few kilometers.
Day 3 will be spent in Kalpa relaxing and enjoying the views of Kinner Kailash. You can also plan a visit to the suicide point and Roghi village. If you were short on time, you can remove this day entirely.
Your journey on Day 4 will also depend on the weather. Chitkul is of course out of the plan because the road will be closed but you can try to reach until Sangla. If the road till Sangla was open then you can spend the day there or go straight to Sarahan. From Sarahan then you will travel back to Delhi via Shimla.
What I said above about black ice will remain applicable in this case as well.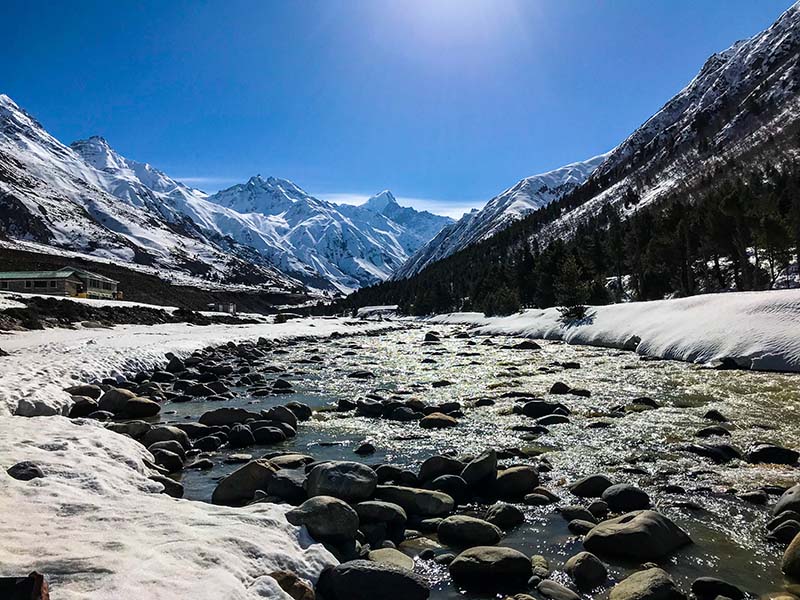 Kinnaur Winter Itinerary – Conclusion
I hope the information above on Kinnaur winter Itinerary was of help. These are just a couple of sample travel plans and this journey can, of course, be done in several other ways. If you would like to travel differently and have questions about your itinerary; please feel free to ask in the comments section below, or at our Community Forum, and I will be glad to answer.