I recently completed a road trip on Spiti Circuit; and as part of my itinerary, spent one night in Narkanda before moving on to Chitkul from there. In Narkanda, I stayed at hotel The Himalaya Inn & Restaurant; and below is a short review of how I found the hotel and their services to be. Though it may not be the best choice for a budget traveler; from an overall point of view, it is a great choice if you are looking for a place to stay at in Narkanda.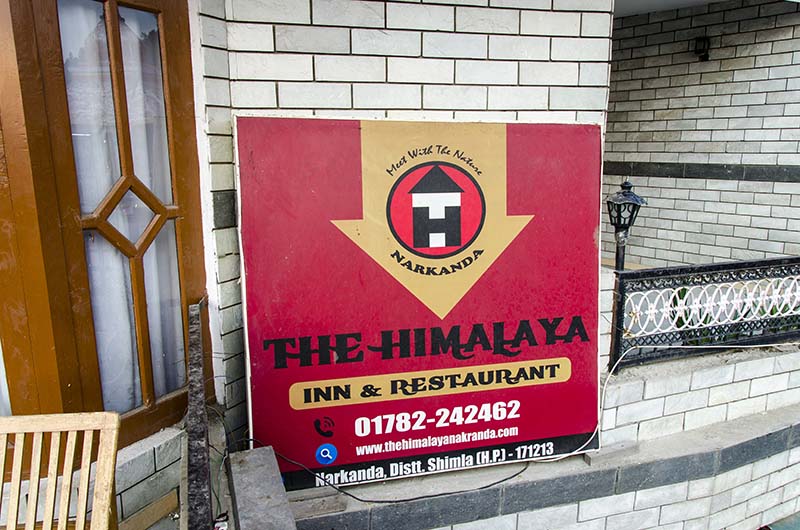 My original plan was actually to head straight to Sarahan from Delhi; but it proved to be a little too long a journey for my fellow traveler so we decided to take a break at Narkanda. We arrived there at about 2 PM and to my surprise, I could not locate any of the budget hotels I have previously stayed here at. There are a few hotels right there at the main chowk but they could not really be called "budget stay". The only low priced hotels that earlier existed were on the narrow path that goes to the ski slopes towards the left of the bus stand. They however weren't there anymore. In their place stand now a few multi-story buildings. So yes, finding a budget hotel in Narkanda can now be a bit of a challenge.
After a bit of hunting around, I finally settled on staying at The Himalayan Inn & Restaurant. My reasons of choosing this hotel were two. First was that the only other decent places to stay were asking for more money; and second was that the hotels that were charging less did not seem worthy of spending even that amount of money. The room that The Himalayan Inn gave me was quite large, had two balconies with it and was very comfortable. Let me post a few pictures.
Hotel Name: The Himalayan Inn & Restaurant
Location: Narkanda
Phone Number: 01782 – 242462
Being spacious was the greatest benefit of this room. It also had two large balconies with it, one right outside the door and another one with the window; both overlooking the main Narkanda chowk. The room itself was of decent size but the two balconies definitely added more space to it. The closet, bed, bedsheets, pillows, blankets,  washroom etc were all very clean with no foul smell or any signs of being dirty. All the electrical and TV in the room were functioning without any problem. The shower and the toilet flush etc too were working well. The bed itself was very comfortable and I slept through the night like a baby.
Also read: Recommended and Best Hotels in Spiti Valley
The Himalayan Inn runs a restaurant at the ground floor and have the rooms built on first floor so you can order your meals at the hotel itself. The food, if not excellent, was still delicious enough and reasonably priced. Their service too was pretty quick.
This hotel is located right at the main chowk in Narkanda, next to Hotel Mahamaya Palace. The room they gave my was facing the bus stand so did not really have a scenic view as such which could be a problem with some people. I just needed a place to stay for the night so I had no issues with the view. As a matter of fact, even If I was staying here for a couple of days, even then I would have been OK with the room facing the main chowk. Sitting in the huge balcony with friends looking at all the movement at the chowk did not look like a bad choice actually. To be honest, I do not think there is any place in Narkanda where you could get an awesome view from your hotel room actually.
I paid Rs. 2000 for this room. This sounds like a bit costly but you will be surprised with the amount of money you will be asked for at Narkanda now. There are no more budget stays here. With increase in tourism, more people have started to travel to offbeat places and avoid places like Shimla. The number of tourists visiting small hill stations like Narkanda too has gone up and the result can be seen in form of multiple new hotels being built here. Even hotels with very basic rooms will ask you for Rs. 1500 and in comparison to that, paying Rs. 2000 at the Himalayan Inn did sound like a good deal.
The Himalaya Inn & Restaurant – Final Verdict
Final verdict would be that it is a great place to stay at in Narkanda if within budget. The stay at the hotel is comfortable and the food is good. If you are traveling here in peak tourist season then I will recommend giving them a call and booking your stay in advance. I hope the information above was of help. If you need any further details, please feel free to ask in the comments section below; or at our Community Forum; and I will be glad to answer.