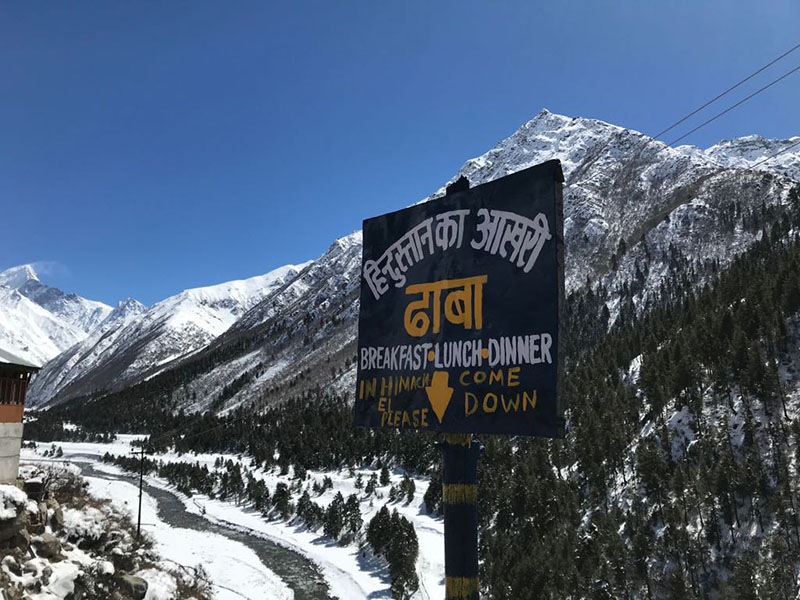 Is a trip to Kinnaur in the winter season possible? While the answer to this question is a definite yes, there are several things that you must keep in mind. You must carefully plan and prepare for the journey ahead to ensure that it remains safe and hassle-free. In this article, I will provide a few tips on the best way to plan your vacation in Kinnaur Valley in winters.
The first thing to know is that winters in Kinnaur are not easy. The climate turns harsh and sometimes even extremes. The road connectivity can get disrupted for days or even weeks. The trip no doubt will be fun and one of its kind, but can also be challenging at the same. Even the availability of electricity cannot be guaranteed depending on your time of travel.
On a positive side though, the entire region turns into a winter wonderland. Kinnaur presents a different color in each season and in the months of winter, it is the color white that takes dominance. If you have never seen snowfall and would to witness, Kinnaur is among the best places to do that.
Please know that in this post, I am only providing a few tips on how things here are in the winter months. For an overall travel guide for the entire year and an itinerary, please take a look at How to Plan a Trip to Kinnaur Valley.
About Kinnaur Valley
For a brief introduction, Kinnaur valley, or simply Kinnaur is one of the twelve administrative districts of Himachal Pradesh. It is divided into six tehsils and three administrative areas. The administrative headquarters of the district is at Reckong Peo. After Lahaul Spiti, Kinnaur is the least populated region in all of Himachal. (Source: Wikipedia).
But that is really the official part of it. The valley is best known for its stunning natural beauty, offbeat destinations, unique culture, and most of all, its apple orchards. That is right. The apples of Kinnaur are known to be among the best in the world. No matter where you are in the valley, you will always be surrounded by beautiful apple plantations.
Traveling from Shimla, Kinnaur starts a little after Jeori. The town of Sarahan is known as the 'gateway to Kinnaur' From here, it extends all the way till the village of Nako. The area around Sarahan, Sangla, Chitkul, and Kalpa is known as lower Kinnaur. Pooh, Khab, and Nako are located in the upper Kinnaur valley.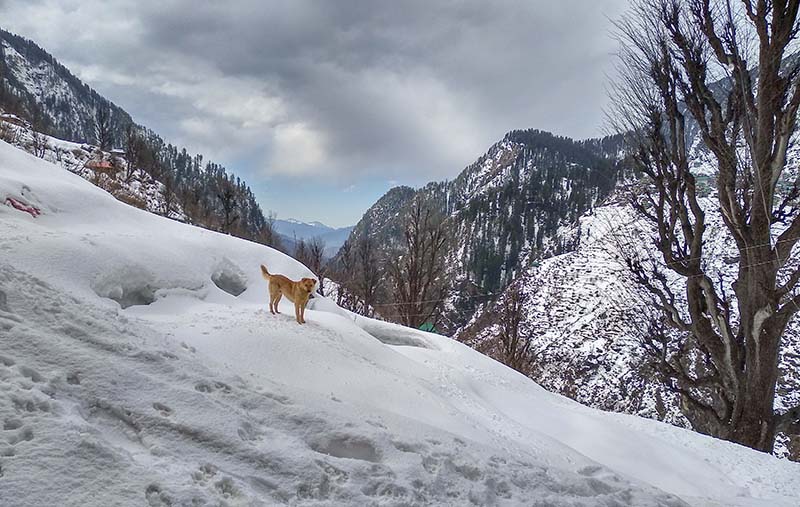 Kinnaur In Winter
If you were wondering whether to visit Kinnaur in summer or winter then I will recommend taking a look at When is the Best time to Visit Kinnaur? In this article, I have given a month by month breakdown of how things in Kinnaur trend in the year.
But if you were sure about the winter season, there are three things that you should consider. First and foremost is the weather. Second is road connectivity and third is the availability of basic amenities. If I am to describe all three of these in a single statement then the weather will be unpredictable; road connectivity will be uncertain, and basic facilities will be limited. Read on to find out more.
What to Pack
Winters of Kinnaur are harsh, extremely cold, and unforgiving. The temperature can drop as low as -5 degrees Celsius in Kinnaur. If you had places like Sangla or Nako in your itinerary, then be ready for temperatures as low as -15 degrees Celsius. Even the day temperature will remain close to 0.
Hence it becomes of utmost importance that you pack well. Good quality thermals are absolutely necessary. When I say good quality, I am talking about the kind that keeps you warm but is also comfortable to sleep in.
Apart from thermals, you need to bring in all woolens accompanied by a heavy, warm, and windproof jacket. Ensure that your jacket also has a hood to cover your head and neck. Good quality gloves, woolens socks, and a muffler are some other important clothing you can't afford to forget.
In terms of shoes, pick one that is well insulated and keep your feet warm. If you were planning in January and February, there is a fair chance that you may have to do some walking in the snow and your footwear should be capable of keeping the wet and the snow out.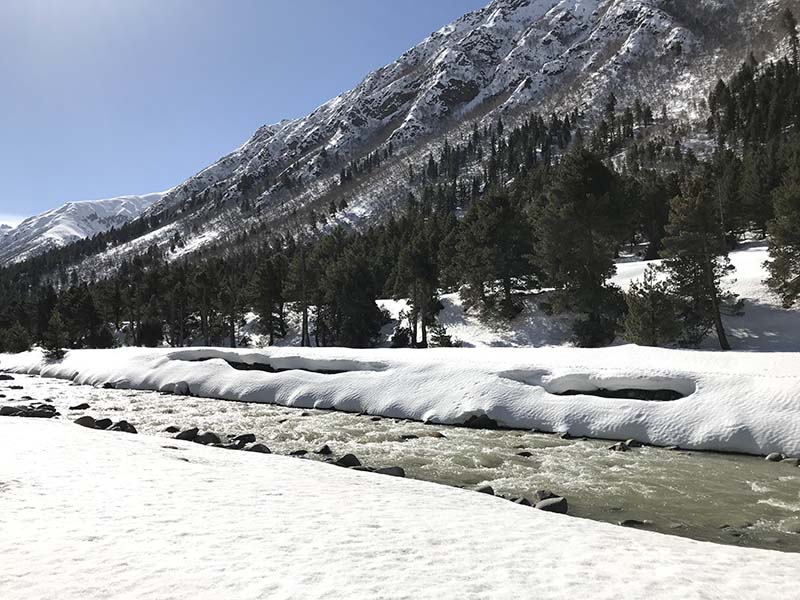 Do not Plan on Chitkul
Chitkul is one place that gets buried under several feet of snow and remains closed completely during winter. Sometimes it can snow here so much that even Sangla can get cut off. There have been instances when tourists were stuck in Chitkul even in the months of October and April and had to be airlifted to safety.
The road from Karcham and Sangla usually remains open. Even if does get blocked due to snow, authorities tend to clear the snow and keep it open. The road from Sangla to Chitkul remains closed after Mid December and no effort is made to clear it until Mid March.
Plan Chitkul only if you are visiting sometime in October or early November. Even then, there will be a risk of the road getting blocked so you should also check the weather before finalizing the itinerary.
Also Read: How much a Trip to Kinnaur Valley Costs?
Keep Buffer Days
Keeping a day as a buffer in your travel plan is always wise. But for Kinnaur in winter, I would advise that you keep about 2-3 over and above your itinerary. Sometimes, if it snowed too much, the roads may get blocked; forcing you to stay at a place until authorities are able to clear the route.
Usually, the road from Shimla to Kaza remains open for all 12 months but heavy snowfall can sometimes bring the entire region to a standstill. Even the roads around Shimla can get closed in January and February.
So when you plan for this trip, do it in a way that if it lasted for 3 or 4 days more than the actual itinerary, you are not incurring any major losses back home due to it.
Check the Weather
It really makes no sense if the news channels were already reporting extreme weather and you went nonetheless.  Keep a close watch on how the weather is trending in the area and plan your trip accordingly. If the weather was a bit on the extreme side with too much snow and blocked roads then you should postpone your trip by a few weeks and let things settle down.
Also Read: Schedule of Bus Service in Kinnaur Valley
Drive only if you are Good at Wheel
Roads in Kinnaur are a mix of good and bad. It is mostly a smooth drive around Reckong Peo but then turns bad as you approach Pooh. A little after and near Khab, the drive is smooth again till Nako. The road from Karchham till Chitkul is mostly a bad stretch.
But these are road conditions in summer. Once it starts to snow, the road will then turn slippery, forcing you to ride or drive through slush and snow. One small mistake can send your car spinning or skidding down the road. Plan this trip only if you are good at the wheel and know how to maneuver your vehicle around. This applies to both a car and a motorcycle.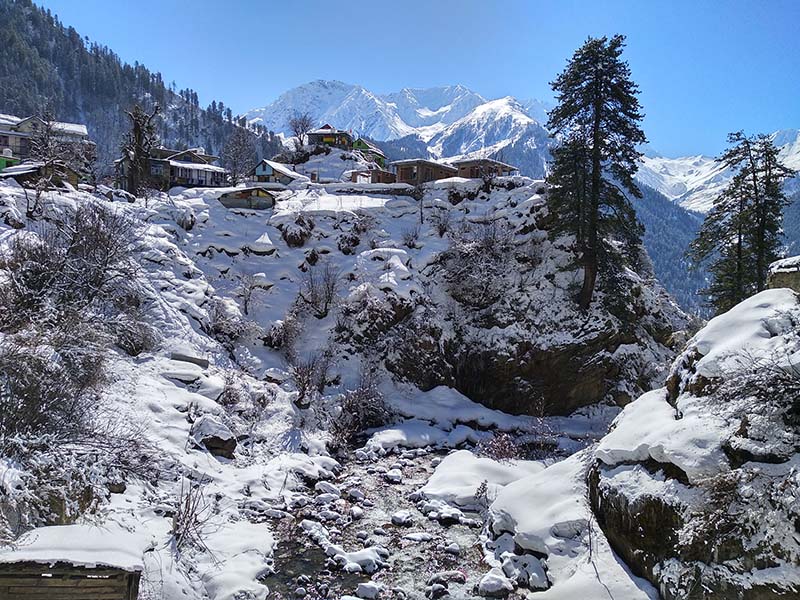 Medical Assistance
This is one of the most important things to consider before going on the trip. If you have any medical history that can make things turn critical suddenly then I would strongly advise that you do not travel to Kinnaur in Winter. There have been multiples instances when people were stuck here for several days in winter before they had to be airlifted.
Medical assistance in places like Sangla, Chitkul, and Nako will be next to none. The nearest hospital will be at Rampur or Shimla but getting there may just become a task impossible. Even if there is no medical history, then I will still recommend bringing in some basic medicines like for cold, flu, fever, headache, stomach ache, etc. Do not depend on the local medical stores.
Book Your Stay in Advance
Normally, I do not really advocate booking hotels in advance. I would rather prefer to arrive at the destination first, search for a hotel per my liking and then negotiate an on the spot deal. This theory however cannot remain applicable for Kinnaur in winter. It is not the time for tourists and most of the hotels and guest houses close their business.
Hence it would be better for you to call in advance and book your stay. This would avoid any last-minute hassle and will give you the peace of mind. In remote places like Nako, it would actually also be beneficial for the hotel owner as it would give them time to prepare for your arrival and getting the room ready.
No Running Water
The next two points really apply to Nako Village only or sometimes even for Sangla and Kalpa. With temperatures below 0, water freezes even in pipes making running water a luxury that you cannot have. Hot water will be provided to you but in buckets and in limited quantity.
And yes, this means that you may have to go without a shower for a few days. Considering the kind of low temperatures Kinnaur gets, I wouldn't mind not taking a shower for a couple of days; but if you are someone who can't go even a day without it, then you may need to think again before starting on this journey.
Also Read: How to Make a Trip to Kinnaur Valley in under 10K?
Dry Pits
Frozen water in pipes also means no running water in toilets as well. You will have to do your morning business squatting over a dry pit which is basically a hole in the ground. Chances of this are really more towards Nako. Hotels in lower Kinnaur usually have running water available even in the winter season.
Electricity
If you were traveling in November or December, then electricity should not be a problem and will be available. Once it starts to snow in January and February, too much snow or extreme weather can sometimes damage the wiring and poles. This may result in no electricity for several days.
The locals here install the Solar-powered panels on their roof for power but even the Sun can remain missing for weeks. So the solar panels too fail to work. To be on a safer side, I will recommend that you carry a power bank to keep your phones charged. If you were into photography and carrying a DSLR, then bringing in a spare battery would be wise.
Cash
Like Electricity, cash too should not be a problem in November and December. In January and February though, ATMs may not work with no electricity available. Even if it was working, the availability of cash cannot be guaranteed. So if you were traveling to Kinnaur in winter, I will recommend that you carry enough cash right from your home that can last the entire trip.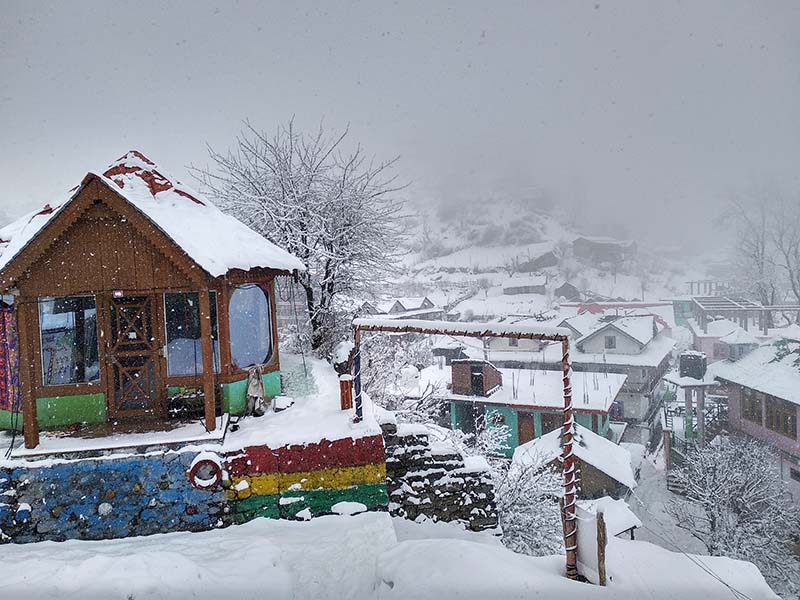 Almost no Tourists Around
This can actually be both pros and con of visiting Kinnaur in winter season. If you would rather be in a place that remains alive in winter as well with plenty of tourists, like Shimla and Manali, then Kinnaur should not be on your list. But if you want to visit a place with only a handful of people, where you can spend some time in peace and tranquility, then Kinnaur will suit you just fine.
Public Transport
Public transport remains available in Kinnaur valley throughout the year. There is a regular bus service between Shimla and Reckong Peo that you can board to reach Kinnaur. From Kinnaur, a daily bus travels to Kaza that can take you towards Nako, the upper Kinnaur area. For Sangla and Chitkul as well, there are daily buses available.
All this however depends on the condition of the road and weather. If there is a lot of snow and black ice present that can make the journey risky and dangerous, then the bus service gets suspended temporarily. The Bus to Chitkul will shut down as soon as the road closes.
Apart from the daily bus service, there are shared taxis available on the entire route. It is mostly SUVs like Sumo or Bolero that the locals use to commute between towns and villages.
Also read: How to Plan your Itinerary for Kinnaur Valley
Mobile Network
There are two sides of the mobile network in Kinnaur in winter. In terms of network, Kalpa, Reckong Peo, and Sangla will remain connected irrespective of which network you are on.
However, in Chitkul and Nako, only MTNL / BSNL phones work. Any other network will remain out of reach in these two places.
This will remain to be the situation in normal weather conditions. If things turned really bad in which case, your cell phone will be as good as a paperweight; no matter which service provider you are with.
Kinnaur Valley in Winter – Conclusion
I hope the information above on visiting Kinnaur in winter was of help. If you have any other questions or need any further details, please feel free to ask in the comments section below, or at our Community Forum and I will be glad to answer.