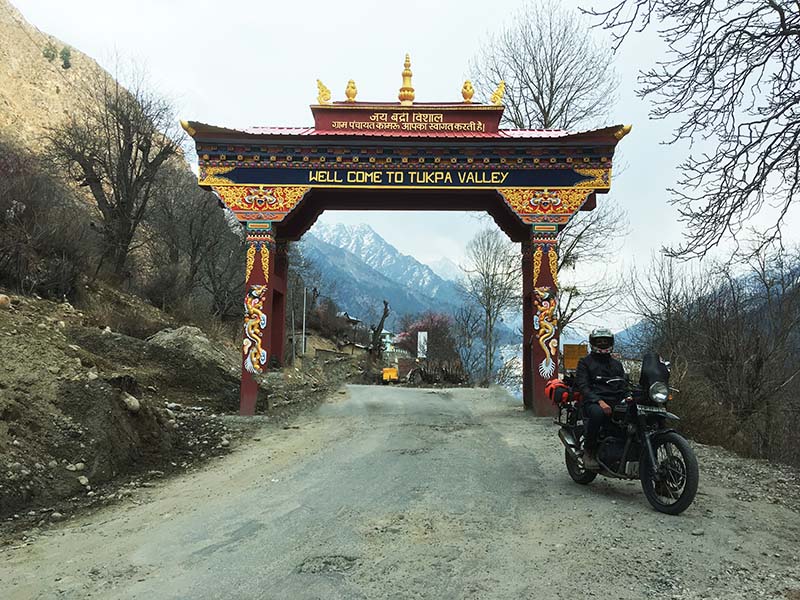 Fellow travelers, today, I'm going to share my experience of riding to the 'Hindustan Ka Aakhari Dhaba' in the small village of Chitkul. I, along with three favorite people of mine, decided to ride our way to Chitkul in the month of February. I hope my travelogue and the information I am sharing below can come in handy when you plan your bike trip to Chitkul.
About Chitkul
Chitkul, the last inhabited hamlet, is located at 11,318 feet above sea level in the Kinnaur district of Himachal Pradesh. It is hardly a few kilometers from Indo-Tibetan border and you can even go say 'Hi' to our Jawans at the last check-post. It is mostly covered in snow in the winters and even the locals move to lower areas at this time. People are really friendly (almost everywhere if you have the right attitude) and the cuisine is very Himachali with a pinch of Tibetan spices!
So, how do you reach Chitkul and back to Delhi/Chandigarh? There are many ways you can go up there; by your own vehicle, bus and train/flight to the nearest town. I'll assume the starting point as Delhi and Chandigarh for the information below because they are well connected with major flights. However, even if you were coming from a different place, the information below can still give you a fair idea on how to plan a Chitkul bike ride.
Also Read: Best Time to Visit Malana – When to Visit Malana and Kasol
Bike Trip to Chitkul
A bike is by far my favorite mode of transport. I am not just talking about Chitkul but anywhere in the Himalayas for that matter. Traveling by other modes of transport is also fun in their own ways but I think nothing comes closer to riding a motorcycle up and down the mountains.
The best would be to take your own bike of course. The first thing you need to pay attention to is to get your bike ready. The rules are very simple in this aspect. Get your bike checked (serviced if required) at least 10 days before the trip. Then ride it around in the city to ensure that everything is working as per expectations.
If your bike was of a smaller engine, like 125 or 150 CC, then it would be best to ride solo and as light as possible. This way, you will be able to enjoy more and handle the bike better. Your machine too will not also be stressed unnecessarily.
If you were riding with a pillion then it would be better to bring a large engine bike, like Royal Enfield 350 CC. If you do not own one then you can always rent one.
In Delhi, a lot of people prefer Karol Bagh for renting a motorbike. My suggestion would be to take it from a reputed vendor and not rely on the bikes provided by local mechanics. I have had my share of unpleasant experience on renting pathetic quality bikes from Karol Bagh, so I urge you to try other vendors. Two that I know of are Stonehead or Motorenta in Gurgaon.
From Chandigarh, you can try Northern Riders. They have a decent fleet and costs are relatively bearable.
Also Read: Best Time to Visit Sangla Valley – Month by Month Guide
Delhi to Chitkul Bike Trip
I personally like to wake up early and ride out. This practice is really good to beat the morning traffic. If coming from Delhi, your ride will be at least 2 days long. It cannot be done in a single day. Even if you rode non-stop, it will still at least take you 24 hours to make it to Chitkul.
For folks riding from Chandigarh, you can make it to Chitkul on the same day, provided that you started from Chandigarh by the first light of the day.
Your destination on Day 1 can either be Chail, Shimla or Narkanda. We broke our journey at Chail because it was one of the places on our itinerary. On the second day, you will drive all the way to Chitkul.
The road from Delhi to Shimla is pretty smooth. There are plenty of dhabas en-route where you can take a pit stop and fill your belly. The last 25 kilometers is a single lane road where you will only hear the pure sound of your machine's engine. The ride will take about 9 hours to complete if you ride at moderate speed while enjoying the scenery.
If you stayed at Chail like we did, while leaving Chail, you will realize that the roads get wider and the traffic gets denser, somewhat.
The road conditions change when you take a right from NH5 towards Sangla Valley. It is a single road with no guardrails! So, ride slow and cautiously.
Similarly, you can drive your car to Chitkul following the same route. Irrespective of your mode of travel, one thing that you can be sure of is that you will definitely enjoy the drive.
What itinerary should I follow?
I would recommend you to take a look at what I had followed. It was efficient and we enjoyed thoroughly without leaving any stone unturned!
It is one itinerary I had the most fun with. You can surely make changes to make it best for you.
Day 1 – Delhi to Chail
The ride on Day 1 was 350 kilometers long but took us nearly 12 hours to complete.
We had arrived in Delhi by public transport from another city and rented the bikes here. We woke up and loaded our rucksacks on the motorcycles which were a KTM Duke 200 (the rat) with bald tires, RE Himalayan with decent grip and two RE Thunderbirds out of which one was mostly wrecked (we could not figure out); and the other had a jammed throttle cable and funny front brake lever. We did not know about the technicalities then and did not care much.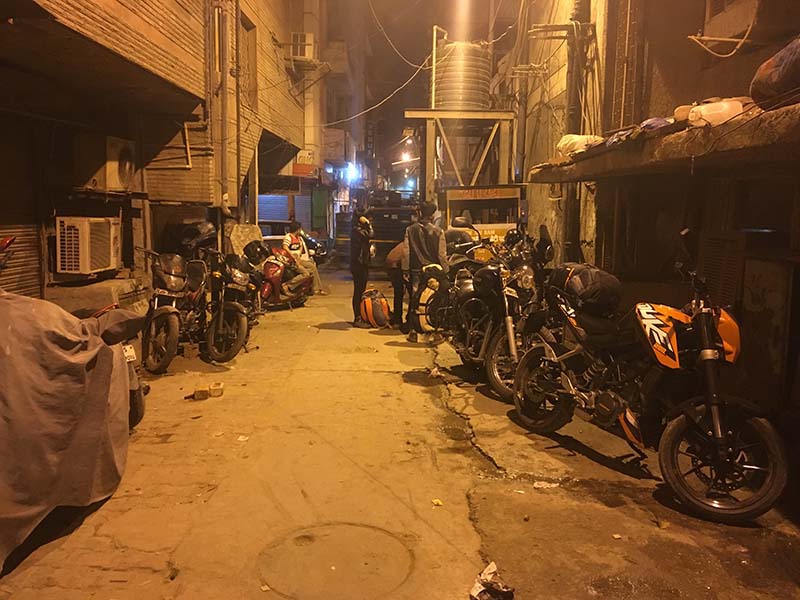 We left the hotel in Delhi at 4 AM. After crossing Karnal, we took a small break as the sun was rising and things were getting lit. It is recommended to give your eyes a chance to get used to the brightness. After that, we ate our breakfast and rode along the highway.
Again we made a halt near Chandigarh for lunch. We rode for about 3 hours after which we could finally see the one-lane road to the forest retreat camps that we had booked. Man, it was really quite. We could hear the birds chirping.
It was 4 in the evening we finally reached the camps. The owner was pretty cool. He showed us around and asked us to roam until he prepared the snacks and dinner afterward.
Good food in our bellies and great beds under our butts, day 1 ended like that.
Also Read: Shipki La Pass – How to Plan a Trip to Shipki La
Day 2 – Chail to Sangla
Our journey on Day 2 was 250 kilometers long which we were able to complete in about 10 hours. Our plan was to leave the camps by 4 in the morning, but one of us lost his wallet and we wasted an hour looking for it at the campsites. We looked into each and every tent but could not find it anywhere. In the end, we decided to leave the wallet there and ride. Luckily the wallet was found inside one of the helmets. Vishwaraj, you dumbass!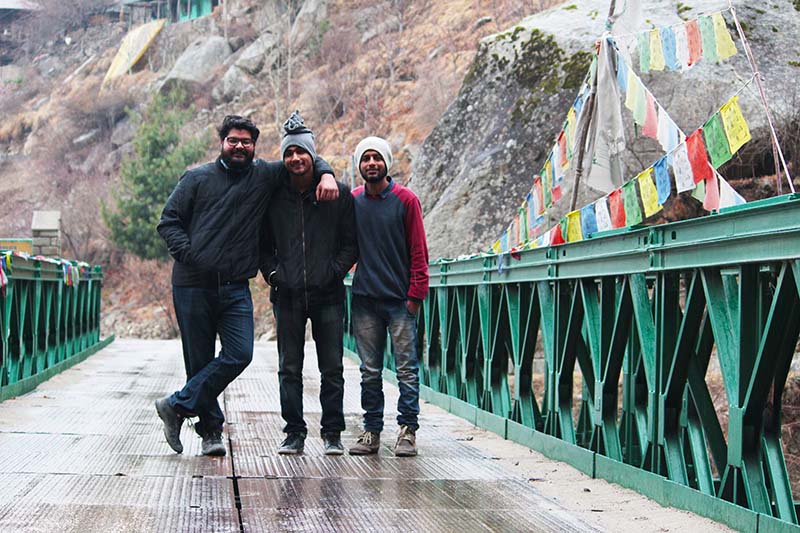 It was pretty dark when we left and I was leading on the Himalayan. The problem with Himalayan is that its headlight lags behind when you turn the handlebar. I rode it at a slower pace till the sun rose. We took a time out at 'Mast Rock Adventure' and then continued to ride till Rampur Bushahr. There we had our breakfast and we spoke to our mums!
Rampur to Chitkul
The road was pretty and even prettier was the feast we get for your eyes. You'd ride along river Sutlej the whole time. Man, it was beautiful. All was good till we took a turn towards Sangla valley from the highway. The weather changed unexpectedly, roads disappeared and rocks started falling on our heads! There were no guardrails and you could literally fall into the abyss if you took any funny decision. I enjoyed the ride as I rode the Himalayan. I can't really say the same for the others.
We reached the guest house at Sangla by lunch. We checked in and out we went to explore what the valley had to offer. But sadly there was nothing much to see as it was an off-season time. It got dark and the temperature dropped quickly.
Dinner was prepared. The caretaker came in wearing a grin saying 'Sir, baraf pad raha he'. I never had seen snowfall in my life before. Quickly I ran out and even quicker I ran back into the room. It was freaking -1° C outside! And I had managed to get diarrhea somehow. The caretaker had to stop the water supply as it would freeze in the pipelines and would break them afterward. I slept in pain as my butt froze by you know what!
Also Read: What to see in Chitkul | Best Places to Visit in Chitkul
Day 3: Sangla to Chitkul
Our plan for this day was to ride from Sangla to Chitkul but it never happened for us. You can definitely go if the roads are open.
Scenario One: It is January or February and the town is covered with thick snow.
We had planned to ride to Chitkul first thing in the morning, but due to heavy snowfall, the roads were closed. So, we decided to explore the Sangla town instead. There isn't much to see in Sangla, to be honest, except the Kamru fort.
But the valley is itself beautiful. So, we started wandering on our own in the valley. Crossed some bridges, visited some dhabas and saw a couple of temples. We enjoyed the company of the locals and the snowfall, of course!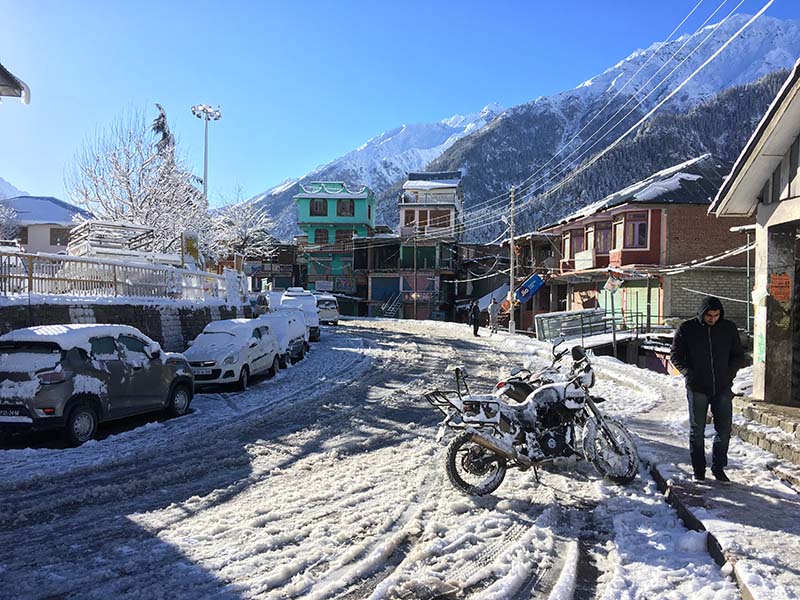 Scenario Two: It is March or any other month besides winter season months (spring and summers are the best time to visit) and you can see the snow melting down and fresh green grass misted in fresh dew.
It is hardly an hour's drive to Chitkul from Sangla. You would cover 25 kilometers and reach there before breakfast. Today, you can go see a marvelous piece of architecture, Mathi Devi temple and walk around the town interacting with the locals there.
Also Read: What to see in Tosh | Things to do in Tosh Village
Day 4 – Sangla to Shimla
The distance between Shimla and Sangla is just about 230 kilometers but our return journey took us a very long time. We had planned to leave Sangla as early as possible. But it changed the moment we saw our motorbikes covered with thick snow.
One by one, all the motorcycles fired up quickly except one Thunderbird. We tried everything from checking fuses to replacing the spark plugs, but nothing happened.
There was not a single mechanic in the town. Finally, we gave up and went on a stroll, leaving our bikes in the open waiting for the sunshine to warm them up.
We had our breakfast by 9 and went back to the struggle of starting that Thunderbird. After about 100 kicks, the miracle happened and it started.
We then rode to Shimla and by the dark we only reached Narkanda. We had chaai and Maggie then again we mounted our butts on the saddle and rode to the destination.
Puzzled with the Google maps we missed a few turns here and there. To calm ourselves, we took a time out to figure out where our hotel was located. However, we could not. Then, some gentleman stopped his car and asked us whether we needed any help. He showed us the way to our hotel. God bless him. Don't take the hotels in the corner of the town just because they are slightly more affordable!
Day 5 – Shimla to Delhi
Shimla to Delhi is a total of 360 kilometers and it took us 10 hours to complete.
How could anyone leave Shimla without visiting the famous Mall road? So, we went there after having our complimentary breakfast at the hotel. Also, Siddharth never had a chance to have Thukpa before, so we searched a few restaurants there and voila, we found one open. Though it wasn't as tasty as the one we had in Dharamshala (another story).
The plan was to leave Shimla as late as possible so that we reach Delhi by night avoiding all the traffic jams. We left Shimla by 4 in the evening. It was about 30 kilometers to Delhi when we decided to have some rest and fill up our bellies. And by 9 we left that dhaba and by midnight we reached the bike rental shop where our road trip came to an end.
When is the Best time to visit Chitkul?
'Best time' is a very subjective term. See, if you are someone who likes snow and lesser crowd, try late February or early March. You can find plenty of snow and not a lot of tourists (Only us and a biker from Uttarakhand were there in Sangla as tourists). Temperature generally stays sub-zero and could even go down to -15 °C. So, keep really warm clothes.
If you are someone who wants their trip to be comfortable, can cope with the crowd and loves lush green views, then summers are the best time for you. Start with May and try going there at the latest by June. The next best time can be either September or October.
The good thing about summers is that you don't feel the warm weather in Sangla. It is pleasant and many hotels/camps and dhabas remain open at this time. So, if you want to experience every bit of what the place has to offer, go there in May, June or September.
The temperature in summers averages out to 18 °C and is pretty soothing. For more information, please read When is the Best time to visit Chitkul.
Where to Stay during Chitkul Bike Ride
I haven't been to each hotel/guest house/camp that I have mentioned below, but I have been in touch with travelers who have been there. So, you guys can take my word for it.
Chail – Jungle Stay camps. I have stayed here for my trip. It is serene, has plenty of space and basic amenities like hot running water, warm food, and clean drinking water are good.
Shimla – We stayed at some hotel (I forgot the name) and it was really affordable but was at the end of Shimla city towards Chandigarh road. Since it is the hilly region, Google map often tricks you. We got lost a few times, it was dark and we were frustrated.
So, I recommend you to stay at Kufri Star Inn. This hotel is almost on the main road and is easy to spot. The rooms are equipped with basic amenities and the staff is really humble.
Sangla – Don't ask about where I stayed. It is not worth mentioning. So, I'd recommend two properties here. One is the Ibex camps. It is secluded and is established near the Baspa River. Hospitality is great as it is run by very humble local people.
The second property is Hotel Batseri. It is on Sangla-Chitkul road and it is one amazing hotel to spend your night at. Man, the views you get from your room are just breathtaking. The hotel is very well equipped with luxury amenities like wifi (yeah, it is a luxury, as you don't get much network coverage in that region), hot shower and freshly prepared food. Try their Thukpa!
Also Read: Dharamkot – A Complete Travel Guide & Itinerary
Chitkul Trip Cost
Below is how much our total expense turned out to be for Chitkul.
Bike Rental: Himalayan – 1300 x 5 = Rs. 6500
Bike Rental: Thunderbird 350 CC – 900 x 5 = 4500
Fuel: (Himalayan) Total distance ~ 1200 km, fuel efficiency ~ 26 kmpl, cost of petrol ~ Rs. 72/L. This gives a rough total of Rs. 3300/-
Fuel: (TB 350) Total distance ~ 1200 km, fuel efficiency ~ 33 kmpl, cost of petrol ~ Rs. 72/L. This gives a rough total of Rs. 2600/-
Stays – Average rooms were 800/night. So, 800*5 = 4000/room. That makes it 2000/person.
Meals – Winters had affected tourism. So, the average meal cost us 100/person. For a day it was 300 for a person. The total was 300*5 = 1500 and it was mostly Maggie and Aaloo ka parantha.
Total for Himalayan – 13300 (On double sharing)
Total for TB 350 – 10600 (On double sharing)
What to see in Chitkul & Things to Do
Listed below are a few activities you can do in and around Chitkul.
Motorcycling
Chitkul is often called a motorcyclist's paradise. Well, it is actually. You find various terrains to ride on. You get to see nature changing its landscapes number of times in a day. Take my word, kick-start your motorbike and take it to Chitkul in the coming summers.
Trekking
There are a bunch of treks starting from Chitkul. Some take about 2 hours and some can take as long as 15 days! If trekking interests you, here are some names which you may find useful.
Baspa River Trek
Flag Peak Trek
Lamkhaga Pass Trek
Borasu Pass Trek
Rani Kanda Meadows Trek
And yes, you can also take a four kilometers walk to the ITBP check post.
Camping
If you are one of those who literally like to sleep under the stars, there are plenty of camping sites in Chitkul. Do take permission from the locals who might own that piece of land and then you can pitch your tent. Just make sure that you follow the rules of camping.
Fill your belly with Thukpa and Momos
Chitkul has a lot of restaurants and dhabas where you can easily find Thukpa and momos. The great thing about these two dishes here is that people actually know how to make it!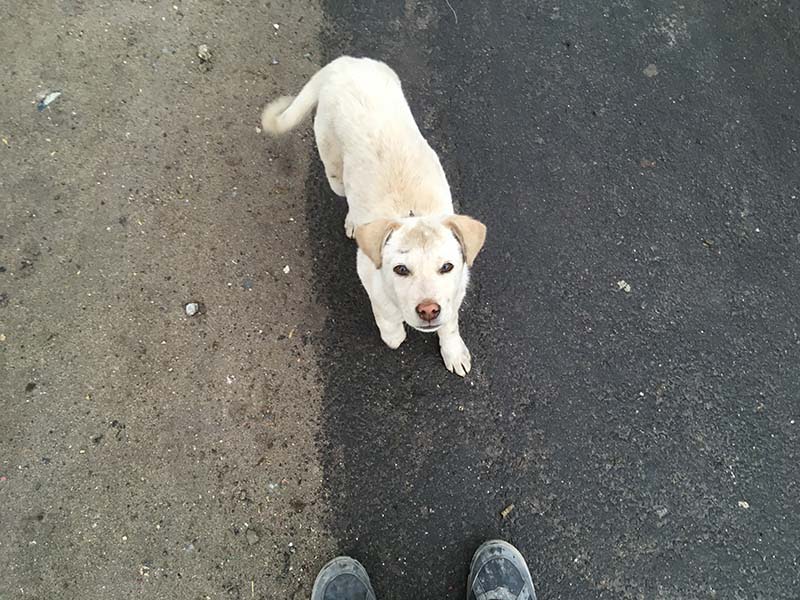 Interacting with the Locals
This is a pretty generic one. It is always good to have a cup of tea with the local people.  Have a few laughs, know how they've been living there. Locals also know better than Google about their place, so if you can gather knowledge from them, what's better than that?
Soul Searching
Have some alone time at the banks of river Baspa. This is one of my favorite things to do. Chitkul is a pretty serene place. If you are just willing to gaze at the sky and let your feet feel the trance of the flowing water, sitting at the bank of Baspa River is not at all a bad idea.
Also Read: Kothi Village near Manali – How to Reach & What to See
Cleanse Yourself at the Temples
For those of you who are spiritually inclined, Hanuman Temple, Kamru Fort, and Mathi Temple are a must-visit.
Kamru fort used to be the original seat of the Bushahr dynasty that ruled from here. The fort is near Sangla town and is not as big as the ones you'd see in Rajasthan, but it has its own aura. The wooden carvings on the gates and windows send you back in time. The fort houses Kamakshi Devi temple and the idol of this temple are said to have brought from Kamakhya Devi Temple, Guwahati. We went there when it was snowing, at the main gate of the fort we were offered to dry ourselves by joining the guard with her lit tandoor.
When you go to Mathi Temple which is in Chitkul, you'd be amazed by how beautiful it is made. Shri Mathi Devi is a local deity of Chitkul. The legends are that she did a laborious journey from Vrindavan via Mathura and through Badrinath and finally settled in the town of Chitkul. It is said that the temple is over 500 years old and is constructed in Katkhuni style. Locals really value Mathi mata and say that she has brought them prosperity and success.
For more information on the topic, please read Tourist Attractions in Chitkul Village and Sangla Valley.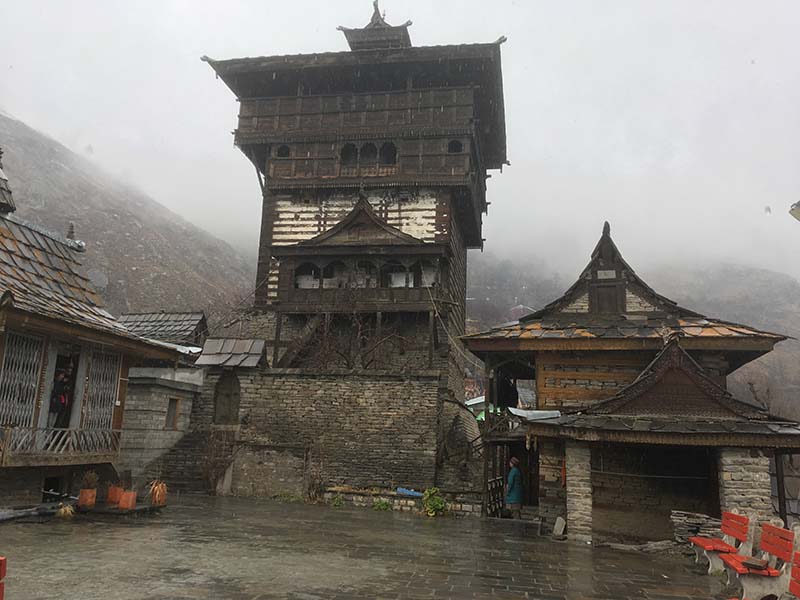 How to reach Chitkul by Bus
Before I end the article, let me also provide a little information on how you can travel to Chitkul by public transport. If you were traveling by HRTC Bus, you will need to break your journey in three parts; Delhi/Chandigarh to Shimla, Shimla to Sangla and further to Chitkul.
Delhi to Chitkul by Bus
For someone coming from Delhi, below is how the journey will look like.
Delhi to Shimla (350 kilometers/10 Hours)
There are many AC Volvos available from ISBT Kashmiri Gate or Himachal Bhawan from Delhi which would take you to ISBT Tutikandi, Shimla. The bus ride generally takes about 10 hours to complete and costs on an average Rs. 1000 per person.
Shimla to Sangla (250 kilometers/11 Hours)
You should try to reach the bus stand by 5:50 AM as there is only one bus from Shimla to Sangla that leaves at 6:30 AM. Since it is only one bus for this route, the seats get filled before you can even say, 'Sangla'. The bus will reach its destination by 5 in the evening.
Also Read: Solang Valley Travel Guide – How to Plan your Trip
Sangla to Chitkul (23 kilometers/1 Hour)
There is an ordinary bus that goes to the last stop, Chitkul, and it leaves Sangla Valley at 5:15 PM. It takes about an hour to reach Chitkul.
Chitkul to Delhi Bus
After spending some time in Chitkul, below is how you will travel back to Delhi from there.
Chitkul to Reckong Peo (42 kilometers/1.5 Hours)
There is only one bus from Chitkul to Sangla and further to Reckong Peo. It leaves generally by 12:30 PM and reaches Reckong Peo by 2:30 PM.
Reckong Peo to Delhi via Shimla (580 kilometers/16 Hours)
The bus leaves Reckong Peo at 11:30 in the morning. The journey is quite tedious but there are quite a few stops at small towns, where you can get out and stretch your legs. The major stop is at Shimla where you can change the bus to a luxury one (which is recommended) or continue your journey in the ordinary one. The bus will reach the ISBT Kashmiri gate by 4 AM.
Chandigarh to Chitkul Bus
If you were coming from Chandigarh, below is how you can travel.
Chandigarh to Shimla (115 kilometers/4 Hours)
A Volvo leaves from Chandigarh Sector 43 at 10:30 in the morning and reaches Shimla in about 4 hours by 2:30 PM. You can book the ticket from the RSRTC website. The cost of a seat is approximately Rs. 351 excluding taxes.
The rest of the journey remains the same as above from Shimla onwards.
Chitkul to Chandigarh Bus
There is an ordinary bus to Chandigarh from Chitkul that leaves at 4 PM. If, by any chance, you miss that bus, take another one to Sangla and from there you can find buses to Rakcham and Reckong Peo, from where plenty of buses leave for Chandigarh.
For a more detailed version of this information, please read How to reach Chitkul Village.
Chitkul by Private Taxi
A private taxi is, of course, the most convenient way to travel if you weren't traveling by your own vehicle. But it is also the most expensive one. The final amount you paid will entirely depend on the number of days, type of taxi and your negotiation skills. There are several tour operators in Delhi, Chandigarh, and Shimla that you can rent a cab from.
Self-Drive rentals are another option that you can explore. If you are confident of your driving skills and know how to maneuver a vehicle in the hills or on narrow roads, then it is actually better than renting a taxi with a driver. The only thing you should know however is that the roads will get very narrow and steep as you get close to Chitkul. So please do consider this and your driving skills before you decide to drive on your own.
Chitkul by Shared Taxi
Since the frequency of the buses is still very limited, locals depend a lot on shared taxis, which in most cases is either a TATA Sumo or a Mahindra Bolero. These shared cabs travel on a regular basis and you can easily find one standing at the bus stop itself. Shimla onward, if you missed a bus, you can always look for a shared cab. I said Shimla onward because until Shimla, reaching by Bus will not be difficult at all.
The only catch with a shared cab is that you will be stuffed inside a car with strangers. If you do not mind that, shared cabs are a great and cost-effective way to travel. Fare per person will be almost the same as a Bus.
Is it worth Traveling to Chitkul?
Every time I get asked this question by enthusiasts, I show them my fun photographs from my ride to Chitkul and then they book tickets and travel to this beautiful place. So yes, Chitkul is definitely worth a visit.
Bike Rental in Chitkul
There are no bike rentals available in either Chitkul or Sangla. You will have to rent a bike from either Delhi, Chandigarh or Shimla.
Best Bike for Chitkul
There is really no best bike as such. The only rule that applies is that your bike must be very well maintained and capable of handling steep climbs. Even a 150CC bike can easily make it to Chitkul. What you should remember is that if you were riding with a pillion; opt for a larger engine bike like Royal Enfield. If you were coming by a smaller engine bike, ride solo and as light as possible.
Conclusion
I hope the travelogue and information above on a bike trip to Chitkul was of help. If you have any questions or need any other details, please feel free to ask in the comments section below, or at our Community Forum, and I will be glad to answer.