This post is in continuation with a previous one and part of my Leh Ladakh Travelogue. We completed this trip successfully in a 13-year-old Wagon R.  The post below talks about our last day of the trip when we traveled back from Kargil to Srinagar, Jammu, and Dharamshala. To read the previous parts of the travelogue, please click on the links below.
The journey so Far:
In previous chapters, I explained how we got the car ready for the trip ahead and traveled from Dharamshala to Leh, and visited the local areas of Nubra Valley, Pangong Tso, and Tso Moriri.
The weather turned unexpectedly on our last day of the trip. The Manali Leh highway was shut down and forced us to return via Srinagar only. We crossed the passes of Fotu La and Namika La in the middle of a snowfall, pushing our car up, and finally arrived at Kargil.
The journey from Leh to Kargil by road took us 7 hours, thanks to the bad weather. By the time we reached Kargil the weather had opened up a little bit.
We stopped for a lunch break and continued on our way to Dras where we managed to reach by 6 pm. The room arranged was a decent one with hot water available. but the dinner was delivered from a nearby restaurant. Finally, it was time to say Good Night.
Day 9 – Kargil to Srinagar
Much to our pleasant surprise and relief, we got up to a sunny day with a clear sky. Our target in mind was to reach Dharamshala, although we knew it will be a difficult task to manage over 600 kilometers in a day. But with 2 drivers we believed we could make it.
Also Read: How to Plan a Trip to Ladakh – A Complete Travel Guide
We started around 7.30 in the morning; and continued our journey non-stop almost till Zojila Pass.
We stopped at a small cafe run by the Indian Army named Cafe Gumri just 2 – 3 kilometers before Zojila Pass. Here I realized for the first time that Army-run cafes are much cheaper in comparison to the private ones. We had a couple of Maggies and some hot coffee and it was quite good.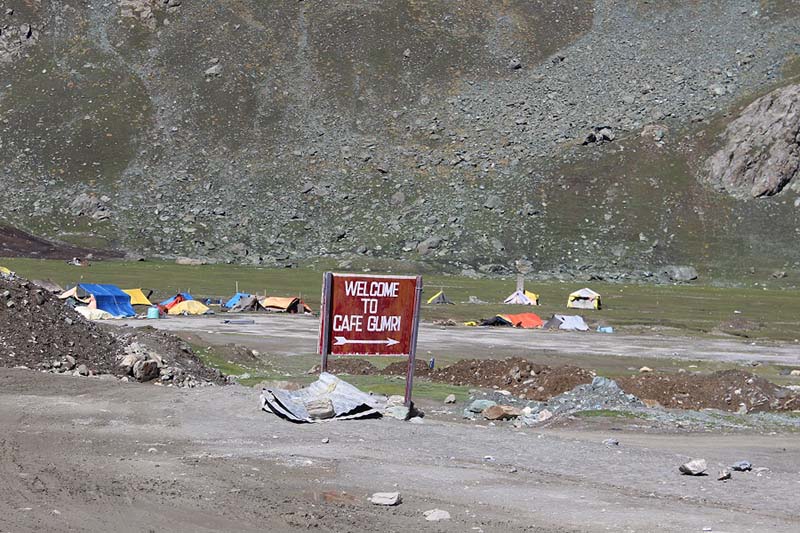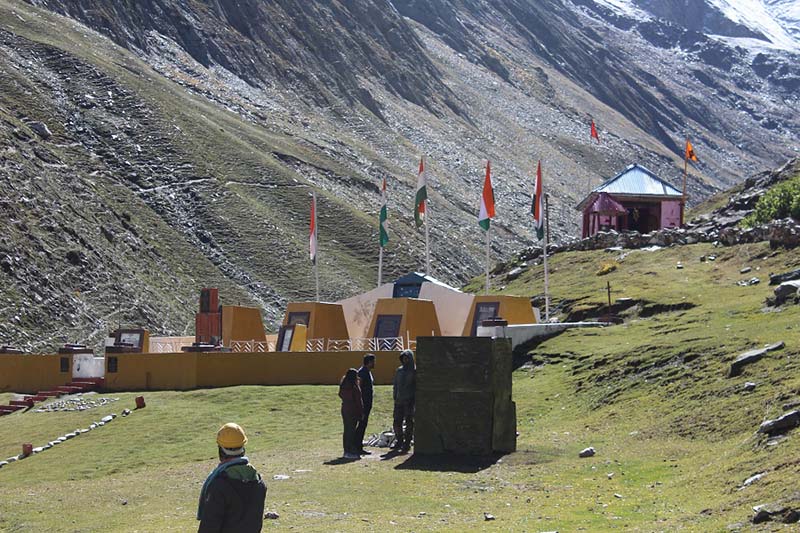 Traffic Jam at Zoji La
We spent around 45 minutes there. This small pit stop was to cost us dearly. As soon as we reached the pass the army stopped the vehicular movement as there was some loose stone that needed to be cleared. We could see that the car in front of us had already passed just a couple of minutes ago.
We had no option but to wait till the road is cleared again.
It was a cloudless sky after many days.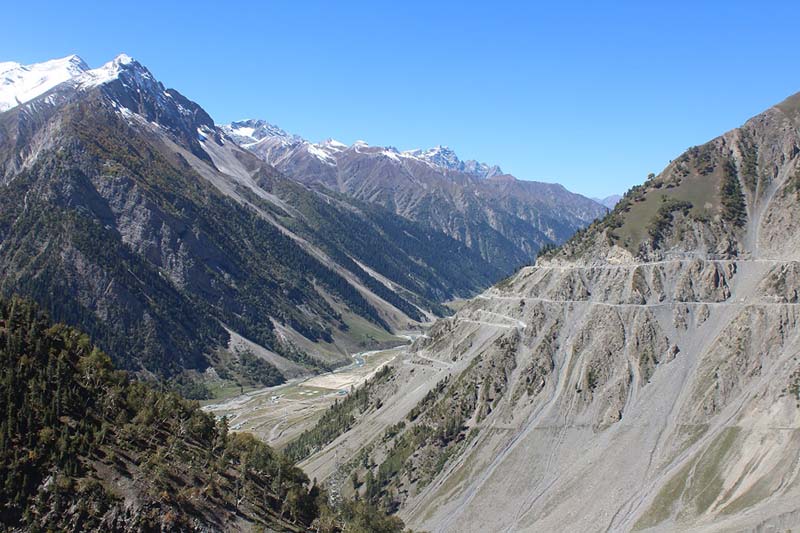 She looks a bit tired, but I fell in love with my Cutie Pie Wagon R all over again. She had finally made it through the journey without any major hiccups.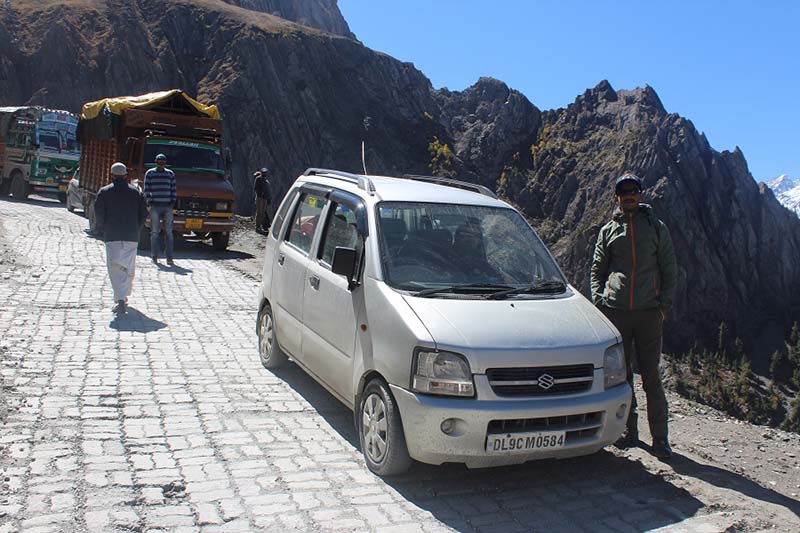 Zoji La Pass to Srinagar to Jammu
Finally, the road reopened after about 1.5 hrs and we managed to get down to Sonamarg. It was already so late that we decided to carry on without stopping.
We reached Srinagar at around 3.00 PM. Ideally, we should have reached here around 1.30 PM, but all thanks to the roadblock at the pass, we were delayed by a full 1.5 hours.
We bypassed Srinagar and raced towards the Jawahar tunnel. But our momentum was too slow due to the frequent truck Jams as it was apple season and secondly the Bakarwals with their livestock were marching towards the low lands for the winter season.
We took a small stop at Toofani Nallah for a tea break and moved down towards Banihal. We were spared by the traffic Jam on this stretch while going to Leh.
Also Read: Is Ladakh Safe for Tourists?
But the Banihal to Ramban Stretch was about to give us the dose of its (Terrific) Jam and that too with Interest. We got stuck in Banihal around 6.00 PM and crossed Ramban around 12.30 Midnight. Rest I leave to your imagination. The main cause of the Jam was two separate truck accidents.
We were no way going to make it to Dharamshala. So I had already called my sister in Jammu proactively and requested her to arrange for dinner which we will take once we reach.
Well, we did reach Jammu finally around 4.00 in the morning. We had a little something to eat that my sister kept prepared and dozed off.
Jammu to Dharamshala
We got up at around 10 in the morning. There was nothing special about today's journey and it was going to be just a drive back home. I bid goodbye to my sister after breakfast, drove straight nonstop to Dharamshala, and reached home at 4 in the afternoon.
Like all good things come to an end, the trip to Leh also ended. I learned a lot of positives lessons during this trip.
Also Read: List of Lakes in Ladakh
There is nothing impossible in the world. I read it somewhere that to accomplish the most difficult tasks, you need to put in a lot of hard work, extra perseverance, and concentration on a single objective.
You should have patience and faith in yourself. You should have determination, dedication, and devotion to attain success. Never bother about the results. Keep on going even if the pace is slow. Just ensure it remains steady. You are bound to face obstacles en route to success, but with courage and perseverance, you can master them
In my heart, I feel more respect now for Mother Nature and the people of Ladakh for their quiet and peaceful nature. Hats off and a big salute to the Indian Army. No way can we repay them for their effort and courage.
Also would like to thanks my partners in Crime – Sunit & Rakesh G. Thanks for the support and my family for giving me some time for myself. There were a lot of people who helped me with the trip. I will not take names but they sure will understand once they read my journey. Thanks, Buddies.
Back Home
And what can I say about my cutie pie, my Wagon R? She performed more than my expectations. Once I reached home my daughters were searching my bags as to what I had brought for them.
Well, I only had a collection of more than 5000+ pictures to gift them. They wanted to hear about the adventure I had. As I was dead tired I promised them they will get to know about the adventure once I finish my Travelogue. Well, here it is dedicated to my sweet Angels.
Also Read: Shopping in Ladakh – What to Buy
Thanks for being a part of the Journey. Cheers until the next trip which I am certain is coming soon.
Mentioned below are a few details about traveling between Kargil, Srinagar, and Jammu that I am sure can be of some help to anyone planning a trip here.
Kargil to Srinagar Bus
The only bus from Kargil to Srinagar is actually the one coming from Leh. It reaches Kargil by late in the evening, between 7 to 8 PM, takes a short break, and then starts again for Srinagar where it arrives early in the morning. Apart from this, I am not aware of any other Kargil to Srinagar buses.
Kargil to Srinagar Bus Timing
The Bus starts from Kargil at around 8 PM but the timing also depends on if there was any delay on the route between Leh to Kargil. Fare per person is around Rs. 350 till Srinagar.
Kargil to Srinagar Road Distance
The total distance from Kargil to Srinagar by road is about 200 kilometers in total.
Kargil to Srinagar Airport
From Kargil, the total drive to the airport in Srinagar will be about 225 kilometers.
Kargil to Srinagar Flight
Kargil does not have an airport of its own so there are no direct flights between the two cities. Some time ago, a Helicopter service was launched but it has not been a regular one due to security concerns in the area.
Also Read: Food you must try in Ladakh
Kargil to Srinagar Route
The Kargil to Srinagar road runs through some of the most amazing and mesmerizing vistas that I have ever seen. The valleys around Sonamarg are a sight to behold. The drive across Zoji La will have your heart jumping to your mouth at several places. The entire drive is a mix of adventure and sightseeing. The route will be as mentioned below.
Kargil – Bhimbat – Dras – Zoji La Pass – Baltal – Sonamarg – Gund – Knagan – Wayul – Ganderbal – Srinagar
Kargil to Srinagar Time
The time taken to travel on the above-mentioned route will entirely depend on your speed and breaks; and also the traffic at Zoji La. But without any hindrances and maintaining a steady speed, this route should not take more than 6-7 hours.
Kargil to Srinagar Taxi Fare
There are two types of taxis available on this route, the private and the shared ones. If you rent a private cab, then it will cost you about Rs. 6,000 for a drop at Srinagar.
For a return journey with a night halt at Kargil, the fare would be Rs. 13,200. If you would like to extend your journey all the way to Leh, then the total fare would come out to be Rs. 16,200. A shared taxi will cost about Rs. 1000 – 1500 per person, depending on your negotiation skills.
Kargil to Jammu Bus
There is no direct Kargil to Jammu bus service available. Your journey will have to be broken down into two parts. You will first have to reach Srinagar from Kargil and then board a bus for Jammu from Srinagar.
Kargil to Jammu Taxi Fare
For a private taxi, a drop from Kargil to Jammu will easily cost you between Rs. 12,000 to Rs. 15,000. A shared taxi will cost about Rs. 3000 per person. Once again, there is no direct shared cab from Kargil to Jammu. You will first reach Srinagar and then board another cab from there for Jammu.
Also Read: Festivals of Ladakh – A Celebration of Life
Kargil to Jammu distance by Road
The total distance from Kargil to Jammu via Srinagar, Ramban, and Patnitop is about 480 kilometers. If you went via Mughal Road, the distance would then increase to about 550 kilometers. Travel time, however, will remain the same on both the roads because there is almost no traffic on the Mughal Road and no massive traffic Jams.
Kargil to Jammu flight
There is no airport in Kargil; hence there are no direct flights between the two cities.
Leh to Srinagar via Kargil Distance
The entire distance from Leh to Srinagar via Kargil is about 425 kilometers.
How to reach Kargil from Jammu
If you were traveling by your own vehicle, then you can drive on your own either by the Jammu – Srinagar Highway or the Mughal Road.
If traveling by public transport, then the best way would be to board a shared cab from the General bus stand for Srinagar, the fare of which would be about Rs. 700 – 1000 per person.
Luxury buses always leave at night; making the entire travel to Srinagar a night journey for which you have to book your ticket with the private bus operators near the General bus stand.
Conclusion
I hope the travelogue and information provided above on traveling from Kargil to Srinagar and then to Jammu was of help. If you have any questions, please feel free to ask in the comments section below or at our Community Forum, and I will be glad to answer.