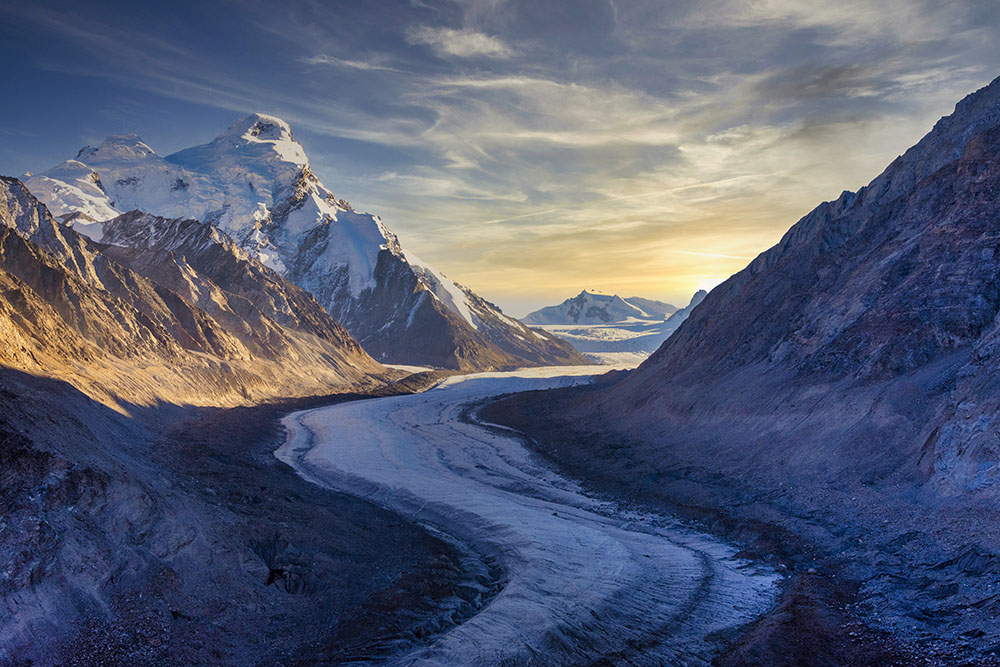 Drang Drung Glacier is possibly the biggest tourist attraction in both Zanskar valley and Suru Valley. A lot of tourists drive towards Zanskar from Padum just to witness the mighty river of ice in its full glory. It is a majestic sight from the top of Pensi La pass that is sure to take your breath away.
This glacier was also my biggest reason to visit Zanskar. We were short on time, I was afraid that the braking system of my car wasn't functioning properly and my friend was complaining of back pain. But none of this stopped us from driving into the Zanskar Valley and Drang Drung Glacier was the reason behind it.
Journey So Far:
Was the journey worth it? Yes, it definitely was. Did we find what we expected? Yes, we did. Will I recommend a trip to Drang Drung Glacier to others? Yes, I do. How can you plan your trip and how our experience was is what I will discuss further in this article.
You can also take a look at the video below of the route from Kargil to Drang Drung glacier.
About Drang Drung Glacier
The Drang-Drung Glacier is a mountain glacier near the Pensi La at a distance of about 142 kilometers from Kargil, at an average elevation of 4,780 meters (15,680 ft).
At a maximum length of 23 km, it is considered to be the largest glacier in Ladakh, second only to the Siachen Glacier in the Karakoram Range.
Also known as the Durung Drung Glacier, it is a long river of ice and snow that gives birth to the Stod River which is a tributary to the Zanskar River. The Zanskar river flows towards Leh and then merges with the Indus river near Sangam point.
It is also one of the most easily accessible glaciers in my opinion. You do not need to trek or climb mountains to get to it. It is visible from the Kargil – Padum road itself and offers a mesmerizing sight for all travelers.
Before I move on with the travelogue and our journey for the day, let me also provide some details on how you can reach Drang Drung Glacier, and what else to see on the way.
How to reach Drang Drung Glacier
The best and easiest way to reach Drang Drung Glacier is from Kargil via Suru Valley. The second route that you can take is from Manali via Shinku La Pass and Padum.
From Kargil
The route from Kargil to Drang Drung Glacier is as mentioned below
Kargil – Sankoo – Panikhar – Parkachik – Rangdum – Pensi La Pass – Drang Drung Glacier
The total journey by this route will be about 140 kilometers. The first 40 kilometers of the road, until Sankoo and a little after it, is a smooth tarred road. The rest of the 100 kilometers is a complete dirt road that is a mix of average and extremely bad.
From Manali
If you wanted to travel from Manali, the route will be as mentioned below.
Manali – Jispa – Shinku La Pass – Padum – Drang Drung Glacier
The total distance traveled by this route will be between 220 to 270 kilometers, depending on whether you traveled by Rohtang Pass or the tunnel.
Only the road between Manali and Jispa is smooth and tarred. The rest of the route is a badly broken dirt road that is suitable only for high-ground clearance SUVs right now. There is ongoing work on this road but it will be a while before it is tarred.
There is another route that you can take from Lamayuru to Padum but for that, you will first have to reach either Leh or Kargil. So the best way to get to Drang Drung Glacier is via Kargil only.
By Bus
Reaching Drang Drung Glacier by Bus will be very difficult. The bus service on this route is next to none. You will not find a bus from either Kargil, Sankoo, or Rangdum to drop you near the glacier.
Even if by some miracle you did, the bus will drop you near the glacier viewpoint, and then you will have no way to travel back to either Rangdum or Padum. Hence, a journey should be planned either by your own vehicle or a private taxi.
By Taxi
A taxi from Kargil to Rangdum or Drang Drung Glacier will cost you anywhere between Rs. 5000 to Rs. 10,000, depending on your negotiation skills and the time of travel.
You can also look for a shared taxi but will not find one to take you all the way. From Kargil, you will first have to get to Sankoo. From Sankoo, you will then have to look for a shared cab for Rangdum.
If you didn't find one, look for one that can drop you somewhere in between, like Panikhar or Parkachik. Once you reach Rangdum, you will then have to see how to go to the glacier because you will also need a mode of commute to come back.
This is why I said that this journey should be planned by a private taxi. Do not depend on public transport in his region.
What else to See
The journey from Kargil to Randgum takes you through the beautiful Suru Valley. You will also see the Shafat Glacier on the way. Rangdum Monastery is another tourist attraction that you can visit.
Before reaching the glacier, you will cross the Pensi La pass. Near the pass, there are two small but very beautiful lakes. I will post pictures of these places later in the article when I narrate our journey for the day.
For a complete list of places to visit on this route, please take a look at Places to Visit in Zanskar Valley and Things to Do.
Kargil to Drang Drung Glacier
Coming back to the travelogue, I wanted to start our journey as early as possible. There were a few reasons behind it.
The first one was that we were short on time. It was a working day for me and I could not afford to take more than a couple of days off. There is no internet broadband connection anywhere in Zanskar Valley.
So in order for me to work, I had to be in Kargil only. Jio provides connectivity and mobile data services in Zanskar but it was not strong and stable enough for me to work.
The second reason was that I was not sure of the itinerary. I wanted to go all the way to Padum but wasn't confident enough if we will be able to make it in a day.
More than that, I was doubtful of whether it will be worth it to rush all the way to Padum and then rush back the next day.
Lastly, I knew that the route ahead was bad except for the initial part of the road until Sankoo. With my friend complaining of his back pain, rushing on the bad roads was not going to be possible and I would have to take the journey slow.
So in the end, the plan in mind was to travel from Kargil to Drang Drung Glacier and return the next day with a night halt at Rangdum. If we were able to make it in time to Rangdum, we will decide there whether to continue to Padum or call it a day.
With that thought in mind, we started from our hotel in Kargil at 6.30 am.
Suru Valley
A couple of kilometers after Kargil, we entered to beautiful Suru Valley.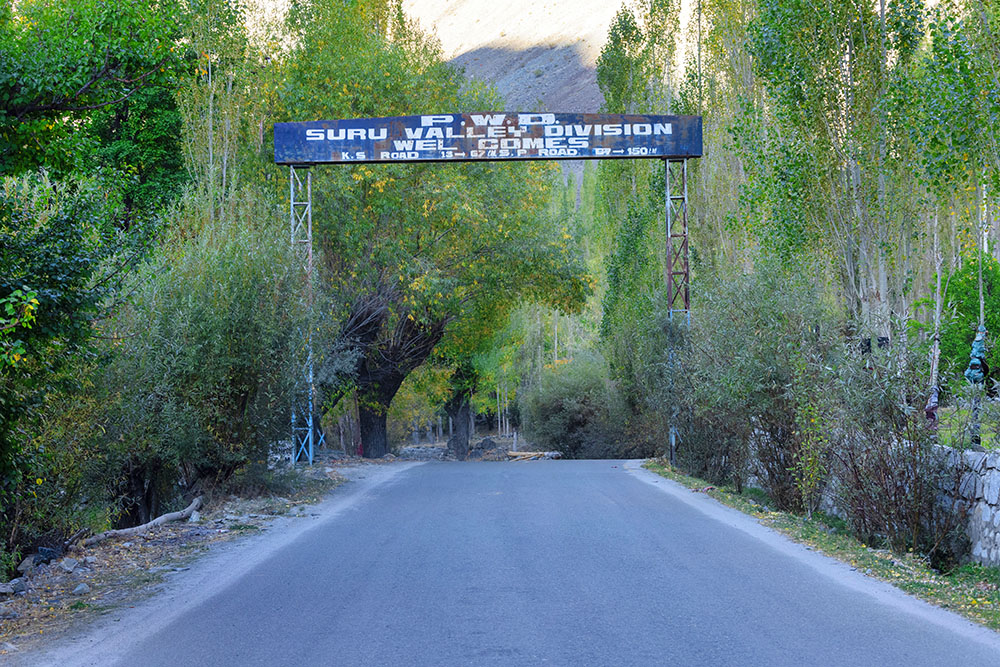 This valley is in complete contrast with the barren landscape of Kargil and Zanskar. It is lush green all around, thanks to the Suru River that flows right through the valley. There are apricots plantations all around and the views will force you to take breaks at every turn.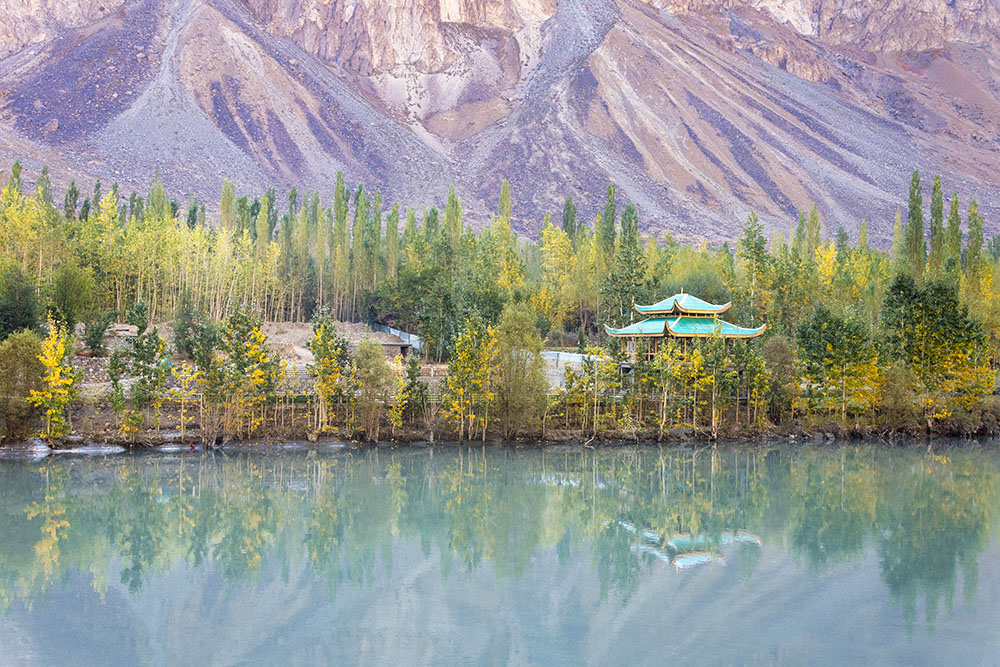 That is what happened to us. We kept stopping every now and then, even though I knew that it will mean that we will not make it to Padum.
A little after Panikhar, we got our first view of the majestic Nun Kun Peaks, standing tall and dominating the entire landscape.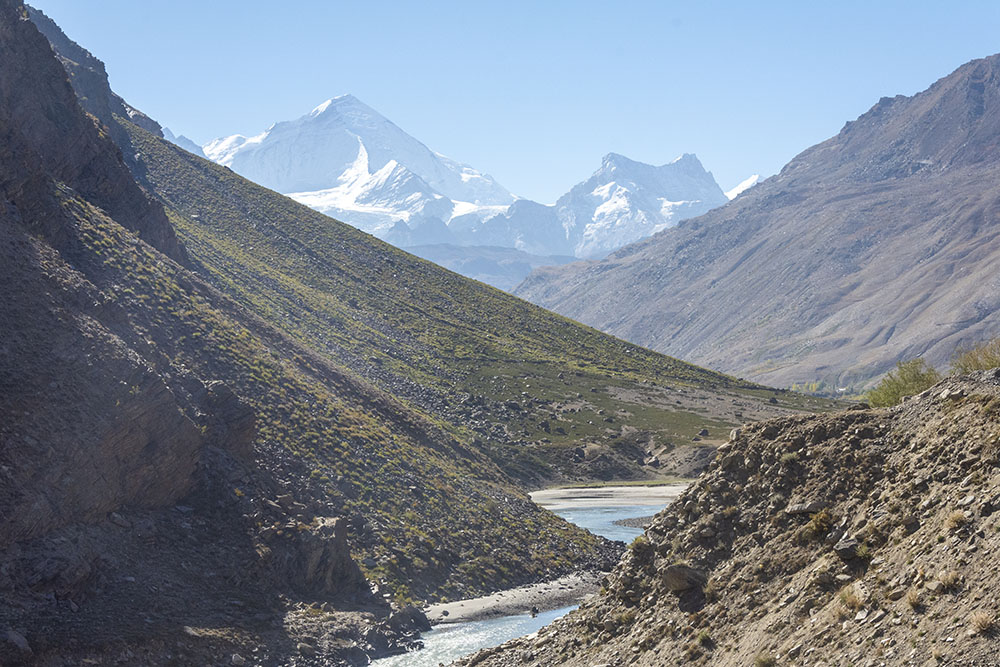 We stopped at this small restaurant. The space you see in the picture above is available for rent for self-camping as well. The owner of this restaurant also has two small cabins for travelers to stay in.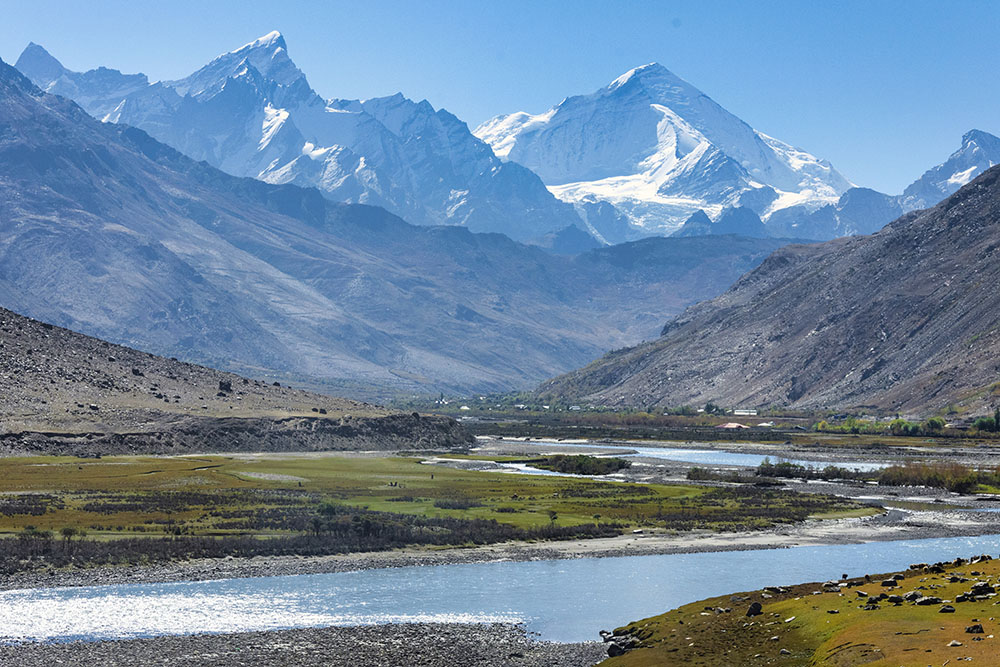 We had our breakfast here and continue on our way to Rangdum. As expected, the tarred road vanished soon, and after, it was completely a dirt road full of potholes. Our speed dropped down to a mere 15 kilometers an hour.
Thankfully, the very bad section of the kilometers lasted for only about 20 kilometers. After that, it was still a dirt road but mostly flat and broad enough. We could afford to speed up a little bit and the average speed increased to about 40 kilometers.
Even though we wanted to hurry, the views just wouldn't allow us to do that.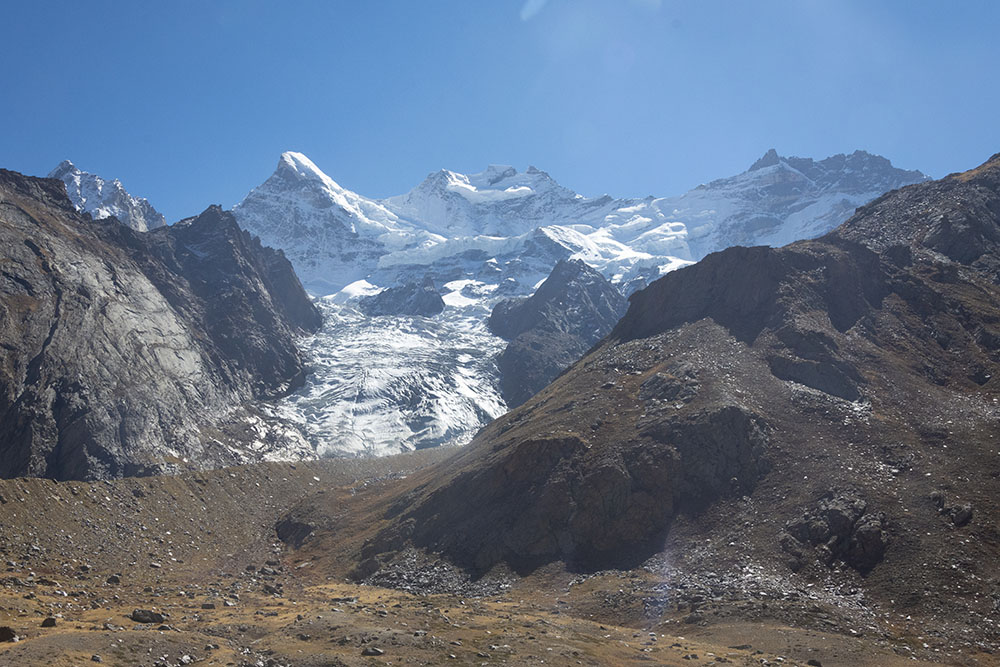 Rangdum
At about 2 pm, we arrived in Rangdum. By now, it was quite clear to me that Padum was not an option anymore and we will be staying overnight in Rangdum.
We were stopped by the cops asking us to register before going to Padum. When I told them that I do not want to go to Padum and will stay in Rangdum only, they skipped the registration part and pointed us to a couple of homestays.
At first, we checked out the JKTDC rest house and found it to be in extremely bad condition. The entire building seemed like it will collapse at any minute. The bed was dirty, the mattress looked like a couple of dogs slept on it the night before and there was dust all around.
The next place we checked out was a homestay. I forgot its name but I really liked it and decided to check-in.
I asked the locals about how far Drang Drung Glacier was and was told it was only about 30 kilometers. It was 3 pm and plenty of time for us to make a return trip from Rangdum to the glacier viewpoint.
The road remained to be a dirt one but it was broad enough and devoid of any potholes. We were still able to maintain a decent enough speed of around 30-35 kilometers and reached the glacier viewpoint in an hour.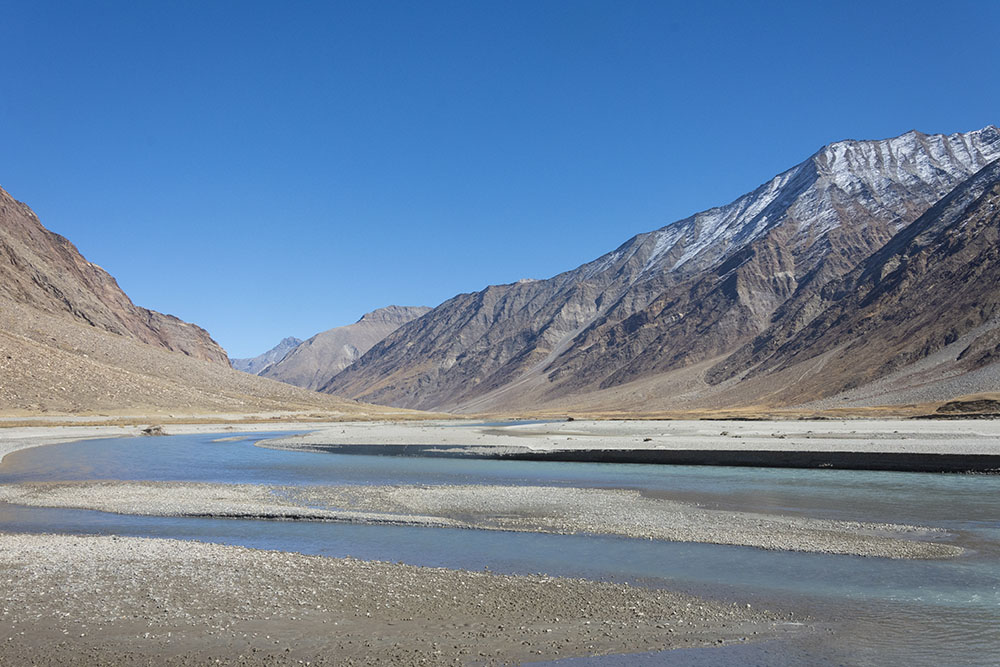 Drang Drung Glacier
On the way, we crossed the Pensi La Pass.
and then we saw the mighty glacier.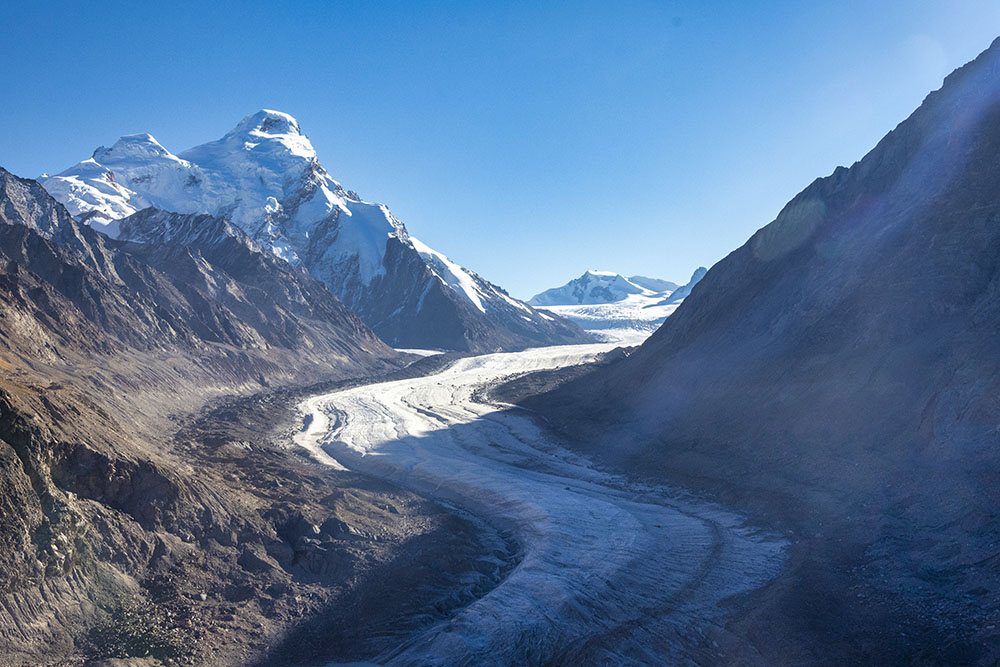 It is really hard to describe the feeling in words. There you are, standing in the middle of nowhere, at the top of a pass, in a barren landscape, surrounded by tall mountains all around, and right in front of you is a white river of ice.
I was trying to find a good spot to get a full view of the glacier. I moved my car around a bit and that is when I noticed that if I wanted to, I could actually walk down to right in front of the glacier.
Crazy idea? I know. But standing there, it looked doable. There were a few local laborers working on the road and I asked them about the best way to climb down to the glacier. They point me to a certain spot.
We drove down to the other side of the pass and I parked the car. From there, I started walking down.
Did I reach the glacier? Yes, I did. But what seemed like a short walk from the distance turned out to be a much longer one. I literally had to jump over huge boulders and it took me almost 30 minutes to climb down to a spot where I clicked the picture below from.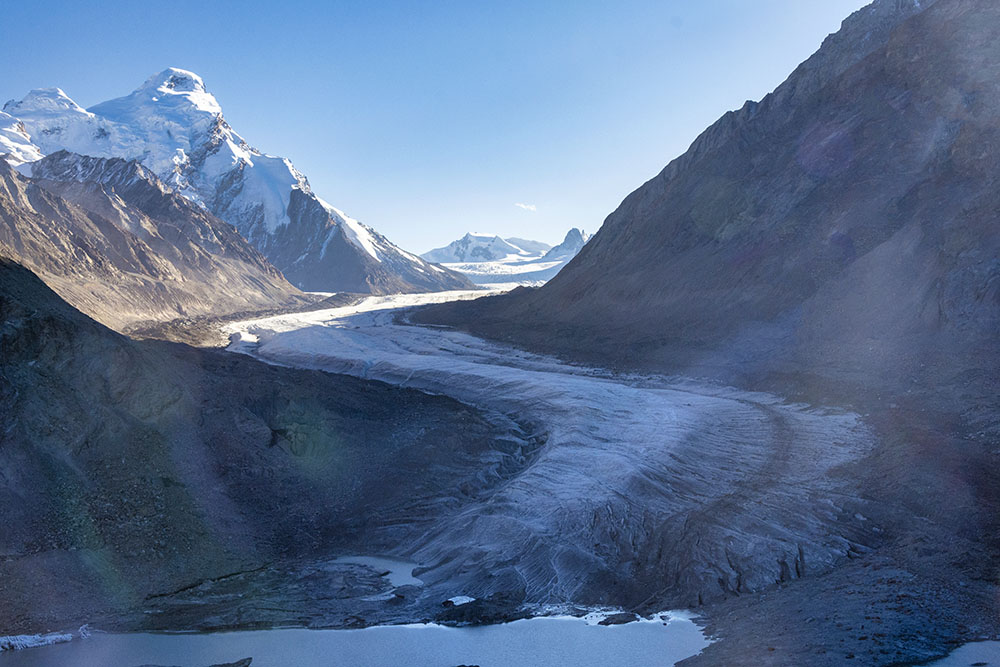 The Glacier
Beyond this point, there was no way I could go any further. But let me tell you how I felt standing there. Through this gorge that the glacier flows through, there was a constant blow of chilled air that was hitting on my face.
Trust me when I say this, I could not even see properly. That is how cold it was. My eyes turned watery and no matter how many times I wiped them clean, they will be watery again in an instant. It was hard to breathe and I was struggling to even click the pictures properly.
I spent about 5 minutes there, staring into the face of the mighty glacier. Now came the difficult part. Climbing down was still doable but I would have to climb back up to the road. With troubled breathing and watery eyes, it almost looked like a task impossible.
Somehow I managed to climb back up to the road. In a couple of places, I felt like I was about to faint and the entire idea seemed so foolish. If I did faint, I would have fallen on the boulders and hurt myself badly or even killed myself there.
I reached back to our car somehow and by that time, it was hard for me to even walk. I got back in the car and had to just sit there doing nothing to get my senses and breathing back in control.
So a word of warning to anyone going to the glacier. If you get a similar idea as I did, please do not attempt it. It is very dangerous and the view does not change. What you see from down there is more or less the same that you see from the road.
Drang Drung Glacier to Rangdum
By the time we started to drive back, it was well past 5 pm and the sun was starting to set. Our next break came at the beautiful twin lakes near Pensi La. These are called Ta Tso and the Lang Tso lakes.
We drove back down to Rangdum and stopped at Tashi's small restaurant for tea and Maggie.
By the time we got back to our homestay in Rangdum, it was dark all around. Rangdum is the closest place where you can find accommodation near Drang Drung Glacier.
The only other place is Padum on the other side of the pass which is almost 100 kilometers from the glacier.
How to Plan a Trip to Drang Drung Glacier
As you can read in the travelogue above, we started from Kargil as early as we could but still, by the time we reached Rangdum, it was already dark. So a minimum of 2 days is needed to visit the glacier from Kargil. This journey cannot be planned as a one-day trip.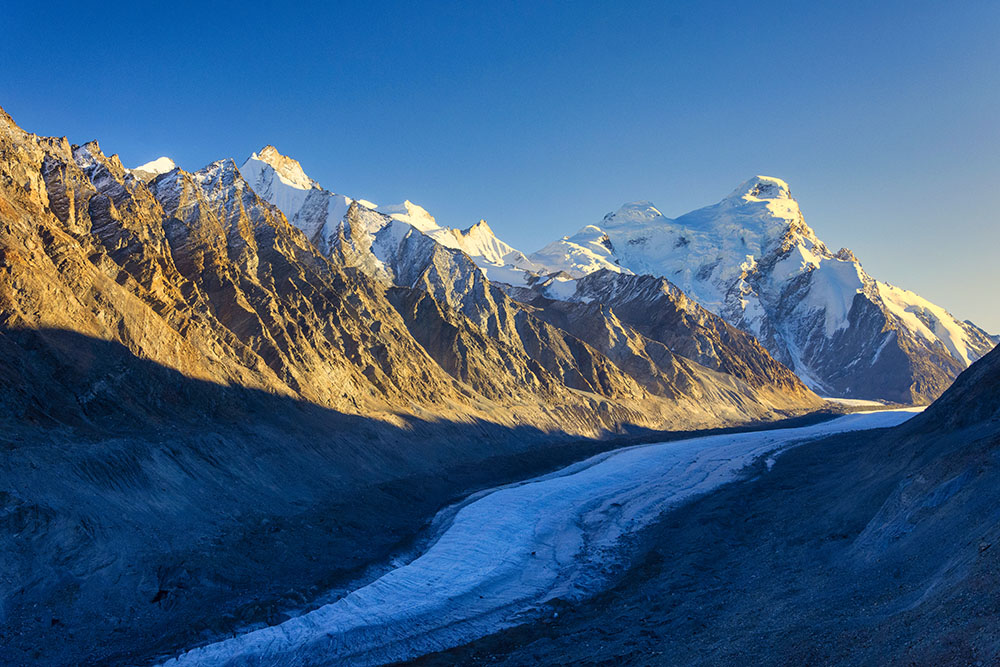 Mobile Network
Jio has connectivity at most of the places between Kargil and Padum. But there is no network near Pensi La Pass and Drang Drung glacier.
Your phone however will remain connected in Rangdum and Padum as long as it is a postpaid connection. Prepaid phones do not work in Zanskar Valley.
We had dinner at a restaurant in Rangdum and called it a day. The weather had turned surprisingly cold the moment the sun went down. I remember that I slept with my jacket and shoes on that night, wrapped under 2 blankets.
We went to bed at around 10 pm. Though the night was an uncomfortable one, I was still able to get some sleep. My friend however got hit by AMS and the poor chap spent his entire night tossing and tumbling.
That was our journey for the day, from Kargil to Drang Drung Glacier. Tomorrow, the plan was to return to Kargil and then drive back to Srinagar from there. Please click on the link above to continue reading the next part of the travelogue.
Kargil to Drang Drung Glacier – Conclusion
I hope the travelogue, pictures, and information posted above on traveling from Kargil to Drang Drung Glacier were of help. If you have any questions, you can contact me on Instagram and I will be happy to answer. You can also consider subscribing to my YouTube channel and asking a question there.