Our plan for a Sonamarg to Kargil road trip did not materialize the last time we attempted it. We crossed Zojila Pass but had to return halfway because there was a COVID check post on the way. Our 3 days old negative reports were not considered valid and we were asked to take the test again.
We would not have minded doing that except that there was a lot of rush and a long queue of tourists. We were not planning to go all the way to Kargil and wanted to just visit the Kargil War Memorial near Dras.
It was already 3 pm at that time and we also had to return to Sonamarg the same day. So spending an hour to get the COVID test done would have meant that we would never be able to make it back to Sonamarg in time.
There was a high chance that the war memorial may even be close by the time we get there. Or worse, we may not even be allowed to cross Zojila back to Sonamarg if it got dark by the time we returned.
Journey So Far:
So we canceled our plan and came back to Sonamarg. A trip to Zanskar Valley was not on our itinerary at that time but it got added a few weeks later. So now the plan was to go to Sonamarg again, then reach Kargil and continue to Zanskar Valley from there.
Srinagar to Sonamarg to Kargil

It had already been over a month since we were doing work from home while traveling like this. I had already confirmed with my contacts that Kargil had a stable fiber internet connection so working from there would not be a problem.
There was no broadband connection in Zanskar so we will have to take a couple of days off to visit there.
How to reach Kargil from Sonamarg
So with that thought, on a Sunday morning, we started on our way to Sonamarg from Srinagar. Before I move on with the travelogue, let me first add a few details that can be of help in planning a Sonamarg to Kargil road trip.
If you want to get more details on the Sonamarg to Kargil route, you can also take a look at the video below. This is from one of my other trips but will still give you a fair idea of how bad things at Zojila can get.
Sonamarg to Kargil Distance
The total distance from Sonmarg to Kargil is 123 kilometers approximately. The journey can be completed in about 5 to 6 hours.
Sonamarg to Kargil Road
The condition of the road between Sonmarg and Kargil is good for the most part of it. Right after Sonamarg, you will start climbing up the notorious Zojila Pass.
For about 10 kilometers, the road will remain good and will then start to deteriorate as you approach the top of the pass.
The long line of trucks and heavy traffic is what makes this part of the journey a little difficult. You will cross the worst section of the road near Zojila Top and then it will again start to get better once you drive down towards Dras.
After Zero Point, the road is tarred, and a smooth drive all the way to Kargil with a few bad stretches in between.
Sonamarg to Kargil Taxi Fare
A private taxi will charge you about Rs. 5000 for a drop to Kargil from Sonamarg. If you were traveling on a budget, you can look for a shared cab from the Sonmarg market area which will cost you about Rs. 1000 per person.
Sonamarg to Kargil Bus
There is no bus service available between Sonmarg and Kargil. You will have to rely either on a private taxi or a shared cab for the journey.
There is a daily bus available between Srinagar and Kargil in the months of June, July, and August but I will not recommend depending on it. Both the availability and frequency of this bus are highly doubtful.
Also Read: How to Plan a Trip to Kashmir – A Complete Travel Guide
Sonamarg to Kargil Itinerary
Your itinerary will depend on what exactly you had in mind. If you were thinking of just a day trip to Kargil, it can be done but will result in a very long day.
You will have to start early from Sonamarg and by early, I mean possibly by 6 or 7 am. It will easily take you at least 4-5 hours to get to Kargil.
Then the same amount of time to travel back. So 8-9 hours will be spent on the road and then you will have to keep at least 2-3 hours for sightseeing and breaks in between.
If you want to see Kargil, then a better way would be to plan this for at least 2 days. Reach Kargil from Sonmarg on Day 1 with plenty of sightseeing in between and spend the night there.
Then on Day 2, you can do a little sightseeing in Kargil, like Hunderman Village, and then go back to Sonamarg. This way, the journey will be very relaxed and enjoyable.
Sonamarg to Kargil War Memorial
This is what most people look forward to, seeing the Kargil War Memorial. If you just had a day in hand, I will recommend traveling to only Kargil War Memorial and not all the way to Kargil.
Start from Sonamarg by 7 or 8 am and you will reach the war memorial in 4 hours at most. On the way, you will also cross Zojila Pass, Zero Point, and Zojila War Memorial and can take breaks there.
Spend some time at the war memorial. There is also an informative video that they plan for the tourists that you can see. There are a couple of dhabas near the war memorial where you can also have your lunch before starting on the way back.
Srinagar to Sonamarg
Coming back to the travelogue, we started from Srinagar by 7 am because I wanted to avoid the traffic on the Ganderbal route. Luckily we were able to cross that while the road was still devoid of heavy traffic and reached Kangan well in time.
Not really much happened on this day. We had already spent 2 days in Sonamarg a few weeks ago and had already seen all that there was to see. It was a non-stop drive to Sonamarg with just one breakfast break in between.
Our stay was already booked in Hotel Barzman. We reached Sonamarg by 10 am and then the rest of the day was just spent relaxing. If we wanted to, we could have continued straight to Kargil but there was no need to hurry.
We walked around in Sonamarg, went to the river, just sat and enjoyed the views, had dinner at Hotel Lolabi, and called it a day by 10 pm.
I have crossed Zojila Pass several times during my trips to Ladakh. We were actually there only a few weeks ago and crossed it twice. But still, it is one pass that has always and still makes me a bit nervous.
I think the biggest reason behind this is because of the heavy traffic. If you started a little late in the day, you will run into a long line of trucks and that can make the journey a little difficult. This is what I wanted to avoid and planned to start early.
Sonamarg Kargil Timing
In the early months when the pass just opens, only one-way traffic is allowed. It usually happens in the month of April and early May. The timings and schedules are different each year.
Sometimes, traffic is allowed on alternate days. For example, traffic from Sonamarg will be allowed on Monday, then from Dras on Tuesday, from Sonmarg on Wednesday, and so on and so forth.
Sometimes, both ways traffic will be allowed but only during specific hours. From Sonamarg, the timings will be between 7 to 10 am and then 1 to 4 pm from Dras.
Since we were traveling in October, no such rule existed. Traffic was allowed from both sides on all days. I will want to start early so we could beat the trucks at least and reach the other side of the pass in time.
Sonamarg to Kargil Road Trip
I woke at around 6.30 am. Mohsin, the owner of Hotel Barzman, advised me to be on our way since the traffic was already open. We freshened up, packed our bags, and were on our way to Zojila top by 7.30 am.
As expected, there was little to no traffic on the road. Vehicles from Dras were to be allowed only after 10 am so it was just one-way traffic. Since we were early, even that one-way traffic was negligible.
Enjoying the drive, we crossed the pass and reached Zero Point where we had our first break to get something to eat. We haven't had breakfast yet so both of us were hungry. We spent about 30 minutes there enjoying tea and a couple of bowls of Maggie.
The second break came at the COVID test center just before Dras. This was the same spot where we turned back from the last time due to the long queue of tourists. This time, however, there were only 4-5 people including the two of us.
The next 20 minutes were spent getting the test done and waiting for the results which came out to be negative. We crossed the checkpoint and continued to Dras.
I got talking to the Policeman at the check post and he was surprised that we were headed to Zanskar Valley. It was the first week of October and the time when the valley starts to receive snow.
He strongly advised us to not spend more than a day in Padum and come back to Kargil as early as possible. I already had the fear of possible snowfall in my mind and his advice just made me even more nervous.
Kargil War Memorial
The next break was at the Kargil War Memorial. We parked our car and walked to the gate. However, we were not allowed to cross because I was wearing Rubber Sandals. To enter the war memorial, you need to be properly dressed and must have your shoes on.
We thought about what to do next. My shoes were buried deep under all the luggage in the car. So we decided to skip the war memorial for now. We were anyway going to travel back on the same route back to Srinagar in a few days and planned to visit the War memorial then.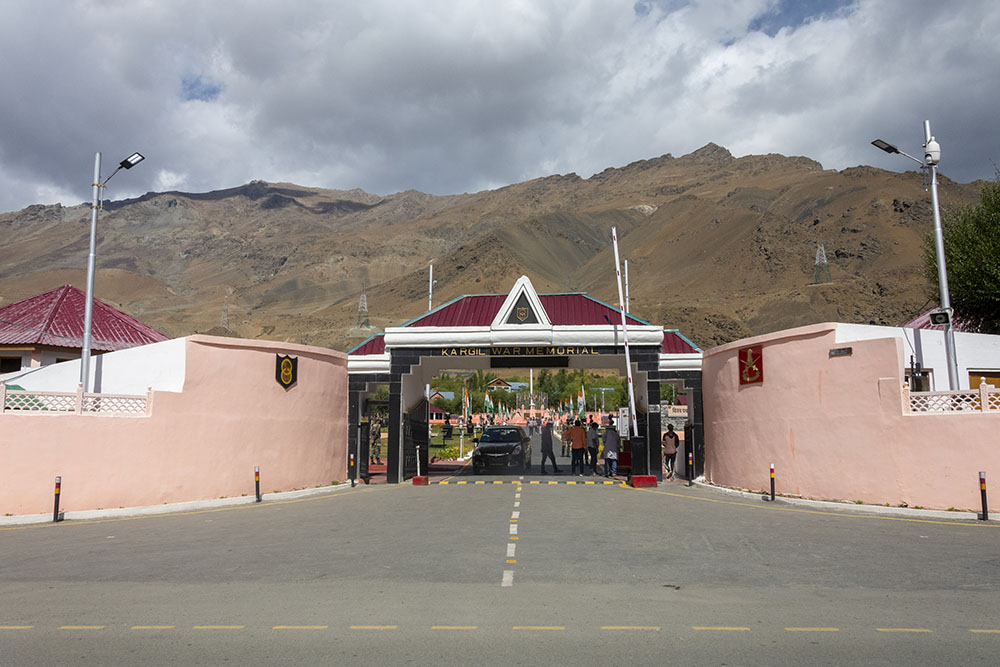 After that, we drove non-stop all the way to Kargil. Our stay was booked there in Hotel Kargil Heights. I turned on Google Maps and reached the hotel.
You can read more about this hotel in my review of Hotel Kargil Heights. But in brief, it is a great hotel and I really enjoyed our 4-day stay here. The hotel is large, and spacious and provides excellent service and free wifi.
They have 2 different buildings and the wifi connectivity is better in Building A, where the reception area is. It was a Monday and a working day for me.
I had specifically requested them to give me a room closer to the wifi router since I needed a stable internet connection to work.
Unfortunately, all their rooms in Building A were occupied and they had to adjust me in Building B for a day. The room was good but the wifi connectivity was weak. I had to turn on my Mobile Hotspot in order to work that day.
I spent the next few hours working and then took a short break to go for a walk along the river.
The Brake Problem
We were on the road for almost 2 months now and traveling from one place to another in my Thar. I was facing a bit of a braking problem in the last couple of days. So before starting on our way to Kargil, I had the brake pads changed in Srinagar.
I knew that there could be a slight burning smell in the first couple of days after the brake pads are changed. But the smell coming out of my Thar was really alarming. In fact, the brakes were not functioning properly a few times even after I floored the pedal.
This was making me nervous and forced me to rethink our plans. Thankfully, there was a mechanic right outside Hotel Kargil Heights and I decided to get the car checked with him the next day.
The plan for the next day was to visit the Hunderman Village and take a drive to Batalik. Then on Wednesday, we were to travel to Zanskar Valley. Please click on the link above to continue reading the next part of the travelogue.
Conclusion
I hope the travelogue, pictures, and information above on traveling from Sonamarg to Kargil were of help. If you have any questions, you can contact me on Instagram and I will be happy to answer. You can also consider subscribing to my YouTube channel and asking a question there.