Our plan for the next 3 days was to travel from Zanskar Valley to Srinagar. The journey can actually be done easily in 2 days easily but we decided to break it into 3 days with night halts at Kargil and Sonamarg so that we also have some time for sightseeing on the way.
We reached Rangdum the previous day and spent the night in a homestay after visiting the Drang Drung Glacier. It was early October and the weather turned terribly cold the moment the sun went down.
I ended up sleeping with my jacket and shoes on even after being wrapped in 2 blankets. The bed at the homestay was also not a very comfortable one. Considering all this, I was expecting the night to be a very uncomfortable one.
Journey So Far:
But surprisingly, I dozed off the moment we turned off the lights at 10 pm. I woke up a couple of times in the night but had a deep sleep for the most part of it.
I woke up in the morning at around 6 am. My friend was already up and his entire night was spent tossing and tumbling, as a direct result of the uncomfortable bed, freezing temperatures, and also a little bit of altitude sickness.
Rangdum to Kargil
The next hour was spent walking around, packing up, and getting ready to leave. We paid the bill and checked out of the homestay at around 7 am.
I wanted to pay a quick visit to the Rangdum Monastery before we returned to Kargil. But my friend was not eager on doing that and wanted to be on our way out of Zanskar as soon as possible.
Looking at his condition, I have the idea of the monastery for another visit at another time and started on our way back.
We took a quick breakfast break at the same dhaba where we had dinner the last night. After that, it was mostly a non-stop drive with a few photography breaks in between.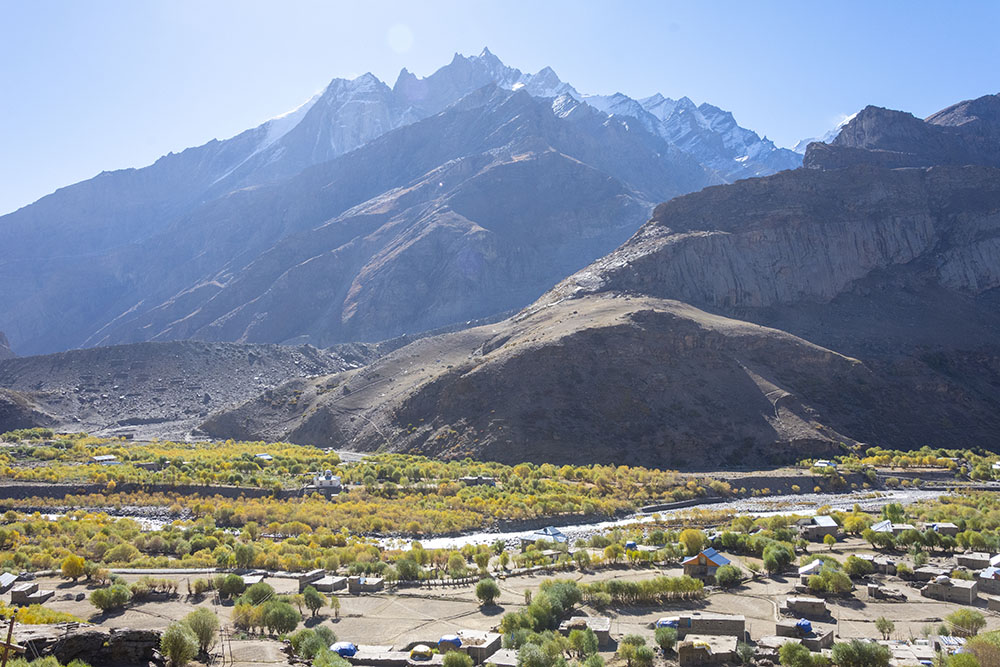 We reached Panikhar by noon and stopped for lunch at the same campsite that we did on our way to Rangdum the day before. This place acts as a small restaurant, and campsite and also has two wooden cabins for tourists to stay overnight.
I really liked this place because of its location by the Suru River and the view that it offers of the majestic Nun Kun peaks.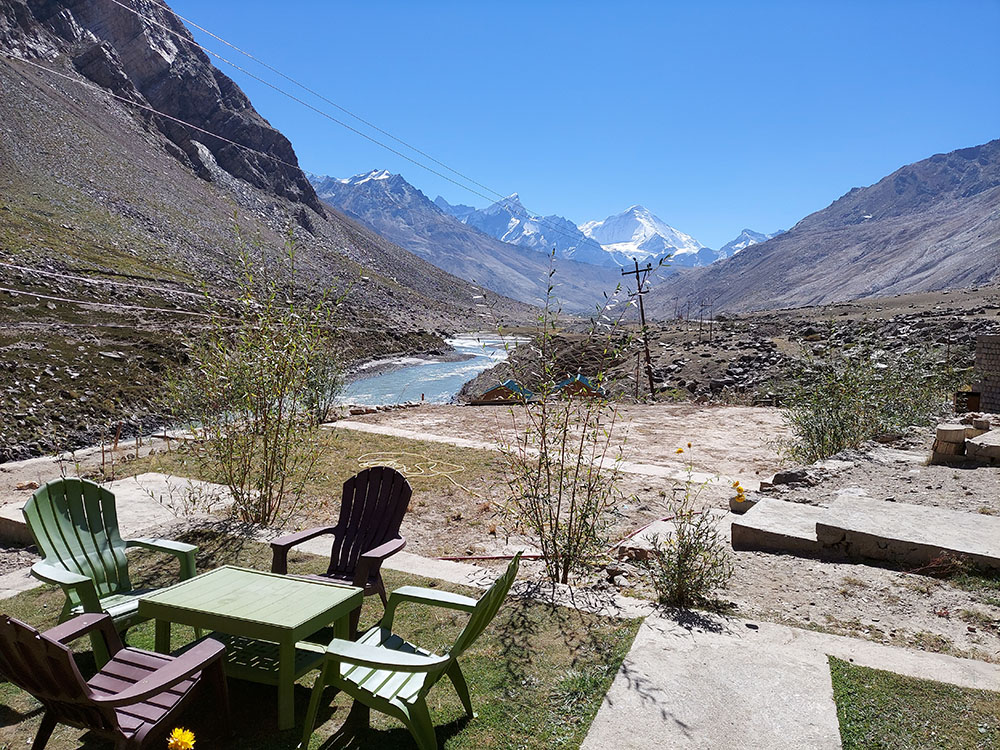 For a while, we started to play with the idea of staying here for a night but there was a problem with that.
It was a Thursday and we were both supposed to log in to our office laptops by evening and start working. There was no internet at this place and the mobile data was very weak. It would have been impossible for us to work from here.
So we just got something to eat and moved on to Kargil. However, I knew in my heart that this is one place that I would definitely stay at the next time I will visit Zanskar.
Sankoo
With our bellies full, we started on our way back to Sankoo. The views of the Suru Valley were amazing and we couldn't help but stop every now and then.
Met this naughty Magpie on the way.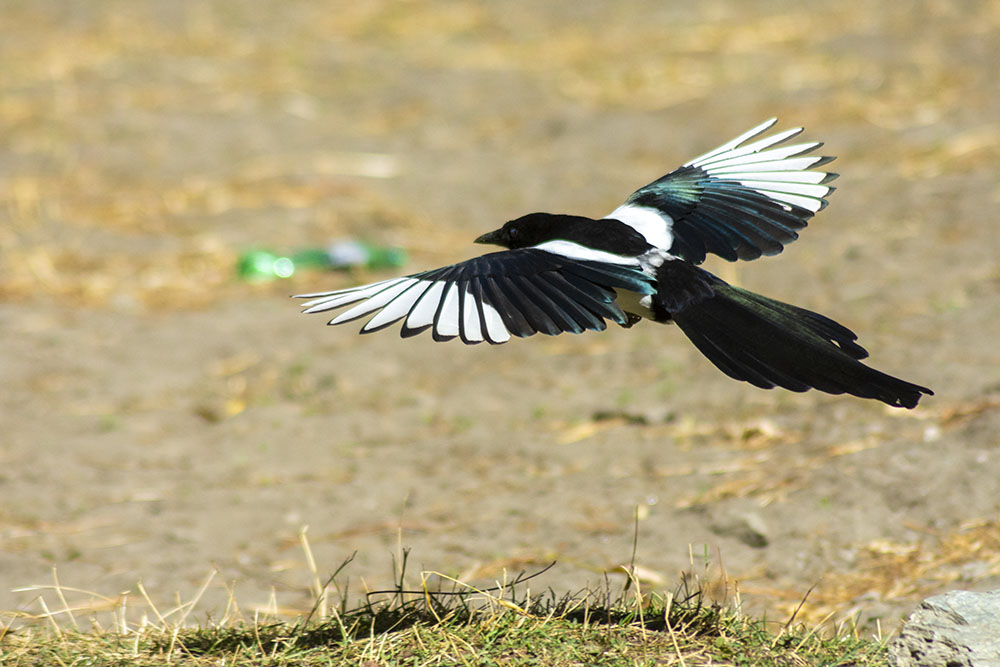 I wanted to see the Maitreya Buddha located near Sankoo but had trouble finding the way to it. We asked around and were pointed in the right direction by a few locals.
After a drive of about 2-3 kilometers, we reached the majestic Buddha statue.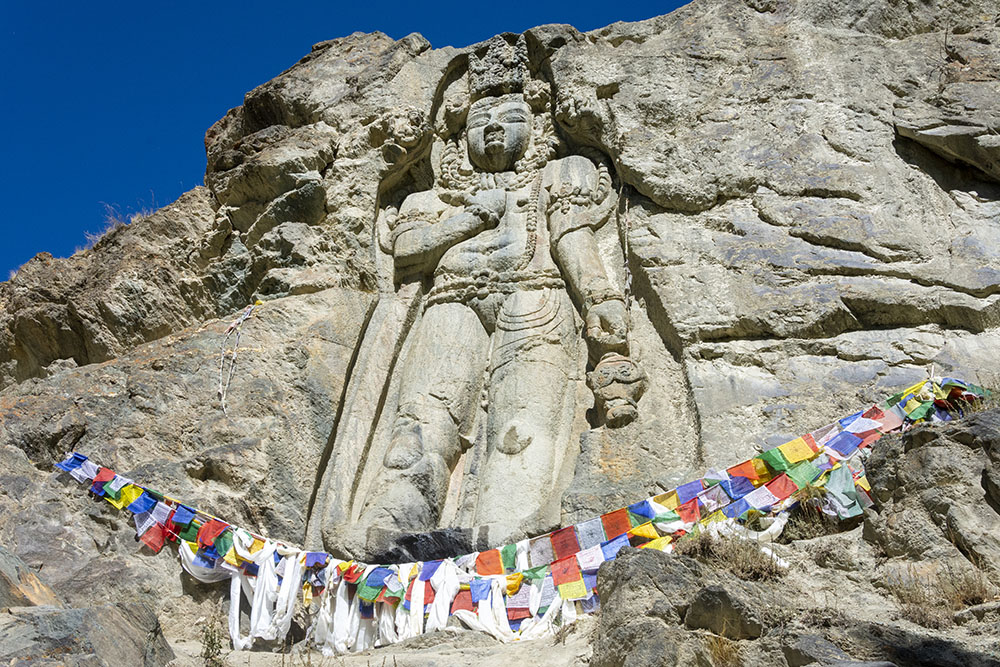 We reached Kargil by 3 pm. The rest of the evening was spent working and we called it a day by 12 midnight. The plan for tomorrow was to drive back to Sonamarg.
An evening view of Kargil.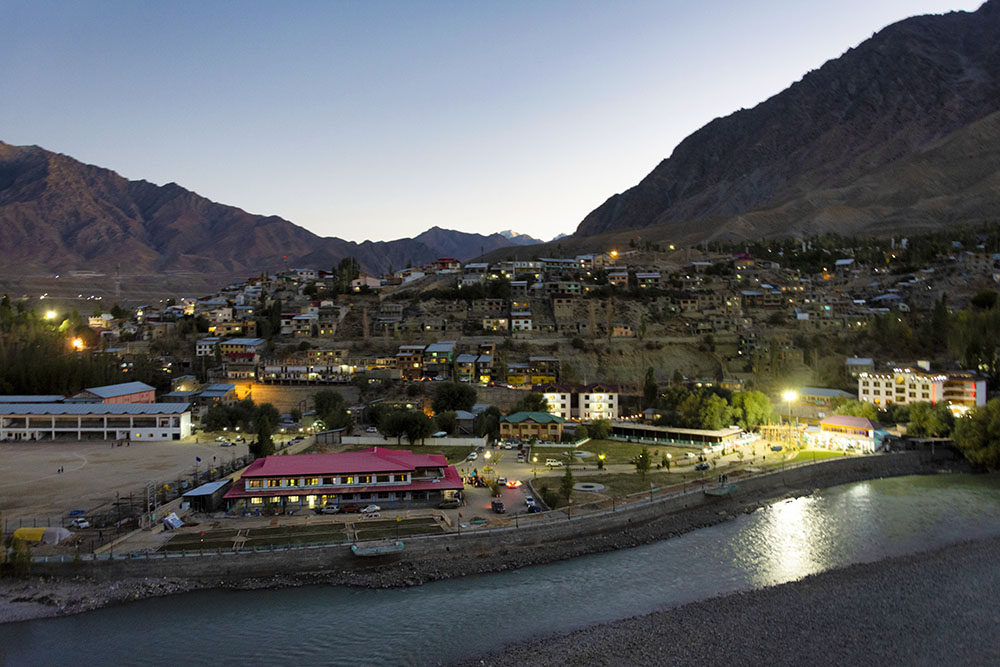 Kargil to Sonamarg
Two things had me worried about this day. The first was that it was a Friday and we were supposed to cross Zojila Pass. The second was that I had an important office call at 1 pm so we had to make it back to Sonamarg before that.
Zojila Pass remains closed on Friday for maintenance work. So if we were not allowed to cross, we would have no choice but to return to Dras and stay there for the night. I wasn't sure of how stable the internet in the hotels in Dras will be and was afraid that I might miss my call at 1 pm.
For a while, we thought to extend our stay in Kargil by another day and go to Srinagar straight the next day. But then we decided to take the chance and checked out of the hotel early by 7 am.
I noticed the first sign of trouble while we were loading our luggage in the car. One of the rear tires of my car was almost flat and had very little air left. It was still way too early for any of the shops to open so there was no way I could get the puncture fixed.
I took out the electric tire inflator and plugged it in. After 10 minutes of pumping the air, the tire still remained flat. I checked the tire inflator and realized that it wasn't working either.
I inquired and was told that the petrol pump in Kargil towards Dras opens early by 6 am. There was a puncture repair shop as well near the petrol pump so I could get it checked there.
Flat Tire
Keeping our fingers crossed, we drove out of the hotel and had barely gone about 2-3 kilometers when I received a call from one of the staff members at the hotel. I left my phone charger plugged in the room and he was calling me about that.
Thankfully, the staff at the hotel was very helpful. He knew that my car had a flat tire and driving back again to the hotel will only be more problems.
So he asked me to wait where he was, rode on his Activa, and brought my charger along. This was really a very helpful gesture and the helpful staff is one of the reasons why I like Hotel Kargil Heights so much and always stay there whenever I am in Kargil.
We reached the petrol pump and got the next bad news of the day. Their air machine was not working so they were in no position to help me. The guy there pointed me toward the puncture repair shop and we went there next.
More bad news awaited there. The guy who fixes punctures was not at the shop and would only arrive by 9 am. At that moment, the guy available could only pump air in the tire but was unable to check the tire for puncture.
Since it was a tubeless tire, I decided to take the chance and got the tire inflated. Mumbling a prayer in my heart to not run into any more problems, we started on our way to Dras.
Also Read: How to Plan a Trip to Kashmir – A Complete Travel Guide
Kargil War Memorial
We drove non-stop for most of the distance and only stopped when we reached Kargil War Memorial. We had skipped the war memorial on our way to Kargil because I did not have my shoes on and was not allowed inside in sandals.
This time, I made sure I kept my shoes handy because I did not want to miss visiting the war memorial.
We spent about an hour at the war memorial. It really reminds you of all the trouble that our soldiers go through every day to maintain peace in this region.
After spending some time at the war memorial, we got something to eat at a nearby shop and started driving back. We reached Zojila Pass shortly and my worst fear came true.
Zojila Pass on Friday
We were stopped at a check post and the policeman there refused to let us proceed any further saying that the pass was closed for the day for maintenance work.
I already knew this but I also knew that they usually let the bikes and the cars go. It is the trucks and buses that are not allowed to cross the pass on Fridays.
I spent the next 5-10 minutes talking to the cop and requesting him. After a while, he gave in, made entries of our names in his register, and let us go.
Zojila is one pass that always makes me nervous when I drive across it. The reason behind this is that there is always heavy traffic on this pass which makes the drive difficult.
This is also why I was so eager to cross it on Friday because I knew there will hardly be any traffic on this day.
What I thought came true. Our drive across Zojila was hassle-free. We took a small break at zero point to get something to eat and reached Sonamarg by 12 noon.
I freshened up, switched on my laptop, and logged in to the call at 1 pm. The rest of the day and evening was spent just working from Sonamarg and we retired by 11 pm.
Sonamarg to Srinagar
We were supposed to drive back to Srinagar on this day but because of the driving and the working every day for the last entire week, I was very tired. I woke up on Saturday at around 9 am and was in no mood to hit the road again.
So we just stayed in Sonamarg on Saturday and relaxed all day long, doing absolutely nothing. We were in Sonamarg about a month ago and visited all the places in Sonamarg that were worth visiting.
Saturday
There was nothing more left to see so we just took the day easy and in a relaxed manner.
Mohsin, the owner of the hotel Barzman in Sonamarg, and I were sitting at the reception area talking when a foreigner approached us. He was also staying at the same hotel and wanted to ask about how he can go to Srinagar the next day by public transport.
His name was Pector and Mohsin started explaining where he could get a shared cab from. We were also going to return to Srinagar the next day and it was just two of us in the car.
There was plenty of space for one more person so I offered him a ride in my Thar which he gladly accepted.
In the evening, Mohsin, Pector, and I went on a trek toward Table Top. It is a flat piece of land on the face of the mountain that offers an amazing view of Sonamarg.
But we actually started a little late from the hotel and it started to get dark while we were still halfway. The biggest fear in this region is Bears.
This entire area is also known as Bear Valley and there have been instances when Bears were sighted in Sonamarg in the early morning hours or at dusk. Take a look at the video below. It was shot behind a dhaba in Sonamarg at around 8 pm.
So we trekked as far as we could, took a few pictures from there, and returned to our hotel. We had dinner at Hotel Lolabi, which is my favorite place to eat in Sonamarg and retired to our room by 10 pm.
Sunday
By 8 am on Sunday, we started on our way back to Srinagar from Sonamarg. Pector too joined us for the ride. It took us about 2 and a half hours to reach Dal Lake in Srinagar where we dropped Pector and then we drove back to our hotel near Shalimar.
It was surprisingly very hot for Srinagar in October so we just stayed in our rooms for the rest of the day. By evening 4.30, we got out and decided to visit Pari Mahal.
I knew that tourist entry to Pari Mahal is not allowed after 5 pm. We started from our hotel at 4.30 pm and reached the entry point by 4.45 pm.
To our disappointment, Pari Mahal was closed on this day as well, like it was on the previous 2 days when we tried visiting here.
Since we could not go to Pari Mahal, we decided to visit another nearby Garden, Chashm-e-Shahi.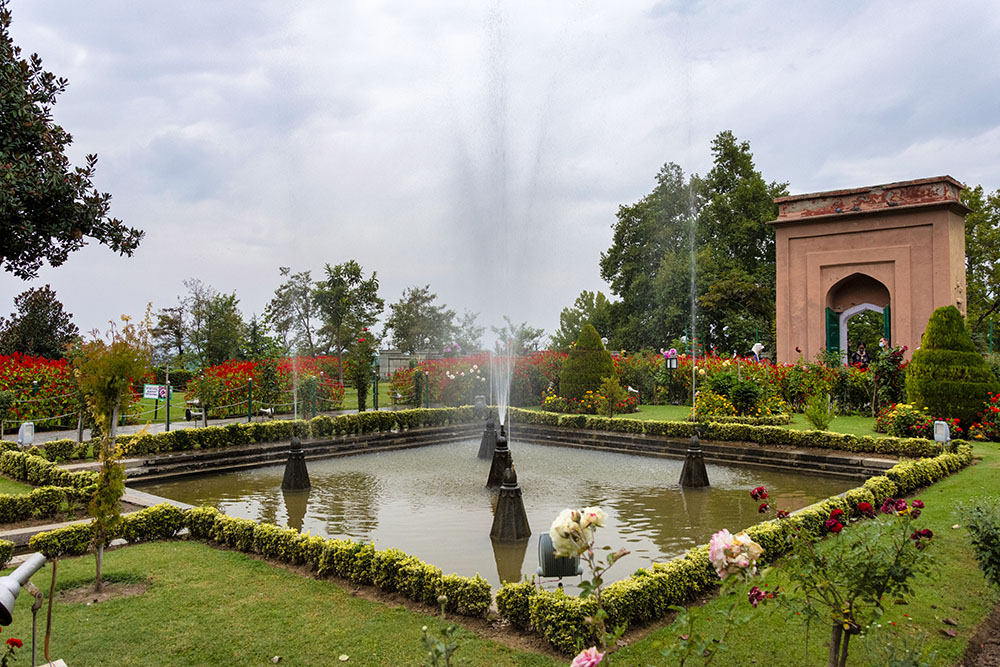 Of all the gardens in Srinagar, Chashm-e-Shahi is possibly the smallest one and in my opinion, the most disappointing one.
There is nothing there except for a few steps up and down, a very small garden, an old structure built by the Mughals and that is it. I do not even know why this is considered a tourist attraction at all.
Hazratbal Shrine
After Chashm-e-Shahi, we drove to the Hazratbal shrine. All my previous visits to the shrine were during the day and this was the first time I was here after sunset. The shrine, as expected, looked beautiful even after the sun went down.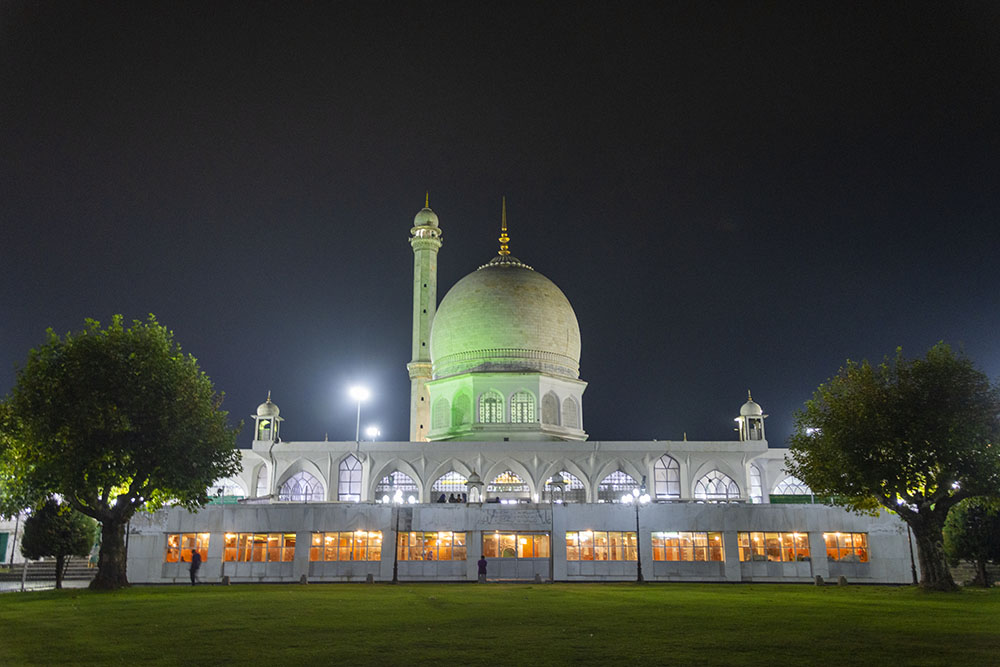 We reached back our hotel by 9 pm. This was our last week in Srinagar. It was a working week so the plan was to stay in Srinagar, work from here for the next 5 days, and then return to Delhi the next weekend.
We visited almost all of the major tourist attractions in Kashmir in the last few weeks. There were a few left, like Bangus Valley and Lolab valley that we intended to visit the next time we plan a trip to Kashmir.
We could extend our stay by a week more and cover these places as well. But it was already October which is the dry season in Kashmir.
I knew that these valleys will not be lush and scenic the way I would want to see them. So we left these places out as a reason for another trip.
We did not want to go anywhere else for the next few days and just relax in Srinagar. But we ended up planning another day trip to Gulmarg which got extended to 2 days. Please click on the link above to continue reading the next part of the travelogue.
Zanskar Valley to Srinagar – Conclusion
I hope the travelogue, pictures, and information on traveling from Zanskar Valley to Srinagar were of help. If you have any questions, you can contact me on Instagram and I will be happy to answer. You can also consider subscribing to my YouTube channel and asking a question there.