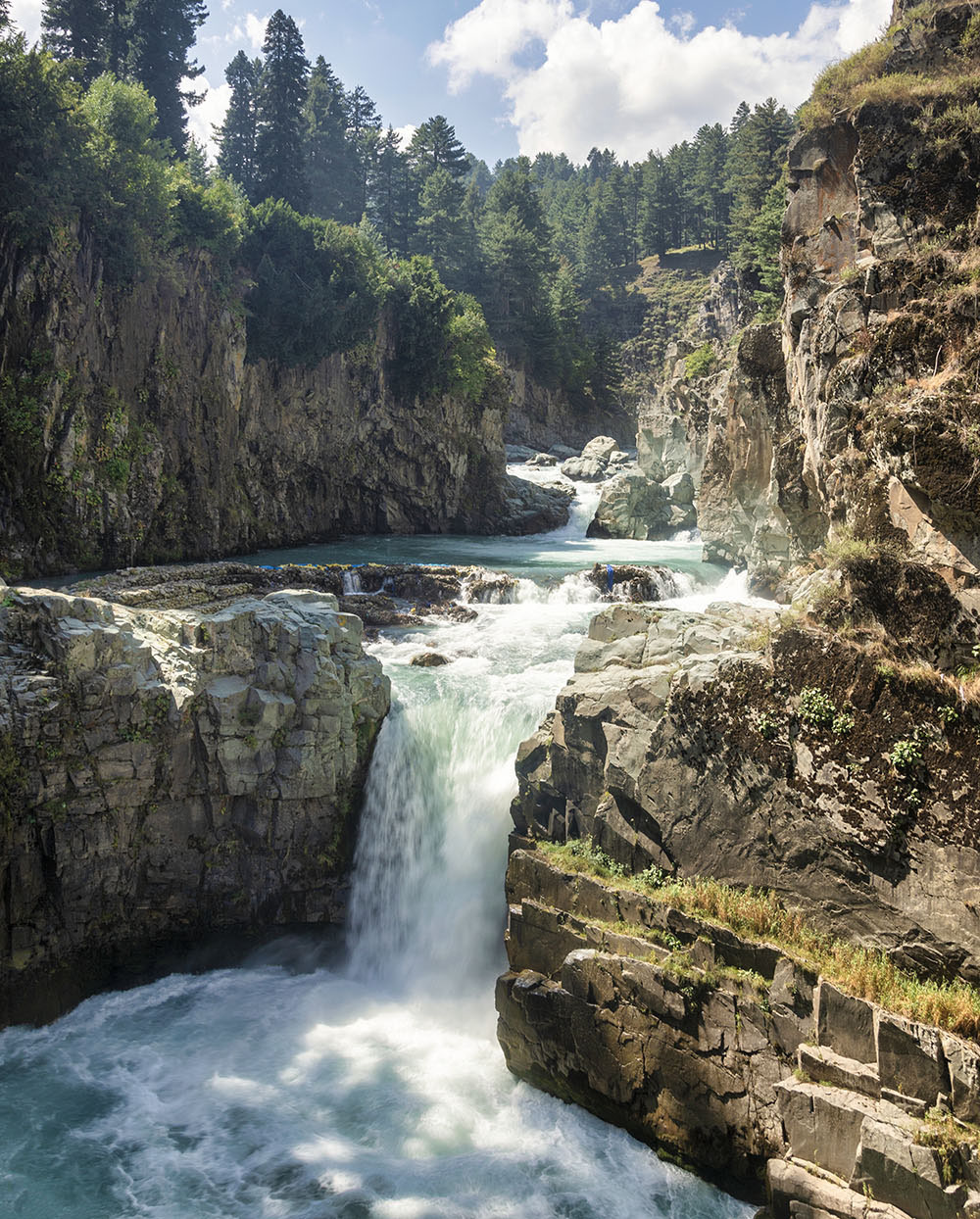 When you plan your Aharbal Waterfall itinerary, there are a couple of things that you should keep in mind. The first is about staying in Aharbal overnight and the second is about what other places can you see while visiting Ahbarbal. Hopefully, the information in the article below can help you decide.
Aharbal is located at a distance of 70 kilometers from Srinagar city. The journey can easily be completed in about 2 to 3 hours, depending on the traffic. There is accommodation available in the form of the JKTDC cottages but it is very basic.
The other tourist destinations in Kashmir like Gulmarg, Sonamarg, and Pahalgam are located in the exact opposite directions of Aharbal from Srinagar. There is no direct route available between any of these places. Read on to find out more.
Journey So Far:
The best way to plan an Aharbal waterfall itinerary is to make it a day trip from Srinagar. If you had a day to spare, staying overnight will be the next best thing. The only place that you can include a trip to Aharbal is Pahalgam. Read on to find out more.
Aharbal Waterfall Itinerary Planning

Aharbal is a small village and the waterfall is named after it. Until a few years ago, no one knew about this place, and hardly any tourists ever visited here. But it has always been a favorite among the locals of Kashmir who flock here in thousands, especially on Sundays and holidays.
The fall is formed by the Veshu River, also known as the Veshaw River, at a spot where it flows through a narrow gorge of granite boulders. The waterfalls are at 2 different places as you can see in the image above.
The first fall is a smaller one and results in the water forming a small pool-like area. Immediately after, the water again then falls for a second time and from a greater height before it flows down the valley.
To know more details, please take a look at How to Plan a Trip to Aharbal Waterfall.
There are a few factors that you will have to consider before you finalize your itinerary for visiting Aharbal waterfall. Let me talk about these, one by one. If you want to see how Aharbal looks in the winter season, take a look at this short video.
Public Transport
A journey to Aharbal is fairly easy when you are traveling by your self-owned vehicle. You drive through the busy towns of Pulwama and Shopian on a two-lane road to reach the waterfall. Most of this drive is on a flat road and only the last 10 kilometers are a steep climb on the hills.
But things can get a little tricky when you are traveling by public transport. There are no buses or shared cabs available between Srinagar and Aharbal. You will have to break your journey into two parts.
From Parimpora in Srinagar, you will have to first look for a bus or shared cab for Shopian, both of which will be easy to find.
After you reach Shopian, you will have to look for a shared cab for Aharbal. This will be a little difficult and you may have to wait for a while before you are able to find one.
Traveling by public transport means that you will have to keep a day out for Aharbal only. Putting together the times when you will be traveling, waiting at the bus stops, and the time you will spend at Aharbal, it will easily be an 8 hours affair at the least.
What to See in Aharbal
The only thing to see in Aharbal is the waterfall, that is it. The views for the last 10 kilometers after Shopian are also good but the prime attraction remains to be the waterfall only.
There are a couple of treks that lead out of Aharbal in the nearby forests but you will need to have at least a couple of days for that. The most famous one is the famous Kausar Nag Lake trek.
Other places to see near Aharbal will be the famous Mughal road and Peer ki Gali Pass. But for that, you will have to come back to Shopian and then drive for another 40 kilometers to Peer ki Gali Pass. There is also no public transport available for this.
Also Read: How to Plan a Trip to Kashmir – A Complete Travel Guide
Where to Stay in Aharbal
This brings us to the next question, where to stay in Aharbal? There is accommodation available here in the form of JKTDC cottages. But before you decide to stay, you got to ask yourself, what are you going to do the entire day?
You can spend some time looking at the waterfall but for how long? This is hardly a 30-minute affair. There is a lawn nearby and you can also walk around in the other direction of the village but that is just about it.
The sun also gets very harsh here during the day which will make sightseeing a little difficult. So stay in Aharbal only if you just want to spend some time sitting in peace, doing absolutely nothing.
Aharbal Waterfall to Gulmarg
There is no direct route from Aharbal waterfall to Gulmarg. You will have to travel back to Srinagar all the way and then go to Gulmarg from there.
Aharbal Waterfall to Pahalgam
There is a direct internal road from Aharbal to Pahalgam. You will first have to drive to Anantnag via Kulgam and then continue to Pahalgam from there.
Also, keep in mind that these will be internal narrow roads that will take you through the villages and can be very bad in condition.
Another way to travel is to drive back to Shopian and then exit on NH44 near Awantipora. From there, you will reach Anantnag and then Pahalgam.
But you can only do this if you are traveling by your own vehicle or a private taxi. If you were traveling by public transport, you have little option other than to return to Srinagar and then travel to the next place.
Aharbal Waterfall to Sonamarg
There is no direct route from Aharbal waterfall to Sonamarg. You will have to travel back to Srinagar all the way and then go to Gulmarg from there.
Now keeping all of the above-mentioned in mind, how do you plan your trip to Aharbal waterfall?
If you are traveling by bus and shared cab, you will have no other choice but to make it a day trip. Or you can also choose to stay overnight if you had the time.
You cannot include this with Gulmarg and Sonamarg as these places are in different directions from Srinagar.
You can visit the waterfall while traveling to or from Pahalgam but that will be a long journey. If you started from Srinagar in the morning and visit Aharbal on the way, you will reach Pahalgam sometime by 3 or 4 pm only.
My advice will be that you keep a day out for Aharbal. Include this with your plan for local sightseeing in Srinagar city. Start early in the morning, visit the waterfall, and return to Srinagar by noon.
You can then spend the rest of the day and evening visiting tourist places in Srinagar. This is exactly what we did.
Srinagar to Aharbal Waterfall
We had been in Srinagar for a few weeks now and had already covered most of the tourist spots. Aharbal was one of the places still remaining to visit and that was our plan for Saturday.
We started our journey at around 9 am from Srinagar. This was my second visit to Aharbal and I knew that there was no need to hurry. We were going to make it a day trip and intended to return to Srinagar by afternoon.
We drove non-stop to Shopian via Pulwama and reached there in about 90 minutes. Right after Shopian is a diversion where the road to the left goes to Aharbal and the one on the right is the Mughal road, leading to Peer ki Gali and Bafliaz. We turned left.
The actual scenic part of the journey starts after this diversion. We started gaining altitude rapidly and the views also improved.
After a drive on a narrow and steep road, we reached Aharbal. We parked the car and walked the remaining distance to the viewpoint.
Aharbal Waterfall
The area around the waterfall is fenced for safety reasons and you get to see the waterfall from a distance only. There were a few suicides and accidental drowning incidents here in the past due to which the area was later fenced.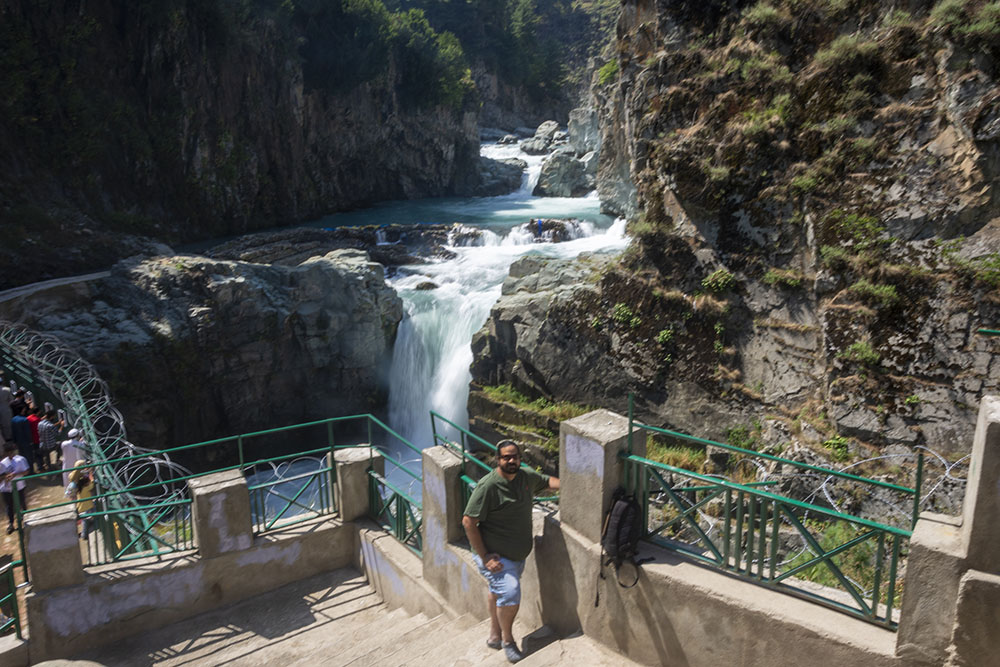 We walked around and spend about an hour at the waterfall and its nearby lawns. After that, we walked back to our car, had a cup of tea and bread-pakoda at a nearby stall, and drove back to Srinagar.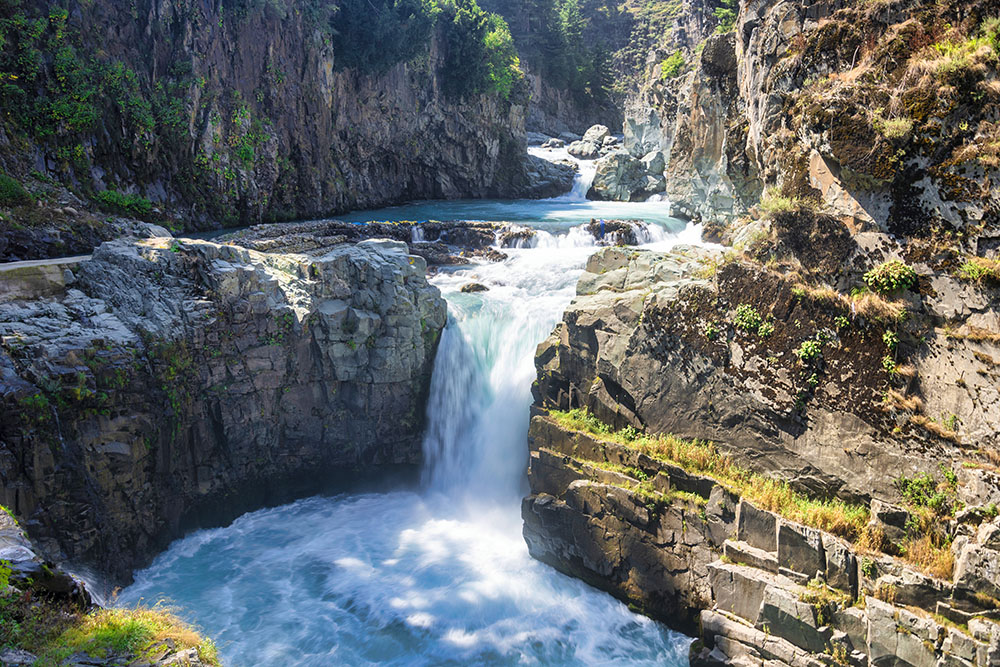 It was apple harvesting season at that time and the orchards of Shopian were in full blossom. There were apples all around and the trees were heavy with their weight. At a few places, branches were leaning right over the road.
We thought to pluck a few apples and stopped the car at a spot where we could do so. Gunjit stepped out and plucked a couple of apples from a branch that was right next to the road.
2 apples are all that we could get because the owner noticed what we were doing and shooed us away.
I still remember how tasty and juicy those 2 apples were. I knew that the apples of Shopian were very famous and that day, I found out the reason why.
Evening in Srinagar
We reached Srinagar at around 3 pm and spent the next few hours in our hotel only. It was very hot outside and difficult to go sightseeing anywhere.
In the evening, we decided to go to Pari Mahal but it was closed to tourists on that particular day. We turned around and reached Dal Lake, saw the sunset, and stayed there till dark.
We had no set plans about what we were going to do next or where were we going to visit. For the next few days, we stayed in Srinagar and visited the local attractions.
We saw the floating vegetable market, went for a Shikara ride, saw an Air show organized by the Indian Air Force, visited the Hazratbal shrine, and also saw the sound and light show at Dal Lake.
After that, we moved on to Kargil to further explore the Zanskar Valley. Please click on the link above to continue reading the next part of the travelogue.
Aharbal Waterfall Itinerary – Conclusion
I hope the travelogue, pictures, and information on planning your Aharbal waterfall itinerary were of help. If you have any questions, you can contact me on Instagram and I will be happy to answer. You can also consider subscribing to my YouTube channel and asking a question there.