Come October and the tourist season in the valleys of Ladakh and Spiti pretty much comes to an end. A lot of people however still plan their trip to Spiti valley in October; merely because they were not able to do so in the earlier months. Of the two roads leading to Spiti; the road from Shimla to Kaza remains open throughout the year. However the route from Manali to Kaza gets closed sometime in October after it starts to snow at Kunzum top. When in October depends entirely upon the weather and it is hard to predict the exact time of closing; but mid of October is a safe time to assume. In a situation like this, for anyone planning their trip to Spiti in October; whether or not it is safe to travel from Manali to Kaza in October becomes a little difficult to decide upon.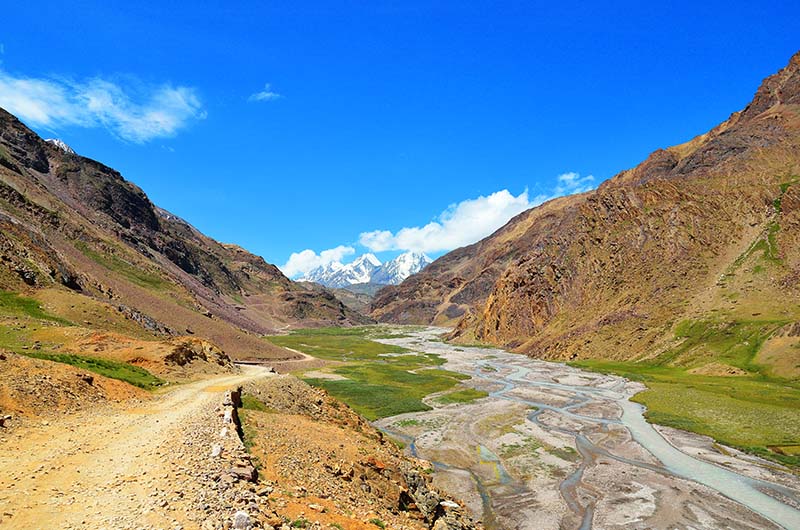 To be quite honest, when someone asks me about traveling from Manali to Kaza in October; I usually advise them against doing so. This is because of multiple reasons which I will further detail in the article below, but if the question is whether or not it can be done, the answer will depend on which time of the month you are traveling in.
Camps at Chandratal usually remain open and available October 8th to 10th. It means that if you were traveling in the first week of the month, it can be assumed that you will safely complete the circuit. If however you planned for mid or end of October, it is best not to include the Manali to Kaza road in your itinerary at all. Take a look at the article below for detials on when it would be the best time to plan a visit to Spiti valley.
Also read: When is the best time to travel to Spiti valley
The biggest reason why people opt to reach Kaza via Manali is due to lack of time. If you traveled via Shimla, reaching Spiti would take you at least 2-3 days with a night stay at either of the towns en route. On the other hand, traveling via Manali means that you can make it to Spiti within a day. In the morning you start from Manali, cross Rohtang and Kunzum La; and by evening you are at Kaza.
Also read: Clothes for Spiti Trip: What to Pack
Another reason is of adventure. There is no denying the fact that the road from Manali to Kaza is way more adventurous as compared to the Shimla route. You get to travel on some of the worst roads of your life and cross two high altitude passes on the way. Add to it the fact that chances of finding some snow while visiting Spiti are only on the Manali route; either atop Rohtang Pass or Kunzum Pass. If you reach Kaza via Shimla and the Manali road was closed; you will definitely be deprived of this part of the trip.
With all the above being said; there is still no denying the fact that Manali to Kaza in October means a bit of a risk and can be dangerous; with a high chance of you getting stranded on the way. Below are a few reasons why it is best avoided that you plan a journey from Manali to Kaza in October.
Snowfall at Kunzum Pass in October
Kunzum Pass usually receives it first spell of snow by Mid October. In fact it is not just Kunzum but Rohtang Pass and the entire Gramphoo to Losar stretch as well. In initial days, it is usually on the lighter side but may actually result in the road getting blocked/closed for several hours altogether; sometimes for even a day or two. BRO clears the road as soon as they are able to in October but this still would mean that you will be stranded on the road for quite some time. This would be highly inconvenient and will cause a delay of a day or two in your plans. You will really have nowhere to go but to wait it out on the road. Why? Read on to know.
Terrible Road Conditions
The entire road from Rohtang top till Losar is notorious for being terrible. It is in fact one of the worst ever stretch you will ever travel on. Mix it with snow and the nightmare even increases. Driving around on such road is not the safest thing you can do; specially when it is snowing all around and thus, reducing visibility. A dirt track covered completely under a light sheet of fresh snow would be quite slippery and is not meant for driving for city folks like us.
Hotels in Spiti Valley in October
Once you cross Manali; it is safe to assume that you will not find another place to stay all the way until Losar in October. Last hotel or guest house you can find will be at Kothi and then a PWD guest house at Batal. Another choice of accommodation is the Chadar tent/dhaba at Batal. The question however with these accommodations is of the availability. You cannot rely that the Dhaba will remain open all the time in October as only a few people travel by. With PWD guest houses, finding the caretaker missing for even an entire day is not surprising. You may arrive at these places only to find them closed and with no place to stay.
Black Ice
This by far is the biggest security risk that can cause serious and sometimes even fatal accidents. The entire stretch from Manali to Kaza in October gets prone to black ice forming on the roads. Nallahs, water crossings and slush are in ample amount on this road; formed by melting snow. These bodies of water freeze during the nights. Try to cross these next morning and you will be driving over not so hard snow.
Also read: How to Plan a Trip to Spiti Valley in October
The real threat however are the dry section of the roads where presence of moisture forms a thin layer of transparent sheet of ice; practically invisible to the naked eye. The typically low levels of noticeable ice pellets, snow, or sleet surrounding black ice means that areas of the ice are often invisible to drivers or people stepping on it. There is, thus, a risk of skidding and subsequent accident due to the unexpected loss of traction.
Public Transport from Manali to Kaza in October
HRTC stops the bus service on this route due to the threat caused by Black ice; even the local taxi drivers stop to operate from Manali to Kaza in October; or vice versa. So if you were planning to travel by public transport; chances are that you will not find any at all.
A Nuisance called "Raid De Himalayas"
Ok you may not agree with the term nuisance but there is no better word to describe it if you happen to be traveling at the same time when the rally event was taking place. These guys block entire section of roads so that their vehicles may pass. Accommodation too; whatever available; gets booked by them and you will have big time to keep your trip hassle-free.
How to Plan to travel from Manali to Kaza in October
After all said and done; if you are planning a trip to Spiti Valley and want to include Manali Kaza road as well in your plan; it is best to do so in early part of the month. If for some reason your plan got delayed; then you should take the Shimla route to reach Kaza. While you are there, inquire of the locals of the road conditions ahead and then make a well informed decision on whether or not you want to exit via Manali or take the same road back to Shimla.
It would be even better to wait for a local taxi or vehicle and tail it. For the local drivers, it is an everyday's business to be driving around in this terrain. If there was any threat on the road; they will see it better than you or I and hence, your risk factor will marginally go down.
Do not start early in the morning and wait for the sun to come up. A couple of hours of sunlight will ensure that the black ice is melted and it will be comparatively safer to travel.
Another wise thing would be to stock up on snacks and anything good enough to bite that can last a couple of days in your car. Carrying spare water is must. This is essential from the point that in case you got stuck somewhere; you will have plenty of food and water to survive.
Conclusion
In the end, I would advise everyone strongly against traveling from Manali to Kaza in October. If however you must do so then please practice extreme caution for your own safety; and that of others traveling with you. If you have any further questions, please feel free to ask in the comments section below; or at our Community Forum and I will be glad to answer.