Spiti via Shimla or Manali is a common doubt among folks planning a trip to this middle land. People often tend to compare both routes in terms of scenic beauty; adventure and which side would be more fun to travel on. To be quite honest an argument in this aspect will not really hold value; because both the routes are equally beautiful and have their own benefits and disadvantages. In the end however; a trip to Spiti valley is best done in form of a circuit; which means that you should and must travel on the both the routes. Start from either Shimla or Manali and exit the valley from the other side. Both sides of the valley deserve a visit and you should see them both to truly witness the majestic beauty of Spiti.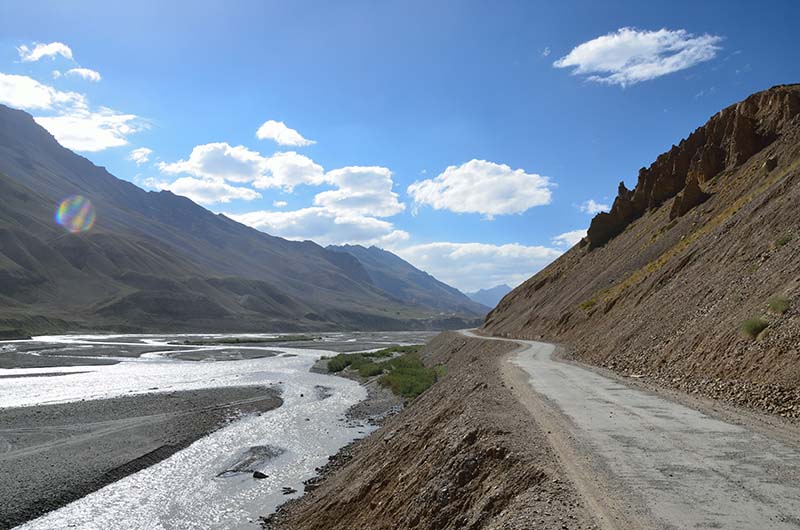 With the above being said, there are however a few factors that can be taken into consideration about the route of your journey. Read on to know what those are.
Time of Travel
This one is the biggest factor when you compare both the roads leading to Spiti. Thing is that Manali – Kaza route is open for a way shorter period than Shimla – Kaza road. While the latter remains open throughout the year; barring the occasional road blocks in winter season; the road from Manali side is accessible only between June and early October. So if you were planning a trip between January to May or October to December; you will have to go from Shimla and return the same way. There is no way that you can cover the Manali route at this time.
Also read: How to Plan a Trip to Spiti Valley – A Complete Travel Guide
Days of Travel
This too is another factor that you must consider. From Shimla side, you will take at least 2 days to reach Kaza; and even that journey too will be a bit rushed. On the other hand, traveling from Manali, you can reach Kaza in a matter of 7-8 hours. So if you had limited days in hand and wanted to make a short trip to Spiti; then Manali – Kaza route should be your preferred choice, both for reaching Spiti and return journey home. But with this, you should also take into fact that this is only possible in the months of June to September.
Chandratal
Some people want to go towards Spiti valley just to camp at Chandratal lake. Majority of these people are the ones who have already visited Spiti once before. If you have a similar plan and want to visit Chandratal lake only, then Manali to Kaza route is the one for you. If you traveled by Shimla, it would take you at least 2-3 days to get to the lake; whereas from Manali, it is a journey of only 6-7 hours.
Also read: Clothes for Spiti Valley – What to Pack?
Rohtang Permits
Traveling to Rohtang Pass off-late has become a troublesome task. Do not get me wrong, I do agree that steps were needed to be taken to preserve the Eco-system and keep the pass pollution free. But from a traveler's point of view, this now means staying at Manali for an entire day while working to get the permits needed to cross over Rohtang Pass. This requirement however is only for vehicles traveling from Manali side. If you were coming from Spiti to Manali, there is no permit needed at all. This is a great reason to start your journey from Shimla side and exit at Manali; thus saving a day in the trip.
Acute Mountain Sickness
Picture this, one day you are in plains in the morning. By evening you reach Manali at a height of about 2,000 odd meters. The day after, you travel to Kaza at a height of about 4,000 meters. The increase in altitude here is massive and that too within a couple of days. This is bound to throw your body in shock and trigger the symptoms of acute mountain sickness. However, from Shimla, the increase in altitude is gradual and spread evenly over a few days. If you were traveling with family or your elders, then you must start the journey from Shimla side and hence, avoid them from suffering altitude sickness.
Off-Roading
Yes I know that this you will end up doing either ways because of the bad conditions of roads in Spiti valley. However, recently, a lot of people have started to travel towards Spiti with the purpose of going off the road. If your intention too is the same, then the worst patch of the road is from Manali side; the notorious Batal – Gramphoo stretch. This 60 odd kilometers long road has so many water crossings that you will not be able to keep your shoes dry if you were on a bike. It possibly is the worst road you have ever been on in your entire life. So if you want to go off-roading, then go via Manali and return the same way.
Also read: Tourist Attractions in Spiti Valley – A Complete List
Only see Spiti
Last but not the least, if you have already covered the Kinnaur Valley; have seen most of the places that way; and now want to spend more time covering Spiti valley then you should reach there via Manali. This will save you all the time you will spend on the road if coming from Shimla side; time that you can actually use to visit the remote areas within Spiti.
Spiti via Shimla or Manali – Which one is Better?
It would be hard and unfair to really call one road better than the other. It will just depend on your own preference based on the factors I mentioned above. I do hope that this information was of help. If you have any further questions; or need any further help; please feel free to ask in the comments section below; or at our Community Forum; and I will be glad to answer.