There is really no absolute answer to the question of the best time to visit any place because it would entirely depend upon your reason to visit. Weather is mostly the determining factor behind this but a few other reasons count as well. The same logic applies to the question of the best time to visit Dalhousie as well. For example, if you were looking forward to enjoying some snow, then you would have to plan in the winter season. On the other hand, if you just wanted to spend some time in peace and pleasant weather then the spring season would serve the purpose. In the article below, I have explained how the weather trends in Dalhousie, what are the average monthly temperatures; and which time of the year can be called as the best month to visit Dalhousie for majority of the people.
Also Read: How to Plan a Trip to Dalhousie – A Complete Travel Guide
Before we start, I must mention Dalhousie is really one of those destinations where the inflow of tourists just never stops. It's easy accessibility and a short drive from Pathankot makes it a perfect spot for long vacations as well as weekend getaways. It is really a year-round destination and has something to offer you in every season and will never disappoint irrespective of the time of your arrival. When can you plan will depend on what exactly do you want to do in this pretty little hamlet. Below is a monthly breakup of Dalhousie's climatic conditions so you can plan when to go.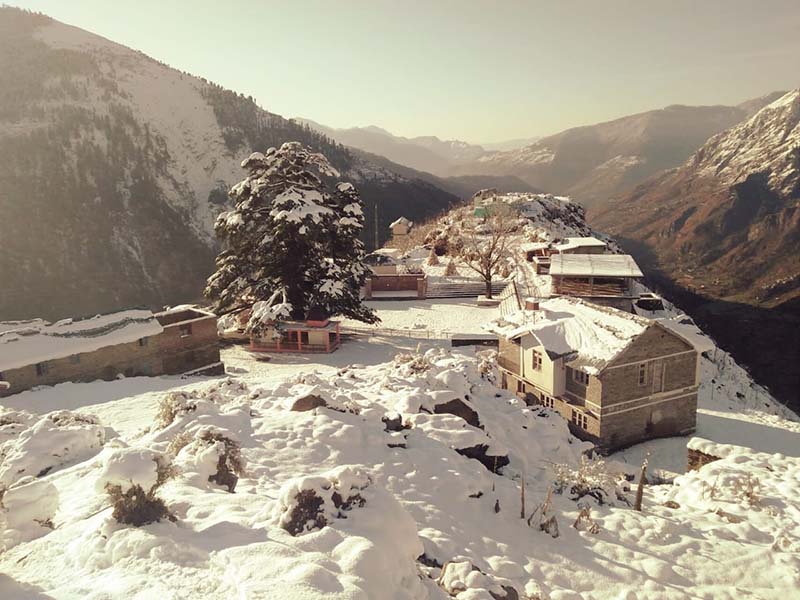 Weather of Dalhousie
As a premier hill station, Dalhousie enjoys pleasant temperature and weather year round. In winter months there is abundant snowfall, so temperatures take a nosedive. With the right clothing and equipment, you can explore Dalhousie anytime you wish.
Dalhousie in Winter – January to March
The months of January and February are best if you want to see snow covered hills and possibly catch even a live snowfall. Chances of snowing are more in January than February so if you want to see snowfall, better plan in January. Snow on the ground, however, is a little more in the month of February. By March, winter starts to fade and all that snow slowly melts away. This is a good time for winter trip but if cold weather is not your cup of tea, you should avoid visiting in either of these months.
Also Read: What to See in Dalhousie and Things to Do
Dalhousie in Summer – April to June
Spring arrives in April and brings along the tourist season in Dalhousie and the areas nearby. The months of April, May, and Jure are considered to be the best time to visit because the weather in these months is at its best. Days are warm and sunny with clear skies and nights pleasantly cold. But this is also the time when it gets crowded here the most. Especially in May and, a lot of families plan their trips with summer vacations in schools on.
So if you want to enjoy pleasant weather and indulge in various tourist activities here, April, May and June will serve the purpose. But if you hate to be in crowded places then you should avoid visiting at this time.
Dalhousie in Monsoon – July & August
Monsoon arrives towards the end of June and lasts until early September. Dalhousie receives quite a bit of rain each year and in these months, it can rain non-stop; enough to keep you indoors throughout the duration of the trip. Landslides and resulting landslides too are common during monsoon which makes it a really bad time to visit.
With that being said, this is also the time when the entire valley comes to life. Monsoon blesses the hills with lush carpets of grass and flowers of all kinds and colors. So if you want to see those dreamy hills that you have only seen in wallpapers or posters, this is the time to come. But if rain bothers you and you do not want to risk getting stuck because of landslides, you should best avoid these months. This is also a good time for people with interest in photography. This is also the off-season so there will be very few people around so a good time for someone looking to visit a less crowded destination.
September & October
Monsoon departs in early September but leaves plenty of lush vistas behind to last another month. September, in my opinion, is the best time to visit because of pleasant vistas all around without the risk of the rain. Autumn arrives in October and everything that was green in September now turns to golden orange; giving a magical touch to the valley.  These two months are best for all kinds of tourists. Photography enthusiasts will love their time in Dalhousie in either of these months.
November & December
Towards the end of October, winter starts to settle in and things begin to get cold. The coming month of November is generally a bad time to visit because it really has nothing to offer. Vistas will be dull and dry; weather will be extremely cold and there won't even be any snow around. Things remain to be the same for during the first half of December. In the latter half of the month though, the chances of a snowfall increase drastically which make it a great time to visit.
Also Read: How to Plan a Trip to Shimla
Best time to visit to visit Dalhousie
To sum up, what I described above, here are the best times to visit Dalhousie:
Best time to visit Dalhousie for Snowfall: December 15th to January 30th
With Family: March, April, May, and June
In Winter – January or March
Best Month to visit Dalhousie: September
For Photography: January, April, September and October
Best Season to visit Dalhousie: Summer and Post-Monsoon
On Budget: July, and August
Best time to visit Dalhousie for Honeymoon: January, February, and March
Best time to visit Dalhousie for Snowfall: January and February
Climate and weather
Dalhousie retains a cool and pleasant climate throughout the year with misty mornings and evenings, bright sunny days and clear skies. Owing to its elevation, it is considerably cooler than the surrounding plains. Even in the spring, when the climate is downright chilly. The monsoon months, however, tend to be incredibly wet and humid. The skies remain cloudy and it may rain for days on end.
Temperature of Dalhousie
Here is the month wise average temperature break up. I have also mentioned what kind of clothes you will be needing to visit in these months.
Dalhousie in January
Average temperature in January is around 1.2° to 9.8° degree Celsius maximum.  It may however fall below 0 as well during night sometimes. Heavy woolen and warm clothes are needed for a trip at this time. Please check the weather and if there was word of snowfall in the area, you may need to pack snow-boots or waterproof shoes and gloves.
Dalhousie in February
Temperature will range between 3.1° minimum to12.4° degree Celsius maximum. Chances of snowfall in this month are less as compared to January but it can still snow anytime. Heavy woolens and warm clothes will be needed for visiting in February.
Dalhousie in March
Average temperature will remain between 7.1° to 16.7° degree Celsius. Snow begins to melt and the weather turns warmer. You will still need to pack some light woolens as nights will still be terribly cold.
Dalhousie in April
Spring season arrives and the weather gets warmer. Average temperature will rise to 11.2° minimum and 21.8° Celsius maximum. Your regular cottons with a light jacket will suffice for a trip at this time.
Dalhousie in May
This is the time when even Dalhousie will start to feel a bit hot with minimum temperature at 15.2° and maximum at 30° Celsius. At an average though, weather will be pleasant and your regular cottons will be more than enough for visiting in this month.
Dalhousie in June
Average temperature will be between 17.6° to 27.4° Celsius. Weather will mostly be pleasant but days will feel a little hot. Pre-monsoon showers may be experienced towards the end of the month. Bring plenty of cottons and a light jacket.
Dalhousie in July
Temperature will remain between 16.5 to 23.6 degree Celsius. It is officially the monsoon season and you should waterproof everything. If possible, carry umbrellas and raincoats.
Dalhousie in August
Situation and temperature at this time will mostly be the same as that of July.
Dalhousie in September
Monsoon will depart and temperature too will start to get colder. Average minimum of 14.9° to 22.7° Celsius maximum is usually recorded at this time. This in may ways is the best time to visit Dalhousie
Dalhousie in October
Temperature will drop further down to 11° minimum and 20.9° Celsius maximum. Winter starts to settle in towards the end of the month. You should pack a heavy jacket and woolen clothes for visiting at this time.
Dalhousie in November
Temperature will average out between 7° to 17.5° Celsius. Nights will be even colder so do bring your woolen clothes for a trip in November. Vistas will be dry with very less chance of snowfall.
Dalhousie in  December
The second half of December is a good time to visit if you want to see a live snowfall. Average temperature will remain between 4.2° to 13.9° Celsius. Pack heavy woolen and warm clothes for visiting in December.
Conclusion
I hope the information above on best time to visit Dalhousie was of help. If you have any questions; or need any other information; please feel free to ask in the comments section below; or at our Community Forum; and I will be glad to answer.