Dalhousie defines the word sleepy in every sense. This is a town that is literally living in the past – from the British Era hangover with its old world charm of the high street and pony rides to thick forests of Deodar and Pines which shelter the town. This is an ideal location for people who enjoy the sound of silence and want nothing more than to soak in the beauty of nature in a serene atmosphere. But at the same time, this charming little town also remains to be one of the most known tourist destinations in our country. It never really gets too crowded but still has plenty of tourist attractions to keep its visitors busy for days. In the article below, I will talk about these tourist places and provide a brief overview on what to see in Dalhousie and tourist activities that you can indulge here in.
Also Read: How to Plan a Trip to Dalhousie
Dalhousie is located in Chamba district, of Himachal Pradesh at an elevation of 1,970 meters. The town is named after The Earl of Dalhousie, who was the British Governor-General in India while establishing this place as a summer retreat. It is situated on 5 hills and due to its altitude; the weather here mostly remains to be pleasant. During winters, Dalhousie and its nearby town of Khajjiar get covered under a thick sheet of snow making it an ideal destination for people who like the quiet, serene atmosphere, and for couples. It is in fact, one of the topmost visited honeymoon destinations of India.
What to see in Dalhousie
---
While talking about the tourist attractions in and around Dalhousie, I will first list down all the places and then run down the list one by one providing a brief summary on them. Later in the article then, I will talk about some other tourist activities in Dalhousie apart from sightseeing. The list below is a comprehensive one including all of the places in and near Dalhousie that are worth visiting
List of Places to See in Dalhousie
Subhash Baoli
St. John Church
Rock Garden
Garam Sadak
Khajjiar
Panchpula
Sach Pass
Dainkund Peak
Chamera Lake
Satdhara Falls
Mall Road
Laxmi Narayan Temple
Bara Pathar
Bakrota Hills
Ganji Pahari
Chamba Town
Kalatop Wildlife Sanctuary
Rang Mahal
Some of these places are located within Dalhousie itself while others would require you to drive out a little depending on the distance. Below is a brief information on where these places are and how you can visit them.
Subhash Baoli
Subhash Baoli is a spring located about 1 kilometer away from Gandhi Chowk in Dalhousie. It is named after the famous freedom fighter Subhash Chandra Bose and its water is believed to have medicinal properties. As per the legend, Bose himself took a dip in this Baoli and was cured of his ill health.
Also Read: How to Plan a Trip to Shimla
St. John Church
This is the oldest church in Dalhousie and has not only religious but historical significance as well. It was built in 1863 and is open from 7:00 AM to 7:00 PM on all days. Inside the chapel, there are beautiful glass paintings of St. John and St Peter. The church is a favorite among the photographers because there is also a library inside the church which houses a rich collection of rare books on photography.
Rock Garden
The famous rock garden of Dalhousie is a beautiful and the most popular picnic spot here. You can visit here to just sit, relax and enjoy the natural beauty as well as to enjoy several adventure sports like Zip-lining.
Garam Sadak
This is a stretch of road connecting Gandhi Chowk and Subhash Chowk in Dalhousie. It is a good spot for an evening walk because it offers scenic vistas of the valley around.
Also Read: When is the Best time to go to Dalhousie
Khajjiar
No list of tourist places in Dalhousie can be complete without Khajjiar finding a spot in it. Located about 20 kilometers from Dalhousie, this hill station within a hill station is a favourite of both honeymooners and adventurers. Located on a plateau, this place boats a freshwater lake and green pastures for miles around due to which, it is also referred to as "Mini Switzerland". While you can take a car to Khajjiar, there is also the option to trek through the evergreen forests. Here you will come upon the ancient temple of Khajji Naga adorned with snake sculptures and depicting the Mahabharata battle.
Things To Do – Short Treks, Picnics, Photography 
You can either drive from Dalhousie to Khajjiar or trek through the forest for about 12 kilometers to get there. If you decide to trek, I will strongly recommend that you hire a guide to help navigate your way. Public transport from Dalhousie to Khajjiar too is available. There are two daily buses from Dalhousie to Khajjiar and back on the same day.
The Khajjiar Lake is more or less the heart of Khajjiar but it is mostly dry now. What is now left behind is a vast lush meadow with small bodies of water in it. The picture I posted above is of the same. Nonetheless, it is still a very pleasant and beautiful sight. In Khajjiar, you can also enjoy activities like pony ride; getting your photos clicked in Himachali attire and with rabbits; zorbing and paragliding.
Panchpula
This popular picnic spot is only 3 kilometers from Dalhousie. A tranquil stream flows through this location and the place offers breathtaking panoramic views of the surrounding countryside.
Things To Do – Picnic, Sightseeing
The place is located on Pathankot road at a distance of about 3.5 km from Gandhi Chowk. There is also a samadhi here of Sardar Ajit Singh (Uncle of Shaheed Bhagat Singh). You can visit here throughout the day and a day trip from Dalhousie to Panchpula will take you about 1 – 2 hours.
Also Read: Shimla Manali Dharamshala Dalhousie Trip Itinerary
Sach Pass
This one is for the trek lovers and motorcycle enthusiasts among you. At nearly 14500 feet above sea level, it is one of the most remote and hence undisturbed places in the entire state. The rugged terrain is a challenge to any trekker but it is worth it to travel through thick forests and view picturesque landscapes of snowy peaks and the odd lush plantation.
Things To Do – Motorbike/Car Drive, Trekking, Photography, Sightseeing
Please do not attempt trekking on your own and hire a local guide to assist you. If you chose to go by a bike, ensure that you know how to handle a motorcycle on badly broken road and challenging climbs.
Dainkund Peak
Also known as the Singing Hill, Dainkund Peak is perched at an elevation of 2,755 meters and is one of the top places to visit in Dalhousie. Why is it known as the singing hill? Because of the different singing sounds of birds that you will hear at this mountain. To get here, you can easily hire a taxi in Dalhousie or self-drive if you were traveling by your own vehicle. Trekking is another good option if you are up for a brisk uphill walk. This place is also one of the top camping sites in Dalhousie.
Things To Do – Trek, Sightseeing
The name of the place, "Dain Kund", literally translates as "Witch's Pond". How they came up with that name is anybody's guess. From high up on this peak, you can get an unobstructed view of the entire valley below. A must visit location is the ancient temple dedicated to Pholani Devi, unique because instead of an idol, a trident is worshiped here.
Chamera Lake
Want even more solitude than at Dalhousie? Drive out to Chamera Lake, a mere 35 kilometers from the town. This lake was created as a natural consequence when the Chamera Dam was constructed on the Ravi River.
Things To Do – Boating, Water-Sports & Fishing
The lake actually falls on the way as you drive up to Dalhousie from Pathankot side. It is a great spot to take a break, click some pictures and spend time at a scenic location.
Satdhara Falls
Traveling to Panchpula, you will come upon this unique band of seven waterfalls. It is a serene place to while away the time. The waters here are rumored to have strange healing powers. The name of the waterfall literally means 'a blend of seven streams' because it is fed by seven streams. of water that flow down from high up in the mountains as a result of melting snow. The water is said to have medicinal properties because of the presence of mica in it.
Things To Do – Picnic, Photography, Sightseeing
The waterfall is located on the way to Panchpula and hard to miss. To get here, you can easily find a taxi from Gandhi Chowk or self-drive if you were traveling by your own vehicle.  Tourists are permitted to take a dip in the fall except for monsoon season when the flow of the water is a bit much. If you are visiting during monsoon season, you will be greeted with quite a pleasant sight but it kind of dries up a little for the rest of the year with very little water left behind.
Also Read: Mashobra – A Complete Travel Guide & Itinerary
Mall Road
This is the high street of the town, with shopping places, eateries, restaurants, bookstores, bars, clubs, inns, banks and hotels. Always bustling with activity, make sure you have plenty of time to explore.
Things To Do – Walk, Browse & Enjoy
The market remains open from 10 AM to 9 PM. The best time to visit here would be around evening.
Bakrota Hills
Located 5 kilometers from the main town is this scenic, serene landscape of Deodar, Pine and Oak trees. From up here, the Himalayas are closer than ever before. While the location is always pleasant, it's a must visit during the winter, when the entire place transforms into a magical otherworldly landscape.
Things To Do – Trek, Sightseeing, Photography
Bakrota Hills is the highest spot in and around Dalhousie. It is circled by a road called Bakrota walk which leads to Khajjiar. You can get a stunning view of snow-covered white peaks from here due to which, it is a popular spot among tourists. If you would rather stay in the outskirts of Dalhousie and away from the crowd, then Bakrota Hill could be a better option for you. There are a few beautiful homestays available here.
Ganji Pahari
Located 5 kilometers from the town center, the name of this place literally means "Bald Mountain". This hill is barren of any trees or bushes but is charming all the same. An ideal place to breathe in the mountain air, it is also a superb picnic spot.
Things To Do – Picnic, Trek, Horse Ride
There is a bus service available from Dalhousie to Ganji Pahari if you weren't traveling by your own vehicle. You can also hire a taxi from near the bus stand itself to reach here.
Chamba Town
This town is located in close proximity to Dalhousie. Formerly the seat of the erstwhile royal family, there are innumerable things to see and do here. Visit temples, churches, libraries, museums, lakes, meadows, Scottish and English style bungalows among other attractions.
Kalatop Wildlife Sanctuary
Dalhousie has its own animal sanctuary located in the thicket of Deodar and fir trees. Walk through these ancient woods and you may just come upon a black bear or leopard.
Things To Do – Nature walk, Picnic, Sightseeing
You will have to drive towards the Karelnu road or onto the Chamba/Khajjiar road to reach the sanctuary and enter the forest areas. There is parking facility available inside the park. A better way however would be to hire a taxi from Dalhousie to show you around. You can reach by Bus/Taxi/private vehicle till Lakkarmandi and then walk the last 4 kilometers till Kalatop. There is a rest house as well inside the sanctuary that goes by the name of Kalatop Forest Rest House. You can stay here for the night but will have to get your booking done in advance. Bookings can be made through the HPTDC portal.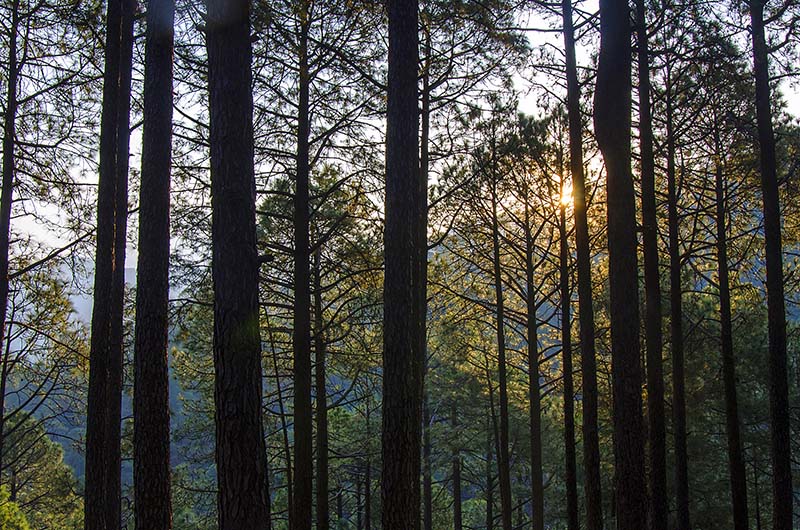 Rang Mahal
A striking tribute to Mughal and British architecture, this palace was built by Raja Umed Singh to house royal women in the times gone by. Today you can find displays of ancient coins, rare paintings, artifacts, costumes, weapons, and jewelry. It is located in Surara Mohalla and is a must visit for anyone with interest in monuments, artifacts or even photography. It is open from 10 AM to 5 PM from Monday to Saturday. Mahal remains closed between 1 to 2 PM for lunch.
Also Read: Chitkul Village – A Trip to Remember
Laxmi Narayan Temple
This ancient temple is jointly devoted to God Shiva and God Vishnu. Constructed in the traditional Shikhara style, this monument has endured from the times of the Chamba Kings.
Bara Pathar
Located near the GPO, it is a cool place to shelter in sticky summers and humid monsoons.  There is also a temple dedicated to Bhulwani Mata in the premises.
Things To Do – Worship & Relax
You can visit Bara Pathar while going to or returning from Kalatop Wildlife Sanctuary.  It is located about 5 kilometers from Dalhousie and is open every day between 8 AM to 5 PM.
Must Visit Places in Dalhousie
The list above will cover the majority of the tourist attractions in and around Dalhousie but yes, I agree that it is quite a lengthy one. In order to visit all of the above-mentioned places, one would need to spend at least 4 to 5 days in Dalhousie that not everyone can afford to.  If you were short on time and wanted to cover only the top ones then mentioned below are the 5 must visit places in Dalhousie that you can see during a short trip.
Chamera Lake
Khajjiar
Panchpula
Dainkund Peak
Ganji Pahari
The Mall
The list above names 6 places because you will anyway see Chamera Lake on your way in and out of Dalhousie.
Top 10 Tourist Places in Dalhousie
If you had a little more time in hand then you should visit the below mentioned 4 more places in addition to the above 6.
Satdhara Falls
Bakrota Hills
Rang Mahal
Rock Garden
Also Read: Triund and Snowline Trek Mcleodganj
What to do in Dalhousie
---
Apart from visiting all of the above-mentioned places, mentioned below are a few other tourist activities in Dalhousie that you can be a part of.
Photography
No matter what kind of photographer you are, you will have ample opportunities to click as many pictures as your heart desire. The whole setting of this paradisiacal town will inspire the photographer inside you. If you want to try capturing wildlife than there is no better place to do so other than the Kalatop wildlife sanctuary.
Star Gazing
Thanks to the low pollution levels of the area, the skies of Dalhousie are crystal clear on most nights of the year. You will find yourself under a glittering and twinkling sheet of beautiful stars the moment you step out of your hotel room. It will also present a great opportunity for some night photography and shooting star trails.
Trekking & Camping
As you can probably already guess from the list above, trekking and camping are among the top exciting and fun things to do in Dalhousie. There are all kind of trails that lead out of Dalhousie including simple walks for an absolute beginner to some challenging treks that will require steep and challenging climbs over a few days.
Motorcycling
If it is biking that you want to enjoy, then there is no better route to do it other than the notorious Sach Pass. But please note that it is not really for the faint hearted and you should have some experience in bike riding before you attempt Sach.
Also Read: Mcleodganj – A Comprehensive Travel Guide and Itinerary
 Paragliding
If you are up for a bit more of adventure then Paragliding in Khajjiar should be on the top of your list of things to do in Dalhousie. The best months for paragliding will be the months of September to November, April, May, and June.  Weather conditions at these times are most ideal to enjoy paragliding to the fullest. Khajjiar is where most of these activities are held near Dalhousie and are definitely a worthy experience. It will cost you about Rs. 1500 per person for paragliding in Dalhousie.
Rock Climbing
This is another of the adventure sports that are fast gaining popularity here. Like Paragliding, Khajjiar is that place where Rock climbing too is done under strict professional supervision.
Boating
Chamera Lake is the place where you can enjoy some boating as well. You can either enjoy a slow ride through the water on a traditional boat or can you also try some speed on a motorboat.
Shopping
Last but not least, you must spend some time shopping in Dalhousie and buy some souvenirs. Gandhi Chowk is the best place where you can buy items like bags, dolls, carpets, purses, handicrafts, and Kashmiri shawls, Kullu shawls made from lamb's wool, angora and Pashmina.
Some of the other things to do in Dalhousie would include,
Take a stroll through the Tibetan market.
Enjoy long peaceful walks and savor on the natural beauty around you.
Have a bonfire and enjoy pleasant nights sitting around a fire.
Enjoy a pony ride in Khajjiar.
Events and Festivals
To conclude the article, listed below are some festivals celebrated in Dalhousie. If you happened to be in the town at the time of these festivities, do take some time out to be a part of the functions and have a great time.
January: Haldi – Celebrates the beginning of winter's end. Expect bonfires and folk music and much dancing
February: Basant Panchami and Samvastar Pareva – Saraswati Puja
March: Losar – Tibetan New Year
October: Sharadotsav and Dussehra – This is the year's busiest and most spectacular festivals and draws both domestic and foreign tourists. Lasting for nine days, these festivals involve pujas, melas, processions and street food galore!
December" Christmas – Courtesy of the British presence, this festival is celebrated in a winter wonderland of snow
What to see in Dalhousie – Conclusion
The will cover most, if not all, of the places to see in Dalhousie and activities that a tourist a can enjoy. I hope the information above was of help. If you have any questions; or need any other details; please feel free to ask in the comments section below; or at our Community Forum; and I will be glad to answer.