The natural beauty of Pin Valley is its biggest attraction and all its other offerings are related to it only. It is really a place for people who like to visit offbeat places and would prefer silence over a weekend of partying, shopping and eating out at fancy restaurants. If you were wondering about what to see in Pin Valley then the answer is not much. Surprised? Don't be. There is really no long list of places to visit in Pin Valley but that is exactly why you should visit here.
To be very honest, you do not come to a place like Pin Valley to do tons of activities and or to have a blasting week of non-stop fun. If that was your thought then you are greatly misinformed and may want to think over your plans again. You rather come here to do absolutely nothing. You visit Pin Valley to slow life down for a few days; to know what it feels like to experience every hour of the day; to have a cup of tea while witnessing sun coming up or going down behind a mountain. You visit Pin Valley to listen to the silence, witness tranquility and relinquish yourself.
Please note that in this article, I am only going to talk about tourist places in Pin Valley in detail. If you want to get information like how to reach Pin Valley, where to stay, public transport and other details, please read How to Plan a Trip to Pin Valley.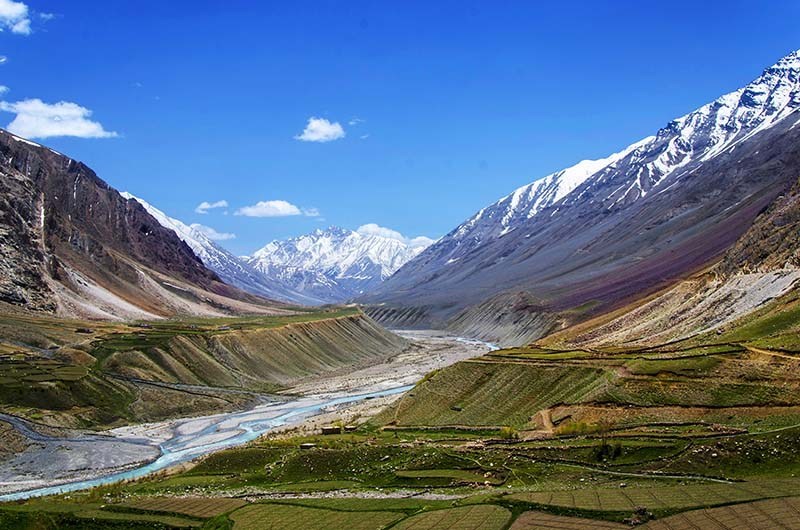 What to see in Pin Valley
With the above being said, there are a few places in Pin Valley that are definitely worth a mention and to keep an eye out for. Mentioned below is a list and a short description of all of them.
In this particular post, I am only discussing tourist attractions that are located in the Pin Valley itself. I am not covering the places in Spiti Valley because that will just render this article endless. To know what you can see while traveling on the Spiti Circuit, I will recommend you read What to See in Spiti Valley – Sightseeing in Spiti Valley.
Spiti and Pin River Confluence
This will be your first sightseeing spot as you travel towards Pin Valley. From Kaza, or even from Tabo, to get to Pin Valley, you will first reach a spot called Attargo Bridge. Here at the bride, you will cross Spiti River, cross to the other side and continue driving to Pin Valley. Below is a picture.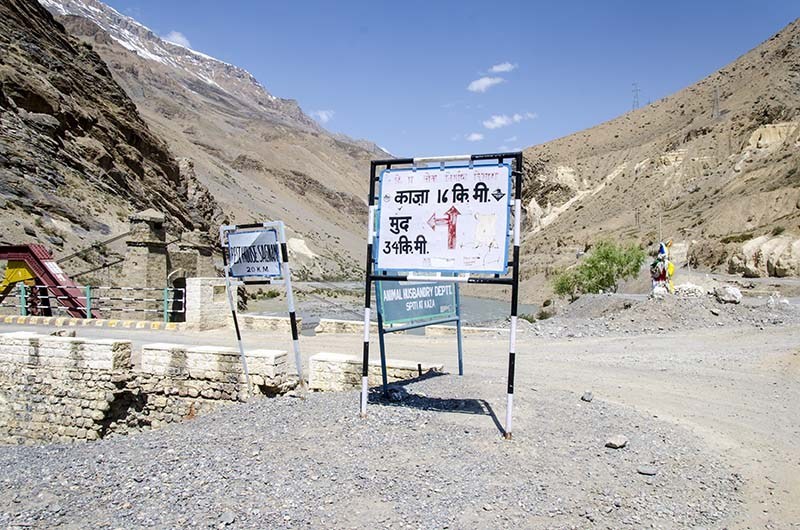 But before you cross over and go, do not forget to stop for a little while and take a few pictures of the great sight in front of your eyes. Slightly after Attargo, towards Dhankar, the rivers of Pin and Spiti merge into each other and present a stunning view. If you were coming from Tabo or Dhankar, you will cross the confluence and then reach Attargo.
You do not even have to go towards Dhankar for this actually. After you cross Attargo Bridge, you will drive straight for about 3.5 kilometers before the road turns right. This turning is the perfect vantage point to get the best view of the confluence.
Pin River Beach
The word beach is actually something I made up myself because I couldn't think of a better one to describe it. I am talking about the spot in the image below.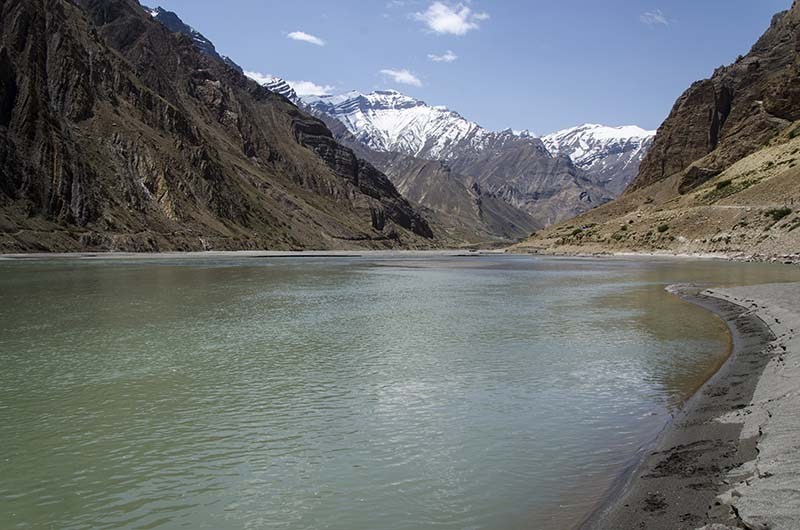 You can leave your car or bike on the road and walk down on the banks of the river. It actually feels like a beach with all the soft sand under your feet. It is definitely a great spot to stop for a while and get some good pictures.
Also Read: How to Handle AMS in Spiti Valley
Kungri Monastery
After crossing the Attargo Bridge, continue driving for about 18 kilometers and you will reach the village of Gulling. Shortly after Gulling, the road bifurcates and you will notice a small road going uphill to your right. This road takes you to the Kungri Monastery, also known as Kungri Gompa.
This monastery is the second oldest in all of Spiti Valley. It was built around 1330 and is noted for its sword dance by the Buzhens of Mud village on the right bank of the Pin River. Another fun fact to know is that you can even stay overnight at this monastery. The stay will, of course, be very basic but it will surely be a great experience.
The View at the Mud Village
After driving for about 34 kilometers from Attargo Bridge, you will arrive at Mud Village. This is the last village of Pin Valley that and the road ends here. There are several homestays in the village that you can stay at for the night. The best thing about Mud Village is the view that you get. I am talking about the first picture that I posted in this article. No matter where you stay in the village, this view will be right in front of your eyes.
To be honest, it is one of the best sights I have seen in my life and words are hard to find to describe the beauty of it. My picture does not do justice to it and you must experience it on your own to know what I am talking about.
Also Read: Mud Village – A Beautiful Village in the Heart of Spiti Valley
The best thing to do would be to just walk around in the village. In the first picture that I posted in this article, you can actually walk down all the way to the river across the fields. There is a water crossing on the other end of the village that actually looks like a waterfall and is a good spot to click some pictures. You can also pay a visit to the village gompa.
Bhaba Pass Trek
I must first mention here that this is not your casual one day walk or an easy trek. Bhaba Pass forms the ridge between Kinnaur Valley and Spiti Valley. So this trek means that you cross over from the lush green of Kinnaur to the cold desert of Spiti Valley or vice versa. The vistas you get on the way will just sweep you off your feet.
The usual way of doing is trek is to start from Kafnu in Kinnaur and end at Mudh Village but you can do it the other way around as well. Ideally, it is a 7 days trek and will require that you are physically fit and have some prior trekking experience. There are several operators in Mudh Village itself that will love to be your guide for the adventure.
The maximum altitude you will reach during this trek is 16,100 ft walking a total distance of about 50 kilometers. The best time to attempt this trek is between June to September (or early October). While walking from one point to the other, you will witness an amazing change landscape, topography, culture, lifestyle, religion and even language spoken. If you were into trekking and had the time, this is one trek that must be attempted.
Also Read: How to Plan a Trip to Kinnaur Valley
Pin Parvati Pass Trek
This is the second and even more challenging of the two treks heading out of Mud Village. Parvati Pass is the mountain range dividing the Spiti Valley and Parvati Valley. So on one side, you have the lush green of Parvati Valley and the cold barren brown of Spiti on the other.
This is a difficult trek that lasts for a total of 11 days. It starts from Barshaini near Manali from where you trek to Kheerganga, then to Tunda Bhuj, Mantalai Lake, cross the summit and reach Mudh Village. This is the ideal way of doing it but of course, you can start from Mud as well and do it the other way around. You can hire a travel guide for this from Mud Village itself.
The maximum altitude you reach during this trek is 17,457 ft. walking a total of about 100 kilometers. The terrain is rugged due to which, it is best recommended to seasoned trekkers. You must have experienced at least 2 high altitude treks before attempting this one. The best time for Pin Parvati trek is from June to September.
Also Read: How to Plan a Trip to Parvati Valley
Wildlife
This, of course, remains the prime attraction of Pin Valley. Take a walk through the valley and if you were lucky, you may spot an Ibex or someone else from the wonderful animal life here.
Pin Valley National Park
If wildlife is what you were after, then a trip to Pin Valley is incomplete unless you have visited Pin Valley National Park. Established on 9 January 1987, this Park forms a natural habitat for a number of endangered animals including the snow leopard and Siberian ibex, Tibetan Gazelle, Woolly Hare, and Chammurti Horses. In summer, rare birds such as the Himalayan snowcock, chukar partridge, snow partridge, and snow finch can be spotted here.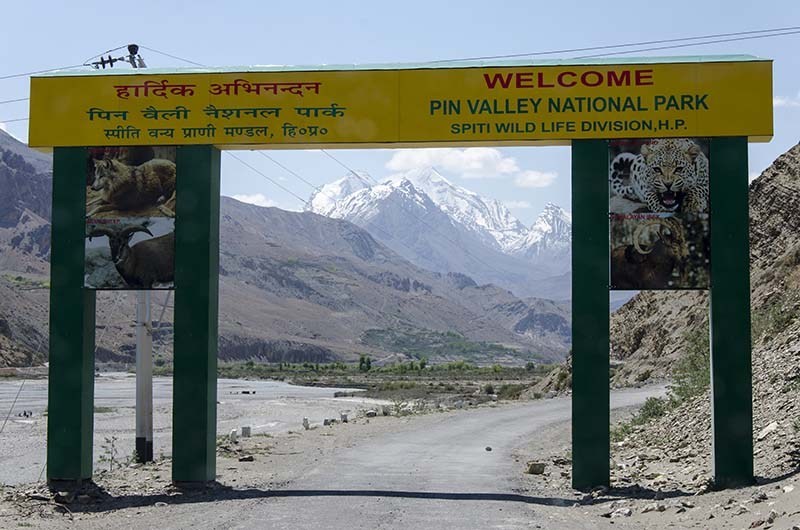 The elevation of the park ranges from about 3,500 meters (11,500 ft) to 6,000 meters (20,000 ft) and it is spread over an area of 9700 square kilometers approximately. There are no roads in the park though and the closest you can get by road is near Mikkim Village. You will have to hire a local guide to take you through the park and trekking here on your own is not at all recommended.
Also Read: How to Plan a Trip to Pin Valley National Park
Minimum Time Needed for Sightseeing in Pin Valley
It will actually depend on what all places do you want to cover. All the ones that I mentioned above (with an exception of the treks and Pin Valley National Park) can easily be covered in a single day. Just start early from Kaza, by about 7 AM and drive down to Pin Valley which will not take more than 2 hours. Spend some time in the valley, walk around and reach Kaza back by evening.
I will strongly recommend though that you spend at least one night in Pin Valley and then go back to Kaza. If you wanted to cover the animal sanctuary, then you will need at least 2-3 days more. If you wanted to go on Pin Parvati or Bhaba Pass trek, then you would need 8-11 days for that.
Best time to visit Pin Valley
The best time to visit Pin Valley is between May to September, which is also the Best time to visit Spiti Valley. The entire region will remain open at this time and you can cover every major tourist attraction on the route. Public transport services too remain available at this time.
Places to Visit in Pin Valley
I hope the information above on what to see in Pin Valley was of help. If you have any questions or need any other help, please feel free to ask in the comments section below or at our Community Forum and I will be glad to answer.