This article is in continuation with a previous one and part of my Mcleodganj Travelogue. Our entire trip lasted for a total of 4 days. We traveled from Delhi to Mcleodganj on Day 1, spent day 2 sightseeing in Mcleodganj, trekked to Triund on Day 3 and returned home in Delhi on Day 4. Details of our second day of the journey are as mentioned further in this article. To read the previous part of the travelogue, please click on the link below.
Journey So Far: Delhi to Mcleodganj – Day 1
Sightseeing in Mcleodganj can be an affair lasting for several days. The town is filled with places and activities that will keep its tourists interested and engaged for days, weeks even. Sadly for us, we reached there without any preparation or planning. I did not even know the name Mcleodganj before this trip and the rest of the group was no better either. None of us had any idea about what were we going to do in Mcleodganj during our 2 day's visit. As I was to find out later, there is a whole bunch of tourist attractions in Mcleodganj which I will list down below.
Sightseeing in Mcleodganj
Bhagsu Falls
Bhagsu Nag Temple
Shiva Cafe
Triund
Sunset Point
Saint John in the Wilderness Church
Namgyal Monastery
Kangra Fort
Masroor Rock-Cut Temples
Tibet Museum
Norbulingka Institute
Dal Lake
Gunna Devi Temple
Kareri Lake
Indrahaar Pass and Minkiani Pass
Dharamkot
Also Read: How to Plan a Trip to Mcleodganj –  A Complete Travel Guide
Tourist Activities in Mcleodganj
Trekking
Camping
Relax and Have Fun
Photography
Shop for Souvenirs
Try Tibetan Food
Enjoy Cultural Shows
Star Gazing
Take Yoga Sessions and Spa Therapies
Boat Ride in Dal Lake
Paragliding
Interact with people from different countries and cultures
Day 2: Trekking to Bhagsu Waterfall – Twice in a Day
Oblivious to all of the above, I woke up at around 7 in the morning. I was sharing a room with Rahul Khanna and he was deep in sleep still. I stepped out of the room and found out that no one else was awake yet either; which kind of made sense considering the long journey we had yesterday. We, in fact, slept after staying awake for over 30 hours almost. There was nothing I could do at that time except to wait for others to wake up so I returned to my room. I had no idea about what to do or where to go for sightseeing in Mcleodganj; so just I stood in the balcony of our room for a while looking at the green mountains in front of me and then stepped out for a cup of much-needed tea.
The tea shop was right outside the hotel. I ordered a cup of tea and while waiting for it, started a conversation with the tea stall owner.
"Yahan kya kya hai dekhne ke liye?" I asked
"Bahut kuchh hai" He replied "Jharna hai yahan aage ek, udhar ja sakte ho abhi. Jharne ke paas mandir bhi hai, vo bhi achha hai dehne layak"
The word "jharna" immediately got my attention.
"Kitni door hai yahan se?" I asked
"2 kilometers mushkil se. Idhar se seedha nikal jao, aage jaake kisi se puchh lena" He told me and also pointed the way.
Also Read: Places to visit in Mcleodganj and Things to Do
The Waterfall
The tea stall owner just called it a "Jharna" and the rest of us too just referred to it as a "waterfall" for the rest of the trip. It was after returning home that I learned that it was known as Bhagsu Waterfall.
This waterfall is probably the most visited tourist place in all of Mcleodganj. It is located in the village of Bhagsu in upper Mcleodganj and can be reached by 3 kilometers long trek. Though the trek may sound a little long, it is actually more of a fun walk that even elders and children can complete easily. Starting from Mcleodganj, you will first reach Bhagsu Nag temple after 2 kilometers long trek and then continue walking to the waterfall for another 1 kilometer. It is in fact only the final stretch of this trek that can seem a bit difficult to some people but there are tea shops and small eateries along the trek where you can take short breaks.
The waterfall is about 20 meters tall and is known for its lush green surroundings and mesmerizing scenery. You can enjoy the pleasant walk, click pictures of the beautiful vistas around and take a dip in the waterfall. It is a perfect trek for people of all ages and groups. Most of the tourists end the trek at the waterfall and return to Mcleodganj from here but if you were up for it, then you can continue even further to Shiva Cafe; details on which I have covered further in the article.
The first Trek
I came back to the hotel and everyone was asleep still. For a while, I thought to wait for the others but then decided to go alone. As I was changing and getting ready, Rahul Khanna woke up. Once he found out where I was heading to, he asked me to wait and started getting ready himself. In a few minutes, first Shiraz and then Leena woke up and they too wanted to go to the waterfall.
At around 8:00 AM, the four of us stepped out of the hotel and started walking lazily towards the waterfall asking the locals for directions. It was a fun walk really. There weren't many people around because of two reasons. First is that it was early in the morning and second because it was the month of July which is off-season in Mcleodganj. The entire region is highly prone to heavy rainfall due to which not many people visiting during monsoon season. It took us about an hour and a half to get to the waterfall and within that short duration, it rained 3 times and got us all soaking wet. There were several small dhabas on the way where we stopped a couple of times to have some tea and Maggie.
There was this one place before the start of the trek, near the temple, where some local hawkers were selling handicraft items. Nothing too fancy, just some really cheap stuff. I really like one fancy looking dagger that I bought as a souvenir of the trip.
Sightseeing in Mcleodganj
Enjoying the rain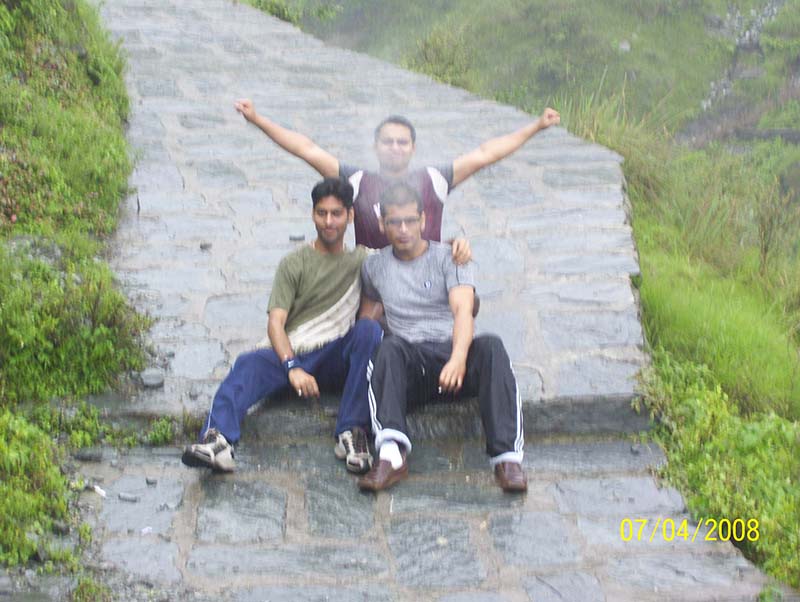 Camera, Umbrella and a Dagger. Behind me in the backdrop is the Bhagsu waterfall.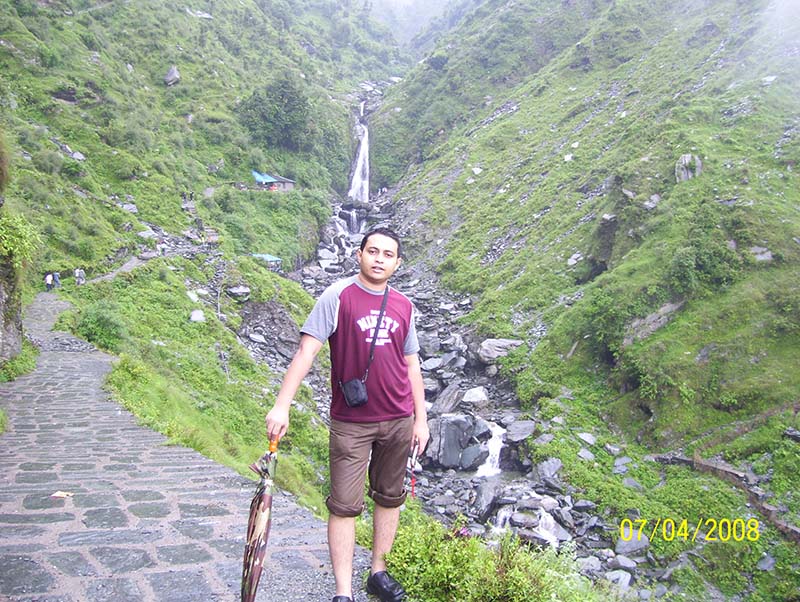 The group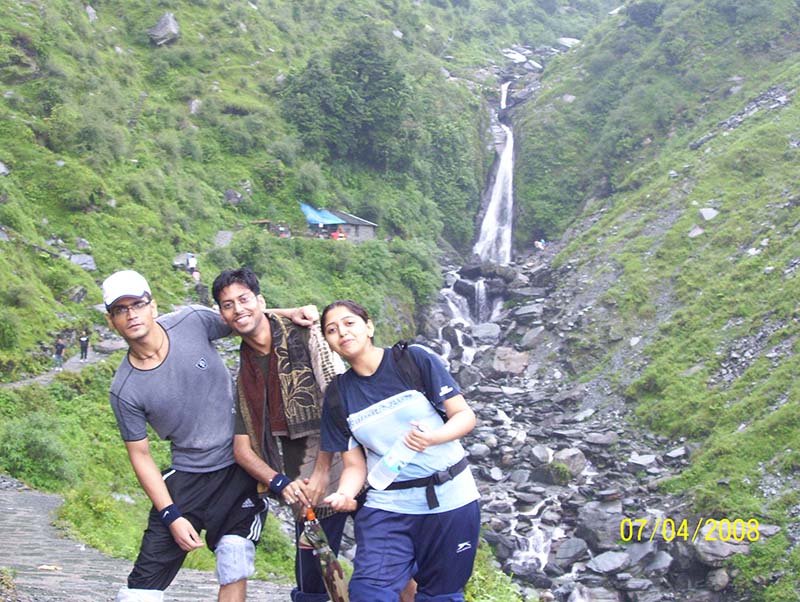 Back at the Hotel
We stopped for a while at the Bhagsu Nag temple on the way and reached back at our hotel at around 12 noon. It took us a while because we took too many breaks and spent almost an hour at the waterfall itself. For someone short on time, the trek to the waterfall and back can easily be done in a couple of hours.
Everyone was wide awake by the time we returned to the hotel and to my utter surprise; no one had gone anywhere at all. We were a total of 11 people in the group and all 7 of them were still in their beds, relaxing and watching TV. We had our lunch at the hotel only as none of us was in a mood to step out still. On top of it, it was still raining at regular intervals. After having a hearty meal, I started to feel a little sleepy and decided to take a short afternoon nap.
Also Read: When is the Best time to visit Mcleodganj
The second Trek
At around 4 PM, everyone decided to go to the waterfall again. The remaining 7 of us who had not seen the waterfall were very eager to see it now after hearing our description of it. I had already been to the fall in the morning but decided to go again since the entire group was going. This time it took us even longer to get there, about 2 hours I think because of way too many breaks. More than going to the waterfall, it was more like a group of friends having fun together; walking, laughing, stopping at almost every dhaba in between to order something and also climbing rocks.
Yep, that is me during our trek in the evening.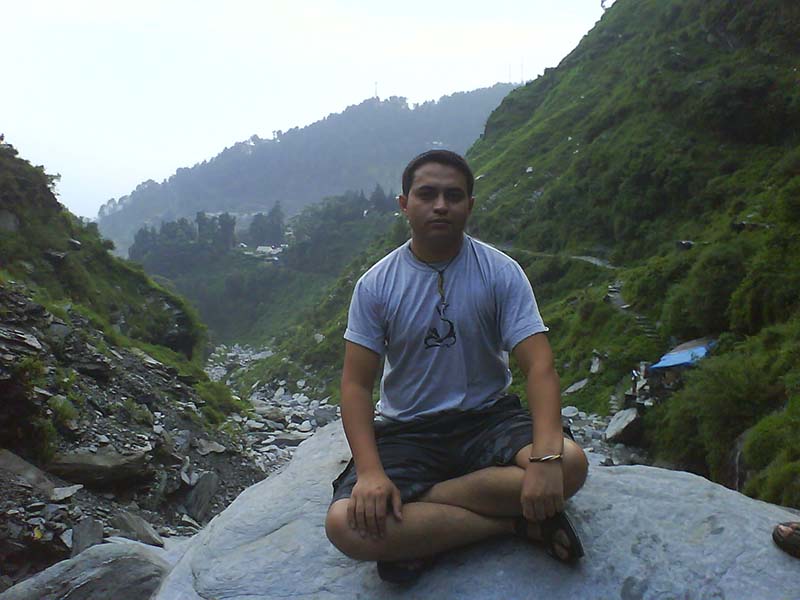 Plan for Day 3
While returned from the Bhagsu trek, I got talking to a local and asked him what else was worth sightseeing in Mcleodganj. He talked about a trek that was about 14 kilometers long but was worth every bit of it. The trek was supposed to take us to a point from where the views were paradisiacal. I now know that he was talking about the Triund but I did not know that back then. The local just kept referring to it as a trek or maybe he did say the word Triund and I did not understand.
Either way, he painted a picture of a place that we would have to make some effort to get to but is totally worth it. Our final decision? I asked Rahul and Shiraz about their thoughts and they immediately agreed to go for the trek. So our plan for Day 3 was finalized as going trekking early in the morning and returning by evening.
End of Day 2
We returned to our hotel just before it got dark. After a little bit of a rest, we stepped out for dinner at a fancy looking restaurant that I do not remember the name of now. At around 10 PM, we retired to our respective rooms and called it a day.
Please read Trekking to Triund – An Adventurous Fun to continue reading the next part of this travelogue. Below is a little information on Bhagsu Waterfall that can be of help to anyone visiting Mcleodganj.
Bhagsu Waterfall Location
You can reach the waterfall by following the Bhagsu Road east from the main square in Mcleodganj. Walk through the Bhagsu village, past the swimming pool, and then just keep following the signs to the start of the stairs that will lead you to the waterfall.
Bhagsu Waterfall Trek
The total distance of the trek to Bhagsu Waterfall is about 2 kilometers.
Bhagsu Waterfall Height
The total height of the Bhagsu Waterfall is about 20 meters.
Bhagsu Waterfall Shiva Cafe
Coming from Mcleodganj, you will first reach Bhagsu Nag Temple and then Bhagsu Nag waterfall. Most people return from here and you could too but if you are up for a bit more of trekking, then you can continue further to Shiva Café. It is actually just a small café that I guess just got famous because it was located close to the waterfall at a great location. Trekking to the cafe will have you walk on a not so well laid out path and it does get a bit rough at a few spots. But the location of the cafe and the food here will make it worth the effort. It is a good spot to sit and relax, have something to eat and click great pictures with a great background.
Also Read: Monasteries in Mcleodganj and Dharamshala
Bhagsu Waterfall Timings
You can visit the waterfall from 7 AM to 7 PM. I will, however, recommend that you do so with plenty of Sun in the sky and return back to the main town before it got dark.
Entrance Fee
The waterfall is not in an enclosed area and there is no entry fee involved.
Time Required
Trekking to the Bhagsu Waterfall and then back to the town will take you about 2 hours, depending on the breaks you take any time you spend at the waterfall.
Bhagsu Waterfall History
The Bhagsu Waterfall and the temple are always on top of the list of the places worth sightseeing in Mcleodganj. Apart from the natural beauty, there is also a very interesting history behind how the Bhagsu Nag temple and waterfall came to be. It is said that about 5000 years ago, this entire region was ruled by a certain king Bhagsu. He was a king as good and moral as they come and was loved by his people. His kingdom was prospering until a drought hit the region and lasted for several years. People pleaded to him to do something about the drought and the water supply, else they would be forced to leave the area and migrate elsewhere.
The King agreed to take every possible measure to end the drought and set off himself in search of water. He traveled for many days and several miles until he came across a Sacred Nag Dal (Lake). The lake was enormous in size and could very well end the drought in his kingdom. King Bhagsu, using magic and spells, filled the entire water of the lake in a tiny vessel and decided to return to his kingdom the next day.
Also Read: Triund Trek – How to Plan your Adventure
The Duel between King Bhagsu and Snake God
That night, the snake king Nag came to the lake and found it to be empty. While he was trying to figure out what must have happened, he found the footsteps of King Bhagsu and followed them to the spot where he was sleeping. On finding that the water of his lake was stolen by a Human king, the snake Lord was infuriated and challenged King Bhagsu in a duel. After a bit of fighting, King Bhagsu was defeated and the vessel he used to steal the water fell on the ground. The instant the vessel hit the ground; the sacred water started flowing from it and later came to be known as the Bhagsu Nag Waterfall.
King Bhagsu, after getting defeated in the duel, begged the Snake God to forgive him. Watching him plead and seriously wounded, the Snake God forgave and let him live. King Bhagsu was overwhelmed with the act of mercy and built a temple dedicating it to the snake god. Hence the waterfall and the temple are known as Bhagsu Nag. Bhagsu came from the name of King Bhagsu and Nag from the name of the Snake King.
Sightseeing in Mcleodganj – Conclusion
I hope the travelogue and information above on sightseeing in Mcleodganj and Bhagsu Waterfall was of help. Please read Trekking to Triund – An Adventurous Fun to continue reading the next part of this travelogue. If you have any questions; or need any other details; please feel free to ask in the comments section below; or at our Community Forum; and I will be glad to answer.