This article is in continuation with a previous one and part of my Mcleodganj Travelogue. Our entire trip lasted for a total of 4 days. It was one of my very first trips that started the whole traveling and blogging passion that finally resulted in this blog as it stands today. We traveled from Delhi to Mcleodganj on Day 1, spent day 2 sightseeing in Mcleodganj, went on the famous Mcleodganj to Triund trek on Day 3 and returned home on Day 4. Details of the third day of the journey are as mentioned further in this article. To read the previous part of the travelogue, please click on the link below.
Journey So Far: Sightseeing in Mcleodganj – Bhagsu Waterfall and Bhagsu Nag Temple
Trekking to Triund is considered to be the topmost tourist activity in Mcleodganj. In fact, Triund is probably what attracts half of the tourist population here. Climbing to the top of the hill and staying there overnight in a camp is indeed a memorable experience. Sadly for us, we were not aware of this as our research on either Mcleodganj or Triund was next to none. As we were preparing that morning for the trek, we had no idea what we were getting ourselves into or where were we headed. All that I knew was what I learned from the local I spoke to the day before; that it is a trek to a spot from where you get great views. And that is it.
Mcleodganj to Triund
Before I get further into the travelogue, let me first post a brief summary on what Triund is all about. I know all this now but had no idea 3 months ago when I undertook this trek.
Triund is a trekking destination located about 18 kilometers from Dharamshala and about 11 kilometers from Mcleodganj. Of this entire distance, only 7 kilometers is the actual trek, rest all can be covered by a motorable road. It is a large land of green grass which is the endpoint of this 7 kilometers long walk. This is the point from where you start trekking back to Mcleodganj. The spot sits at top of the mountain and provides a 360 degrees view of the valley around. There are a few campsites, dhabas, tea stalls and even an HPPWD rest house built here. So you can either walk back on the same day (if time allows) or you could stay at Triund for the night and trek back the next morning.
Mcleodganj to Triund Trek
Mcleodganj was my first trip to a hill station so yes; Triund was also my first trek ever. I had never been on a trek before and had no idea how I will do on one. All that I knew about myself was that I am a regular at the gym, can run about 5 kilometers easily, so walking an equal distance should not be a problem. I went on it with zero preparations, none whatsoever. That morning when I stepped out of the hotel with Rahul and Shiraz, I was wearing floater sandals, half sleeve T-Shirt, knee-length shorts and held only a camera in my hand. That is pretty much it. Below is a picture.
Also Read: How to Plan a Trip to Mcleodganj –  A Complete Travel Guide
Mcleodganj to Triund Trek Distance
The total distance of the trek is actually 7 kilometers but Triund top is about 11 kilometers from the main town. The trek starts from Gallu Devi Temple after Dharamkot. So an ideal way to do this is to board either a taxi or a rickshaw that can drop you to Gallu Devi temple. After the temple, the actual trekking will begin which will remain on the easier side for the initial 4 kilometers. It is only the last 2-3 kilometers of walk that will get a bit steep and difficult. The difficulty level of the trek will vary between easy to moderately challenging but it can easily be done by a person of average fitness.
Start of the Trek
I had no idea about any of what I stated above. This is the research that I did for writing this travelogue and after coming back from the trip. My two companions, Rahul and Shiraz, had no knowledge of the trek either. As a matter of fact, all three of us that morning started from the hotel wearing sandals, half-sleeve T-shirts and shorts.
We started our trek from the hotel itself. It was early in the morning at around 7 so there was hardly anyone around. We could have boarded a cab till Dharamkot or Gallu Devi temple but there was none that we could find that morning. Actually, we weren't even looking for one because we did not know anything about how long the motorable road will last or where the trek will begin from. We just stepped out of the hotel, asked a local about the trek and started walking in the direction he pointed.
About 15 minutes later, Shiraz decided to give up and return to the hotel. He was not feeling too well that morning and wanted to rest.  I did not push him too much either and decided to let him go back. So now it was just Rahul and I on the trek.
Also Read: Places to visit in Mcleodganj and Things to Do
Mcleodganj to Triund Top
Not much to write about this part really because not much happened but at the same time we had a lot of fun. We continued walking to Gallu Devi temple from where the dirt track starts. On and on we went with no idea of how far did we still need to go. Everyone we asked told us that the top was just around the corner. We did not mind though. The trek was fun and vistas were mesmerizing.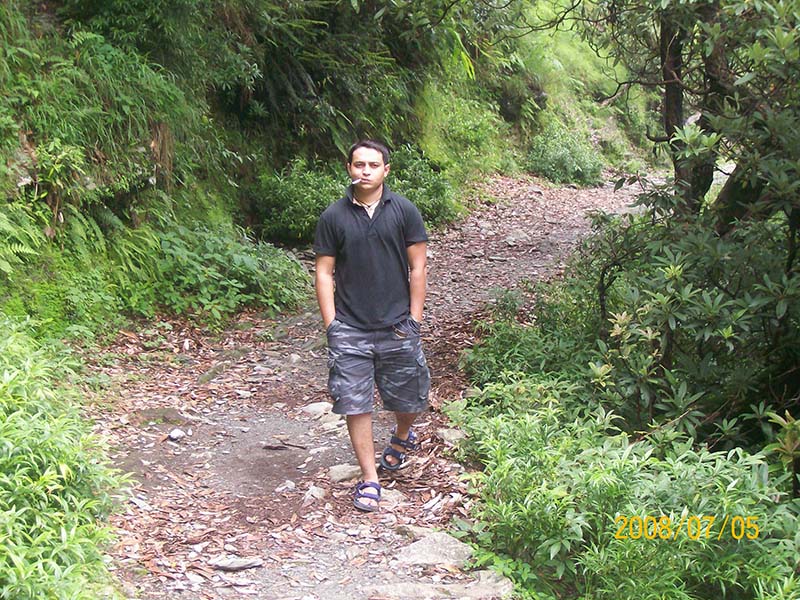 Yes, that is how I climbed Triund. With nothing but a packet of cigarettes in my pocket. There were several eating places en route where we stopped and had parathas or Maggie. One thing I would like to mention is that everything is very costly on the trek. If you order a plate of Maggie, it will easily cost you about Rs. 50. A 20 Rs. water bottle gets sold here for Rs. 60.
Also Read: When is the Best time to visit Mcleodganj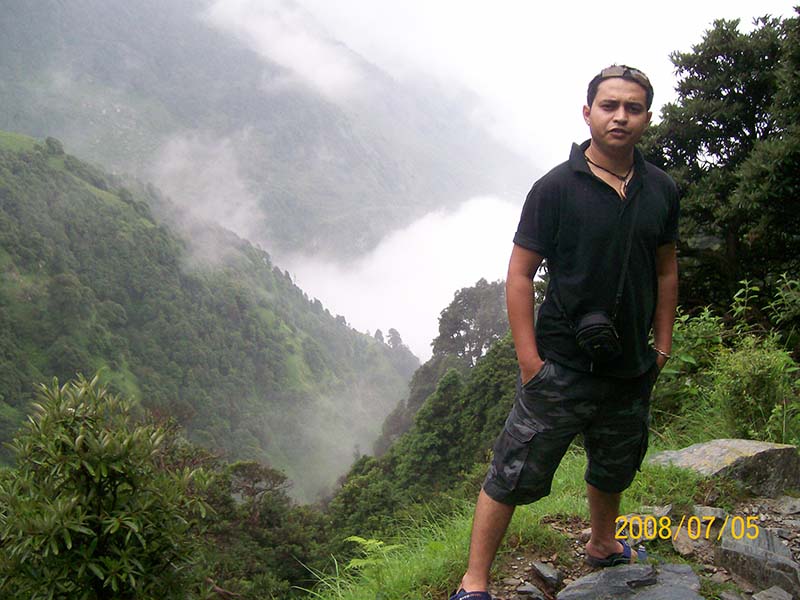 We clicked loads of pictures, took plenty of breaks and as a direct result, it took us about 6 hours to get to the top. That is correct. By the time we were standing at Triund top, the clock was showing slightly past 1 PM.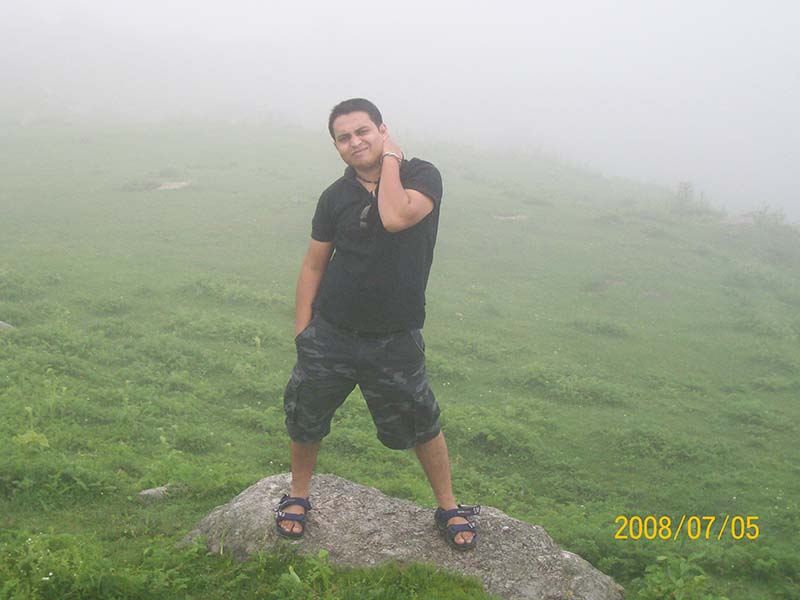 Triund Top
Triund turned out to be a huge disappointment. Not because it was not as beautiful as we heard but because it was all cloudy all around. There was nothing that we could see except for the white clouds. There were no great vistas that we were told, no mesmerizing valleys and no breathtaking scenery. Just a wall of white clouds everywhere.
We decided to wait for a while and ordered something to eat at one of the dhabas at the top. We were both dead tired by now; and hungry as well. What neither of us bothered to look at that time was a watch. We kept sitting there waiting for the clouds to clear for almost an hour and had quite a heavy lunch as well. Clouds however refused to move and after with our tummies full, we finally decided to start on our way back.
It had taken us 6 hours to get to the top which meant that we would have to hurry back in order to make it back to Mcleodganj before dark. It was about 3 PM when we started back and trust me when I say this, we literally jogged our way back. Sun was setting down quite fast and we started to do a mix of walking and jogging to finish the way faster.
Did we make it back in time? Yes we did. It was around 6 PM when we made it back to our hotel. So we made good time but at quite a big price. All the jogging on the trail wearing floaters ensured that both our feet got hurt several times and by night, my right foot was swollen so badly that I could not even put it inside a shoe.
End of Day 3
I retired to my room and rested for a while. We all stepped out of the hotel at around 9 PM and went to a nearby restaurant for dinner It was going to be our last night in Mcleodganj so we wanted to make the best out of it. We ate, talked, drank (for me just tea, juice and coke) sang and finally came back to the hotel well past midnight. Please click on the link below to read the last part of this travelogue.
Journey Ahead: Mcleodganj to Delhi – The Journey Home
Before we move on to the next article though, below are a few details about the trek that can be of help to anyone planning it in near future.
Mcleodganj to Triund by Car
There is no motorable road to Triund top and the 7 kilometers long trail can only be covered by foot. By Car, you can only make it as far as Gallu Devi Temple but will have to walk the rest of the distance.
Mcleodganj to Triund Trek Time
How long it takes for you to complete the trek will entirely depend on your speed and breaks you take. But on an average basis, from Gallu Devi Temple, it takes about 3 hours to reach the top and 2 hours to walk down. If you walked from Mcleodganj itself, time taken for Triund trek will easily be 6 to 7 hours to reach the top and12 hours for a return trip on the same day like it did for us.
Mcleodganj Triund Camping
Accommodation at Triund is available in the form of a Forest rest house and campsites but only in tourist season. During winter, both of these options become unavailable after it starts to snow and weather turns extremely cold. Where to stay will depend entirely on your personal choice but the majority of the people chose to camp here. You do not have to book in advance and will easily find a camp site on arrival.
The camp sites will charge between Rs. 500 to Rs. 700 per person. A tent big enough to accommodate 4 people will cost Rs. 1500 with sleeping bags. This does not include any meal charges and you will have to pay for the food separately.
If you want to try self-camping then you would either have to bring in your own gear or rent one from any sports shop in Mcleodganj. Problem with self camping is to carry all that gear to the top, then the hassle of setting and wrapping it up and you may not even get a good spot to camp because they are all mostly occupied already by campsite owners. I will rather suggest that you stay at a campsite only. It is not that costly and will save you a lot of trouble.
How to reach Mcleodganj to Triund
To better understand the way to Triund from Mcleodganj and for several other tips, I would recommend that you take a look at Triund Trek – How to Plan your Adventure. This post covers each and every aspect of trekking from Mcleodganj to Triund.
Conclusion
I hope the travelogue and information above on Mcleodganj to Triund Trek was of help. Please read Mcleodganj to Delhi – The Journey Home to continue reading the next part of this travelogue. If you have any questions; or need any other details; please feel free to ask in the comments section below; or at our Community Forum; and I will be glad to answer.