Spiti is a land of monasteries. These are essentially places of worship and every town and small village has one. The most famous of all the monasteries, however, are the Key Monastery, Tabo Monastery, and Dhankar Monastery. In my last article, I talked about Key Monastery in detail. Continuing in the same series, in this article, I will provide a detailed travel guide on Tabo Monastery.
After Kaza, Tabo is the second largest town in Spiti Valley. It has a wide variety of accommodation choices to pick from, due to which, it is a preferred stop for people traveling between Shimla and Kaza. From Tabo, you can also easily access other nearby places like Dhankar, Pin Valley, Demul and Lhalung Villages. It is also at a much lower altitude than other places on Spiti Circuit so in case you were feeling symptoms of altitude sickness, Tabo can be a great place to stay until you acclimatize better.
Please read How to Plan a Trip to Spiti Valley for a complete travel guide on visiting Spiti.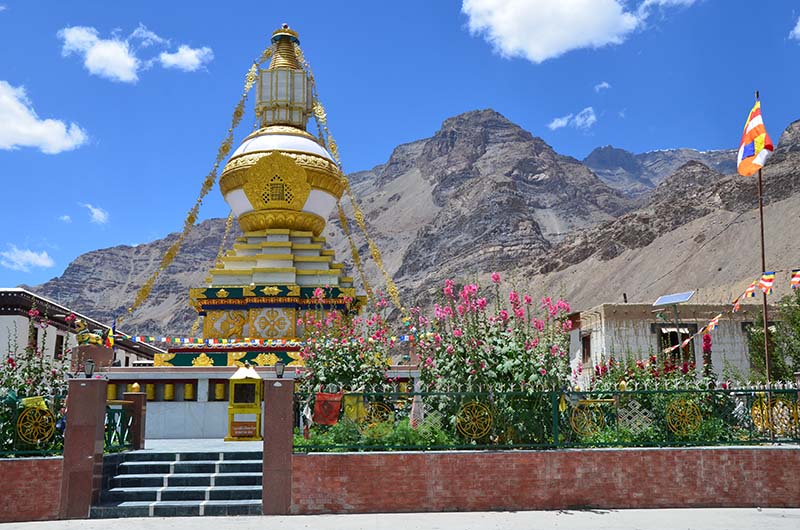 About Tabo Monastery
Tabo is best known for its monastery which is the oldest continuously operating monastery in all of India. The original monastery was first built in the year 996 CE and has been restored several times since then. The current structure was built after the monastery was severely damaged in the Spiti Earthquake of 1975.
Along with Key Monastery, Tabo Monastery is considered as a landmark in both Spiti Valley and Tibetan Buddhism. It is said that even the Dalai Lama has expressed his desire to retire to Tabo since he firmly believes that the Tabo Monastery is one of the holiest.
It is located at an altitude of 3,280 meters (10,760 ft) and is often called "the Ajanta of the Himalayas". Among its greatest treasures are priceless collections of Thangkas (scroll paintings), manuscripts, well-preserved statues, frescos and extensive murals that cover almost every wall.
There are currently 45 monks living in the monastery. All of its 9 temples and many stupas are made out of the mud and have been standing like this for its entire existence which is no less than a wonder in itself. Another unique thing about Tabo Monastery is that it is in a valley near the banks of a river whereas most of the other Buddhist monasteries are built on top of a hill.
Photography is not allowed inside the monastery but you can take pictures of the complex from outside. Many festivals are held here during which the monks perform traditional Chham dances. The most popular festival is the Chakhar Festival, held every three years in either September or October. It is dedicated to the peace and happiness of all.
Exploring the Monastery
Now let us talk a little about the highlights of the monastery and what you should be paying attention to while you are here. The monastery has been built like a fort with very strong walls. It comprises of a total of 9 temples, 4 decorated stupas, 23 chortens and monks quarters.  There is also an extension that houses the nuns' residence.
Surrounding the monastery complex, in the hills, are naturally formed caves that were used by monks for meditation in earlier times. These are known as cave shrines. Some of these caves get used even to date. There is also an assembly hall in the caves and some faded paintings on the rock face.
The 9 temples are as listed below.
The Temple of the Enlightened Gods (Tsug-Lha-khang)
The Golden Temple (Ser-Khang)
The Mystic Mandala Temple / Initiation Temple (Kyil-khor- khang)
The Bodhisattva Maitreya Temple (Byampa Chenpo Lha-khang)
The Temple of Dromton (Brom-ton Lha khang)
The Chamber of Picture Treasures (Zhal-ma)
The Large Temple of Dromton (Brom-ton Lha khang)
The Mahakala Vajra Bhairava Temple (Gon-khang)
The White Temple (Kar-byum Lha-Khang)
Also Read: A Complete List of Tourist Attractions in Spiti Valley
Temples in Tabo Monastery
Tsug-Lha-khang is the main temple of the monastery. It has an entry hall followed by an assembly hall. The main deity, Vairocana is shown seated on a single lotus throne on the back wall. Right behind the assembly hall is the sanctum where five Bodhisattvas of the Good Age are placed. The main hall at the center is studded with images of very good quality with bright colors. The temple also has a total of 108 Holy Scriptures that are part of the main display and weigh over 500 pounds.
The golden temple was once said to have been covered entirely with gold dust and even now, the walls and the ceiling fo the temple are covered with amazing murals.
The Mystic Mandala Temple, also known as the Initiation Temple is where the initiation of monks is held. The Bodhisattva Maitreya Temple has an image of the Bodhisattva Maitreya that is over six meters high. It is an ancient temple and probably the oldest in the monastery that was built in its first 100 years.
The Temple of Dromton lies on the northern edge of the complex.
Newer Temples
The above 4 temples are said to be the oldest and part of the original monastery plan. There are also 5 other and newer temples in the complex.
The Chamber of Picture Treasures hosts beautiful thangkas. Masks, weapons and ritual costumes of the monks are stored in this temple and it remains closed for visitors.
The large temple of Dromton is the second large temple in the monastery.
The Mahakala Vajra Bhairava Temple is also known as the temple of horror. It can only be entered only after ritual protective meditation.
Karbyum Lakhang (The White Temple) is considered by many to be the least of all the shrines.
Please note that except for TsugLhakhang, the other temples may remain closed and you you might need to ask an attendant to unlock them.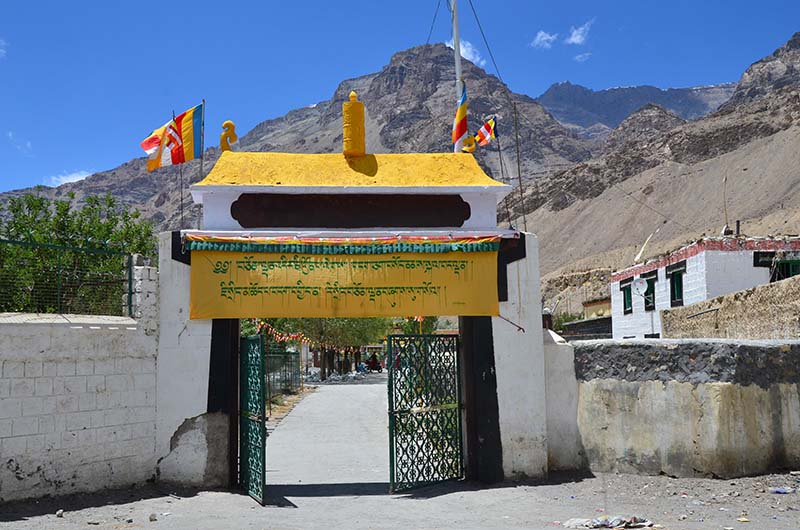 Monastery Museum
A new building is currently under construction as an extension to the old Gompa to house a collection of monastery's artifacts and historical photos.
Monastery Library
The monastery also houses a small library of several rare books on Tibet and Buddhism. All the books are in English and are a great read if you want to learn more about Tibetan Buddhism.
Stupas
There are several stupas located inside the monastery, of which, four are noted for their beautiful paintings. Two of these four stupas are dated to the 13th century.
Also Read: Clothes for Spiti Valley – What to Pack
Rock Carvings
These are some preserved rocks in a government complex behind the village school. All rocks have engravings on them. Symbols of Swastika, Om and animals are being carved out on the rock. I wasn't really sure if this was something ancient or from recent times but the fact that these were preserved indicated that the carvings were of importance.
Tabo Caves
Located in the hills around the monastery are the magnificent Tabo caves. There is some debate on whether these were made by the people of the village or did they just happen to be naturally. But for ages, these caverns have been used by the monks for meditation and prayers. These are visible from the village itself and are easily approachable after a 15 minutes' walk up the steps opposite the Vijay Kumar shop. The distance is about 200 meters but the walk is a steep one.
It is also believed that other than being used as assembly halls, the caves also served as a residence for the monks. Another theory states that the caves were in fact built by the travelers to spend the nights before the village was established. They are well developed inside with smooth floors and walls. The narrow entrance gives way to several small rooms with proper roofs and wide enough holes to allow sunlight and warmth to reach inside. It is truly a wonder not just in terms of architecture but also as a custom and tradition.
There are traces of herds, seats, grain storage, smoke, and ashes from cooking and heating fires which clearly suggests that some of the caves were even turned into houses. A number of caves were even once part of the old monastery complex. One building here protects a cave known as Phoo Gompa, with recently restored early murals.
Some of the caves are well maintained even to date and get used by the monks. The ones marked by a flag would indicate that there is a lama meditating inside. Even if you have no interest in the caves, I will still recommend walking up to them to enjoy the view of the river, the village, and the valley.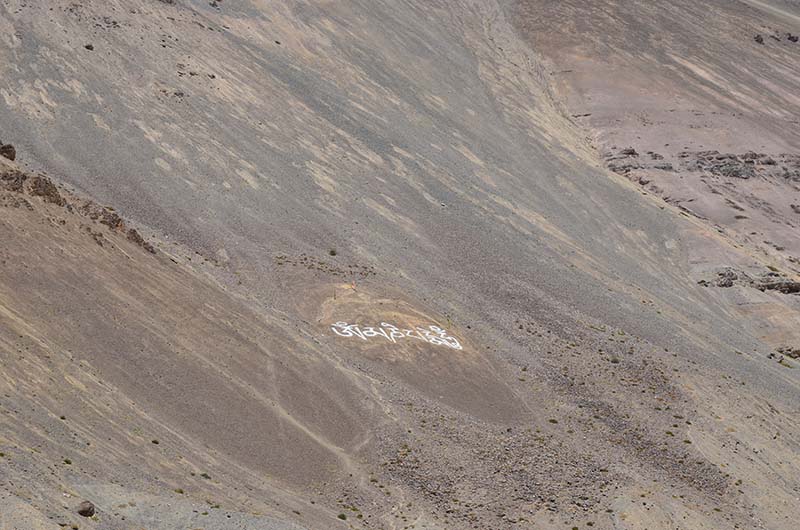 Festivals Celebrated
There are several festivals held in the monastery each year. The masked dance by the Lamas, known as Cham Dance, is the highlight of all the festivals.
The most popular festival celebrated in Tabo is the Chakhar Festival, dedicated to peace, happiness and prosperity for all. This is held every three years in September or October.
Also Read: List of Festivals Celebrated in Spiti Valley
Best time to visit Tabo Monastery
The best time to visit Tabo Monastery is from late May to September, which is also the best time to visit Spiti Valley. Both the roads to the valley remain open in these months and you can reach Tabo either via Shimla or Manali. The weather too remains pleasant with warm days and moderately cold nights. Since it is the peak tourist season, you will also not have any problem finding a place to stay. Along with Tabo, you can also include all other tourist attractions in Spiti Valley in your itinerary if traveling during this period.
Weather
Not just Tabo but the weather of the entire Spiti Valley is very cold and unpredictable. Summers here are short and last only from May to August. During this time, the average temperatures range from −5 °C at night to 20 °C in the day.
Spiti is in a rain shadow area so it does not rain here and even if it does, it is almost next to none. The nearby areas of Kinnaur and Manali, however, receive heavy rainfall each year. Landslides caused by incessant rains in July and August are very common which sometimes even results in loss of life. So please check the weather forecast before planning a trip during the monsoon season.
Winters in Spiti valley are very long and harsh. The average temperature remains around −15 °C in the day to −30 °C in the nights. The entire valley gets buried under a thick sheet of snow and everything freezes. Even the water in the pipes freezes making running water a luxury. Electricity can remain gone for days and life becomes extremely difficult.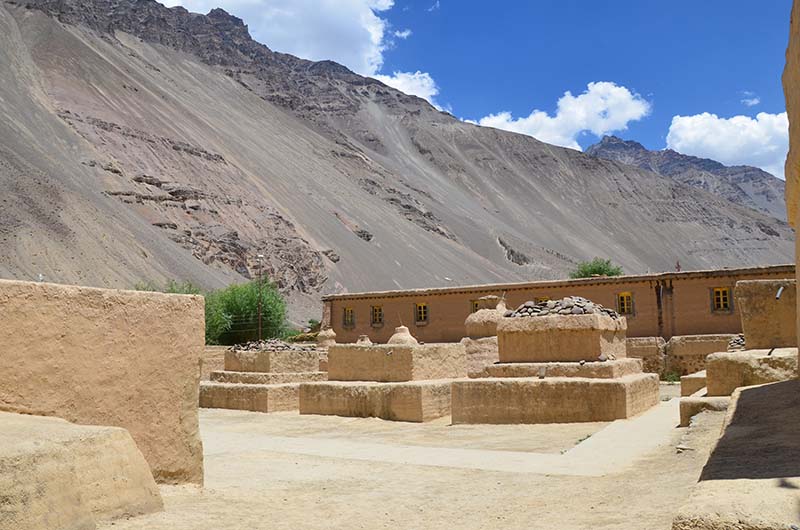 Where is Tabo Monastery Located
Tabo Monastery is located in the village of Tabo in Spiti Valley. It is at a distance of 360 kilometers from Shimla, 250 kilometers from Manali and about 50 kilometers from Kaza.
How to reach Tabo Monastery
In order to get to Tabo Monastery, you will first have to reach Tabo Village. Depending on your time of travel, this can be done in two ways. You can either start your journey from Shimla and travel to Tabo via Narkanda, Rampur, Pooh, and Nako. Or you can start from Manali and reach Tabo via Rohtang Pass, Kunzum Pass, and Kaza.
By Road
The road from Shimla remains open for all 12 months except for peak winters when heavy snowfall may block it temporarily for a few days. If you were coming from Delhi, it will take you at least 2 days to get to Tabo with night halt at Narkanda or Rampur on Day 1.
The second route is via Manali but that takes you across the passes of Rohtang and Kunzum. In the winter season, both these passes receive about 50 ft of snow due to which the road gets blocked. You can travel by this road only from late May to early October.
An ideal way to complete the journey is to travel via Spiti as a circuit. You should start from Shimla, cover Kinnaur Valley, arrive at Tabo, visit Spiti Valley and exit via Manali.
For more details on this topic, please read How to reach Spiti Valley
By Bus
There is a daily Bus from Shimla and Reckong Peo both that can drop you at Tabo. The bus from Shimla starts at 6.30 PM and reaches Kaza the next morning at 6 AM. Another Bus starts from Reckong Peo at 6 in the morning and reaches Tabo by afternoon.
The Bus from Manali starts at 6 AM and reaches Kaza by evening. From Kaza then, you will have to look for an alternate mode of travel to cover the last 50 kilometers to Tabo.  For more details, please read Spiti Valley Bus Schedule.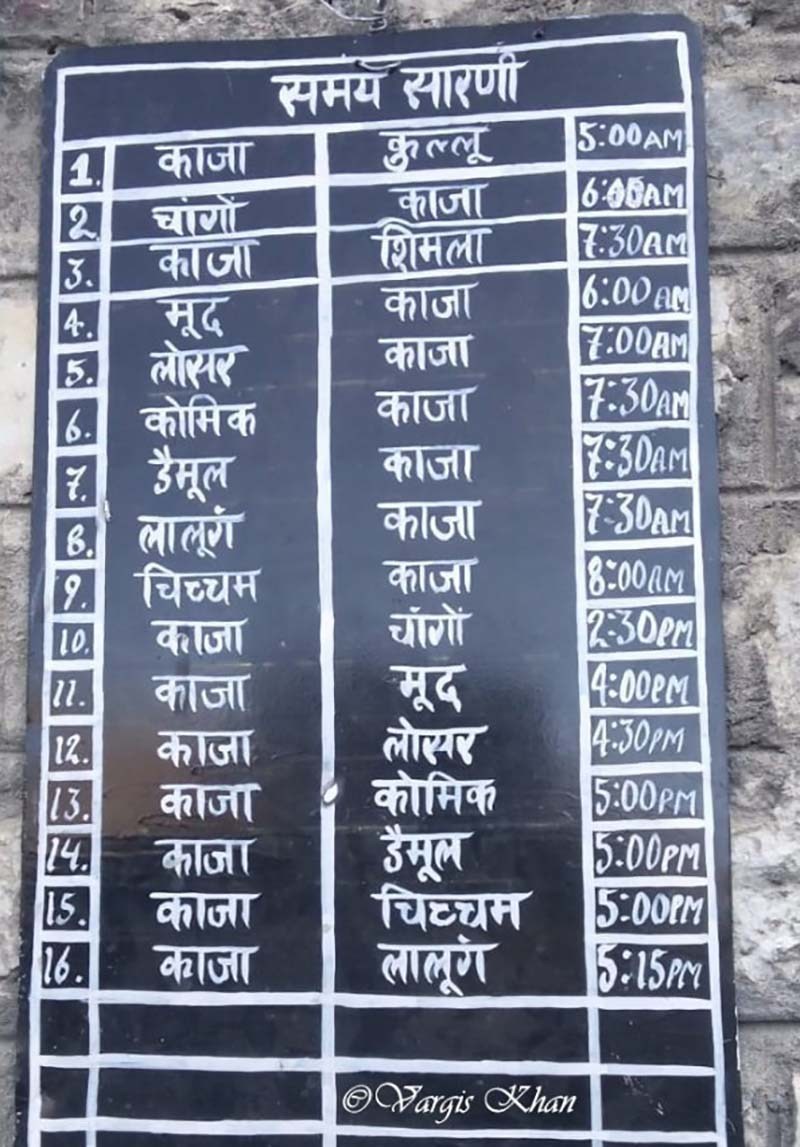 By Air
Shimla is the nearest airport for someone coming from Shimla. If you were traveling via Manali then Bhuntar Airport in Kullu will be the closest on.
Both these airports, however, have limited flights. A better way would be to fly into Chandigarh instead and then travel to Tabo from there either by Bus or taxi.
By Train
The nearest railroad is in Shimla but it is a narrow-gauge track, connected by the famous Shimla – Kalka Toy train. After Shimla, Chandigarh is the next nearest railroad.
For anyone traveling by air or train, Chandigarh will be the best bet. You can easily get a bus from here for Spiti Valley or you can rent a taxi from right outside the airport or railway station. Buses too are easily available from Chandigarh for Shimla and Reckong Peo.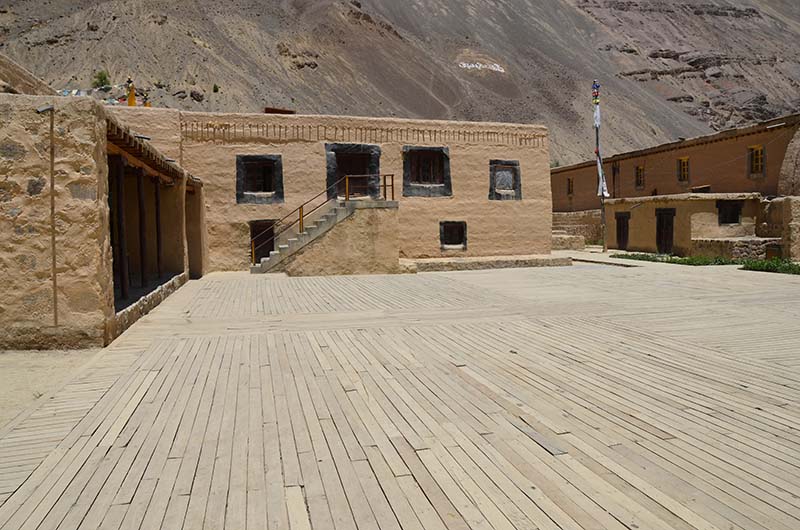 Where to Stay near Tabo Monastery
Great experience would be to stay in the monastery itself which is also very budget-friendly. The monastery offers accommodation at very reasonable rates. A lot of people traveling on Spiti Circuit stay here for a night to observe Buddhism, the lives of the monks living here and to learn something new as well.
Just talk to the monks and they will show you a place to stay. Please note though that the accommodation will be very basic and you may not like it. So before you decide to check-in, take a look around. You definitely do not want an uncomfortable night in such cold weather.
If not the monastery, then there are several hotels and guest houses here and most of them are right there on the main highway and around the monastery. Just take a look around in the village and find one that suits your need and budget.
A lot of people like opting for a homestay rather than a hotel. It allows them to stay with a local in their house and experience the local culture better. There is one called Tabo Homestay close to the monastery complex that I know to be good. It is owned by a guy called Sonam and he is a humble person. Another one I have been recommended is Phuntsok Homestay. You can contact them at 09418576181. There is another called Namsay Homestay that a friend of mine recommended. You can contact them at 09418600825.
In terms of budget, irrespective of whether you stayed at a hotel, guest house or homestay, expect the price to be around Rs. 1500 to Rs. 2000 per day. If you are staying at a homestay, please clarify first whether their tariff includes meals or not and if yes, then how many.
Eating
The food here is average at best. There are several restaurants in the town with catchy names like Tiger's Den, Kunzom Top, The Third Eye but in terms of food, there is nothing special. Even at the homestays, the food was just about OK. Keep your expectations low in this aspect.
The monastery does not have any arrangements for meals. So if you were staying there, you will need to eat outside only. If you were lucky, you may get invited by the Lamas to join them for the dinner.
Also Read: Homestays of Spiti Valley
Timings of Tabo Monastery
Tabo Monastery remains open from 6 AM to 6 PM every day including Sundays and other public holidays. The Morning Prayer begins slightly after 6 AM.
Entry Fee
There is no entry fee for Tabo Monastery however, donations are welcome.
Permit Needed for Tabo Monastery
Indians do not need a permit for traveling to Spiti Valley. Foreign nationals, however, will need to procure a permit that can be obtained from Shimla, Manali or even Kaza. For more details, please read How to Obtain an Inner Line Permit for Spiti Valley.
Conclusion
I hope the information above on visiting Tabo Monastery was of help. If you have any questions or need any other details, please feel free to ask in the comments section below, or at our Community Forum, and I will be glad to answer.