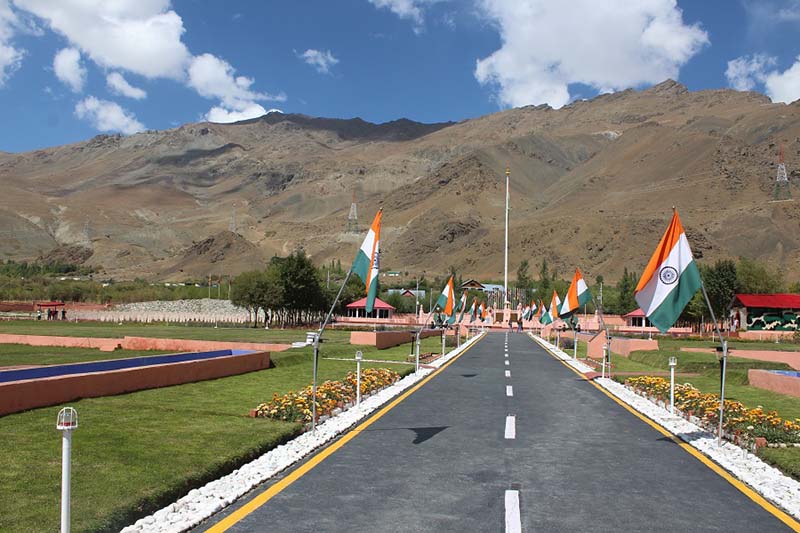 Kargil War Memorial is one of the biggest attractions not only on Srinagar Leh Highway but also in all of Kashmir and Ladakh. There is hardly anyone who passes it by without stopping here and paying their respect. In fact, a lot of tourists from Kashmir reach Kargil only to visit the war memorial, without any intention of going any further to Leh or Zanskar.
Built to commemorate the 1999 Kargil War between India and Pakistan and to honor the soldiers who sacrificed their lives, this monument is a beauty in itself. Standing proud amid the beautiful snow-capped mountains of Kashmir, it is now an important landmark and a major tourist attraction of Srinagar to Leh road; receiving tens of thousands of visitors each year.
In this article, I will provide a brief travel guide on Kargil War Memorial, including details like how to reach, where to stay and what else to see.
Where is Kargil War Memorial
Kargil war memorial is located in the town of Dras, on Srinagar Leh highway. Because of its name, people tend to believe that is located in Kargil which is not correct. It is named so after the war but it is actually located near Dras, in the foothills of the Tololing Hill, and about 65 kilometers from Kargil.
About Kargil War Memorial
After the war of Karil in 1998-99, the foundation of the memorial was laid in the year 2000, to honor the soldiers who lost their lives during Operation Vijay. Over the next few years, several infrastructural improvements were made. The current memorial in its present form was constructed by the Indian Army in 2014.
A large national flag, weighing 15 kg and measuring 11.4 by 7.6 meters, was hoisted at the Kargil war memorial on a 30-meter (100 ft) flag pole in 2012 to commemorate the 13th anniversary of India's victory in the war.
Exploring Kargil War Memorial
Due to its location and easy accessibility, Kargil war memorial receives a lot of visitors each year. It is now one of the prime tourist attractions of Kashmir.
Inside the memorial, the central feature is a pink sandstone bearing a brass plate. Engraved on the plate are the names of the soldiers who died during the war. You will also find several captured Pakistani war equipment and gear are on display.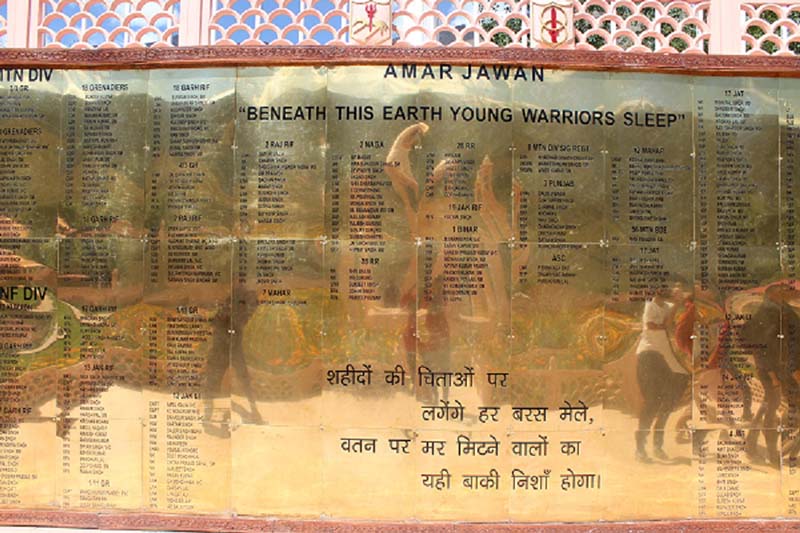 An Indian Air Force fighter place sits royally inside the premises for visitors to see it up close and click some pictures with it. Some of the other things you will see here are army emblems, war document archives, and miniatures of the Himalayan mountain range.
At the entrance of the memorial, a poem "Pushp Kii Abhilasha (Wish of a Flower) by Makhanlal Chaturvedi, a renowned 20th century Hindi poet, is inscribed on the gateway of the memorial to greet visitors.
There is a special war gallery named after the brave Captain Manoj Pandey who lost his life in the war and was awarded Param Vir Chakra posthumously. The gallery features photographs and seized Pakistani weapons from the war.
The giant Indian Flag is also something that you should see. It is among the largest flags hoisted all over the country. A small film is also played at the memorial for tourists, depicting the events of the war and the efforts that went into winning it.
Also Read: How to Plan a Trip to Leh Ladakh
Other Places to Visit
What else to see will entirely depend on your itinerary. But below is a list of some other places that you can visit if you were planning on spending some time in Dras.
Tololing Peak
The war memorial is built right at the foot of Tooling Hill. This mountain is a dominant position overlooking the Srinagar Leh route and the Battle of Tololing was pivotal in the Kargil War. The three weeks long assault ended in the peak getting recaptured by the Indian Army and changed the course of the war.
Tiger Hill
From the memorial, you also get a clear view of the Tiger Hill, also known as Gangz La. At the height of 5,062 meters (16,608 ft), it is the highest peak in the sector and can also be used as a surveillance point onto other nearby peaks. From the top of the mountain, you can see pretty much everywhere in the valley, including the headquarters of the Indian Army unit in the area.
Pakistani soldiers occupied this mountain and made their bunkers on top of it. From here, they could directly fire artillery guns on Srinagar Leh highway, thus hindering the movement of the Indian Army. Recapturing this peak was one of the toughest missions of the Kargil war and a lot of Indian soldiers sacrificed their lives in the effort.
Also Read: How to Plan a Trip to Gulmarg
Mushkoh Valley
Mushkoh Valley is one of the least explored regions of Kashmir. It is located about 8 kilometers from Dras and has a breathtaking landscape with Dras River flowing right through it. The lush green meadows of the valley are dotted with different varieties of flowers.
The only people to live in the valley are a handful of villagers involved in farming and sheep rearing. This valley is from where the Pakistani Troops entered Kashmir. They crossed LOC, walked through Mushkoh valley, and made bunkers on top of the mountains.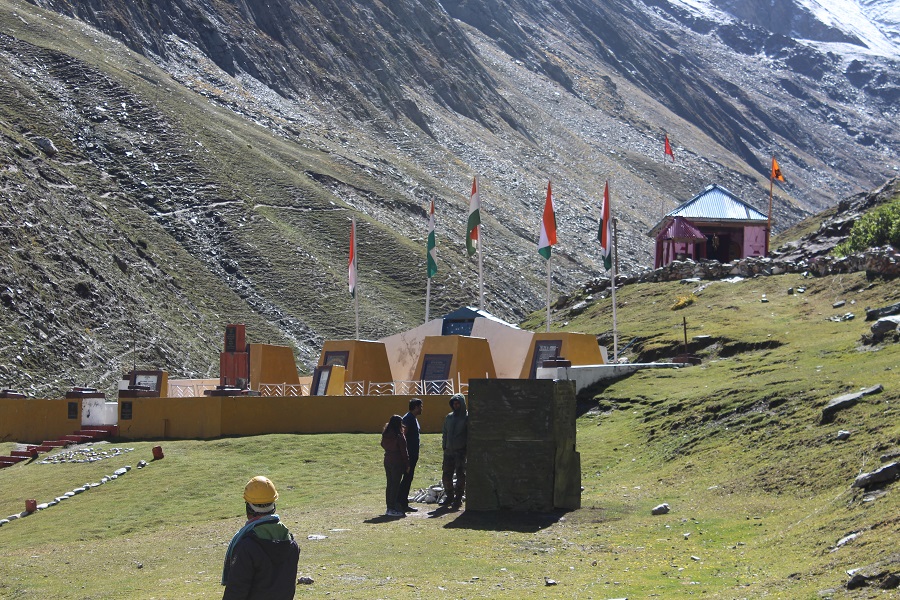 Draupadi Kund
At an altitude of 3,300 meters, it is also one of the least known and visited lakes in the region. The lake is named after Draupadi of Mahabharat. It is said that this lake is where she bathed for the last time before finally ascending to the heavens. There is also a small temple near the lake built in the honor of Draupadi.
The lake is located near the village of Pandaras (named after the 5 Pandavas), at a distance of 17 kilometers from Drass. The best part is that there is a motorable road right to the lake and you do not have to trek or walk at all.
Another belief about the lake is that drinking its water can help couples conceive.
Bheem Bat Rock
Also known as Bhimbet, Bheem Bat Rock is a horizontal rock sculpture believed to be the solidified body of Bheem ( of Pandavas). It is located at a distance of 5 kilometers from Drass and can be reached by road.
Manman Top
Manman Top is located at a distance of 10 kilometers from Dras. It is a viewpoint where you can get a panorama of the entire Drass Valley and the line of control.
Also Read: Tourist Places to visit in Pahalgam
Tololing Waterfall
It is a waterfall located under the rocky mountains of the Tololing Hill, at a distance of 10 kilometers from Dras.
Ningoor Masjid
This mosque is located in the village of Bhimbet and considered to be highly sacred. It believed that this mosque has God's special blessings. One wall of the mosque is said to have raised naturally on its own during the construction.
Tsochak Lake
This lake is located about 15 kilometers from Dras, at an altitude of 15,420 ft. It is a freshwater lake and is one of the hidden gems of Kashmir.
These are some of the most popular tourist places that I have listed. The fact however is that the entire Srinagar Leh Highway and Dras region is an endless list of tourist attractions. You can spend days here and will probably still not be done with it. If you are interested to read more, please take a look at Tourist Attractions on Srinagar Leh Highway.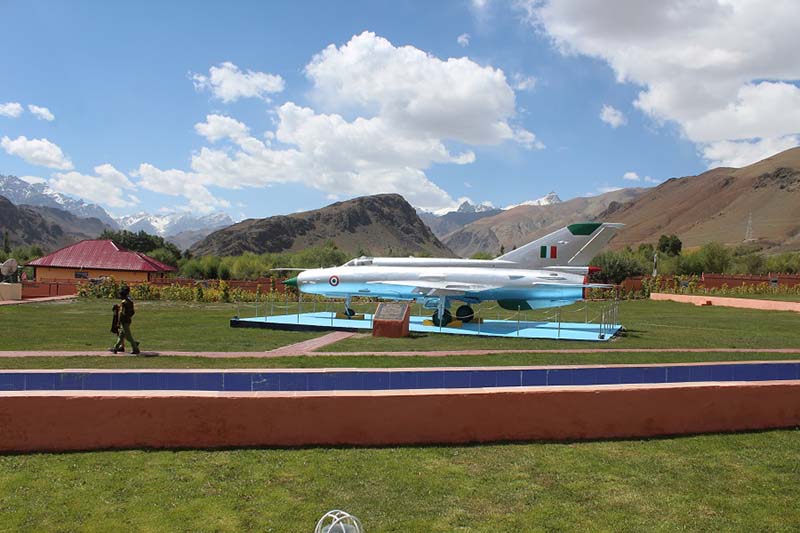 How to Reach Kargil War Memorial
Let us take a look at how to go to Kargil war memorial. The best mode of travel will be your privately owned vehicle and the easiest way will be via Srinagar. But depending on your preference and itinerary, there are also other ways that you can opt for.
To explain the route below, I will assume Delhi as your starting point. Even if you were coming from a different place, the information below should still be able to help you understand the journey.
How to reach Kargil War Memorial from Delhi
Kargil can be reached either via Srinagar or Leh. If you only intended to visit the war memorial, then Srinagar is where you want to reach first. This way, it will become a part of your Kashmir trip itinerary.
From Srinagar, Dras is at a distance of about 140 kilometers and the journey can easily be completed in 4-5 hours. On the way, you will also be covering the beautiful town of Sonamarg and the mighty Zojila Pass.
To go via Leh makes sense if you were including Kargil War memorial in your Ladakh itinerary. You can take the Manali route to reach Leh first and visit all the places in your itinerary for Ladakh. For your return journey home, travel on the Srinagar Leh highway and cover Kargil War memorial on the way.
By Public Transport
The same journey that I explained above can also be done by public transport. JKSRTC operates regular buses on the route that you can board from both Srinagar and Leh. There is a daily morning bus from Srinagar to Kargil that can drop you at Dras by noon. From Leh, the bus starts at 2 PM and will drop you at Dras by 10 or 11 PM in the night.
By Taxi
If Bus was not convenient, you can also look for a shared taxi which is much more frequent and even more comfortable. You can get the cabs from Leh Bus stand and tourist reception center in Srinagar. A taxi will charge a little more than the bus but will be much more convenient.
Private taxi, of course, will be the best option if within budget. From Srinagar, a taxi for Kargil War Memorial will cost you Rs. 5000 for a drop and Rs. 8000 for a return journey on the same day.
From Leh, this will cost you much more because the journey cannot be done in a single day. You will have to break it at Kargil for at least one night and it will cost you about Rs. 12000 in total.
By Air
The nearest airport to Kargil War Memorial is in Srinagar, at a distance of 160 kilometers. After that, the second closest airport is in Leh, at a distance of 270 kilometers. Both of these airports have daily connecting flights to other major airports in India, including Delhi. From Leh or Srinagar, you will have to reach Dras by road, as I explained above.
Traveling by Train
The nearest railway station to Dras is in Jammu, at a distance of 412 kilometers. From Jammu, it will become a two days journey to the war memorial with a night halt at Srinagar. Depending on your convenience and budget, you can travel either by public transport or private taxi.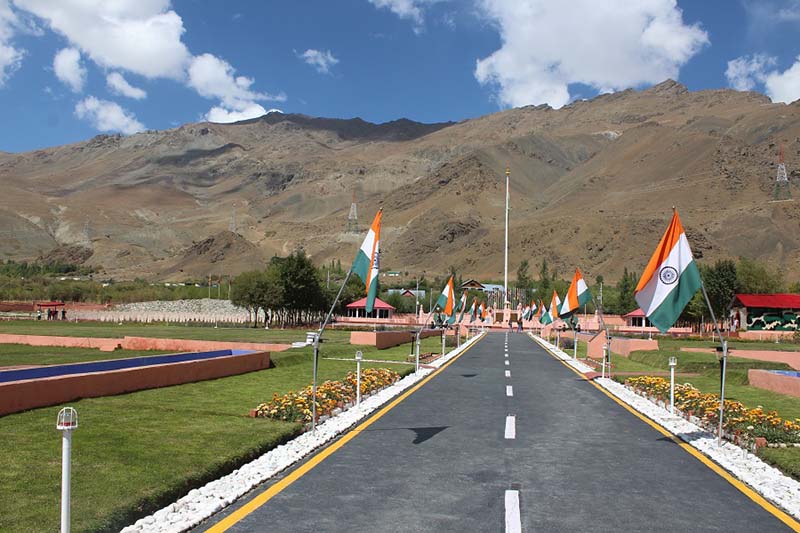 Best time to visit Kargil War Memorial
The best time to visit Kargil War Memorial is from May to October. This is when the road to the memorial remains open from both Srinagar and Leh side. The weather too at this time is pleasant with moderately warm days and pleasantly cool nights. Since it is the tourist season, you will also have no problem finding a mode of transport to get to Dras or a place to stay there.
From November to April is when the entire region receives heavy snowfall. Zoji La gets blocked sometime in November after which, reaching Dras from Srinagar becomes impossible until Mid-April. At this time, the only way to reach the war memorial is to first get to Leh by flight and then travel from there by road.
Dras is among the coldest places in the region and the temperature drops here drastically during the winter season. Due to this, even the locals abandon the area and move to a lower altitude for a few months. So if you reached here during peak winter, chances are that you may not also find a place to stay. For more details, please take a look at When is the Best time to Travel on Srinagar Leh Highway.
Hotels near Kargil War Memorial
Dras is a major tourist destination in Kashmir. The place is highly scenic and receives plenty of tourists each year. There are several hotels in the town where you can stay. If not in Dras, you can also stay in nearby Sonamarg or Kargil. If you were short on time, the best option would be to stay in Srinagar and make a day trip to Kargil War Memorial.
Where to Eat
For someone who is fond of food, this place is truly a paradise. If you were a non-vegetarian, you are in for a treat. Some of the best tasting food that I have ever had in my life was in Sonamarg and Dras.
There are several restaurants and dhabas available, both in Dras and on the way. Some of the restaurants even have budget rooms available. They run the restaurant on the ground floor and have rooms on the first floor. Irrespective of whether you were staying here for the night or making a day trip, you will have a problem finding a place to eat. For more details, please read The Best Foods to Try in Kashmir.
Mobile Network
BSNL has the widest coverage in Kashmir and Ladakh, followed by Airtel and Jio. If you were coming from Srinagar, you will have full connectivity until Sonamarg, irrespective of which network you were on. Once you cross over Zoji La pass, you can hope to get a network with only BSNL. Any of the other networks will not work here.
If you were coming from Leh, then you will lose connectivity a few kilometers out of the town. In Kargil, you will get network again with BSNL and Airtel but will be off the network again as you start driving towards Dras.
Conclusion
I hope the information above on Kargil War Memorial was of help. If you have any other questions or need any further details, please feel free to ask in the comments section below, or at our Community Forum, and I will be glad to answer.