Well, first of all, photography is not really allowed at Shipki La so I do not have any pictures to share in this post. Even if I could manage to get a few shots somehow, I can't really upload them here and then get in trouble. More than trouble, I think it is a matter of respecting the rules laid down by the Indian Army. If they do not want people posting pictures of the Shipki La pass, we too shouldn't.
So this post is really an information download more than a visual treat. The only pictures that I clicked and will share here are the ones from on the way. I do not have any pictures of the pass because you can't take your camera out there and click photos.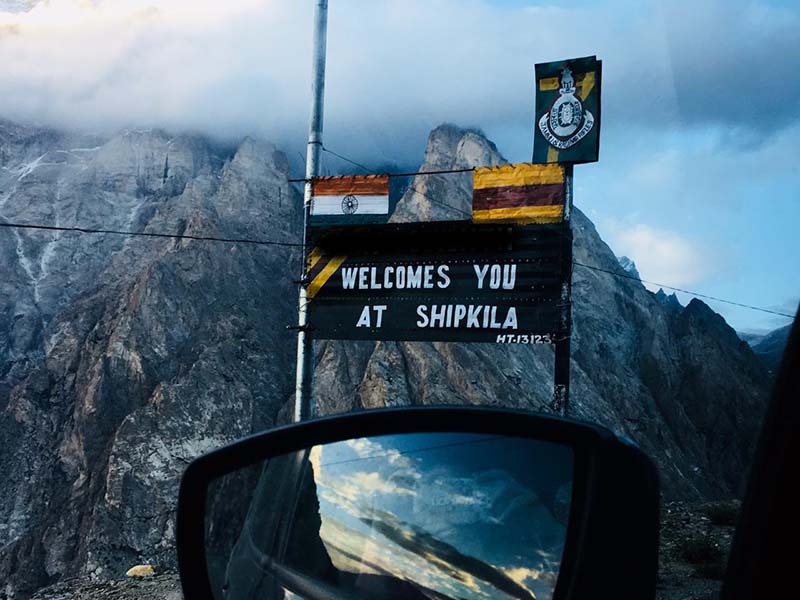 Shipki La Pass
Shipki La is a mountain pass located in the Kinnaur district of Himachal Pradesh. The Pass is also a border post as the road here crosses over from India to China. It is the east end of the historical Hindustan Tibet Road so when you are at top of Shipki La, you are literally standing at the border. A little further and you would have entered China and this is why civilian movement and photography are prohibited at Shipki La.
The elevation of the actual pass is 3,930 meters (12,894 ft). There is a spur road on the Indian side of the border that actually rises even higher than the pass, to an altitude of 4,720 meters (15,490 ft). A few years ago, the elevation of this spur route was mistaken to be well over 18,000 ft. Due to this confusion, for a brief period, Shipki La was incorrectly thought to be the highest motorable road in the world.
Also Read: Spiti Valley with Family – How to Plan a Safe Trip
Where is Shipki La Pass Located
Shipki La pass is located in the upper reaches of Kinnaur Valley, slightly before the villages of Khab and Nako. It is often considered to be in Spiti Valley but that is incorrect. Until the village of Nako, it is the Kinnaur District and Spiti starts after you have crossed Nako. The pass falls on the Spiti Circuit but not exactly in Spiti Valley.
How to reach Shipki La
Let us first talk about how you can reach Shipki La pass and then I will tell you whether you can or not; and if you can then how. For the sake of explaining the route, I will assume that you are starting from Delhi.
Shimla to Shipki La Pass
Shipki La can be reached via either Shimla or Manali. If you went via Shimla, you will cross the entire Kinnaur Valley, travel on the Hindustan Tibet road to arrive at Shipki La pass. The route, in this case, will be like below.
Delhi – Ambala – Shimla – Narkanda – Rampur – Pooh – Shipki La
The total journey will be of 650 kilometers and will take you at least 3 days to complete. From Delhi, you will first arrive in Shimla on Day 1 and stay overnight. On Day 2, you will start from Shimla and will break the journey in Reckong Peo or Kalpa.
On Day 3, you will start from Peo in the direction of Nako. You will cross Pooh and about 2 kilometers before Khab bridge, you will reach this spot.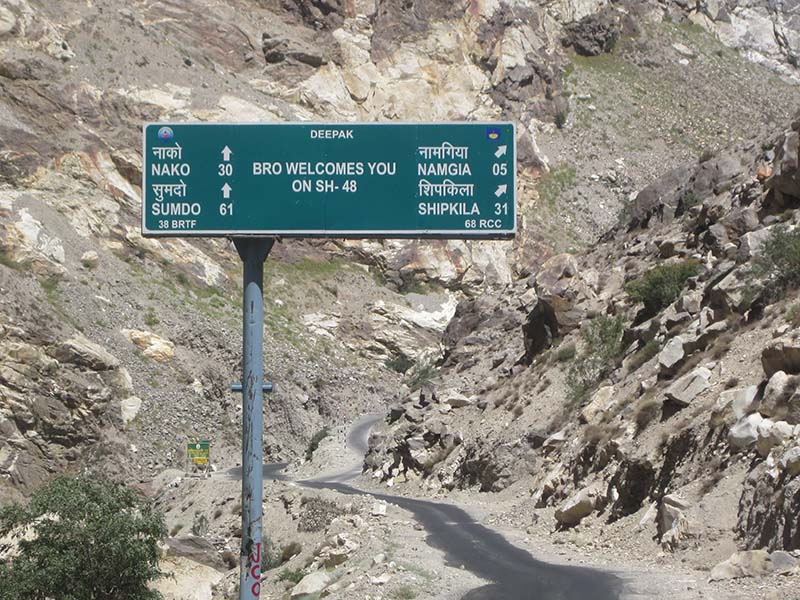 If you went straight, you will reach Khab Bridge, where Sutlej and Pin Rivers merge into each other. But if you turned right, you will drive for 30 kilometers to reach Shipki La top.
Manali to Shipki La
If you, however, went via the Manali route, you will cross the entire Spiti valley on the way before arriving at Shipki La. The route, in that case, will be like below.
Delhi – Chandigarh – Manali – Kunzum Pass – Kaza – Dhankar – Tabo – Nako – Khab Bridge – Shipki La
This also will be a 3 days journey but the total distance will increase to about 900 kilometers. You will reach Manali from Delhi on Day 1 and stay overnight. On Day 2, you will cross the passes of Rohtang and Kunzum and reach Kaza. From Kaza, you will then drive through Dhankar, Tabo, and Nako on Day 3 to reach Shipki La.
In this case, you will be coming from the other direction and take left, as per the route I posted a picture of above.
Also Read: Bike Trip to Kalpa | Delhi to Kalpa Road Trip
Shipki La Pass Permit
There are two different types of permits required for visiting Shipki La. The first one is from the DC office in Reckong Peo and the second one is from the ITBP Commanding officer in Pooh. You will first have to get the permit from Peo and then from Pooh.
The permits of Shipki La Pass are not issued to civilians unless you have a very strong reason to visit, period. There is really no other way of putting it.  As I mentioned previously in the article, standing at Shipki La means you standing at the India-Tibet border; and civilian movement is not allowed here for this reason.
As a matter of fact, it is the Shipki La pass itself due to which the foreigners traveling in the region are required to get an inner line permit for Spiti Valley. As you pass through the road between Pooh and Khab, you are hardly 40 kilometers from the border and as such, foreigner movement is not allowed on the route unless they have procured a permit from either Shimla, Manali, Reckong Peo, or Kaza.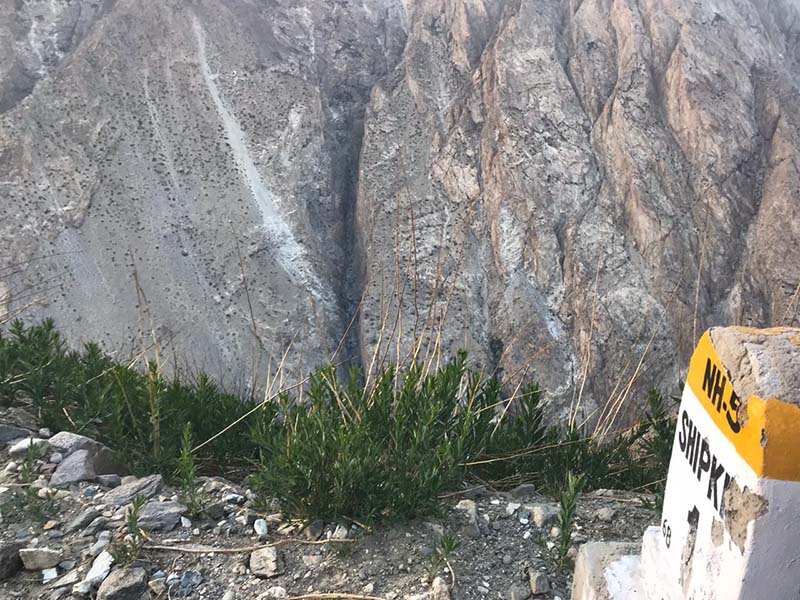 How to get a permit for Shipki La
With that being said, some people did manage to get the permit and visit. It is purely a matter of luck, to be honest. For this pass, you will have to get the permit from the DC office in Reckong Peo and even then, the ITBP guys can refuse to let you pass the check post on the way.
There are two ways that you can get the permit. The first way is to arrive at the DC office and request; the "Haath paon jodo way". Chances of success are almost next to none but who knows, maybe you will get lucky.
The other way is to pull some strings. If you know someone in ITBP or Himachal Administration who can make a few calls on your behalf, you may be allowed to visit Shipki La on a short trip.
Knowing someone in ITBP will be better because even if you somehow managed to get a pass from the DC office, you can still get sent back from the check post. But if you knew someone in ITBP who can make the calls, things will get easier for you.
Another thing to note is that you will not be allowed to go to the pass all on your own. In all probability, you will be made to sit down in an ITBP vehicle, brought to the pass, shown around, and then taken back. If you were in your own car, then someone from ITBP will accompany you and then bring you back.
Other than this, I am sorry but there is absolutely no way to go to Shipki La.
Best time to visit Shipki La
If you are able to manage the permits then the best time to visit Shipki La will be between early June to late September. A trip to the pass will, of course, be a part of a ride on the Spiti Circuit, or a trip to Kinnaur Valley. So if you went between June to September; you will also be able to cover other tourist spots on the route. You can start from Shimla, travel through Kinnaur, visit Shipki La; and then cover Spiti valley while on your way back to Manali.
If you wanted to go before early June or after September, you will have to go via Shimla and come back via Shimla only. The road across Manali remains closed in peak winter months so you will have to leave that portion out of your itinerary.
Also Read: Hikkim Village Spiti Valley – A COMPLETE Travel Guide
Where to Stay
The nearest place where you can find accommodation near the pass is Nako Village or Pooh. Nako will be a better place to stay. An ideal way for the journey would be to spend the night in Reckong Peo; start early the next morning, visit the pass and reach Nako for a night stay.
Mobile Connectivity
There is no network at top of the pass. BSNL has the widest coverage in Kinnaur and Spiti Valley. So if you had a BSNl/MTNL phone, you may get a network at Pooh and Nako but will be out of coverage at Shipki La Pass.
Best Vehicle
An SUV with high ground clearance will be the best for visiting Spiti Valley and Shipki La. It does not have to be a 4×4 but good ground clearance is a must. If you were traveling by motorcycle, then opt for one that has a bigger engine, like Royal Enfield 350 or 500 CC. If you were traveling on a smaller engine bike, then ride solo and as light as possible. For more details, please read Which is the Best Car for Spiti Valley?
What else to See
The entire Spiti Valley and Kinnaur District are a long list of tourist attractions. There are numerous other places that you can visit on your trip to Shipki La. For this information, I will recommend you to take a look at What to See in Spiti Valley | Sightseeing in Spiti Valley.
Conclusion
I hope the information above on visiting Shipki La pass was of help. If you have any questions; or need any other details; please feel free to ask in the comments section below, or at our Community Forum, and I will be glad to answer.