One of the most frequent questions I get asked by people planning a trip to Spiti is about the vehicle they are traveling by; whether or not it is good enough for the trip. And if not, then which one can be considered as best car for Spiti trip. The queries are usually from three perspectives; first is if the vehicle is capable enough to travel through; second is about convenience and comfort; and the last question is whether or not the vehicle will survive this trip. Questions are definitely justified; taking one's car to a terrain like Spiti is bound to get a person thinking.  If you too are planning a trip to Spiti valley and wondering the same; then in this article, I will detail some information that can help answer the questions above.
No, by the pics above I am not saying that a Maruti 800 or Alto is the best car for Spiti trip. These pics are just for reference that even these cars travel through Spiti valley and nearby areas on day to day basis. Mostly people tend to consider the engine size when bringing a car to Spiti valley. Thinking that it will involve a lot of driving up steep ascent. A common notion is that stronger the car, better it would be. This is true indeed but not really the complete truth. Let me begin this by first explaining the region you are going to drive on.
Starting from Shimla side; Chandigarh to Narkanda is all uphill. After Narkanda, you climb down to the banks of Satluj River and from there, until Nako; the increase in altitude is so gradual that you will feel like you are driving on a straight road. Just before Nako, there is the steep climb of Kazigs, a series of hairpin bends like those of Gata Loops in Ladakh. After Nako however, you again go downhill to the banks of Spiti River and once again, until Losar, it mostly feels like a flat road.
The ascent of Kunzum Pass starts after Losar and then you descent down to Batal. From there, it is a badly broken road until Gramphoo and then you climb up to Rohtang Pass top. Once you reach there, it is all downhill till Chandigarh via Manali.
If places Sarahan, Reckong Peo, Kalpa, Giu, Kibber, Komik, Langza, Hikkim were part of your itinerary; then you will have to leave the main highway and take a diversion towards all these places. A visit to almost all these villages involves an uphill drive on bad road. Sarahan is about 16 kilometers, Kalpa about 15, Chitkul about 75 from the highway; and a day trip to Kibber, Komik, Langza and Hikkim would be about 100 to 120 kilometers total. You will cross only two high altitude passes on the way, and you will come across a lot of locals driving around in cars like Maruti 800 here. The uphill drive till Narkanda is on a good road and even the climb around Nako is mostly smooth. The drive to Kunzum top from Losar and then Rohtang top from Gramphoo is not that long in distance.
So does it mean that you have nothing to worry about and just about any car will do? The answer is a no. Apart from the engine size, several other factors come into consideration here like conditions of the road, ground clearance, length, boot space and leg room of the vehicle etc.  Let me explain further.
Road Conditions
Even though from what I explained above, it may sound like Spiti is easy; it actually is not. Road is just a relative term here and for most part of the journey, you will be driving around on a complete nightmare. Mud, slush, dirt trail, water crossings, boulder and big stones on the road, shooting stones, narrow steep climbs; this is what Spiti has gained notoriety for and quite rightly so.
Ground Clearance
Considering my above statement, your car's ground clearance will play the most important part while driving through Spiti. You cannot risk the underbelly of your car hitting the ground every time you get across a water stream, or your car getting stuck as you try to take it through a rivulet, mud or slush. Driving through lose gravel will mean stones flying and hitting the belly of your car.  You need a car that has good GC and is capable of handling all this beating.
Engine Size
This comes next in the picture. Higher the CC count is, more the power it will be, making the ride hassle free. You will easily be able to handle the rough terrain, take it on any road and not worry about the how many people or luggage you are carrying.
Length of the vehicle
This too plays an important role to some extent. With long cars, the problem will be around those sharp turns. Due to its large turning radius, you will have to engage the reverse at several places. If the sharp turn is at a steep ascent, the problem will double and your driving skills will again come into picture while you maneuver the car through. I know people who have been to Spiti in a Fortuner or Ford Endeavor so it can definitely be done, just need to have a person on the wheel who knows how to drive around well.
Boot Space
A drive to Spiti is not a matter of just a weekend but usually an entire week at the least. Good Boot Space means that you will be able to tuck in that entire luggage without any problem.
Leg Room
Last but not the least; it is going to be a really long drive. You will be sitting in the car more than at the hotel. The entire trip consists of driving around for hours on a daily basis. Good leg space and comfortable seats are a must for a hassle free drive.
Which is the best car for Spiti Valley
With all the above being said, so which car will be perfect to bring it to Spiti? This is really hard if you try to take a look at it from Brand perspective. It should rather be taken a look at from what a car offers from the point of view of what I mentioned above. Any SUV will probably be the best car for Spiti Valley.  It doesn't matter if it is a 2 wheel drive or 4×4 but the good ground clearance an SUV offers will be of great help while traveling through Spiti. You can pretty much take it to any area and it will be able to handle the terrain well.
If you are with a couple of friends out to have fun, an open Mahindra Thar will probably be the best for the trip; however if you are with family then any other 4X4 SUV like Fortuner, Safari, Scorpio will be the best. If you do not have a 4×4, then even a 2×4 SUV will do the job equally well.
Spiti Valley in a Hatchback or Sedan
Planning to bring your hatchback or Sedan to Spiti? It is not really something unusual and a lot of people do it. As a matter of fact, you will find most of the villagers or locals here driving around in a Maruti hatchback.  The only thing however is that they are the locals and well know how to handle the tough roads here. For city folks like you and I, Spiti is an entirely different experience. There are certain things that you will need to keep in mind most important of which is the Batal Gramphoo stretch. This road is not at all for a car with low GC because of the numerous water crossings en route; some of which are seriously deep. Below is a pic of an Indica stuck at such a water crossing.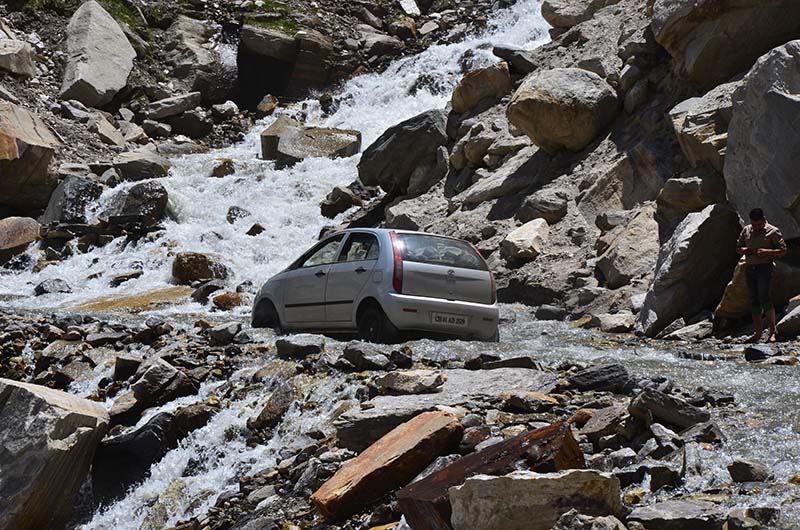 Mentioned below are a few things you should keep in mind.
Itinerary
When traveling in a Sedan or hatchback, best would be to go via Shimla and return the same route. True that the road will be broken but you can still manage it if driving slow. Another challenging road will be from Karchham to Chitkul which is mostly a dirt trail and you will have to be extremely careful here.
Travel Light
Another thing I would recommend is to travel light. Do not stuff in 5-6 people in the car with their luggage. All the additional weight will just make it difficult for the car to go through; and more vulnerable to its belly hitting the ground underneath.
Stay on the Road
While this also means that you do not drive off a cliff; what I meant was to stay on the main road and do not try any shortcuts. At several places, you will come across a dirt path climbing up straight ahead. A lot of people take these shortcuts but you cannot afford to do so. Stay on the road and drive carefully.
Time of Travel
Very important. In months like May, June and July, the melting snow creates a lot of water streams. Come August and monsoon arrives, with a high chance of landslides and slush. If you are in a car with low GC or smaller engine, best would be to avoid these months. Travel in April, September or October; if you however want to cover the Manali route as well then best would be to plan in September or first week of October.
Conclusion
I hope the information above was helpful. If you have any further questions, please feel free to ask in the comments section below or at our Community Forum and I will be glad to answer. If you have traveled to Spiti in your car and have some valuable tips or information to share; I would request you to please do so in order to help others.