This article is in continuation to a previous one and a part of my Leh Ladakh Travelogue. Please click on the links below to read the previous parts of the log detailing the journey for the first 15 days as we reached Leh from Delhi and spent time driving around in Ladakh. On Day 16, we started our return journey and traveled from Sarchu to Manali and then to Delhi on Day 17, details of which are covered in the post below.
Journey So Far
The tent at Bharatpur was surprisingly quite cozy and comfortable, and we slept nicely. We were up the next day at 5:30 am and intended to leave as soon as possible for the roadblock. The IMD weather prediction was bang on target, and we could see dark clouds circling the mountains up ahead towards Baralacha La. Realizing that it may be snowing there, we quickly departed, fearing that the road condition may get worse.
Day 16: Sarchu to Manali
We skipped breakfast and managed to leave for Baralacha La by 6:30 am. The drive to the roadblock was filled with anticipation. We hoped that the blockade would've been cleared and that we could get to roll before anyone else took a shot at it. When we reached the place, it was quite disheartening.
The line of vehicles was much longer, and we were behind 10 oil tankers, a bus, and a couple of jeeps. To add to our woes, it started to snow! Although it was our first snowfall experience ever, we were not able to enjoy it at all, given the bleak situation we were in.
It was cold and windy, we were hungry, and there was no sign of us getting any food anytime soon. On top of that, one question kept worrying us – what if the roadblock was not cleared in time and snowfall led to the closure of the highway? Scary thoughts of returning all the way via the Kargil – Srinagar route were running through our heads.
Also Read: How to Plan a Trip to Leh Ladakh – A Complete Travel Guide
The Roadblock
We also saw a couple of tents pitched at the blockade. Some brave souls had decided to spend the night at this cold deserted place. I started walking ahead to gauge the situation to take a call. The queue of vehicles was longer, the puddles colder and the stream nastier than yesterday.
I could feel the pinch of cold water inside my shoes and I realized what bikers have to go through constantly on this route. Up ahead the situation was worse than last night. An oil tanker was stuck with all its 4 tires in icy slush almost till the top of its wheels. Apparently, it was stuck the night before and now the icy slush had solidified a bit.
There was no bull-dozer insight. However, there was a slight possibility that our Safari could manage through on the snow-field next to the "road" since it was early morning and the snow was quite hard and not too deep.
I trudged back to the car and then started requesting the vehicles ahead of us to let us pass. I used the 4×4 trump card and the offer to pull them through in case they got stuck. The jeeps let us pass happily. However, our slow progress was put to an end by a bus ahead of us.
A bus stopped our steady progress to the beginning of the queue​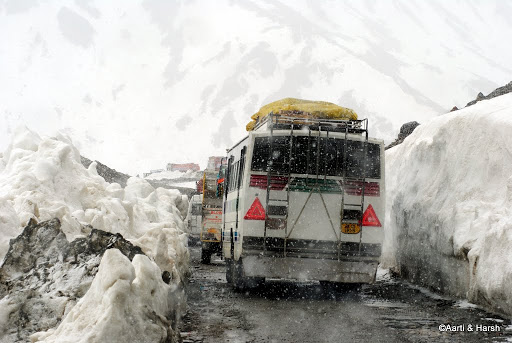 Ray of Hope
Rumors began to spread at about 9:00 am that a bulldozer was working on the roadblock and would be able to clear it in a couple of hours. I thought of trudging up again to have a look since there was absolutely nothing else to do.
The roadblock was being cleared steadily and I hoped that in an hour or so it should be completely cleared. I could see that we had no option but to drive through the slush and there were little chances of the Swift behind us being able to manage it all by itself.
I rushed back to the car and started putting on the snow chains we had purchased for the trip. Since it was my first experience of putting them on, I was quite clueless. The first attempt was a disaster as the snow chain slipped and came off! We needed some rope to tie the snow chain towards the center. Since we had none, we took out some rope from our tent. It worked like a charm and before long we were good to go with the snow chains on.
Also Read: How to Handle Acute Mountain Sickness in Ladakh
Moving On
At 11:30 am the roadblock was cleared for us to proceed. The slush was quite deep, but Kiyang did it fairly easily, and the Swift also managed without needing any help. The road was choc-a-bloc with traffic waiting to be released to move towards Leh. There was no place to park, and thus the bus in front of us stopped in the middle of the road to remove its snow chains, and we stopped too.
The removal had to be quick since the drivers behind the Swift started to get impatient and began honking like maniacs. I do not understand the Indian mentality here. They were waiting for 5 hours patiently for the roadblock to clear. Now they could not wait for 5 more minutes. The hurried removal must've caused some damage to the braking system which we discovered a short while later.
The Caravan
The road was narrow and there was a lot of snow on either side of it. We were a part of a caravan now, and there was no place to park to allow other vehicles to pass us so that we could amble along at our own leisurely pace. The snowfall had us scared as well, so we let the photo-ops pass and zoomed towards the Zingzing bar on the surprisingly smooth tarred road.
However, photography on the move was possible. Since Aarti was driving, I was free with the camera and took several shots hanging out of the car. The cold air cut through my wind-cheater like a hot knife on butter, but it was good fun.
Narrow roads leading up to Baralacha La​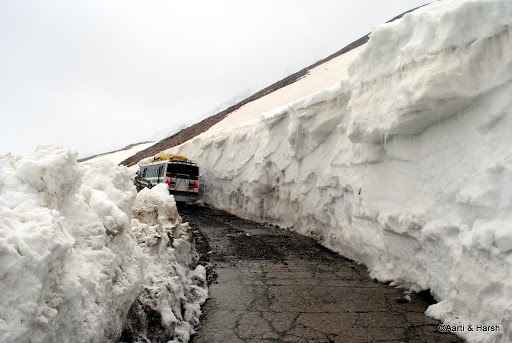 It was really narrow at places​. I had never seen this much snow anywhere, even at Baralacha La the last time we were there​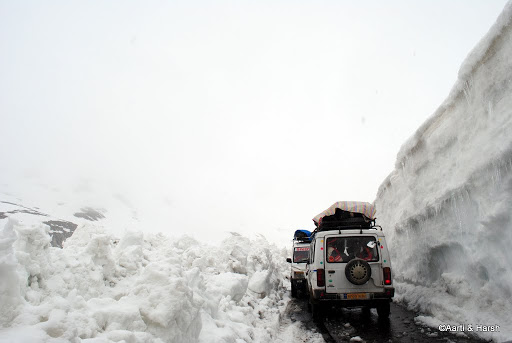 A bulldozer waiting for its turn for action​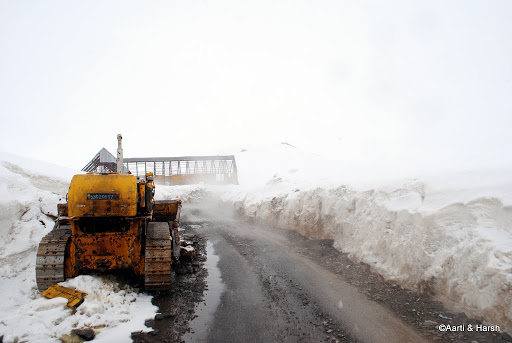 Surprisingly, Suraj Tal was not completely frozen​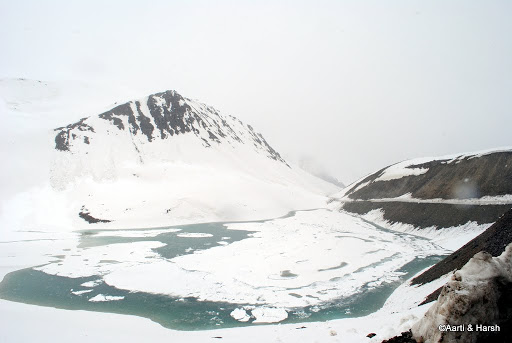 The Brake Problem
Immediately after Baralacha La, Aarti mentioned that the brakes seemed a bit lose. We thought it might be due to the slush crossing that the braking capacity had been considerably reduced. Also, our cluster meter was malfunctioning and the 'hand brake on' indicator was always "on" even before the trip.
Also Read: How to Prepare your Car for Ladakh
Thus, the low brake fluid indicator, which is the same as the 'hand brake on' indicator, was useless. We decided to let the other vehicles pass us and slowed down our descent considerably, trying to rely mostly on engine braking.
The clouds began to scatter after Baralacha La​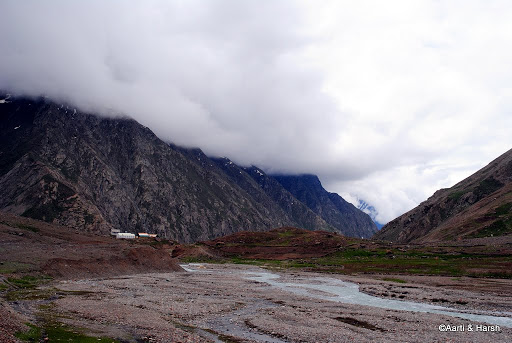 ZingZing Bar
We stopped to review the situation at the Zingzing bar. I got down to add a little bit more brake fluid and when Aarti depressed the brake pedal, I could see the brake fluid oozing out near the front right tire. This was scary, with no one to repair it for miles and a limited supply of brake fluid.
I got down underneath trying to figure out how to fix the situation. I guess with all the good karma we had collected so far on the trip, a helpful Sardarji (from Delhi) came along offering his help. He got to the bottom of the situation, asked me for a wrench, spanners (which I was thankfully carrying), and started his work.
He figured out the source of the problem, which was essentially a broken washer. The solution (or the jugaad) was simple, to tie a piece of string around the nut and screw it back again. After doing that, he checked the brakes a couple of times and it was working fine.
After topping up the brake fluid with the spare, we resumed our journey towards Keylong, going slow and maximizing on engine braking, and stopping every now & then to check the brake fluid level. Thankfully, there were no further troubles of leakage. What a relief! However, the drive till Manali was tense because of this, as we were not able to find spares at Keylong, and got the broken washer fixed the next day at Mandi.
Also Read: Things to Carry for Ladakh Trip
Tandi & Keylong
The descent was spent worrying about the brakes and we missed out on enjoying the vistas. The landscape had turned green from brown and it was cloudy. Stopping time was kept at a minimum and the tension converted into limited photography. The drive to Keylong was uneventful.
Lunch happened at our usual place at Keylong, a dhaba that serves awesome mutton Thupka and momos near the bus stand. After refueling at Tandi, and also enquiring about road conditions at Sach Pass (our tentative target for the next trip), we move towards Koksar.
Also Read: How to Calculate your Budget for Ladakh Trip
Rohtang Pass
The climb to Rohtang was muddy and slushy, but nothing was as challenging as before. The top was littered as usual, and it was so dirty that we did not even stop for customary shots and proceeded towards Manali.
It took us 4 hours to reach Manali, of which an hour and a half were spent between the petrol pump at the Vashisht cut and the bridge over Beas that leads to the mall road. I think the entire Delhi and Punjab was in Manali, and that being a Friday just made matters worse. As soon as we reached Manali, we went to one of our favorite haunts – The Johnson's Cafe – for a nice dinner.
The camp at Patseo​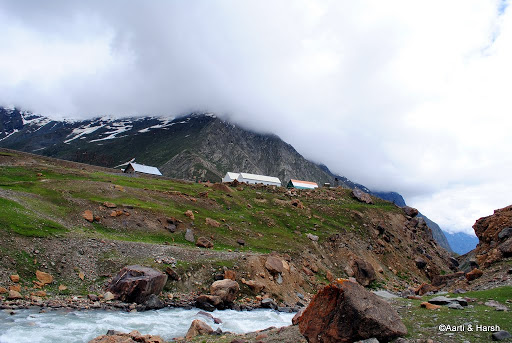 Deepak Tal​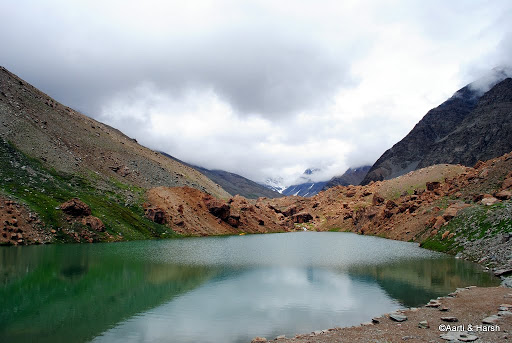 A bad stretch while climbing Rohtang​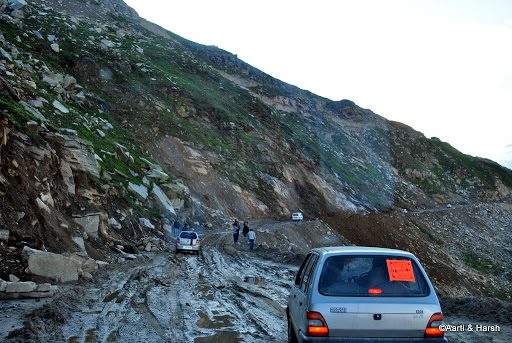 Manali
We finished dinner at about 11:30 pm and then ventured out looking for a place to stay the night. Since it was Manali, we assumed getting accommodation for the night should not be difficult. We were so so wrong!
To make the task easy, we went straight to the Manali – Naggar road which has a lot of hotels but is not preferred by tourists since it is a bit far from the mall road. We stopped at a lot of hotels, but each one was booked, without even a single vacant room! Soon we ran out of hotels on that stretch and decided to head out to Kullu to spend the night.
It was only by 2 am that we found an overpriced hotel in the Kullu main market area. It had been a long day, starting at 5:30 am and ending finally at 2:30 am, and we both were dead tired by the end of it.
The ride the next day would be a long, uneventful haul to Delhi. We were looking forward to going back home after 17 days of being on the road. But our plans of returning next year to the alluring land of high passes had already been made.
Also Read: Is Ladakh safe for Tourists?
Day 17: Manali to Delhi
The drive to Delhi was uneventful. A late start from Kullu (at 11:00 am) was followed by an hour's halt at Mandi to get Kiyang's brakes repaired and a huge traffic jam near Sundernagar where a bulldozer was clearing a landslide.
We reached Chandigarh by 8:30 pm or so. Had an eventful dinner, and proceeded towards Delhi by 10:00 pm. We had reached South Delhi by about 2:30 am.
The next day was allocated to recuperate and recover from "APS" or "Acute Plain Sickness". It was back to mundane life again, but only till the next trip, for which the excel sheet has already been made!
Sarchu to Manali to Delhi – Conclusion
Thus came to an end our long journey from Sarchu to Manali to Kullu to Delhi. The trip was an amazing one and the overall experience is hard to describe in words. I hope you enjoyed the travelogue and the information was of help. If you have any questions or need any other details, please feel free to ask in the comments section below, or at our Community Forum, and I will be glad to answer.