This article is in continuation to a previous one and a part of my Leh Ladakh Travelogue. We traveled from Delhi to Leh via Manali, Patnitop, and Srinagar in 5 days. Yes, that was quite an unorthodox way to complete the journey but we really had no choice. On Day 6, we arranged our Inner Line Permits and moved on from Leh to Tso Moriri on Day 7. Please click on the links below to read the previous part of the travelogue.
Journey So Far
What a wonderful feeling it was to wake up in Leh! Our journey till now had been awesome, and we were expecting even better stuff in days to come.
Day 6: Rest day at Leh (Permits) : 0 km
It was my first time in Leh, but Aarti had been there 5 years back with her parents. I was really awestruck by its beauty, and also with the feeling of just being there.
Permits for Marsimik La and Chumur
The morning was spent arranging for permits. Surprisingly, the guy at the counter did not question our request for a permit of Marsimik La but rather questioned our motives to go to Chumur. The conversation went somewhat like this:
Guy at Counter: "Aap Chumur kyo jaana chahte hai"
Harsh : "Kate hue haath dekhne"
Guy at Counter (smiling): "Kate hue haath, aapko kaise pata waha kate hue haath hai?"
Harsh: "Sir, discovery channel pe dekha tha"
Guy at counter (smiling) : "Haath idhar hi dekh lo, itni door jaane ki kya zaroorat hai?"
and then he signed the permit!
Needless to say, I was smiling too during the whole conversation. I did not expect to get the permits so easily, but the whole process was very smooth.
The next order of business was to give Kiyang a nice bath, which, after a bit of asking around, happened at a car-washing place in Choglamsar. Our tripod had been missing a screw for a few days, and the next chore was to find a jugaad for it. That too was taken care of easily at a scooter repair shop.
Also Read: How to Arrange Inner Line Permit for Ladakh
Rest & Getting Ready
The rest of the evening was spent relaxing, eating delicious food, and recuperating. Sadly, we did not click much in Leh. All in all, just 3 snaps. Sightseeing in Leh City is something that I left for my next trip (and completed as well).
The plan for the next day was to go to Nubra Valley. However, God had something completely different in store for us. I think Ladakh in general does not like people with fixed plans and itineraries.
Who knew that instead of relaxing on the sand dunes of Hunder (as we had planned), we would actually have to sleep on the sandy banks of Tso Moriri, with not a soul to be found for miles.
Also Read: How to Plan a Trip to Tso Moriri from Leh
Day 7: Leh to Tso Moriri via Tso Kar: 310 km – 13 hrs
As per the plan, we set off for the 'highest motorable road in the world' early in the morning. It was supposed to be a longish day since we intended to first go to Panamik and then to Hundar to stay the night. All that, of course, was wishful thinking.
Khardung La
As we approached South Pullu, the check-post 15 km before Khardung La, we could see a line of cars ahead of us, and instantly knew that something was wrong. The Army guy at the check post told us that today was down-traffic day, which meant that only vehicles from Nubra to Leh would be allowed.
The opposite traffic would be allowed, if at all, only late in the evening. This was because it had snowed the previous night, and they could only open the road for one-way traffic.
I could see our plan completely crumbling! However, by the time I reversed the car to head back, Aarti had already figured out the situation and had an alternate plan chalked out.
She suggested that if we leave for Tso Moriri immediately, we might just be able to reach there by evening. Thus we started on our way from Leh to Tso Moriri. Reach Tso Moriri we did, reach Karzok we did not!
Tanglang La
The road till Tanglang La was a breeze, marvelous flat roads. Since the Manali-Leh highway was still closed, there was hardly any traffic on the road. We were the only ones moving towards Manali on the highway, and it felt weirdly special.
The road till Upshi runs parallel to the Indus​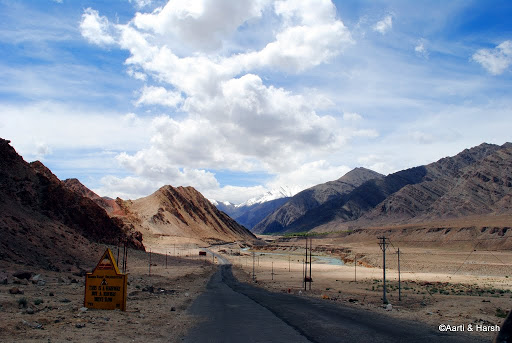 Soon thereafter we saw a cut on the road with Stallion tracks going up towards the road above. Thinking this must be a short-cut, and in the mood for some off-roading action, we took the cut. Aarti decided it was about time she got familiar with the 4L mode as well. So, changing modes, she marched on.
Also Read: Tanglang La Pass, Ladakh – Travel Guide & Sightseeing
The climb was quite steep, but she managed beautifully. However, we soon realized that the Stallion driver who had made those tracks must've had a lot of time on his hands. The road led nowhere!
Cursing & swearing (not exactly, but I like the phrase), we started to head back, and that is when we got our first sighting of marmots. They are so amazingly cute, but really difficult to catch hold of.
Soon enough, we reached Tanglang La, and it was completely snowed out at the top. It had received fresh snowfall the night before, and a dozer was clearing the road when we reached the top. However, luck was with us this time around, and it wasn't long before the road was clear enough for us to proceed.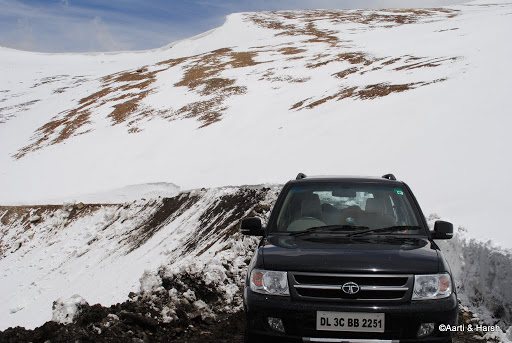 Tanglang La​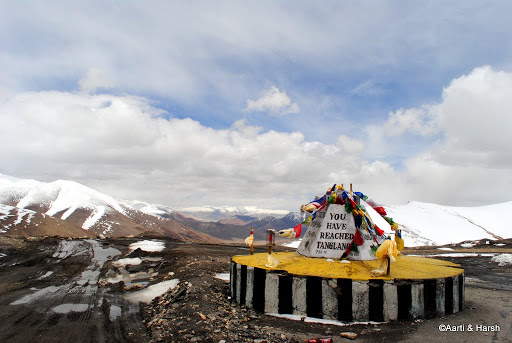 Tso Kar
We met a group of Israeli riders at Debring. A new-born baby Yak was in the lap of one of the riders, feeding on a bottle of milk. The baby yak's mother had apparently deserted it, and according to the Changpa there, the calf must've been born just about 6 – 7 hours before.
Without much further discussion, it was decided that the yak should be given to the Changpa who would be in the best position to rear it. A symbiotic relationship was created in front of us.
Also Read: How to Plan a Trip to Leh Ladakh – A Complete Travel Guide
The cut for Tso Kar is not properly marked but is the only road cutting off the highway at Debring.​
Tso Kar and the area around it is very rich in fauna. We had read at many places that Kiangs are definitely found near Tso Kar, and Brahmini ducks and cranes can also be sighted. We were lucky enough to have had an encounter with all of them. The best one was with the Kiangs though.
Endangered black-necked cranes​. Not too friendly though. Tried to fly away as I went near them​. Look like Russian spies, don't they?​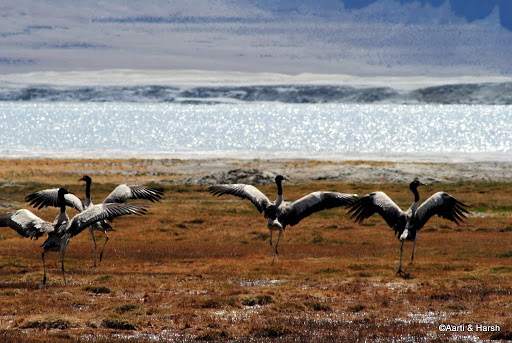 I now know they are black-headed seagulls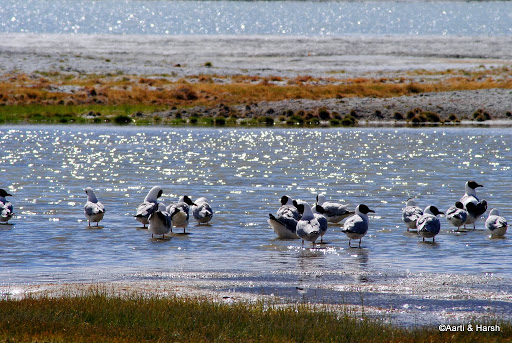 Environmentalists, please ignore the next few pictures. For the record, I did not scare them. I just rode with them. They like to run anyway.
Also Read: How to Prepare your Car for Ladakh
Chasing the Kiangs
We saw them at a distance. They noticed us standing at a distance. We moved closer, they kept staring. We moved even closer, they started to get fidgety. When we were some 50 m away from them, they raised their heads at an angle and starting running like jackasses!
This, my friends, was our first encounter with Kiangs. The Tibetan wild asses after whom our beloved Safari is named. These guys are truly asses and run like fools at the slightest chance of any danger.
But what graceful animals! To see them galloping in the beautiful landscape, with their brown color almost merging with the barren surroundings, is an unforgettable sight.
Even before embarking on our journey, it had been decided that one mandatory shot on the trip was to shoot Kiyang with Kiangs in the same frame. No matter how difficult it would be, it had to be done. And now the time had come!
The only way to take the shot was for one of us to get down and shoot using the zoom lens, while the other drives Kiyang and takes it as close as possible to the Kiangs. I managed to convince Aarti that she let me drive and she could do the running around. Somehow, in all that excitement, she agreed!
The graceful Kiangs doing what they do best – run!​ Notice the sand trail of that Kiang, it gives you an idea of the speed. It's difficult to shoot with a 300mm lens without VR at such high speeds.​ They are also very difficult to catch up with​.
The chase continues. One of my favorite shots from the trip​. Kiyang running after Kiangs. This was the closest I could get. I must be doing 80!​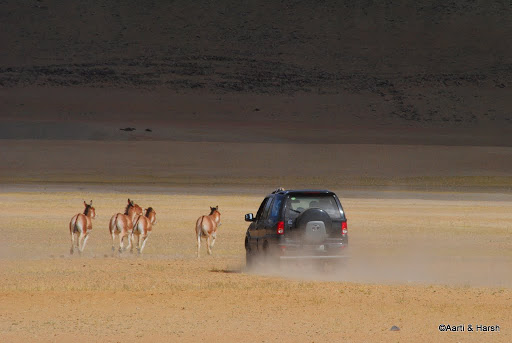 Namshang La
It was almost quarter past 4 by the time we were done with Kiangs and moved on towards Tso Moriri. With a good 90-100 km still to cover, we were running pretty late and our journey from Leh to Tso Moriri was far from over.
The climb and descent of Namshang La were hardly noticeable. It was an easy pass, a straight climb, and a straight descent. Now I leave it up to you to calculate the gradient.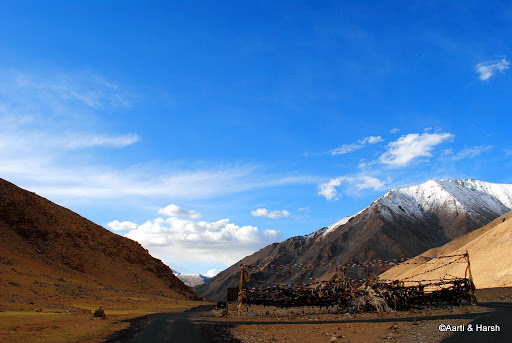 Kiagar Tso
The road till Kiagar Tso was not much of an adventure, apart from another sighting of a Marmot, but again the elusive animal escaped without us being able to take a single shot.
A hare almost merging with the stone behind, quite a great natural defense mechanism​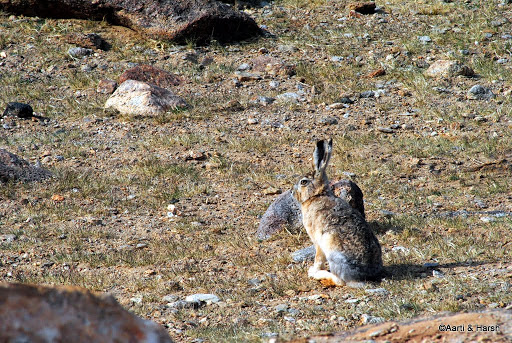 This must be the Brahmini duck, it had horizontal lines on its forehead​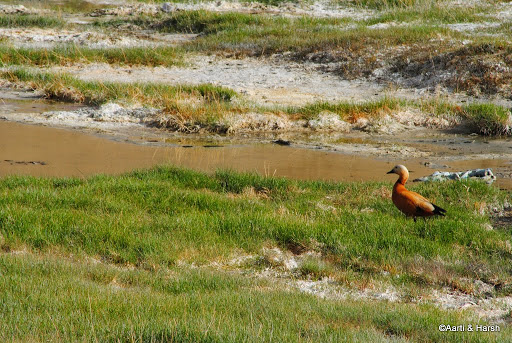 Another marmot sighting​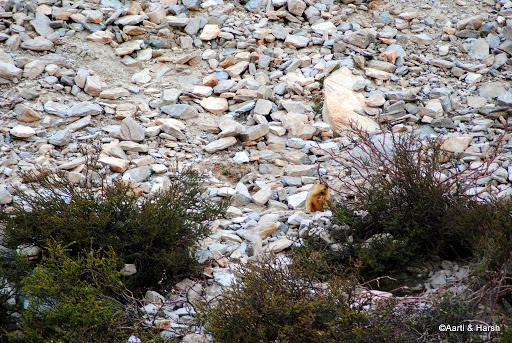 First view of the beautiful blue Kiagar Tso​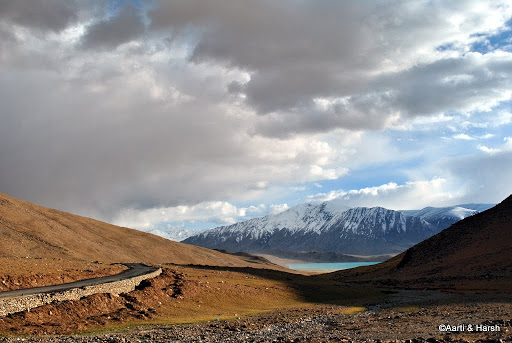 A Changpa leading his herd on the banks of Kiagar Tso​. 'Cowboy' Changpa​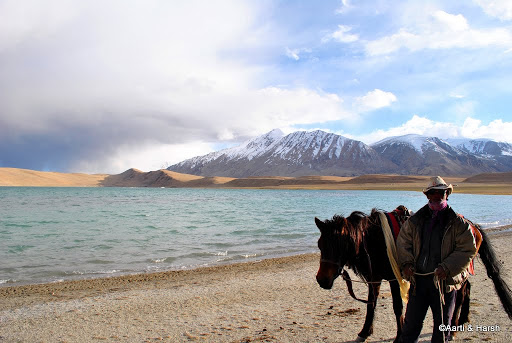 Kiyang next to the lake​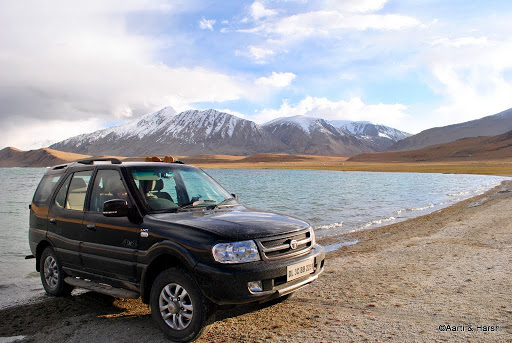 First view of Tso Moriri​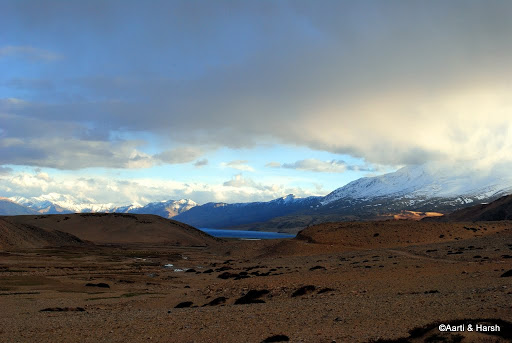 The Wrong Turn
With the last snap taken at 7 pm, we were all set to reach Karzok in another 45 minutes, right about the time it gets dark. The tarred road had now given way to tire tracks, but they were pretty clear. However, we then came to a place where the tire marks forked into two, and there were no signboards to tell us which track went where.
The one going left, however, seemed clearer, and there was a bridge on it ahead, so we decided to take that one. That, as we would find out half an hour later, was the wrong decision. This happened even though we had marked Karzok on the RIGHT bank of Tso Moriri on the map we made before the trip.
After having moved for about half an hour on the left road, we began to worry about why we hadn't reached Karzok yet. We were losing light fast, and somehow, we were not too comfortable to drive in the dark in that eerie silence.
It was almost dark when I saw some tiny spots on the opposite bank of Tso Moriri. It was then that I realized that we had come on the wrong track and Karzok was on the other side, now a good two hours away!
Also Read: How to Handle Acute Mountain Sickness in Ladakh
Camping at Tso Moriri
We discussed our options. Either we turn back now and reach Karzok by 10 pm, by which time getting an accommodation there would be next to impossible, forcing us to pitch our own tent there; or we go down to the bank from where we were standing and camp next to the lake. The latter definitely seemed to make more sense, also since we'd already been driving for 14 hours now, and were exhausted.
The road was nowhere close to the bank and the drop to the shore must be close to 100 m or so. We had to drive on a river bed to get to the bank. We carefully managed to negotiate the huge stones and reached the bank just as it got completely dark.
It was now time for the hardest part- pitching our tent! We had planned to pitch the tent right next to Kiyang to cut off the wind from at least one side, but since the beach was, of course, all sandy, we had to park Kiyang on some solid ground, some 30 m away from our campsite.
Thankfully, the moonlight was bright that night, and we finished pitching in 20 minutes or so, struggling a bit to pitch the tent firmly in the sand. We then boiled some water, heated our ready-to-eat Yakhni rice in it, had a cup of tea and some chocolates, and called it a night.
Journey Ahead: Tso Moriri to Chumur to Hanle
Little did we know that the adventure was not over yet. It was close to about 1 am when both of us were awakened by some noise outside our tent, it seemed someone or something was scratching the tent from the outside.
Leh to Tso Moriri – Conclusion
Please click on the link above to continue reading the next part of this travelogue. I hope the travelogue, pictures, and information about traveling from Leh to Tso Moriri were of help. If you have any questions or need any other details, please feel free to ask in the comments section below or at our Community Forum and I will be glad to answer.