This article is in continuation to a previous one and a part of my Leh Ladakh Travelogue. Please click on the links below to read the previous parts of the travelogue detailing the journey for the first 12 days as we reached Leh from Delhi and spent time driving around in Ladakh. On Day 13, we crossed the mighty Khardung La Pass as we made our way back from Turtuk to Leh, details of which are covered in the post below.
Journey So Far
So far our journey has been awesome. We went to places that not many tourists have been to before. We did some off-roading, camped in the middle of nowhere, saw a lot of beautiful lakes, crossed many high altitude passes, and met some lovely people. Now our trip was approaching its last leg but the excitement was still sky-high as prepared to trace back from Turtuk to Leh City.
Day 13: Turtuk to Leh: 210 km – 8 hrs
We woke up to a beautiful morning in Turtuk, quickly got ready, and were back in the Mini Restaurant by 8 am for breakfast. Some delicious cheese omelets and paranthas served as the perfect start to a perfect day. For more details on this beautiful village, take a look at How to Plan a Trip to Turtuk.
Mir & Amin – the perfect hosts​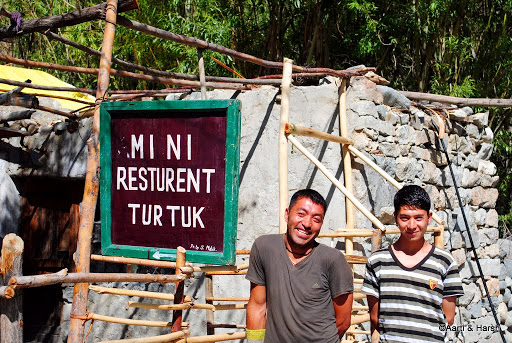 Hunder
Our journey from Turtuk to Hundar was uneventful, except for a sighting of some wild Bactrian camels just before THOISE. We were looking forward to driving on the straight stretch of the road right before one reaches the bifurcation towards Panamik, and also to capture that stretch on camera.
However, right before we reached it, there was another road which said "Khalsar loop road" and we thought why not take it, not realizing that we would miss the straight road. Anyway, we did get a good shot of that stretch from the road we were driving on since it was quite high.
Wild Bactrian Camels​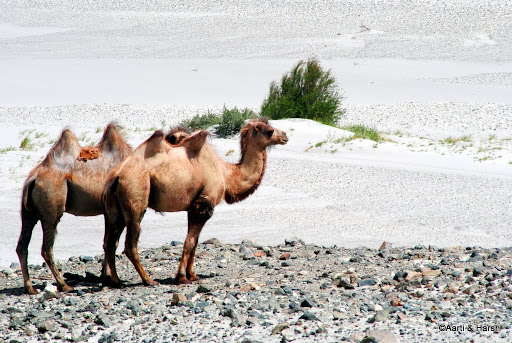 The straight road through the sand dunes​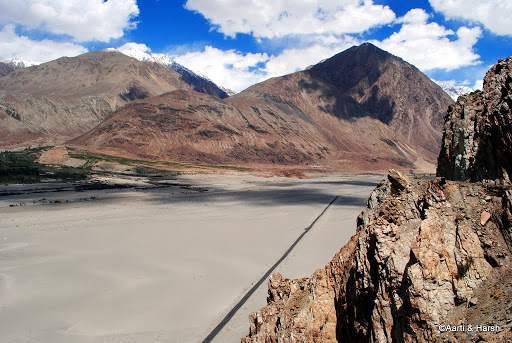 Khardung La
We stopped for lunch at Khardung village and were at K-top by 3:15 pm. The final 15 km, after North Pullu, were quite bad, with the snow being recently cleared from the road, thus making it pretty narrow and full of potholes.
Also Read: How to Plan a Trip to Khardung La
The top was infested with tourists getting themselves photographed in all kinds of poses, so we didn't spend too much time there. We were also extremely disappointed at finding the souvenir shop at K-top closed since we'd planned to buy many gifts from there.
The ascent to Khardung La begins​.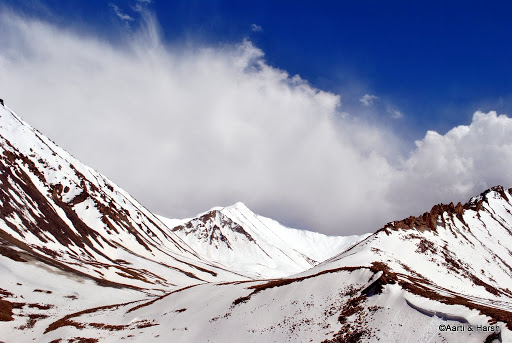 Heavily snowed under​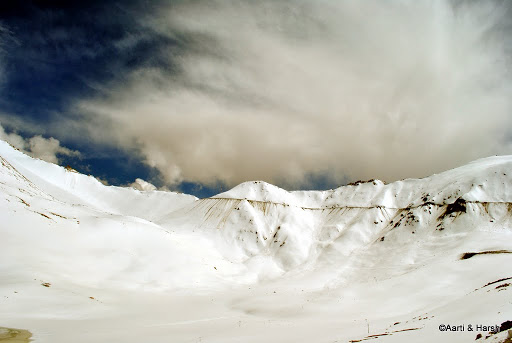 That's the final approach road to the pass​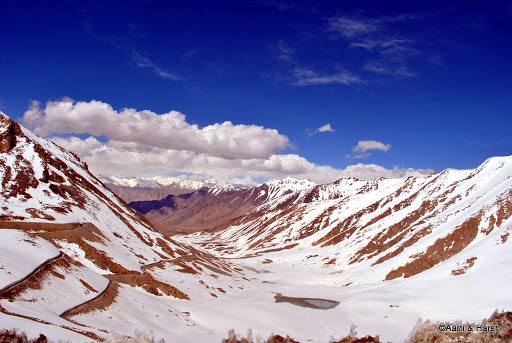 The board at Khardung La is difficult to shoot with people hogging it.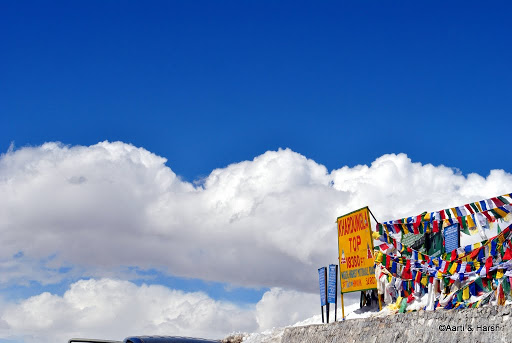 A zoomed shot of Stok Kangri; taken while descending to Leh from Khardung La​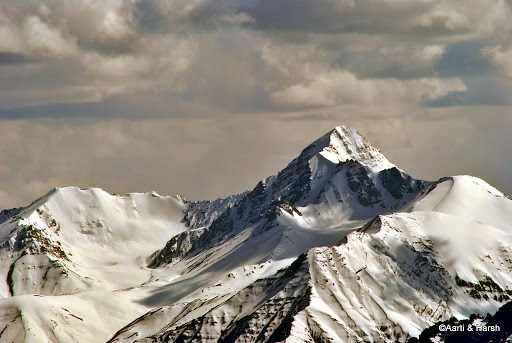 Crass commercialisation of Khardung La: the Khardung La frog​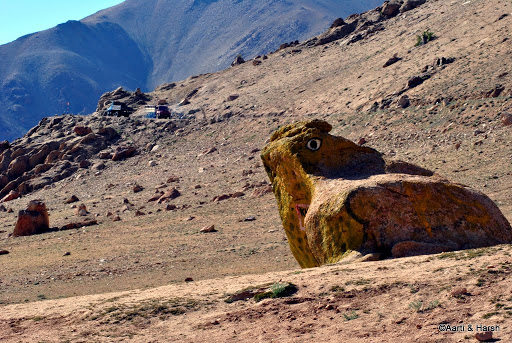 Leh
We'd already booked our hotel in Leh from the satellite phone in Murgi village. So we drove straight to the now-familiar Padma Hotel. The plan for the evening was to shop around a bit, but we were really tired and didn't feel like shopping in Leh.
We also had a decision to make – to head back to Manali the next morning or to spend the next day in Leh. We could use it for visiting a monastery or two and get some shopping done. The decision was made in favor of the latter; primarily because we had an extra day in our itinerary, and also because we hadn't visited a single monastery yet in Ladakh.
Also Read: How to Plan a Trip to Leh Ladakh – A Complete Travel Guide
After a not-so-good dinner, we went up to the Shanti Stupa for an evening shot, and then went back to the hotel to sleep like there's no tomorrow!
Evening shot of Shanti Stupa​
Day 14: Rest day at Leh: Day visit to Thiksey: 50 km
We were in no mood to start this day early, and even though we were up at 8 am, we only got ready by 11 am. A lazy brunch followed at the 'Pumpernickel' (I love that name!) German Bakery, which by the way is the only place in Leh to get hold of some delicious Yak cheese.
We had planned to do some shopping in the main bazaar. It was basically to pick up some souvenirs for our friends and family. Also on the list was to buy a pair of sunglasses. I absentmindedly dropped mine in a drain the evening before.
Thiksey Monastery
After the delicious brunch, we set off to visit the Thiksey monastery. It was 12:30 pm when we reached and had only about 20 minutes to roam around and click pictures before the monastery closed for lunch. We then picked up some gifts from the souvenir shop there and decided to head back to Leh. For more information on the gompa, please read How to Plan a Trip to Thiksey Monastery.
The giant Buddha at Thiksey​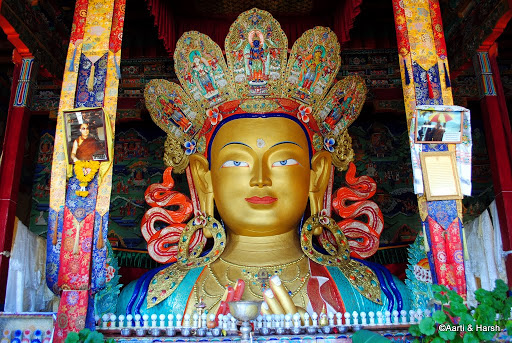 The pyramidal Thiksey Gompa​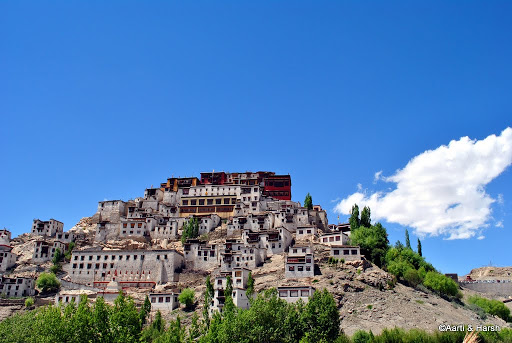 Shopping in Leh
The primary agenda for the day was to relax, thus the afternoon siesta happened. Then, at about 4 pm, we set off again to the main bazaar, this time with a clear agenda to shop.
We spent a couple of hours buying knick-knacks. This also included two 'The North Face' jackets for ourselves. Then we headed to Choglamsar to give Kiyang a nice shower before it embarked on the Leh-Manali highway the next day.
A lavish continental dinner at the newly renovated Sunbeam Cafe on Old Fort road served as the perfect end to a wonderfully relaxing day. The next three days were going to be long and hectic. But we were now all set and rejuvenated to face them.
Turtuk to Leh – Conclusion
I hope the travelogue and pictures on traveling from Turtuk to Leh were of help. Please click on the link above to continue reading the next part of this travelogue. If you have any questions or need any other details, please feel free to ask in the comments section below, or at our Community Forum, and I will be glad to answer.