This post is in continuation with a previous one and a part of my Spiti Valley Travelogue. Our ride lasted for a total of 10 days covering the entire Spiti Circuit via Kinnaur Valley. On Day 9, we traveled from Chandratal to Sundernagar and then continued from Sundernagar to Delhi on Day 10. The post below is a detailed log of our journey on the last day. To read the previous part of the travelogue, please click on the link below.
Journey so Far: Chandratal to Sundernagar – The Adventures of Batal to Gramphu Road
Sundernagar to Delhi
The night in Sundernagar was an amazingly peaceful one. I think we went to sleep between 9 to 10 PM and did not get up until 8 AM the next morning. That too because Narender's parents kept calling him continuously. If it wasn't for his phone going off, again and again, I think we may have ended up sleeping for another couple of hours.
This was the last day of our trip. From here on, it was going to be an extremely boring and monotonous ride of 400 kilometers back to Delhi. Until now, we had been riding wearing jackets and gloves in the cold air of Spiti. But after a couple of hours, we were due to return to the hot July winds of the northern plains of the country.
It is amazing how little things can matter. 10 days ago, we took the same 400 kilometers long ride from Delhi to Narkanda but it did not seem tiring then. Since it was the first day of a 10 days long trip, we rather enjoyed every minute of that day. But since today the trip was ending, the same ride sounded like a burden.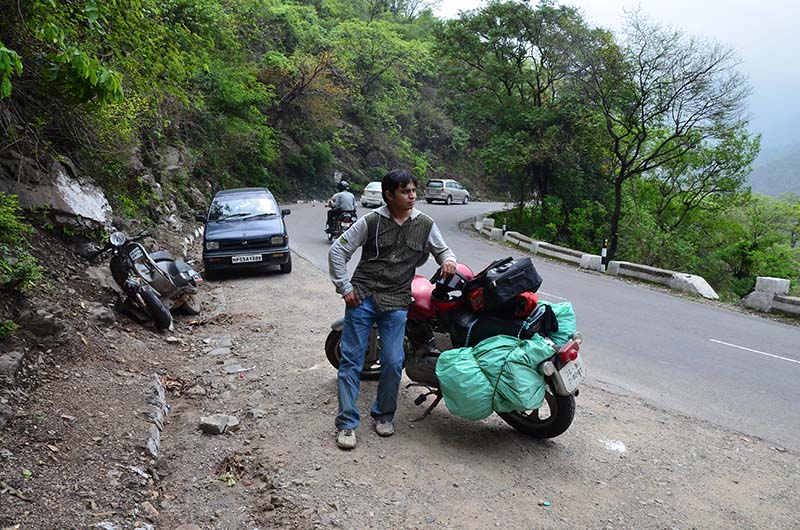 Morning in Sundernagar
We woke up to the sounds of Narender's phone and heavy rain outside. It was the month of July and the monsoon season had officially arrived in the hills. For the last 2 days, our phones were out of reach between Kaza and Manali. I had already informed my folks about it but Narender did not. As a result, his parents were worried sick because they had not been able to reach him for 2 days.
I just stood in the balcony of our hotel enjoying the rain outside as Narender spent nearly half an hour assuring his parents that he was OK. Somewhere in my heart, I was wishing if there was a way that we could magically get teleported back home rather than having to ride in this hot weather for an entire day.
That of course was just a wish and not reality. We ordered some breakfast and started to get ready to ride back home. The rain continued for another hour or so and it was almost 10 AM by the time we started from Sundernagar.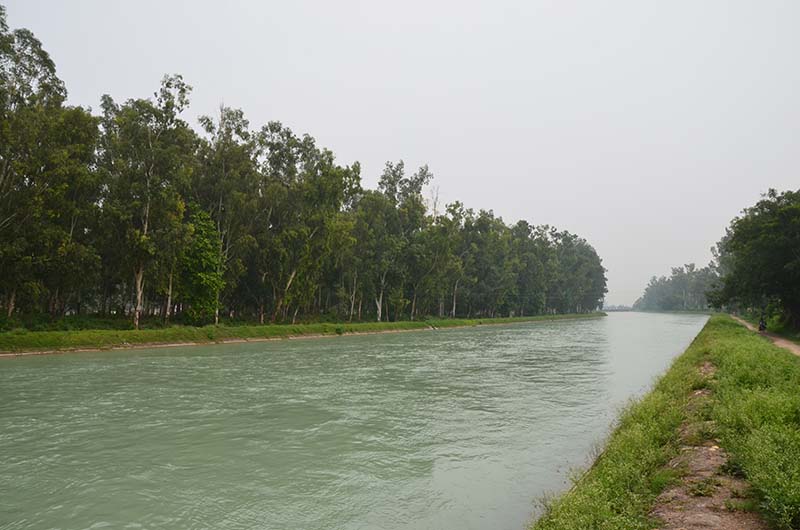 The Ride Back Home
Not much happened on this day and there isn't anything to write about really. We kept our breaks to a minimum trying to hurry back home. Only three things on this day happened.
We encountered a traffic Jam near Bilaspur. Two trucks ran into each other at a turn and it resulted in a jam that stretched for almost 5 kilometers. Since we were on motorcycles, we bypassed all of it without stopping anywhere really. But it did make me wonder how long it would have taken us if we were in a car.
My brand new RayBan glasses worth Rs. 7000 were in my jacket pocket. Since it was very hot once we got down from the hills, I took off my jacket and handed it over to Narender who was riding pillion. I however forgot to zip the pocket that the glasses were in. As a result, they slipped out of the jacket and fell somewhere without either of us realizing it.
Just before Karnal, the rear tire of the motorcycle went flat all of a sudden. I was doing about 90 kmph at that time and the bike almost went out of control. I somehow managed to control it and bring it to the side. But to date, the very thought of what would have happened if we had fallen down in the middle of the road at that speed with trucks right behind us at the same speed sends shivers down my spine.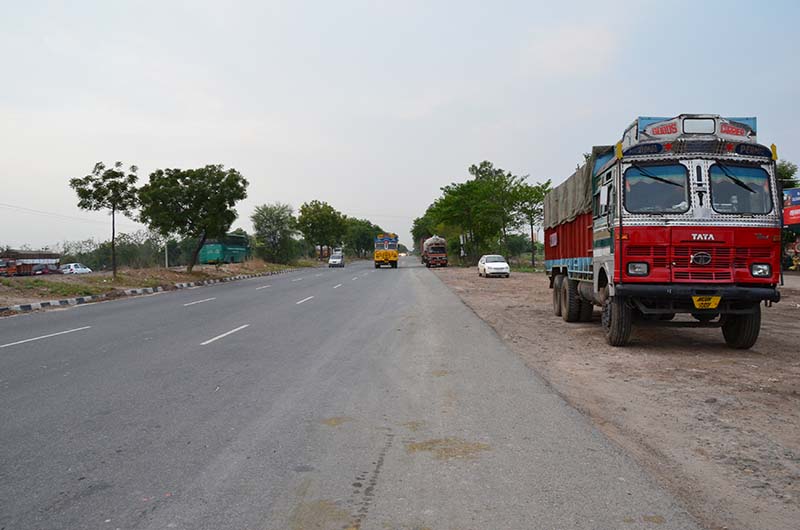 Conclusion
We reached back home late at night. One thing that we both missed on this trip was to carry a sunblock lotion. As a result, both of us got some serious sunburn. So bad that Narender developed some wounds around on his nose. I am of very fair complexion but the sun of Spiti burnt me so bad that I turned completely dark. People did not even recognize me for the next month as a matter of fact. The skin on my face, neck, arms, and head died and kept peeling off for about 6 weeks after the trip, like a snake shedding its skin.
So my word of advice is that you ride slow and carefully and must carry a sunblock lotion of the highest SPF that you can find. If you were also traveling from Sundernagar to Delhi or vice versa, I will recommend starting early so you can make it back home in time. I hope this travelogue of my bike to Spiti Valley was of help. If you have any questions or need any other details, please feel free to ask in the comments section below, or at our Community Forum, and I will be glad to answer.