This article is in continuation to a previous one and a part of my Leh Ladakh Travelogue. We traveled from Delhi to Leh via Manali and then arrived at Pangong while covering Tso Moriri and Hanle on the way. On Day 10, we conquered the mighty Marsimik La Pass and then moved on to Nubra Valley, traveling from Pangong to Turtuk on Day 11 & 12. Please click on the links below to read the previous part of the travelogue.
Journey So Far
Day 11 saw a very late start! We were pretty tired after our Changthang roller-coaster and simply did not feel like waking up early. Of course, another reason for us being lazy was that our planned drive for the day was not heavy. The target was to reach Panamik by late afternoon, through the Shyok – Agham route. After a breakfast of oily paranthas, we zoomed off!
Day 11: Tangtse to Panamik via Agham Shyok Road: 150 km – 5.5 hrs
The road to Shyok cuts off from Durbuk, and one enters a very narrow but beautiful valley. The road follows the Shyok river and climbs up a mountain before finally descending into Shyok village.
Shyok
It took us less than an hour to reach Shyok, and we were delighted at the sight of the rather big village surrounded by barren mountains, the entire setting being very picturesque. As we moved on, we saw a BRO sign-board that literally made us halt in our tracks!
It said "Shyok and Agham straight, 'DBO' right"!!!
DBO? Was there a road till DBO?
We really could not believe our eyes! For the uninitiated, DBO stands for Daulat Beg Oldi, which lies at the easternmost point of the Karakoram Range, very close to the Chinese and Pakistani borders. Although it is a cold desert, the Indian Air Force has an operational airbase there.
After several moments of disbelief, I eventually concluded that the BRO must've made a road along the Shyok river. Super! For more details on this route, take a look at Nubra Valley to Pangong Tso via Shyok Road.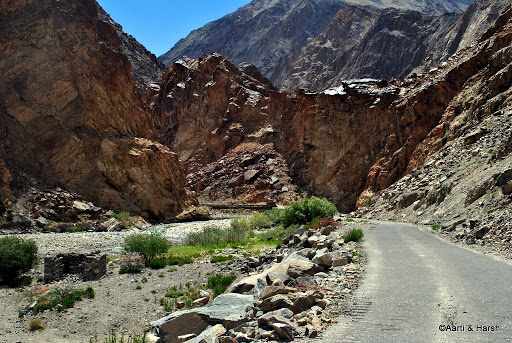 Hats off to BRO, they've built a road till DBO!​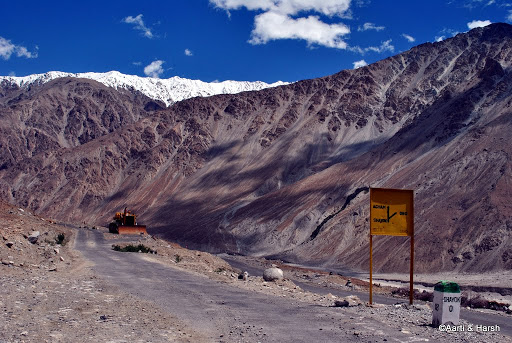 The Tough Drive
Once we got over the shock that there actually is a road all the way up till DBO, and over the disappointment that we may never be able to go there, we moved on.
Time and again we saw stones lying on the road, evidence of recent landslides, and could not help but remember the words of a taxi driver we'd met in Spangmik who kept advising us against taking this road because of the frequency of landslides on it. Hoping not to find a road-block, we drove on, stopping intermittently to take a photograph or two.
Also Read: How to Plan a Trip to Leh Ladakh – A Complete Travel Guide
After about an hour, the tarred road gave way to a Kucha one, and a short while later, we reached a stretch where one literally had to drive on the sand! Despite Kiyang being on 4H, it was skidding a bit, but we managed to keep the car on the 'road'.
The only problem we encountered on the stretch was a patch where one had to climb and descend a mini mountain of mud and slush. We did it carefully and fairly comfortably, thanks to the 4L mode, but several taxis we'd met earlier apparently had had a bad time crossing it, and had warned us about it.
There were tarred roads for a while​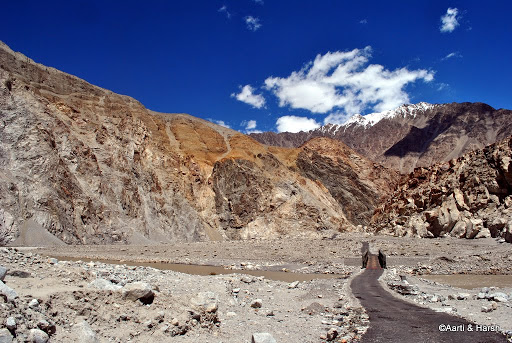 Tarred roads gave way to the sand and stone route​. The notorious bridge on this particular route, we were lucky to have crossed it without hassles that day​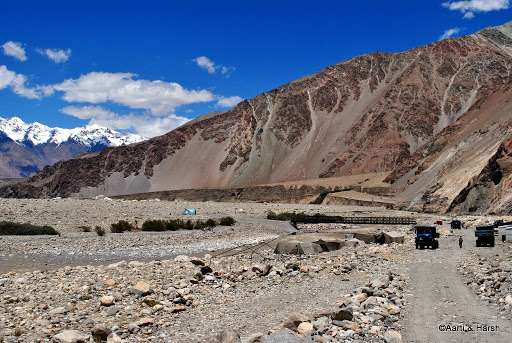 Agham
At Agham, we saw a road branching off towards Tangyar, 11 km away. This was the road to Wari-La, and we were extremely disappointed in being unable to do it; since the pass was still entirely covered in snow.
I wanted to go up till Tangyar and ask the villagers there about the current status of Wari La, but Aarti persuaded me with great difficulty that there was no point in doing so. Thus we moved on, and soon reached Khalsar, where we reported to the TCP, and also stopped for a lunch of Thukpa, which had been our staple diet in the interiors.
Also Read: How to Plan a Trip to Pangong Lake
Soon the sand dunes came into view, and we were glad to finally be in the Nubra Valley, even though we were already missing the desolation of Changthang. The road to Panamik is very pretty, lined with trees and pink bushes, and the road also is awesome. We'd checked into the Hot Springs guest house by late afternoon, and planned to go out to make some phone calls in the evening.
Agham village​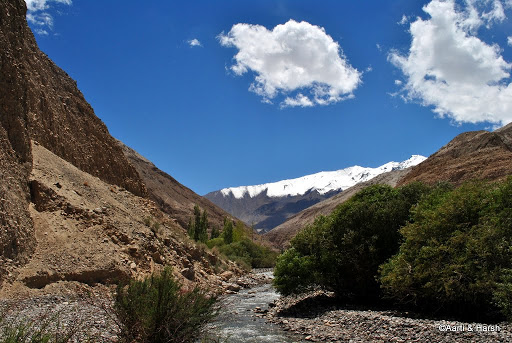 The drive after Agham is a breeze towards Nubra​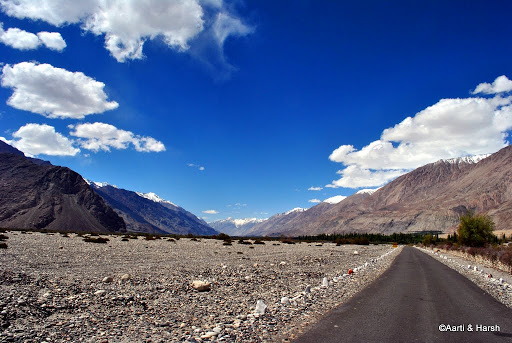 Panamik
The only phone, a satellite phone, in the area was in a village called 'Murgi' (funny!) on the other side of the Nubra river, and it took us quite some time to reach it. The phone was in the house of the Sarpanch of the village, and while we were making calls, he arranged for some drinks and snacks for us.
The people of Ladakh are really very hospitable and a pleasure to interact with! When we started back towards Panamik, the sun had set, and we had probably an hour of light remaining. We still wanted to go to the 'wishing pond' which I'd read about and also seen on our way to Panamik earlier in the day.
Also Read: How to Plan a Trip to Hanle
The wishing pond is a small body of water surrounded on all sides by small hills, on the side of the road, some 10 km before Panamik when one is coming from Khalsar. One has to climb the hills and then descend to the lake.
We managed to do it before it got dark, and then reached our hotel by 8 pm. After a dinner of momos and soup, we hit the sack, looking forward to our visit to Turtuk the next day.
The beautiful Nubra and Murgi town opposite the river​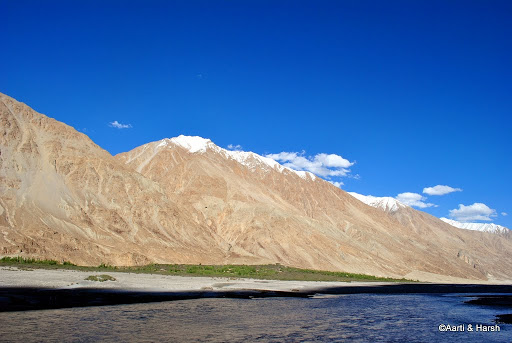 The wishing pond near Panamik​. It was late when we reached the wishing pond​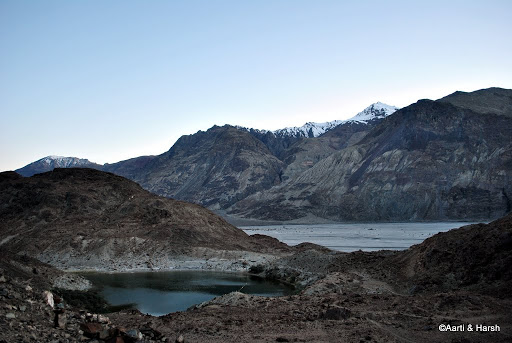 Day 12: Panamik to Turtuk : 140 km – 6 hrs
To be very honest, I didn't like Panamik too much. It really was nothing compared to Changthang! As a result, both of us were now all the more excited to explore Turtuk. For more details on this beautiful village, take a look at How to Plan a Trip to Turtuk.
Since we had a lot of distance to cover, we left early and reached the bifurcation towards Hundar in an hour.
The next 2 km are beautiful, with the road stretching in a straight line, and nothing but white sand on both sides. After some clicking on this stretch, we drove quickly to Hunder, only stopping to capture the confluence of the Nubra and the Shyok rivers from a view-point on the road.
Drive out of Panamik​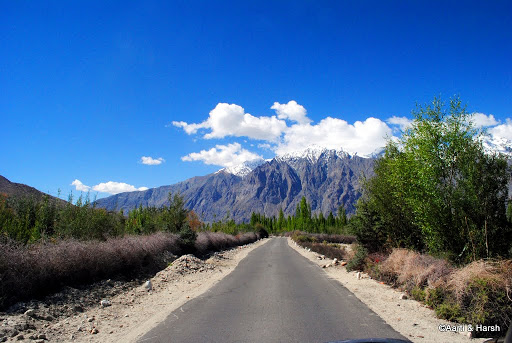 Hundar
It was very hot on the sand dunes in Hundar, and we didn't stop there for long. Just drove Kiyang across the river, met the Bactrian camels, and then were on our way to Turtuk.
The first photo op on this route was the airstrip at THOISE (The Halting Of Indian Soldiers En route). The long strip in the wide valley surrounded by huge, barren mountains was truly a beautiful sight! Immediately after THOISE, the valley narrows, and the landscape starts turning a dark shade of grey from the usual brown.
Also Read: Places to visit in Nubra Valley – Ladakh
The almost black color makes the mountains look even bigger and gives the valley a creepy feeling. Every 10 km or so you encounter a check-post, and your permits are checked on every other stoppage. The Army men are very polite and welcome you with cheery 'hello, kahan se aaye (where have you come from)?' greetings.
It was at one of these check-posts where we had to enter our name in their log that we noticed that we were in fact the 12th tourists to visit Turtuk ever! Quite a feeling that was!
River crossing just for the heck of it​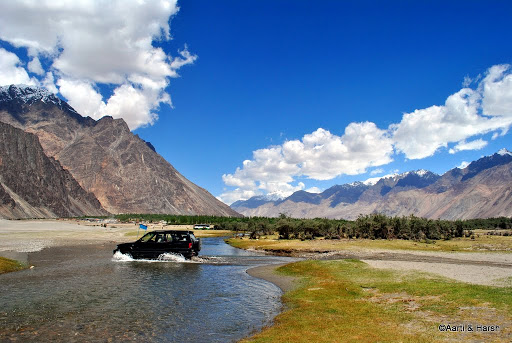 Bactrian Camel at Nubra​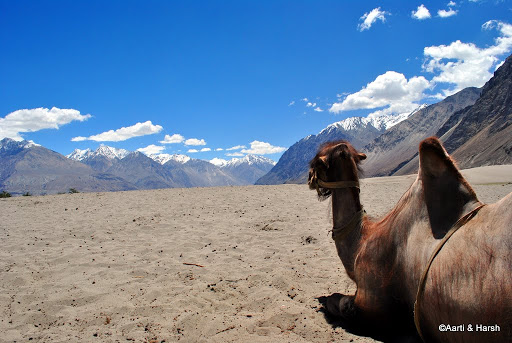 The airstrip at THOISE​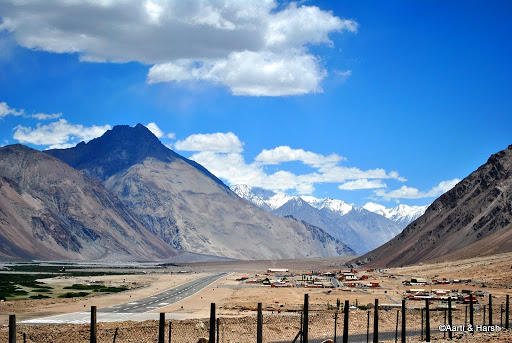 Dark mountains begin post Hundar towards Turtuk​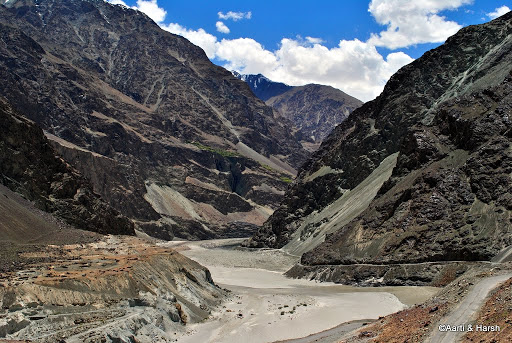 Bogdang
As we entered the village of Bogdang, 25 km before Turtuk, we realized that we'd left Buddhism behind and were now in an entirely Muslim area. Somehow, one always relates Ladakh to Buddhism, but the fact is that nearly 46% of the total population of Ladakh are Muslims.
At Chalunka, about 10 km before Turtuk, we gave a ride to a Muslim family of 5, who directed us straight to the PWD rest house when we finally reached Turtuk around 2:30 pm. Since the caretaker wasn't around, we were re-directed to the police station, where the local cop took all our details and a photocopy of our permit.
When the caretaker finally arrived, we put our stuff in the rest house (quite good for Turtuk) and then went to the 'Mini Restaurant' for some lunch. The restaurant has been recently opened by Mir and Amin, two brothers, and serves basic food. Meeting them and eating at their little restaurant is an absolute must for all visitors to Turtuk!
The PWD rest house is, as of now, the only option to stay in Turtuk. However, many guest houses were under construction and should be up and running by next month.
Almost reached Turtuk​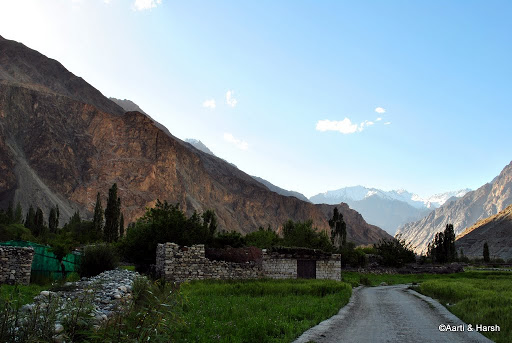 One of the first things that strike you about Turtuk is its proximity to Pakistan. The border is a mere 6 km from the village, and although civilians aren't allowed beyond Turtuk, the locals told us that one can easily see Pakistani villages from the LoC. During the Kargil war, Turtuk also experienced some severe shelling, and the entire village had to be evacuated.
Exploring Turtuk
After freshening up, we decided to explore the village a bit. Amin offered to show us around the village, and we were more than happy to accept. Soon we were following him into the small lanes of Turtuk village, searching for a certain Mohd. Khan who knew about the history of Turtuk better than anyone else in the village.
We crossed by the village mosque before we reached his home, and decided to stop and have a look inside. The kids in the village were surprised to see us as they were still not accustomed to tourists. They followed us wherever we went, giggling all the time! After spending some time at the mosque, we moved on and reached Mohd. Khan's house.
To our dismay, he was not there, but his daughter was quite happy to show us around and explain whatever she knew about the history of Turtuk. Their family was apparently the descendants of the royal Yabgo dynasty which ruled these parts before British India.
She showed us the house and took us to a locked drawing-room upstairs which had, amongst other things, the complete family tree of the Yabgo dynasty, painted on a wall by Mohd. Khan himself. After spending a while at their home, we ventured ahead into the fields of Turtuk.
The rickety staircase at Turtuk mosque​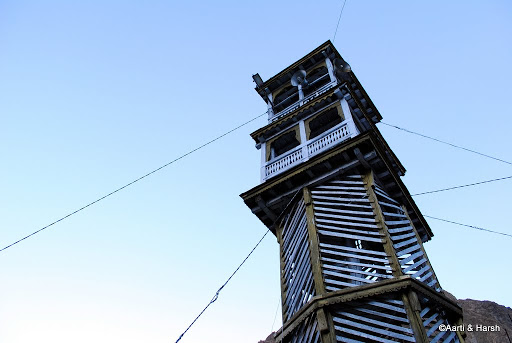 Girls at Turtuk​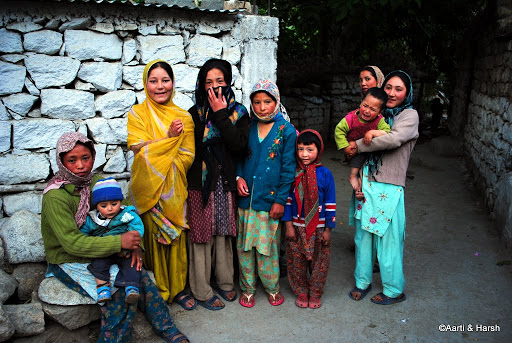 Understanding Turtuk
On our way back, we bumped into Mohd. Khan who was on his way home. He promptly invited us again to his home. We really could not say no and accepted the offer. We arrived at his home again and he took us on a historical ride of Turtuk.
He began with an explanation of the origins of the Yabgo dynasty and the area in Baltistan under their control. He spoke of the state of affairs in Turtuk before 1971, when it was a part of Pakistan. After the war, the area came under Indian control.
He also spoke of the tragedies of the ill-fated war. It broke apart a lot of families in a single day. He told us of the freedom they enjoyed being a part of India and the helpful nature of the Indian army. He also mentioned his happiness at Turtuk being finally opened to tourists, both Indian and international.
We were truly amazed by his stories, and it gave us a whole new perspective to understand Turtuk and its people in a better way.
Mohd. Khan's family at Turtuk, the eldest one is his daughter​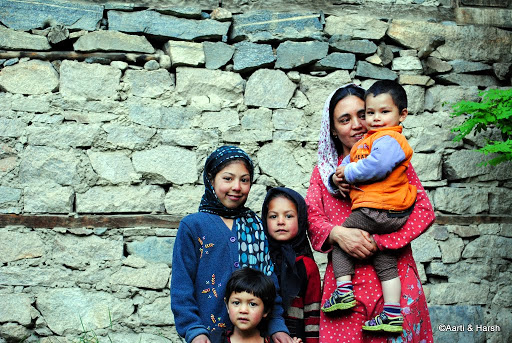 End of the Day 
After nearly 4 hours of roaming around and chatting to people in the village, we realized that it was about time we proceeded towards the "restaurant" for some food. A sumptuous meal was prepared by Mir and Amin, and while we were enjoying it, we had our first encounter with two sleuths from the Intelligence Bureau, who had dropped by the restaurant to check us out!
With our belly full, we retired to our cozy room at the guest house. Tomorrow we would be driving on the highest (or should I say the second-highest motorable road in the world. It was going to be a long day.
Pangong to Turtuk – Conclusion
I hope the travelogue, pictures, and information above on traveling from Pangong to Turtuk were of help. Please click on the link above to continue reading the next part of the travelogue. If you have any questions or need any other details, please feel free to ask in the comments section below, or at our Community Forum, and I will be glad to answer.