This article is in continuation to a previous one and a part of my Leh Ladakh Travelogue. We traveled from Delhi to Leh via Manali and then arrived at Tso Moriri Lake in a total of 7 days. On Day 8, we traveled to Hanle while covering the village of Chumur on the way and then moved on from Hanle to Pangong Tso Lake the next day. Please click on the links below to read the previous part of the travelogue.
Journey So Far
The plan for the day was quite straight-forward – leave Hanle at leisure, reach Pangong Tso by evening, and stay at either Man, Merak, or Spangmik, depending on the distance we cover.
Day 9: Hanle to Pangong Tso: 210 km – 10 hrs
We left our guesthouse at Hanle at 9 am and were soon back on the road. The road to Loma from Hanle is quite interesting. Imagine a larger, straighter version of Moreh plains. There are no rules, drive where you want to, but preferably stay close to the main track.
The tarred road begins about 20 km away from Hanle and one can really fly on that road. By 11 am, we were able to reach the bifurcation from where one road goes to Loma and the other to Dungti and Koyul.
Flat road to Loma from Hanle​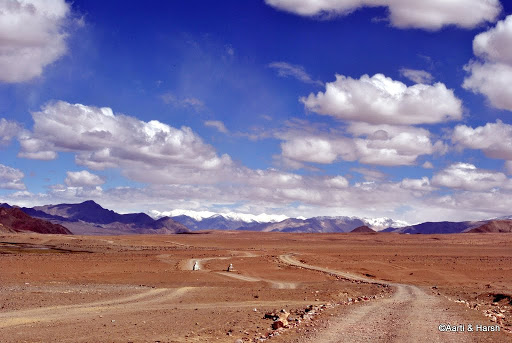 Tarred road begins​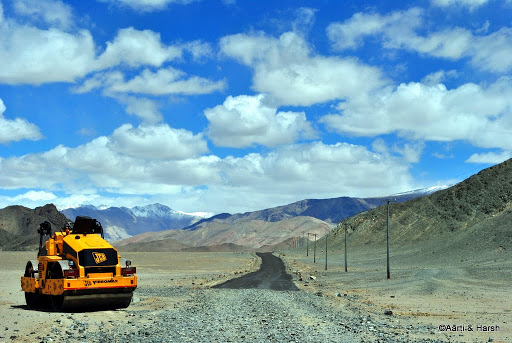 The Wrong Turn
According to the map, we had to take a right turn towards Dungti from the bifurcation and then take a left towards Chushul. Little did we know that we actually had to cross the river first and then take a right. So we took the right at the bifurcation and happily proceeded towards Dungti.
Also Read: How to Plan a Trip to Leh Ladakh – A Complete Travel Guide
However, a short while later, we sensed that something was wrong, since, as per our map, the road should have been moving North, but we kept going South. Before we realized what exactly was wrong, we'd reached Dungti, and were at the receiving end of some amusing stares from the guys at the check-post there.
Civilians are not allowed till Dungti, and the ITBP guys were understandably pissed at us for being there. We apologized to have arrived there without permits, and quickly took a U-turn to return to the bifurcation.
The bifurcation towards Dungti, which we should not have taken​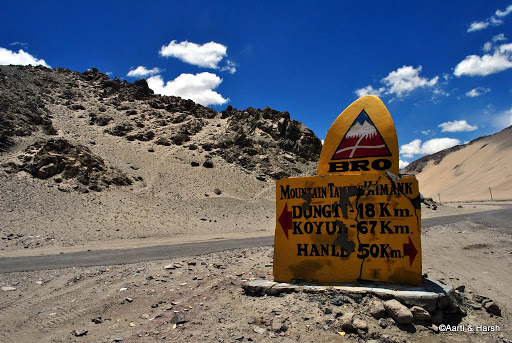 Ducks in the Indus​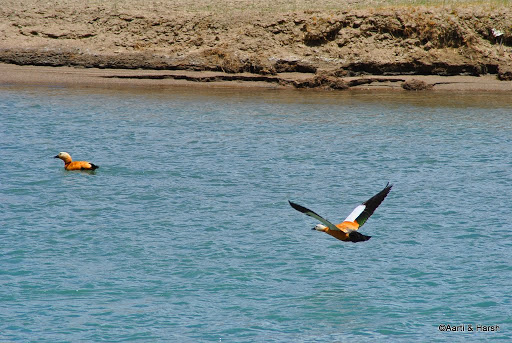 Loma
Our permits were checked for the first time at the check-post in Loma. The OiC at the post was quite surprised to see us since he did not remember allowing us to proceed towards Hanle. We had to then explain our entire route to him, upon hearing which he was quite taken aback.
We also told him about the wrong turn we took to Dungti, and he sure was not happy to hear that. He told us about an incident when a couple of days before a group of bikers coming from Chushul had been warned not to go towards Dungti. But they had done so nevertheless, pissing off the officer big time.
He had hence decided not to let anyone proceed towards Chushul, even if they had the required permits. It took us an hour of some serious persuasion before he finally let us pass towards Chushul. However, I must add that the guy was extremely kind and offered us lunch, which in fact was pretty tasty.
Also Read: How to Plan a Trip to Hanle
Tsaga
With our permits checked and approved, we proceeded towards Chushul. The drive was quite desolate with only a village by the name of Tsaga en route. The climb to Tsaga La was relatively straightforward.
We were moving parallel to the Indo-China border and we could see a lot of bunkers to our left. It was an eerie but great feeling to drive knowing that we were being watched by our soldiers.
Tsaga village boasts of homes with Dish TV & an STD booth as well!​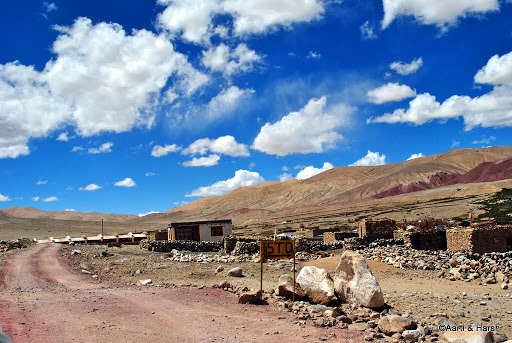 That's Tsaga La​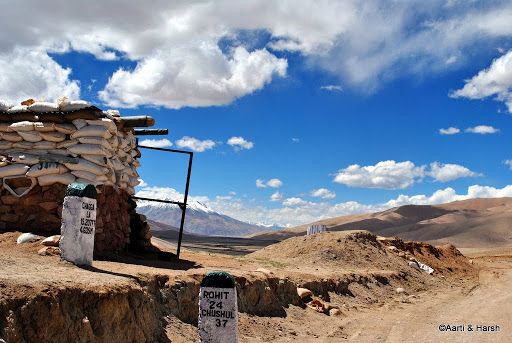 Rezang La
By 3:30 pm, we had managed to reach the Rezang La war memorial and a little while later the Chushul War Memorial.
The battle of Rezang La, a ridge overlooking the strategic Chushul plains, is one of the most glorious chapters in the history of the Indian army.
In the unequal war of 1962 against the Chinese, the Ahir Charlie Company from 13 Kumaon, led by Major Shaitan Singh, decided that until they were alive the Chinese weren't going to have a look-in on Chushul, at 17,000 ft. Of the 120 defenders, only three survived, seriously wounded.
Rezang La War Memorial​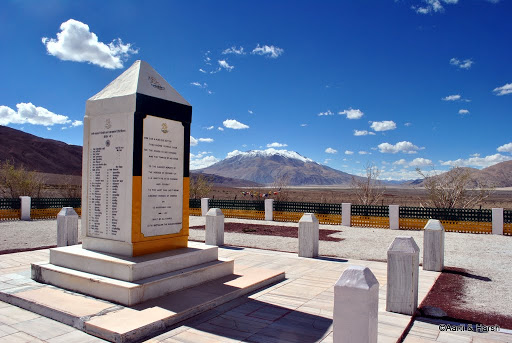 The rest, including Major Shaitan Singh (who was awarded Param Vir Chakra posthumously), were discovered after the winter, frozen, mostly holding their weapons but with no ammunition. This was a genuine 'last man-last round' defense. Read Lest We Forget  – The Heroes of Rezang La for more details on this.
Chushul War Memorial
The war memorial at Chushul commemorates the action and sacrifices of other battalions fighting an outnumbered battle against the Chinese in 1962. A wave of patriotism hits as one enters these memorials.
En route Chushul from Tsaga, we were spying on him with our zoom lens, he was spying on us with his 'better' zoom lens.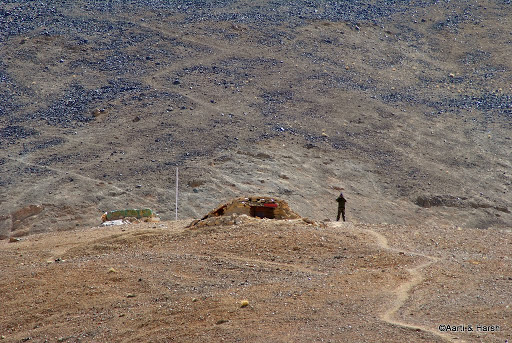 The war memorial at Chushul​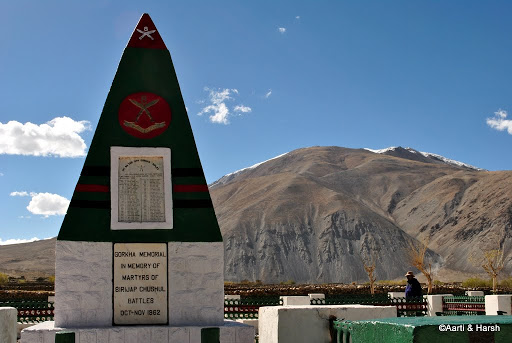 Chushul
We soon landed in Chushul and were surprised to see that it was in fact quite a big village. Stocking up on our wafer supplies, we moved on towards Pangong Tso. After a brief climb, we were greeted by the first view of this beautiful lake. The route after this was right next to the lake all the way to Spangmik.
Also Read: How to Plan a Trip to Pangong Lake
And what a drive it was! There are some roads that are simply indescribable, and this one would surely be somewhere on the top of that list! The road continues to cling on to the edge of the lake for about 45 km till one reaches Spangmik. Simply an amazing stretch to drive on!
Pangong Tso
We reached Spangmik by 7 pm, our destination for the night.
The first glimpse of Pangong Tso​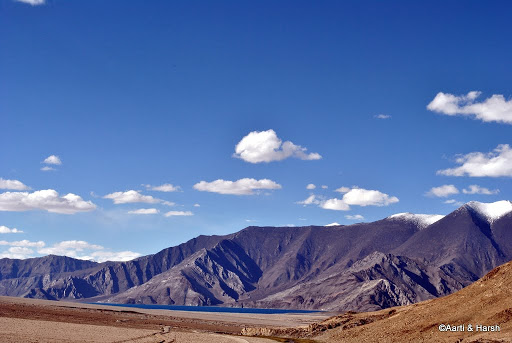 That's China beyond the lake​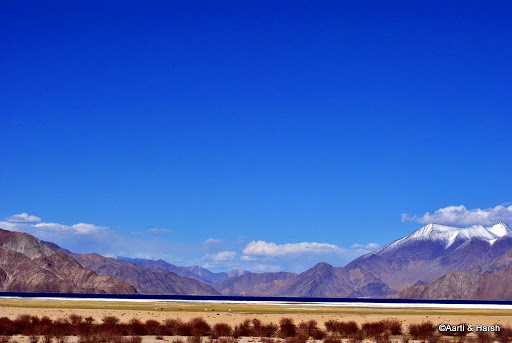 Posing next to the lake​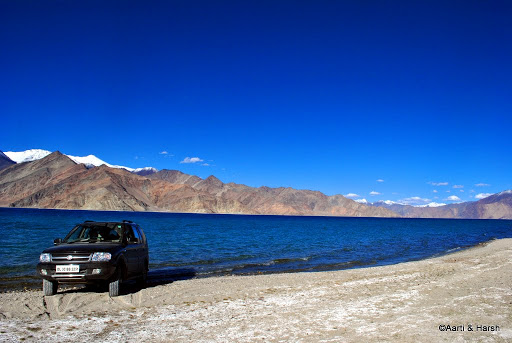 The beautiful Merak village​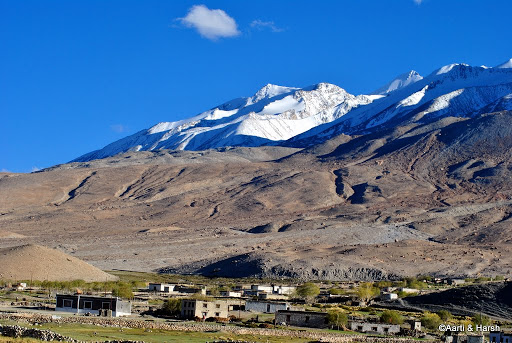 Night shot at Pangong​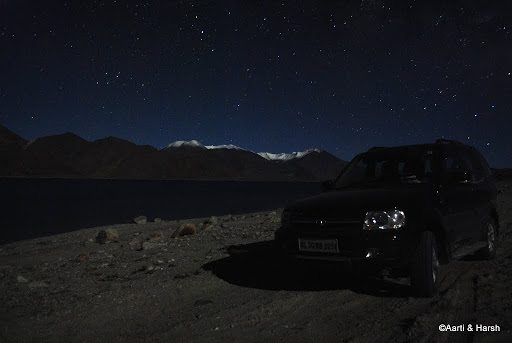 That concluded our journey for the day, from Hanle to Pangong Tso. Compared to the kinds of roads and terrain we handled in the previous two days, it was really a much easier drive. True that the roads were terrible but at least there was a sign of the road.
The next day would be a simple drive, only 100 km, to Marsimik La and back!
Hanle to Pangong Tso – Conclusion
Please click on the link above to continue reading the next part of this travelogue. I hope the travelogue, pictures, and information above on traveling from Hanle to Pangong Tso were of help. If you have any questions or need any other details, please feel free to ask in the comments section below or at our Community Forum, and I will be glad to answer.