This article is in continuation to a previous one and a part of my Leh Ladakh Travelogue. We traveled from Delhi to Leh via Manali, Patnitop, and Srinagar in 5 days. We then arrived at Tso Moriri Lake on Day 7 after resting in the city for a day and arranging permits. On Day 8, we traveled from Tso Moriri to Hanle while covering the village of Chumur on the way. Please click on the links below to read the previous part of the travelogue.
Journey So Far
After a wrong turn on Day 7, we could not arrive in Karzok village as planned and were forced to self-camp on the banks of the lake; all by ourselves and in the middle of nowhere. By the time we started to set up the camp, it was well past 8 pm.
Thankfully, the moonlight was bright that night, and we finished pitching in 20 minutes or so, after struggling a bit to pitch the tent firmly in the sand. We then boiled some water, heated our ready-to-eat Yakhni rice in it, had a cup of tea and some chocolates, and called it a night.
Little did we know that the adventure was not over yet. It was close to about 1 am when both of us were awakened by some noise outside our tent, it seemed someone or something was scratching the tent from the outside.
Oh well, it was nothing thankfully. Just the outer layer of the tent flapping due to the strong wind. LOL.
Day 8: Tso Moriri to Hanle via Chumur 180 km – 10 hrs 
Although the temperature had dropped below zero outside, we were quite warm inside the tent. However, neither of us could sleep well due to the constant flapping of the tent. The loose sand was not able to hold the pins of the outer layer of the tent properly and it kept brushing against the inner one all night.
Also Read: How to Plan a Trip to Leh Ladakh – A Complete Travel Guide
I woke up early, before sunrise, to catch a glimpse outside. And what a view! I really do not have adjectives to describe the beauty of the place. It was heavenly! I took a walk along the beach for a while to soak in the magnificence of the place.
Our hotel next to Tso Moriri, with plenty of parking space​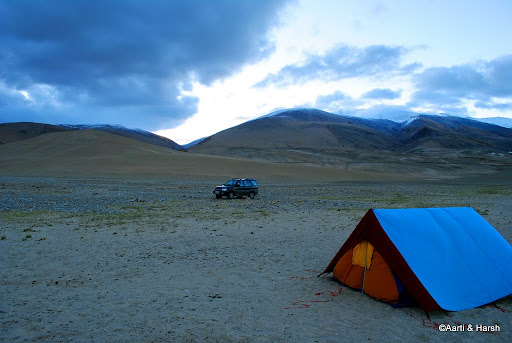 A Sign of Trouble?
The next thing to do was to check Kiyang's vitals, the daily ritual. Opened up the bonnet, checked everything. Checked the tire pressure, everything seemed normal. Now as always, it was time to crank it up and leave it running for a while to let the engine heat up a bit.
First, crank, nothing. Second crank, Nothing. Third, fourth but still nothing! My heart sank. We were alone there, quite far away from any sort of help.
However, a couple of minutes later, I realized that the problem is nothing but a simple cold. I'd often read travelers complaining about this problem in Ladakh, but this was the first time I was experiencing it.
Also Read: How to Handle Acute Mountain Sickness in Ladakh
After all, our Esteem did not give a single problem in Spiti. But this was of course a diesel vehicle, so things were different. So the solution was simple. I opened up the bonnet and let the engine heat up till we packed up our stuff.
The sun came up soon enough after, and it was time to cook some moong dal halwa breakfast (surprised? don't worry, it was a ready-to-eat packet of halwa) ). Enjoying garam garam halwa with an open view of Tso Moriri from inside our tent was a priceless feeling!
Sunrise happening on Tso Moriri​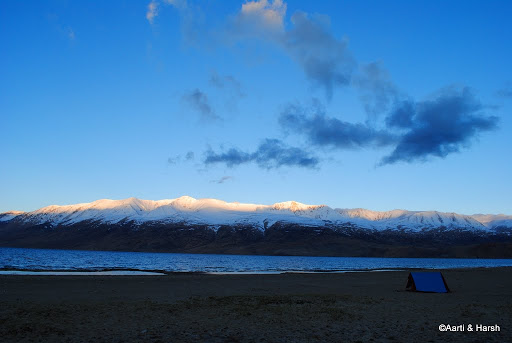 Tso Moriri to Chumur
As per our original plan, we were supposed to stay the previous night in Karzok and had planned to ask the villagers the next morning whether a direct route to Chumur from Tso Moriri existed or not. But now that there was no one around to ask, we had to decide for ourselves what our plan of action would be.
We had read a biker's blog about a year ago who'd seen a jeep doing the direct road and had followed the jeep, although with great difficulty. So, we did know that a route existed. But could we take a risk based on just one biker's blog?
We did see a definite road in front of us, the same road on which we'd taken a wrong turn the previous evening. This road was on the eastern bank of Tso Moriri. Our research on Google Earth earlier told us that if a direct road from Tso Moriri to Chumur existed, it had to be in the eastern bank.
We then checked on our GPS, and the road was definitely going towards Chumur. Finally, we asked ourselves – "Why would the BRO blast a road unless it was going somewhere?" All these things seemed to point towards just one thing – the road in front of us would directly lead us to Chumur.
Also Read: How to Plan a Trip to Tso Moriri
The Adventure Begins
So, based on all these signs and under all these assumptions, it was decided during breakfast that we would head out towards Chumur. If we reach there by evening, well and good, else if we have to come back, we would stay the night at Karzok. And if we have to camp again, we were prepared.
With our stuff packed, I cranked the engine again, pumping on the accelerator continuously, and voila! Kiyang came back to life. By 8:40 am we were climbing the river bed again towards the road, and by 9:00 am we were on our way to, well we did not know where.
Although the road was properly blasted, it obviously had no tar on it and was extremely bumpy. Our average speed must've been close to 12-15 kmph! If we had to turn back, it sure was not going to be any fun!
Also Read: How to Prepare your Car for Ladakh
End of the Road
It was around 10 am when we turned a bend and got a rude shock! The road blasting work was incomplete and the road ended abruptly ahead. We were close to the southernmost part of Tso Moriri.
Although we could see no road ahead, we decided to drive till where we could see it ending, and soon we saw that there was aboard at the point where the road ended. As we reached it, we saw what was written on it: "Aage road band hai, kripya neeche se jaaye". (The road ahead is closed, please move ahead by climbing down).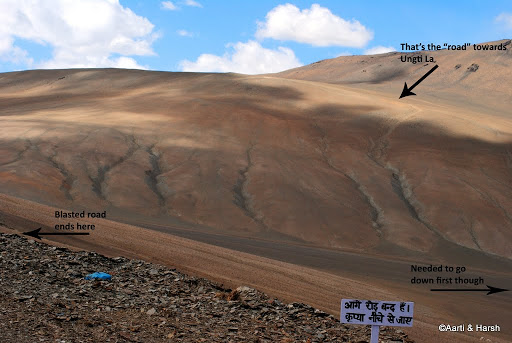 We tread the board, and then looked 'neeche' (down). It was almost a 40-degree descent! Then it struck us, there were some tire marks visible going down, and there were also some tire tracks shamelessly climbing the hill in front of us!
This was the road! We were scared. Off-roading was one thing, but off-roading alone without a backup plan was not a wise idea. But we were in no mood to turn back now and went on.
There are some adventures during which it is impossible to take a picture/video to capture the moment. This was one of them. We got down and tried to do a recce of the situation. It seemed that if we really "crawl", it was actually possible to go down the hill. Now from my experience, if going down was safe, climbing up would be safer.
Also Read: What Clothes to Pack for Leh Ladakh
4L & 4H
With that in mind, we just decided to take the risk. With our hearts pounding, we moved ahead. It reminded us of our descent from Tapovan, where every step had to be taken slowly so as not to slip. The car had to be kept dead straight, with no side movement whatsoever. Finally, we made it to the base of the hill, thanks to the 4L mode!
The next task at hand was to climb the hill in front of us. At first glance, it really seemed impossible. But as our eyes followed the Stallion tire tracks, we could see the path and gradually gained confidence that although tough, it was doable.
The trick was again to move only vertically up, and if there was sideways movement on the hill, it had to be short and fast. Eventually, we climbed the hill in 4H – 1st gear, not even needing the 4L mode!
Also Read: Things to Carry for Ladakh Trip
Ungti La
Once the ascent was done, it was a relatively gentle and straight climb towards the next pass. I'm not 100% sure of the name of the pass but have seen it referred to as Ungti La in some blogs.
With the pass crossed, it was an almost flat ride on the top of the hill till we reached the final descent towards the Chumur valley. And what a sight it was! No-one to be seen for miles, no settlement, not a sign of civilization, not even a single Changpa around. No roads, just some tire tracks to follow with aid of GPS and one's instincts.
The elusive "Ungti La". I'm not too sure if that's actually the name of this pass.​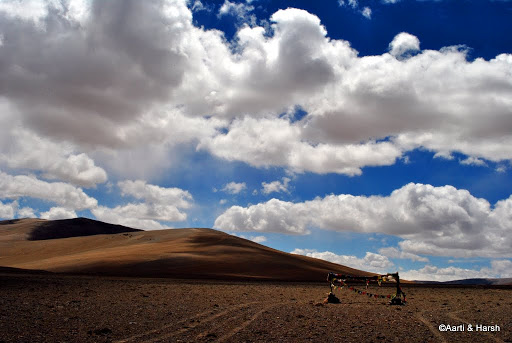 Chumur
We had assumed that once we cross the pass and by the time we enter the Chumur valley, the road to Chumur would be smooth and direct. Little did we know that the valley itself was a marshy wetland, and one had to be very careful on the route one took.
Also Read: How to Calculate your Budget for Ladakh Trip
It took us at least an hour and a half to reach Chumur village after a couple of wrong turns. The GPS coordinates of Chumur, although not precise, were more or less correctly marked on Google Earth, and we must thank the person who marked it, for it was largely because of him/ her that we were now almost at Chumur.
Changpa kids who found us amusing and came running towards us​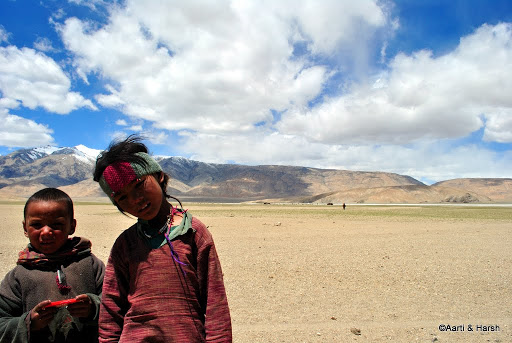 One climbs up such mini-hills and then descends them. Some parts of the valley are marshy and non-motorable.​
Curious Kiangs​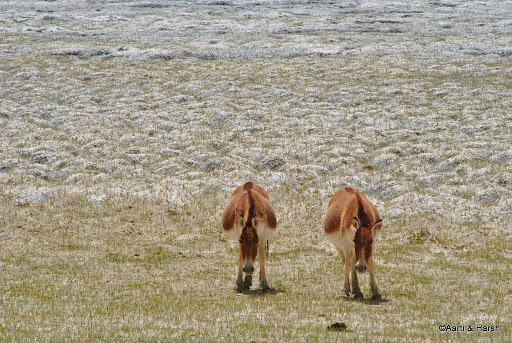 Mummified Monk in Chumur Gompa
A visit to "the Gompa with the mummy" was on the cards, but that was more of an excuse rather than the real reason to visit Chumur. The Lama who had died sometime in the 1970s wished to stay in the gompa forever, and the only way to grant him his wishes was to embalm his body and keep it inside the monastery forever.
The mummified remains of the Lama of Chumur Gompa who died sometime in the 1970s​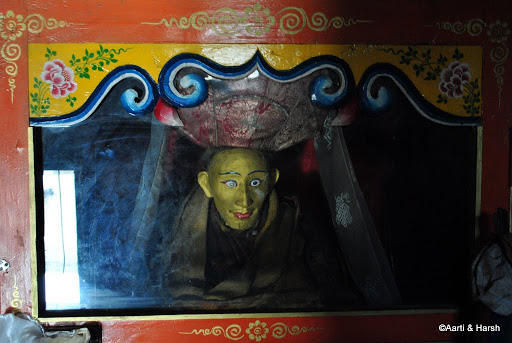 Hand of the Witch
Another legend of the strange monastery goes back to the 1920s when a lady of the village, suspected to be a witch, was punished by having her hand dismembered from her body. Her son too was punished similarly for helping her in her wicked deeds.
Also Read: Is Ladakh safe for Tourists?
Their hands were then embalmed and are still kept in the monastery and serve as a message to the villagers not to mess with the "LAW".
The witch's hand​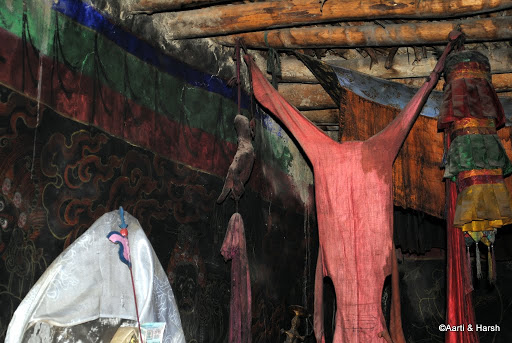 Her son's hand​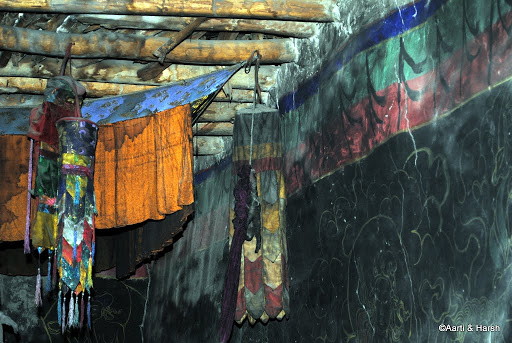 The Chumur monastery complex with the village below, and the approach road​

After a quick tour of the gompa and a quick lunch, thanks to the Lamas there, we decided to move on to Hanle and not spend the night at Chumur, as we'd planned in the morning.
We were under the impression earlier that the route to Hanle takes about 7 hours to cover. However, the Lamas at Chumur told us that it takes only about 4 – 5 hours to reach Hanle. After discussing the route with an ITBP Jawan (who spoke broken Hindi), we left for Hanle at 1:30 pm.
Also Read: A Detailed Road Map of Ladakh
Chumur to Hanle
We left for Hanle from Chumur at about 1:30 pm. We had discussed the rough sketch we had drawn describing the path to Hanle with the ITBP jawan. He gave us a few pointers and a few landmarks which we had to look out for.
He also mentioned that it is quite easy to lose one's way in the valley and one should be careful. And he reminded us at least 5 times to take a right from Kyun Tso, as the left would take us to Nyoma.
Armed with our GPS, on which we'd marked the probable route back in Delhi, we set off for Hanle, hoping to reach there before sunset. The route was relatively easy initially, and all we had to do was to follow our morning tracks till we reached the crucial bifurcation from where we were to turn right. In theory, the plan was simple and easy to follow, but, as we all know, one is rarely that lucky in Ladakh.
In the Middle of Nowhere
The tire tracks bifurcated 5 km before the point where we'd marked 'crucial juncture' on our GPS. Unsure of what to do, we took the right turn, but returned back soon thereafter, deciding to proceed as per our plan. We took the right turn at our "crucial juncture" but there were no tire tracks to follow there.
It was a dried-up wetland, bumpy and still partly grassy. We took a leap of faith and marched on. After all, it was our instinct that had taken us to Chumur earlier that day. After a while, when we hadn't seen tire tracks for quite some time, we began to question the route, and that is when we saw the much heard of "markings" to Chumur.
Ahead of us were two iron sticks jutting out of the ground, with red markings on the top. Phew! We were right after all! These sticks accompanied us almost all the way to Hanle.
I guess the tracks we were following had been abandoned by the ITBP. These had been in use earlier, but now they had a "better road", the one which we had decided not to take. The path we took required some patches of good off-roading skills, particularly to avoid getting stuck in the mud and to avoid hitting the underbelly of the car too hard, and I enjoyed every bit of all that off-roading!
Also Read: Leh to Pangong Lake Travel Guide
Salsal La
Soon we came to the climb to Salsal La. It seemed like an almost vertical climb! While ascending, we did not shoot a single photograph, with Aarti busy navigating me to chose the gentlest slopes to climb. We soon concluded that this path must only have been used by Stallions to climb.
After huffing & puffing for a while, we saw that a road had been blasted and we finally joined it mid-way in our climb to Salsal La. The road was in awful condition, but at least the gradient was gentle.
It was not long before we realized that it's better to avoid the loops and take the climb straight up used by the Stallions. Although much steeper, it was a much smoother climb. It was not before some good 4L mode action that we reached the top of Salsal La.
It was time to rest for a while, and give a much-deserved break to Kiyang, which was belching out black uncombusted smoke all the way.
Salsal La, finally!​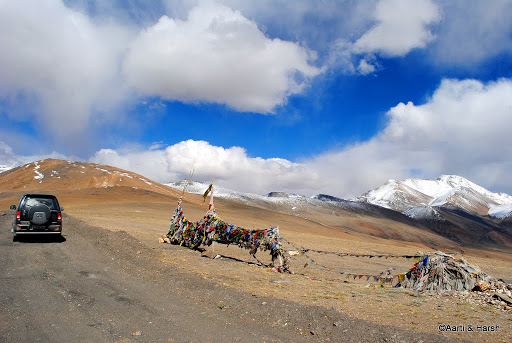 Kyun Tso
A short while later, it was time for us to get back on our way to Hanle. I cannot recollect why exactly we did not stop at Kyun Tso. We just drove past it. Maybe it was the tiredness from lack of proper sleep the night before. We also did not know, or rather did not notice, that Kyun Tso is actually two lakes.
The lovely Kyun Tso. We should have spent some more time here​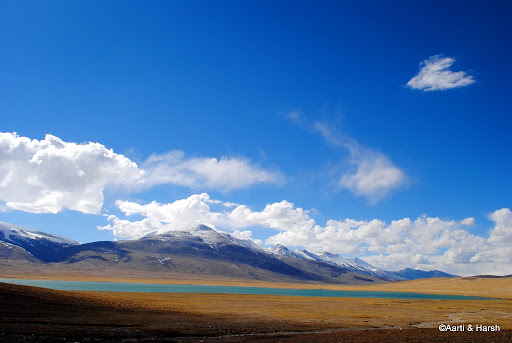 The ride further to Hanle was long and tiresome. It was a mix of rocky, bumpy, and at times a smooth drive too. But one always has to really concentrate, to avoid stones hitting the underbelly. Right after crossing Kyun Tso, we finally came across a Stallion, the first vehicle we'd seen since we left Debring, and took the cut towards Tso Kar.
It was nice to get some kind of reassurance that we were indeed on the right track. So a couple of marmot sightings, kiang sightings, and loads of treacherous driving later, we finally managed to reach Hanle by 6:30 pm.
The final stretch to Hanle deserves a special mention. It was the worst stretch of road in a flat wetland ever! With Hanle at a tantalizing distance and the average speed at 7 kmph, it was one of the most frustrating drives ever!
Also Read: How to Plan a Trip to Hanle
Hanle
Daylight was fading quickly now, the sun was almost at the horizon and it would be dusk soon. We had to start looking for a place to spend the night, but before we did that a visit to the Hanle Observatory was a must.
As we reached atop the hill where it is situated, we got the feeling that the place is straight out of a sci-fi Hollywood blockbuster. A lone observatory, far away from civilization, atop a hill with 5 scientists working on their weird-looking monitors.
Hanle Observatory
The scientist explained to us that they are only a 4 engineer team, working so that the machine here can function properly for scientists sitting in Bangalore, who control the telescope remotely from there.
The only part missing from a sci-fi movie was a hot babe! If she were present, the whole movie "Deep Blue Sea" could've been converted to something like "Lonely Cold Mountain" and shot at the observatory in Hanle. And oh by the way, contrary to popular belief, this is not the world's highest observatory.
The imposing Hanle fort​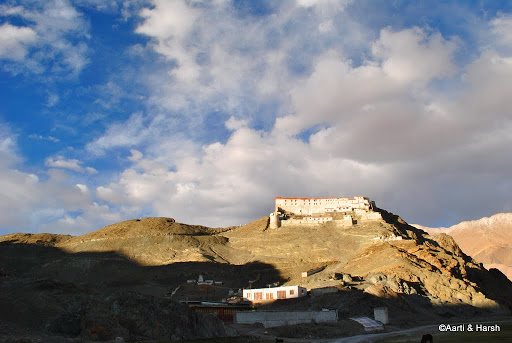 The Hanle Observatory​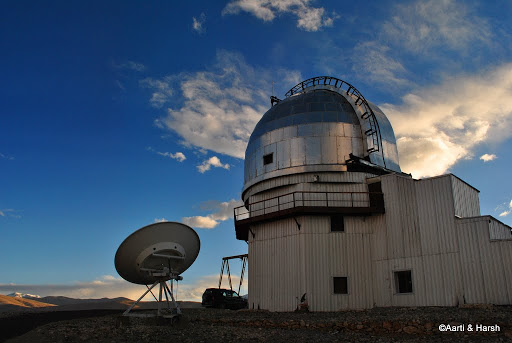 Gamma telescopes. They look like alien ships on the Moon landscape!​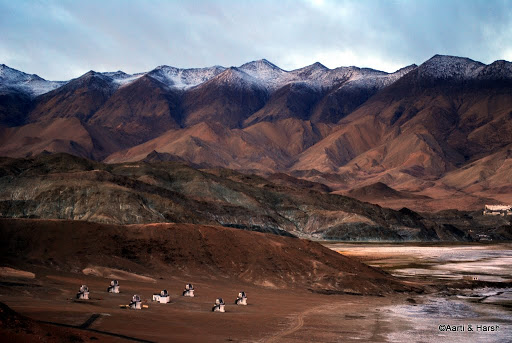 We were informed by the head scientist that it was impossible for him to give us a room at the observatory guest house without prior permission from Leh. So we scurried along to the village, and finally found the woman who held the keys to the PWD rest house there. With stay arranged, it was time to cook dinner and rest for the night.
Tomorrow we head out to Pangong Tso. With that thought, we called it a day and crawled under blankets for much-needed sleep. We were both terribly tired since the last night at Tso Moriri was definitely far from being a comfortable one.
Tso Moriri to Hanle – Conclusion
Please click on the link above to continue reading the next part of this travelogue. I hope the travelogue, pictures, and information above on traveling from Tso Moriri to Hanle via Chumur were of help. If you have any questions or need any other details, please feel free to ask in the comments section below or at our Community Forum, and I will be glad to answer.