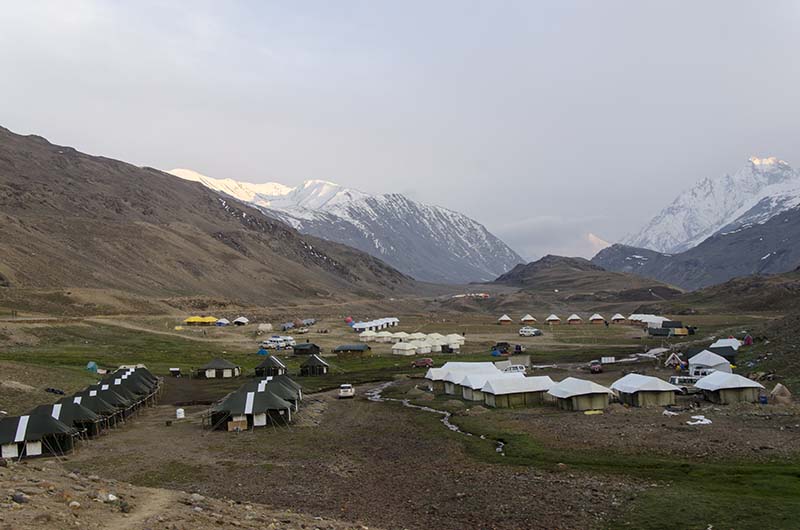 For anyone planning a visit to Chandratal, the biggest question is about where to stay at Chandratal. A lot of people get confused about where they can stay, how much is it going to cost, and whether it is safe or not. In this article, I will try to answer all these questions and provide information on what your options are in terms of accommodation at Chandratal Lake.
Please note that in this article, I will only talk about the stay options at Chandratal. If you want to know how to get there, the best time to visit, which route to take, and other necessary details, please read How to Plan a Trip to Chandratal.
If you want to know about the entire Spiti Valley, I will recommend reading How to Plan a Trip to Spiti Valley.
Where to Stay at Chandratal
If you want to stay as close as possible to the lake, the only available option is of campsites. There is no cemented hotel or guest house. Chandratal is in a very secluded area and the nearest town is Losar which is miles away.
From Kunzum Pass top, a small road, barely wide enough for one car, takes you to Chandratal, about 15 kilometers away. There is no village or any locals around the lake so you have no other choice but to stay at one of the campsites.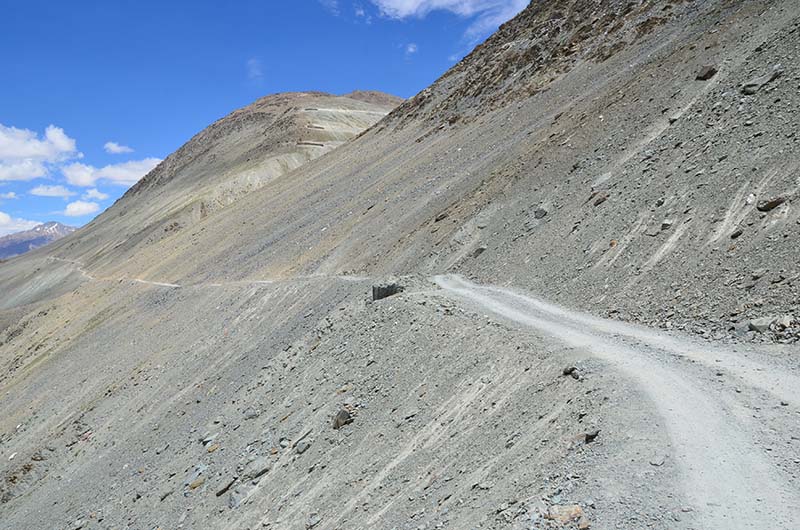 The other two nearest places where accommodation is available are Losar or Batal. In Losar, there are a few guesthouses but it is about 33 kilometers from the lake. Batal has a few more campsites and a Dhaba where you may get a bed for the night for a few hundred Rupees. Batal is approximately 16 kilometers from Chandratal.
Other than this, the next nearest hotels are in Kaza, at a distance of 58 kilometers.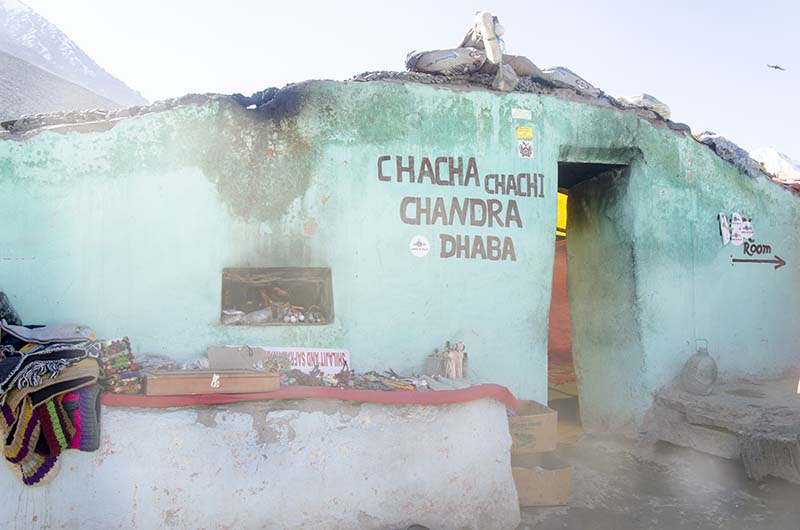 Camping at Chandratal Lake
Until a few years ago, the nearest campsites were just about a kilometer away from the lake. These were also the cheapest stay at Chandratal where you could get a tent for 2 for only Rs. 500. Below is a picture that I took during my first visit here. Unfortunately, this option is no longer available.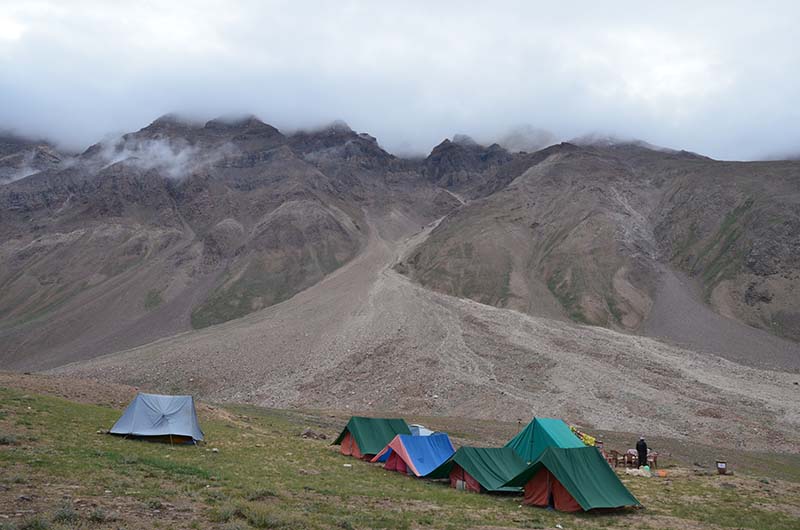 Chandratal is a wildlife reserve and as such, a protected area. The ecological system of the lake is very delicate. After the recent boost in tourism, a lot of people started to camp right next to Chandratal. This resulted in a lot of littering and the wildlife getting disturbed. There was even a death when a drunken guy drowned in the lake while camping there for the night.
To prevent all of this, a new rule was brought into place. Camping on the banks of Chandratal is now forbidden by law in order to not disturb its ecological system. There now cannot be a campsite anywhere in a radius of 3 kilometers of the lake and even self camping is not allowed.
As you get closer to the lake, you will reach a large ground like area where all the campsites are (the first picture in this article). Just take a look around and check into the one that you like the most.
This is the closest the camps can be now. The road from here goes for another 2 kilometers and ends at a parking-like area. You will leave your vehicle there and walk the last 1 kilometer to the lake.
Also read: Clothes for Spiti Trip – What to Pack?
Chandratal Camping Cost
What are the campsite charges at Chandratal? It pretty much depends on how well you are able to negotiate but expect it to be at least Rs. 1500 per person, meals included. Some of the campsites charge more than that as well but I am mentioning the lowest Chandratal lake camping cost that you will have to pay. No one will charge you any lesser than this.
Self Camping at Chandratal
Can you pitch your own tent at Chandratal? Yes, you can. A lot of people as a matter of fact do it. But it is always good to check with a campsite for a spot where you can camp.
Stay a bit close to the campsite; and if the owner agrees (you will need to pay for this of course) you can use their washrooms as well. Another plus point of this will be that your food can also be bought from the campsite. This will save you the hassle of cooking on your own.
Do not camp right next to the lake primarily for three reasons. One is that it is against the law and you will surely get in trouble for it. Second is that wild animals come to this lake at night so for water so it is unsafe as well.
The third reason is that the locals here, the shepherds to be precise, treat Chandratal as their own property; and you will be surprised to know that all the owners pay them money for running their campsites at the lake. You really do not want a local at your camp arguing and demanding that either you pay or pack up your tent.
Charges for pitching your own tent near to a campsite are Rs. 300-500 per tent. Pay that and you can use the campsite washroom facilities as well.
How Hygienic are the Camps at Chandratal?
Considering the kind of money you will be paying at these campsites, you would expect these camps to be pretty neat and yes they are. The inside of the tent, bedding, and blankets are all very clean. But as I said, take a look around and check into the one that is per your liking.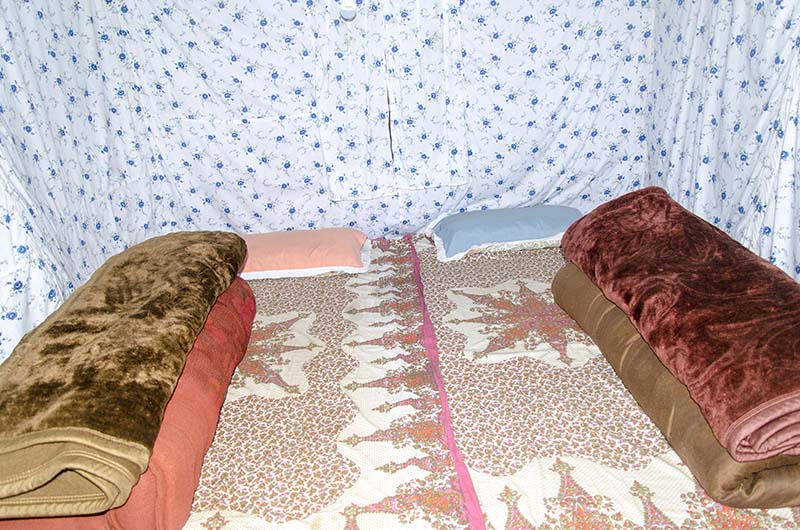 How are the Washroom Facilities at Chandratal Camps?
Depending on the charges, some camps offer attached washrooms and some offer a common washroom. You may want to check the washrooms yourself once before you decide to stay.
Also read: Mobile Network & Data Connectivity in Spiti Valley
How Safe are the Campsites at Chandratal?
These are quite safe but then there is also the point that a person's safety is in their own hands. Do not wander around at night; stay on the trek while going towards the lake and you will be all right. You will find both men and women at the campsites so there is no issue at all of women safety.
How is the Food at Chandratal Camps?
I cannot really make a generic comment on this; because the quality of the food will be different for each camp. But no matter where you stay, it will not be horrible.
The menu will only comprise of simple vegetarian dishes. Liquor is also not available for sale at any of the camps. If you brought your own, then yes, you can have it.
I will strongly advise against consuming alcohol at such an altitude and in the middle of nowhere. If it triggered altitude sickness at night, you will have nowhere to go and no help to get.
Is Hot water available?
Yes, all the campsites at Chandratal have the facility of hot water. But expect it to be in buckets, not running hot water. It will be boiled on a stove and given to you so you also will have to use it a little conservatively.
Hotel at Chandratal Lake
There are no hotels near Chandratal. The nearest hotels you will find are in Kaza or a couple of small guesthouses in Losar.
PWD Guest House Batal
Batal also has a PWD rest house. In case you want to stay in a cemented building; then this will be the best choice if you are able to find the caretaker and talk him into letting you stay. Chances are that you will find it locked and the caretaker gone. I have been on Spiti Circuit numerous times and never have I found him available.
If by some miracle, the caretaker was there at the rest house, he will not let you stay. He will ask you to talk to the Dhaba owner in front of the guest house and book a campsite there.
But nonetheless, the PWD rest house Batal is a great option to stay within walls for a night. Please note though that there is no electricity here, no TV and even though you stayed at the rest house, you will still be eating out at the Dhaba.
Batal also has the facility of a satellite phone, the number of which is 08991722020. If you want to call in advance and inquire about booking the PWD guest house; you can do so at this number. It belongs to the Dhaba owner at Batal.
How to reach Chandratal?
The best way to reach Chandratal is by your own vehicle. You reach Kunzum Pass top and from there you take the small road that I posted a picture of above. The road is hard to miss, and there is a large board as well which will point you in its direction.
If you are not using your own vehicle, then the next best option is to hire a private taxi from either Manali or Kaza, depending on which side you are coming from.
Shared taxis on this route are not that frequent and it may be a while before you find one. There is a bus from Manali to Kaza and back which starts early in the morning from both Kaza and Manali that you can board.
Keep in mind though that the bus and shared taxis will only drop you at Kunzum Pass from where you will have to walk 14 kilometers to Chandratal. There is no bus service or shared taxis from Kunzum Pass to Chandratal.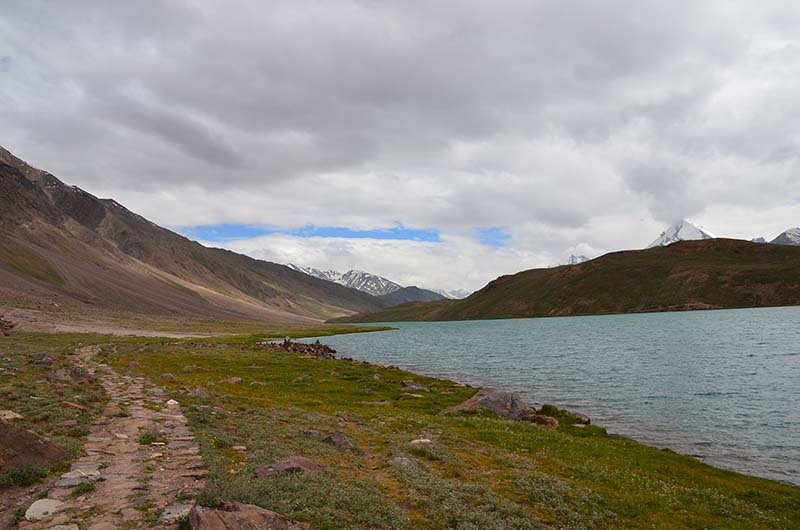 Is there any wildlife at Chandratal?
Chandratal is a sweet water lake in the middle of nowhere so yes, there is a lot of vegetation around it and wild animals do visit the lake for drinking water.
I happened to be one of the lucky ones to see a wild animal near our campsite, I am not sure what it was but it looked like either a fox or a wolf. It was definitely not a dog and we all could tell that by the way it was growling and the howling noise it made. But this was a rare incident. Chances of you running into a wild animal are extremely rare.
Are there any Shops?
No there aren't so bring whatever you think you may need; like cigarettes if you smoke. It is better to buy from either Kaza or Manali, depending on which side you are coming from, and carry it along with you.
Hotel at Kunzum Pass
There is no hotel at Kunzum Pass or any other sort of accommodation available. Kunzum Pass is a high altitude pass that remains closed for 7 months in the year. There cannot be a hotel here.
Also read: Recommended Guest Houses & Hotels in Spiti Valley
Camping at Chandratal
I have been at Chandratal many times and it is indeed a great experience. Camping in the middle of nowhere where you will sleep under two blankets in even July is a memory that you will cherish for long. The lake is extremely beautiful and the road to it is extremely adventurous. If you have even the slightest interest in photography, you will get some amazing landscape photos.
Is it Safe?
Let us talk a little in terms of safety. A lot of families and couples stay here so women safety is not really a problem. The concern will be in terms of acute mountain sickness, extremely cold weather, and dangerous road.
I will not recommend staying here for the night if you had young kids with you, less than 5 years of age. In that case, you should make a day trip to the lake.
The road to Chandratal is a very narrow stretch and you will have to be good at the wheel if you are coming by car. It will probably be the most adventurous road you have ever been on.
Acute Mountain Sickness at Chandratal
If you were traveling on Spiti Circuit from Shimla side, you will not face altitude sickness at Chandratal. By then, your body would have acclimatized and you will be Ok.
But if you were coming from Manali to Chandratal, then yes, you may face some symptoms of mountain sickness. The idea is to stay warm and no exhaust yourself. If you can, you should first go to Kaza, spend a day there, and then cover Chandratal while on your way back to Manali. For more details on this, please read How to Handle Acute Mountain Sickness in Spiti Valley.
Hotels in Losar
Losar is just a small village so there are no big hotels here. But it does have a few small guesthouses and homestays where you can stay for the night.
Bonfire at Chandratal
You cannot do bonfires anymore. It is forbidden by law and none of the campsites will allow you to light a fire at night. The below picture is from my first trip here when we were able to do a bonfire until late at night.
Accommodation at Chandratal Lake – Conclusion
I hope the information above regarding where to stay at Chandratal was of help. If you have any further questions, please feel free to ask in the comments section below; or at our Community Forum; and I will be glad to answer.