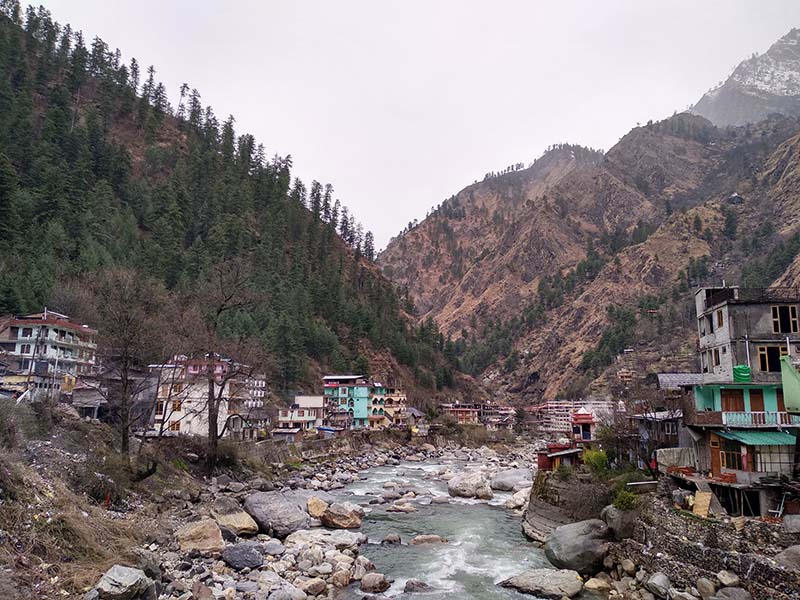 Are you planning a trip to Parvati Valley and wondering what to see there? In this travel guide, I will provide a list of places to visit in the Parvati valley that you can use for local sightseeing. All of these places are stunningly beautiful and I will recommend visiting them all. How many you are able to cover will entirely depend on the time you have in hand.
Please note that in this article, I will only talk about places to visit in Parvati Valley and things to do. For other details like how to reach, where to stay, weather, the best time to visit, please take a look at How to Plan a Trip to Parvati Valley.
Places to visit in Parvati Valley
Until a few years ago, not many people would have even heard of the name of Parvati Valley. But in the last few years, it has become a heaven for trekkers and backpackers. Kasol and its Israeli influenced hippie culture was probably the first thing that attracted the visitors to the valley but the list has now expanded way beyond. Now you can spend several days and will still not be done with sightseeing in Parvati Valley.
Mentioned below is a comprehensive list of places to visit in Parvati valley and other tourist things to do.
Kasol
Kasol looks like a sleepy little hamlet and will always be the first in the list of places to visit in Parvati Valley. It is the main town of the Valley. Surrounded by huge deodar trees and beautiful mountains in the backdrop it is one of the most scenic places in Himachal. Though it can get crowded during summers, if you can manage to visit it winter (Jan, Feb, early March) then you can enjoy it a lot more.
The best thing to do here is to just relax and enjoy the cafes around which serve some amazing Israeli and Italian Delicacies. It is around 40 kilometers from Bhunter and around 75 kilometers from Manali. For more details, please take a look at How to Plan a Trip to Kasol.
Jari
This small hamlet is the first prominent Village of the Valley and acts as a base if you want to get to Malana. It is around 30 kilometers from Bhunter and around 9 kilometers from Kasol. Local buses from Bhunter and Kasol are available throughout the day to reach Jari.
Mateura Jari
This traditional Himachali village is just a 30 mins hike on the motorable road from Jari. There also exists a steeper trail to reach the Village. This village doesn't attract too many visitors when compared to the other villages of the Valley. It is a perfect example of a small traditional Himachali Village. A temple is dedicated to the local deity of the Village which resembles most of the other Himachali Temples.
I really wanted to stay here but strangely enough. one of the guesthouses we headed to straight away refused us due to lack of staff. Somehow, we managed to find a local and asked him whether we can get a place to stay (we couldn't locate any other homestays or guesthouses and it was raining as well) to which he contacted somebody, but again we were refused as apparently, it was under renovation. This was quite bizarre to us and we had to give up the idea of staying there and had to go Kasol instead.
Also Read: Treks in Parvati Valley – A COMPLETE Travel Guide
Malana
This is one of the most popular places to visit in Parvati Valley. Recently it was opened to tourism and has gained popularity due to unique facts about its culture and people. Residents of Malana claim to be descendants of Alexander the Great.
You are not allowed to touch its people, nor you can touch anything in the village, else you'll be fined heavily. The entry to the village temple is also prohibited. The main deity of the village is called Jamlu Devta (almost every village in Himachal have their own deity).
Malana is only accessible on foot. Malana Gate is the starting point of the hike to Malana. To reach here first you need to get to the small town of Jari. Any bus going towards Kasol from Bhuntar can be boarded or in case you are in Kasol, you can board buses going towards Bhuntar. From Jari, the only way to reach Malana Gate is to hire a cab which has a fixed rate of Rs 700. The Cab will leave you at Gate, from where the hike to the village takes around 2 hours.
There is also apparently a much steeper and longer route to Malana much before the Malana Gate which is not frequented by a lot of people these days because of the shorter and much easier route which starts from the Malana Gate.
So please ask the locals about the longer route to Malana in Jari and they should be able to guide you. Unfortunately, I couldn't make it to Malana as the trail was slippery due to heavy snow around Malana. For more details, please take a look at How to Plan a Trip to Malana Village.
Chalal
If you are someone who loves quietude, then this is a perfect getaway from the crowded Kasol. Chalal can be reached only on foot. It takes 30 mins to reach from Kasol. The trail passes through a beautiful forest and is very easy to hike on as there is no uphill climb involved.
Chalal offers a great view of the mighty Parvati River in its full flow and one can also reach the bank of river Parvati from here. Once you cross the main Bridge in Kasol to reach the market area, just take a Left from Panj tara Cafe, and then you'll see another bridge that connects Kasol to Chalal; this where the trail begins.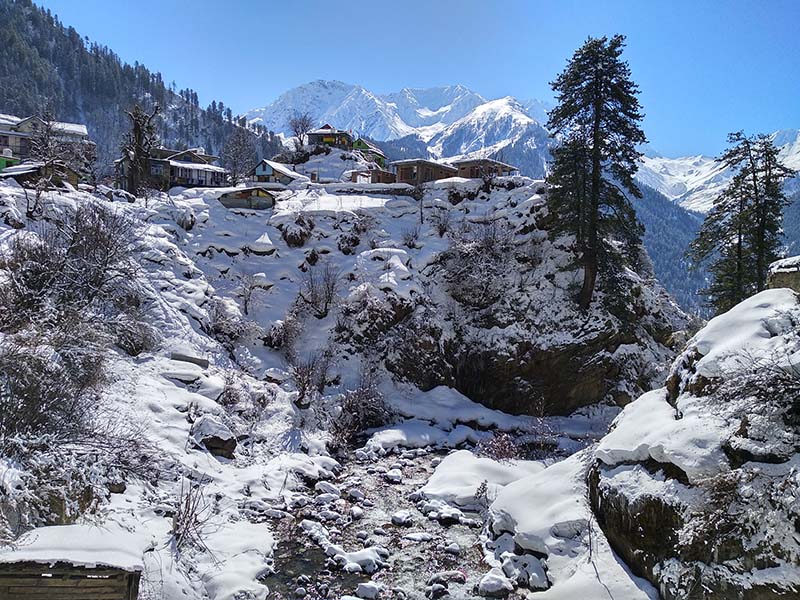 Rasol
This traditional Himachali hamlet is one of the most remote and offbeat locations in the valley. It can be reached only on foot and requires an arduous uphill climb of around 4-5 hours from Kasol. To get here, one needs to reach Chalal first and then you would get to Katagla, which is another wonderful offbeat village; and then you would finally reach Rasol.
Grahan
This is another offbeat village situated deep in the upper reaches of Parvati Valley. It is around 10 kilometers from Kasol and takes around 4-5 hours to reach. This village acts as a base to the famous Sar Pass Trek.
Also Read: Parvati Valley Trip Itinerary – The Best Way to Plan your Trip
Manikaran
Manikaran, located on the Bank of the River Parvati, is an important religious site for Sikhs as well as Hindus. It is located at an altitude of around 1800 meters and is a well-known place in the Valley due to its religious importance and the famous hot water Springs around the Gurudwara.
It is believed that Guru Nanak, the first Guru of Sikhs, visited Manikaran a long time ago. Almost every Gurudwara offers Langar and Manikaran Sahib Gurudwara is no different. They also have a good Langar arrangement for the visitors.
There are many unique temples around Manikaran Area. There is a 17th Century Temple dedicated to Lord Ram and a temple dedicated to Lord Shiva which is of great importance in Hindu Mythology. Manikaran is Just around 4 kilometers from Kasol.
Barshaini
This is a small little hamlet in the far end of the Parvati Valley at an altitude of 2500 meters. It acts as a starting point to reach Tosh, Kheerganga, and Kalga Village. Barshaini is the last point till where the local buses can drop you in Parvati Valley. The hills opposite to Barshaini, are covered with Pine, Oak, Deodar trees; and with the Roaring River Parvati flowing below, these are some of the most surreal views you'll see in Parvati Valley.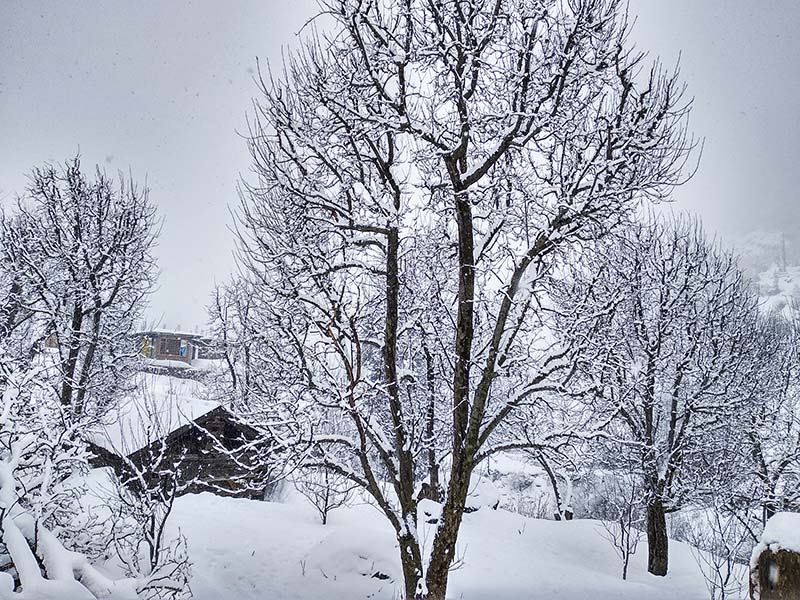 Tosh
Perched at around 2400 meters, this used to be one of those untouched traditional Himachali Villages which pretty much no one knew about. But things have changed now, as tourism increased exponentially in this region.
It now seems to be overrun with travelers for most times of the year, except for a few months; and no longer remains an offbeat travel destination. The whole of the village now seems to be just crammed with hotels and guesthouses with a very few traditional Himachali houses left.
With that being said, you can salvage your visit to Tosh if you manage to time your trip correctly in the off-season months. I traveled to Tosh during February and it turned out to one of the most amazing experiences I have had; with almost no tourist rush and no ridiculously high prices for accommodation.
If you want to witness impeccably scenic winter landscapes then this is the place to be at. Summer months offer a lush green view of the slopes along with the snow-capped peaks which is amazing if you don't mind a bit of crowd.  For more details, please take a look at How to Plan a Trip to Tosh Village.
Kutla
If you don't like touristy Tosh, then Kutla is where you should head to. Kutla is around 2-3 hours hike from Tosh and the views from here are insane. In winter though, the entire trail is usually not accessible due to heavy snowfall around Tosh. Most of the hike is easy as the trail is marked one, but during the latter part, there is an uphill climb to reach the Village. Lots of Villagers can be seen on this trail so it's better to ask the directions every few minutes so as not to get lost.
Kalga
Kalga is one of the very few places the remains sort of unaffected by the tourism Explosion in the Parvati Valley. Perched at an elevation of 2500 meters, this village is mostly known for its apple orchards. Even though guest houses have started to come up in this village, the number is still very less as compared to Kasol and Tosh.
Kalga offers a great view of the majestic snow-clad mountains and pine forests in the backdrop. It takes around 30-45 minutes to hike to Kalga from Barshaini and the route is a bit steep but not too difficult.
To reach Kalga from Barshaini, one needs to take a right from the Barshaini Bridge and hike up to the village. Pulga and Tulga villages can also be reached from Kalga itself as there are trails leading to these villages. Like Kalga, Pulga and Tulga are also away from the Hustle and Bustle of Kasol and Tosh.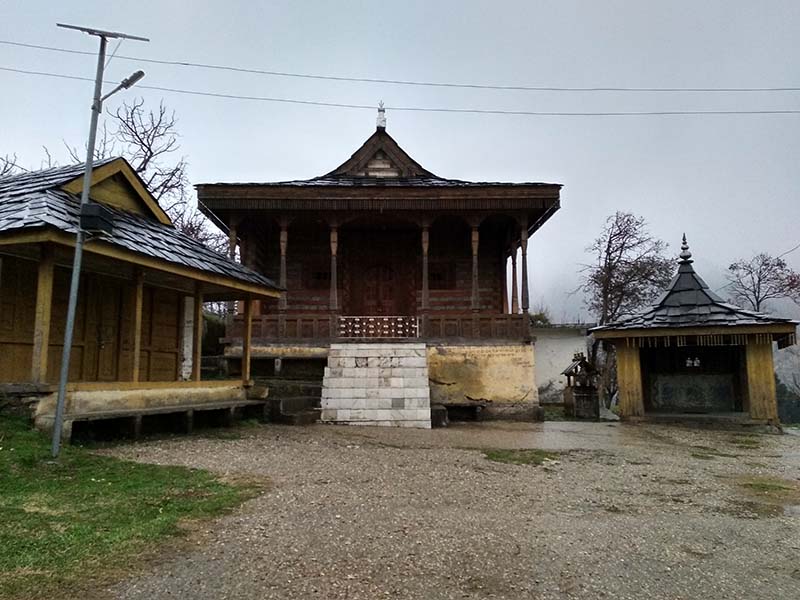 Waichin Valley
Waichin Valley (also known as Magic Valley) is an unexplored area of Parvati Valley that not many people know of. It is located after a 4 kilometers trek from Malana and offers stunning views of the surrounding mountain ranges. It is located at an altitude of 2,700 meters and gets called as Magic Valley because of its dramatic and charmingly beautiful landscapes.
Please note that even though it is only 4 kilometers long, the trek after Malana is a bit steep and not an easy one. There are a few camping sites in Waichin Valley where you can stay for the night.
Also Read: Places to Visit in Kasol – Attractions and Things to Do
Naktan Village
Naktan (also Nakthan) village is located about halfway on the trail from Barshaini to Kheerganga. It is a small village with only about 50 odd houses. Usually a part of the Kheerganga trek, it can only be accessed on foot. It is situated at a height of 2,300 meters on the left side of the Parvati River.
Nakthan is a preferred stop for people trekking to or from Kheerganga or for people wanting to stay away from the crowd in a remote and peaceful location. The village has a few guest houses, homestays, and dhabas. The whole setting of the village amidst apple orchards, blooming flowers, and lush greenery are very enchanting.
Rudra Nag Temple
Rudranag Temple is a sacred temple located on Kheerganga trek. It is a short walk of 30 minutes away from Naktan Village. There are several waterfalls near the temple and even its name is derived from a snake-like waterfall. There is a Dhaba near the temple serving tea and snacks where you can take a break and get something to eat.
Thakur Kuan Village
This is a small village located deep within Parvati Valley, beyond Kheerganga and Tunda Bhuj, at an altitude of 3,560 meters. Here, Parvati Valley meets the valley of the Dibibokri Nal River which is a tributary of Parvati River. This beautiful region can only be accessed on foot and is filled with mountain flowers of numerous kinds.
Also Read: Budget Trip to Kasol – How to Reduce Kasol Trip Cost
Pandupul Village
Beyond Thakur Kuan village, the Parvati Valley then gradually climbs up to Pandupul village (also spelled as Pandu Pul village). The area is famous and known for its two natural rock bridges, crossing the Parvati River and a southern tributary. It is said that Pandavas meditated out here in this village and both of the bridges were built by them. This is how the village got its name as Pandu Pul.
Odi Thatch
After Pandupul, the valley then climbs up even further to the high altitude meadows of Odi Thatch. From there, you can continue trekking further up to Mantalai Lake, the source of the Parvati River, at a height of 4,100 meters. If you continue further ahead, you will cross the Pin Parvati Pass and descend into Pin Valley National park in Lahaul and Spiti District.
Please note that all these places from Naktan to Odi Thatch are a trek route and cannot be reached by any vehicle.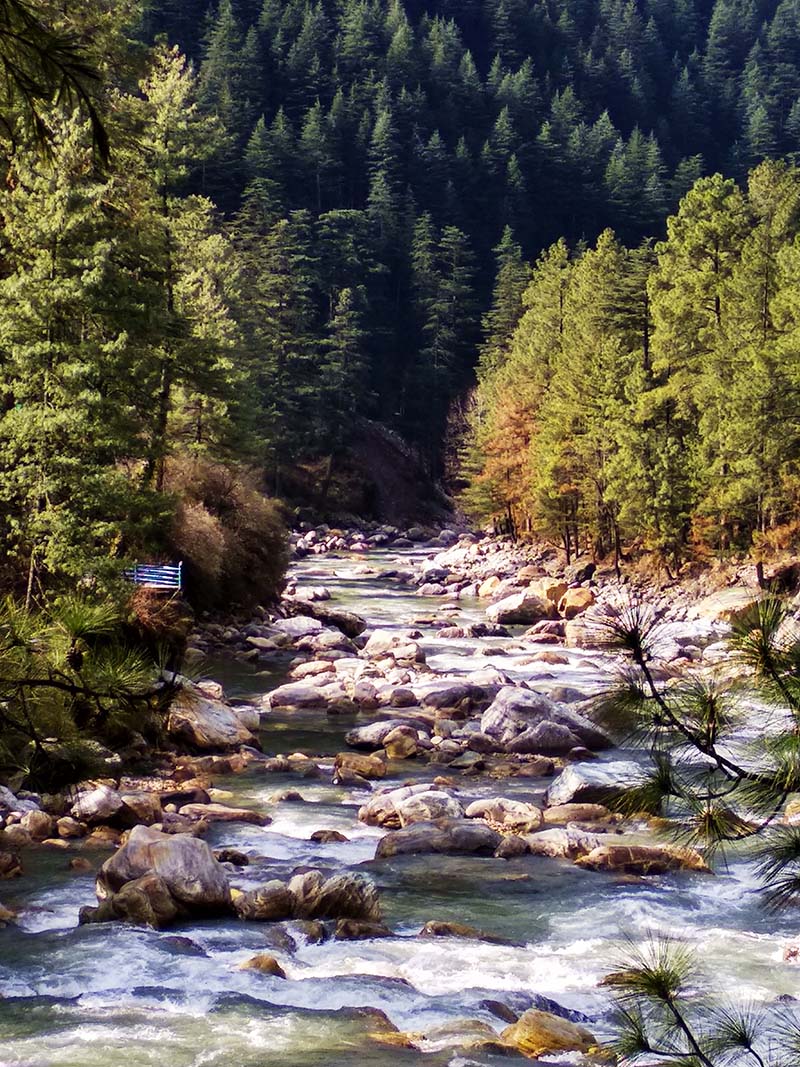 Trekking in Parvati Valley
There are several beautiful treks leading out of Parvati valley; including easy ones perfect for absolute beginners to challenging ones that only experienced trekkers can attempt. Listed below are some of the most well-known treks in Parvati Valley. Several places to visit in Parvati Valley can only be visited by trekking.
Kheerganga Trek
This is one of the most famous treks not only in Parvati Valley but in the entire of Himachal, Triund Trek in Mcleodganj being the other popular one. This is termed as an easy trek but keep in mind that no Himalayan treks are easy for any first-timer. There are several different trails heading to Kheerganga.
One them is from Kalga Village which is a bit longer than the trail frequented by most. Most of the people start the trek from Barshaini via Nakthan Village which is the shortest and easiest route of all.
From Barshaini, Kheerganga is around 12-15 kilometers which would take anywhere from 6 to 8 hours to complete. The trail is well marked and is frequented by many people, attempting this solo as well shouldn't be a problem at all. Trails to Kheerganga are buried in deep snow during winters.
So If you are someone looking for adventure and planning to reach Kheerganga in the winter season, then please make sure you hire a guide; and are well equipped with the necessary gear required for winter conditions. For more details, please take a look at How to Plan a Trip to Kheerganga from Kasol.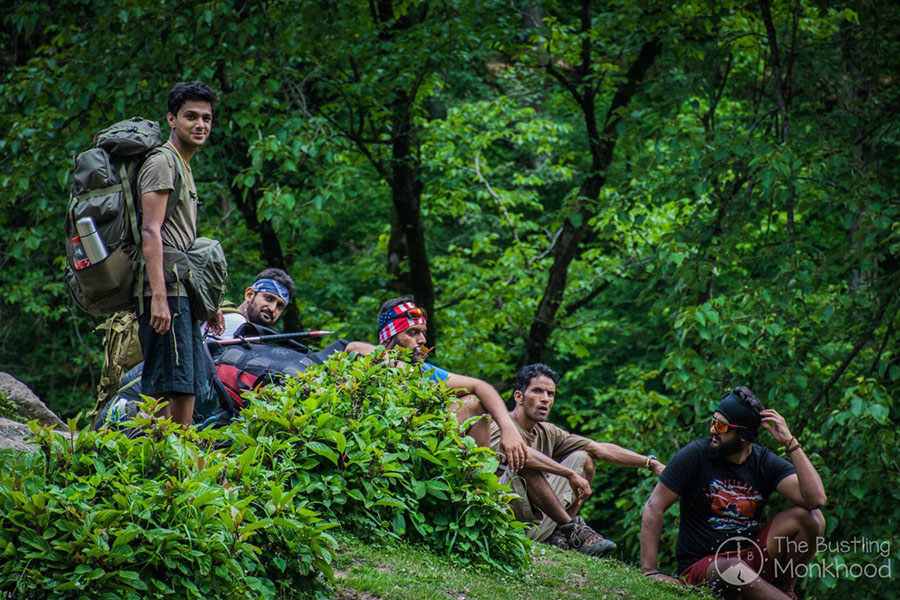 Pin Parvati Pass
This is one of the most difficult non-technical treks in India. This route takes you from Parvati Valley in Kullu District to Pin Valley in Spiti District via Pin Parvati Pass at a staggering altitude of 5319 meters. The distance to be covered would be over 100 kilometers over the course of several days.
A guide would be mandatory to get through this challenging trek and fitness levels should be very high. This is a very difficult trek and should only be attempted if you're a seasoned trekker or have enough experience pertaining to cross high altitude passes. Proper acclimatization is a must if you are going to attempt this trek.
This trek passes through Kheerganga, Tunda Bhuj, Odi Thach, Mantalai Lake, Pin Parvati Pass, and finally ends at Mud Village in Pin Valley National Park. For more details, please take a look at How to Plan a Trip to Pin Parvati Pass.
Chanderkhani Pass
This pass is an alternate but much longer and difficult route to reach Malana. This trek starts from a small village called Rumsu near Naggar and then eventually, after crossing the pass, you reach Malana in Parvati Valley. The pass is located at an altitude of 3650 meters from where you can get a 360 view of Deo Tibba, Indrasan, Bara Bhangal, Parvati peaks.
This is a moderate level trek and can be attempted by beginners with decent fitness levels. It takes around 3-4 days to complete this trek.
Bun Buni Pass
This is another route to Kheerganga but much harder than the main Nakthan Route from Barshaini. This pass is at an elevation of around 4000 meters. This route is completely devoid of tourist influx as only hardcore trekkers attempt it; due to it being longer and much more difficult.
There are two ways to reach here. The first one is from Kalga, where you first reach Bun Buni pass and then descend to Kheerganga. Or you can first reach Kheerganga, then ascend to the pass and then finally descend down to Kalga. But do keep in mind that it is a difficult trek then Kheerganga.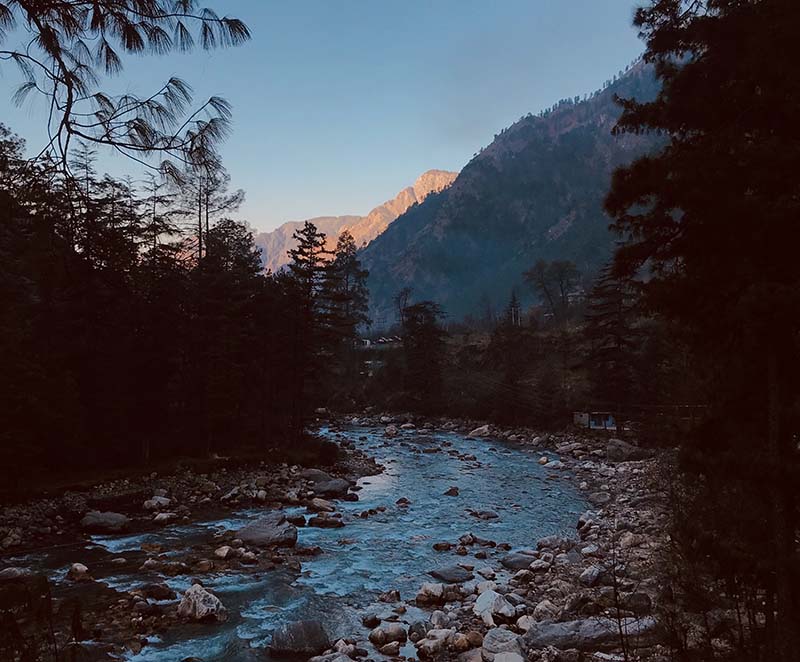 Sar Pass
This trek takes you from Kasol to Barshaini via Sar Pass; which is located at an altitude of around 4000 meters. Sar in local dialect means lake. This is also one of the moderate level treks. This makes it perfect for trekkers looking to have some experience in high altitude trekking. It takes around 4-5 days to complete this trek
Also Read: Best Time to Visit Kheerganga – Sightseeing & Weather
Mantalai Lake
This is the source of the River Parvati located at around 4100 meters. This lake falls on the way to Pin Parvati Pass and is located before the pass. It follows the same route which one to take on the way to Pin Parvati Pass trek. This is a difficult trek and requires very high fitness levels to complete it. Having a professional guide is strongly recommended. It would take around 6-7 days to complete the whole trek.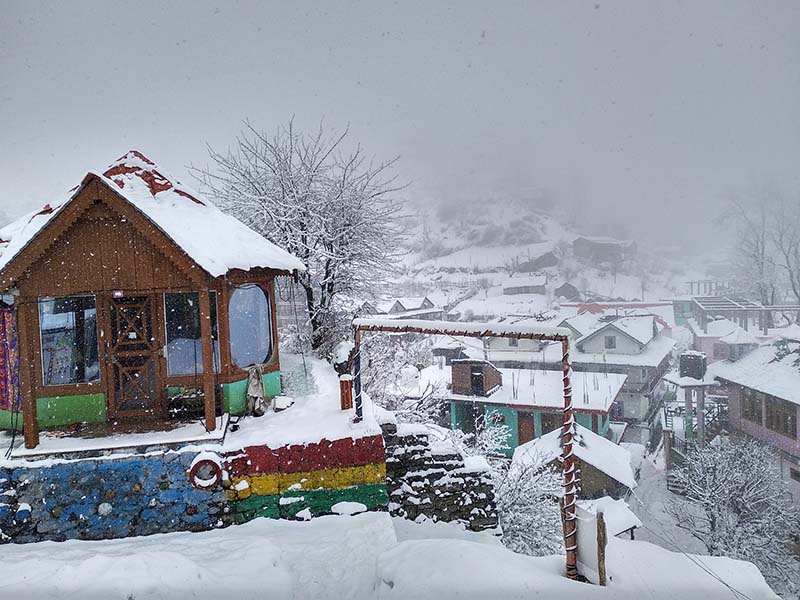 Things to do in Parvati Valley
After places to visit in Parvati Valley, let us take a look at some other things that you can do during your vacation here.
Enjoy the Restaurants in Kasol
One of the best things that Kasol is known for is its amazing restaurants and the delicious food they serve. I have been to Kasol a few times and I always make sure that I eat at a different place every time. From Indian to Israeli to Tibetan, you can get all kinds of delicacies in Kasol.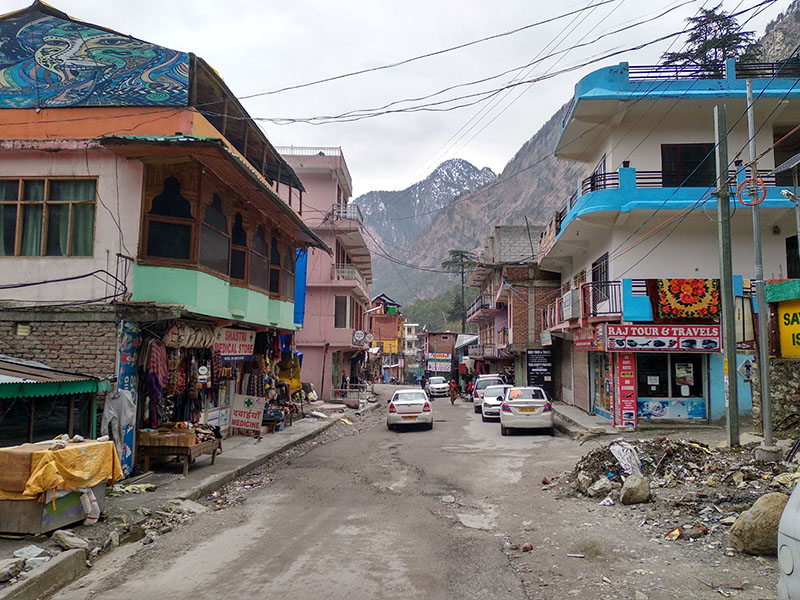 Observe the Local Culture and Traditions
As you would already have guessed by now, Parvati valley and its villages have some very unique customs and traditions. On top of it, the Israeli and hippie culture adds an entirely different taste to it. Observe the lifestyle of the people here, talk to them but at the same time, please ensure that you are respectful of their traditions.
Also Read: Weekend Trip to Kasol – How to Plan your Itinerary
Photography
I think this one goes without saying. No matter when you arrive, Parvati valley will present you with ample opportunities to click all kinds of pictures. From landscape to people to food, you will get some of your best pictures here.
Take a Dip in the Hot Water Springs
Yes, there is a hot water spring in Manikaran. But did you know there is one in Kasol as well, near Chalal Bridge? That is correct. Even if you were short on time, you just cannot miss taking a dip in the hot water springs of Parvati Valley and can do so in Kasol itself.
Places to visit in Parvati Valley – Conclusion
I hope the information above on places to visit in Parvati valley and things to do was of help. If you have any questions or need any other details, please feel free to ask in the comments section below or at our Community Forum and I will be glad to answer.