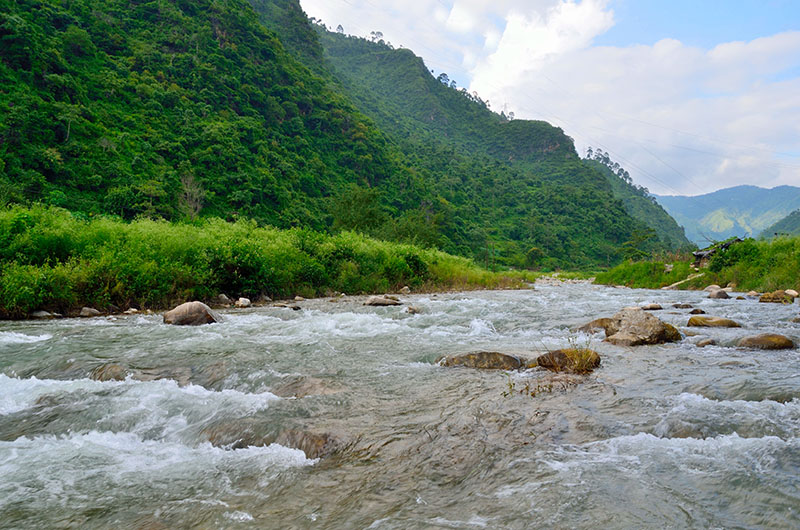 In this detailed travel guide on Lohaghat, I will provide necessary details that can be of help in planning a trip to this offbeat destination in Uttarakhand. The article below will cover both Lohaghat and Abbott Mount and can be used for visiting both the places.
When you talk about a trip to Uttarakhand, a few names like Mussoorie, Rishikesh, Nainital come to mind immediately. Some other offbeat destinations like Dhanaulti or Gangotri have also started receiving plenty of tourists recently.
But outside of these names, there are still several other scenic places that are not on the tourist map yet. These destinations are all easy to reach but still largely unexplored. Lohaghat is one such charming little hamlet.
"If there is heaven on earth, it is in Kashmir". These are the famous words of Mughal Emperor Shah Jahan. But did you know that an Englishman responded to these words saying that "Why to go to Kashmir? If there is heaven in the world, it's in Lohaghat".
These are the words of Mr. P Barron. He was a sugar trader and is best known for establishing Nainital in 1840 as a tourist resort.
About Lohaghat
Sitting silently on the banks of the Lohawati river, in the middle of a dense forest and surrounded by lush green mountains, Lohaghat looks like a town straight out of a painting. It is a quiet little place located at a distance of 200 kilometers from Rampur and 62 kilometers from Pithoragarh. About 7 kilometers ahead of Lohaghat is Abbott Mount, another pretty little hill station.
Lohaghat is a great place to go to if you want to avoid crowded tourist places and would rather spend some time in peace. It is at an altitude of 1,754 meters (5,755 ft) and is also a center of historical and mythological importance. There isn't much to do around here except for enjoying the serenity of the place and the natural beauty around you; and that is exactly the reason why you should visit Lohaghat.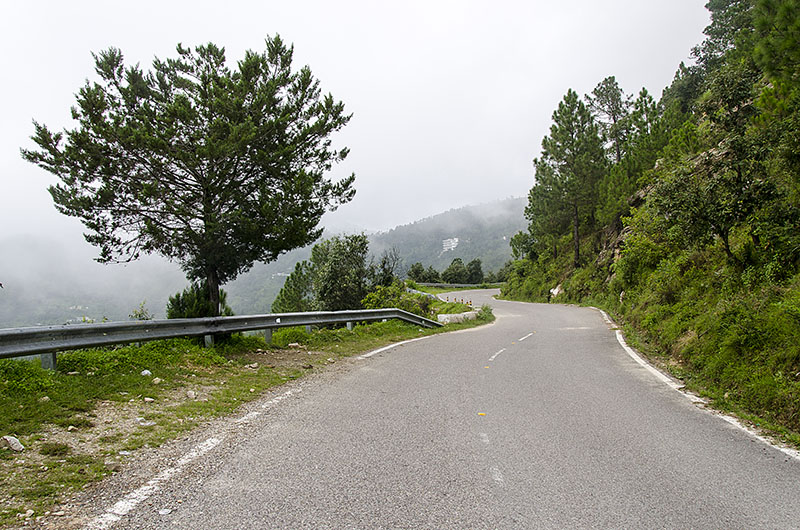 How to reach Lohaghat
Reaching Lohaghat is not difficult at all. It is located on the highway to Pithoragarh. Champawat district headquarters are only about 15 kilometers from Lohaghat so the place remains well connected throughout the year.
For the sake of explaining the journey, I will assume that you were starting from Delhi. Even if you were coming from a different city though, most of the information below will still apply.
How to reach Lohaghat from Delhi
Starting from Delhi, the route of the journey will be as mentioned below.
Delhi – Ghaziabad – Moradabad – Rampur – Rudrapur – Tanakpur – Champawat – Lohaghat
There can be a few variations to the route but this is the best and the fastest way to get there. The distance traveled will be close to 425 kilometers, depending upon where you started from in Delhi.
The travel time can easily be around 10-12 hours. Hence, an early start from Delhi is highly advised. The newly built highway until Rampur is super smooth. The road between Rampur to Lohaghat is a mix of good and bad but mostly average.
Also Read: Harsil – A COMPLETE Travel Guide and Itinerary
How to reach Lohaghat by Bus
Major Uttarakhand towns like Haldwani, Pithoragarh, and Almora are only a short distance from Lohaghat. Due to this, there is a regular bus movement on this route. Just board any bus that is going towards Pithoragarh and it can drop you at Lohaghat. Another option is to look for a Bus for Haldwani or Almora and look for another bus for Lohaghat from there.
If you were coming from Delhi, you can easily find a bus for Pithoragarh from ISBT, during the day and night both.
By Train
The nearest railway station to Lohaghat is at Tanakpur at a distance of 60 kilometers. From Tanakpur, you can easily find a bus or taxi to drop you at Lohaghat. There is a daily direct train Delhi Tanakpur Express that you can board from Delhi.
If you could not find a direct train for Tanakpur from your city, the next best option will be to reach Bareilly first which is a major railhead.
By Air
The nearest Airport to Lohaghat is in Pantnagar, at a distance of 160 kilometers. There are 4 flights available between Delhi and Pantnagar every week that you can board. From Pantnagar airport itself, you can look for a taxi to drop you at Lohaghat. Or you can also board a Bus.
Best way to reach Lohaghat
The best way to reach Lohaghat is definitely by road and your own vehicle. If that was not an option, then you should board a deluxe overnight bus for Pithoragarh and get down at Lohaghat.
Also Read: Darma Valley Trek – How to BEST Plan your Trip
Places to visit in Lohaghat
Let us now take a look at tourist places in Lohaghat. As I mentioned previously in the article, Lohaghat is really a charming little hamlet and as such, there is not much to see or do in the village itself.
But with that being said, there are plenty of tourist places near Lohaghat. You can stay here for a couple of days and make it your base for daily excursions.
Abbott Mount
Quite a tourist destination in itself, Abbott Mount is another quaint little town of Uttarakhand that not many know about. The place is named after an Englishman, John Abbott, who bought some tea gardens here and intended to make it as an English settlement.
If you search, the name Abbott Mount will also come up as one of the most haunted places in Uttarakhand. As per the legend, in one of the Bungalows here, a Doctor by the name of Morrison used the local villagers as a scapegoat to perform some of his illegal medical experiments.
During this time in the 1920s, a lot of local villagers disappeared, never to be seen again. It is believed that they all fell victim to Morrison's experiments and were buried in the forest. Spirits of these dead patients are still believed to haunt "Mukti Kothri", one of the rooms of the old Bungalow.
Also Read: Bike Trip to Auli – An Amazing Road Trip to Auli, Uttarakhand
Haunting however is not all that you should go looking for in Abbott Mount. This peaceful village offers great views of enchanting snow-clad Himalayan peaks and away from the noisy city life. The atmosphere here is quite calm and pleasant. There are never a lot of tourists here and perfect if you are looking for a less crowded place.
This is an old church in Abbott Mount that was built by the English here in 1942. Along with this church, there are also 13 old cottages that are a great example of colonial-style architecture. The place also offers great views of the surrounding valley and even the 7 kilometers long drive is quite scenic.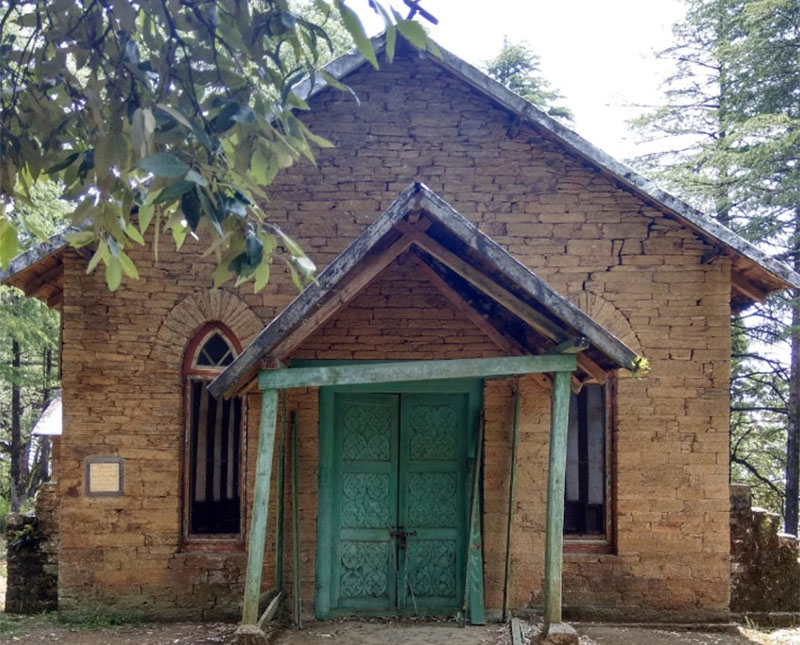 Lohaghat to Abbott Mount
From Lohaghat, you will start driving towards Pithoragarh. About 5 kilometers out of town, you will turn right and take the road going uphill. Drive for about 3 kilometers through a dense forest and you will arrive at Abbott Mount. There are a couple of hotels here as well if you wish to stay for the night.
Banasur Ka Kila
Also known as Bana, Banasur (also spelled Banasura) was a thousand-armed Asura king. He was the son of Daitya King Bali (also known as Mahabali) was. Both father and son were killed by Lord Vishnu, as Vanama Avatar, and as Lord Krishna.
There is an ancient fort about 7 kilometers from Lohaghat. There is no telling how old it really is but it is said that it was built by Banasur himself when he ruled the region.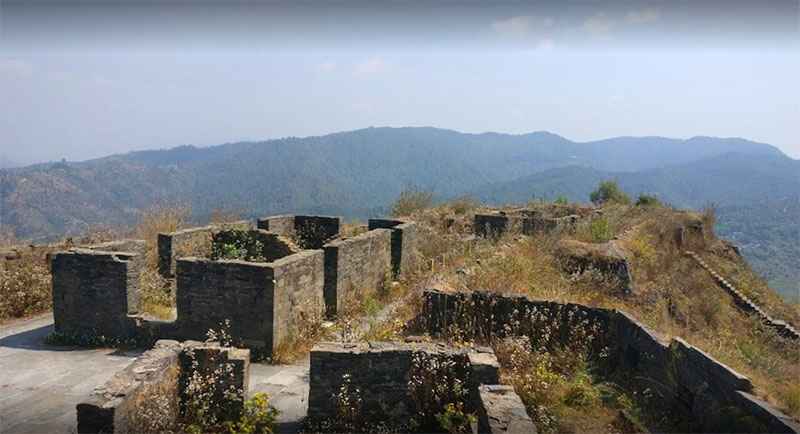 The above picture is of the so called kila. I posted it here so that you know what you were getting into. It must have been a small fortress on top of the hill once upon a time but what now remains are just crumbled walls and broken stairs. I was kind of disappointed on reaching here so do not keep your hopes too high.
With that being said, it is still a great vantage point and gives an awesome view of the entire valley around from the top.
Also Read: A List of Less Crowded Hill Stations in Uttarakhand
Mayawati Ashram
No, we are not talking about the former chief minister of Uttar Pradesh. This Ashram was built by two disciples of Swami Vivekananda, James Henry Sevier, and Charlotte Sevier. The Ashram today is best known for publishing the original writings of Vivekananda.
It is located at a distance of about 9 kilometers from Lohaghat. Swami Vivekananda himself stayed at this Ashram several times. The room that was formerly occupied by him has now been converted into a library. It is also known as Advaita Ashrama.
Even if you do not have an interest in Ashram or old monuments, it is still a peaceful place to visit and spend some time in peace.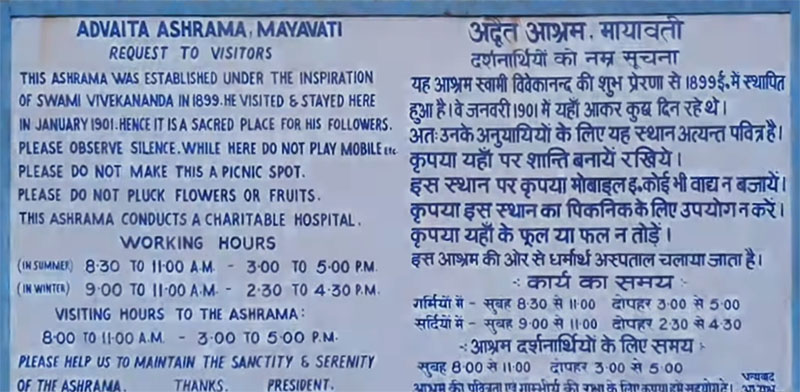 Pancheshwar Mahadev Temple
This temple is about 38 kilometers from Lohaghat and will easily take you a total of 3-4 hours to make a round trip. There are two reasons why you would want to visit here. The first is that it is a very sacred and ancient temple dedicated to Lord Shiva. The second reason is that it is at the confluence of river Sharda and river Kali. So even if you do not want to visit the temple, visit the spot to see the confluence of these two mighty rivers.
Together with natural beauty and stunning vistas, this pretty much is the complete list of all tourist places in Lohaghat. Spend a couple of days here, visit these places, drive around and it will be a great short trip.
Also Read: Auli Travel Guide – How to Best Plan your Trip
Things to do near Lohaghat
After what to see at Lohaghat, let us now take a look at some of the other things that you can do while staying in the village.
Photography
This one I think goes without saying. A trip to Lohaghat will offer you a chance of all kinds of photography. You can click landscape, colonial-era architecture, medieval forts, ancient temples, and portraits of the locals (after permission) of course. It does not matter if you were a serious photographer with a bulky DSLR or an amateur with a fancy cellphone, Lohaghat will give you plenty of chances to click numerous photos.
Enjoy the Night Skies
The pollution-free skies of Lohaghat light up each night with numerous stars, a sight that we city folks are not accustomed to. If you were carrying a capable enough camera and knew what you were doing, you will have your fun clicking some long exposure shots and star trails.
Meditate
Yes, if you are into Yoga and meditation, a trip to Lohaghat will serve you really well. Visit the Mayawati Ashram and spend some time meditating. You can also buy some literature on the teachings of Swami Vivekananda.
Talk to the Locals
There is a lot of mythology related to Lohaghat. Put it together with the stories of Abbott Mount and there is a lot that the villagers here can tell you. Talk to them, learn about their cultures, listen to their stories, and have a great time.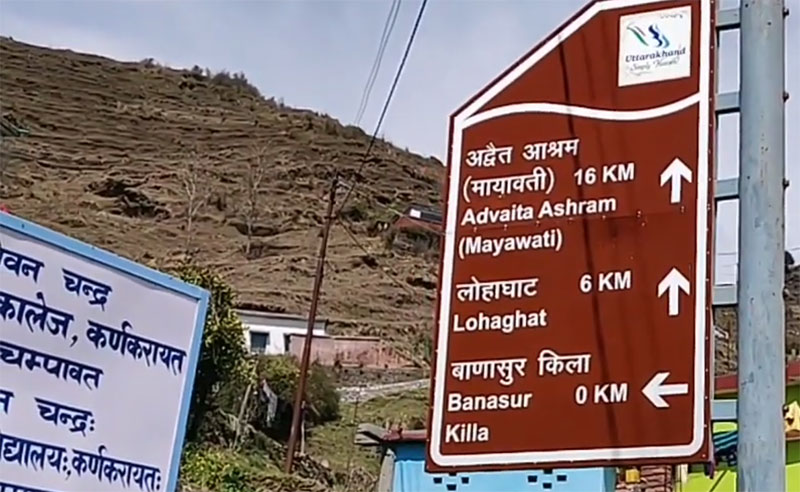 Weather of Lohaghat
Due to its high altitude, the weather of Lohaghat remains pleasant for most of the year. November marks the beginning of the winter season and it lasts until March. The average temperature in these months ranges from 2°C minimum and 11°C maximum. These are just average numbers though and during the months of January and February, the temperature at night can drop down to 0°C as well.
It does not snow in Lohaghat but can still get terribly cold. Spring season arrives in April followed by summer shortly after. The weather from April to June remains very pleasant with moderately warm days and pleasantly cool nights. The average temperature ranges from 12°C minimum to 26°C maximum.
The region starts to receive pre-monsoon showers towards the end of June and it continues to rain heavily throughout August and September. The average temperature remains the same as the summer months but the incessant rains cause risk of landslides and swollen rivers. Sometimes it can rain at regular intervals for days altogether, trapping you indoors completely.
Monsoon departs in September but leaves plenty of greenery behind. The scenery at this time is at its best. The mountains will look as if they have just been washed clean and covered under a carpet of green. October marks the arrival of the autumn season. All that was green in September now turns orange, giving a magical touch to the valley. Winter again starts to settle in towards the end of October.
Best time to visit Lohaghat
Now based on the information above, I believe it is safe to say that the best time to visit Lohaghat is from April to June and then in September. The months of July and August must be avoided due to heavy rains. You can plan a winter trip as well but the scenery at this time will be very dull and dry. Since it rarely snows in Lohaghat, it will just be terribly cold weather that you will face.
Also Read: Pangot Travel Guide – How to Plan your Trip & Explore!
Road Conditions
The roads from Delhi to Lohaghat are good and average for the most part. Until Rampur, it is a super smooth newly built highway. Even after that, you will be on a decent enough road with a few bad patches in between.
Best Vehicle
Any car or motorcycle you own is good enough for visiting Lohaghat. The only thing you need to make sure us that your vehicle is well maintained, serviced, and capable of a long drive up and down the mountains.
Where to Stay in Lohaghat
There are plenty of hotels both in Lohaghat and Abbott Mount where you can stay. Just drive around the town, find a place per your liking and check in. You do not have to book in advance because it is never that crowded here anyway.
Mobile Network in Lohaghat and Data Connectivity
BSNL / MTNL has the widest coverage in Uttarakhand but in Lohaghat, all service providers have good reception. Irrespective of which network you were on, your phone will work fine in Lohaghat.
Hospitals / Medical Assistance
There are several hospitals and clinics, both private and government-run, in Lohaghat. You will easily get medical assistance here in times of need. The Mayawati Ashram also runs a charitable hospital where you can consult. For anything series, you can visit the hospitals in Pithoragarh or Almora.
Suggested Itinerary
For your trip, below is an example of an itinerary that you can follow. I will suggest a plan for 4 days but if you had more time in hand, you can just add more days to this itinerary.
Delhi to Lohaghat – Day 1
Leave early from Delhi, possibly by 4 AM
Take the Bareilly highway and drive till Rampur on it. From there, take the road towards Pithoragarh to arrive at Lohaghat.
If traveling by bus, take the overnight Pithoragarh bus from ISBT and get down at Lohaghat.
Sightseeing in Lohaghar – Day 2 and 3
Spend a couple of days in the hotel relaxing
Take a walk through Lohaghat town
Visit Abbott Mount, Banasur ka Kila, and Mayawati Ashram
Lohaghat to Delhi – Day 4
If you had more days, you can drive 140 kilometers to Nainital and spend some time there. For more details, please take a look at Places to Visit in Nainital
If not, return to Delhi on Day 4
Take the same route that you took to reach there.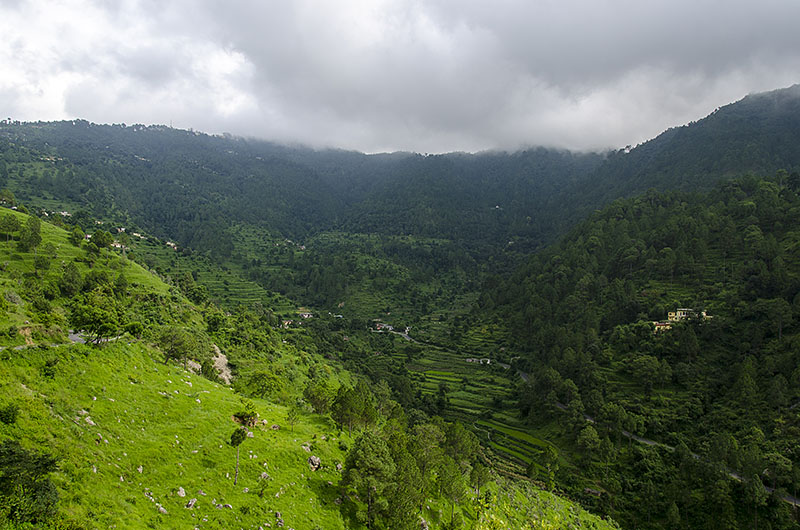 FAQ
Mentioned below are some most commonly asked questions about Lohaghat.
Where is Lohaghat in Uttarakhand?
Lohaghat is located at a distance of 60 kilometers from Pithoragarh.
Is Lohaghat Safe?
Yes, Lohaghat is a very safe place to visit. People here are very warm and simple and great hosts. As long as you drive safely, mind your own business, do not get into any unnecessary trouble, and act responsibly, you will remain safe and sound while in Lohaghat.
Also Read: Gangotri and Gaumukh – How to Best Plan your Journey
What Lohaghat is famous for?
Lohaghat is famous for Banasur ka Kila, Abbott mount, and its stunning natural beauty.
How to reach Lohaghat from Kolkata?
The best way to reach Lohaghat from Kolkata is to get to Delhi by flight or train. From Delhi, you can either hire a private taxi or board an overnight deluxe bus for Lohaghat.
Where to Eat
There are plenty of small dhabas / restaurants in the town where you can eat. They all serve simple north Indian food.
Shopping
Lohaghat and Abbott Mount are both small towns and there isn't much to buy. The shops around here just sell simple day to day groceries and nothing unique that you would want to buy as a tourist.
Conclusion
I hope the information above on visiting Lohaghat was of help. If you have any questions or need any other detail, please feel free to ask in the comments section below, or at our Community Forum, and I will be glad to answer.