It was quite a long time since I touched the mountains. Every day I was making plans for another trip. This time office colleagues also wanted to go and a road trip from Delhi to Munsiyari was agreed upon. I was considering other options as well but the group was interested in seeing snow and snowfall.
I was not taking them seriously because one of my friends Pandit Ji had already ditched me on my Gomukh trip. But since many others were interested, I started making the plan.
My colleagues Kundan and Ankit were also interested along with some other members. So finally, we made a decision for Delhi to Munsiyari road trip.
Also Read: How to Plan a Trip to Munsiyari
Now the biggest concern was the road after the snowfall. I had already witnessed black ice on the Narkanda trip so I didn't want to take a chance. Especially with a group of 15 people going including 5-6 girls.
I called a few people in Munsiyari and they were suggesting not to come in January. But we wanted to utilize the holiday of 26th Jan. So, a decision was finally made and we all were set to go.
A week before the trip, I suggested to all of them to bring a good woolen jacket and gave them a list of items to carry.
Day 1 – Delhi to Munsiyari
I started talking with many tempo traveler agents. But due to the high cost, the negotiation was in progress only when Pandit Ji talked with his known travel friend. We booked a traveler 18INR per KM + taxes+toll.
On 25th, after office, Kundan and I reached Ankit's Noida flat. The plan was to reach near sector 18 Metro station.
While Kundan was packing his bag, Ankit made tea and we all made fries. After filling our stomachs a little bit, we called Uber and reached metro gate 2 in no time.
We were the first ones to reach. So we started calling everyone and poking them to hurry up. At around 10 PM we all reached except Pandit Ji.
Group Picture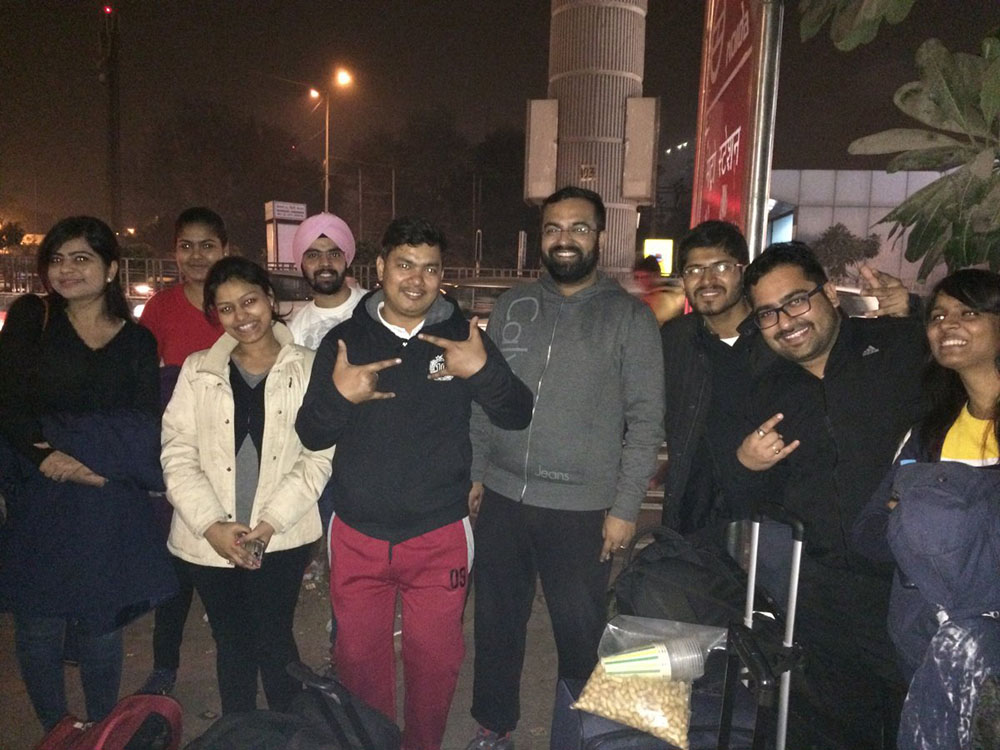 We picked Pandit Ji en route. Thus began our journey from Delhi to Munsiyari as well as a party inside the tempo traveler began.
We were feeling hungry so our first stop was Shiv tourist dhaba. But the demand was for butter chicken which was not available there. So we moved on to find another place.
We were searching for butter chicken but only found Vaishnav dhabas. We were hungry but had to make do with homemade bread and jam.
Also Read: How to Plan a Trip to Chaukori
Entering Uttarakhand
We didn't want to go to Haldwani. So we took a left for a shortcut route which turned out like a nightmare.
We had to pay UK road tax but found no one to be there in the office.
We knocked on the door of the police station for some information. He told us to wait till 9 AM or pay online tax.
We were not carrying any laptops so it took us almost 30 minutes to attempt online UK tax that too at a dark road. There we saw some foxes too.
Before Nainital, the driver was feeling sleepy. So he decided to take an hour nap which turned out to be a long 2 hours nap.
At 6 am, we started again and crossed Nainital soon. We stopped at a  pump to refill diesel.
Just after 5 km, we stopped for brunch since we didn't have anything much to eat since last night. The restaurant was was Amar Ujala and honestly, the food was below average.
After filling our tank, we moved ahead and the next stop was Uniyadi band. We stopped at a hotel that served very good food.
After the Uniyadi band, we found a good place and stopped to take some pics but were interrupted by a local guy. He told us not to stay there as a leopard was sighted 15 minutes ago.
En route, everyone was asking me about snow and I was like – they will kill me if won't find snow. But more than that I was worried as it was getting dark and roads were narrow.
Then before 5 KM from Munsiyari, we got the first glimpse of snow, and the crowd started making noise.
Also Read: How to Plan a Trip to Harsil
KMVN Munsiyari
We stayed at KMVN and the hospitality was good. The rooms were good and spacious. We dropped our bags and started arrangements for a bonfire.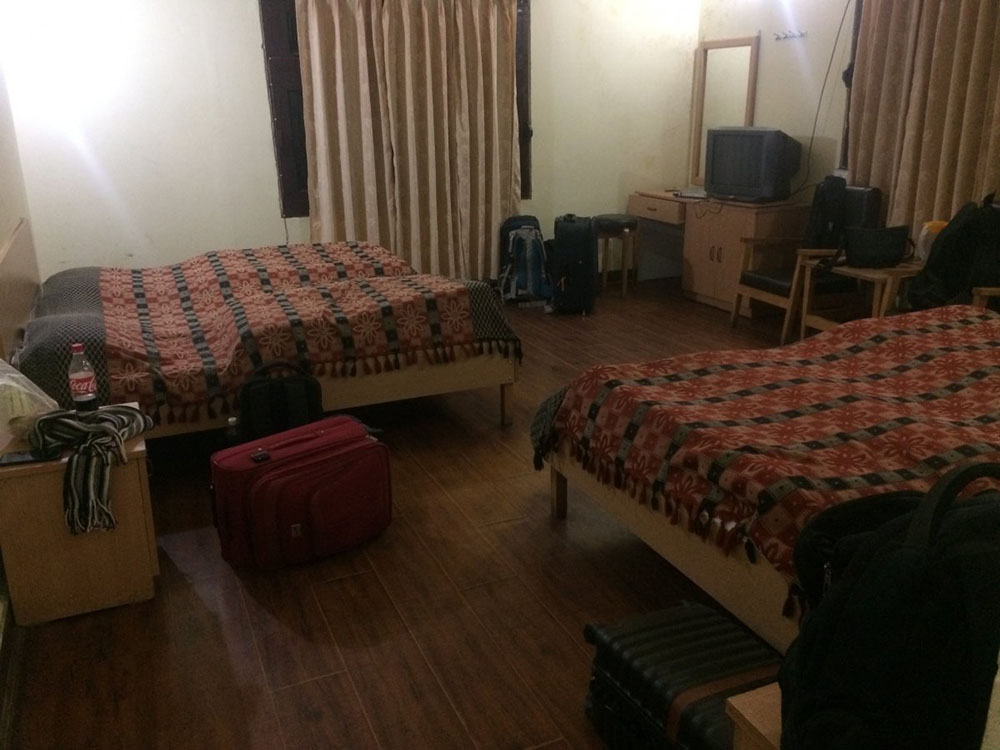 After 2-3 pegs, the chit-chat session started. It was late so the girls already moved to their rooms. After that, we started our main nonsense-talk session and even searched for more wood to continue the bonfire. Some other people left their 4-5 chairs which caused a sort of firestorm in the night.
Thanks to KMVN, they didn't charge us for it.
Day 2 – Munsiyari
I am a lazy bum and so were the other guys. But we still managed to wake up at 7 am. I opened my window and all I could say was WOW. It was an amazing snowfall with large snowflakes.
Can't explain in words so let's see the video in HD mode. Snowfall and rain at the same time. The place was surrounded by clouds of mixed colors.
When snowfall stopped we had breakfast. I set up my tripod in the hotel area and immediately everybody was after me to click their photos.
No, a single shot was not enough. I had to take their photos in jacket and then without the jacket, then jacket and specs, and then without jacket and specs, jumping clicks, sitting clicks. I had to shoot almost everything. It was a hard time for the photographer.
Also Read: How to Plan a Trip to Nainital
It was time to apply those photography lessons I learned. But the weather was playing hide and seek and I was waiting for a perfect scene which didn't happen today. Let's see some clicks.
Nanda Devi Temple
Once the photo session was over or I should say forcefully over, we headed towards the Nanda Devi temple.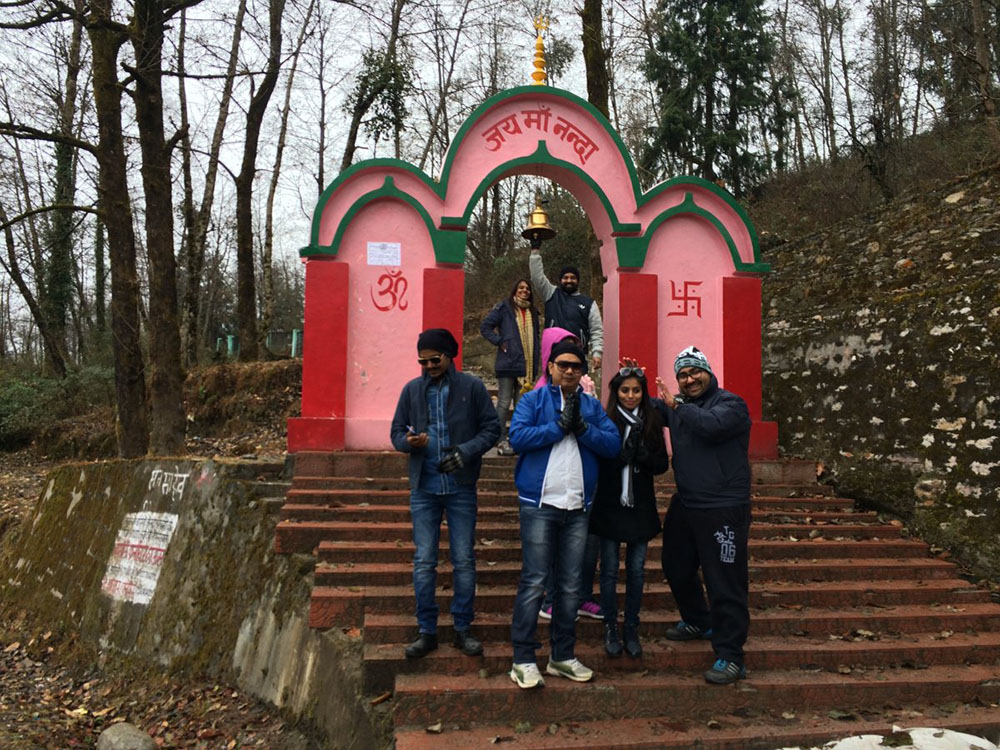 There we met with Dev Singh Ji – an ex-army man. He was a gem of a person. One could talk with him the whole day.
He served us very good Maggi and tea. We tried to give him some more money but he strongly denied it.
So we requested him to take it just to serve the Mata mandir complex. Only then, did he agrees to take the money but only a little.
Such honest people still exist in the world
He was saying he is going to order some tents and sleeping bags too so that interested people can stay there at the night
It was the most delicious Maggi I ate ever. He told us he mix some local grass which is why the taste is different and unique.
The place was itself full of beauty. Snowy mountains, clouds everywhere – what a wonderful place it was!!
Mata Mandir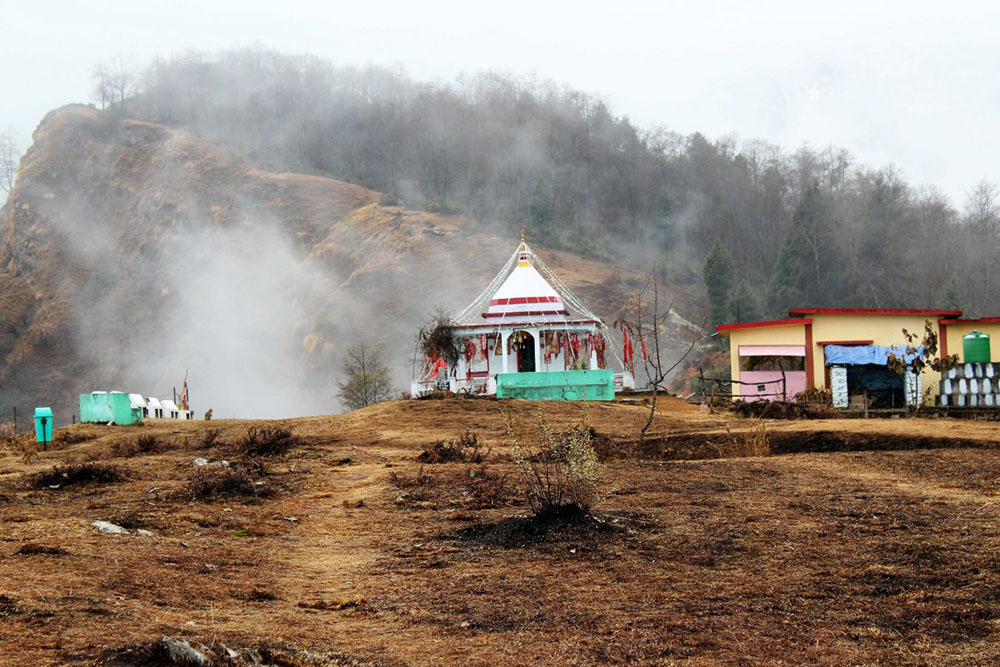 Munsiyari to Thumari Kund
After bowing my head and praying to Ma Nanda Devi we moved to Thumari Kund trek. It was 10 KM ahead, and with a lot of snow on the road.
The guide charged us 400 INR. Everybody was enjoying it but I was worried after seeing the road condition. Once the rear tires did slip on the snow but nobody in the group noticed it. Thank god for that or else they would have panicked.
We reached the starting point of the trek in an hour. Even after much advice, none of the girls carried good shoes. So they were not allowed to go up. Well, they were happy there and started playing with snow.
Also Read: How to Plan a Trip to Jim Corbett
But one of the girls came with us to give a company. I knew she will return after a few meters so I allowed her. But I was wrong.
Trek enthusiasm was high in everyone. We moved and started going up. I was last in the line moving slowly. They were ahead of me by a couple of minutes. I knew what would happen after a few meters.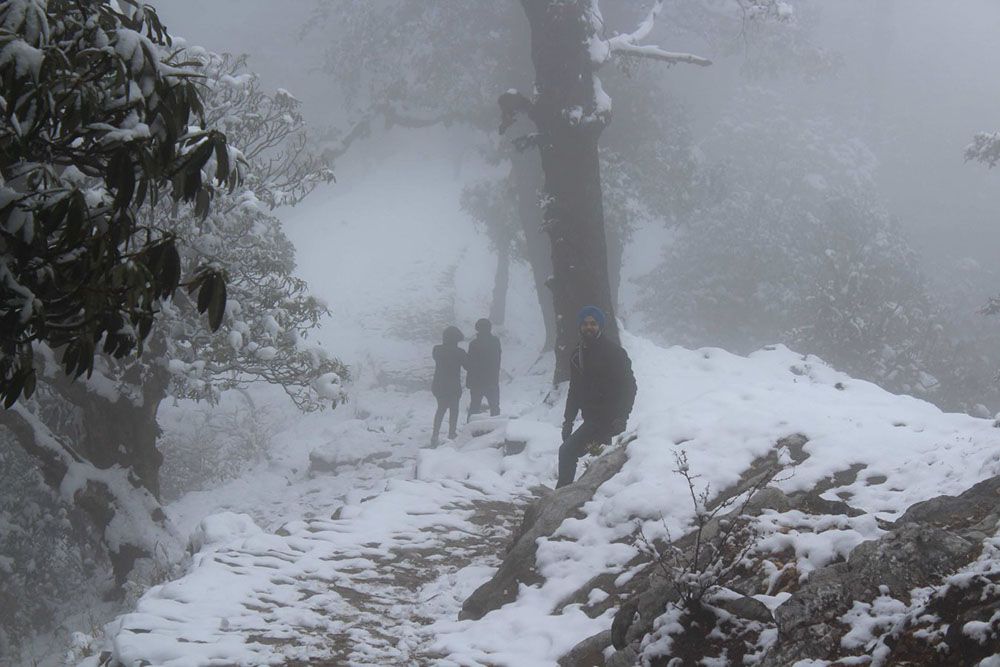 Within 15 minutes people started feeling a lack of oxygen, deep breathing, vertigo, etc.
After taking a short break, we started again. Due to slippery paths all the way, we met with some falls and minor accidents but it was expected.
After covering 2 km an obvious question came from all the members – how far more do we have to go?
The guide gave the famous answer. We are almost there, about to reach, the destination is just 15-20 minutes away.
Found a very good place for clicking pictures. The view of the mountains was amazing from this place.
Thumari Kund
It took us almost 2 hours to complete 4 KM, not a bad speed. We finally reached Thumari Kund.
It was a small lake or I would say a frozen lake in the middle of the jungle with beautiful surroundings.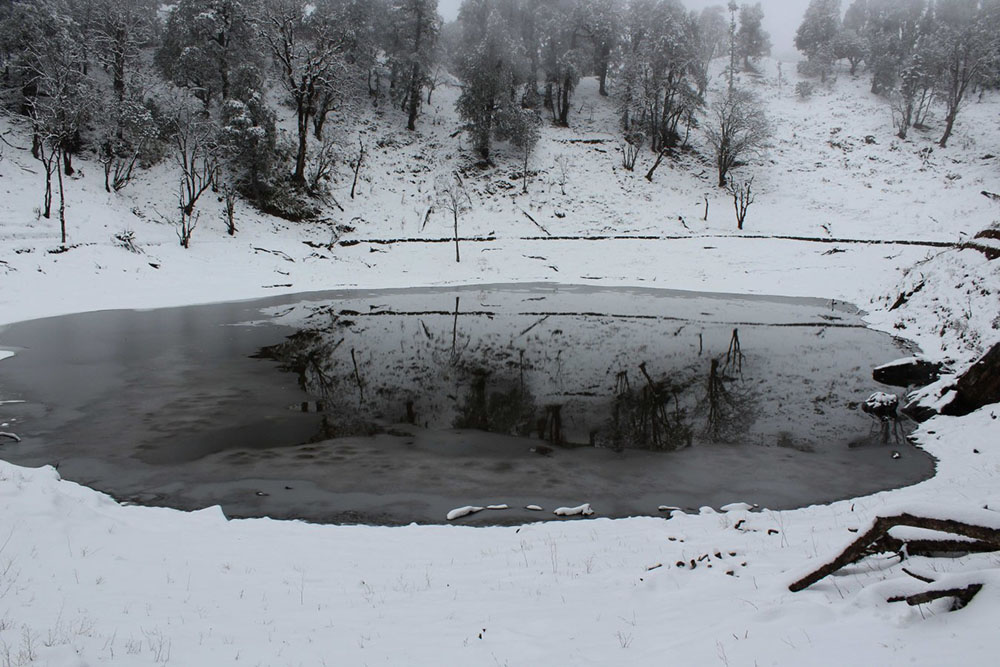 It must be a divine place as we found a Shivling there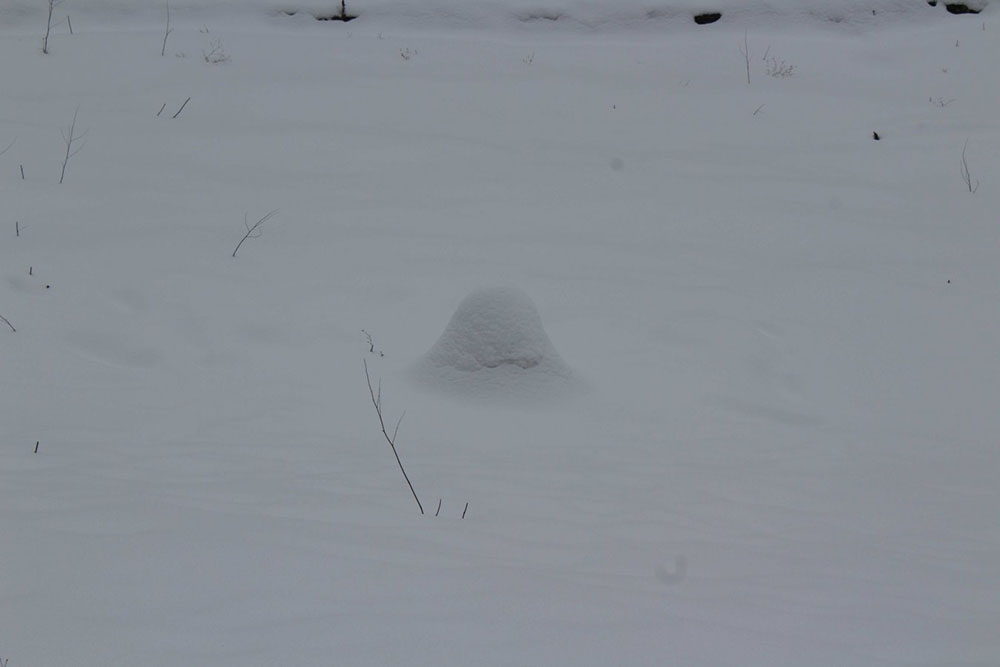 We completed the trek and returned in lesser time. The whole way Ankit was saying we are not regular trekkers or that much fit for this and we never should have come.
This was the first and the last trek for him but I wish him more treks. After completing we came back. Now Ankit started posing like he has done one of the 7 summits.
Also Read: How to Plan a Trip to Gangotri & Gaumukh
Trek was completed, everybody got tired so planned to return, after bowing my head down to Hanuman Ji there
I wanted to take some pics in the evening with a good view. God gave me the opportunity today as it was getting dark and we were in the middle of our way.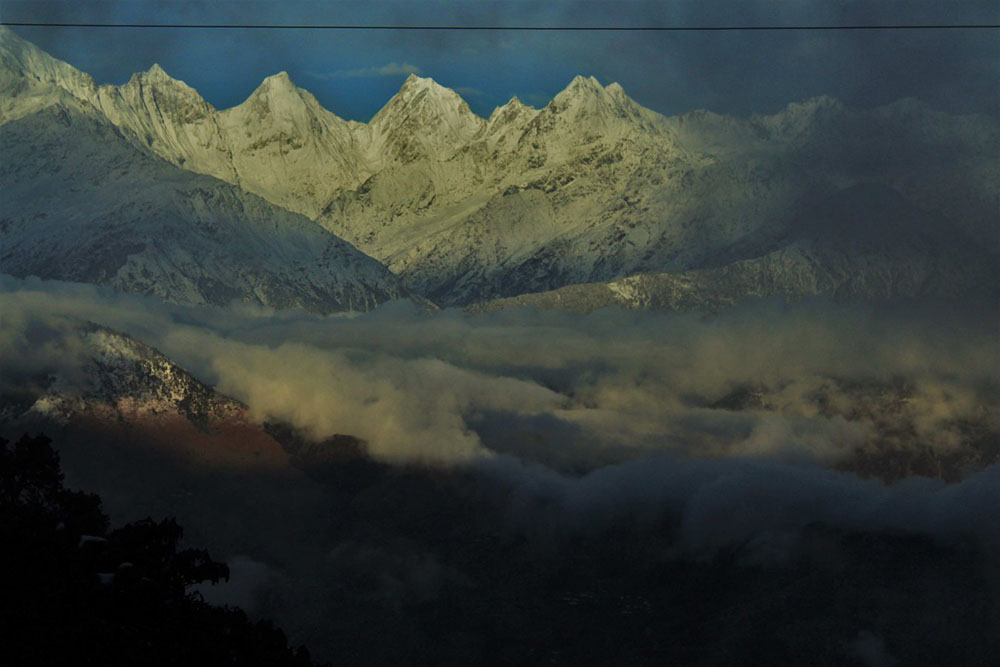 I wanted to stop at every one minute because the views were very different. But it was not a wise decision to bother all the other members who were all already very hungry.
Our next stop was just a few meters before KMVN.  It's Musiyari market. Well not so many options but still, you will find something.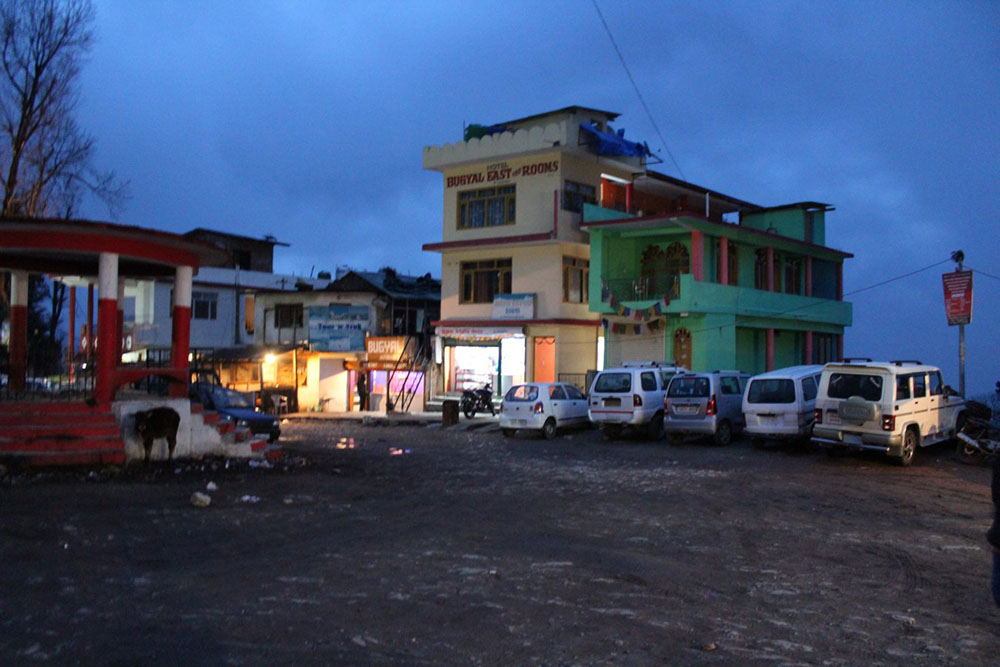 After taking snacks, we headed towards KMVN. After a bit of chit-chatting, at midnight we called it a day.
Day 3 – Munsiyari to Delhi
This was the last day of our Delhi to Munsiyari trip. It was a sunny day. No snowfall, no rain, no clouds, and the snow-clad peaks were clearly visible. It was a perfect time for a photoshoot.
Beautiful morning ray makes mountain golden. Panchachuli peaks above 6000 meters.

Photoshoot started again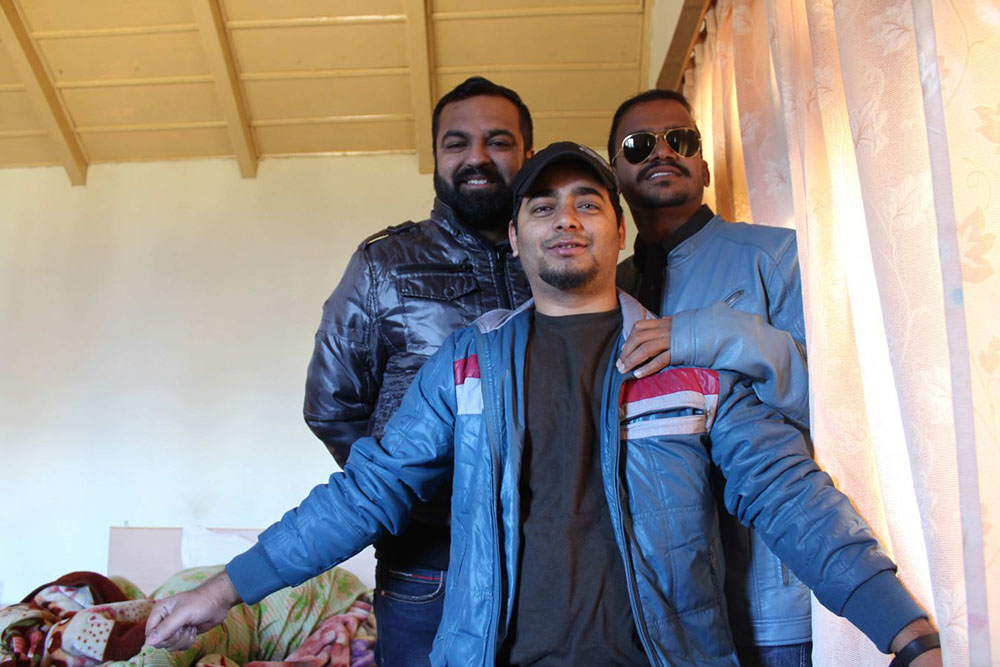 KMVN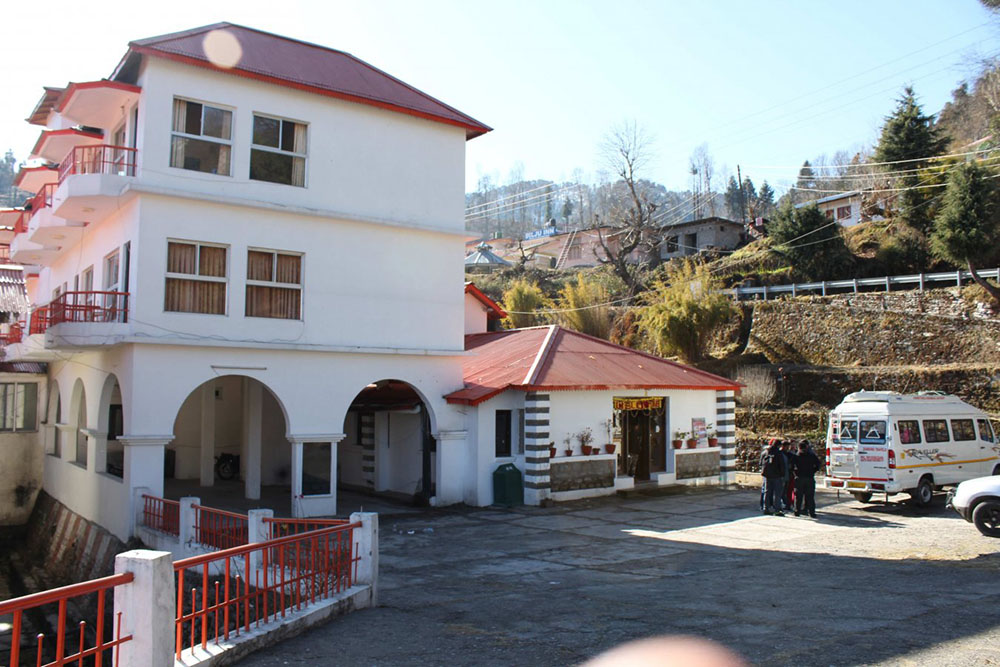 We again stopped at Uniyadi band for lunch and headed towards Patal Bhubaneshwar taking the left road.
Patal Bhuvaneshwar
We reached Patal Bhuvaneshwas around 4-5 PM. No photographs because it was prohibited in the cave. But the place is a must-visit. There is a different experience altogether which can't be explained in the words.
When we moved from here after 1-hour, the driver told us we are short of fuel and we were like what?
so many questions what, why but last long question was how will we get fuel and from where.
Initially, we thought we would get some pump en route but God had some other plans for us. There was no petrol pump till Almora.
Also Read: How to Plan a Trip to Auli from Delhi
Almora
We reached Almora at around 12 AM.  No pumps were functioning so late in the night. We were moving around and crying for help but at midnight our hopes were not so high in the hilly area.
Such adventure was common for me while others were getting worried.
We found one hotel. The plan was that the girls will check in there and the boys will spend the night in the tempo because only one room was available.
As a wanderer, I like these events I wish to get lost in the middle of nowhere. But here the case was different because we were in a group.
Kundan belongs to Haldwani. He knew the local language and was trying to communicate with local guys there and it was helpful. Ankit was so enthusiastic to find fuel he was talking to almost everyone for diesel.
For a miracle, a local BJP leader was crossing the road in his Fortuner. He stooped and talked to us. Not just that, he was so nice he even offered us fuel from his van.
He also told us that just 5 minutes ago, he saw a truck filling petrol in a pump just 5 minutes ahead. He sent one person with us to the pump. We filled the tank and thanked everyone. Finally, we started the journey again. The entire experience was thrilling.
Return to Noida
Now it was time was to fill our empty stomachs so stopped at the local dhaba. I don't remember what we ate. People were tired but how can I miss the shot
We wanted to stop for tea again as we were feeling dizzy. For almost an hour, I was in the front seat. Bhuwan saw me taking small naps so he came to the front seat till morning.
We reached Noida at 8 AM and it was time to say goodbye to all. Our amazing road trip from Delhi to Munsiyari finally came to an end.
The moral of the story – "Always check fuel"
End of the story – thanks for bearing my horrible writing
Delhi to Munsiyari – Conclusion
I hope the pictures, travelogue, and information above on the Delhi to Munsiyari road trip were of help. If you have any questions, please feel free to ask in the comments section below and I will be happy to answer. You can also follow me on Instagram and chat with me live there or subscribe to my YouTube channel and ask a question there.