In this article, I will share my experience of visiting Gangotri and Gaumukh and provide some necessary details on how you can plan your trip here. This post is in continuation with a previous one and a part of my Amritsar and Gangotri travelogue.
Previously, I talked about traveling from Delhi to Amritsar and provided some important tips to keep in mind while visiting The Golden Temple, Jallianwala Bagh, and Wagah Border. After Amritsar, we traveled back to Delhi and then to Gangotri via Haridwar. To read the previous part of this travelogue, please click on the link below.
Gangotri and Gaumukh are among the most visited places in Uttarakhand. The area is of high religious importance in Hinduism but that is not the only reason why so many people visit here. It is also an extremely scenic region where tourism plays an important part in the livelihood of the people here.
It is very well connected to the rest of the country by a good motorable road. Some people travel here on their own vehicles and some by public transport like us. After our trip to Amritsar, we caught a Bus back to Delhi because Gangotri and Gaumukh were next on our plans.
Delhi to Haridwar
Our Bus reached Delhi in the morning at around 5 AM. It actually dropped us near ISBT Kashmiri Gate at some distance and we had to walk the remaining way to the Bus stand. We even had to do the daily morning routine at the Bus stand itself since we were headed straight to Haridwar and had no plans to go back home. We walked down to the Haridwar Bus stand area on the ground floor and had our tea there.
During the summer season, there are an ample number of buses for Haridwar and Rishikesh by Uttarakhand Roadways bus and Uttar Pradesh Roadways bus (UP). I think there was a Bus leaving in about every 30 minutes. We decided to travel by a Uttarakhand State Transport bus that started from ISBT at 9 am.
Fair Per person was Rs.240. The first stop came somewhere along the way at around 11:30 am at a Dhaba where everybody got down to get something to eat. After that, the bus got stuck at Roorkee in a Traffic Jam and took almost an hour to cross it. After a day-long journey, we finally arrived at Haridwar bus station at 4 pm.
Also Read: How to Plan a Trip to Gangotri –  A Complete Travel Guide
Har ki Pauri
Har ki Pauri is about 2 kilometers from the Haridwar Bus stand. We first had a meal near the Bus stand because we were all very hungry by then. We ordered a Thali which starts here from Rs. 30 and then goes to Rs.40, 50, 80, 100, 200, 250, etc. After a hearty meal, we then walked the 2 kilometers distance to Har ki Pauri to take a dip in the waters of Holy Ganga. We chose to walk but you can also a Rickshaw which will cost you about Rs. 20 per person.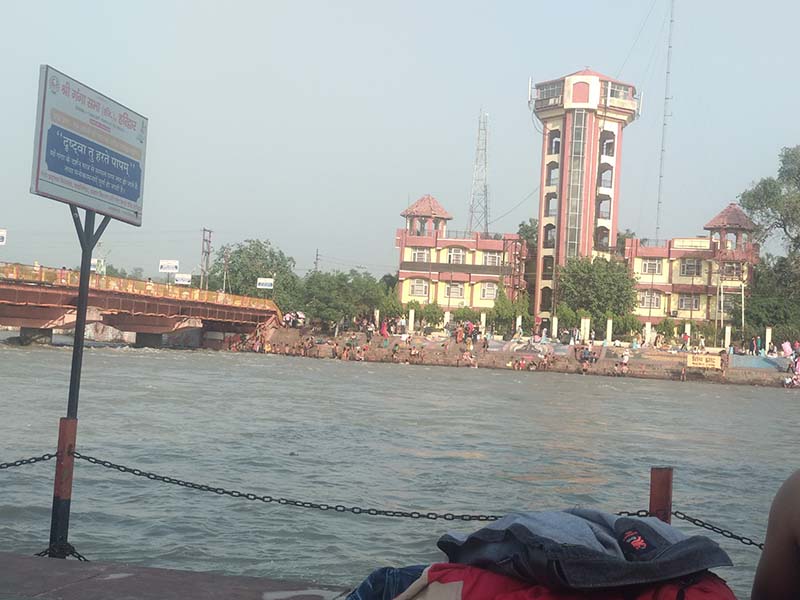 Once at Har ki Pauri, we saw hundreds of people taking a dip in the river. Water was a little wheatish green but overall, it looked bathable for the devotees. I first allowed my elders to take a dip and then I stepped.  I also did informal pooja in the river itself.
After enjoying the bath for a little while, we met one of my known persons and headed towards a nearby Dharamshala to stay for the night. We had our last meal for the day, ordering a Thali again for Rs. 100 per person, and then retired for the day.
Accommodation at Gangotri and Gaumukh

There are two important things to remember before any journey. The first one is in terms of accommodation and the second is the mode of travel. Getting proper information becomes of the utmost importance when you visit a place like Gangotri and that too by a Bus.
The pilgrimage of Gangotri comes under Garhwal Mandal Vikas Nigam of Uttarakhand. GMVN is a part of the tourism department of Uttarakhand and has online booking facilities and offices throughout the country. They provide various facilities including bookings of accommodation.
The journey route for Gangotri was as follows:-
Haridwar to Gangotri and Gaumukh (night stay)
Gangotri (stay for a day)
Gangotri to Haridwar (return)
Accommodation bookings can be made at the GMVNL Online Portal.  Bed bookings for Gangotri will cost Rs.250/- per bed. In this case, there will be a room with around 6 to 7 beds in it and one common toilet. This is the best choice if you are traveling on a budget. If you want to book individual rooms, those too are available. If not GMVNL, then there are a few privately owned hotels as well where you can stay.
There is no accommodation available at Gaumukh. You will have to trek and return back to Gangotri by evening.
Bus to Gangotri and Gaumukh

There is only one direct bus service from Haridwar to Gangotri. Booking a seat in advance would be a good idea in the Yatra season (April to Oct).  The booking can be made from the website of Uttarakhand bus roadways. This bus starts from Haridwar at 6 am and reaches Gangotri by 6 pm. The fare was Rs.525 per person. In Yatra Season, it would be wise to book a bus in Advance from the above-mentioned website.
The distance between Haridwar to Gangotri is almost 300 kilometers. The bus climbs up rapidly on a winding road which causes people to feel like throwing up, dizzy, lazy, anxious, gas in the stomach and headache, etc. People who are used to traveling in the hills won't feel anything but for the rest, the journey may become a troublesome one.
To remedy this, keep some drinks with you like Sprite, Limca, Eno, or even nimboo-pani. Refrain from eating anything on the way or immediately before the journey as this will only make things even more difficult. You may also keep a small packet of ENO in your pocket. If you start to feel uneasy, just put a pinch of it on your tongue and swallow.
There is no Bus available to take you all the way to Gaumukh. The bus will only drop you at Gangotri and you will have to walk the final distance to Gaumukh.
Clothes to Pack for Gangotri and Gaumukh

Travelers must pack winter clothes as the temperature even at day will be around 5 to 10 degrees Celsius.
Also Read: When is the Best Time to Visit Gangotri
Haridwar to Gangotri 
The journey started at Haridwar Bus Station. On the day of our travel, the bus was late by 30 minutes and we started from Haridwar at around 6.45 AM. Shortly after, we arrived at Rishikesh for a brief halt as the Bus picked up some luggage from various goods suppliers. After another 30 minutes, we left Rishikesh and started to climb over the hills of Garhwal on a steep and scary road.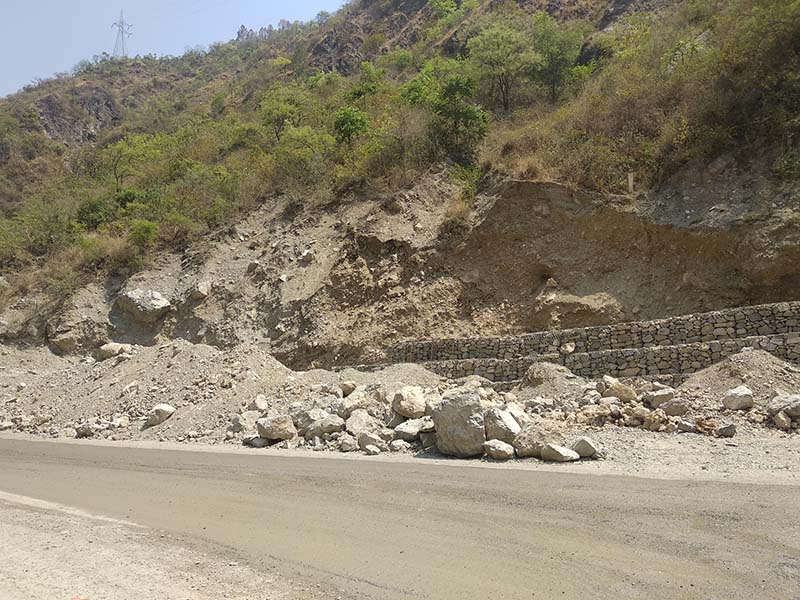 In the hills, the roads are made after cutting mountains keeping in mind that while the vehicle is driving upwards or downwards, there should be sufficient space for turning. Proper measurements are also made so that in case a vehicle was coming from the other direction, there should be enough road for both the vehicles to pass each other by.
Thankfully, these days, roads are also protected by a cemented border or iron-made barricades. A small error here can definitely result in a fatal accident.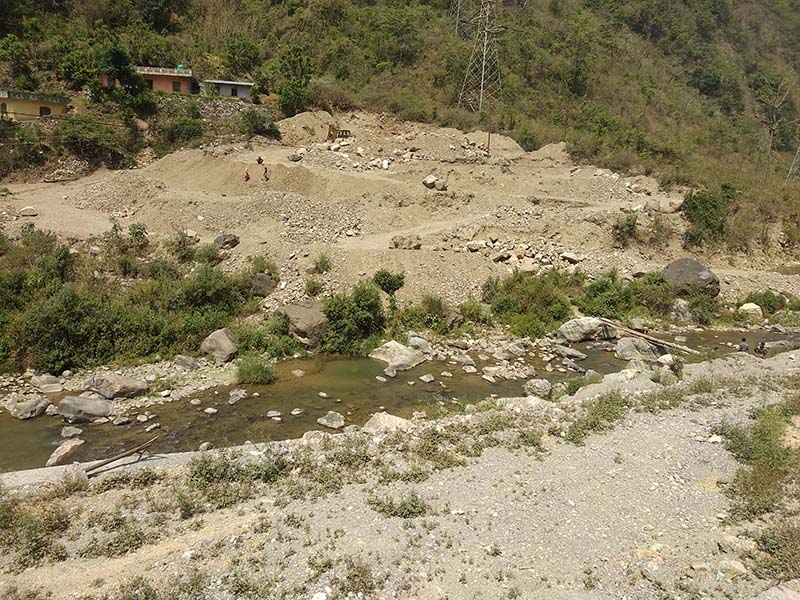 Gangotri Road Condition
At some places, road widening work was going on due to which, the condition of the road was not at its best. It was a mix of bad and average but rarely good. Our first stop came at 11 AM somewhere along the way where the bus stopped for 30 minutes for lunch. After that, the road turned both narrow and very steep.
At some places, it did not even turn all at once. The driver had to reverse the bus and adjust in order to turn. My only and probably the biggest complaint was that the conductor did not stop the bus anywhere for short breaks or where we could even get some water. It traveled non-stop until Uttarkashi.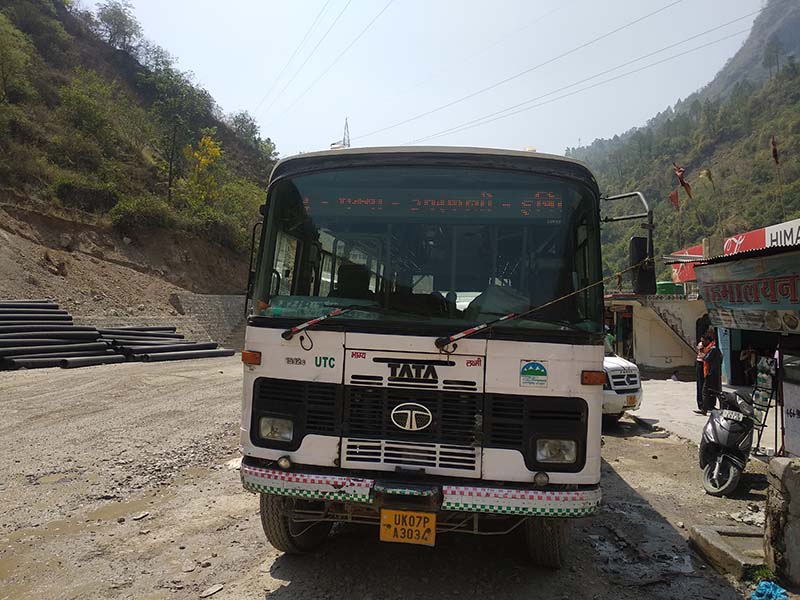 As we got down at Uttarkashi, I realized that the hot wind has now converted into cold winds and it felt like winter even in the month of June. A lot of other travelers too were drawing their winter clothes out of the bags to cover themselves properly.
After Uttarkashi, the journey was even slower than we expected. A little while later, due to the foolishness of another driver and the narrow road, there was a huge traffic jam and the traffic came to a standstill.
It almost took about 4 to 5 hours to clear and we finally made it to Gangotri at 11 PM; a full 5 hours late. The first thing to do was to have dinner which again was a Thali for Rs. 100. After that, we checked GMVNL's tourist space and retired to the respective allotted beds.
Also Read: Places to Visit in Gangotri – What to See in Gangotri
Gangotri

We got up in the morning at 6 in the morning and walked around Gangotri. The area is very short and restricted. It looks like a small village as there are very few places to visit here. There were two channels of water flowing down the hills. The main and the bigger one, which is called the River Ganga, had a little whitish water.
The other shorter channel had absolutely clean water. The bathing places are made at the shore of the main Ganga river. Even early in the morning, you will find a lot of pilgrims bathing here. Caution, however, must be practiced while stepping in the water because of its fierce flow.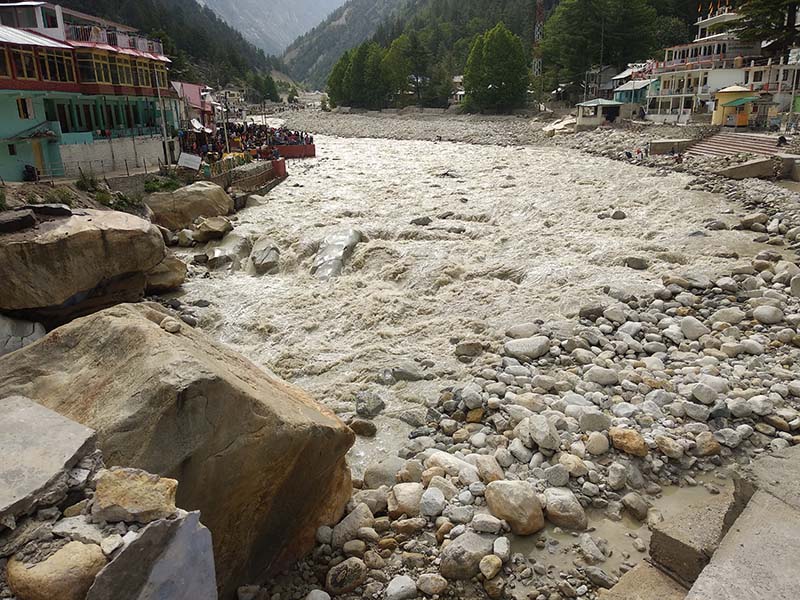 I was unsure about where to take a dip myself. But after seeing both the water streams, I decided to dip in the shorter but cleaner one.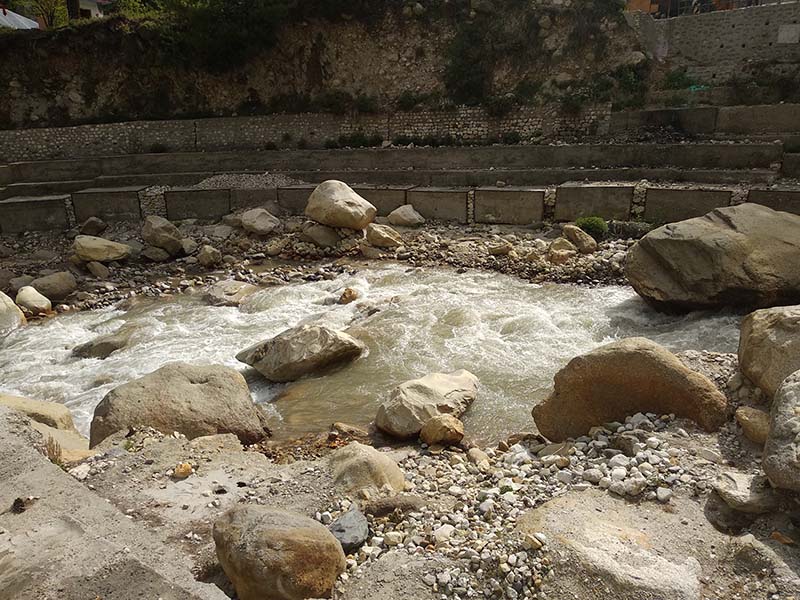 There was nobody around here and it was a little risky as well bathing alone. If I slipped or fell in the water, I could call on no one for help. But I managed to get to a corner of the river and also brought one empty plastic bottle with me. I cut open the bottle with a knife and used it as a mug to draw water from the river and pour it over myself.
I started bathing citing 'Har Har Gange, Jai Shiv Shankar'. The water was freezing cold, similar to the water available at Kedarnath. Slowly I bathed and washed my clothes as well.
Thereafter, I sat over there for 30 minutes for JAP, chanting 'Om Namah Shivay' with my eyes closed and alone. It completely refreshed my mind and body. It was a great feeling to try at least some Jap as our ancestors used to do in earlier eras.
Gangotri Temple
Thereafter, with other pilgrims, we visited the holy Gangotri Temple area. There is no fixed temple of worship for the pilgrims here. There is a line system and police constables are also deployed to manage the devotees in the courtyard of the temple.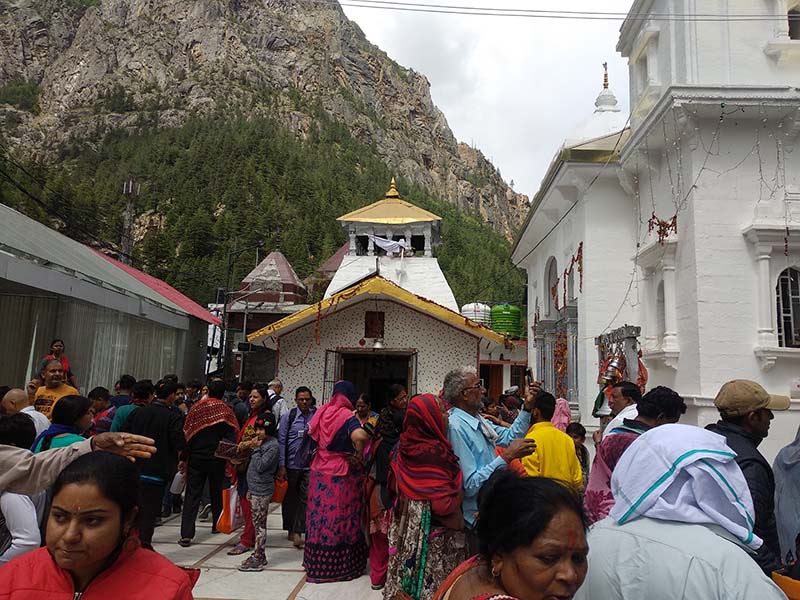 Ganga river area is very wide and devotees may sit on both sides of the Ganga River. The flow of the water here is really aggressive though. The local administration has built a bridge over the river. If you want to get an awesome and stunning view of the river and the hills around, you must try walking over this bridge.
Pandav Gufa
Our lunch was again a Thali for Rs. 80. I was up since early in the morning and was a little tired so decided to rest for a while after lunch.
In the afternoon, we went visited Pandav Gufa which is about 2 kilometers from Gangotri Temple. It is not much of a distance to walk in the city but in the hills, and that too at such a height, walking 2 kilometers too seems like a huge task for people like us. We walked slowly and managed to reach the cave nonetheless.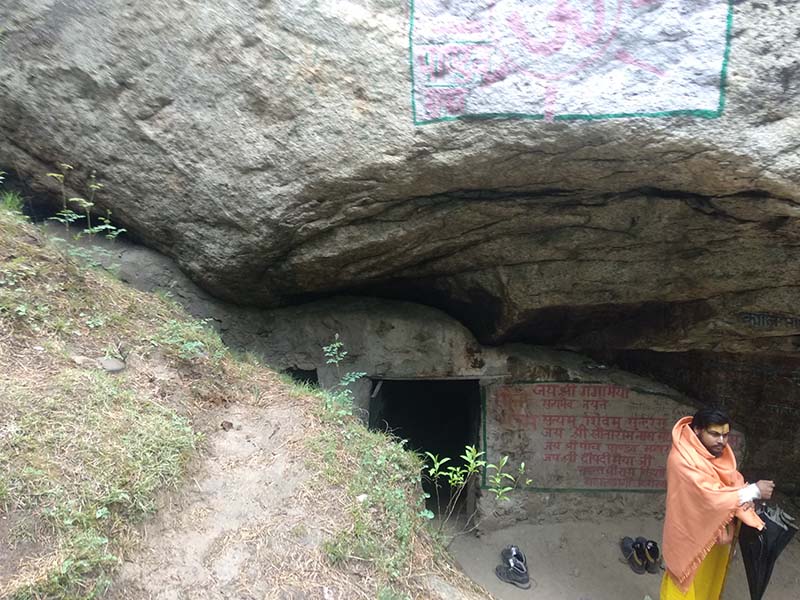 It is said that this cave was built by the Pandavas when they came to Gangotri after finishing the battle of Kurukshetra. They did penance here for killing their own relatives on the battlefield.
The cave is naturally built in a very amazing manner and is a must-visit place for anyone going to Gangotri. There were three sages meditating there. One of them was completely covered in ashes, from head to toe.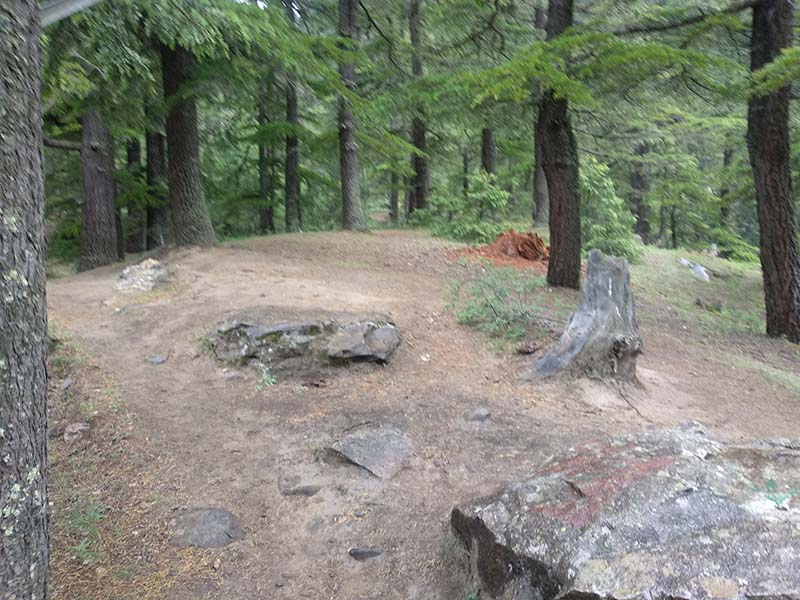 It started to rain while we were in the caves. It did not last long, just for about 10-15 minutes, but was sufficient to drop the temperature a few degrees. While coming back, we also saw Gauri Kund and it was kind of scary to look down. The water sounded so dangerous flowing through the gorge.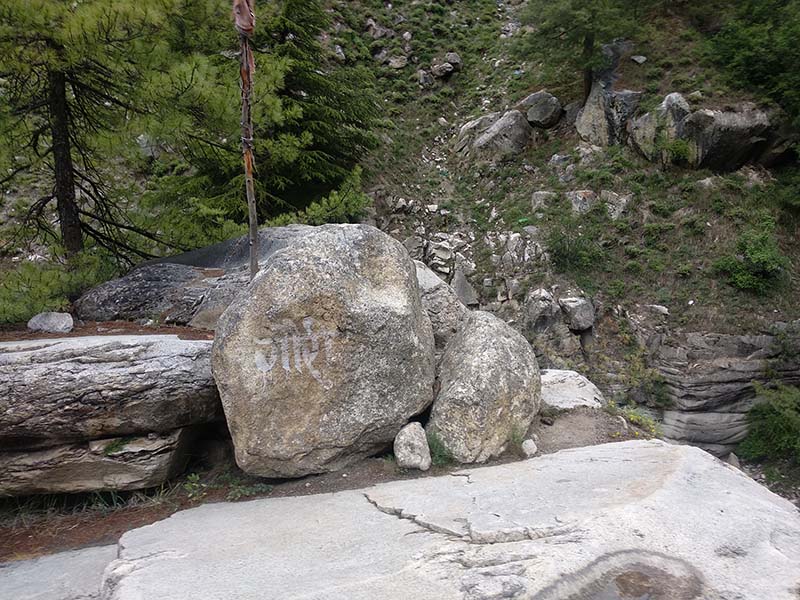 Gangotri to Haridwar Bus
After this, we returned to our hotel and rested for rest of the day. We stepped out to have dinner after dark at around 8 PM and then walked around a little on the road. We were actually also trying to find the Bus that we were to board the next day for Haridwar.
It starts at 5 AM so a little knowledge about where it was parked would have been beneficial. Unfortunately, we could not locate the bus anywhere. Maybe it was stuck in the traffic somewhere as it happened with us the day before.
Gangotri to Haridwar
We got up early at 4 AM as our bus was scheduled for 5 AM from Gangotri to Haridwar. Taking a bath that early in Gangotri is only for brave hearts and I did not feel like being one at that time. We freshened up and stepped out of our hotel.
The weather was downright chilly and it did not feel like the month of June at all. We reached the Bus stand and found the UK roadways bus for Haridwar standing in the middle.
Our return journey too started late as the Bus left Gangotri Bus stand at 5.45 AM. It was really very pleasant morning. As we traveled downhill, the River Ganges remained on our left and accompanied us. Throughout the route, there were numerous small streams of water flowing down the hill and merging with Ganga Ji. Sun started to shine soon over the snow-capped hills and it all felt glorious.
By the time we reached Uttarkashi, the weather was already starting to get a little warm.  After Uttarkashi, what started as a beautiful journey soon turned into an uncomfortable one.
The weather turned hot and our warm clothes went back in our bags. There was a clear 'No Smoking' sign on the bus but the driver and the conductor themselves smoked non-stop. Several of the travelers started vomiting as well.
Final Leg
The bus reached a place called Pali, a little before Chamba, by 4 pm and stopped there for lunch. It sounded a little ridiculous as 4 pm in Delhi is snack time. But there is nothing you can do when you are at the mercy of the bus driver and conductor.
It is also notable that at 9 am, the bus was stopped somewhere in the hills for tea break only. So the overall breaks in the journey are severely limited which I felt was not the right thing to do. The Bus entered the Haridwar Bus station at 6 PM and my peaceful, pleasant and blissful pilgrimage journey to Gangotri and Gaumukh came to an end.
This journey comes to an end with a happy note that the love of Mother Nature and mountains is always open for everyone.
In terms of expenditure, it came out to be Rs. 4500 per person, including travel charges, meals, and lodging. A tourism package for this kind of a journey would cost much higher. I covered Golden Temple, Jallianwala Bagh, Wagah Border, and Gangotri in Rs. 4,500 but if you went to a tour agency, they will hand you over a bill of Rs. 45,000 I am sure. The only hiccup was when my phone got stolen in Amritsar. Other than that, it was awesome and a highly memorable journey.
The information on trekking to Gaumukh from Gangotri is covered in another article in much more detail. Please read Gaumukh Trek from Gangotri – A Complete Travel Guide.
Gangotri and Gaumukh Trip – Conclusion
I hope the information on Gangotri and Gaumukh and the travelogue were of help. If you have any questions or need any other details, please feel free to ask in the comments section below, or at our Community Forum, and I will be glad to answer. Next time, I will be back again with the memoirs of a new journey. Till then Jai Shiv Shambhu.