About 4 years ago on this day, trekking was a concept completely alien to me. I never really thought that it would be my cup of tea and would interest me so much. But ever since I went on my first trek, I have not been able to stop. In the last few years, I have been on multiple treks across the country, both short and long ones. In this series of articles, I would like to share my experience and knowledge of these treks, starting with Darma Valley Trek (also known as Panchachula Base Camp Trek) which was the latest one I ventured on.
Trekking in my opinion is the best way to explore the raw and unspoiled version of the natural beauty of the mountains. Spending a few days walking around in the hills, away from the world and all sorts of communication, surviving with only the basic amenities is not only just a different experience but also helps you rejuvenate yourself. It gives you the much needed tranquility and peace and allows you to take a break from the regular humdrum of our lives.
Let me now take you through Darma Valley Trek, one of the most beautiful trails that I have ever been on. If you have the required time in hand, it is a journey that I will highly recommend. It is also known as Panchachuli Base Camp Trek or Panchachuli Trek, details on which I have covered later in the article.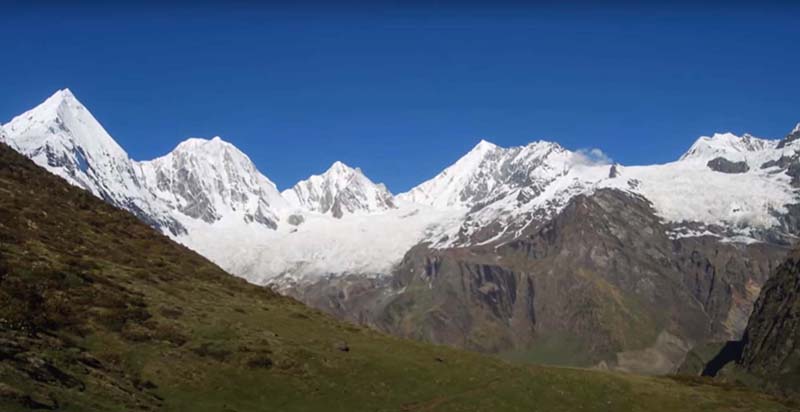 About Darma Valley
Darma Valley is located in the Pithoragarh district of Uttarakhand. Also known as Drama valley, it is about 70 kilometers long, between Dharchula and the last India-China border post. The valley is home to an estimated 5000 people living in 12 tribal villages.
It is one of the least explored regions of Uttarakhand and as such, is rich in tribal culture and heritage. Snow-covered Himalayan peaks, glaciers, scintillating river views, and dense birch forests are what make Darma Valley an amazing place to spend some time in.
Also Read: Gaumukh Trek from Gangotri – A Complete Travel Guide
Kumaon Mandal Vikas Nigam (KMVN) has recently taken the initiative to promote the valley as a tourist destination. The concept of homestay was introduced in the local villages and over 100 families are now providing this facility. It provides a unique opportunity for the tourists to get up close and personal with the exotic beauty of the valley and the culture of its people. It is also a much needed alternate mode of income for the locals who mostly rely on farming for livelihood.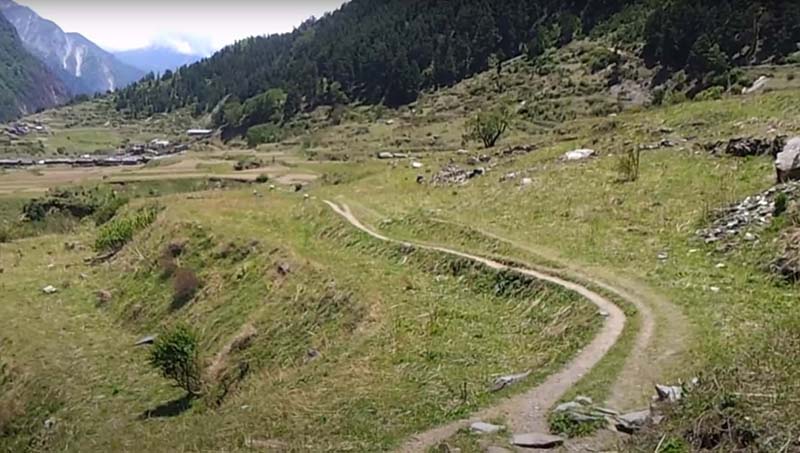 How to reach Darma Valley
Dharchula is the nearest major town to Darma Valley and that is where you will need to get to first. From Dharchula, you will then travel another 30 kilometers to Dar Village where you trek will begin.
By Road
Dharchula is well connected by a motorable road. It is divided between both India and Nepal. The river Mahakali flows through the village and acts as a natural border between India and Nepal. On one side of the river is the Indian Dharchula and the other side is Nepali Dharchula.
If you were traveling by your own car or motorcycle, the route for your journey will be as mentioned below. For the sake of explaining the journey, I will assume Delhi as your starting point.
Delhi – Kathgodam – Kathgodam – Almora – Almora – Dharchula – Dharchula – Tawaghat – Sobla
Depending on where you started from in Delhi, this journey is of about 635 kilometers in total and will at least take you 2 days with long driving hours. If you wanted to travel at a relaxed pace (6-7 hours a day), it will take you 3 days to get to Dharchula from Delhi.
Also Read: Gangotri and Gaumukh – How to Best Plan your Journey
By Train
The nearest railway station to Darma Valley is the Tankapur Railway station, at a distance of about 250 kilometers. From Tankapur, you can either board a bus for Dharchula or hire a private taxi from the railway station itself. By taxi, it will take you 8 to 10 hours. If traveling by Bus, you may have to break your journey in parts.
By Air
The nearest airport is located in Pantnagar, at a distance of 330 kilometers from Dharchula. There are no direct buses from Pantnagar to Dharchula and you will have to get to Kathgodam or Almora first. You can however easily get a direct taxi from Pantnagar airport itself.
By Bus
There is a direct bus available from Delhi ISBT for Dharchula. It starts at 4 PM from Delhi and reaches Dharchula the next day at 4 PM. Yes, it is a journey of 24 hours by an ordinary bus that will test your stomach if you were up for it.
If you missed this, then an alternate way would be to board a bus for Kathgodam or Almora. From there, you can find another bus or shared cab for Dharchula.
Once you have arrived in Dharchula, you can easily get a shared cab to get a drop to Darma Valley.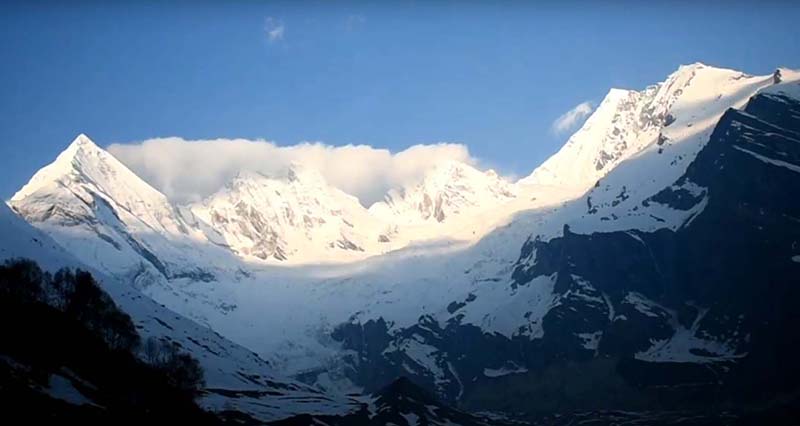 Darma Valley Trek
Below is an overview of the trek and day by day details of the journey.
Trek Duration: 11 Days (4 days journey by road / 7 days trekking)
Best time to Visit: Mid April – Mid October
Trek Grade: Moderate
Highest Altitude: 3470 meters (11390 ft)
Trekking Distance: 60 kilometers
Day 1 – Delhi to Kathgodam / Almora
Your destination on Day 1 will either be Kathgodam or Almora. Kathgodam is about 300 kilometers from Delhi and Almora is another 70 kilometers from there. Both the places are equally good and you can stay at either of them per your preference. Travel time on this day will be about 7-8 hours.
I will strongly advise against trying to make it to Dharchula on a single day because that will just tire you unnecessarily. It would be wise to break this journey in 2 days.
If you were traveling by public transport, there are regular buses available from ISBT Delhi that you can board.
Also Read: Bike Trip to Auli – An Amazing Road Trip to Auli, Uttarakhand
Day 2 – Kathogodam / Almora to Dharchula
Dharchula is about 200 kilometers from Almora but will easily take you between 8-10 hours to cover. You must start early on this day so that you can reach Dharchula in time as you will also need to arrange your permits once you get there.
After reaching Dharchula, find a hotel per your need, check in and go to the SDM office to arrange the Inner Line Permit for Darma Valley. Without the permit, you will not be allowed to travel. After that, take a walk through the village. You can cross the suspension bridge over River Kali and walk into Nepal as well.
You should also see the confluence of River Kali and River Gori at Jauljibi. It is a small bazaar of Indo-Nepal border situated at the confluence of the two Rivers and you will cross it on the day to Dharchula. If you had time, you can even take a break and pay a visit to Jauljibi village.
Day 3 – Dharchula to Sobla to Dar
Wake up to a beautiful Uttarakhand morning, get something to eat, and start driving towards Sobla Village. It is located at a distance of about 30 kilometers from Dharchula and will take 2-3 hours to cover. From Sobla, you will trek 5 kilometers to Dar Village which will take you about 2 hours.
If you were traveling in your own car, you should leave it parked at the hotel in Dharchula and get a taxi to drop you to Sobla.
There will not be any tough trekking involved today and it is more of a relaxed walk. The dirt road from Sobla extends to Dar. If you wanted to and your taxi driver agreed, you can actually ask him to drop you at Dar Village itself and avoid any trekking on this day entirely.
You will spend the night in Dar Village, at an altitude of 2134 meters.
Day 4 – Dar to Sela
Sela is at an altitude of 2438 meters and about 12 kilometers ahead of Dar. The initial part of the trek for about 2 kilometers is an easy walk. For the next 1 kilometer, you will be walking on the edge of a cliff, on a barely 2 ft wide trail. After that, the trek is mostly a moderate one until the village.
After Dar, and for the rest of the complete trek, there are several shooting stone areas so please be extremely careful.
You will also cross the village of Bongling on the way which is another place where trekkers halt for the night. Total trekking time on this day will be about 5 to 6 hours, depending on your fitness. You will stay for the night in Sela. There is a guest house available here by the name of Sela Guest House, run by a gentleman named Dev Singh Selal.
You will also need to visit the ITBP camp office in Sela to register your permit before proceeding any further. There is a satellite phone in ITBP camp that can be used to make calls in case of an emergency.
Also Read: List of Necessary Items to Carry for Trekking
Day 5 – Sela to Baling
It will be a total of 9 kilometers of trekking today, arriving at Baling at 2743 meters. From Sela, you will first reach Nagling Village village and then continue to Baling from there.
The first 5 kilometers to Nagling are a mix of about 2 kilometers of rocky terrain, followed by a kilometer of walking through the forest and then finally 2 kilometers on an uphill stony path.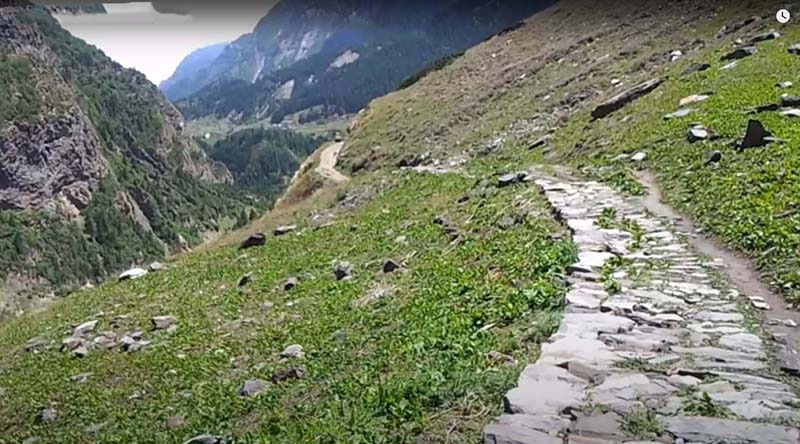 There are a couple of dhabas in Nagling where you can take a break and have lunch. After that, the final 4 kilometers to Baling is a mix of level walk and moderate climbs. You will be walking under the cover of the forest so will be safe from falling rocks as well. There are a couple of dhabas in Baling as well and a few homestays where you can stay for the night.
There is also a KMVN Rest House in the village. You will be required to register your permits again at the ITBP camp. Interestingly, the facility of a satellite phone is available at the camp here also that you can use to make calls if needed.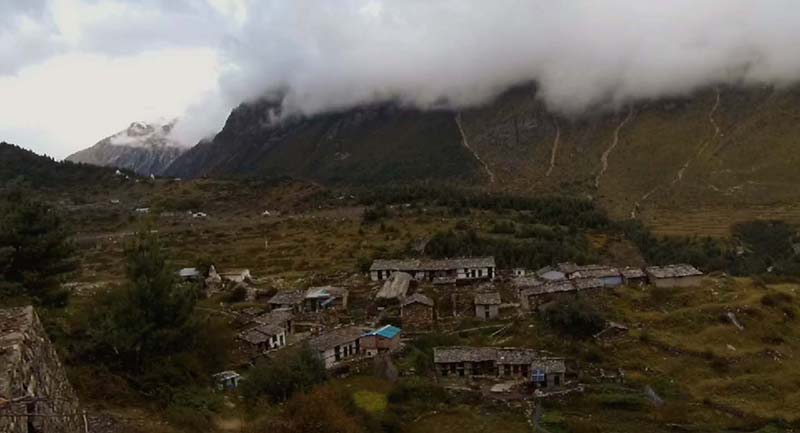 Day 6 – Baling to Duktu / Dagtu
Baling is the last place in Darma Valley that can be called a proper village in terms of houses and the layout. It is also the last village that remains populated even in the winter season. From here on, the scenery will continue to change drastically. Your next destination will be the village of Duktu (also known as Dagtu), located at a distance of 6 kilometers from Baling and at an altitude of 3048 meters.
The first two kilometers will be a level walk followed by short uphill climbs for the next 2 kilometers. Until Baling, you will mostly be walking through rocky terrain and forests. But after 4 kilometers from Baling, you will reach a high plateau and there will be beautiful meadows all around. The final 2 kilometers will again be a level walk through fields and Meadows.
There is a KMVN rest house in Baling where you can look for accommodation. If not, you can talk to the villages and will easily find a homestay. If you stayed at the rest house, you will have out at the village dhaba.
Also Read: Trekking and Camping in Mcleodganj & Dharamshala
Day 7 – Duktu to Panchachuli Base Camp to Duktu
Today is when you will reach the final destination of your trek, the Panchachuli Base camp. The Base Camp is about 4 kilometers from Duktu so you will be trekking a total of 8 kilometers on this day.
About a kilometer after Duktu, you will reach Son Village. Both these villages, Duktu and Son, are located on the left side of the Dhauliganga gorge. There is also a third village here called Dantu. On the left side of the gorge are the villages of Filum and Bon. Interestingly, all these 5 villages are in a radius of 2 kilometers with a deep gorge in between. The gorge is in fact so deep that you cannot even see the flowing river.
Son village now is almost deserted as most of the people have moved to lower areas looking for work. It also gets too cold to stay even during the summer season here. From here, you get a wide view of the plateau on both sides of the Dhauliganga gorge.
Please note that there are no shops or dhabas after Duktu village so you will have to carry your own water and snacks etc.
Son Village to PCBC (4620 meters)
After Son Village, you will walk uphill for about 1 kilometer, then through a meadow, again uphill for a kilometer before arriving at the KMVN shed built for trekkers to rest. Take a break and relax for a while because, after this, it is a straight run to Panchachuli Base Camp.
In case you were wondering, PCBC is the spot from where you get a complete view of Panchachuli range from the top (peaks) to bottom (massif). The snout of the Meola glacier, the origin point of Meola River, can also be seen from here.
PCBC to Duktu
Now you have three choices from here. You can stay at the tents at PCBC campsite for a night and return the next day. If you have time in hand, this is something I will highly recommend. If you did not want to stay, you can return to Duktu by the same route which will be your second choice. The third option is to continue trekking for another 2 kilometers beyond Meola Glacier. You will then circle back to Dantu Village from the left side of the river and return to Duktu.
The third option is a bit risky and should only be attempted if you have a local guide. Otherwise, stay at the PCBC camp for a night if you had the time or return to Duktu by the same route.
Day 8 – Duktu to Nagling
From Duktu, you will start trekking down on the same route that you took to get there. While climbing up, you stayed at Baling village but since it is now all downhill walk, you will be able to cover more kilometers in a day. Take an early start from Duktu and rather than staying again at Baling, continue all the way to Nagling. Total distance covered will be about 11-12 kilometers but you can easily complete it in 5-6 hours.
If you wanted to extend your trek, you can take a different route to return to Nagling. You can continue trekking to Tidang Village, stay there for the night and come back to Nagling the next day.
Also Read: Triund Trek – How to Plan your Adventure
Day 9 – Nagling to Dharchula
The downhill walk will continue as you walk back to Bongling village and then finally to Dar. If you want to, you can stay for another night in Dar or get a taxi to drive you back to Dharchula.
Day 10 & 11 – Dharchula to Delhi
These will be the last 2 days of the trip but do not let that discourage you. You still have more views of beautiful Uttarakhand to enjoy. From Dharchula, drive back down to either Kathgodam or Almora and then return to Delhi the day after.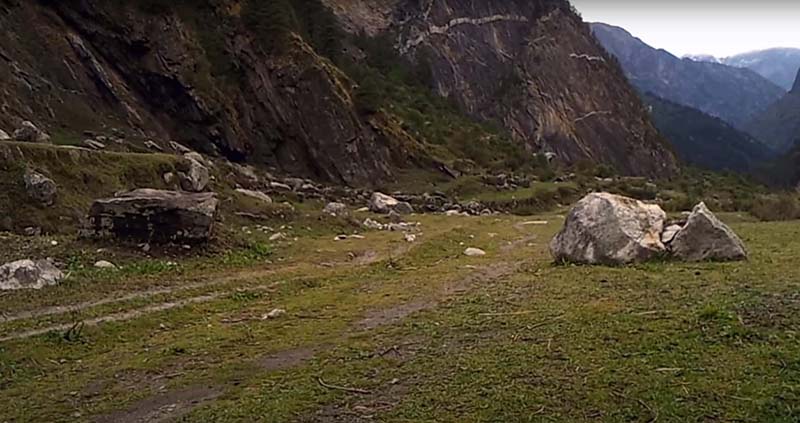 Panchachuli Base Camp Trek
This trek is also known as Panchachuli Base Camp Trek. I am sure you already would have guessed the reason behind it by now.
For a brief overview, The Panchachuli peaks are a group of five snow-capped Himalayan peaks near Dugtu Village in Darma valley. The peaks have altitudes ranging from 6,334 metres (20,781 ft) to 6,904 metres (22,651 ft). The word 'Panch' means five and 'Chuli' here means Chulha, a cooking hearth. So Panchachuli literally translates as 'Panch Chulha'. It is said that this is where the Pandavas cooked their last meal before reaching heaven and hence the name.
Dharchula to Panchachuli in 2 Days
KMVN has been working hard to promote Darma Valley as a tourist destination. The road work here has been going on aggressively and a dirt road now has already been stretched to Nagling. From what I heard, the target was to take the road all the way to Duktu from where the PCBC is only an hour away.
So if you were short on time, you can hire a taxi from Dharchula and start really early in the morning. By 1 or 2 PM, you will be able to reach Nagling. From there, you will trek for another 3-4 hours to reach Duktu Village.
The next day, from Duktu, start in the morning again and walk up to PCBC. Spend some time there and trek down to Nagling Village by noon. From Nagling, you will then take a taxi and reach Dharchula late in the evening.
Permit for Darma Valley Trek
Obtaining an Inner Line permit is quite an easy process. You will be asked to write an application to the SDM Dharchula seeking his permission. You will attach one passport size photograph and a copy of your government issued valid identity card with your application. Mention all your personal details, get it signed and stamped by the SDM office, and you are done.
There is no permit fee involved for the permit. Depending on how you were planning your itinerary, you will have to mention the complete duration for which you need the permit.
Also Read: Trekking in Parvati Valley – A COMPLETE Travel Guide
Cost of Darma Valley Trek
You can easily get a guest house in Dharchula for Rs. 700 to Rs. 1000 (depending on your choice)
A share taxi from Dharchula to Sobla will cost about Rs. 150 per person. A taxi to Nagling costs Rs. 300-350 per person. If you rent a private taxi, then it will cost between Rs. 2000 to Rs. 3000.
Accommodation in the villages en route will cost Rs. 300 – Rs. 400 per night.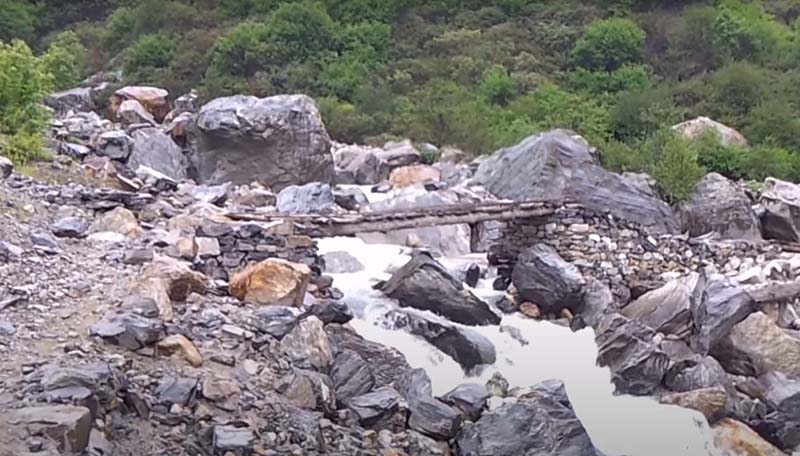 Best time for Darma Valley Trek
The best time to do Panchachuli Base Camp Trek is either in the months Apri to June or between September to early November. It is not possible to attempt the trek in the winter season due to heavy snowfall. The months of July and August are the monsoon season which is not a safe time to be trekking in these areas.
Phone Network in Darma Valley
BSNL has the widest coverage in the area. Even the ITBP soldiers posted here carry BSNL connections. Jio is available in the lower villages around Sobla and Dar. Other networks like Airtel and Vodafone do not have service in the area.
Banks and ATMs
I will advise withdrawing cash from either Pithoragarh or Almora. Dharchula has an ATM but it had no cash when I was there. The locals told me that the ATM runs out of cash quite often. During the trek as well, carry enough cash to last for the entire duration of the trip.
Darma Valley Trek Itinerary
Another itinerary that can be followed for the trip is as mentioned below.
Dharchula to Sela – Day 1
Sela to Nagling – Day 2
Nagling to Dugtu – Day 3
Dugtu to Panchachuli Peaks Base Camp – Nagling – Day 4
Nagling to Dharchula – Day 5
Conclusion
I hope the information above on Darma Valley Trek (or Panchachuli Base Camp Trek) was of help. If you have any questions or need any other details, please feel free to ask in the comments section below, or at our Community Forum, and I will be glad to answer.