India is a place of hidden wonders when it comes to tourism and travel. Uttarakhand, a state in Northern India is among the best known for its travel destinations. Among all the travel destinations, Uttarakhand has several offbeat places that will never fail you in quenching your thirst for travel. If we eliminate the most popular places in Uttarakhand, it has many more hidden mesmerizing tourist spots that will definitely beat the foreign beauties. Listed below are some of the top but less crowded hill stations in Uttarakhand that you can consider for your next trip if you wanted to avoid the tourist mania.
Chakrata
Surrounded by gorgeous mountain ranges of Himalayas, this place is a great combination of green hills, snow-capped mountains, and blue sky. Chakrata also has much more to other than natural beauty. Here are 15 popular things which you can do in Chakrata.
Kanasar: Popular site for camping and river rafting
Tiger Falls: A popular waterfall and good trek to experience the beauty and get lost in nature
Deoban: Nearby forest, best known for bird watching
Chilmiri Neck: To experience an unforgettable and gorgeous sunset view
Yamuna Adventure Park: Water activities
Kimona Falls: A beautiful waterfall that also is a great spot for waterfall rappelling
Chakrata Forest Check Post: Horse Riding
Makhti Pokhri Village: Beautiful place to walk or do some cycling.
Lakhamandal Temple: Marvelous architecture
Mundali: Go skiing
Ram Tal Horticulture Garden:  Great place to relax, indulge in sports and picnic
Local food: Best option to fulfill your hunger
Local fairs and festivals: Unique experience and a lifetime memory
Isn't it beautiful to experience so many things in one place? This hidden gem will never fail you with its beautiful meadows, Deodar forests, rocky paths, and picturesque landscape. For more details, please read How to Plan a Trip to Chakrata.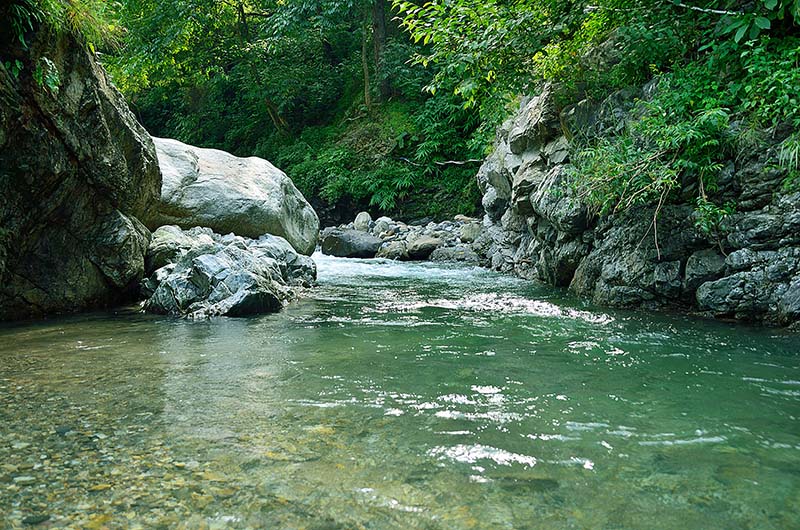 Munsiyari
This is another marvelous place in Uttarakhand that has alluring beauty and breathtaking views all around. It is situated on the banks of Goriganaga River and attracts a lot of mountaineers and trekkers due to several nearby snow glaciers and trails. Munsiyari is also known for its lush vegetation and diverse wildlife.
You can visit Munsiyari at any time of the year. If you wish to experience the snowfall and relish the majestic view with hot coffee, then winter is the best time to fulfill your dream. The entire town gets covered with snow and can give you an experience of a lifetime. There are few places which are must visit in Munsiyari as mentioned below.
Panchachuli Peaks: Visible from all the corners in Munsiyari. The sunrise and sunset are beautiful behind these peaks.
Birthi Falls: A hidden waterfall after a great walk through the forest. The best time to visit is from September to June to experience the massive water flow.
Balanti Potato Farm: Situated very close to the Munsiyari bus stand. A good experience to see the vegetation of the potato and the importance of farming.
Khaliya Top: An easy trek that should not be missed by any of the trekkers. From this place, visitors can see the snowline in summer also. A very good place to camp and experience the mesmerizing view of sunrise and Panchachuli peaks.
Nanda Devi: Munsiyari is the base camp to reach the Nanda Devi temple.
Milan Glacier trek: Trekking enthusiasts should not miss this trek. This is the largest glacier in the Kumaon region. The total duration is 9 days.
For more details, please read How to Plan a Trip to Munsiyari.
Khirsu
Khirsu is largely unexplored but at present, it's gaining its recognition as a hill station. This place is famous for its distinctive placement and due to that, one can notice the sun-kissed Himalayan ranges all around. Located in Pauri Garhwal district, Khirsu is situated at a distance of 15km from the Pauri town and is among the best less crowded hill stations in Uttarakhand.
The entire route and the village are covered with the forests of pine, Deodar, oak, apple, and orchids. The wide, panoramic view from Khirsu is truly majestic.
Nature walk and bird watching are the two most popular activities in the village. A quiet and peaceful nature walk through villages will be the next best thing to do. The roads through Oak, Pine, and Deodar trees offer you unforgettable serenity.
This hidden gem of Uttarakhand is unspoiled due to less tourism activity. You can experience an authentic mountain village by taking walks between different places in the village. For more details, please take a look at How to Plan a Trip to Khirsu.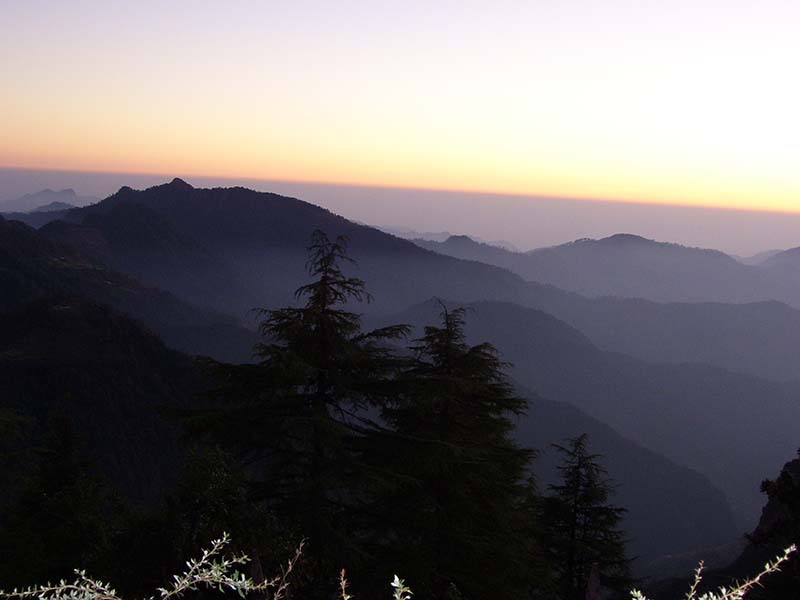 Mukteshwar
Known as 'Apple country', Mukteshwar is situated at the elevation of 7500 feet in the lap of Kumaon hills. It got its name from the Mukteshwar Dham temple, a 350 years old Shiva temple. This place gives amazing 180-degree views of the mighty Himalayan range.  There are few activities which will make you happy amidst beautiful nature.
Mukteshwar is well known for its adventure sports such as rock climbing, rappelling. The huge cliffs situated near Mukteshwar, known as 'Chauli – ki – Jali' is famous for rock climbing. Paragliding is another attraction in Mukteshwar.
For adventure lovers, Mukteshwar is awesome for trekking and hiking. There are many beautiful trails that will surprise you and will satisfy your thirst for trek and hike. One can trek from Peora to Mukteshwar or Peora to Almora, as well as Binsar to Auli.
This is another best option to spend some good time with your family and friends. The green forest and mountains are the best place to camp in the lap of Mother Nature.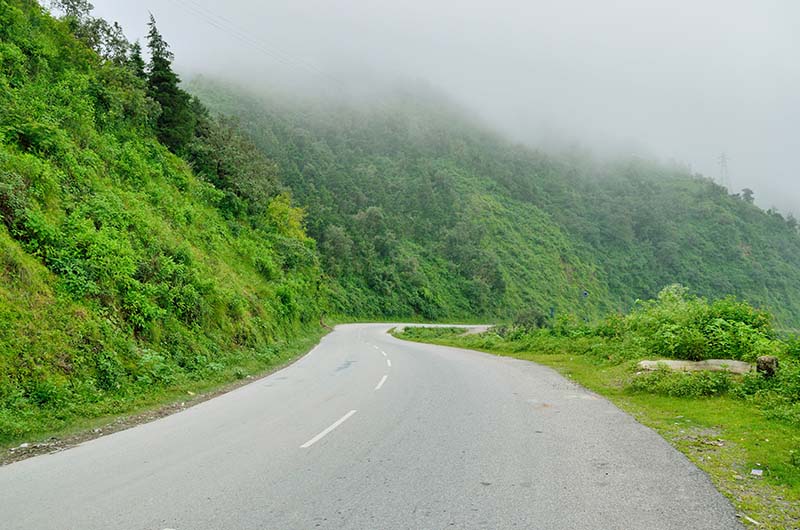 Binsar
If you are a nature lover and adventurer, then Binsar should be on your bucket list. Primarily this place is very famous for its bird sanctuary. Binsar is situated at an elevation of 2,420m and 95 km from Nainital. It offers some of the most scenic spots in the Kumaon Himalayas. From here one can witness the beautiful Chaukhamba peak, Trishul, Nanda Devi, Shivling, and Panchchuli.
Binsar is also a trekker's paradise. There are beautiful trails amidst nature, tall trees, a lush forest of Oak, and Rhododendrons.
With 200 over bird species found and recorded here, Binsar Wildlife Sanctuary is nothing but a paradise for bird lovers. It's a treat to see different kinds of birds including both resident and migratory birds. The beautiful nature, lofty mountains, and exquisite birds will fill your heart with joy and wonder. For more details, please take a look at How to Plan a Trip to Binsar.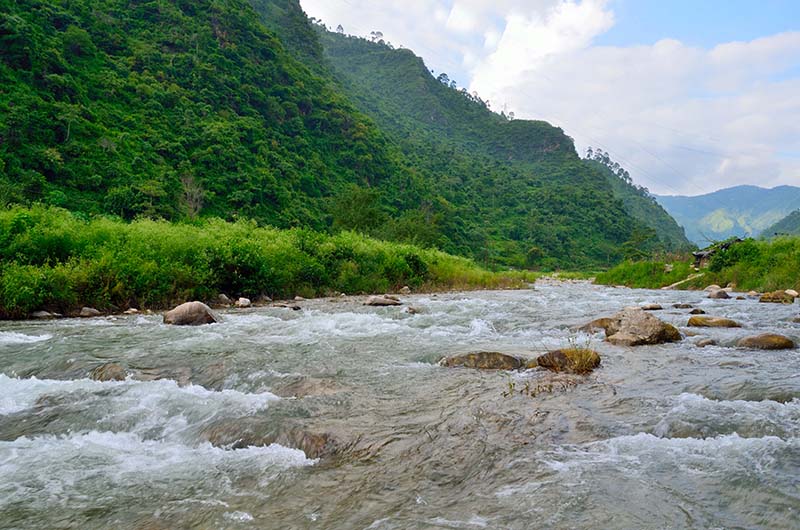 Kedartal
Situated at a high altitude in Uttarakhand, Kedartal is also known as Shiva's lake. This is one of the highest lakes in Uttarakhand, at an altitude of 4,912 meters. It has been formed by the melting of the Kedar glacier, thereby giving birth to the Kedar Ganga river. This is one of the most challenging trek routes in Uttarakhand.
Kedartal is surrounded by Thalay Sagar, Bhrigupanth, Jogin 1, Jogin 2 and other Himalayan Peaks. As this place is naturally diverse, one can notice vivid wildlife such as blue sheep, Ghoral, Himalayan black bear,s and various birds. The crystal clear water of the lake surrounded by mountains and tall peaks that will thrill you for sure.
Lohaghat
Next in our list of less crowded hill stations in Uttarakhand is the small town of Lohaghat. Blessed with scenic beauty, Lohaghat is a mesmerizing town in the Kumaon region in Uttarakhand. Enriched with an astonishing historical past, this place was the cultural capital of the Chand dynasty. It is situated on the banks of the Lohawati river. One can opt for fishing and water sports which are great recreation apart from exploring the beauty of Lohaghat.
Apart from Yoga and meditation, this place is ideal for camping, bonfire, and some leisure time activities. Since it is not a trekking destination, one will have to bring their own camping equipment. For more details, please take a look at How to Plan a Trip to Lohaghat.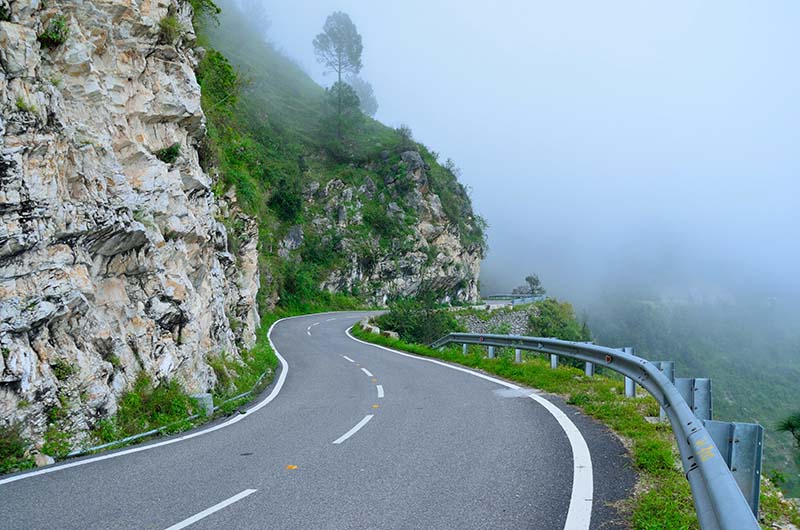 Abbott Mount
Would you like to visit a quiet little hill station with a hint of supernatural to it? Head straight to Abbott mount. This tiny hamlet was named after John Arnold Abbott, an English businessman who bought some tea gardens here and intended to make it as an English settlement.
As per the legend, in one of the Bungalows here, a Doctor by the name of Morrison performed some dreadful experiments on the locals in the 1920s. Spirits of his victim patients are still believed to haunt "Mukti Kothri", one of the rooms of the old Bungalow.
Haunting however is not all that you should go looking for in Abbott Mount. This peaceful village offers great views of enchanting snow-clad Himalayan peaks and away from the noisy city life; the atmosphere here is quite calm and pleasant. There are never a lot of tourists here and perfect if you are looking for a less crowded place.
Another tourist attraction here is the old cricket pitch which is famed to be the second-highest in the world after the one in Chail.
Mori
Would you like to drive to a quiet place, away from civilization, and add a bit of adventure to it? Mori is a perfect little village that offers adventurous rafting along with the peace and calm of the natural beauty around. It is located about 100 kilometers from Chakrata and about 30 kilometers from Tiuni. The village is located on the bank of the Tons river which is a major tributary of Yamuna.
Less Crowded Hill Stations in Uttarakhand – Conclusion
Above mentioned places are famous but less traveled yet. If you are keen to hit the less travel road then they are all are for you. These places are not unknown but due to fewer tourists, they are unspoiled and intact with natural wonders. Put all these on your bucket list and be ready to get amazed.
I hope the list above of less crowded hill stations in Uttarakhand was of help. If you have any questions; or need any other details; please feel free to ask in the comments section below, or at our Community Forum, and I will be glad to answer.