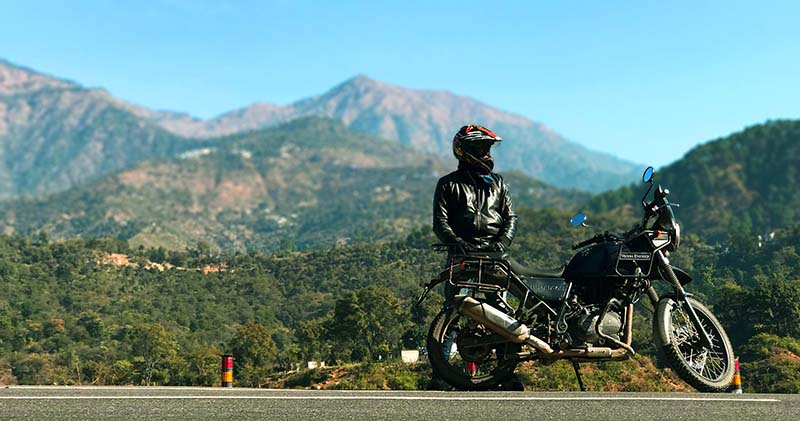 I along with two friends of mine decided to travel to the skiing destination of India, Auli, in December of 2017. Initially, the group consisted of three people, but the third backed out at the last moment, as he was a chicken (Yes Siddharth, I am talking about you). Below is a detailed travelogue of our bike trip to Auli from Delhi in December.
Exams had ended and we tried fooling our parents with an excuse that we had some pending formalities to do at the university. My mother figured out that I was lying. Google decided to show all the 'Hotels in Auli' searches from my phone onto my mother's. Dammit, Google! 
We had all figured out from the hotels we were going to stay at to bike rentals. Well, we thought we had it under our control but it turned out to be otherwise. 
Bike Trip to Auli
Is a bike trip to Auli possible? Yes, Definitely. It is, in fact, one of the most favored destinations for motorcycle enthusiasts. The place is easily accessible from cities like Delhi, Dehradun, and Rishikesh. Accommodation too is not a challenge and you can find a hotel in every budget.
This entire belt, after Haridwar, is a non-stop series of towns famous for tourism and pilgrimage. So the influx of visitors actually never stops here. In winter months, hundreds of tourists arrive in Auli because it is one place where you are sure to find snow. And that is when we also planned our journey.
May this article put a smile on your face and also it might just help you out in planning your next road trip to Auli as well. For more detailed information, I will recommend taking a look at How to Plan a Trip to Auli – A Complete Travel Guide.
About Auli
Better known as the skiing capital of India, Auli Is located in the Chamoli district of Uttarakhand. It is at a distance of 55 kilometers from the holy site of one of India's 'Char Dham' pilgrimage, Badrinath. It usually gets its snowfall at the beginning of the year and is flocked by people from all around the world.
How to reach Auli from Delhi
New Delhi being the hot spot for starting this trip, I am going to jot down ways of transportation from here.
By Bus (UTC/State Government)
You need to break down the Journey in three parts; that is, from New Delhi to Rishikesh; from Rishikesh to Joshimath; and from Joshimath to Auli. Good thing is that Badrinath is on the way and the government has AC buses for most of this route. Thank god, literally!
From Delhi to Rishikesh
Bus Type – Super Luxury (Volvo)
Departure time and place – 10:00 AM, ISBT Anand Vihar, New Delhi
Arrival time and place – 11:00 PM, Rishikesh
From Rishikesh to Joshimath
Bus Type – Ordinary
Departure time and place – 06:00 AM, Rishikesh
Arrival time and place – 04:00 PM, Joshimath
From Joshimath to Rishikesh
Bus Type – Ordinary
Departure time and place – 08:00 AM, Joshimath
Arrival time and place – 05:00 PM, Rishikesh
From Rishikesh to Delhi
Bus Type – Super Luxury (Volvo)
Departure time and place – 10:00 AM, Rishikesh
Arrival time and place – 09:00 PM, ISBT Anand Vihar, New Delhi
Also Read: Essential Items for Camping Trip in Cold Weather
By Cab
A private sedan cab can set you back for INR 5000/day. The best way would be to have the cab rental company on call and discuss the itinerary and plans and then negotiate.
A shared cab from Rishikesh costs about INR 600/seat and these taxis leave super early in the morning, around 6 AM. They leave from Natraj chowk, so go and have a little chat with the drivers there. It gets easy when you see familiar faces in the morning.
Don't get your hopes high on the comfort, though. The most luxurious shared cab you get there is a TATA SUMO and that's that.
By Train
Haridwar is the nearest railway station (a well-connected one) from Auli and it is 320 kilometers. There are a bunch of trains available from Delhi. On average, a train takes about four and a half hours to reach Haridwar. Depending on your budget and preferred timings, you can select one of the nine trains on IRCTC.
By Motorcycle
It is, so far, my favorite mode of travel and it might be yours, too. Riding in the breezy air onto the twisting roads is something that you would definitely want to experience.
Karol Bagh is an infamous place (for some) for renting a motorcycle. I always advise people to stay away from that place and rent the bike from some reputed rental companies. I have used Stonehead and Motorenta from time to time and it has been pleasant, so far.
A preferred saddle would be anything bigger than 200 CC. For the hills, I always take long-stroke singles, which are Royal Enfields.
These bikes can effortlessly cruise in the hills in 3rd gear and return healthy fuel efficiency. I have managed to get 39 kmpl from a Thunderbird 350 in an earlier road trip. However, due to the pitiful condition of the bikes we rented from Karol Bagh for this trip, Royal Enfield Himalayan gave a fuel efficiency of 26 kmpl.
Also Read: Less Crowded Hill Stations in Uttarakhand
Auli Bike Trip Itinerary
Below is the itinerary that I followed. You can skip Day 1, as I spent it over a friend's in Gurgaon.
Day 1: Arrival at Delhi
We arrived in Delhi on Day 1 and rented a Himalayan and a Classic 350 from Karol Bagh. It was 23rd of December and Delhiites had already gone to Uttarakhand to celebrate Christmas, so we were left with only one option. These bikes did not have mirrors on them, so we asked the vendor to give us any spare mirrors he had. And he did not have them (surprised, huh?).
Dude asked us to get them from some shop and he'd pay. What got my confidence down was that he gave us spare tubes, spark plugs and a bunch of fuses. The bikes were due for their service. Fools that we were, we took the bikes out of excitement and rode off.
We spent the night at a friend's at Gurgaon.
Day 2: Gurgaon to Rishikesh
Our second day's journey was of 280 kilometers and took us 8 hours to complete.
We had a plan to leave Gurgaon and be on the highway by 6 in the morning. The bikes, however, had some other plans. First, the Classic showed some signs of 'Tank slapper'. Vishwaraj was riding that and he figured that we should take it to the RE service center in Ghaziabad.
We took it to the service center. They gave us rearview mirrors of Classic for both Himalayan and Classic and they fit perfectly (Yes, classic's mirror fit onto Himalayan). The Tank slapper did not go away as the bike needed some adjustments with the rim and we did not have time; yes we were reckless then!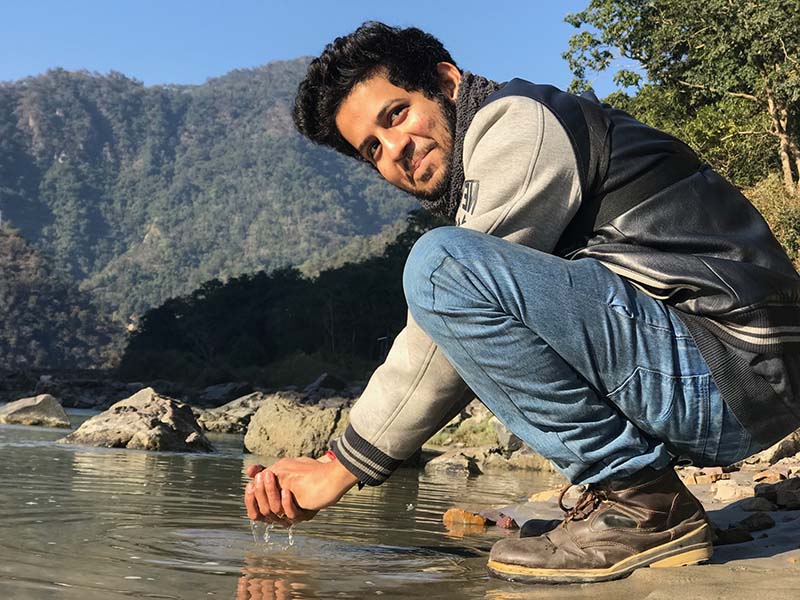 The roads were okay. There was a rough patch of 20-25 km from Ghaziabad onward. I did not feel my butt getting sore as I was on an ADV. Chirag, on the other hand, showed us some nice Zumba moves on the bike. The bloke understeered his motorbike on a turn and well, danced!
We reached Rishikesh by the evening, parked our bikes and rested for a while in the hotel. Again, we went out to a café while strolling around. A guy offered us weed, too! Weird? No. It is a common practice there, somehow.
It was a day well spent.
Day 3: Rishikesh to Joshimath
The distance between Rishikesh to Joshimath is about 270 kilometers and it took us 10 hours to complete.
We left Rishikesh with a cup of chai and Parle-G in our bellies and started our ride towards Joshimath at 6 in the morning. Roads were a combination of good, bad and ugly. The Sun was up and shining bright and it was looking all good.
Suddenly at a turn, just when I zoomed past Vishwaraj, Classic's clutch cable snapped. I returned back and discovered that we were doomed as Classic did not have a spare clutch cable. Fortunately, Himalayan did have a clutch cable tied to it. We did not know for sure whether it'd fit or not. But we were fortunate enough that this whole problem took place at the river rafting point near Rishikesh.
We borrowed a blade from a gentleman there and replaced the clutch cable. I went down near the river to get cleansed and clicked some photos. The water was chilly and pretty clear. It was time to get back on the road.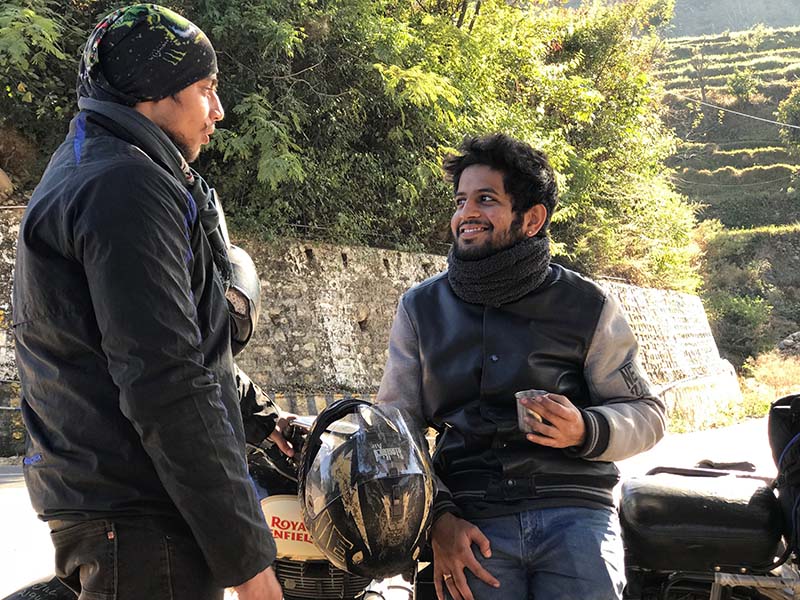 There was a huge traffic jam at Srinagar (yes, it is also in Uttarakhand). So, instead of taking part in the jam we took some rest there and bought ourselves some thermals.
Also Read: Pangot Travel Guide – How to Plan your Trip & Explore !
Srinagar to Joshimath
Problems started to show up after the sun went down. Classic's electricals were not working as it should have. The headlight did not work, neither did the console lights.
I took the lead with only low-beam working on my Himalayan. We had to slow down our pace due to poor visibility, but the roads were asking us to speed up. The highway was buttery smooth. Suddenly, we saw God tailing us. Oh, it was a Maruti 800 with a rally light setup. The road got bright as if the sun had come up and then that dude just flew past us. We tried keeping up, but he was God after all.
We reached our hotel at 6 in the evening; and had to borrow a room heater as it was -1° C and the blankets were thin. We left the room with the heater on while we went out for dinner. The food was good and cost us a fortune. It cost us so much that we went broke. Just kidding! Food was reasonably priced but yes, we were out of money. Somebody did not plan it well, did they?
Day 4: Joshimath to Auli
Joshimath to Auli is only about 5 kilometers. My advice would be that you don't take the bike there and ride the cable car instead!
After making a call and borrowing money from a friend, we rode to the skiing destination. As the altitude increased, the temperature went down. It was cold, yes. We parked our bikes at the top and took the ropeway; and then we shit our pants! Why? The ropeway is a freaking open bench! It is not like a cable car.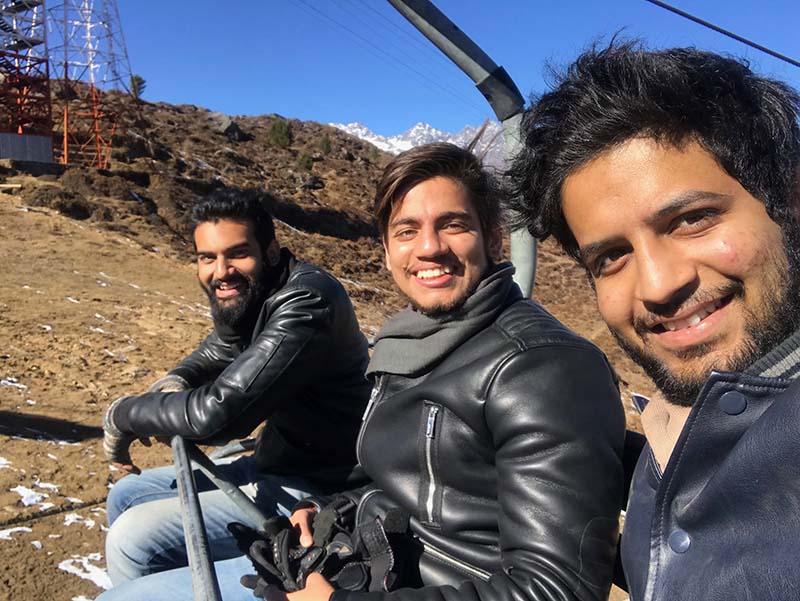 We reached the artificial lake and climbed further to a small restaurant. We ordered a lamb chop and got served with cold disappointment. Well, it is not Himachal so I did not expect the food to be extraordinarily tasty. Yes, I am a Himachal fan and not too big on Uttarakhand!
We enjoyed our full day at the snow-clad mountains, watching people skiing (yes, we only could afford to watch).
Finally, we came down back to the hotel after a long day of hiking. Now it was time to get some rest. But my mates had some other plans. Taking sub-zero temperature as an excuse, my amigos wanted to have something to warm them up. We started our bikes, rode out and got some beers.
It knocked us out cold and we had a really nice sleep; given that our room heater was quite useless!
Also Read: Gangotri and Gaumukh – How to Best Plan your Journey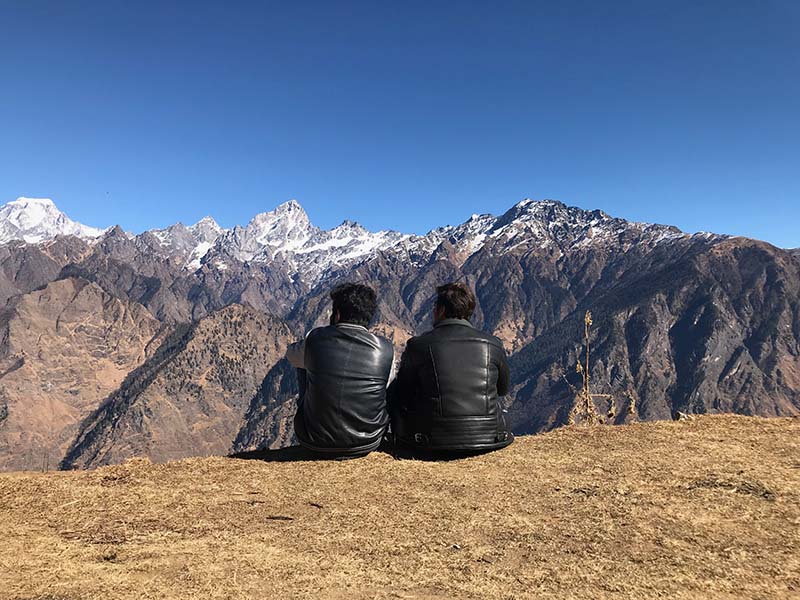 Day 5: Joshimath to Haridwar
The distance between Joshimath to Haridwar is a total of 300 kilometers and took 9 hours to complete.
A beautiful highway is what we rode on this day. Man, we could not see anything earlier as we rode the same road in the dark when coming to Joshimath. But with the sun up, it was bliss to ride with not a single rough patch. The bike was happily doing 90-110 kmph (don't call the cops now). We stopped at the same restaurant in Rudraprayag and had that sweet lady made us homemade Dal-Chawal.
She even inquired about the snowfall at Auli. And when we gave her the affirmation, it immediately lit her up. It made my day, how simpler things are at the hilly regions of our country. We had half an hour break for Chirag to cleanse his sins at the confluence of river Alaknanda and river Ganga at Rudraprayag.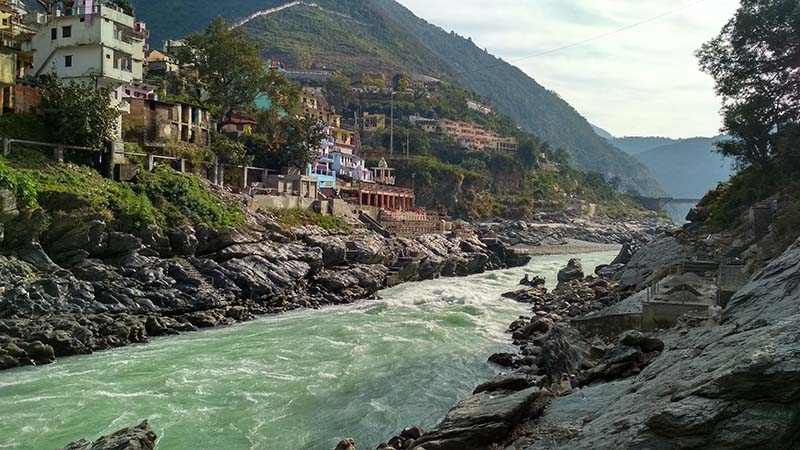 Post lunch, we booked ourselves a hotel in Haridwar near the railway station (god knows why I did that!). The road manners people have in our country are pretty 'awesome'. And we experienced the same at Haridwar. Somehow, we managed to get ourselves to the hotel and treated ourselves with a hot shower and good street food nearby.
Day 6: Haridwar to Delhi
Our journey from Haridwar to Delhi was of 250 kilometers and took us 8 hours to finish.
Coming back to Delhi was the worst part. Leaving Haridwar had us greeted by a thick dense fog. We had to follow a state Government bus for the most path.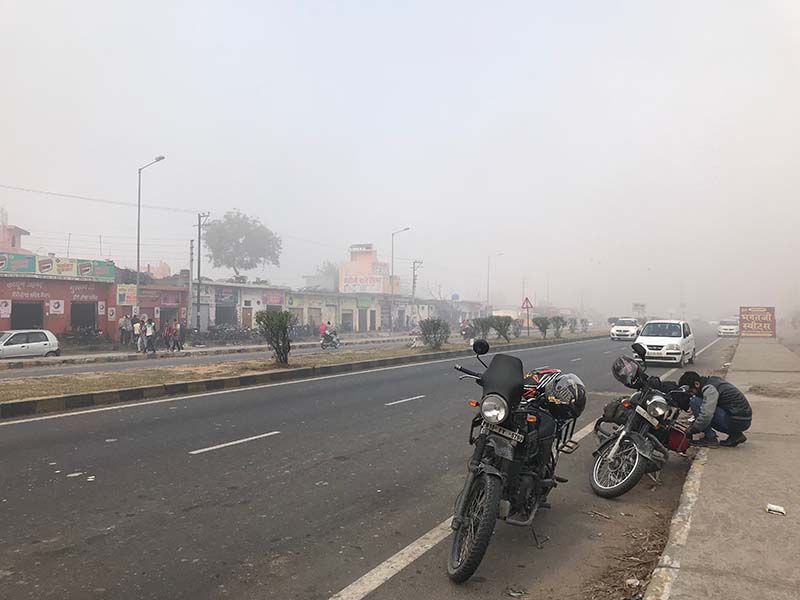 We reached Delhi by noon. Traffic jams everywhere, not a place to go! It took us a whole hour to cover the last three kilometers. Drenched in the sweat we finally handed over the bikes and took a bus home!
Also Read: Khirsu – A Complete Travel Guide & Itinerary
When is the Best Time to visit Auli?
The main idea behind riding to Auli was to lose my mind over snow. It had recently snowed at Auli at the end of December and it was pretty. If you are willing to experience the same, try going there at similar times; when snowfall is just around the corner.
Auli is mostly known for its skiing resorts and vast tracks for skiing, of course. And skiing can only be done when there is snow. It is said that from January onwards the skiing events take place and it stays that way till the end of March.
The temperature averages to 3°C in the winters. So, pack your clothes accordingly.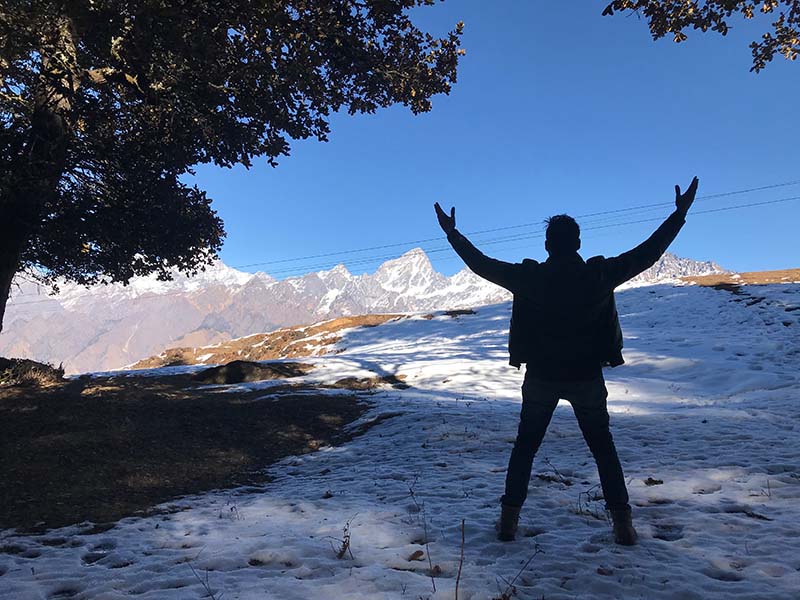 Where can you stay in Auli?
Don't stay in Auli if you are on a budget. Auli has a great skiing resort but their tariff goes skyrocket in winters. You should stay at Joshimath instead. It is only 20 kilometers away and has a lot more options (relatively) to stay. Still, do make a reservation, because it is a very small town and there are only a handful of hotels.
If you have the budget and want to stay at Auli, try Hotel Mountain Rover or Blue Poppy Resort. They are the best in the area.
For Joshimath, we stayed at Hotel Dronagiri, so I would not recommend it unless you carry your own room heater! There are hotels by GMVN that are rated very well and costs much less. Just do call them up and make the booking as they are the ones which get sold out like hot pancakes!
Also Read: Munsiyari Travel Guide – How to Plan your Trip and Explore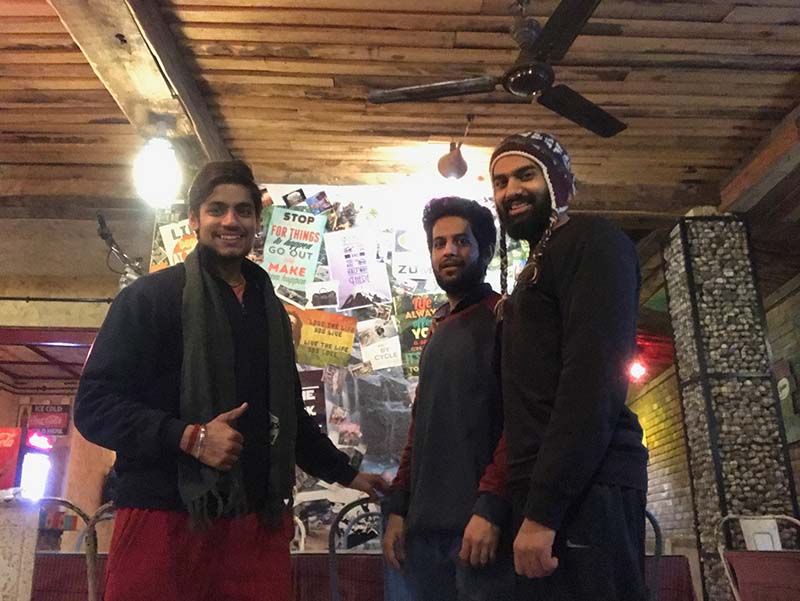 What to do in Auli
Listed below are a few most common tourist activities that you can do in Auli.
Skiing
This is the first thing that you'd want to do if you are, of course, a sports enthusiast. Vendors have decent skiing gear and they offer it at a somewhat affordable cost (I could not afford it, man, I was a broke college student then).
Do make sure to contact your hotel and ask them whether the snow is fresh or not. Unpredictable weather conditions can be a mood killer, so try and plan you skiing around the time when the hotelier tells you to.
The Vistas
The views are different from different places. It was different from my hotel window, different from the ski resort and different from the cable car.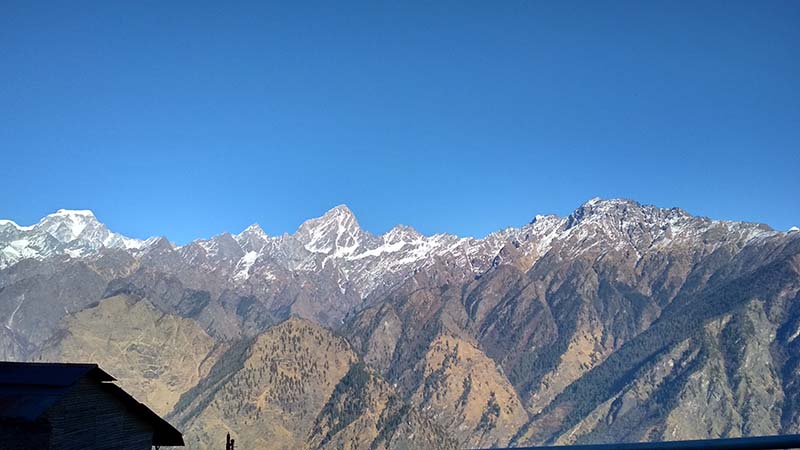 You could just stare at the mighty Himalayas and sit there. It is such a calming experience. So, try roaming around the town and spot different places to see things differently.
Cafe
For quick breakfast and brunch, there are a handful of cafes around Auli and Joshimath. One of them is café Airbus. Wonder why it is called 'Café Airbus'? Well, it is freaking suspended in the air.
I was so excited by this fact that I'd stuff my mouth with Momo while sitting on a bus which can dive down any moment. I had to just step out of the café and eat my Momos out sitting on a bench. Go there and try looking down while you eat Momos!
Also Read: Chakrata Travel Guide – How to Plan your Trip & Explore?
The Ropeway and the Chair Lift
This is the best way to enjoy 15 minutes. This ropeway is about 4 kilometers long and it is the longest ropeway in the whole of Asia. The ropeway starts operating from 09:15 Am to 04:20 PM and the ticket costs INR 750 (to and fro). This ropeway will take you from tower 1 to tower 8 where you switch to the chair lift to travel further to tower 10. Here, hop off the chair lift and enjoy the snow.
Artificial Lake
Auli houses the highest man-made artificial lake. It was created to feed the snow guns stationed along the ski slopes to create artificial snow and ultimately extending the skiing season.

Trek and trails
There are a handful of trails at Auli as well. These trails are novice level and can be completed in a matter of a few hours. If you are a regular trekker, you can try Pangarchulla Peak Trek. Get the required paperwork done and you can start by doing an acclimatization walk to Gorson Bugyal.
Other smaller trails that you can enjoy are Kauri Pass and Khulara. Try doing these in summers as it is way simpler to navigate. Snow makes it really cumbersome to find the trail.
Tapovan
If you are someone who enjoys meditation, then Tapovan is there for you. 'Tapo' means meditation and 'van' means forest in Sanskrit. It is around 15 kilometers from Joshimath.
Bike Trip to Auli – Conclusion
I hope the travelogue and information above on a bike trip to Auli were of help. If you have any questions, or need any other details, please feel free to ask in the comments section below, or at our Community Forum, and I will be glad to answer. If you have been to Auli and have tips that can be of help to other, please do comment and mention.