Delhi to Lansdowne is merely a 6 to 7 hours drive at most. But it took me several years before I finally visited there. But once I was standing in this small town, I realized how wrong I have been all along. Why did I never thought of going here before? I really have no clue.
Sometimes you tend to avoid a place for no major reason whatsoever. People will tell you how great that particular place is and how they enjoyed their trip there. But you for some reason will never find it compelling enough to visit. The very idea of being there will always sound a bit dull and boring, and you just will form an opinion that it is not your kinda place. That literally was the case with Lansdowne for me.
For a complete travel guide on how you can plan your trip to Delhi including details on the best route, where to stay, the best time, and places you should visit, please take a look at Lansdowne – A Complete Travel Guide and Itinerary.
About Lansdowne
For a brief introduction, located at a height of 1,700 meters, Lansdowne is a small hill-station in the Pauri Garhwal region of Uttarakhand. The town is named such after Lord Lansdowne, the then Viceroy of India, who visited the place in 1884.
It is in fact a cantonment and much thanks to the Indian Army, remains to be a place that is not yet spoilt by tourist mania. It still retains its quiet and serenity, unlike the other popular hill stations of our country. The entire town is administered by the cantonment board and hence is much cleaner, less commercialized, and well connected by super smooth roads.
Is Lansdowne Worth Visiting?
So why was I avoiding Lansdowne? I don't really know to be honest but it could possibly be for two reasons. First is that until Kotdwar, you pretty much drive in plains and it is only the last 40 kilometers that is a steep climb up in the hills. Due to this, I was under the impression that it was not much of a hill station and is mostly in a plain-like area.
The second reason was that it is in fact an Army cantonment which made me believe that it is not going to be a destination meant for tourists anyway. Both of my assumptions were however wrong.
True that Kotdwar to Lansdowne is indeed a short drive of 40 kilometers and until Lansdowne is all plains. But the final climb is quite steep actually. You gain height tremendously in a short distance and when you finally arrive at Lansdowne, it gets hard to believe that you were standing in plains an hour ago. Lansdowne is in fact at quite an altitude; so much that it even snows here sometimes.
Is it an Army Cantt? Yes. But does it make it unworthy of Tourists? Absolutely not. There are several places of tourists interests here but the biggest benefiting factor is that the Army maintains the entire area very well. It is all clean and green like other Cantonment areas; and unlike other crowded tourist destinations of our country.
Delhi to Lansdowne
So if you are living in Delhi or any other nearby place then Lansdowne is a must-visit destination for you. It is an amazingly scenic place and trust me, you will not regret visiting here. I can in fact guarantee that you will definitely end up visiting here more than once. Delhi to Lansdowne is about 280 kilometers and a journey that can easily be completed in 6 to 7 hours.
Also Read: When is the Best time to Visit Lansdowne?
How to Travel to Lansdowne from Delhi?
If you were driving to Lansdowne from Delhi, then the route of the journey will be as mentioned below. There can of course be multiple routes but I will explain the easiest and the best one.
Delhi – Ghaziabad – Modinagar – Meerut – Khatauli – Miranpur – Bijnor – Najibabad – Kotdwar – Lansdowne
The entire journey by this route will be about 250 kilometers, doable in 6 to 7 hours depending upon your speed and breaks. From Delhi till Khatauli, the road is awesome and a national highway via Meerut.
At Khatauli, leave the highway and take the road towards Bijnor via Mirapur.  From here, the road is a two-lane highway but mostly in good condition till Kotdwar. There are a few bad patches though as you get closer to Najibabad but you should still be able to make it to Kotdwar in about 6 hours from Delhi.
After Kotdwar, you start climbing up and the entire 40 kilometers till Lansdowne is a steep climb. The good part, however, is that the traffic is very less and the road is all smooth.
Alternate Route
From Meerut, a lot of people enter the city and then take the road via Mawana, Jhunjhuni, Behsuma, and Ramraj. They will then exit at Mirapur and take the road towards Bijnor but this entire stretch will eat up a lot of your time.
You will first get stuck in traffic in Meerut, and then the progress will remain slow until Mirapur. A better way for the journey is to not enter Meerut, stay on the highway till Khatauli, and then take the road towards Bijnor via Mirapur from there.
Day 1 – Trip to Lansdowne from Delhi
A cousin of mine and I have been thinking about a short trip over the weekend. I had a day's leave from work so adding it to the weekend, we could actually make it a 3 days journey. Neither of us was in a mood for a long ride and after a bit of consideration (and much of my apprehension), we decided on visiting Lansdowne.
Looking for a place somewhere close to Delhi was the biggest reason for us visiting Lansdowne actually. The second was that I wanted to go someplace new and had already visited most of the hill stations that could be done over a weekend.
For our mode of commute, we decided to drive in my newly bought Thar.
Delhi to Khatauli
Not much to write about the drive really because it was short and smooth for the most part. We started from early from Delhi at around 5 AM to avoid the morning traffic and were soon sailing smoothly towards Meerut.
A couple of butt breaks in between and we were on Meerut bypass in a couple of hours. From there, we continued towards Muzaffarnagar and about 25 kilometers before the town, took the road towards Bijnor via Khatauli.
The road to Bijnor at Khatauli is pretty hard to miss really. You continue driving on the national highway which turns to the left and you see a small road going straight into Khatauli. It is about 30 kilometers after Meerut and you will see a few boards marking the place. Still ask the locals around if you weren't sure.
Khatauli to Kotdwar
Both my cousin and I were a bit hungry by now and were looking for a place to eat. The road after Khatauli turns into a single lane highway but is mostly good with a few bad spots in between. We drove for another 20 odd kilometers and arrived at Mirapur.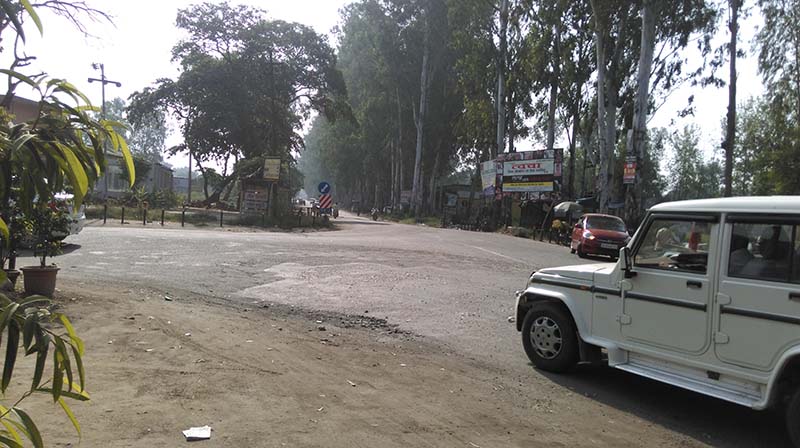 We stopped here to get something to eat. The road left in the picture above goes to Lansdowne, straight ahead is to Meerut and the third side (from where we came) is towards Khatauli.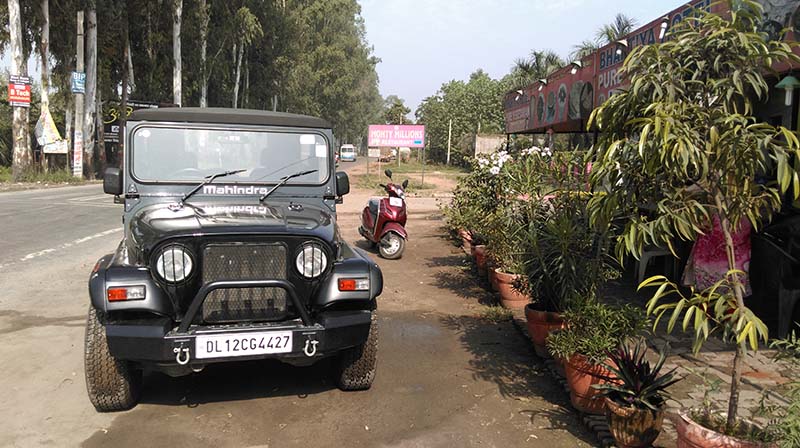 Gotta love the name of this restaurant.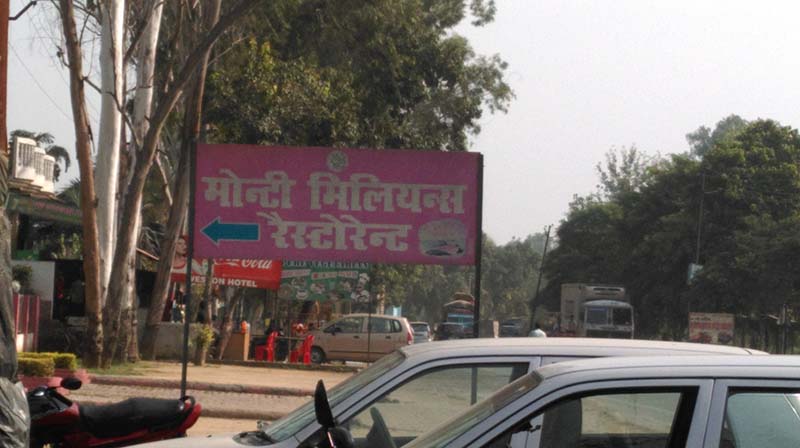 The road remained to be a single lane highway but kind of turned a little bad from this point. Traffic too continued to get dense and our progress for the next 85 kilometers until Kotdwar was very slow. It took us well over 2 hours to complete; with the worst stretches between Bijnor and Kotdwar. Traffic too around both these towns is crazy.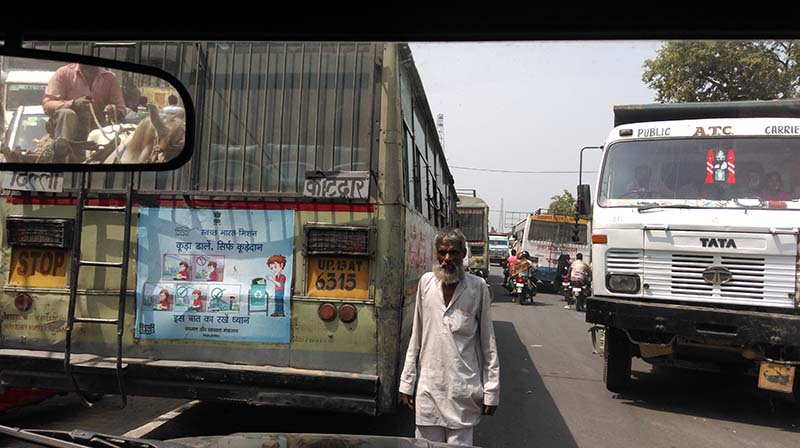 Kotdwar to Lansdowne
I wanted to get a picture of the traffic jam for this article and used my cellphone for it. The old gentleman in the picture above happened to be crossing the road right at that moment. He thought it was him that I wanted to get a picture of and actually stopped right there in the middle of the road posing for the camera.
Things improved after Kotdwar and the last 40 kilometers drive to Lansdowne was bliss truly.
Hotels in Lansdowne
We arrived at Lansdowne at around 2 PM due to numerous long breaks on the way. The drama started the moment we reached here though. There was some sort of local festival going on and the entire town was packed with people.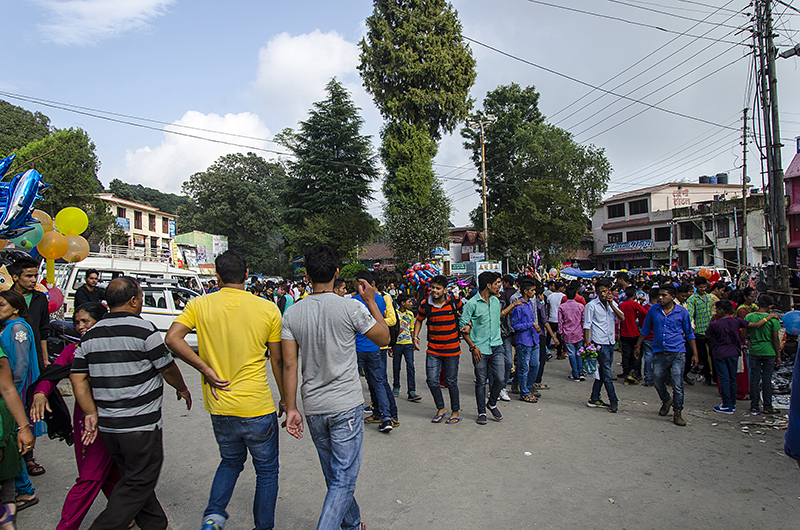 Now two challenges were facing us. The first one was of finding a hotel because we arrived without booking our stay anywhere. The second was about where to park the Thar.
The main chowk of Lansdowne was so crowded that there was just no space anywhere to move ahead. I finally managed to find a spot where we could park our car but there was no way that we could just leave it there. So my cousin shifted to the driving seat and I started to walk around in Lansdowne looking for a hotel.
Surprise Surprise !!. Not even a single hotel had even a single room available. They were all packed to capacity which was really shocking for me because this was the first time for me that I found all the hotels in a town booked. I roamed around for an entire hour with still no luck anywhere.
I came back with no success and my cousin suggested that we drive back down and ask around at the hotels we saw on the way. So we reversed our car and went back down about 12 to 15 kilometers towards Kotdwar but guess what, every hotel that we found on the way did not have even a single room available. Bummer, isn't it?
Also Read: Tourist Places in Lansdowne – Lansdowne Sightseeing
Hotel Bhagwati Palace – Lansdowne
With still no clue about where we were going to spend the night and the sun now going down fast, we came back to Lansdowne chowk again. I left the car at the same spot like before with my cousin at the driving seat and decided to take another walk through the town.
Luck favored this time, though not entirely. I noticed this shabby looking hotel called Bhagwati Palace and walked in. When I asked about the room, the answer was the same as others, that they do not have one available. The owner, however, an elderly gentleman, agreed to lend us his personal room for a price of Rs. 2000 for the night.
I agreed immediately but then just ask out of curiosity asked the old man about where he was going to sleep for the night since he was giving us his own room. He very casually pointed towards a couch at the reception and said, "I sleep here only anyway. I don't like sleeping in the room".
That worked for me and so it was done then. For Rs. 2,000 we finally got a bed and a room over our head. I will post a picture of the so-called room but hey, it is still better than having to spend the night in the car, right?
I have posted a detailed review of this hotel here, Hotel Bhagwati Palace, Lansdowne Review.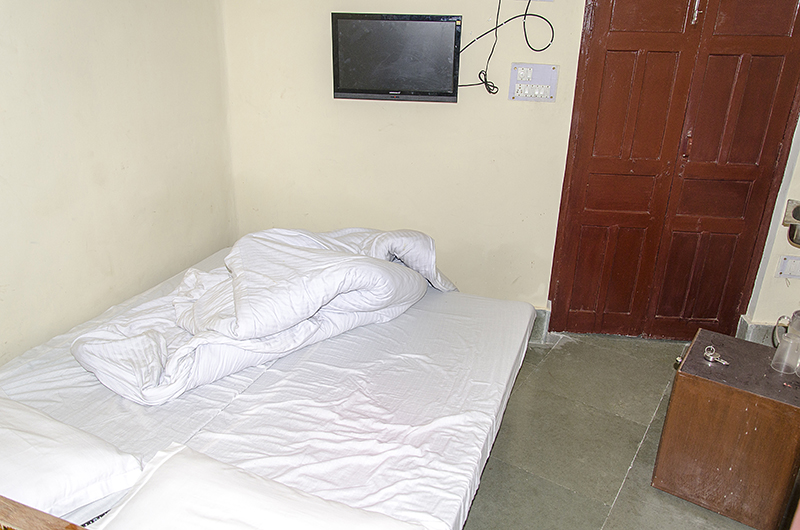 Our stay at this hotel was actually a bad one and the only consolation I could find was that at least we found a room. The room was like a rat's hole, the mattress was hard and the blanket stinky. I actually checked out of the first thing the next morning but for today, this would have to do.
Car Parking
The next question was about where to leave the car. I asked around and a local pointed me towards a narrow road going to the police station.
"Park it in the police station?" I asked unsure of what he was sending me to.
"No, there is a parking spot right in front of the police station," He said.
And true it was indeed. I drove up the narrow road and there was a wide enough parking at the gates of the police station.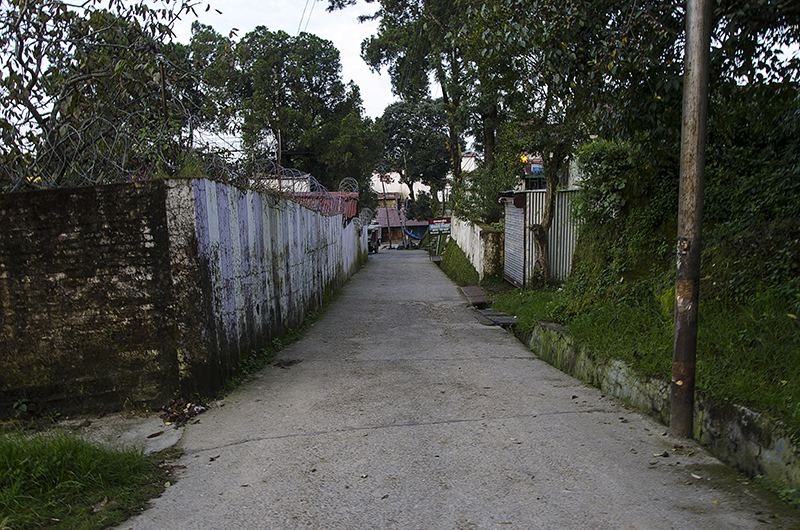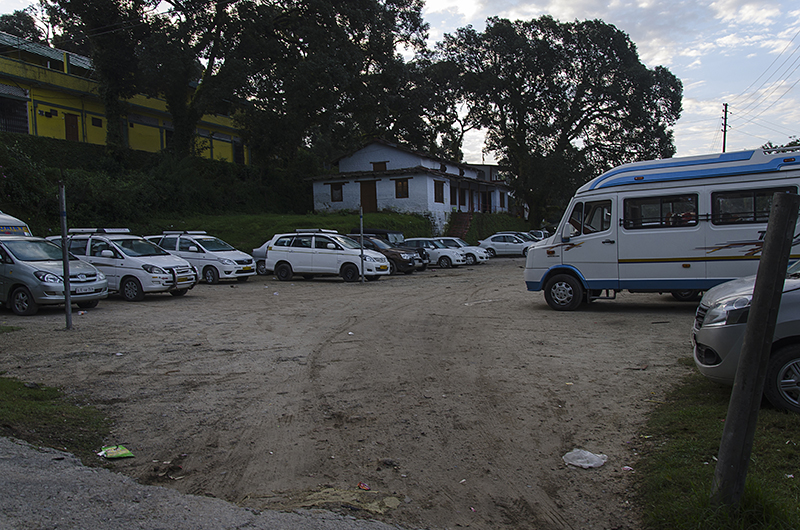 This actually worked even better than I thought. My Thar has a soft top to it and there is no way that I can seal it shut. If a person wanted to get in, all they need to do is zip the canopy open and gain access. So I was a bit worried about leaving it out in the open but now, it was parked right in front of a police station. What better way to get some peace of mind than this?
Good Night Lansdowne
It was dark by the time we returned to the hotel and both of us were dead tired by then. We ate at a local restaurant, came back to the so-called room, watched some TV, and decided to call it a day. I was actually the first one to doze off while my cousin stayed up a bit late watching some TV. Please click on the link below to read the next part of this travelogue.
The Journey Ahead: Sightseeing in Lansdowne – A Day of Natural Beauty at its Best
And that was our first day of journey from Delhi to Lansdowne. A day of excitement and trouble both. Some basic information about the journey is mentioned below.
Delhi to Lansdowne Distance
The total distance from Delhi to Lansdowne is 290 kilometers approximately; depending on where you are starting from in Delhi.
Delhi to Lansdowne Travel Time
Depending on where in Delhi you started from, at what time, your speed, and breaks; the journey from Delhi to Lansdowne can easily be completed in about 6 to 7 hours.
Delhi to Lansdowne Bus
There is no direct bus between Delhi and Lansdowne. But there is a direct bus from Delhi to Kotdwar. Once you reach Kotdwar, you can then look for a Bus or shared cab from there for the final stretch of your journey.
Delhi to Lansdowne Train
Like Bus, there is no direct train to Lansdowne. The nearest railway station is at Kotdwar from where Lansdowne is at an approximate distance of about 40 kilometers that can be covered in about 90 minutes.
Delhi to Lansdowne Flight
The nearest airport to Lansdowne is the Jolly Grant Airport, in Dehradun. It is 150 Kilometers away from the town. Once you land there, you will have to look for either a taxi directly to Lansdowne or Kotdwar. Or you can also board a bus for Kotdwar from the Dehradun Bus stand.
Delhi to Lansdowne by Bike
Traveling to Lansdowne can easily be done but just make sure that you are not traveling around Monsoon. This region gets plenty of rainfall and you definitely do not want to be riding in the rain.
Conclusion
Please read Sightseeing in Lansdowne – A Day of Natural Beauty at its Best to continue reading about Day 2 of this trip. We stayed in Lansdowne for a day more and spend some time visiting the local attractions; but only after we have checked out of Hotel Bhagwati Palace.
I hope the details on traveling from Delhi to Lansdowne were of help. If you have any questions; or need any further details; please feel free to ask in the comments section below, or at our Community Forum, and I will be glad to answer.