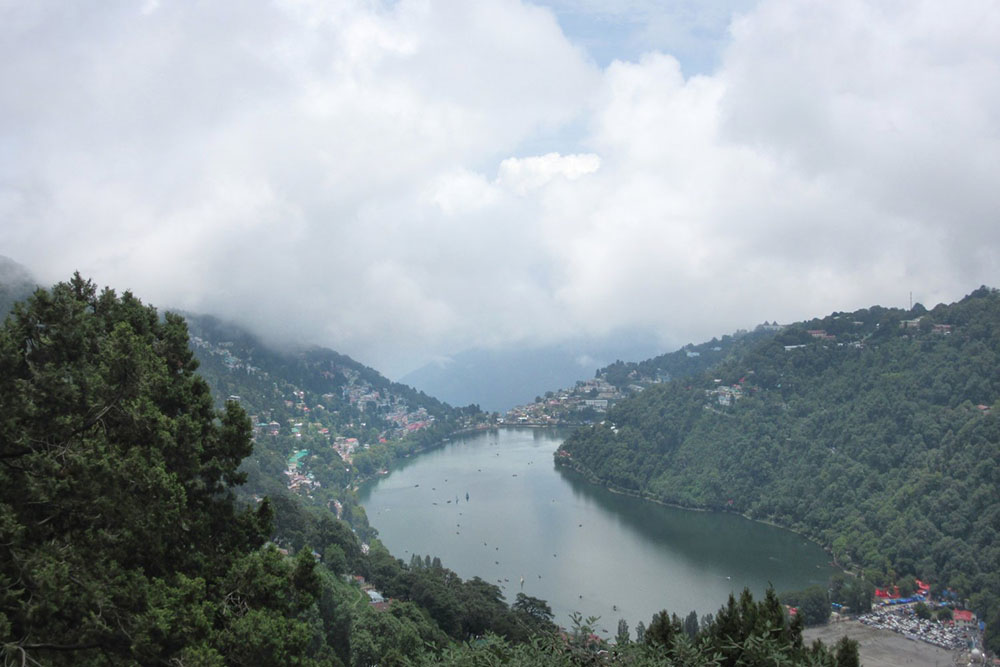 In my last post, I talked in detail about how you can plan a trip to Nainital, covering information like how to reach there, different modes of transport available, when would be the best time to go, where you can stay and how much it may cost you. Continuing in the same series, in this article, I will provide a list of places to visit in Nainital and tourist activities that you can indulge yourself in.
Some of the places that I am listing below are located within the town itself and can easily be covered in a couple of days whereas a few others will have you drive a little out of town to reach.
Also Read: How to Plan a Trip to Nainital –  A Complete Travel Guide
About Nainital
The resort town of Nainital was once famous for its lakes, and at one time there were as many as sixty lakes in the surrounding area. Sadly, global warming and deforestation have caused many of the smaller ones to disappear, and today only some of the larger ones remain – Bhim Tal, Naukuchiya Tal, Sat Tal, and so on.
The unique thing about Nainital is that it lies at the exact midpoint of the plains and mountains. From several viewpoints, you will notice sprawling plains on one side and the majestic Himalayas on the other.
The hills and valleys around Nainital are thick with forests of pine, oak, and deodar and the sleepy, mysterious woods are fragrant with breezes. The town proper was established in the British Era and vestiges of that time remain – churches, cemeteries, bungalows, and public schools will transport you to a bygone era.
Places to visit in Nainital
I will begin by first listing down all of the must-visit places in and around Nainital. Later in the article, I will provide a brief overview of all these places and will then move on to some fun things to do in Nainital as a tourist.
Naini Lake
Snow view
Cheena Peak
Naina Devi Temple
Observatory
Zoo Gardens
St. John's Church
Bhowali
Ghorakhal
Sat Tal
Kilbury
Bhim Tal
Naukuchiya Tal
Mukteshwar
Tiffin Top
Hanuman Garhi
Corbett National Park
Eager to begin exploring? Below is how you can visit all these places while in Nainital.
Naini Lake
This is pretty much a no-brainer. Naini Lake is the prime attraction of the town, and its crystal clear, emerald green waters are a major draw for tourists. The entire town is built around it and named after it in fact. Naini Lake literally translates as "Naini Tal" in Hindi. A boat ride in the lake comes highly recommended.
Also Read: When is the Best time to visit Nainital
Snow view
To reach this viewpoint you have to trek nearly three kilometers. At the summit, you can catch breathtaking views of the Nanda Devi peak, which is India's second-highest mountain.
You can also offer prayers at the Dev Mundi temple, located not far from the viewpoint. Incredibly, there is a tiny Buddhist shrine situated here as well. From Snow View, you can either walk down to Sukha Tal or climb up to Cheena Peak.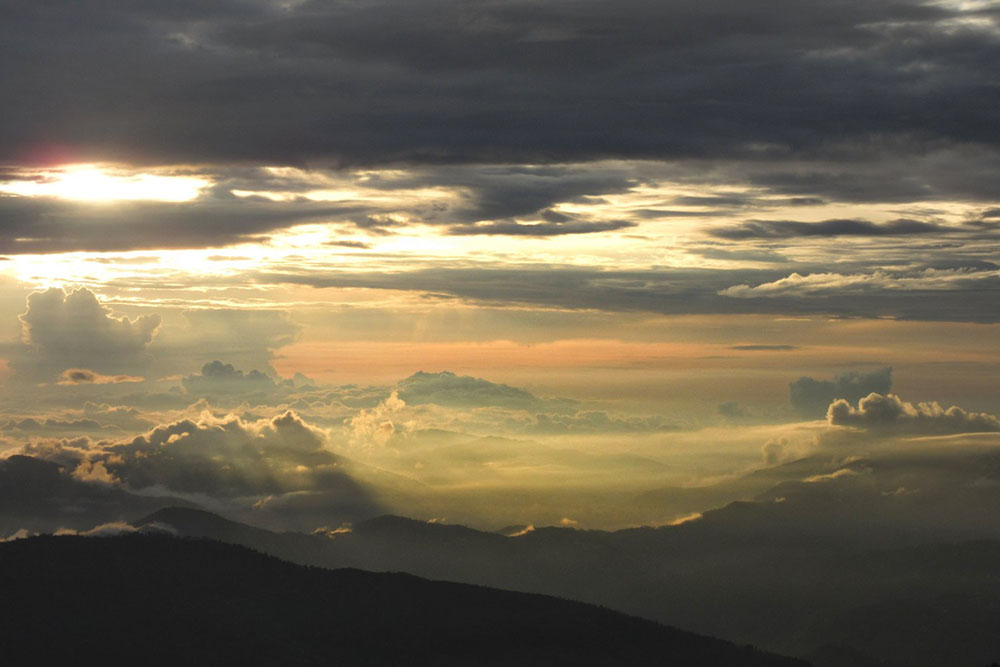 Cheena Peak
This is Nainital's highest point and from here you can view the entire town below along with the lush valleys nearby. You can also get a close-up view of the Camel's Back peak. The best way to reach Cheena Peak is on horseback.
Naina Devi Temple
This is the town's eponymous temple. An ancient and much-revered site, it attracts pilgrims from all over the country. The best time to visit is during September when the magnificent Nanda Devi Mela is celebrated.
Observatory
The clear skies above Nainital prompted the Indian government to establish a space observatory here. Today, it houses one of the most precise and advanced telescopes in the country and is used to observe planets, stars, and other heavenly phenomena. The observatory is closed to the general public. To visit, you need special permission from the authorities.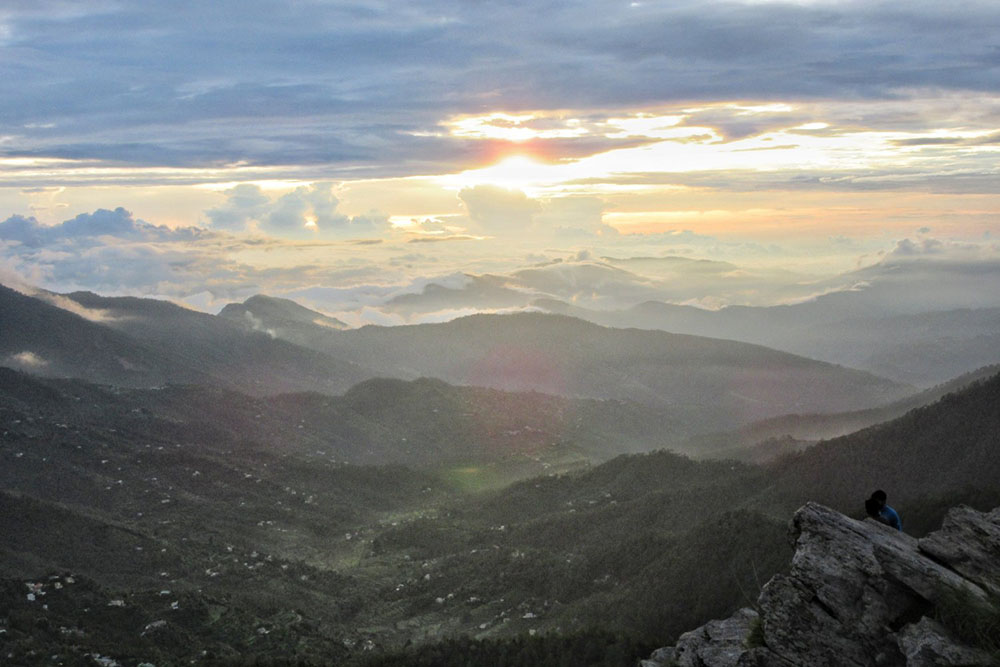 Zoo Gardens
Nainital has its own zoo! Although small, it is nonetheless extremely hygienic and is one of the cleanest zoos in India. All manner of mountain creatures can be found here – bears, tigers, deer, and so on.
This one will definitely be on the list of places to visit in Nainital for everyone visiting here. Even if you were in the town for a couple of days, a trip to the zoo comes highly recommended, especially if you were visiting with kids.
Also Read: 7 Short & Easy Winter Treks in Uttarakhand
St. John's Church
This is Nainital's oldest church, constructed in 1847. It was built in the classic colonial style and is dedicated to St. John the Baptist.
As the legend goes the Bishop of Kolkata, Daniel Wilson, once visited Nainital in 1844 to lay the foundation of this church. He fell ill while he was in Nainital and had to stay in an unfinished house on the edge of the forest. And that is how this church got the name of St John in the Wilderness Church.
Bhowali
Eleven kilometers away from Nainital, Bhowali boasts magnificent natural beauty and is an important market for fruits and fruit products.
Ghorakhal
This temple is dedicated to Lord Golu, a fierce and much-revered deity of the Kumaon region. It is located three kilometers from Bhowali.
Sat Tal
Sat Tal is a region of incomparable natural wonder. It is located 23 kilometers from Nainital and is famous for having a collection of lakes close together in the midst of thick forests. Some of the more famous lakes here are called Nal Damayanti Tal, Panna Tal, Garud Tal, Ram Tal, Lakshman Tal, and Sita Tal.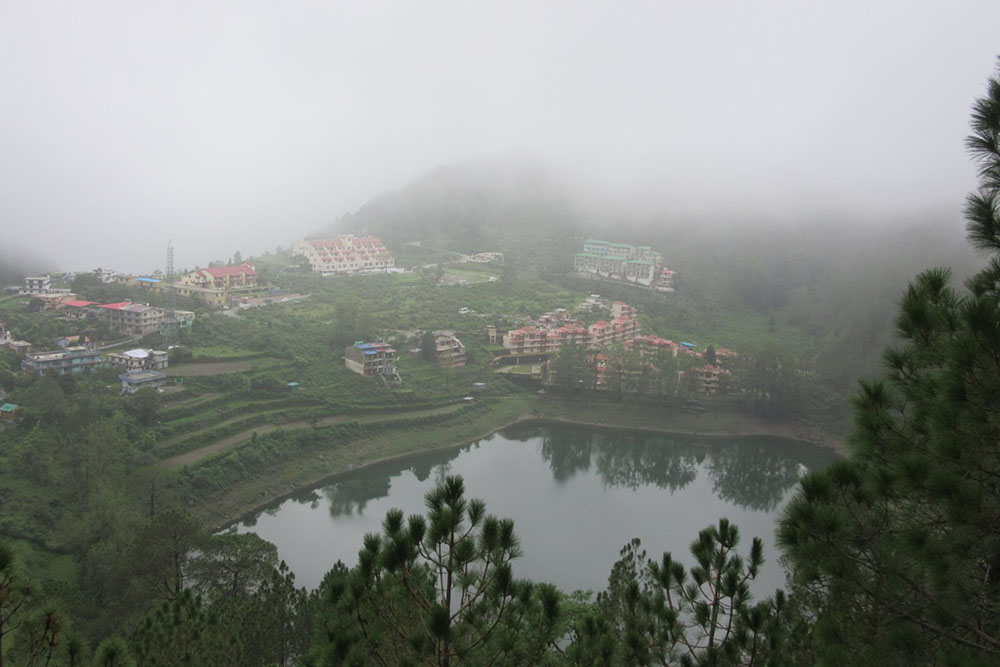 Kilbury
This place is a 12 kilometers ride from Nainital. Situated far from the tourist rush it defines the term "lap of nature". From here, you can view mind-blowing Himalayan scenery. The best place to stay is, of course, the old guest house maintained by the forest department.
Also Read: 12 Scenic and Offbeat Places in Uttarakhand
Bhim Tal
Bhim Tal is another renowned lake in the region and is located 22 kilometers from Nainital. This lake owes its name to one of the great heroes of the Mahabharat, Bhim. In fact, it even has a small natural island in the middle!
Naukuchiya Tal
Located near Bhim Tal, this lake is one of the deeper ones in the area. It is a favorite haunt of bird watchers and fishing enthusiasts. You can also row across the lake.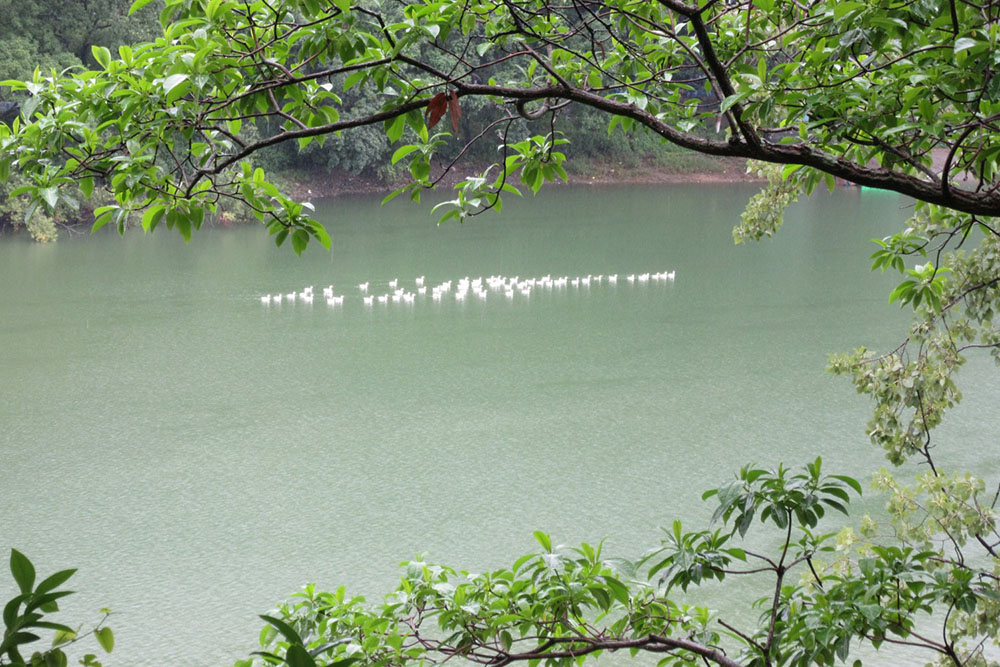 Tiffin Top
Tiffin Top is also known as Dorothy's seat and is one of the best spots in Nainital to catch a view of the sunrise. It is located on Ayarpatta Hill and serves as a famous picnic spot, offering a majestic view of the city of Nainital on one side, and the beautiful Kumaon hills on the other.
If you have even the slightest interest in photography, you just cannot miss visiting Tiffin Top while in Nainital. Entry to the place is free and it is open from 8 AM to 5:30 PM every day.
Hanuman Garhi
If Tiffin top was the place to catch a sunrise, Hanuman Garhi is where you go to see the sunset in Nainital. This temple was built in the year 1950 and as the name suggests, is dedicated to Lord Hanuman. There is no entry fee to the spot and it won't take require you to walk too much to get here.
Also Read: How to Plan a Trip to Lansdowne
Mukteshwar
Located even higher than Nainital, Mukteshwar is celebrated for its dense forests and fruit orchards. 51 kilometers from Nainital, it also offers panoramic views of the Himalayas. There is an ancient temple of Lord Shiva located here.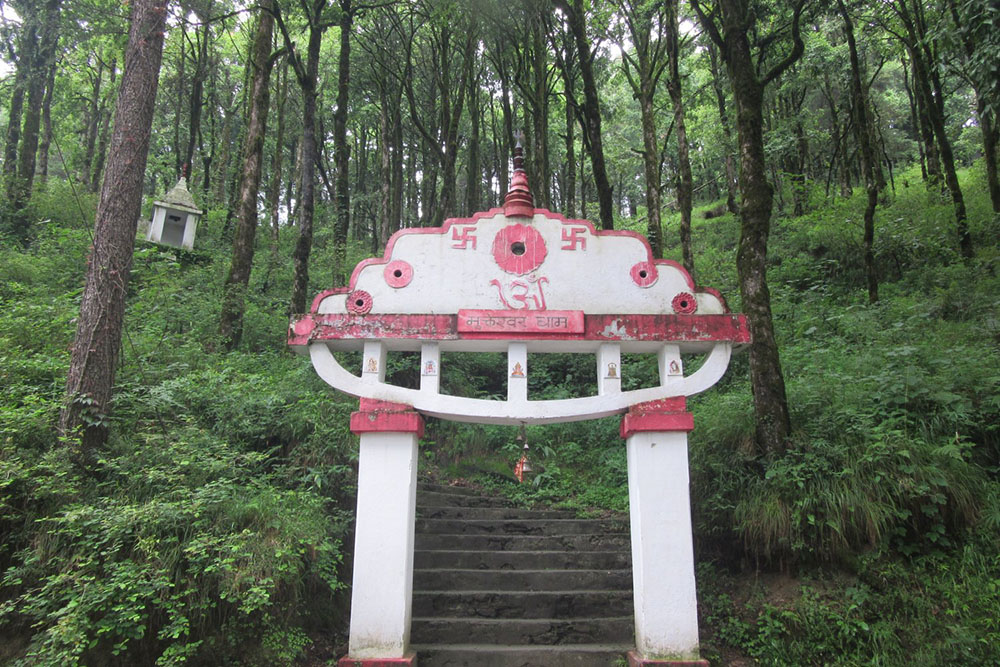 Corbett National Park
Last but not least on the list is the famous Corbett National Park. I am adding this to the list here because it is close to Nainital but in every way, this park is a huge tourist attraction in itself. It will take you about 3 hours to get here from Nainital but the journey is worth every second of it.
A Safari in Corbett is going to be a memorable experience that you will talk about for days to come. An even better way would be to cover it on your way back. Reach Corbett from Nainital, enjoy a Jungle Safari and stay here for the night. The next day, you can drive back home.
Things to do in Nainital
Let us now take a look at some of the most popular tourist activities that you can enjoy while visiting Nainital. I am of course talking about activities other than visiting all of the places that I listed above. Nainital is one of the most popular hill stations in India and there is plenty to do here.
Depending on your own liking, you can enjoy boating, trekking, bird watching, star gazing, shopping, and trying local food.  Or you can simply spend your time doing nothing at all and relaxing either at your hotel or by the lake.
Boating
This is one of the most common tourist activities in Nainital. Boats are available for a duration of 15 minutes to one hour and will not cost you too much. While boating, you can also stop at several points in between to enjoy a delicious lunch. Boats are available for rides from 6 AM to 6 PM and will cost you anywhere from Rs. 200 to Rs. 500 depending upon the duration you rent it for.
Shopping
Another amazing thing to do in Nainital would be to go shopping and buy souvenirs. There is a Tibetan market here that is a great place to buy some awesome and not at all costly artifacts made by the locals.
The entire market is a vibrant one and is always bustling with visitors. Some of the items you can buy from here are beautiful scarves, regional dresses, Tibetan bags, stunningly designed shawls, woolen mufflers, fake jewelry-type accessories, and stylish watches. The market is located right along the banks of Naini Lake.
Another great place to go shopping in Nainital would be Mall Road. The best thing about Mall Road is the candles they sell here. Hand-made by the locals, these come in various forms, shapes, and sizes and are a great item to buy and add to your home decor.
Also Read: Kedarnath – The Holy Adobe of Mahadev
Take a Ride on the Ropeway
Yes, there is a ropeway in Nainital that takes you to the small peaks around the town. Once at the top, you get a stunning view of the entire city with the lake in between.
If you have time and wouldn't mind sitting in a car hanging by a cable several hundred feet in the air, then this is a must-do activity while visiting Nainital. Come to think of it, even if you were scared, you should still do it and call it the "adventurous" thing you did during your vacation here.
The fun part is that it is not even that costly as compared to some other ropeways of our country. It will only cost you Rs. 150 for adults and Rs. 100 for children for a return trip. From the city to the snow viewpoint, it takes you to a height of 2,250 meters.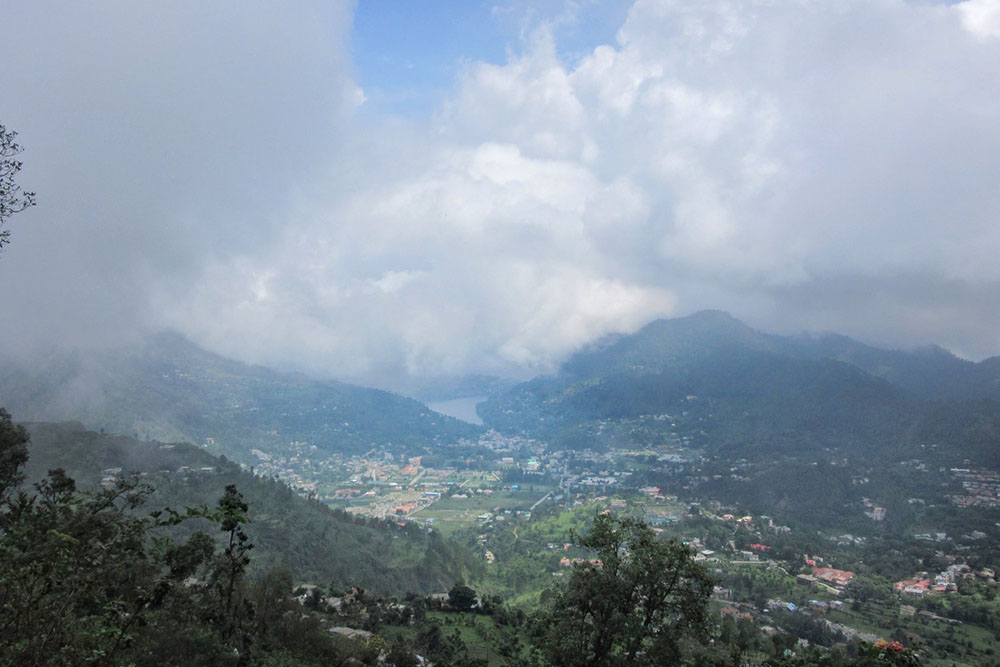 Rock Climbing
Ok, I agree that this is not really everyone's cup of tea but if you are into adventurous sports, then Rock Climbing in Nainital would really be great fun. There are quite a few Rock climbing schools in the area where you can learn the sport and try your hand at it even if you had never done it before.
There will be instructors with you and you will be provided with all the necessary gear making it fun and completely safe even for absolute beginners. The activity is open for tourists every day and the fee starts from Rs. 500 per person.
Try some Local Food
Everyone knows there is a Chandni Chowk in Delhi but did you know there is one in Nainital too? That is correct. And do you want to know what it is famous for? The answer is food.
The restaurant is located near Mall Road and is a popular haunt among the tourists looking to try some delicious Indian dishes. And not just Chandni Chowk, there are quite a few other places that you can try eating out on Mall Road and at other places in Nainital.
Trekking
Cheena Peak is one of the most famous and common spots to go trekking to. It is the highest point in Nainital and the trail is a very scenic and rewarding one. But there are several other trails that start from Nainital and are even more beautiful.
Word of advice though; due to its close proximity with Corbett National Park, the forest around Nainital could be a dangerous place to venture out alone. Please seek assistance and guidance from the local tour companies if trekking was on your mind.
Also Read: Himalayas in Monsoon : Top Tips for a Safe Trip
Camping
Along with trekking, camping is another fun and great activity to enjoy in Nainital. There are several meadows and ridges here where you can go camping but it would require you to go out of the town a little. The best would be to go trekking for a couple of days and camp for the nights.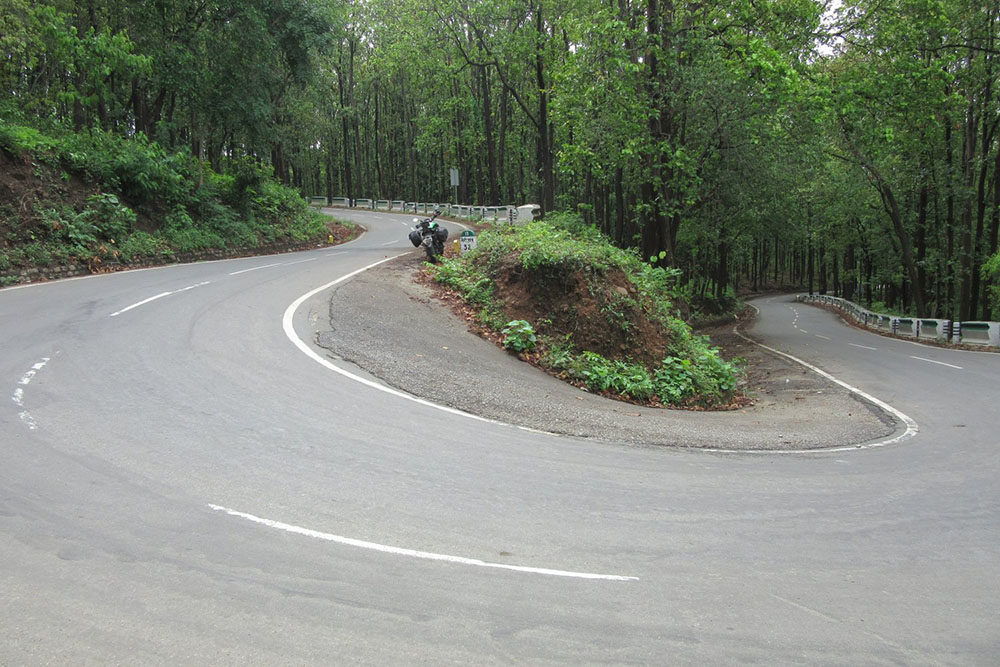 Events and Festivals in Nainital
Now, in the end, to wrap up the topic of places to visit and activities to do in Nainital, let me also talk briefly a little about local events and festivals that you can witness and be a part of. I will break the information down by month.
January: Kale Kaua or Uttarani. Celebrates the beginning of winter's end
February: Basant Panchami and Samvastar Pareva; Saraswati Puja
March: Phooldeyi. The homes are decorated with the first flowers of spring
April: Bikhauti. A festival that celebrates Navratri, prayers for abundant future harvests, and sibling love all in one!
July: Hariyala – A celebration for the wedding of Goddess Parvati and Lord Shiva
August: Olgia or Gheeya Sankranti – A festival to celebrate the ripening of the harvest and the full abundant treasures from nature.
September: Nanda Devi Fair – An unbroken tradition since the 16th century, the Nanda Devi fair brings together Kumaoni people from all walks of life
October: Sharadotsav and Dussehra – This is the year's busiest and most spectacular festival and draws both domestic and foreign tourists. Lasting for nine days, these festivals involve pujas, melas, processions, and street food galore.
Must Visit Places in Nainital
How many places of the ones I listed above are must-visit? It will actually entirely depend upon the time you have in hand. But for a 2 to 3 days trip to Nainital, I will say that Naini Lake, Hanuman Garhi, Tiffin Trop, Ropeway, Naina Devi Temple, and the Zoo will be the must-see places in and around Nainital.
Tourist Places in Nainital – Conclusion

That will end the topic of places to visit in Nainital and things to do. The list above includes most, if not all, of the places that would be of interest to you as a tourist. I hope the information above was of help. If you have any questions; or need any other details; please feel free to ask in the comments section below, or at our Community Forum; and I will be glad to answer.