The sun was well up before we could manage to crawl out of the yurt. It was our last day in the countryside as we had to return the car back to Bishkek the next day. Then we were to catch our flight back home from Almaty the day after, bringing our Kazakhstan and Kyrgyzstan road trip to an end.
Journey So Far:
The capital was about 300km away via the eastern route through Kochkor, approx 8 hours away. We had planned to spend a couple of hours near the lake and hoped to be back in the city for a nice dinner.
However, greed got the better of us and for some god-forsaken reason, we decided to circumnavigate the lake and then take the lesser-used western route back! It was a bad bad decision, which turned our 'relaxed' day into a long 15-hour drive which ended at 1:00 am!
Day 15: Song Kul Lake to Bishkek
Lake Song Kul has all the necessary ingredients to create a picture-perfect vignette of the Kyrgyz nomadic way of life; a wide alpine lake, nomads on horsebacks, yurts, lush green pastures, bare snow-capped mountains, and contented herds of livestock. The jewel lake really lived up to its reputation of being a heart-wrenchingly beautiful place.
We spent an hour or so in the morning in the traditional Kyrgyz nomadic way – pampering dogs and gorging on a lavishly laid-out breakfast in a typical shyrdak-lined yurt.
We also briefly interacted with the family who owned the yurts, and after paying them for their troubles also decided to donate our quilt to them. There was no point in lugging that all the way back to Delhi.
A typical Kyrgyz Yurt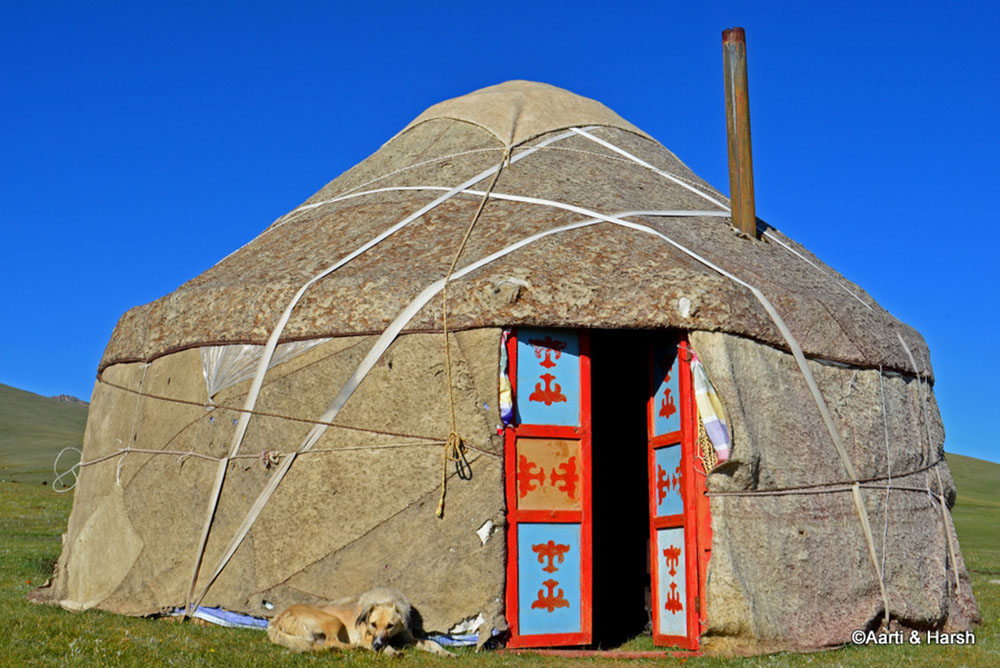 Our night halt. Of the 5 yurts, only 2 were leased out to tourists.

The family that hosted us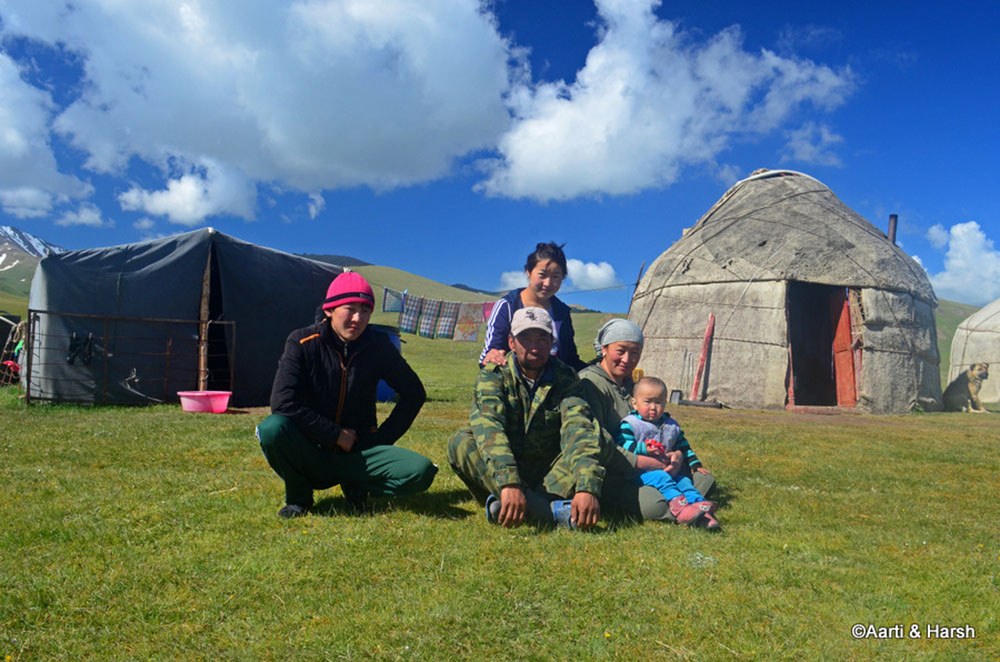 Drive Back to Bishkek
​Our drive began eventually at 10 am. We started heading east on the southern shore of the lake, reached the end, headed north briefly, skipped the road going out of the bowl, and started moving west on the northern bank.
The dirt track here on the northern shore was in a much poorer condition as compared to the one on the southern shore. In two hours we had completed more than 60% of our circumnavigation!
It was too early to break for lunch and so we skipped the massive group of yurt camps on the northern bank. As we progressed further ahead from this camp, the dirt track started deteriorating rapidly.
We were now progressing mostly in the 1st gear on a marshy, uneven track. It took us an hour to traverse the next 16 km on an unbelievably poor track.
We drive down to the lake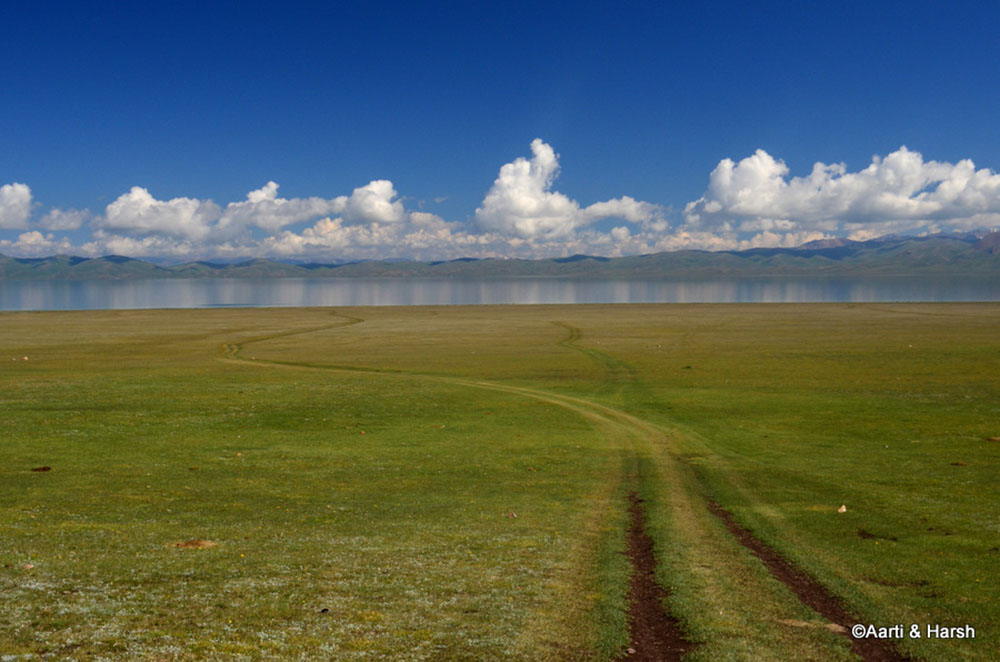 And yes found it full of water.

Picture perfect vignette of the Kyrgyz nomadic way of life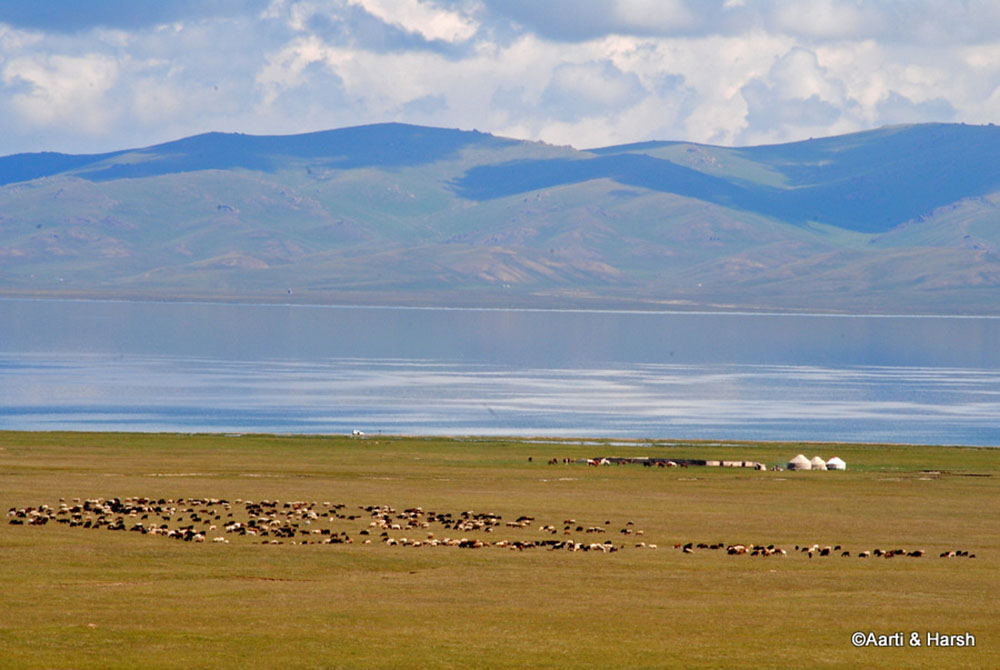 Seagulls? ID anyone?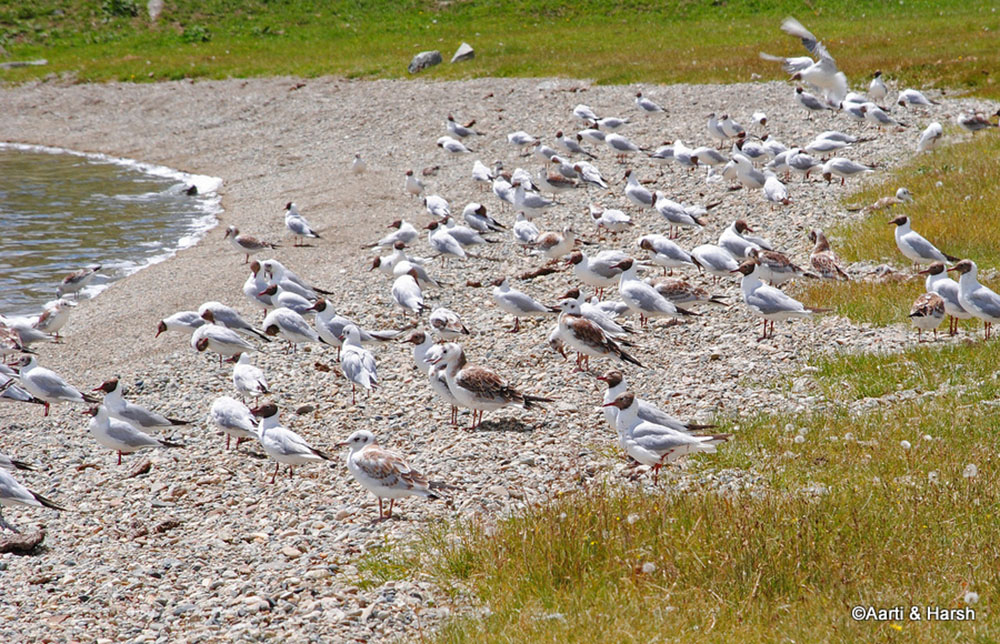 ​An Affair with Bad Roads
We had now reached the north-western boundary of the lake and the flat track now gave way to hills adjacent to the lake as we moved south. If the previous 16 km were bad, the next few were even worse.
The inclines were crazy and at times the vehicle was tilted at precarious angles. The next 18km took us about 2 hours to cover, as the track was now more of an OTR challenge than a dirt track!
The strain was showing visibly on our faces, with each obstacle being taken up in a carefully planned manner. On numerous occasions, I had to jump out of the driver's seat, walk a bit ahead to plan the safest route ahead.
Aarti too was hanging out of the window guiding me through these tough spots. It was 3 pm when we saw the elevated track that had been constructed, an extension of the track on the southern shore. However, lady luck of good roads eluded us still.
Many alternate approaches to this knoll. Choose your pick.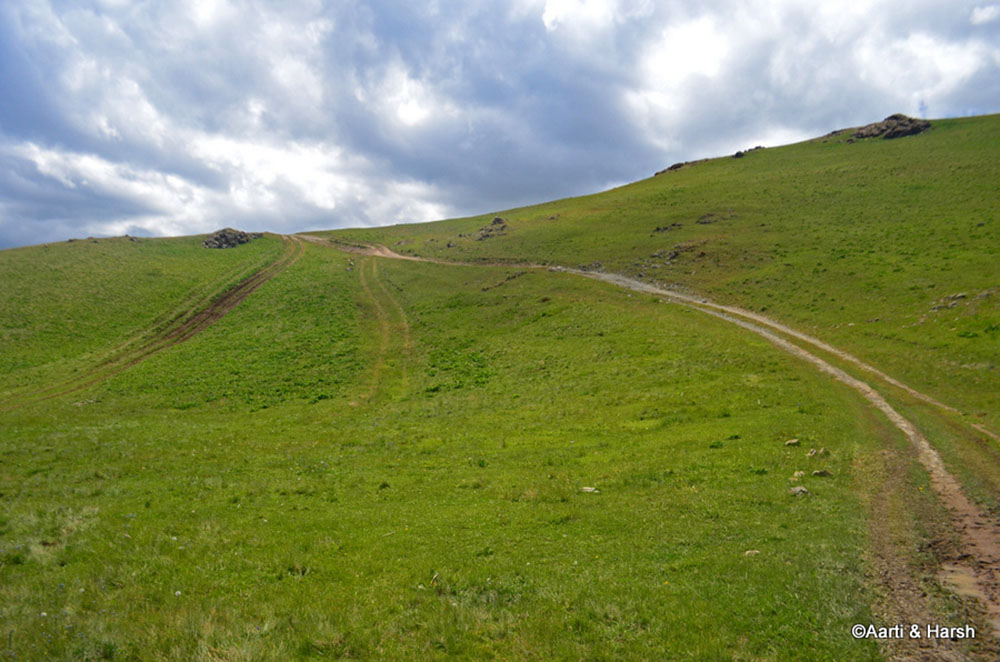 The track was partially complete and bridges/culverts over numerous streams were still missing. We had to descend from the elevated track every time a stream came by and then had to hop back onto it, much like what one has to do on the Moreh Plains stretch.
One such crossing was particularly precarious, but by then I had lost all patience. Hoping that momentum and brute force would do the trick for me I marched on, only to be stuck bang in the middle of soft mud.
The TLC would now neither move forward nor backward, all its 4 wheels were spinning wildly and each attempt was sinking it further into the mud.
Stuck !!!
I climbed out to take stock of the situation. I had neither a tow rope with me, nor a vehicle in sight to tow me out even if I had one. Nor did I have a shovel that I could use to dig my way out.
The situation was hopeless. We thought of giving it one more try before we start walking towards the nearest yurt for some help.
I took hold of the top supports of the vehicle and rocked the vehicle sideways a couple of times just to shake things up a bit. Then returned inside, engaged 4L and the central differential.
Engaged the reverse gear, floored the gas pedal, and suddenly let go of the clutch. The vehicle miraculously lurched back but started losing momentum almost instantly. I quickly engaged the forward gear the TLC started skidding forward only to lose momentum again.
Once again the reverse gear was engaged. After doing this rock n roll for about 5 – 6 times the final reverse lurch got us out of the bog. We thanked our stars and took an alternate route across the stream.
Soon we caught the western dirt track out of the Song Kul lake marshland, a track which was much better and with no marshes. Little did we know that within the hour we would be towing!
Free-spirited eagles are so much better to look and shoot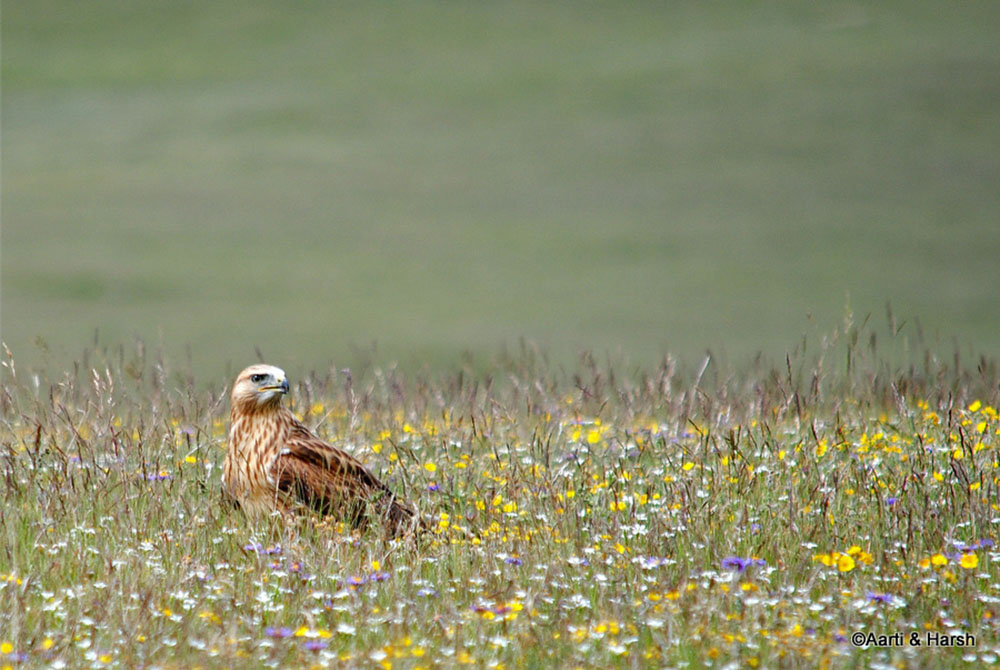 Aah, those country roads.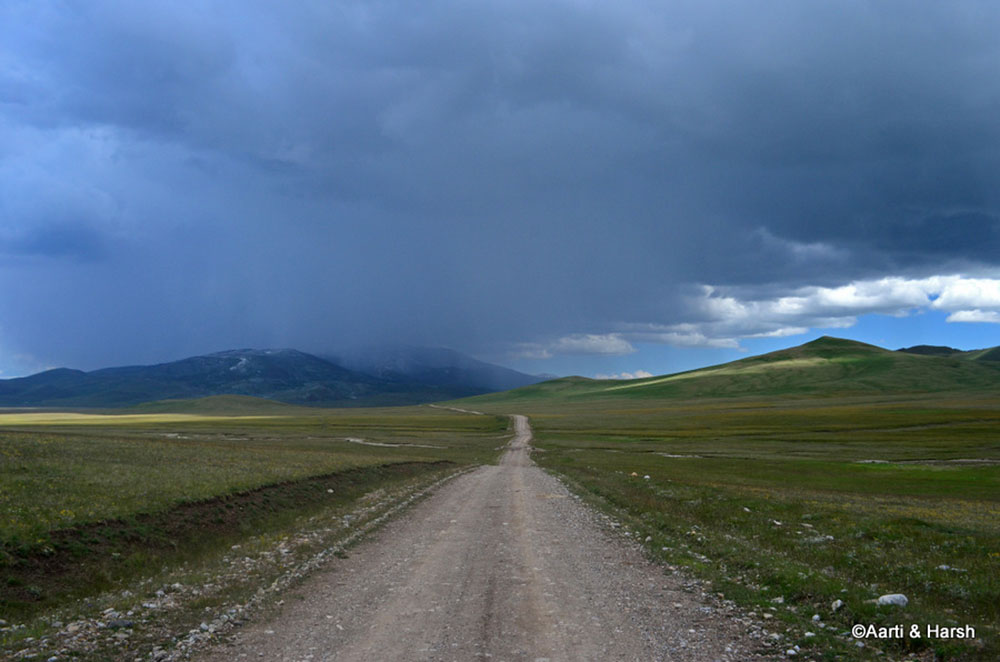 Through the Song Kul bowl. Through a vast meadow of green

A Broken-Down Truck
​As we were driving outside the bowl, on what was now a comfortable dirt track, we came upon a mini-truck that was parked below the hill we were on. There were no visible dirt tracks either before or after the spot where the vehicle was standing. Three men and a boy were waving their hands wildly in the distance.
We stopped and as soon as we did, the boy started running towards us. He was out of breath by the time he reached us and started asking for help. We tried hard to communicate but he was simply not able to explain the nature of assistance he required.
Soon an elder came panting up and with gestures, he explained what had happened and what kind of help he wanted. The mini-truck engine had died and they had been stuck there since morning. He wanted us to tow them out using our car. He mentioned that he had a tow rope with him.
I was not enthused with his request for multiple reasons:
There was no road leading up to the truck that I could see.
I was in a rented vehicle and was unsure if towing a mini-truck was a good idea even for a TLC, especially up a slippery incline.
It was already 4 pm and Bishkek was still 300 km away!
Road Trip Karma Built
However, in order to ensure good road karma and remembering the giant Russian who had helped us in our time of need at Kumtor, we decided to help the mini-truck people.
The elder guided us towards his mini-truck by running forward and pointing the spot on which they had off-roaded. There were no tracks but a simple off-road through a meadow which went straight down the hill!
Wondering why a mini-truck would attempt such a shortcut, we took the off-road and reached the truck. He then requested me to attach the tow rope and tow him further down through a stream and then back up an incline.
I refused flatly, as the route he was suggesting seemed to be one on which I would probably not even venture on my own. And to even think of towing a mini-truck on that path was an utterly nonsense idea. I convinced him to take a U-turn and climb the path on which we had descended.
The Mighty TLC
Once the U-turn was achieved on somewhat level ground, the actual task of towing uphill started. I had been unsure about this entire exercise but my skepticism was soon converted to respect for the TLC.
I could hardly feel any power loss while inching up! This vehicle was worth every penny in terms of its off-roading capability and to think it was more than 3,00,000 km old! I would be lying if I say to you that I even felt the load on me while pressing the pedal. Slowly and steadily we marched up.
As we approached the crest, the track became slippery and the TLC started losing traction and it was not long before we ground to a halt. All of us dismounted and figured out a revised strategy to tackle this last bit of ascent.
We rolled back a bit on the incline, gained some momentum, and increased traction by rocking the steering left and right in quick succession.
Once we were back on level ground, we jump-started his vehicle by giving it some momentum and in a puff of black smoke, the truck was alive again! The entire drama had held us back by about half an hour, but it was some experience!
As we bid adieu hurriedly to the mini-truck gang, I saw the Kyrgyz thank you gesture for the first time in two weeks, something that I had only read about.
The elder held his hand to his heart and another palm over it with a slight bow and spaseeba on his lips. I was deeply touched by his gesture and replied pazhalusta with a smile.
Waiting for Godot?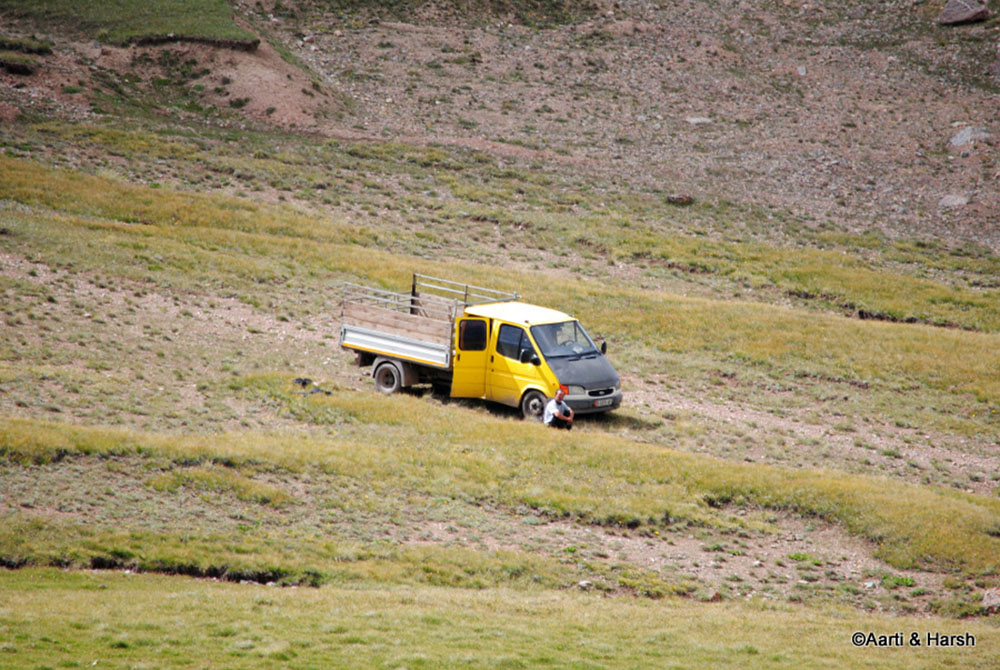 No – actually waiting for someone to town him out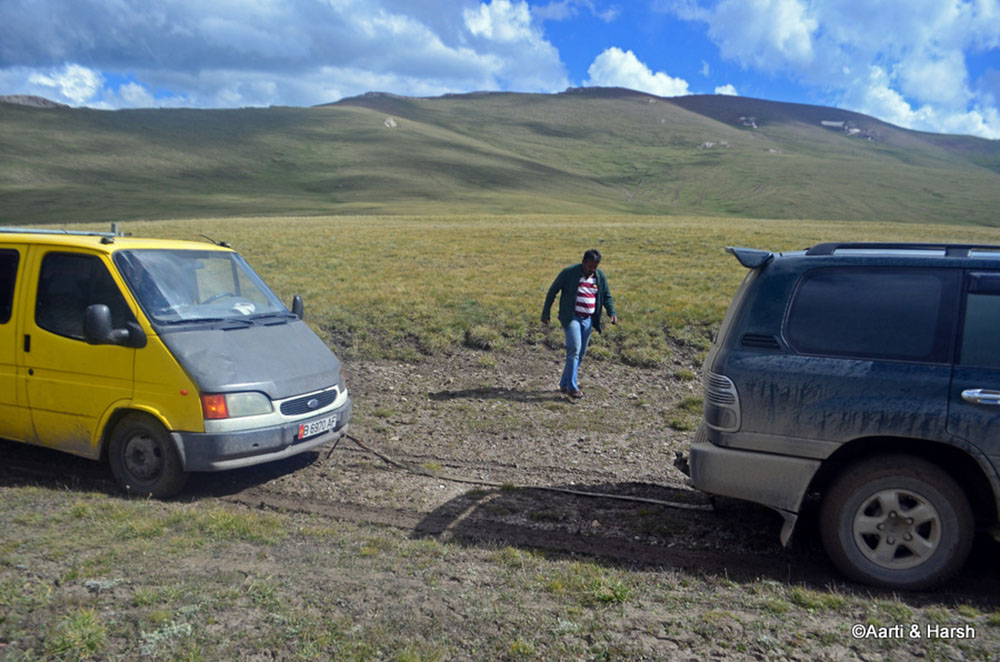 The final push to the top and the truck is out.
Success!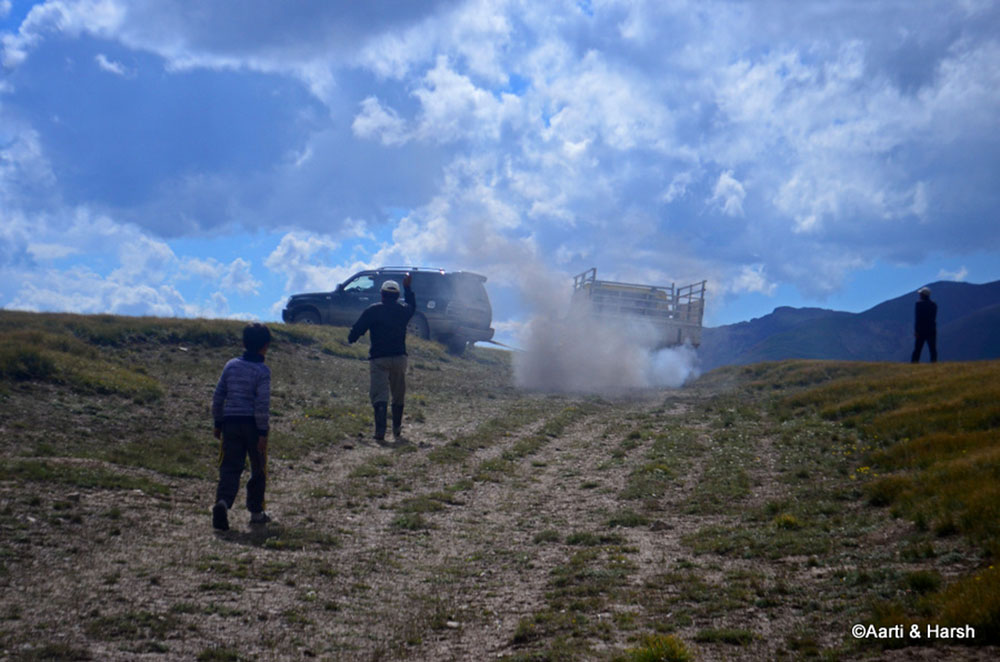 Bishkek​
It was now quarter past 4 by the clock and our tummies were growling. We were out of our supplies which we had donated to our hosts at Song Kul, and were practically starving. We were still in the general Song Kul nature reserve.
There were some river crossings before we reached the 'highway' but nothing that the TLC could not take. We finally managed to get some chips, cookies, and coke by 6 pm at a village once we hit the highway if one can call it a highway.
It was untarred and was sparsely populated. It finally joined the main highway headed towards Bishkek around 9 pm or so. The drive was beautiful though, through a narrow canyon and next to a raging river.
However, we were too tired and just wanted to reach Bishkek and end this day. It had unexpectedly turned out to be much longer than we had hoped for.
Twisties to descent from the Song Kul bowl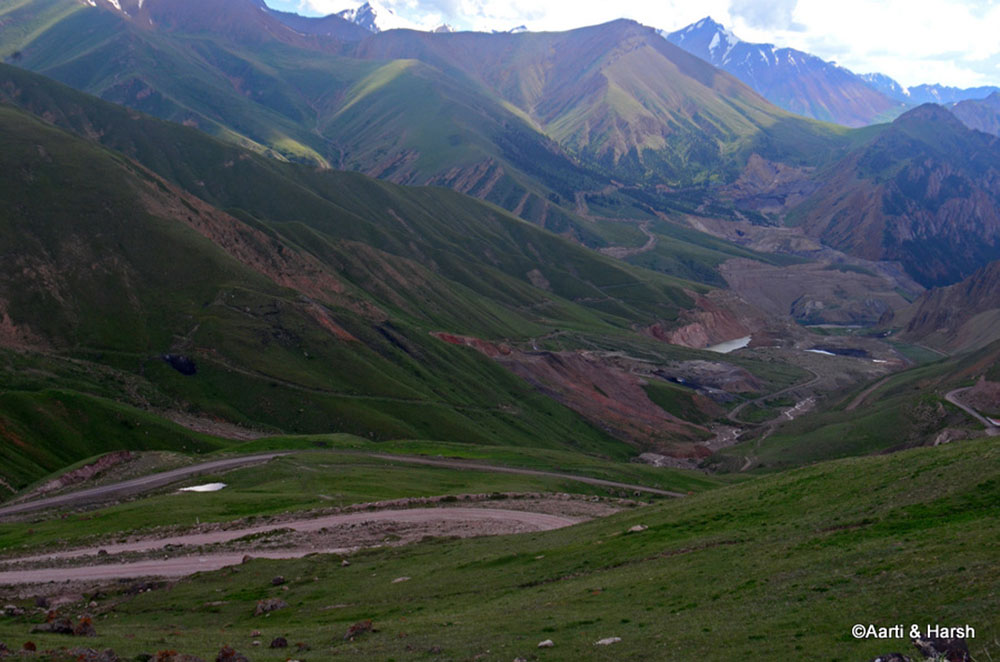 The Lada on the left was afraid to take a plunge in this one. Although not deep, it had momentum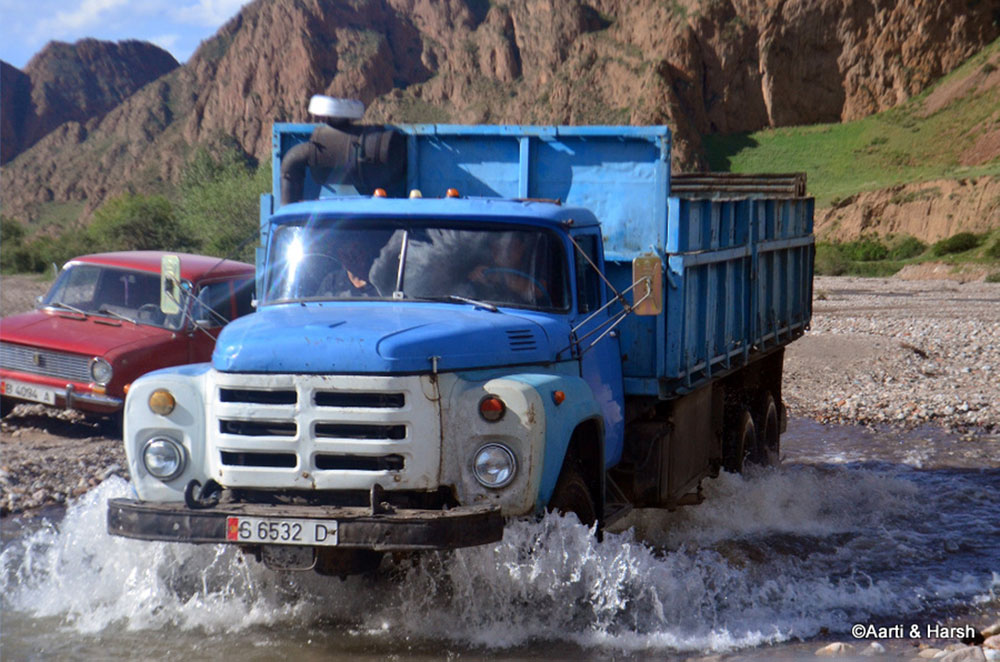 Crazy landscape. A river, a village, some green, some red, some brown.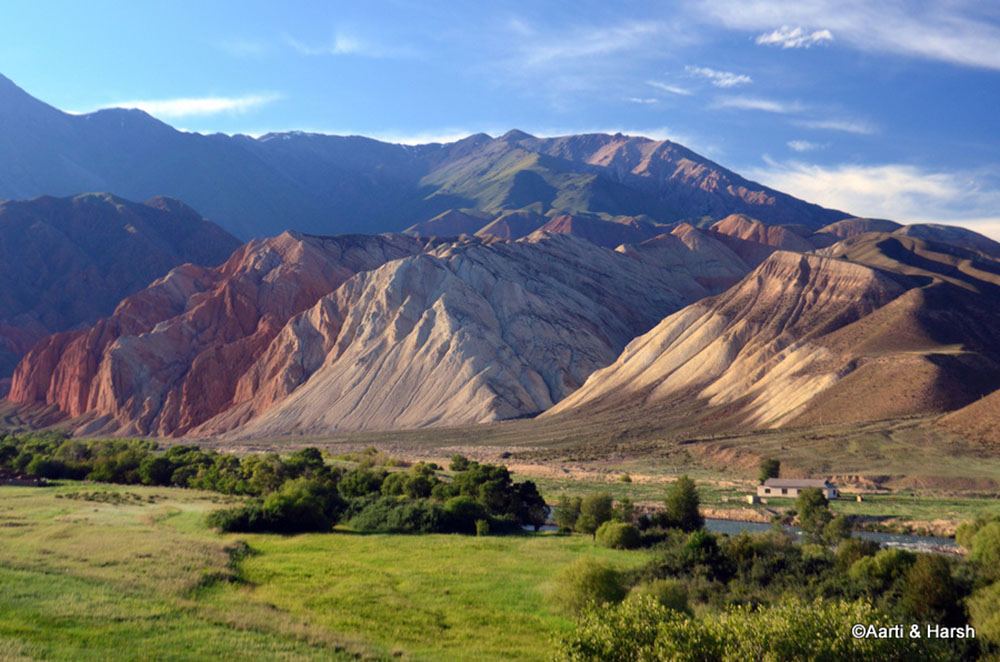 Bishkek was still a good 150km away which we eventually reached about 12:30 am, after stopping for a hurried dinner en route. The highway was nice but was through a long twisting descent, which kept our average speed low.
Zoya, our hostess for the first two nights at Bishkek, had promised that she would be awake to welcome us and she truly lived up to her promise.
We crashed almost immediately after a nice hot shower. The road trip had come to an end, and now, only the logistics of winding the trip remained.
Day 16: Ending our Kazakhstan and Kyrgyzstan Road Trip
We were not completely rested after yesterday's adventure. Nevertheless, we had to move quickly. We got up at 7 and while Aarti repacked our luggage to make it compact and "public mode of travel friendly", I went and searched for a garage to get the car cleaned.
At least this way, we would be spending less time at the car rental agency and inspection would be a breeze. Once at the rental company the manager was pleasantly surprised to see an immaculately clean car.
He was not used to his customers returning his car in such a condition; despite the clause in the contract bounding the customers to do so.
We explained to him about the lost tire. He eventually charged us 9,000 INR for his loss over and above the usual rental cost. We also had to pay him for an additional 350 odd kms over our agreed mileage.
Almaty
After a quick lunch in the heart of the town, we headed back to bid adieu to Zoya for the last time and hailed a taxi for the Kazakh-Kyrgyz border. Immigration was a very simple procedure and we negotiated our fare all the way to our hotel (Sarai Shik) at Almaty in a shared taxi. The drive back was a bit hot and both of us caught a nap and rested.
We reached our hotel by about 6 pm. We checked in, said hello to the hot receptionist, and immediately went out to the center to have one last meal in a nice swanky restaurant to celebrate our safe return and reminisce the last two weeks.
Last Day of the Trip
The meal had to have besbarmak, the national dish of Kazakhstan. It consisted of horse meat which we had not sampled yet (at least not knowingly) and we were eagerly looking forward to it. It turned out to be a bummer though and to be quite frank – horrible.
Don't get me wrong, the horse meat was actually nice to taste and soft as well. But the preparation really did not suit our palette. It was practically boiled meat, in a broth devoid of salt or any spice, served with bland flat noodles also devoid of any salt or spice.
I did try to add some salt and pepper but the taste hardly improved. It was definitely not a befitting end to what had been otherwise a wonderful trip.
We bid adieu to Madina over the phone, a person instrumental in making this trip happen. We were wondering if we would ever see her again during this lifetime.
Day 17: Kazakhstan to Delhi
The flight was early the next morning and we were at the airport much before our scheduled time. The last thing that we did before flying out was to buy a packet of kyzyl, which are essentially horse meat sausages. Once back home, I did offer my dad some – and his reaction was priceless. Needless to say, he did not take the offer.
Epilogue
The trip had been just amazing. At the end of it, we knew that the bug of international trips had bitten us and that we would be spending a lot more on vacations going forward than our usual fare!
But hey, it's just one life we get. It would be a waste not to make the best of it. As far as I know, we are not allowed to transfer money in either heaven or hell; wherever our next destination be.
We had met some amazingly warm Kazakh and Kyrgyz people, people who we thought we might never meet again. But as it turns out, Madina would be visiting us in January we get to return the favor by taking her out to Delhi soon.
Maybe one day, Zoya too decides to visit Delhi and if she does it would be amazing. Hopefully, I get to meet that burly dozer guy too who helped us in the plains of Kumtor, although I can hardly remember his face now.
We were also introduced to a nation that was primarily Islamic and yet did not wear its religion on its sleeve despite being devout.
A bad thing that was the outcome of this trip was our newly found admiration for the TLC. Ever since we've come back, we letch at each one of those beauties which cross us. I wonder if any one of those poor souls ever gets to leave the tarmac!
And by the way, those Kyzyl (horse meat sausages) were just about ok and are not a dish I'll probably have again. It was too salty for my taste.
Kazakhstan and Kyrgyzstan Road Trip – Conclusion
I hope the travelogue, pictures, and information above on Kazakhstan and Kyrgyzstan road trip were of help. If you have any questions, please feel free to ask in the comments section below or at our Community Forum, and I will be happy to answer. You can also follow me on Instagram and chat with me live there or subscribe to my YouTube channel and ask a question there.