It was a much-awaited Friday morning, and finally, we were rolling. We were all set for our long-planned trip to Kazakhstan and Kyrgyzstan. After several weeks of putting all parts of the trip together meticulously, we were finally ready for an amazing 16-days-long adventure. The plan was to fly to Almaty on Day 1 and spend Day 2 sightseeing in Almaty City before moving on further into Kazakhstan.
Journey So Far:
The last piece of the logistical puzzle was to place our steeds in trusty hands for two weeks. The bike went to my cousin, who used this opportunity to ride out to Ajmer on the RE. The Esteem went to a friend of mine and we were on our way to drop off our Safari at my in-laws' place in Gurgaon.
We both were as excited as if it was our first time out of India, and I think I was much more elated than Aarti. So much so, that we had decided to reach the airport a good 3 hours in advance! To our dismay, our flight was delayed by an hour and once the initial euphoria was subsidized, we realized we had to kill another 3 hours. The flight eventually took off at 1 pm.
Day 1: Delhi to Almaty
It was a small aircraft much like our domestic flights except for better legroom, and it was quite empty. We had taken a lot of pain to ensure that we got an "F" window seat. This would have ensured a good view towards the east, while the sun was on the west as we moved North.
According to our predictions, the flight should have moved straight over the Himalayas, crossing India somewhere near Leh, then should have proceeded towards Kyrgyzstan and flown over the very region we had planned to visit.
Much to our dismay, the flight kept going west, crossed entire Pakistan, and then turned North towards Afghanistan, Tajikistan, Uzbekistan before entering Kazakhstan. To rub salt on our wounds, it was a very cloudy day thus there was hardly anything to see outside. Moreover, I spilled some beer on my clothes and stunk of it.
Almaty International Airport
We landed at the Almaty International airport at about 5:15 pm, 45min behind schedule. It was quite small in size as compared to let's say a JFK or a Schiphol, but the view from it was of the Zailysky Alatau range south of Almaty. The peaks were surprisingly still covered in white even in July while the clouds covered the rest of the mountains.
The immigration procedure was straightforward with the only difference being that the stamp was put on a white slip which had to be "registered" with local immigration police within 72 hours of our arrival.
Madina was waiting outside to receive us as she had promised. The first pit stop was to get the currency converted. We stopped at a supermarket near the center of the town to quickly get it done. The super rude cashier did not understand a bit of English and was acting as if she was doing us a great favor.
The cashier at currency exchange centers was probably the only rude set of people we found in Kazakhstan. We quickly got $1400 converted to cover all our expenses in that country. It was there Madina explained that they call their currency "Chengyey" rather than "Tenge" as one writes it.
We then proceeded to our Hotel – Sarai Shik. Aarti and I agreed on three things immediately,
The hotel was expensive
But it was very good
The receptionist was hot!
Hotel – Sarai Shik
At 14,500 Tenge a night (5600 INR) it was quite expensive, but still a bit cheaper than the other options we saw in Almaty. We had limited days in cities so had thought of splurging on luxuries on some days. Thankfully breakfast was included in this rate to lessen the pain of shelling out so much money.
Not much happened on Day 1. We relaxed for the rest of the time as we had a long day of sightseeing in Almaty planned for the next morning.
The evening was spent at a market nearby, struggling to read off a Russian menu of a roadside eatery. The main course was simple to order, Shwarama & Doner Kebab with coke, but the problem came while asking for desserts. A
Aarti was super confused and amazed with the fact that the sun used to set at 8:30 pm and there was still twilight as late as 9:15 – 9:30 pm. She kept on raving about this for the first few days of the trip. We also visited a local store to buy some snacks and drinks, for our long walk through the city.
Hotel Sarai-Shik, quite chic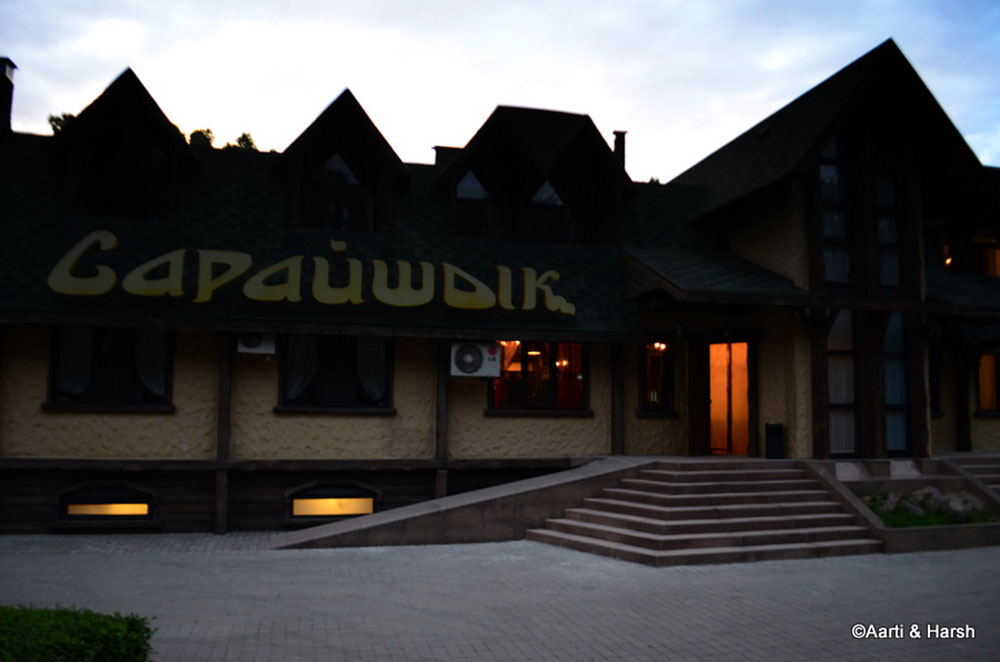 With all the focus of the trip on the interiors, we had given no thought to the walk we were supposed to go on the next day for sightseeing in Almaty. We had no clue of the places of interest in the city itself.
Realizing our mistake, we rushed back to our room, and thankfully the lonely planet was really helpful. It took us practically 10 minutes as the book suggested the ideal walking tour to make the most out of the limited time we had.
Day 2: Sightseeing in Almaty City
The day started late as we were in an absolute no-hurry zone. Breakfast was enjoyed at a leisurely pace at the hotel, the price of which was included in the cost of accommodation. It was a standard continental fare with a mix of cold cuts and hot sausages along with the normal additions like juices, bread, and cornflakes. There was nothing local about the breakfast and the hotel lived up to its tag of being a European joint.
The taxi we took to the city center, hardly 12 km away, was pre-arranged by the hotel guys and cost us 3000 Tenge (1200 bucks) or almost 100 rupees a km. As exorbitant as it was, we had already called for it and had no choice but to take it. The standard fare, as we figured out later, was 1000 Tenge (400 bucks).
Town Square
We reached the town square at about 11:45 pm, and there we began our 8 km walk which had been chalked out by the Lonely Planet guys and covered everything that a tourist would want to see in the city. Clouds and intermittent drizzling made it a lovely day to walk.
Armed with our umbrellas, we began by taking pictures of the vast Republic Square, and the flowers that adorned the sidewalk. As we were gazing at the huge pillar at the Square, a group of well-dressed locals approached us. They wanted a picture with us.
This was kind of a weird request, but we agreed. It seemed that the family was visiting Almaty, and most probably were there to attend a wedding. We could not ask much more as language was a problem, but they did drop a few Indian names like Raj Kapoor, Indira Gandhi, and Mithun Chakraborty!
Almaty's administrative center at the new Republic Square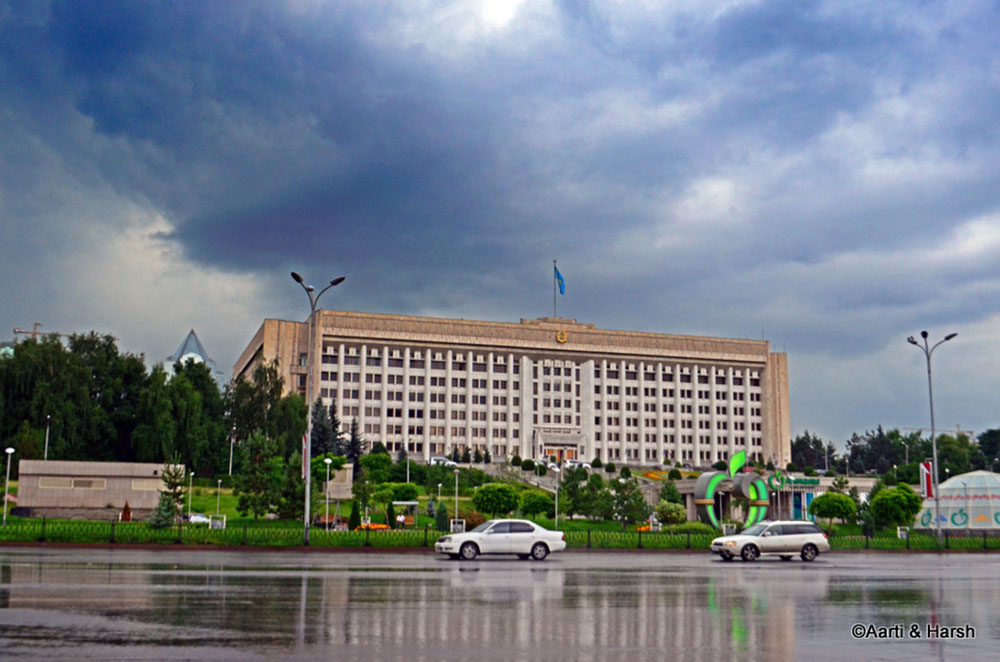 Meeting new people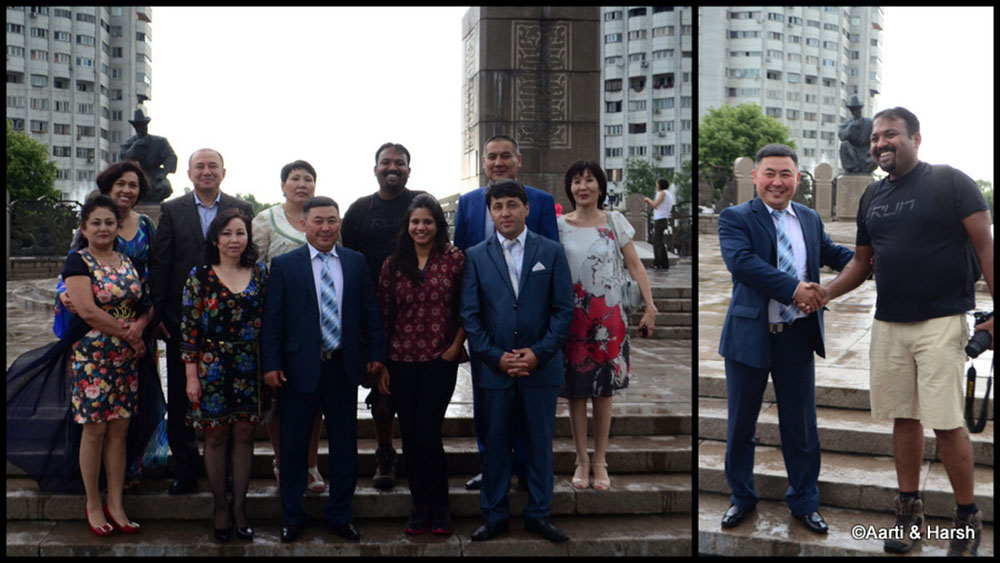 Kazakh Wedding
​The entire town was buzzing with limousines, the explanation for which we found out later. People in this part of the world always prefer to get married on a Saturday, unlike us who have to depend on the sun, stars, Mars and probably even Venus to decide on our wedding dates.
Anyway, weddings usually involve hiring limousines to ferry the bride and groom, and thus the flurry of the extra-long cars on the roads.
The next destination on the list, Kok Tobe, was a ropeway in the middle of town, which climbed up a small green hill, providing a panoramic view of the city. Needless to say, this part was the MOST touristy thing on the agenda, but it was fun to do nevertheless.
As we ambled to the place where the ropeway began, hardly a km and a half away, we also managed to get a local SIM card for 400 Tenge (160 INR). The outgoing calls and the data charges were expensive. Thankfully, the incoming was free which was the most important part anyway. After all, we did not need to call anyone in Almaty.
Kok Tobe
The hill over the city offered an excellent view. Since it was a holiday for most, several locals too had gathered to enjoy the vistas, braving the drizzle. As we walked towards the end of the hill, a group of kids approached us for pictures.
The request was again surprised, but we succumbed to the pressure. I was actually enjoying all the needless attention – these guys had probably never seen a black man before! Or maybe it was my funny attire – shorts, T-Shirt, and hiking boots.
After the second session of the photoshoot, we began looking at the locals in a different light. We could see some of them wanting to approach us but then deciding against it. I can now understand what 'firangs' feels like in India when people mob them for photo-ops.
It is a mixture of happiness with confusion that probably they think of us as jokers. It happened quite a lot with us while sightseeing in Almaty.
Almaty Zoo
It was lunchtime already and the only open restaurant at the top was super expensive. We eventually ended up ordering a cup of coffee and one measly (but tasty) potato for 2000 Tenge (800 INR). Souvenir shops and a very touristy zoo were the other highlights at Kok Tobe.
Being the animal lovers that we are, it was interesting to see different species that we had never yet seen in our lives, including a Llama from Peru!
These stretch limousines were found all over the city due to wedding celebrations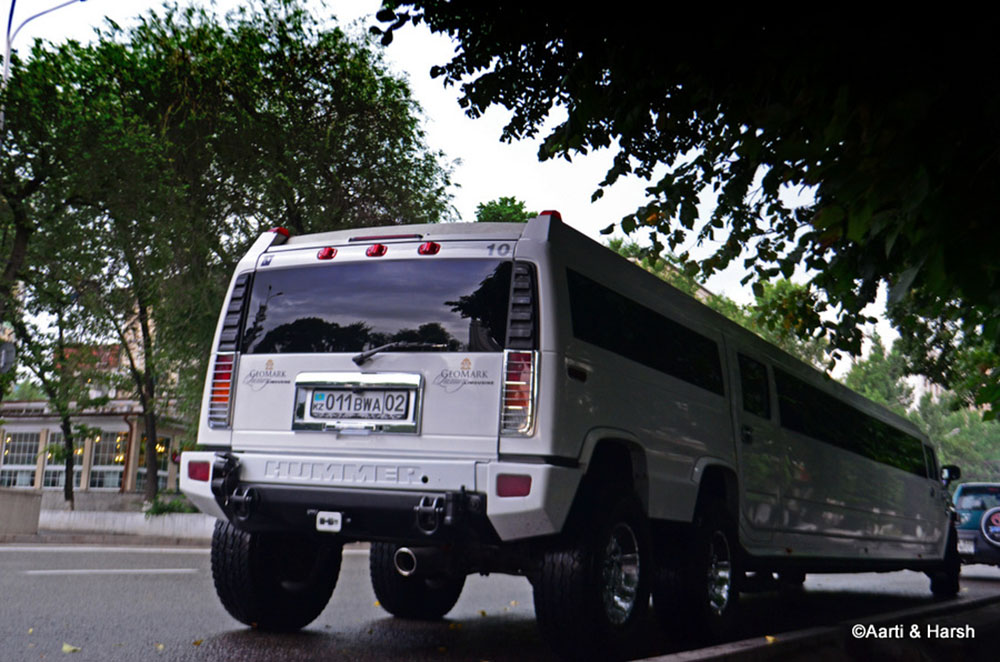 The cable car and the rope-way to Kok Tobe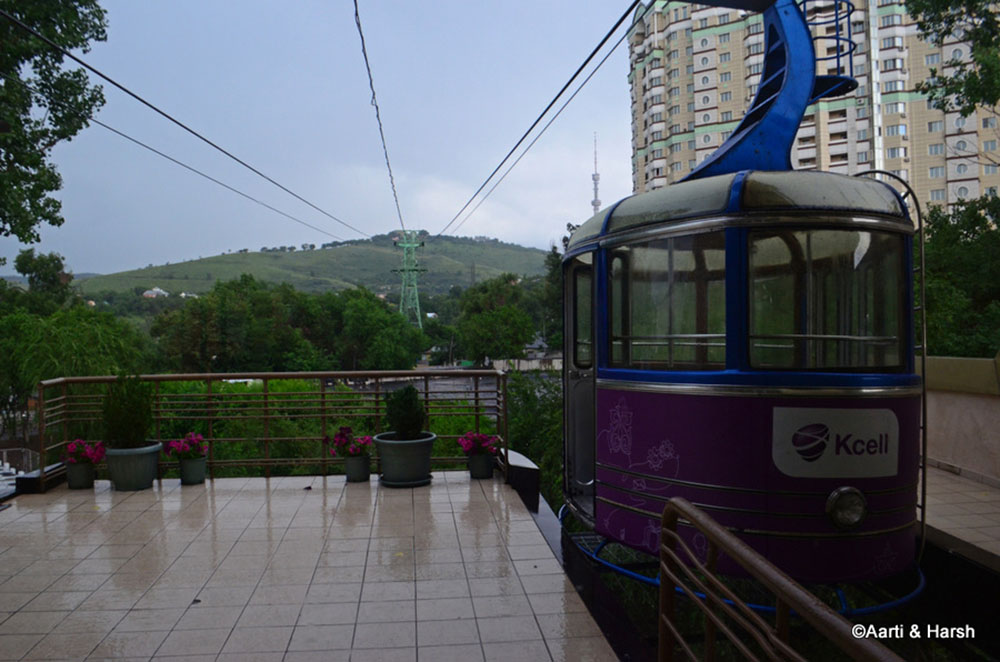 A panoramic view of Almaty

A bunch of kids excited to see Indians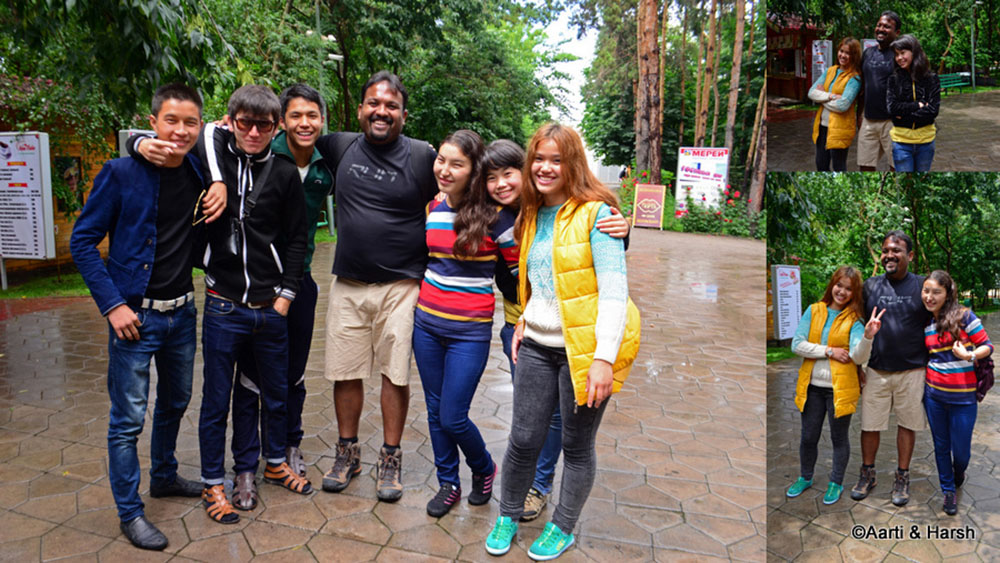 Sightseeing in Almaty Zoo. Who would have thought – a Llama in Almaty!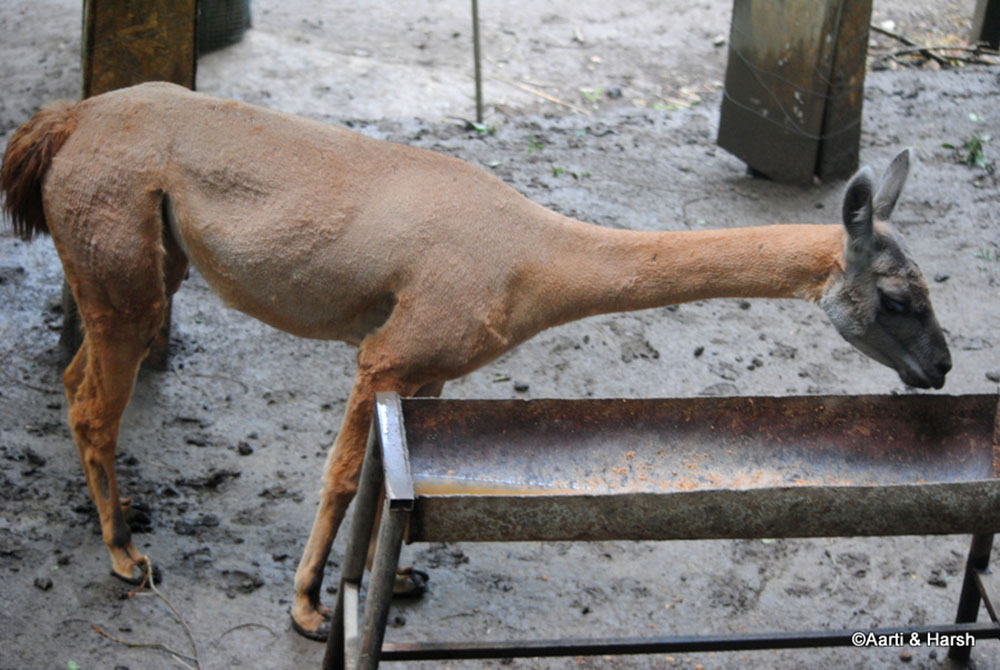 We missed this restaurant, looked a bit cheaper than the other one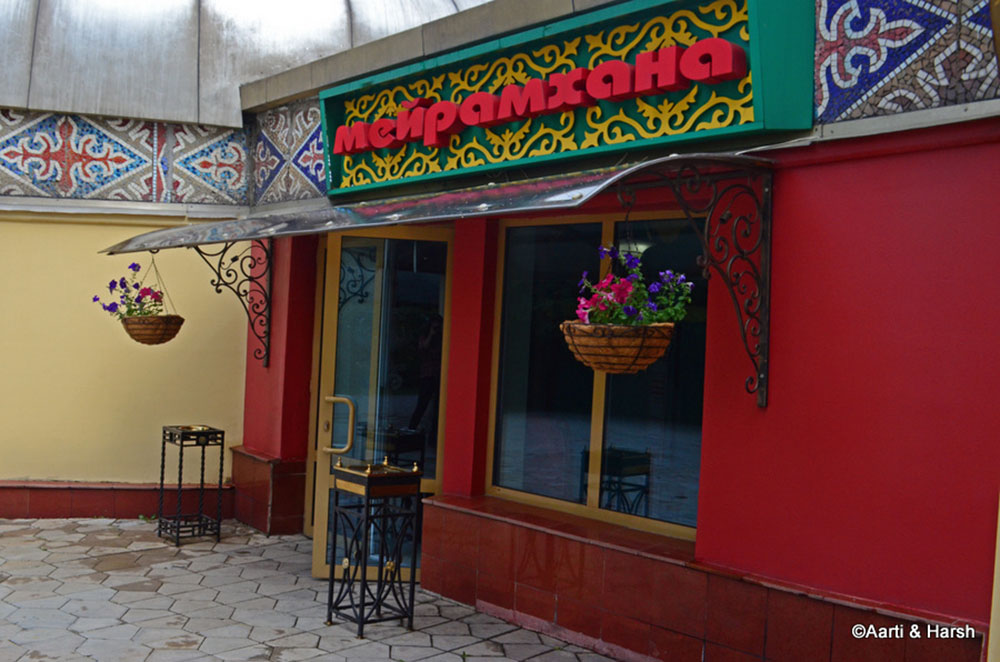 The queue of Hummer limos, note the caption on the rear windshield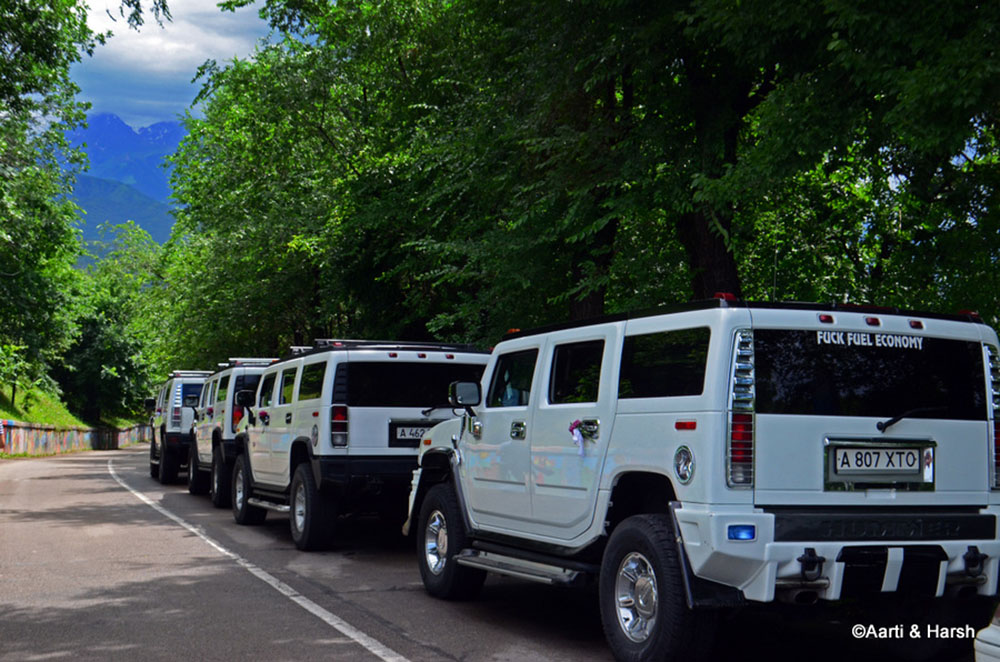 Kok Tobe, a colorful entry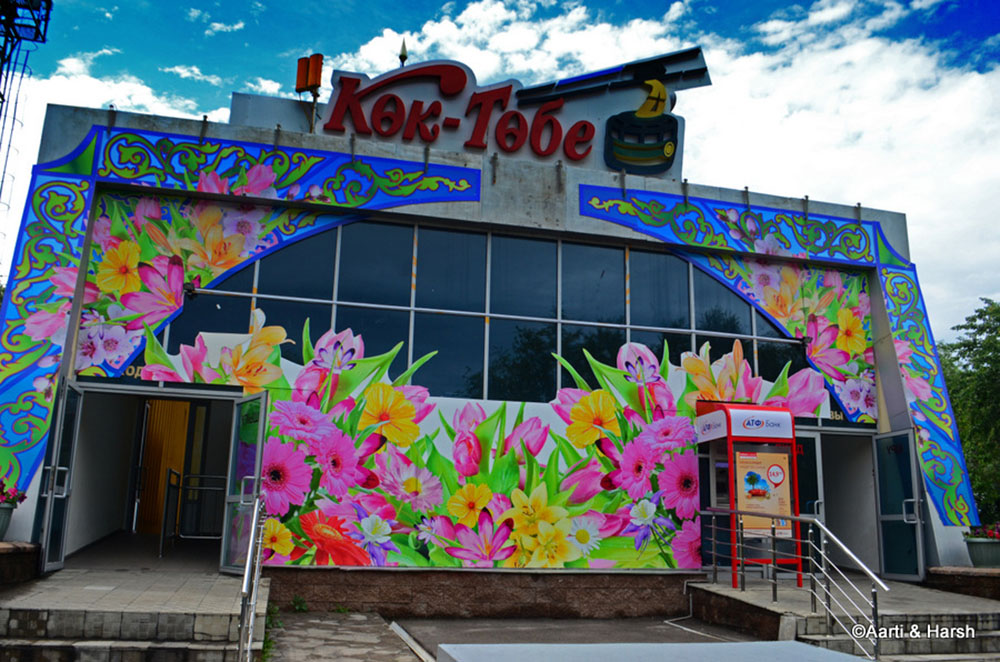 ​Coffedelia, Almaty
After we descended from the hill, we continued our walk towards the most famous coffee joint in Almaty – Coffedelia. After a long and relaxed break here which included tea and cake, we proceeded towards the second last hop of the day – Panfilov Park.
Instead of walking on the main road, we took the bylanes, and in one came across a cat that was walking leisurely on the road. Aarti was quick to approach it, and on finding it friendly, she picked it up and brought it to me. We played with the furball for a few minutes, and then let it go since we were getting late. Otherwise, we would have gladly played with it longer.
The cafe dotted, pebbled pedestrian streets of Almaty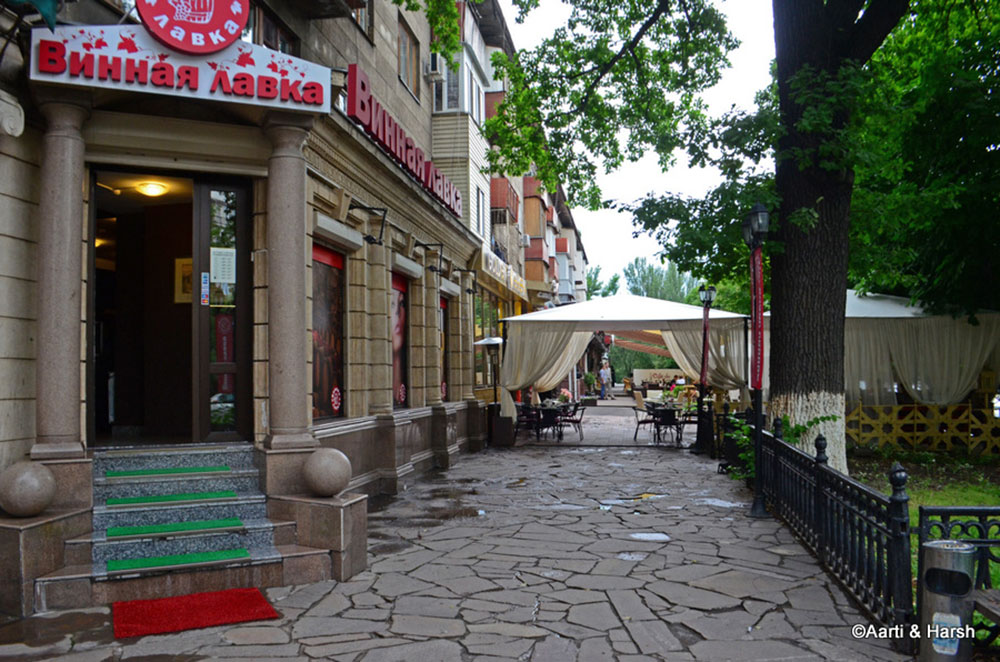 State Academic Opera and Ballet Theater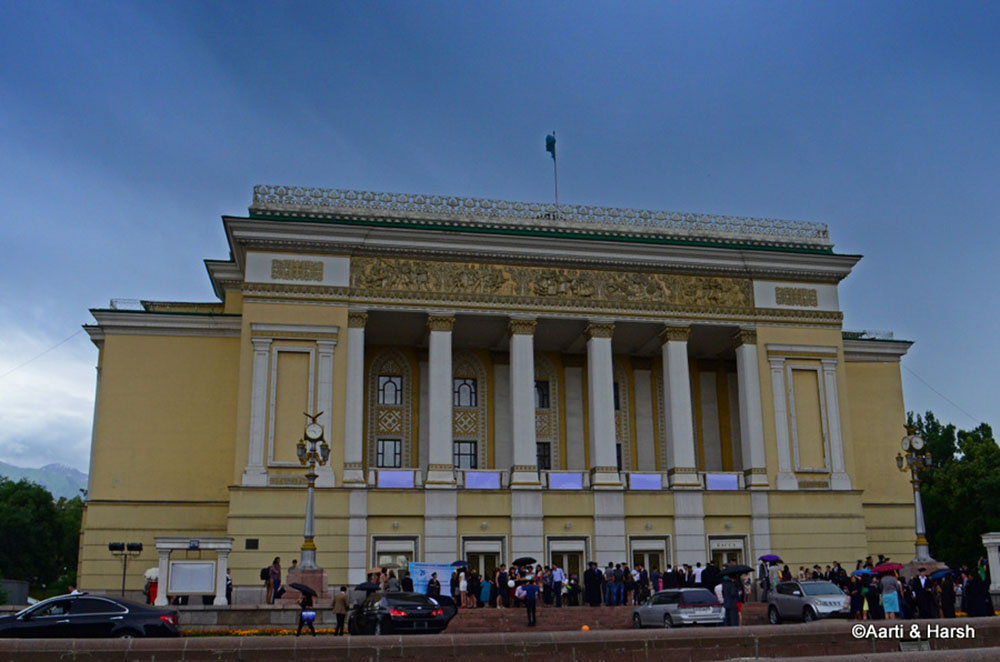 Some lovely houses in the city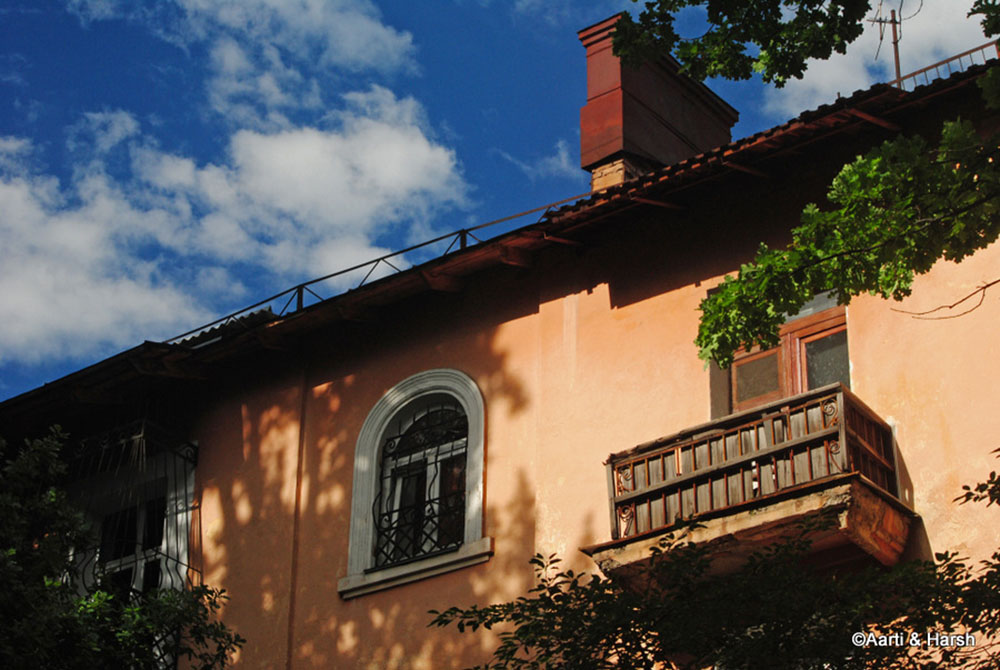 ​Panfilov Park
Panfilov Park is a wooded area in the middle of Almaty. Its main attraction is the Zenkov Cathedral, a colorful Kremlin-type Russian church. The Cathedral comes into view suddenly and is surrounded by trees. So it looks all the more striking with its vibrant colors and shiny crosses.
We spent some time clicking it from the outside and then went in. Photography was not allowed inside, and a mass was in progress, so we exited quickly. Moving on in the park, we came to a clearing where families had come for an outing.
There was a small train ferrying kids around the park, a horse-drawn carriage, kids feeding pigeons, mothers strolling with their infant kids. We sat on a bench and observed typical Kazakh families enjoying a Saturday evening. We were amazed at how something as simple as observing people in a park can give you an insight into their culture.
Locals relax and enjoy a sunny Saturday evening at Panfilov park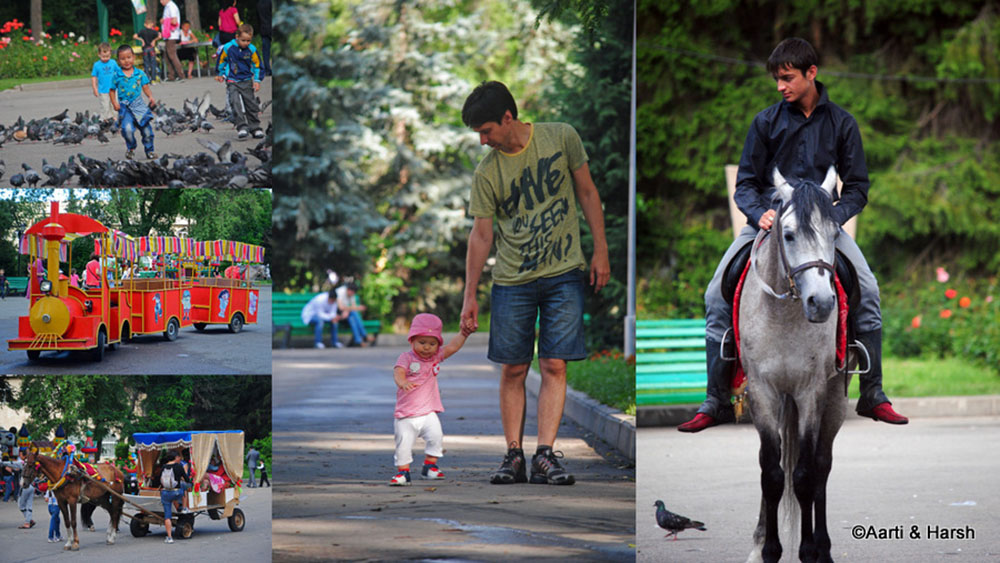 Almaty Mosque
​Our last stop for the day was the Almaty Mosque, which we were too tired to explore from the inside. We thus clicked a few pictures of it from the outside and then hopped into a taxi to return to our hotel, brining our sightseeing in Almaty to an end.
The taxi driver was very friendly. Despite him not knowing any English, we managed to have a decent conversation with him. He offered to take us around the city. As we were heading out to Charyn Canyon (200 kms from Almaty) the next day in a tourist bus, we declined.
We, however, did ask him to drop us at the bus pick-up point the next morning, and he gladly agreed. This last piece of conversation was aided by the hot receptionist as it involved time and location info, which we could not afford to mix up.
After freshening up, we went to the restaurant opposite our hotel for dinner. The menu was in Russian, so we stuck to what we knew – Shashlik (a very common Central Asian dish, basically mutton tikka) and Manti (which we knew of due to our regular visits to Afghan restaurants in Delhi). Much to my discomfort, the restaurant owner made us sit on the floor – traditional style – but it was fun.
We hit the sack early that night, as we had an early morning the next day. We prayed for it to be cloudy, but God of course does not answer all our prayers, does he? Please click on the link above to continue reading the next part of the travelogue.
Sightseeing in Almaty – Conclusion
I hope the travelogue, pictures, and information above on sightseeing in Almaty were of help. If you have any questions, please feel free to ask in the comments section below or at our Community Forum, and I will be happy to answer. You can also follow me on Instagram and chat with me live there or subscribe to my YouTube channel and ask a question there.