The previous day had been an exhausting one. Our plan of camping in Barskoon valley failed miserably and we were almost stranded in the middle of nowhere, with a broken-down car and in freezing temperatures. After arriving back in Karakol, we had only been able to go to bed well past midnight, after getting rid of mud that had stuck to our clothes, body, and souls.
Thus, the next day had to begin late. It was only after a nice relaxed breakfast that we ventured out to start the day. The hotel's owner was kind enough to wash my mud-soaked jacket and jeans and then dry them out in the sun.
Journey So Far:
A garage was open next to our hotel. They pointed us to a tire specialist nearby where we could get our flat tire repaired. It took that 'specialist' a good half an hour before he could come to the conclusion that he would not be able to help us after all.
He could only work with R16 while we had an R17 (tire) installed. He directed us to a larger garage at the other end of Karakol which would be better positioned to help us out. Thankfully, this other garage was easy to locate.
Day 11: Camping in Kyrgyzstan – Karakol to Kara Sai
This garage had two 'shipping' containers stocked up with tires of all shapes and sizes. If there was someone who could help us out in Karakol, this guy seemed to be the man.
After much difficulty in communicating, he explained to us that the tire was rendered unusable now and a brand new one would cost us USD 250, while he could fix up an old one from his stock for about USD 40. I called the car rental. They too suggested going for a refurbished old tire as a new one would cost us about USD 140 in Bishkek.
So while the mechanic went about his task of jigging up a new 'old' tire, we got the TLC washed thoroughly at a car wash opposite the garage for 200 SOMs (240 INR). They did a thorough job for the money they charged and even vacuum cleaned the interiors. Wonder if one can find such a cheap car wash service anywhere in Delhi/NCR.
Mud was everywhere, TLC was covered in it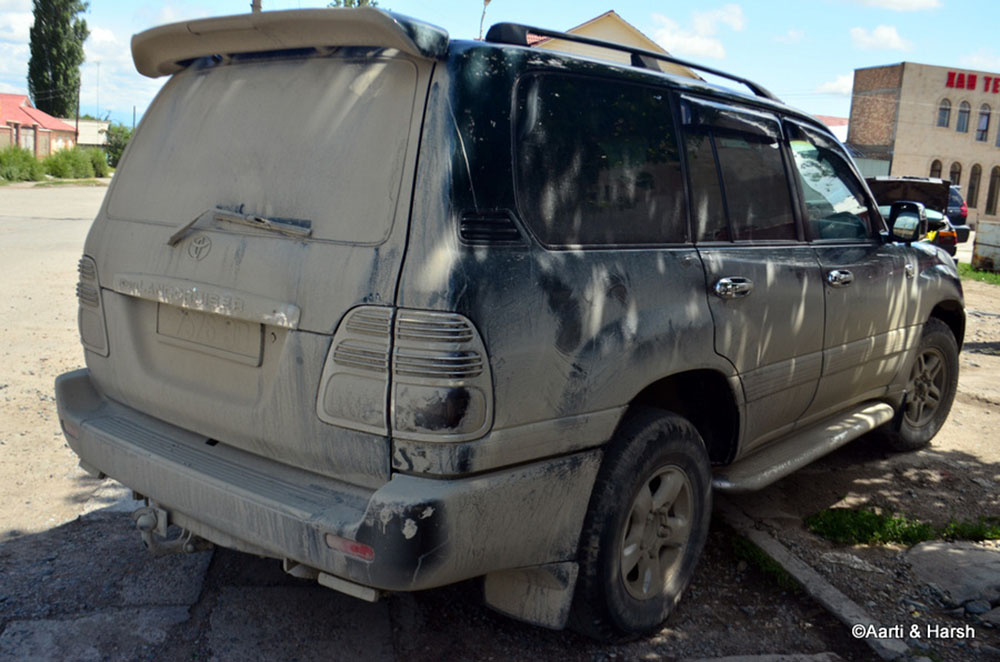 TLC gets a bath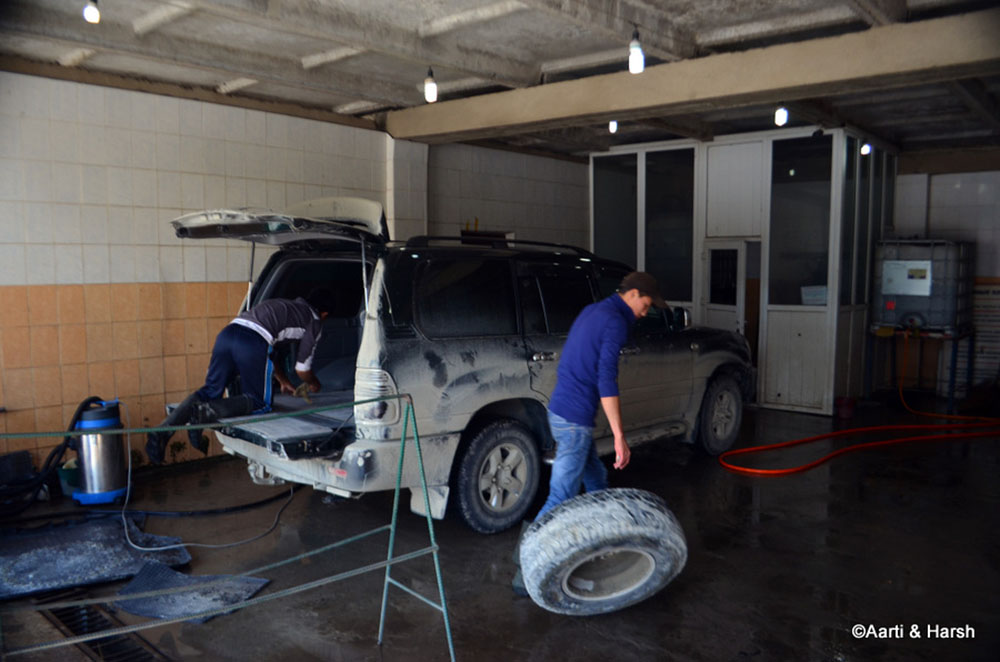 ​We were ready to head out by 1 pm and went for a nice lunch at one of the better restaurants in Karakol. There we met up with a Geology professor at a local university, a family which had fallen in love with Kyrgyzstan and had moved from Australia to settle there.
The man was quite surprised to know that we were able to get a self-driven rental car with insurance in Kyrgyzstan. He further mentioned that as a local it was impossible for him to get insurance cover for his own vehicle! After some more exchange of notes and pleasantries, he left with his family.
Sook Pass
We too were off soon, driving west of Karakol again for the second time in two days. We had managed to lose one day with incidents of the past evening, but still decided to drive up again to the same place and further beyond towards Sook pass to get a flavor of the plains of Kara Sai.
The drive was largely uneventful, barring a lift given to two gorgeous females from the Nordic region. They were on their own, touring the "stans" (Kyrgyzstan, Kazakhstan, Turkmenistan, Uzbekistan) and were hitch-hiking on most legs of their route.
They had been camping all by themselves on the southern shore of Lake Issyk Kul. One can infer from this how safe the country must be for tourists by this nugget of information alone. I can scarcely imagine two foreigners, that too female, undertaking such a journey in our country.
Barskoon Valley
We were back in the wide Barskoon valley by 4:30 pm and stopped for a quick swig of tea at one of the open shacks. By 5:15 pm, we were again at the check-post. The officer was surprised to see me, and I had to apprise him of our incident from yesterday. He let us pass the barrier without further questions.
The climb up on that day was remarkably different from the day before. The thin sheet of white had melted in the afternoon sun and all that was left were some spots of white on the peaks.
The clear sky also gave a more pleasant look to the surroundings than the overcast one the previous day. By 6 'o'clock, we were back at the fork that had taken us towards Kumtor, but this time we chose to move straight on.
Chai time at Barskoon valley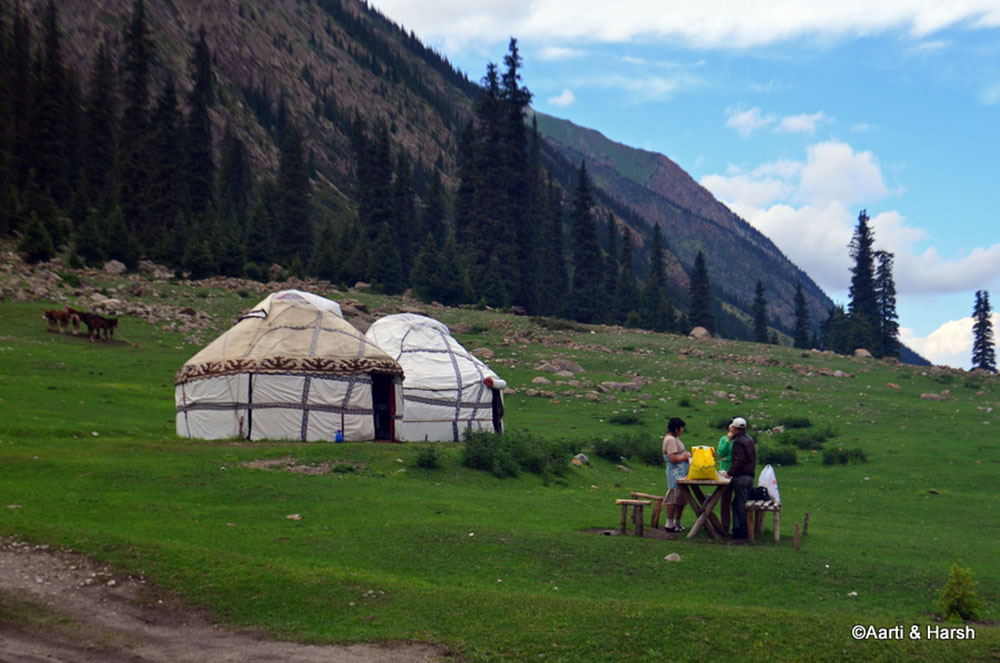 Today, clear skies welcomed us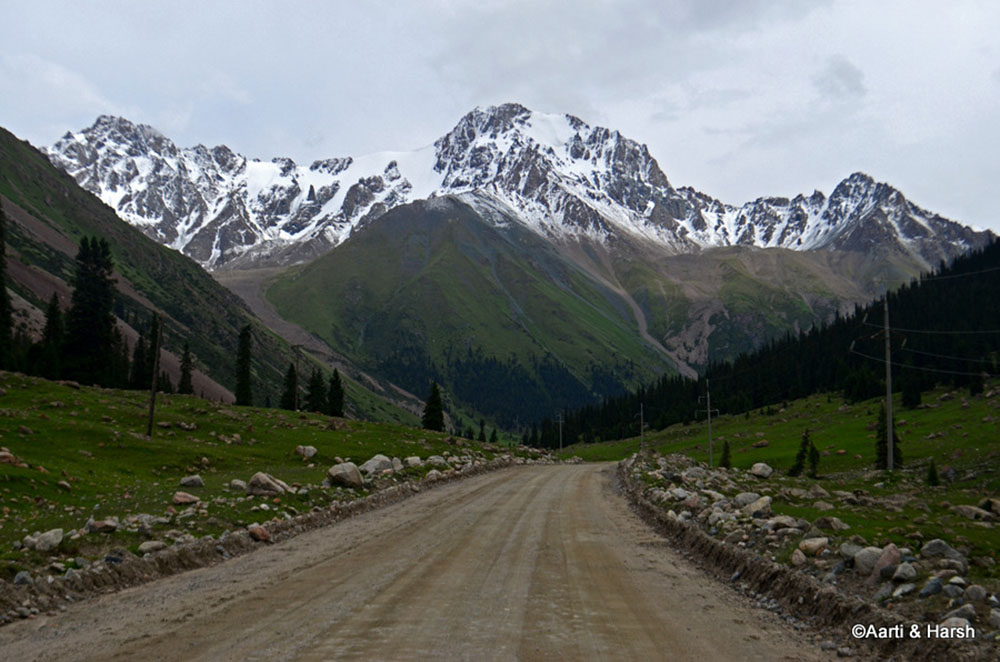 The army check-post at the end of Barskoon valley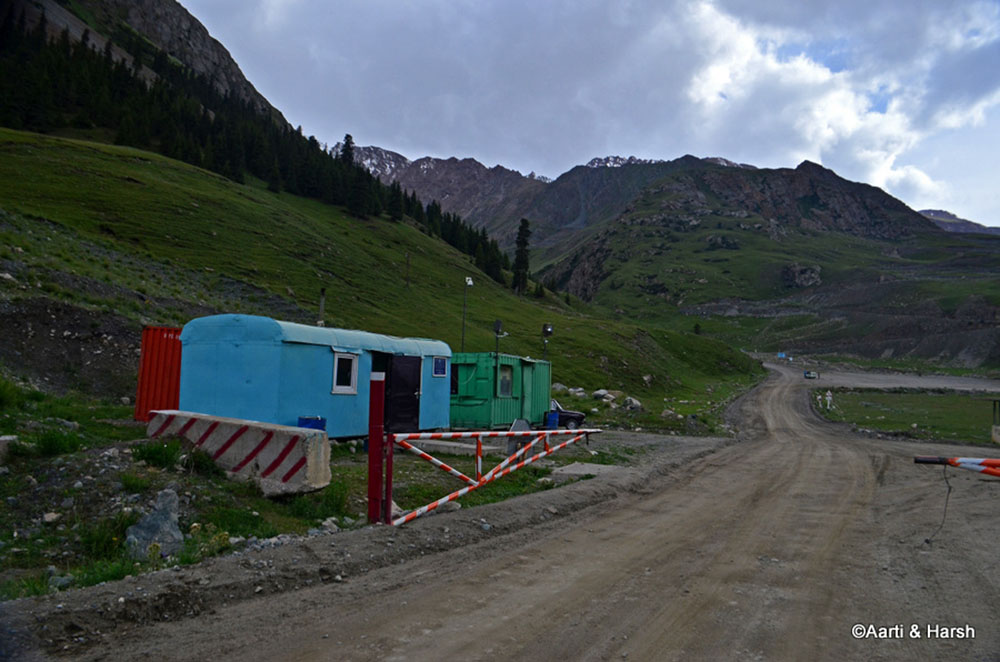 Climbing towards Barskoon pass and peeking down towards the check-post below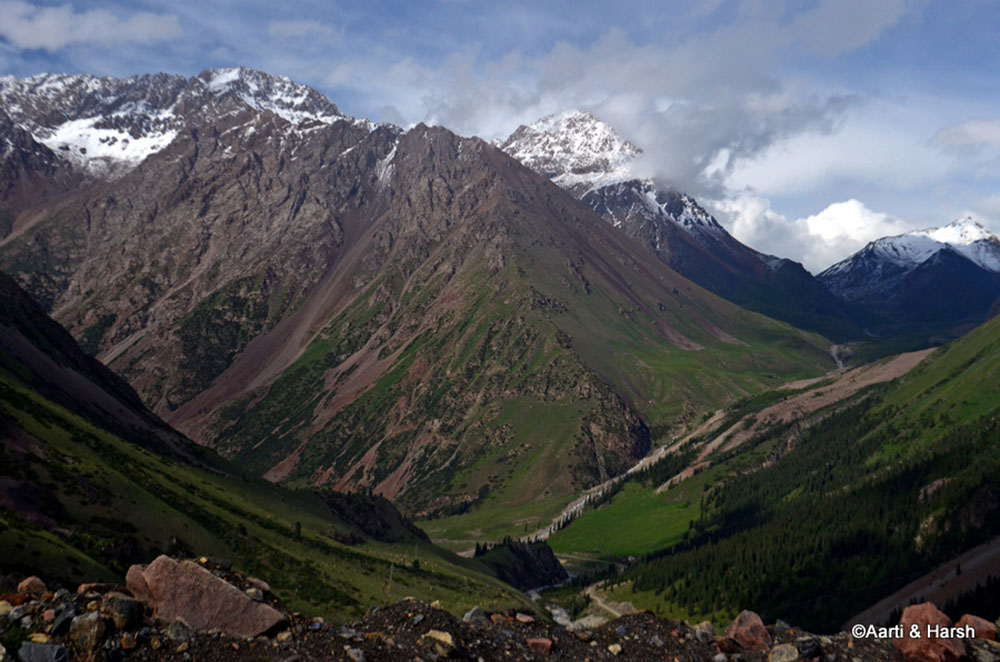 The road, which had been 4-laned and smooth so far, gave way to a 2-laned bumpy track. It was quite obvious that the 4-lanes were maintained only for the benefit of the gold mines.
The climb towards Sook pass was straight-forward through a narrow, rocky track. I had my heart in my mouth again fearing another rip of the tire but thankfully nothing untoward happened.
The descent led us to the first settlement we saw in this region. It was small and consisted of a couple of trailers and some brick houses. Kids played around in the dying light as we moved ahead.
Naryn Province
A few kilometers ahead, we came upon another fork and had to make a decision. Kara Sai lay on the straight path while the right went towards a village by the name of Karakolka. The straight path was well marked and documented. The road on the right did not appear on any maps we had seen on the region barring Google Earth.
This road could possibly take us all the way to the Naryn province. But that was nothing more than a hypothesis derived from Google Earth. Hoping for the best we took the right fork and drove through a barren landscape devoid of vegetation, settlements, or army camps.
A few hare and marmots welcomed us to their country from a distance and hopped back to their burrows as soon as we came close.
The 4-lane highway gives way to this 2-lane track heading towards Sook pass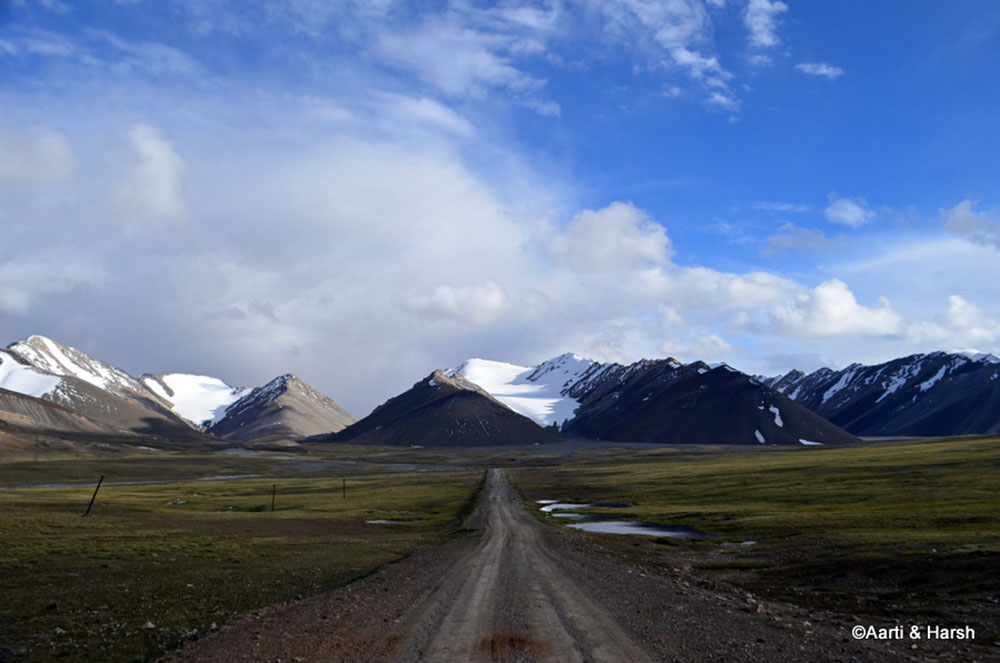 The climb was straight, a bit steep, and rocky. The descent had some switchbacks. We descended more than we climbed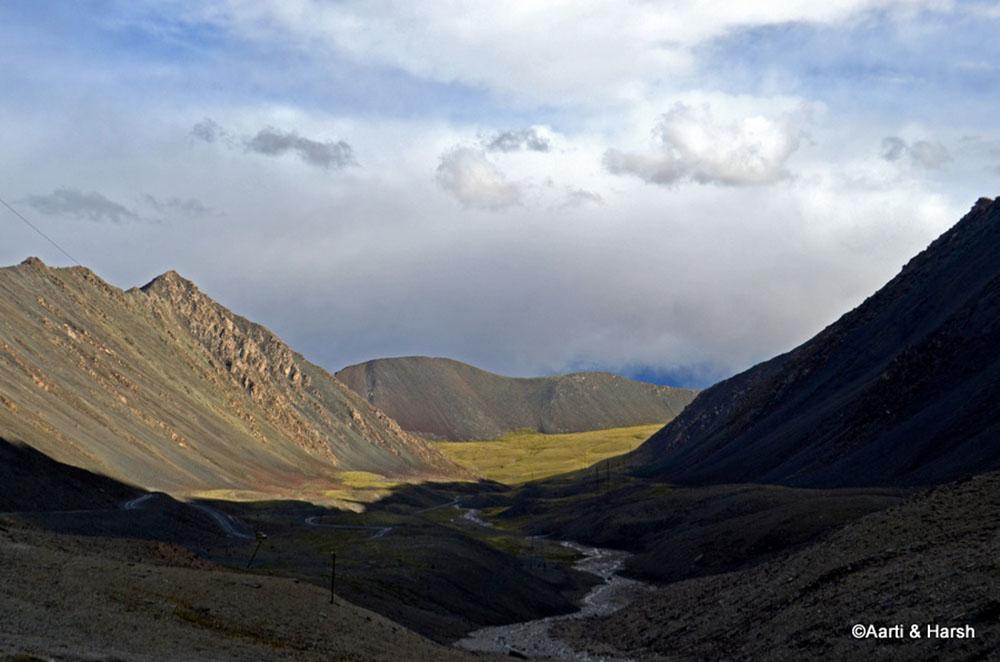 A fantastic highway heading towards Karakolka.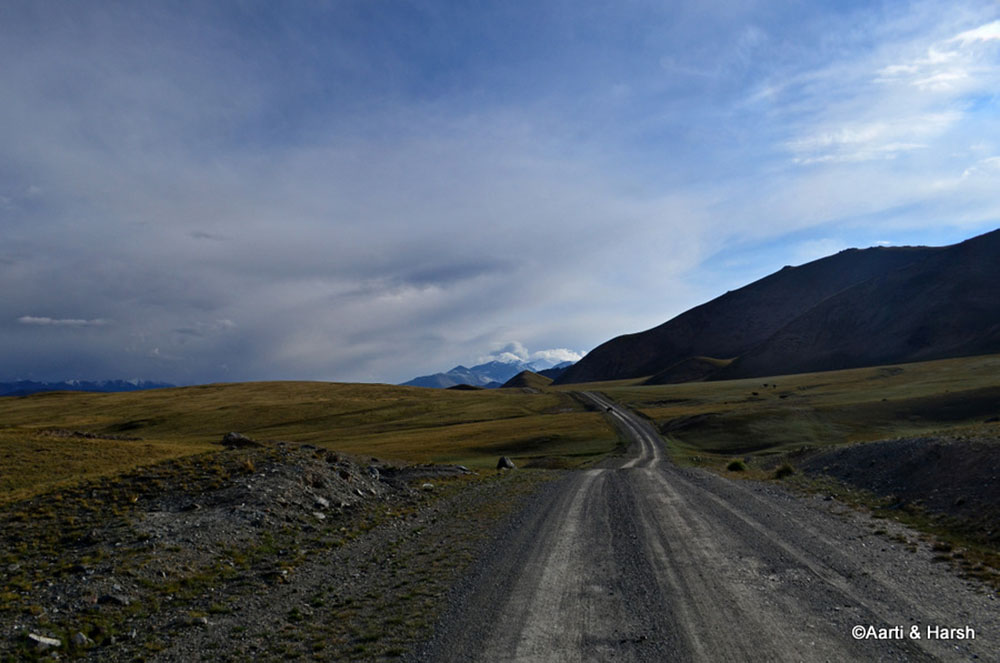 A Campsite to Remember
​It was an hour before we finally reached our night halt for the day. A small salty lake lay next to the track which provided for a perfect camping ground. It took us a while to choose the best off-road descent to get closer to the lake and a few 'oohs' and 'aahs' later, we were by the lakeshore.
We'd bought our new Quechua tent just before the trip and we were about to pitch it for the first time. In the youtube video we'd seen before embarking on the trip, it appeared to be an easy-to-pitch tent. In reality, with the strong wind and high altitude, it was quite a task to pin down all pegs and figure out what went where.
The tent turned out to be pretty spacious despite weighing only 3.5 kgs. As the sun went down, the temperature started to plummet rapidly. We had to set up our makeshift kitchen in the back of the car to protect the stove from the wind.
Dinner was a simple affair – soup, some reheated Samsas, and ready-to-eat goodies. We were well tucked in by 9 pm when twilight approached and were in for a long cold night.
The quilt that we had purchased back at Bishkek was not that warm and the night was cold. Although it was not as cold as the one we had spent at Chandratal on one fine late September night back in 2010, but still it was not comfortable.
Sleep came in bouts and we lit the stove intermittently throughout the night to warm ourselves. The temperature must have gone below freezing as the next morning the lakeshore was frozen in patches.
Campsite selected

Tent pitched up

All tucked in and ready for a cold night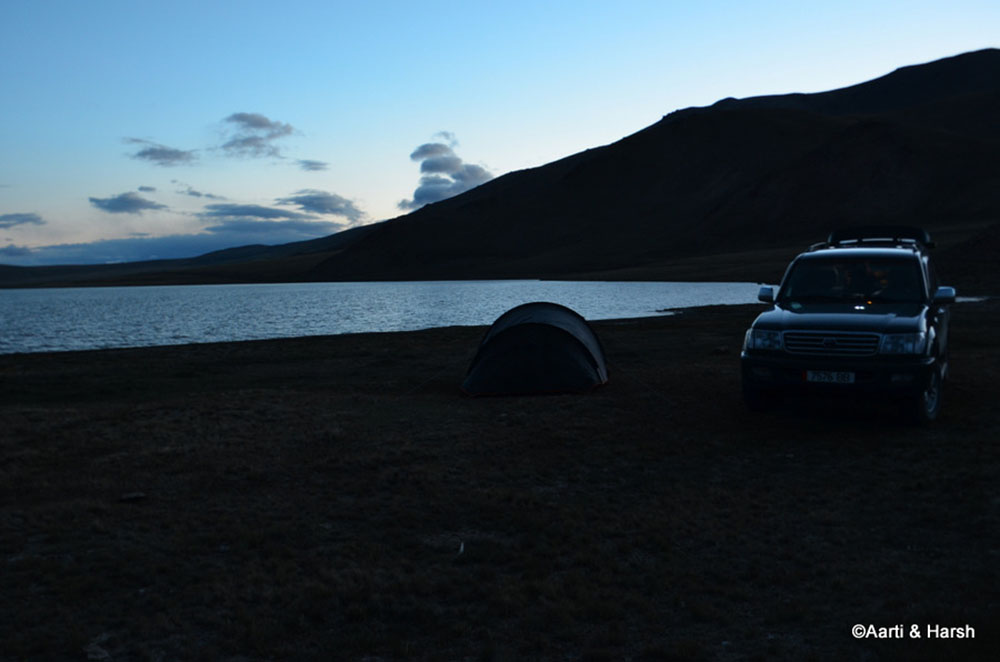 ​A Cold Night of Scares
The first scare came about at around 10:30 pm. All of a sudden, our car buzzed as if someone had unlocked it or tried doing so.
Braving the cold, we ventured outside to have a look but as expected there was no one in the vicinity for miles. We assumed that one of us might have pressed the unlock button of the car keys inadvertently.
The night sky was a sight to behold though. The Milky Way could be seen clearly as a strip of white ribbon running across one section of the sky. Such a sight does take one's breath away. I was not able to coax myself to take out the tripod though and was quite happy in warming myself again inside the tent.
The second scare must have been sometime close to midnight, a booming sound that lasted for about 5 seconds and roared in the lifeless night. It felt as if a jet had flown very close to us; or perhaps a truck rumbling over a rickety iron bridge nearby.
We quickly opened the flap of our tent and tried to see where that sound came from with our groggy eyes, but once again nothing was there to be seen.
That sound must have occurred at least half a dozen times throughout the night and each time we would wake up. By the third occurrence though we got used to it.
To this day we cannot positively identify the source of that sound. We tried to investigate it a bit in the morning before moving on but derived no result. Please click on the link above to continue reading the next part of the travelogue.
Barskoon Valley & Camping in Kyrgyzstan – Conclusion
I hope the travelogue, pictures, and information above on Barskoon Valley and Camping in Kyrgyzstan were of help. If you have any questions, please feel free to ask in the comments section below or at our Community Forum, and I will be happy to answer. You can also follow me on Instagram and chat with me live there or subscribe to my YouTube channel and ask a question there.