The day ahead was long.  The plan was to head south initially, visiting the caravanserai of Tash Rabat, and then go as close to the Torugart pass as possible. From there, we were to take the less used road towards Song Köl Lake, also known as Song-Kul Lake, through the precarious Moldov pass.
However, this was based on certain assumptions which as we found later were not true. Reach Song-Kul we did by the end of the day, but not before going through one of the best drives in the country.
Journey So Far:
The ancient silk route caravanserai lay about 70 km south of our night halt. After a good breakfast with the Australian couple and the Brit who were staying in the same homestay as us, we pushed off by 9 am.
The Aussie couple had decided to drive their Lada 4×4 towards Tash Rabat, while the Brit was heading north towards Kochkor. We stopped for a brief moment to capture At Bashy from atop a hillock before bidding adieu to the pretty village.
Day 14: At Bashy to Tash Rabat to Torugart Pass to Song Köl Lake
The drive towards Tash Rabat on highway A365 built by the Chinese was awesome. After we left the highway, the last 10 odd kms were on a dirt track.
As we moved further south and towards the Chinese border, the settlements dwindled. It still took us a good 1.5 hrs to reach Tash Rabat.
The gate to the caravanserai was locked but a lady appeared immediately from a yurt nearby and charged us 100 SOM per head as an entry fee. There were no boards mentioning this particular tariff but thankfully we had been advised earlier that this may happen and is perfectly legal.
A view of At-Bashy and the mountains south of it

The wide valley near At-Bashy, taken on the move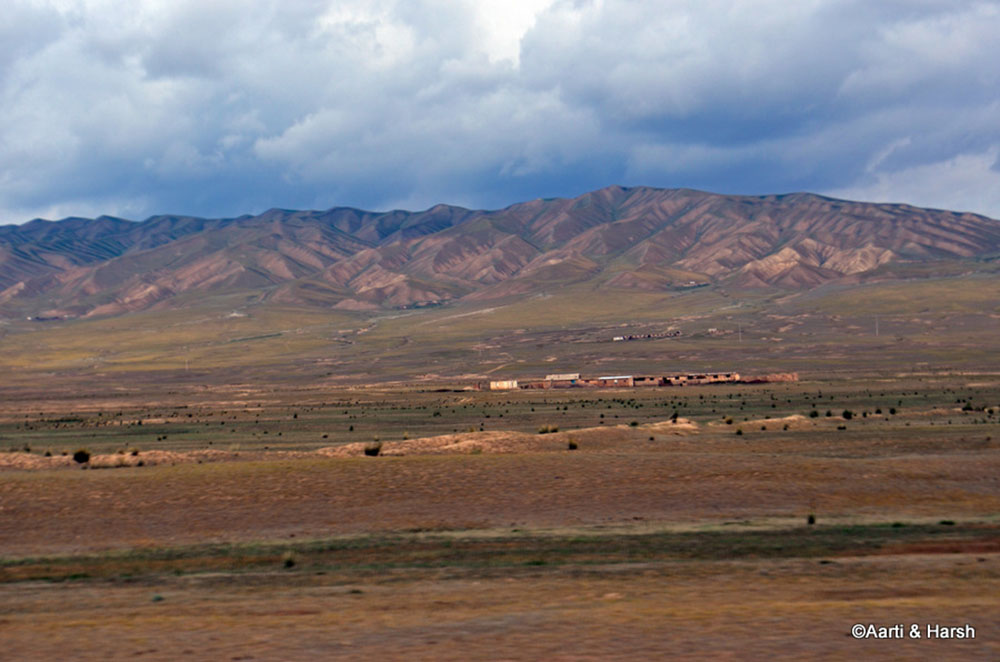 An excellent highway leading towards Tash Rabat (and eventually towards Torugart Pass)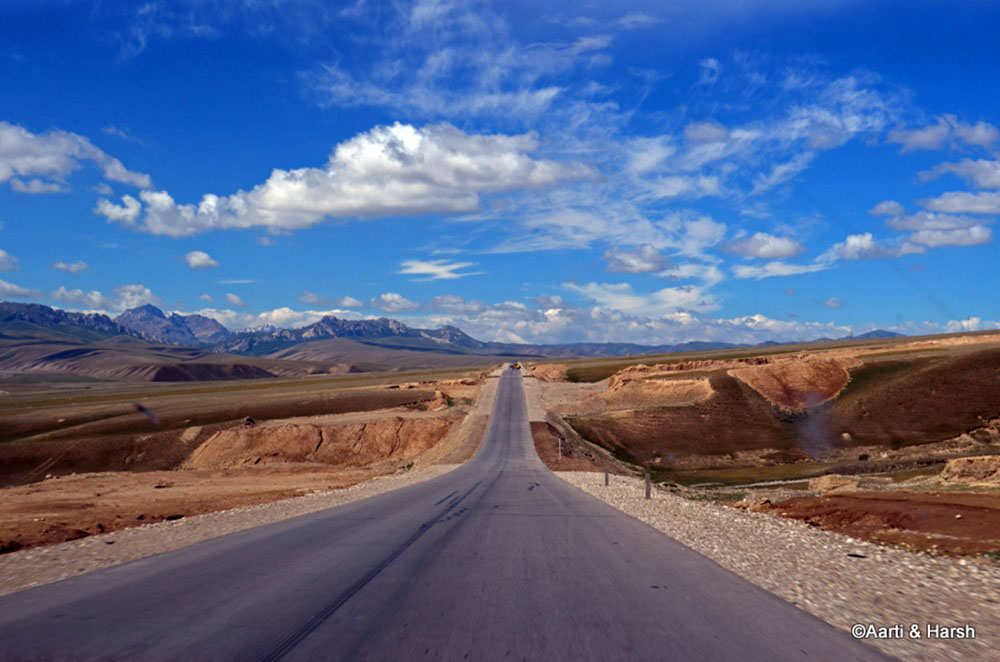 Once we leave the highway, a dirt track greets us all the way to Tash Rabat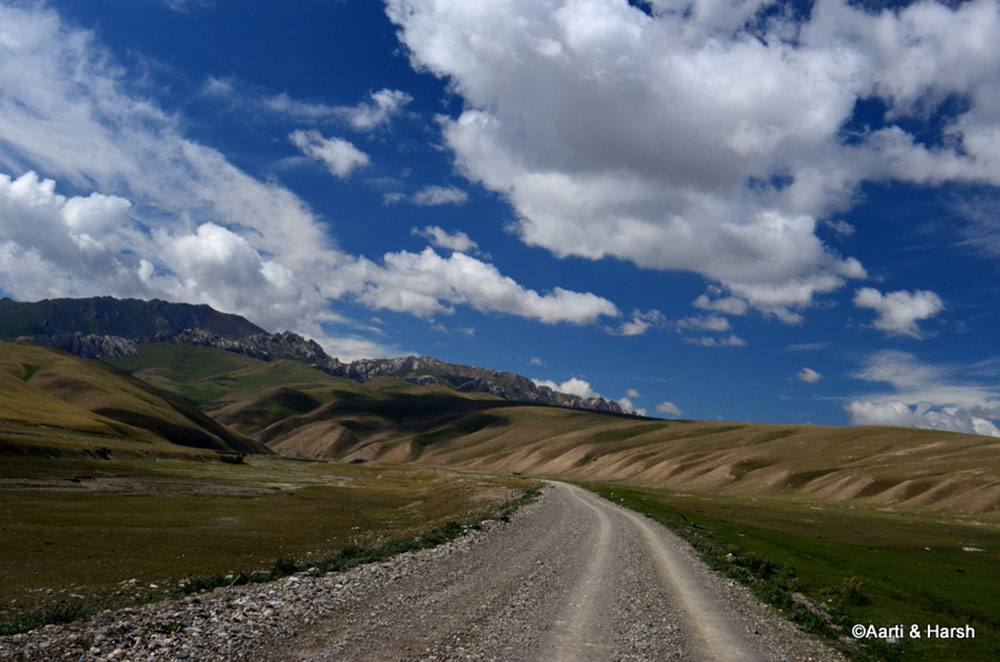 Tash Rabat
​Tash Rabat is probably Kyrgyzstan's most remarkable monument. It is in complete contradiction to the popular belief that the country is only about landscapes rather than historical sights.
Tash Rabat is a Silk Road monument that was made in the 15th century to shelter an array of merchants and travelers on one of the wilder stretches of the Silk Road. Its location is even more remarkable – tucked away from sight, half-buried in a hillside in a non-descript valley.
The building is entirely made of stone and looks quite small from the outside, particularly because a large part of the monument lies inside a hill. This perhaps helped in insulating its occupants from the harsh weather.
The front entrance leads into a central hall that is surrounded by a network of small rooms. These were used as bedrooms, prison cells, pantries, prayer rooms, and even as bathrooms.
The rooms were well ventilated and lit despite being underground. Every room had a vent on top to allow fresh air and light to come in, and so we did not need a torch to go around the monument. These vents were probably covered during the winter.
Since there were no English-speaking guides available, we made do with our own guidebook and walked about the entire place in about 30min. We finished the tour just as a pack of around 30 tourists came in a guided tour.
Thankfully, for the brief 30min that we were there, the feeling of being alone added to the charm of the place. The Aussie couple from At Bashy had also reached in their Lada 4×4, but instead of exploring the caravanserai, they went for a hike, and later we could see them atop a knoll nearby.
​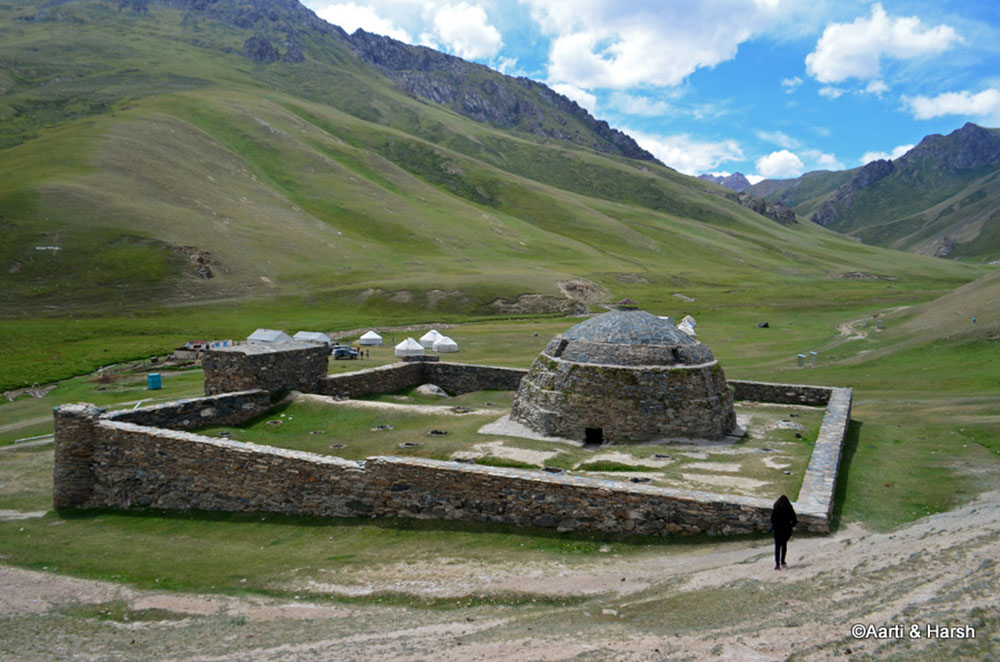 Torugart Pass
We were back on the highway soon and by 12:30 pm even made it to the first check post on our way towards Torugart pass. The formalities of getting the permits checked threw us off by a good 15min.
The landscape ahead was just out of the world with an arrow straight road heading towards a set of snow-clad mountains beyond which we knew lay China.
The bad part was that the last 50 km after the first check-post was untarred which slowed us down considerably. It was under construction by a Chinese agency, so it would be safe to assume that the road would be complete by early next year.
We sighted huge 18-wheelers laden with goods and marked with Chinese symbols as we inched closer to the pass. Another 25 km later, the border fence began, marking the no-man's land between the two countries.
Chatyr Kul
On our left, we could see the Chatyr Kul, a beautiful (and quite huge) lake located next to the border. Sadly, it is surrounded by a big wetland and hence getting a good view of the lake can only happen if one trek (safely) near it.
By 2:30 pm, we had reached a settlement of trailers beyond which stood a building with Chinese and Kyrgyz flags flying. This had to be the second border check-post and the final one inside Kyrgyz.
Torugart pass itself lay within the borders of China and chances were bleak that we would be allowed beyond this checkpoint but we decided to feign ignorance and try our luck. Needless to say, the authorities turned us back after inspecting our papers.
Papers checked; we were about to let go towards the mountains beyond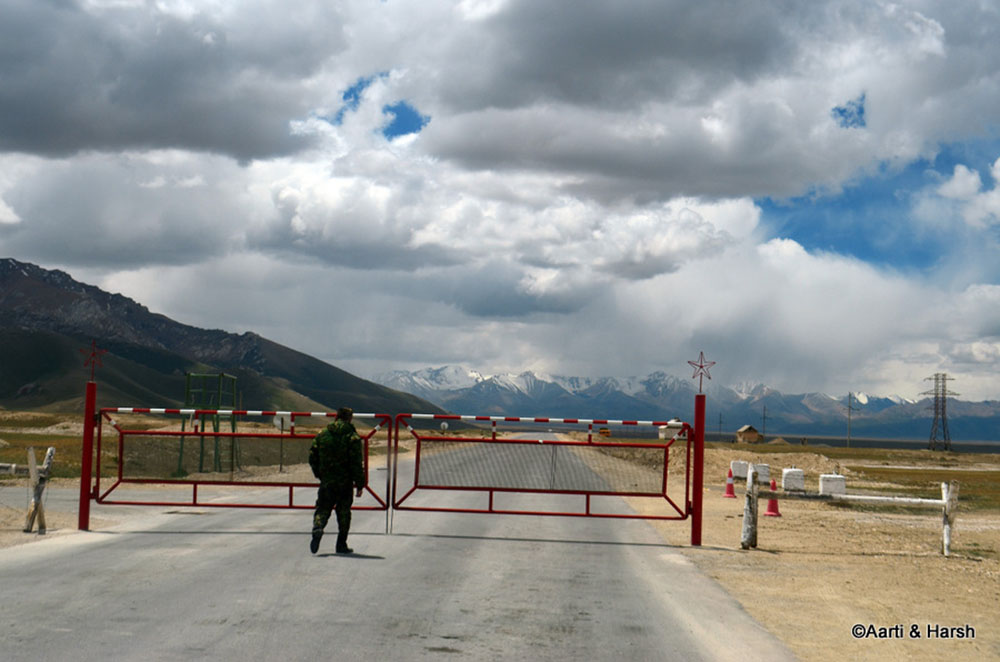 The road beyond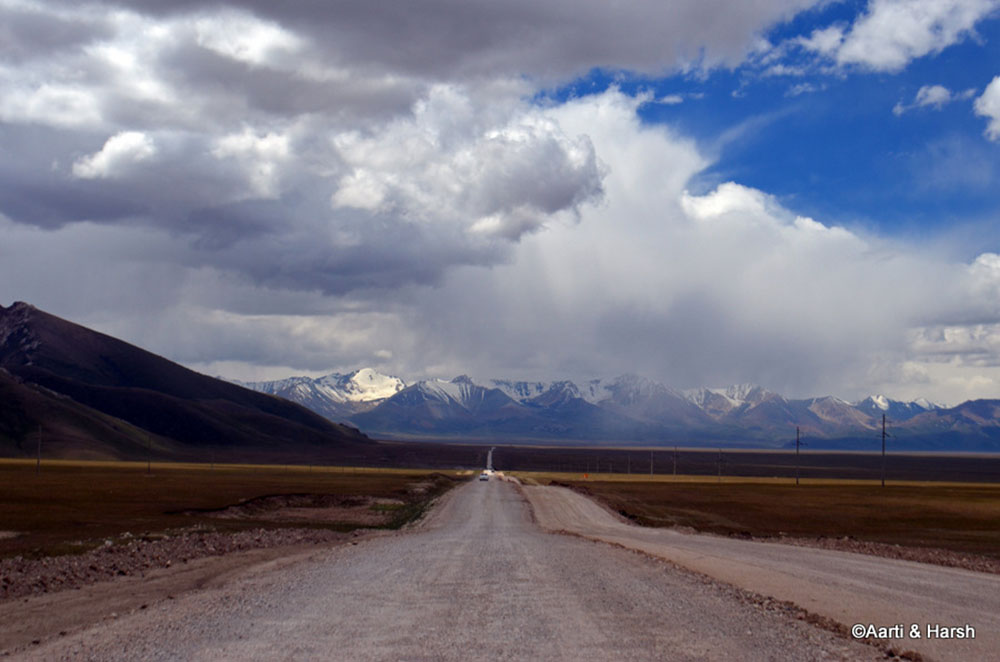 Chatyr Kol. Finally, we get a view.

​It was almost 3:00 pm and now both of us were hungry enough to eat horses. The settlement of trailers lay abandoned but we assumed that one of these must serve the trucks which pass by and must serve as an eatery.
After knocking a couple of times on a few trailers, we were pointed towards one trailer which apparently sold food. We had to wake the owner and his son who gladly cooked us a very tasty meal of laghman and chicken.
While they cooked, a pleasant conversation ensued, aided by our Eng-Ru dictionary. It was here that we realized for the first time that China was actually called Katai by the local populace.
Moldov Pass
After lunch, it was time to move on as we still had a good 5 hours of daylight. However, Song Kul was around 300 odd kms away, and a good 100 km of that was on an untarred road, while another 100 was on bad tar.
It was an ambitious target, but nevertheless, we decided that it was worth a shot. We also decided to drop our plan to try the lesser-used road via Moldov pass and stick to the more frequented route towards Song Kul.
Adventure quotient had already been high on the trip and it would bode well for us to take it easy on an already stretched day.
These caravan trailers serve as dhabas for the trucks that pass through this border

The next 4 hours of driving was just about retracing our steps. The untarred road which had been a delight to drive on earlier seemed to be a royal pain on the way back. The dust, the sun, the monotony, everything was getting to us.
The alternate route towards Song Kul was enticing to break this monotony but we were running desperately short on time. In the end, it was a natural decision to leave that 4WD track in favor of a tarred stretch all the way to Naryn and halfway back to Kochkor.
A poorly placed signboard marked the detour towards Song Kul and immediately thereafter the tarmac gave way to another dirt track.
Climbing back towards Naryn, on the way to Song Köl Lake.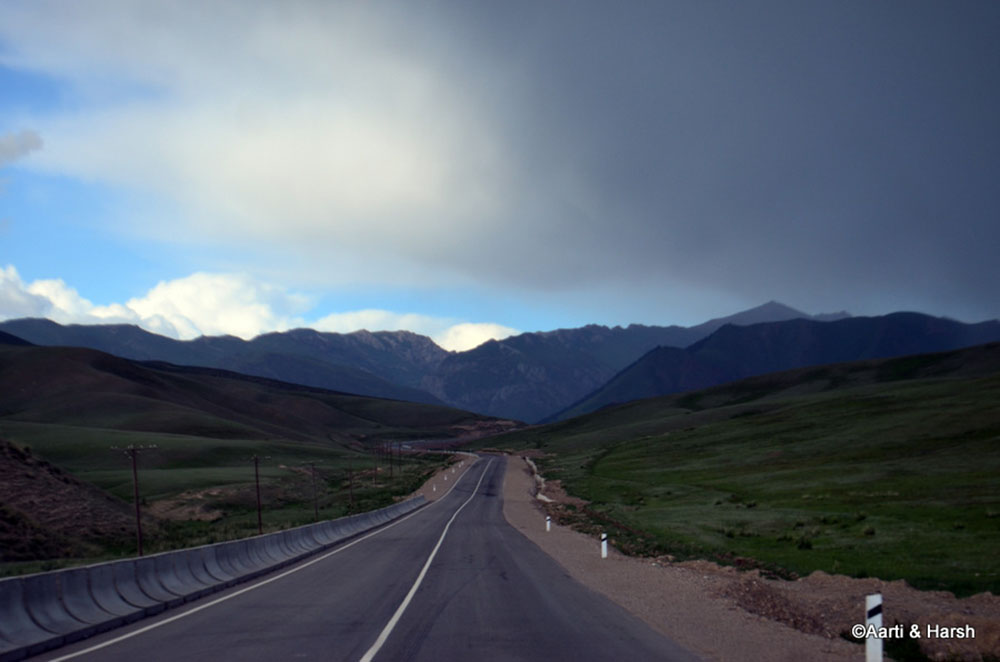 ​Song Köl Lake
It had rained in the afternoon. The track was a bit slushy at places, but nothing that would bother the TLC. It was quarter past seven when we reached the detour. Now we hardly had two hours before it would be pitch dark.
With Song-Kul still a good 50 km away, there was no time to stop and take pictures of the beautiful green meadow through which the dirt track went. The entire region surrounding the lake has been marked as a nature reserve. There was practically no construction of any kind anywhere and no electricity poles running across the landscape.
The route passed through a couple of mountain ridges. Each time we climbed a crest we half expected to see the lake in the distance, only to be disappointed over and over again.
Eventually, we reached a set of switchbacks that would shame even the Gata loops. I think they were much more than 21, and each hardly 50m in length! As we neared the end of the switchbacks, we finally glimpsed the lake in the distance.
It was fascinating, nestled in a bowl, surrounded by snow-clad peaks. It was a sight to behold in the dying rays of the sun.
The Song Kul nature reserve begins – I call it windows wallpaper green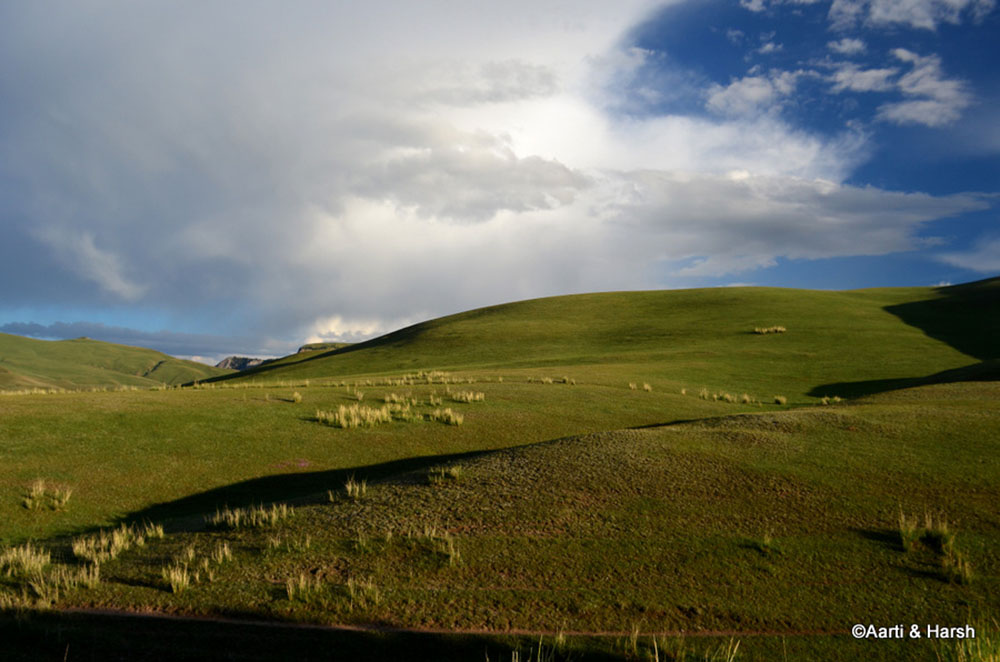 No electricity poles, no settlements. Just a road and huge meadows

Like a sine wave, we climbed hills. Rolled back down, climbed again, and rolled back down again.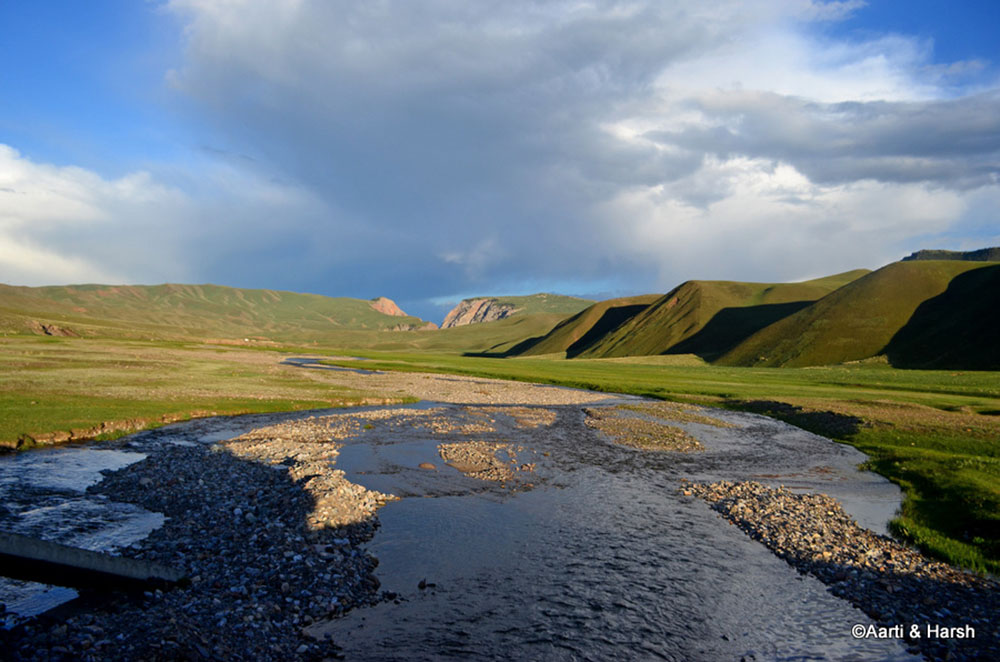 That is the path we had followed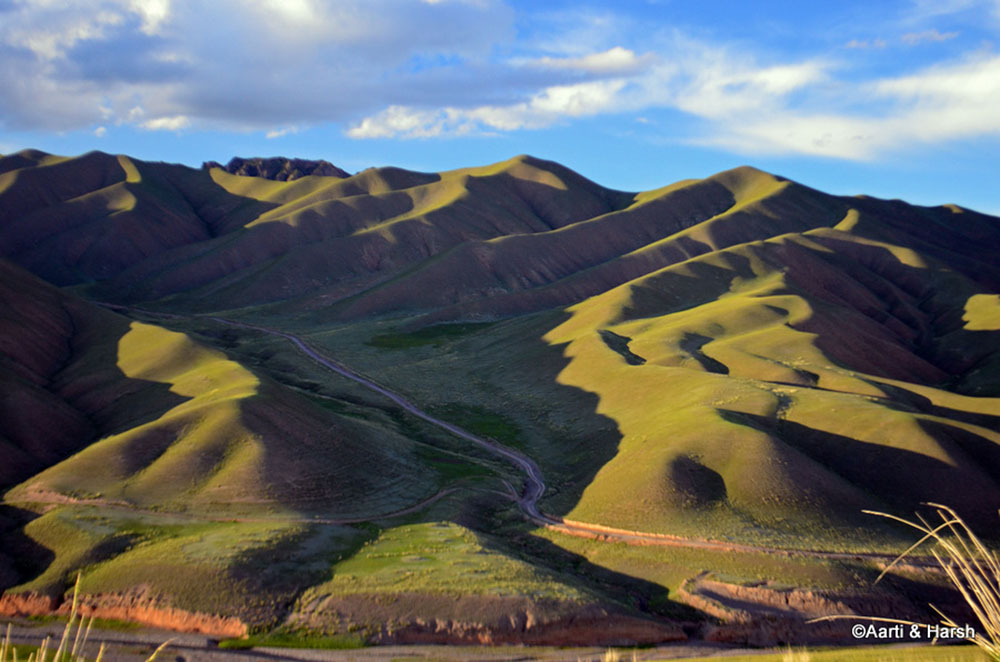 Sun sets over lake Song Kul.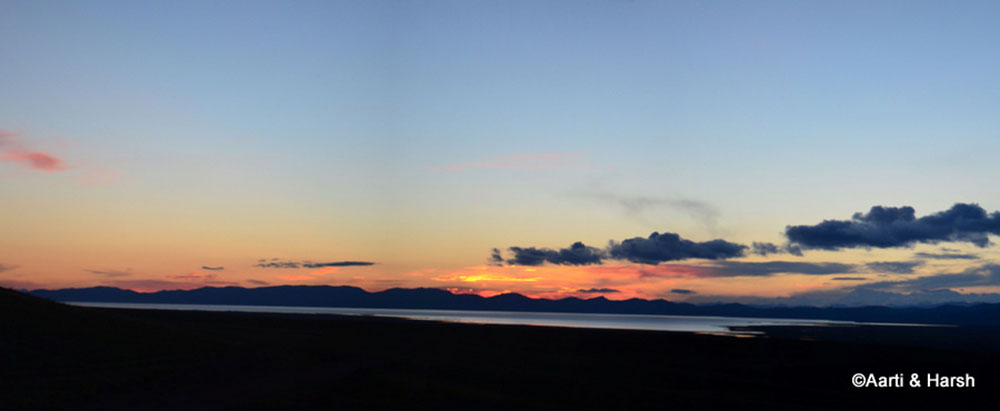 A lone horse silhouette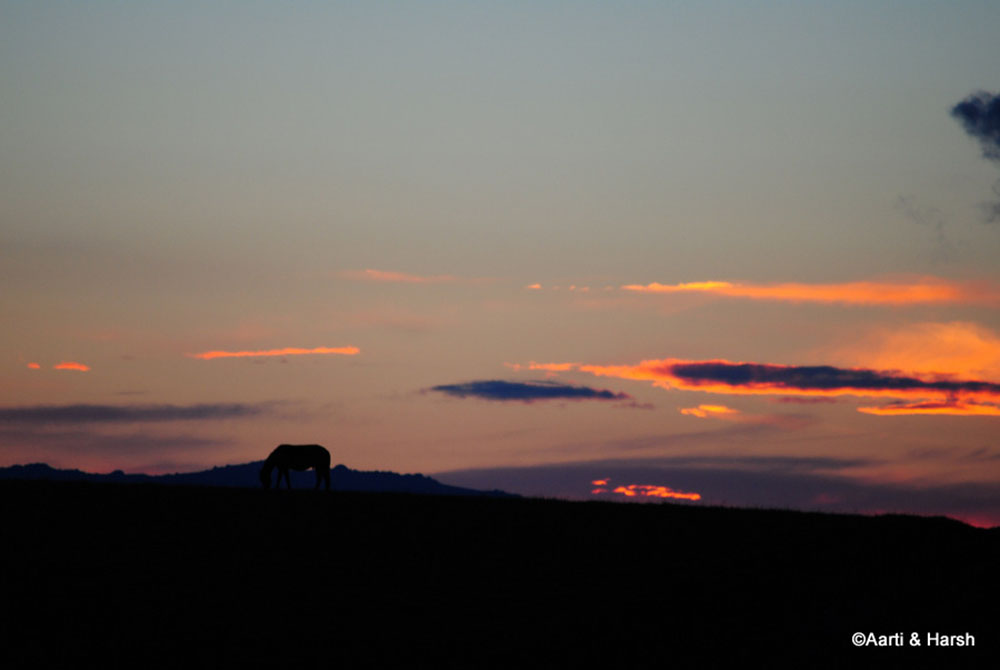 ​Night Stay at a Yurt at Song-Kul Lake
Driving was becoming increasingly difficult as we were headed straight west at sunset. With the sun glaring right into our eyes, it was difficult to navigate on the muddy track towards the lake with some close calls. It was dusk by the time we reached the lake. Unlike what we'd imagined, there were hardly any yurt camps to be seen!
We had heard that there were numerous camps on the northern and the southern shore of the Song Köl lake. But we could hardly see any nearby or in the distance. We drove about for half an hour before we finally came upon the first set of yurts.
As we approached them the owner came out. He mentioned that his was a private yurt, and pointed us in the general direction of a yurt camp he knew was operational. With much difficulty, we eventually reached that camp.
For the longest time, no one came out of those yurts. When a lady finally did, we realized that the family had already turned in for the night. It was our headlights that had woken her up!
Realizing we were tourists and in need of a place to crash, she immediately started waking up her family to vacate the yurt she had earmarked for tourists like us. We mentioned that we would rather pitch our tent than have them vacate a yurt for us but the lady would have none of it. Feeling guilty, we eventually agreed.
A panorama of dusk from the yurt we had stayed.
Night stay was at these yurts.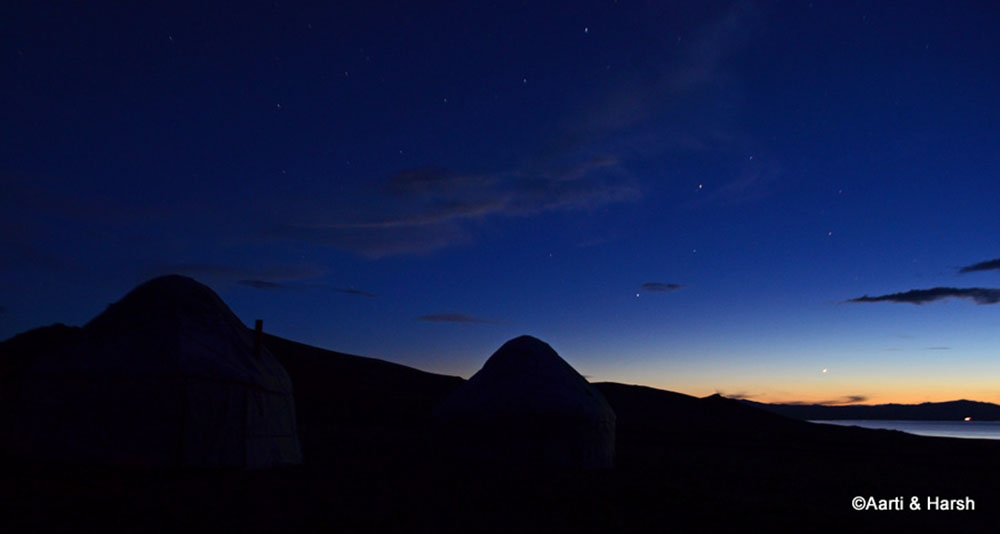 ​End of a Long Day
Once the family was settled into the other yurt, we took our little master and cooked a simple meal consisting of some soup and noodles. We had already committed a social faux pas and were not about to commit another by requesting her for food.
Outside, it was really cold, but we braved the wind to take some night shots. Night photography is an art that is mastered only by the finest of photographers. It is an art that requires tons of patience and bravado to face biting cold winds.
We hardly possess any of those qualities, but it was simply lovely to gaze at the stars and try to take shots as well. The Milky Way was clearly visible. For a few seconds, we simply gazed at its magnificence. In a while our fingers became numb and we huddled back inside to call it a night.
It was freezing cold even inside the tent. We tried to fire up the 'bukhaari' but it was too damp to start a fire. Despite our own quilt and a layer of a thick quilt given to us by the lady, we were not able to catch a wink.
Eventually, we got comfortable after wearing some woolens and getting inside double-quilts. We thanked our stars to have found this accommodation so late in the evening. A night in our tent at Song Köl lake would have been sorely uncomfortable here! Please click on the link above to continue reading the next part of the travelogue.
Song Köl Lake – Conclusion
I hope the travelogue, pictures, and information above on Song Köl Lake in Kyrgyzstan were of help. If you have any questions, please feel free to ask in the comments section below or at our Community Forum, and I will be happy to answer. You can also follow me on Instagram and chat with me live there or subscribe to my YouTube channel and ask a question there.